34 Rustic Wedding Centerpieces to Make Your Reception Tablescape Shine
Tie your reception decor together with these rustic centerpiece ideas.
Once you've selected your ideal wedding style, curating on-theme decor is one of the biggest ways you'll convey your chosen aesthetic. When it comes to decorating your rustic wedding, that may mean filling your a barn wedding venue with rustic reception decor or mailing out woodsy wedding invitations. Your tablescape, notably your centerpiece design of choice, is another great focal area to reinforce the vibe of the wedding. A rustic style calls to mind warm textures, like wood and leather, and outdoorsy hues, like burnt orange and evergreen. To pull off a rustic centerpiece look that matches your theme while feeling modern and unique, work together with your event designer or floral designer to blend both floral and natural elements into a look that is the epitome of rustic. The ideas and pieces of advice below will help get your brainstorming started! 
In This Story: 
Rustic Centerpiece Top Tips
Rustic Doesn't Mean Dated—and You Don't Have to Include Burlap
While rustic-themed weddings have been around for years, the look has continued to evolve. Many couples may feel like mason jars, twine and burlap feel outdated and could worry that a rustic wedding theme wouldn't be fresh and of-the-moment. Don't fret! Feel free to do away with whatever materials don't suit your taste and bring in new and unique items, like branches or even stones to make your rustic aesthetic come to life. 
"It's a common misconception that 'rustic' has to equate to mason jars and burlap, as we've seen in years past," notes Eddie Zaratsian, owner of Eddie Zaratsian Lifestyle & Design. "In reality, rustic is all about invoking a sense of beautiful countryside and incorporating elements with a vintage edge. Dried florals in muted tones are going to give you just that. Consider weaving in metallics such as copper, and spring for jute linens to add dimension and texture."
Rustic Centerpieces Are Perfect For Couple Opting Against Flowers 
If lush floral arrangements aren't your jam, then leaning into a rustic aesthetic may be just the ticket. Dried grasses, fresh leaves and potted herbs would all make a statement on your tabletop, without a single bloom in sight. 
Think Holistically
Wedding reception centerpieces shouldn't be designed in a silo. Think through the other rustic wedding ideas you're including in your ceremony and reception. Creating a cohesive design that reinforces itself at every juncture is the best way to pull off a wow-worthy event that guests won't forget. This is where it's best to collaborate closely with your event planning and design team to dream up a celebration that includes, but is not limited to, epic centerpieces. 
Consider Out-of-the-Box Sources of Inspiration
If you're worried that your rustic wedding centerpieces will look to similar to other wedding looks you seen in the past, source ideas from non-wedding places. "A great way to start designing a rustic tabletop usually begins with a trip to a home improvement store or garden center.  As you walk through, challenge yourself to look at the raw materials as building blocks for your centerpiece. Pavers could easily become the basis for your centerpiece, bamboo curtains can be deconstructed and used as branches in your floral piece, and planters can be turned upside down and used as pedestals. It's all about seeing things in new ways," says Keith Willard, the wedding planner behind Keith Willard Events. 
Floral Rustic Wedding Centerpiece Ideas
Flowers will always be a tried and true foundation for wedding reception centerpieces. However, it can be hard to know which varieties, in particular, will lend a country feel to your tabletop. For a wildflower feel, Willard suggests simply looking out your car window for inspiration. "I'm from Texas, where the interstate highways are seeded every year with an assortment of stunning wildflowers. Everything from Blue Bonnets to Indian Paint Brushes can be seen far and wide." If you see beautiful blooms cropping up during a drive or even a neighborhood stroll, snap a picture to share as inspiration with your floral designer. In terms of specifics, Zaratsian adds that "Baby's breath, dried or fresh garden roses, succulents, ranunculus, and yarrow are all wonderful additions to any centerpiece." 
1. Woodsy Moss Centerpiece
At this wedding, table numbers were surrounded by fresh moss for a forest-inspired look. 
2. Zinnia Floral Centerpiece
Zinnias are a great wildflower to include in your rustic centerpiece design because they come in a variety of vibrant colors. 
3. Peach-Hued Rustic Wedding Decor
A gauzy peach table runner ensured the garden roses in this centerpiece really popped. 
4. Multicolored Country Wedding Centerpiece
When most people picture roses, red, pink and blush hues are often the colors that come to mind. However, roses come in a variety of shades and this couple made the most of that by incorporating mauve and light brown options into their wedding decorations. 
5. Wooden Table With Gold-and-Burgundy Wedding Decor 
This rustic farm table got an elegant upgrade thanks to a burgundy table runner, gold flatware and a centerpiece filled with scabiosa and roses. 
6. Centerpiece With White Ranunculus and Nerine Blooms 
This green-and-white arrangement is proof that a minimal color palette can still work within a rustic big day. By selecting a variety of different white blooms, this florist ensured the floral design felt wildflower-inspired and was anything but one-note. 
7. Sweet Pea Centerpiece for Fall Wedding
Brown sweet pea blooms added softness to this centerpiece. 
8. Centerpiece for Outdoor Wedding in Colorado
While roses are often included in classic or romantic table centerpieces, they felt totally rustic when paired with an assortment of foliage on the reception tables at this tented Colorado wedding. 
9. Simple Wedding Centerpiece With Thistles and Cotton
Thistles are a great addition to any rustic table design. Even in this small centerpiece, the botanicals pack a big visual punch. 
10. Carmel-Hued Centerpiece for Rustic Barn Wedding
The centerpieces at this rustic barn wedding included roses, butterfly ranunculus, lisianthus and sweet pea blooms. 
11. Wedding Table With White-and-Green Centerpiece 
Loose strands of smilax greenery filled out this rose-centric centerpiece at a summer wedding in Texas. 
12. Rust-Hued Lisianthus Centerpiece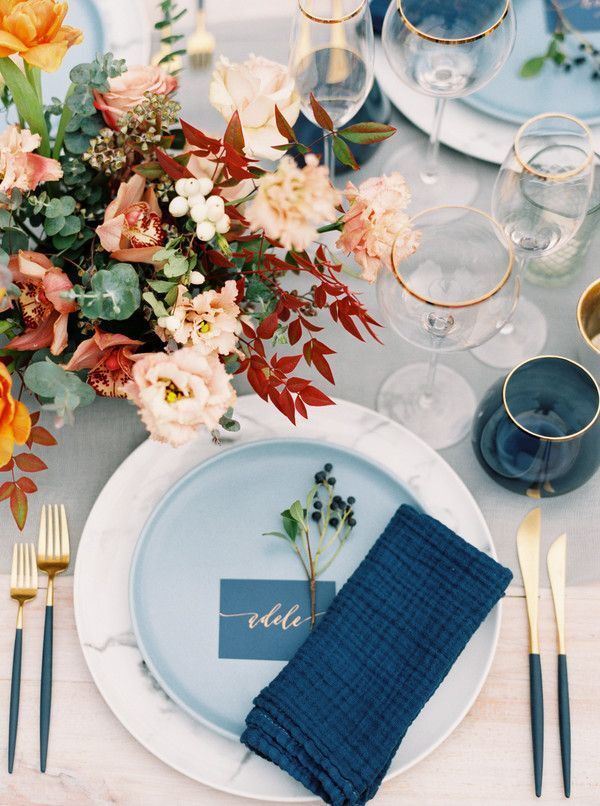 The table decor at this wedding included centerpieces made of rust-hued lisianthus, eucalyptus and hypericum berries. Calligraphed place cards and navy napkins further enhanced the look.  
13. Pampas Grass Centerpiece for Backyard Wedding
The rustic wedding decorations at this wedding included pampas grass, pincushion protea, roses and an assortment of other wildflowers. 
14. Centerpiece With Lush Greenery
As with all decor ideas, balance is key when it comes to designing a rustic wedding centerpiece. For example, the florist at this wedding expertly blended lush greenery with roses and hydrangea blooms. 
15. Orange-and-White DIY Wedding Centerpiece for Backyard Wedding
While a gold bird taper candle holder was the star of the show on this tabletop, orange marigolds, white daisies, white chrysanthemums and sand-dollar eucalyptus added to the boho look. 
16. Boho Centerpiece With Cosmos
White cosmos, which can often be mistaken for daisies, were the focal point of this centerpiece that sat atop a table runner and wooden table. 
17. Purple-and-Green Centerpiece at Backyard Wedding
No matter what your wedding colors are, there's a way to make them work within a rustic theme. The arrangements at this summer wedding are proof that even purple can feel right at home at a rustic big day. 
18. Boho Wildflower Centerpieces for Tented Texas Wedding
Peach roses and white flannel flower stood out in the arrangements at this wedding. 
19. Peach-Hued Tablescape With Candle Light
Proper lighting, be it through chandeliers and string lights or votive and taper candles, can make the difference between a pretty centerpiece and one that absolutely shines. Get inspired by some of our favorite wedding chandelier ideas here. 
Nonfloral Rustic Centerpiece Wedding Inspiration
For couples who aren't big on fresh blooms, eye-catching rustic centerpieces can be brought to life using other materials. Dried grasses, assorted branches or even assorted wood elements would all make a statement on your reception tabletop. Willard encourages couples to incorporate natural materials into their centerpiece arrangements. "Using fresh moss around the base of an arrangement, accented by votive candles, will give you both a rustic and romantic vibe. Recently we even used cut wood to replace the typical class trumpet vase in a design."
20. Citrus Centerpiece in Wood Bowl
While a few fresh tulips and sprigs of astilbe snuck into this design, an assortment of fresh citrus was the main focal point. Since the arrangement couldn't be placed in a standard vase, the florist chose a wood bread bowl. Sometimes, finding the perfect centerpiece container is as simple as finding a wooden box in the attic or a vintage bread bowl at a flea market!  
21. Farm Table With Lantern Centerpiece
Don't be afraid to incorporate your wedding signs and table numbers into your centerpiece design. At this fall wedding, calligraphed lanterns were the focal point, while eucalyptus garland helped to fill out the design. 
22. Succulent and Palm Centerpiece Design
Succulents in wooden boxes were paired with palm leaves and metal lanterns in this farm table centerpiece design. 
23. Tabletop With Potted Plants in Terracotta Vessels 
Grouping multiple small containers together is a great way to make a big impact on a budget. This couple chose to outfit their wedding tables with assorted terracotta pots. The unique idea would also work for a rustic bridal shower or rehearsal dinner. 
24. Cacti and Air Plants on Wood Slices
Cacti and air plants sat atop wood slices for the centerpieces at this country wedding in Austin, Texas.  
25. Wood Sign Painted With Rustic Desert Scenes
For DIY-minded couples, consider painting wood pieces with on-theme designs for your tablescape. Not only would the art pieces wow as part of your wedding decorations, but the handmade trinkets could also easily double as wedding favors for guests to take home. 
26. Tablescape Design for DIY Desert Wedding
Pompom garlands and an assortment of unique vessels graced the reception table at this DIY wedding reception in rural Texas. 
27. Gold Taper Candles
A cluster of gold taper candles in a dramatic black candle holder lit up these branch-laden wedding tables. The dramatic gold-and-black wedding colors would be perfect for a winter wedding. 
28. Lush Greenery Centerpiece With Air Plants 
While an air plant was the star of the show, this arrangement was made up of a variety of lush greenery varieties. 
Rustic Centerpieces in Unique Vessels
Centerpiece design involves more than just selecting materials to create an arrangement. The vessel that'll hold your creation needs to be considered as well. Zaratian suggests incorporating woven elements or even metal containers to bring your tablescape to life. "Wildflowers arranged in woven vases or baskets can serve as lush centerpieces, but mix up your table settings with bold colors and luxe glassware. Add some galvanized metal and focus on varying lengths of greenery to give an ethereal meadow feel. Combining the old with the new is a perfect balance." Willard goes on to explain that you don't have to choose the same vessels throughout the entire wedding, feel free to mix and match for a wow-worthy look. "I like to have at least three different types of centerpieces to give the room some visual texture. At a recent wedding, some tables incorporated a wood base, while other centerpieces included brass lamps and the third had a mixture of stone, wood and brass items."
29. Purple Centerpiece in Gray Concrete Vase
https://www.pinterest.com/pin/216595063318842740/
When it comes to deciding on the ideal centerpiece vessel, consider looking for inspiration among the other elements of your wedding day. If you've chosen a subtle gray wedding dress, then maybe concrete vases are the way to go. Alternatively, if your wedding cake will sit atop a wooden plateau, mirror the look by placing your table numbers in wooden holders. 
30. Chrysanthemum Arrangement in Clay Vase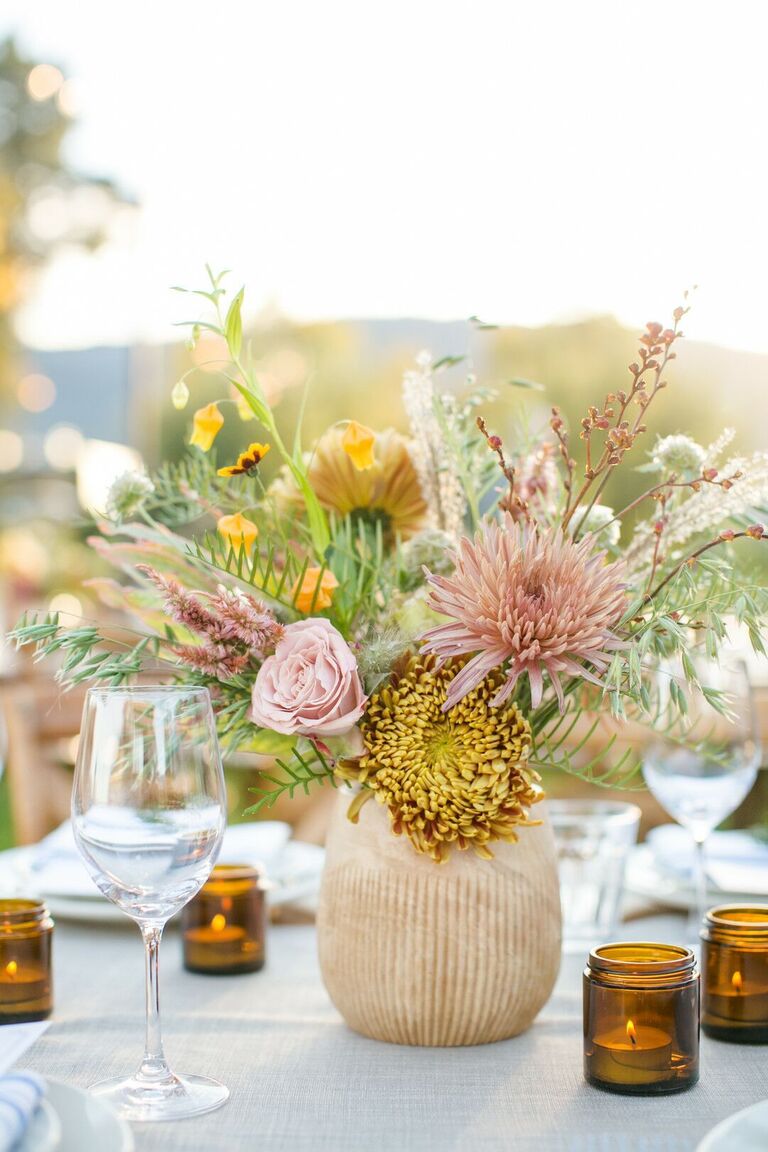 Instead of a simple glass vase, this spider mum centerpiece was placed in a ribbed clay container. Pro tip: If you've always loved peonies but are looking for a more rustic flower to include in your floral arrangements, spider mums are a great option that will lend ample texture to your centerpiece. 
31. Centerpiece on Wood Pedestal
Not only was an eye-catching terracotta vessel used for this centerpiece, but the whole design was also placed on a wood pedestal with hairpin legs to added drama. 
32. Petite Centerpiece in Clay Vase
Instead of a simple bud vase, the ranunculus blooms for this centerpiece were placed in a petite urn-like clay vase. 
33. Dahlia Arrangement in Clay Pot
 A ribbed clay pot housed this dahlia-and-eucalyptus arrangement. 
34. Peonies and Ranunculus Blooms in Assorted Glass Bottles
For this rustic wedding tablescape, a collection of glass bottles each housed single flower stems.