20 Breathtaking Barn Wedding Venues Near You
Make all of your rustic dreams come true.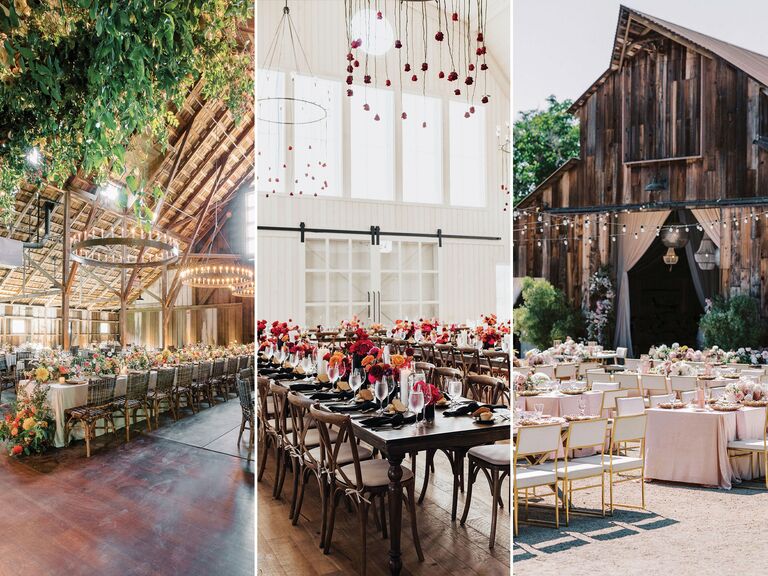 Photos, from left to right: Carlie Statsky, Nicole Aston Photography, Kelsea Holder Photography; Venues, from left to right: Santa Lucia Preserve, River Bottoms Ranch, Greengate Ranch & Vineyard
Does your wedding vision include a farm-inspired setting with wood details and acres of lush pastures? No matter where you live in the US, if you find yourself asking, "Is there a barn wedding venue near me?" we're here to let you know there is a barn wedding venue near you that checks off all of your rustic must-haves. Barn wedding venues vary from small, open-air structures to upscale, climate-controlled sites. Consider the time of year and your guest count when selecting your wedding location. Also, make sure to ask the right questions on your site tour to ensure the venue is the ideal fit for you.
For a list of wedding pros and barn wedding venues near you, hop on over to The Knot Vendor Marketplace to find your dream team. No matter where you live, we made it easy to find a wedding venue that matches your style. We found the top rustic barn wedding venues across the country to consider for your big day.
The Pavilion at Orchard Ridge Farms in Rockton, Illinois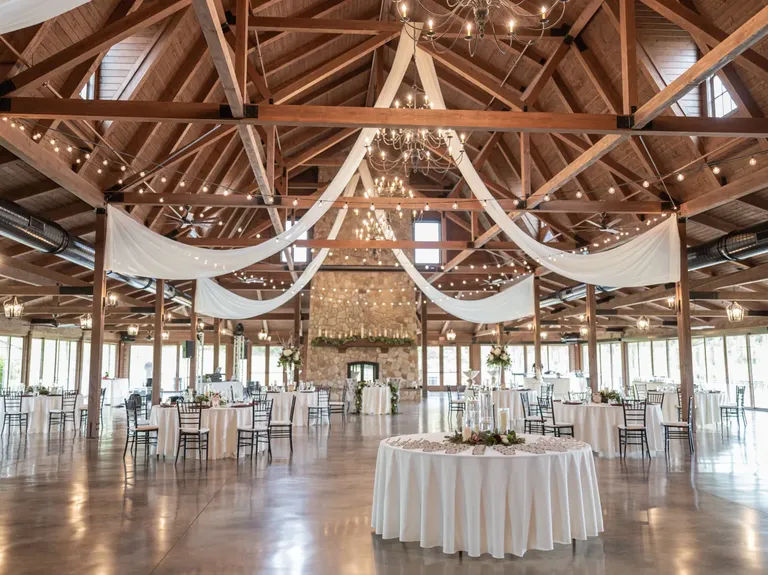 Surrounded by 130 acres of rolling hills and orchards, The Pavilion at Orchard Ridge Farms is home to a gorgeous limestone farmhouse that dates back to 1858. The fully restored barn wedding venue in Illinois boasts 10,000 square feet of space for 300 guests. Here you'll find lofted ceilings, dazzling chandeliers and exposed wood beams. Light the 40-foot masonry fireplace for a cozy setting during a fall or winter wedding. Three sides of this classic barn feature sliding glass doors that let in tons of natural light and views of the farm. After your wedding, you and your guests can stay on the property and relax in the suites at Copperstone Inn.
Stonegate Farm in Lapeer, Michigan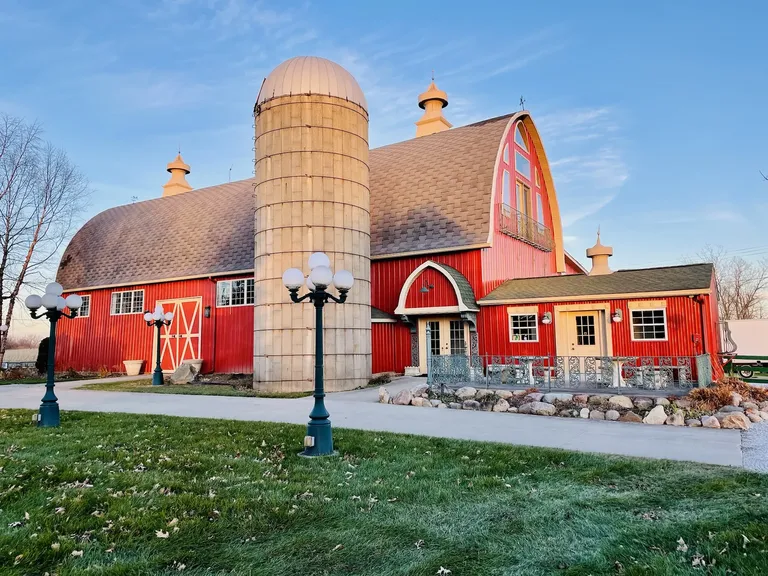 If a big red barn is on your wedding vision board, you have to check out Stonegate Farm. Originally built in 1909, this refurbished barn wedding venue in Michigan is situated on a tranquil 240-acre farm. Invite up to 200 guests to experience the venue's vintage aesthetic, including varnished wood accents, romantic string lights and red paintwork exterior. The 6,000-square-foot venue is surrounded by manicured lawns, pastoral fields and a charming pond. Couples will love the industrial-chic touches that mix with traditional elements for a unique space.
Historic Rosemont Springs in Berryville, Virginia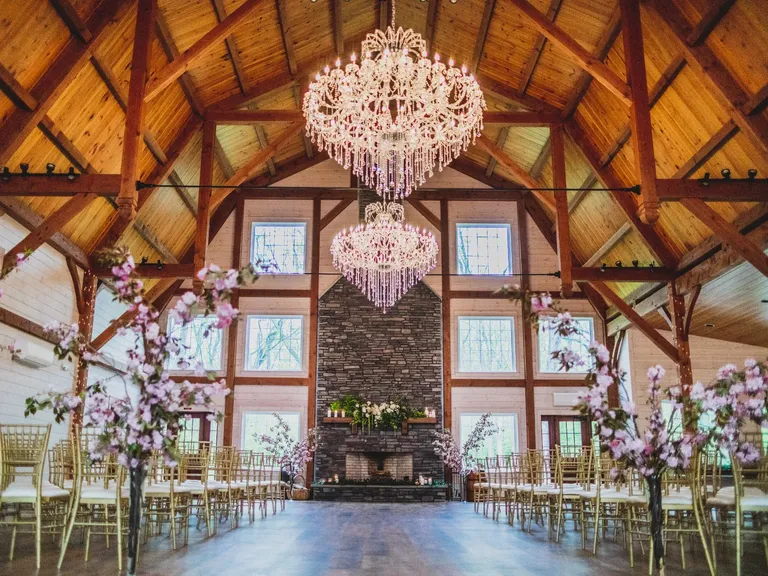 Historic Rosemont Springs is a stunning barn wedding venue in Virginia located in the quaint town of Berryville, about an hour outside Washington, D.C. The Amish-built post and beam gambrel barn features three large chandeliers and double barn doors that open to the stone patio. The floor-to-ceiling fireplace made with Virginia bluestone is also visible from the outside of the barn, making it a gorgeous backdrop for photos. Host your ceremony on the patio in front of the 10-foot cascading waterfall, then head inside for your reception with a backdrop of the wood-burning fireplace. Rosemont Springs can host up to 400 guests and also includes two chic dressing suites and a large catering kitchen.
The Barns at Wesleyan Hills in Middletown, Connecticut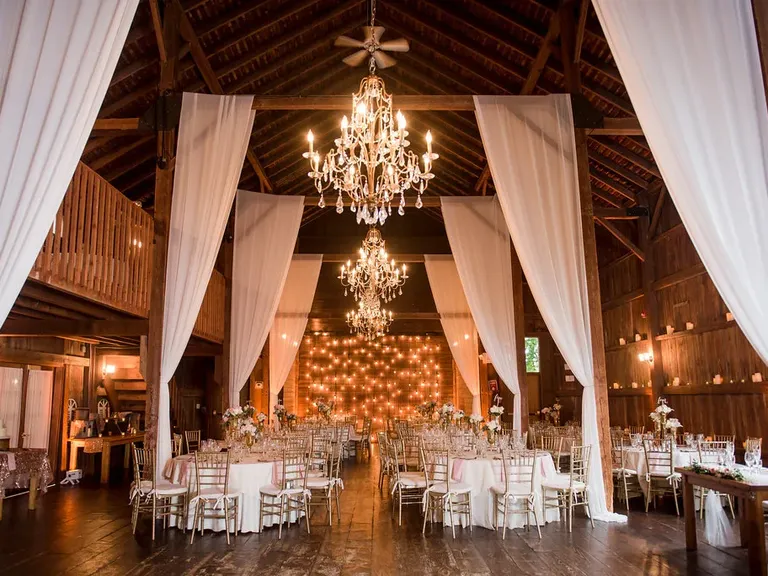 Host your wedding at this 150-year-old former dairy barn full of rustic charm and elegance. The Barns at Wesleyan Hills is nestled on stunning tree-lined grounds that provide a picturesque space for an outdoor ceremony. The immaculately refurbished barn wedding venue in CT features a loft overlooking the main floor, large windows and space for up to 225 guests. To-be-weds have the option to decorate the barn to match their style, whether that is with chandeliers and an illuminated accent wall, or a hanging garden display that brings nature indoors. A smaller adjacent barn offers space for cocktail hour and mingling.
Sunriver Resort in Sunriver, Oregon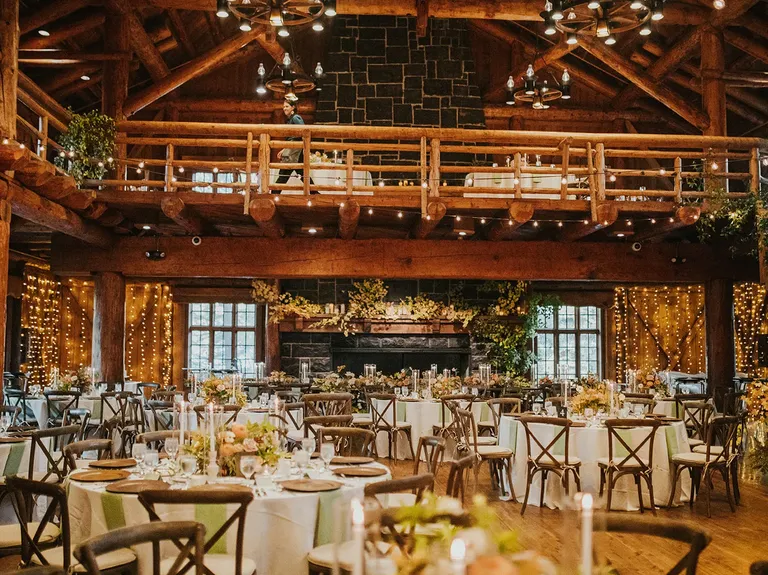 The Sunriver Resort barn wedding venue in Oregon offers a breathtaking barn wedding venue with the elegance of a lodge. Situated among towering pine trees and the Cascade Mountains, the Great Hall features stunning high-beam ceilings, river rock fireplaces, a floating spiral staircase and two floors of event space. Located behind the Great Hall is the Mt. Bachelor Lawn, an ideal location for your outdoor ceremony. Here you'll also find a private fire pit and stone patio that leads to the barn. Extend your celebration through the weekend at this barn wedding venue near you with amenities including a golf course, spa and overnight accommodations for your guests.
The Sixpence in Whitestown, Indiana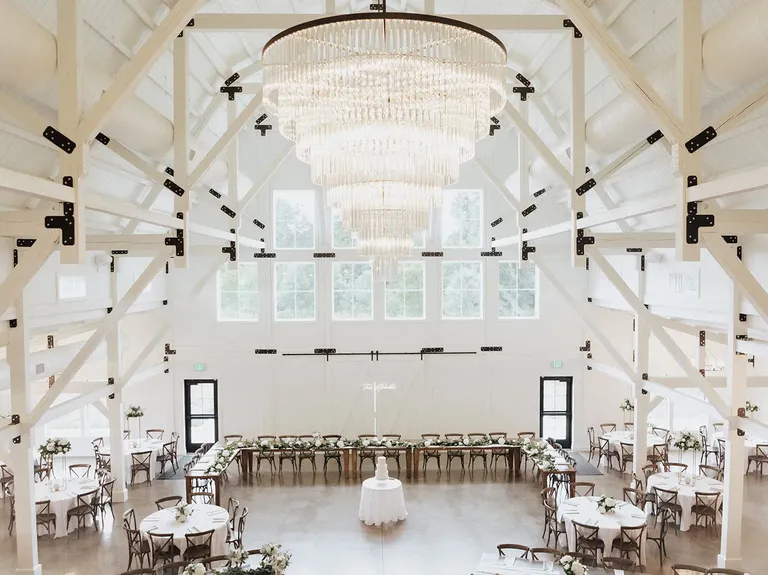 Marry the love of your life among 17 acres of rolling hills at this barn wedding venue in Indiana. Located near the greater Indianapolis area, The Sixpence is a renovated saltbox farmhouse that accommodates up to 300 guests. The 8,000-square-foot barn boasts a large bar, heated floors, and vibrant white walls with striking black accents. Couples have the option of several ceremony locations including the lush lawn, outdoor patio, wooded ceremony space or inside the barn. The venue also includes private getting-ready suites, and a charming guest home on the property that sleeps up to 10 guests.
The Barn at Cottonwood Ranch in Callahan, Florida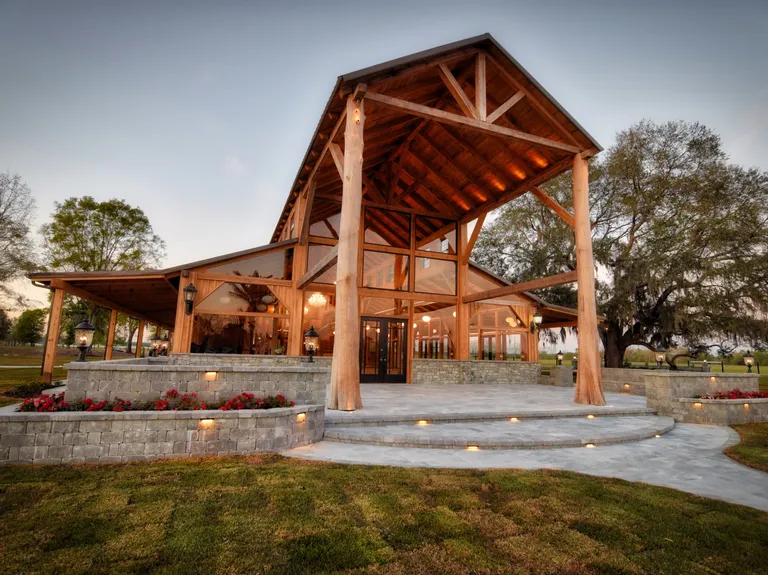 Clean lines and neutral tones give this space the feeling of simple elegance. The barn wedding venue in Florida is home to unique details including a stone bar, reclaimed railings from a 19th-century bank, floor-to-ceiling windows and a repurposed syrup kettle fire pit. With room for up to 300 guests, The Barn at Cottonwood Ranch was constructed using cypress and pine trees harvested from the grounds. The 760-acre property is home to lush pastures, freshwater ponds, and a working farm with horses and 500 Angus cattle. Host your ceremony with a backdrop of cypress trees and a waterfront view, then move your celebration inside the stunning barn for your reception.
Mountain Star Estate in Rangeley, Maine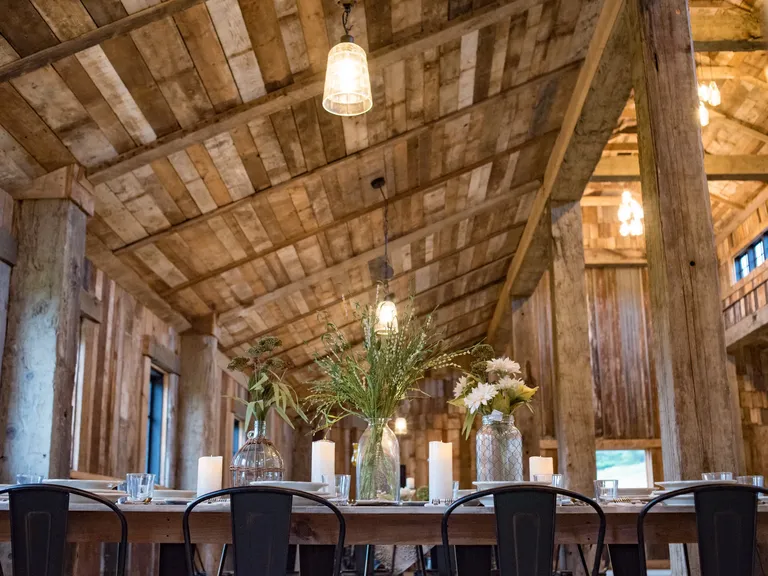 Nestled on 9 scenic acres overlooking Rangeley Lake, Mountain Star Estate provides a picturesque backdrop for any ceremony and reception. With space for 180 guests, the barn wedding venue in Maine includes charming rustic details, a wood bar, lots of windows for natural lighting, and a spot just outside for mingling and enjoying the waterfront view. The outdoor ceremony site boasts stunning vistas and custom white benches. Take photos near the Nile Brook, which runs along the property and has a cascading water feature. A romantic honeymoon cottage offers a place to retire after your wedding, and the farmhouse on property sleeps up to 38 guests. This lovely venue is also a great option if you're looking for affordable barn wedding venues near you.
The Wildflower Barn at Little River Farms in Alpharetta, Georgia
Surround yourself with fields of wildflowers and rustic details at this southern beauty. The Wildflower Barn at Little River Farms is a barn wedding venue in Georgia that includes two outdoor ceremony sites and a covered outdoor cocktail area. Towering trees, lush lawns and romantic gardens serve as you backdrop as you say, "I do." Step inside the bright white barn for your reception and you'll find classic board and batten, original wood beams, white chandeliers and distressed white brick walls. Before your ceremony, get ready in the chic cottage dressing suite.
Springville Ranch in Springville, California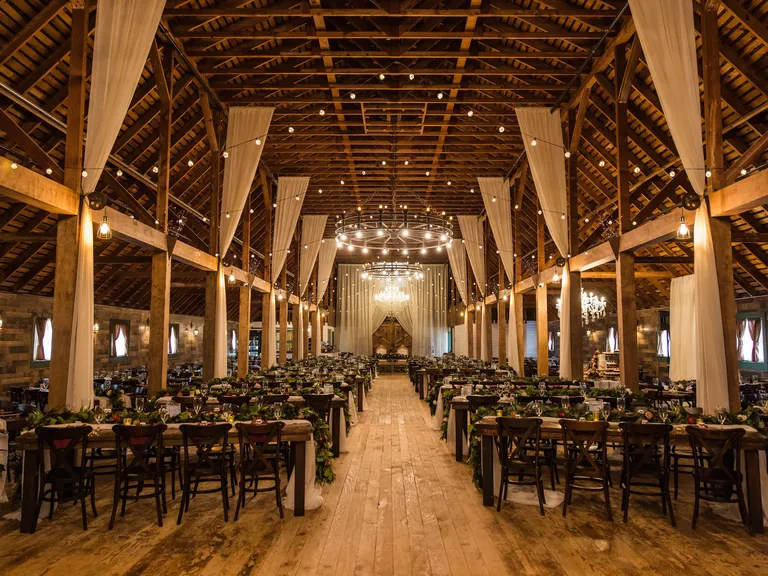 With room for 350 guests, this barn wedding venue in California is a stunning historic landmark and former horse farm. The 14-acre property at Springville Ranch boasts views of the Tule River, rolling hills, lush gardens, several fountains and two photo-worthy wooden bridges. Exchange vows at the gazebo nestled among neighboring woodlands, and host your cocktail reception right outside of the barn. The historic white barn is home to high ceilings, romantic twinkling string lights, stunning chandeliers and plenty of space for dancing. Share a private moment together or pose for pictures on the barn's outdoor balcony at the end of the evening.
River Bottoms Ranch in Midway, Utah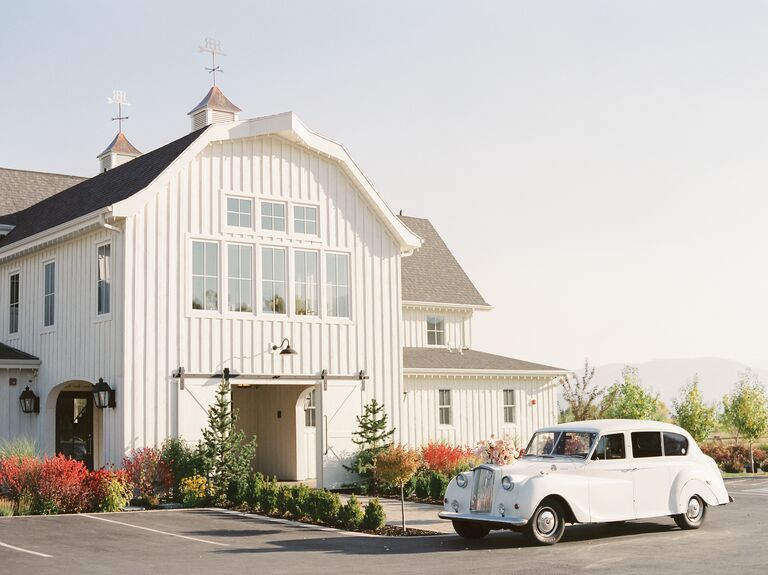 Located in the Utah mountain valley, River Bottoms Ranch is a family-run sanctuary just outside of Park City. The pristine white gambrel barn offers a vintage setting for your indoor ceremony or reception. Large windows let in an abundance of natural lighting and offer a view of the sweeping valleys and neighboring Mount Timpanogos. Host your event outside among this mesmerizing backdrop, or under the 2,200 square foot mortise and tenon timber pavilion. With space for up to 300 guests, this barn wedding venue in Utah also boasts a romantic water backdrop and adorable white bridge perfect for your after-ceremony photos.
Antelope Creek Farms in Lometa, Texas
Host your intimate gathering of up to 100 guests at the rustic Antelope Creek Farms. Situated among breathtaking views in Texas Hill Country, this barn wedding venue in Texas boasts several event spaces for your ceremony and reception. The 1,200 square feet Rock Barn is ideal for an indoor reception. High 22-foot ceilings, exposed wood and a covered porch make up this timeless and rustic venue. For a more intimate gathering, the historic Red Barn can accommodate up to 40 guests. Hold your rehearsal dinner or small ceremony here, or hang out around the moveable fire pit to wind down your evening.
Canopy Creek Farm in Miamisburg, Ohio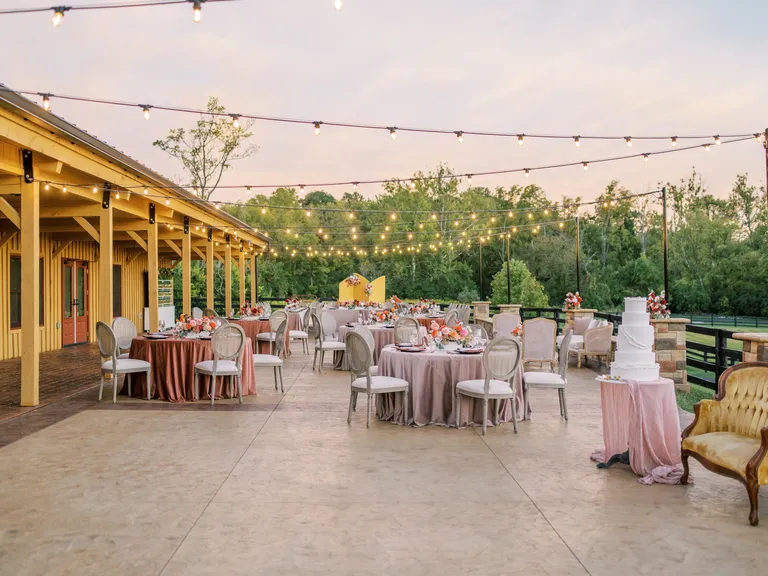 Find elegance interlaced with rustic details at Canopy Creek Farm's barn wedding venue in Ohio. The venue is nestled among rolling hills, horse-filled meadows, water features and manicured walking paths. Three outdoor ceremony sites let couples choose their ideal backdrop – on the partially covered veranda, near a babbling brook or alongside a serene pond. The 3,600-square-foot veranda is also a convenient spot for your cocktail hour. Afterward, head inside the 6,300-square-foot reception barn, with space for up to 250 guests. The barn wedding venue near you boasts a classic red roof, 36-foot-tall ceilings, sliding barn doors and a balcony loft.
The Cottage Farmhouse in Glencoe, Minnesota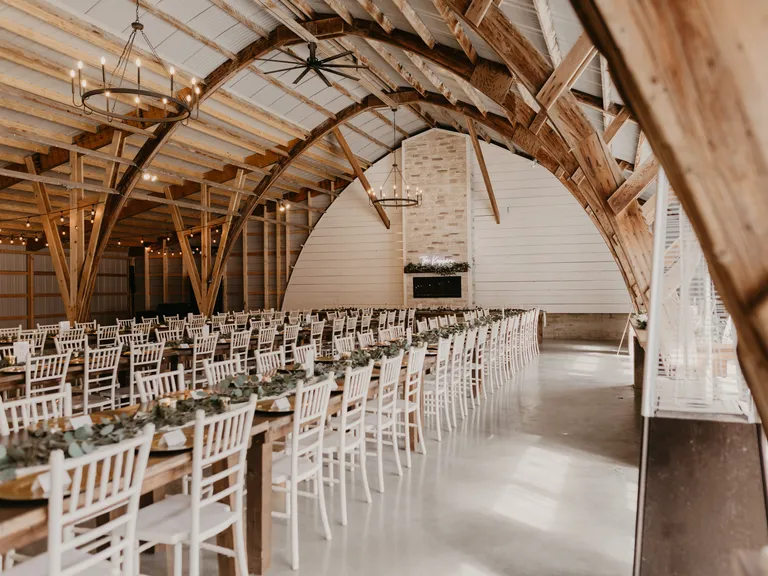 Located about an hour from Minneapolis The Cottage Farmhouse is perfect for couples who want a peaceful retreat away from the city. The barn wedding venue in MN sits on 15 lush acres home to a vibrant fruit grove and vine-covered silos. Hold an outdoor ceremony with a backdrop of large maple trees that turn golden yellow in the fall. Or say your vows in the hundred-year-old-white dairy barn with 30-foot ceilings, wood details and space for up to 250 guests. Have a drink on the patio before heading to the renovated reception barn. The climate-controlled space includes a stunning stone fireplace, arched ceilings, white French doors and shiplap walls.
Santa Lucia Preserve in Carmel-by-the-Sea, California
Santa Lucia Preserve is a picturesque wedding venue nestled amongst 20,000 acres of nature preserve in Monterey County, California. Often, couples who want to get married in a forrest have to contend with the elements. Luckily, the barn space at Santa Lucia Preserve allows for couples to enjoy nature while also having an indoor space. Many couples who select this California wedding venue choose to exchange vows outdoor under towering Redwood trees, the site's barn is the top-pick for the reception. The storied barn wedding venue is 100 years old and has a maximum guest capacity of 200. This dreamy space is ideal for couples who want a refined, elevated take on a rustic barn wedding.
The Pavilion at Angus Barn in Raleigh, North Carolina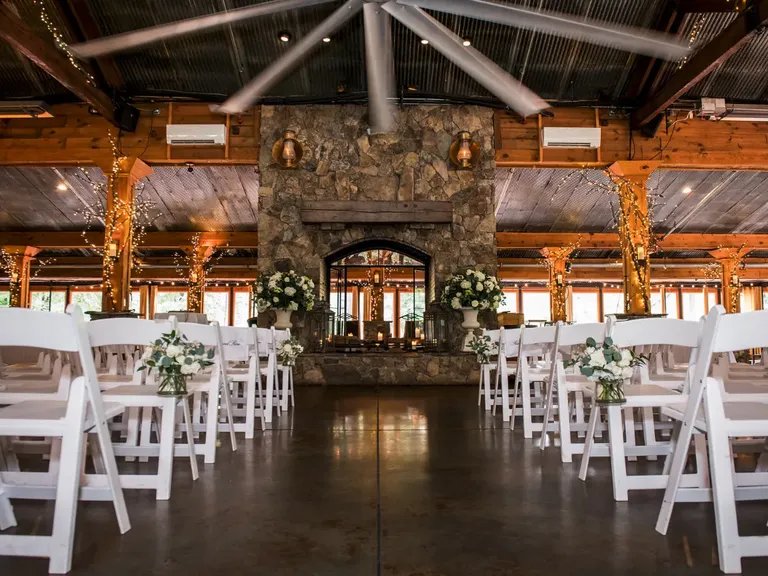 The Pavilion at Angus Barn in Raleigh, North Carolina, has everything a good Southern wedding deserves—good food, great service and a cozy atmosphere. While many people may picture summer when thinking of barn weddings, this venue is great for winter weddings, thanks in large part to the stunning stone fireplace that anchors the center of the barn space. Additionally, the barn wedding venue in NC (which can accommodate between 70 to 400 people) is located near the RDU airport, making it an ideal choice for couples with lots of out-of-town guests. Plus, as the name would suggest, this is a solid pick for couples who want to serve a tasty steak dinner to their loved ones. The food here is overseen by Executive Chef Walter Royal, former winner of Iron Chef America. As if the cozy vibes, accessible location, and tasty food weren't enough to make you fall in love, this North Carolina venue also has beautiful views of a lake and plenty of in-house amenities.
Cedar Lakes Estate in Port Jervis, New York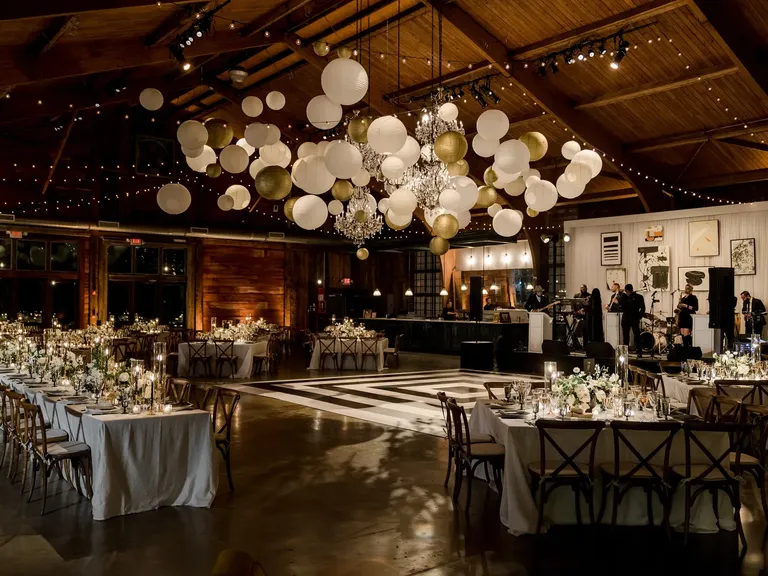 Want a barn wedding venue that's got a celeb stamp of approval? Cedar Lakes Estate in Port Jervis, New York, has played host to many A-lister weddings (notably the recent wedding of Beanie Feldstein to Bonnie Chance) and it's not hard to see why this barn wedding venue in NY is beloved by the rich and famous. Nestled in the heart of Hudson Valley (just 70 miles from Manhattan), Cedar Lakes Estate's 5,400-square-foot bar boasts magnificent floor-to-ceiling glass panels, hand-crafted wood tables and elegant crystal chandeliers. The space can accommodate 300 guests and has a variety of on-site accommodation options that are convenient for couples looking to plan an entire weekend packed with events across the property's 500 acres.
Big Sky Barn by Walters Wedding Estates in Montgomery, Texas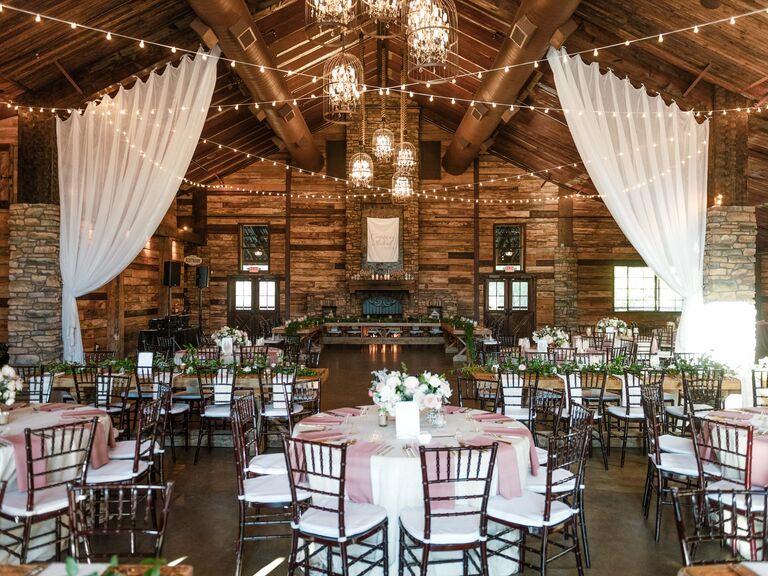 Everything's bigger in Texas, including the stunning Texas barn wedding venues. Big Sky Barn by Walters Wedding Estates in Montgomery, Texas, is a chic venue that can accommodate up to 200 guests and boasts a 26-foot-tall wall of antique windows framed by oak beams. The venue, which sits on 17 acres of land, is conveniently located about halfway between College Station and Houston. Additionally, this venue is pet-friendly which is a big win for couples wanting to bring Fido along to celebrate. What's more, the 3,000-square-foot barn is climate controlled, which is a major win for beating the Texas heat.
Greengate Ranch & Vineyard in San Luis Obispo, California
Greengate Ranch & Vineyard in San Luis Obispo, California—even the name of this barn wedding venue in CA sounds downright dreamy! Situation on 140 acres of lush rolling hills sits a barn that can accommodate up to 200 guests. In addition to the barn space, this wedding venue has four other event spaces, making it an ideal choice for couples planning multiple events over the course of a weekend.
The Inn at Mattei's Tavern, Auberge Resorts Collection in Los Olivos, California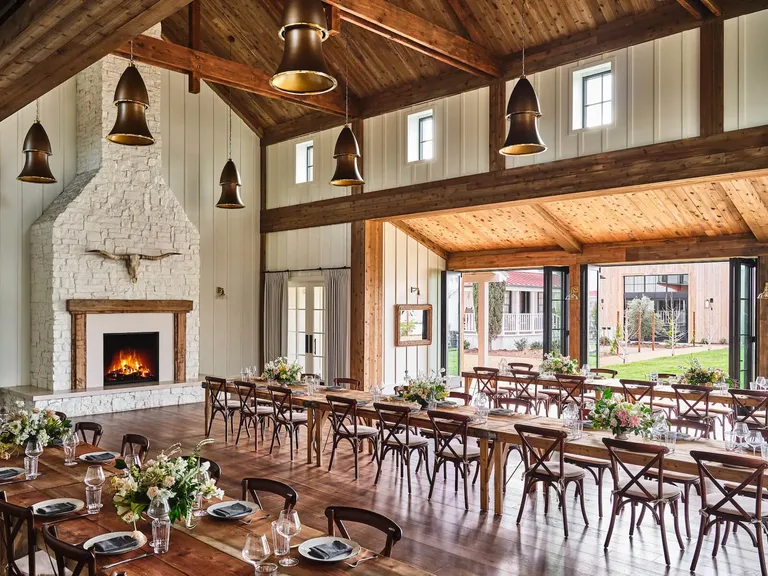 Having a barn wedding doesn't preclude you from having an elevated, luxury affair. Need proof? Just look at The Inn at Mattei's Tavern, Auberge Resorts Collection in Los Olivos, California. Located just north of Santa Barbara in the Santa Ynez Valley, this venue has a stunning 1,564-square-foot barn that can fit 140 guests and has 18-foot ceilings. But what's more, it also boasts top-notch service and exquisite accommodations for which Auberge properties are renowned. The property, which was built in the late 1800s, is conveniently driving distance from Los Angeles and offers multiple event spaces in addition to their stunning barn.
Hannah Nowack contributed to the reporting of this story.