Inside Justin and Hailey Bieber's Love Story, From 2009 to Today
The model became *one less lonely girl* when she married the singer in 2018.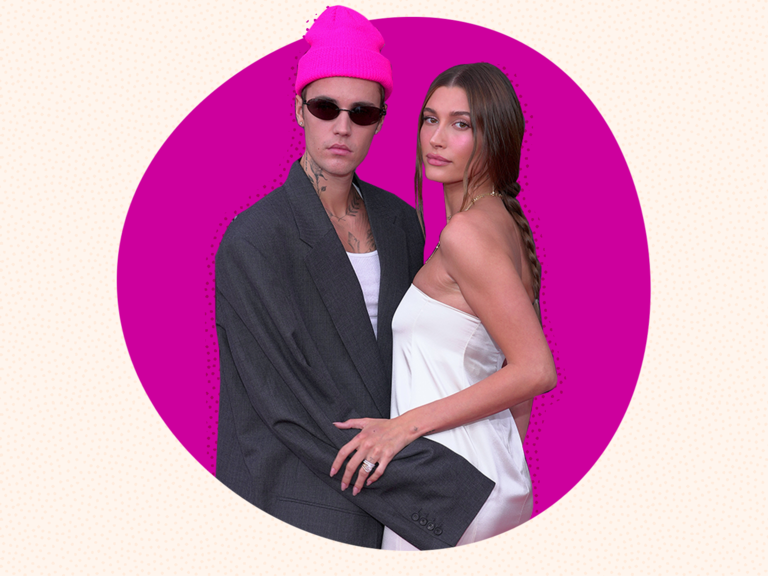 Photo: Getty Images | Design: Tiana Crispino
When it comes to the most famous couples in the world, Justin and Hailey Bieber easily make the list. The singer and the model met in 2009, and even dated from 2014 to 2016 before reconnecting in 2018. Justin and Hailey's wedding in 2019 instantly became one of the most iconic celebrity celebrations of all time, and the former bride continues to provide inspiration to this day. (Hi, glazed donut nails and raunchy bach parties.)
Amid their foray into married life, Justin and Hailey have candidly shared their thoughts about marriage, as well as the challenges they've weathered together and how it's strengthened their connection. We take a deep dive into Justin and Hailey Bieber's relationship timeline here, breaking down the moment they met, their romantic engagement, their two wedding ceremonies, and where their relationship stands today.
Justin and Hailey Bieber met in 2009 backstage at the Today Show for an event, and their first interaction was captured by cameras.
Justin and Hailey Bieber began dating in 2014, only to have a "dramatic" breakup two years later.
Justin and Hailey Bieber rekindled their romance and began dating again in 2018. Justin proposed to Hailey in the Bahamas that summer.
Justin and Hailey Bieber got married at a courthouse on September 13, 2018. The Biebers' second wedding took place in South Carolina on September 30, 2019.
In the years since their wedding, Justin and Hailey Bieber have been open about their marriage, including how they work through relationship challenges together.
2009: Justin Bieber and Hailey Baldwin Meet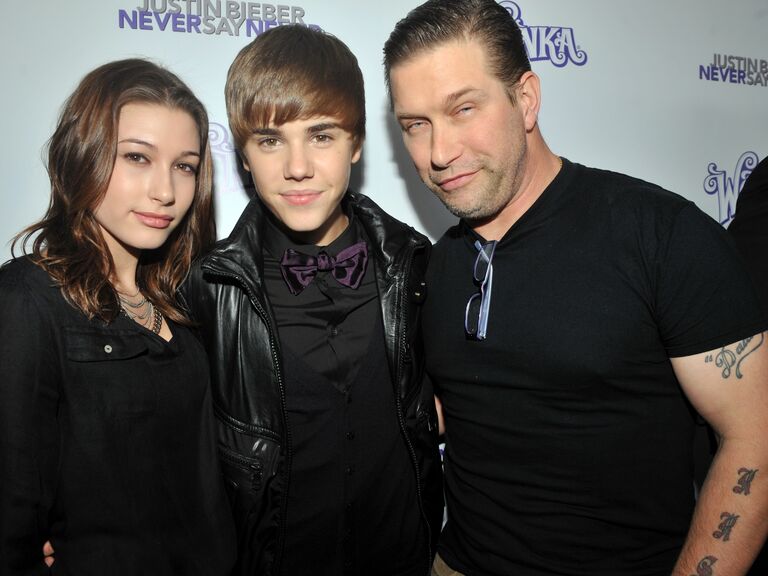 We can trace this love story all the way back to 2009. Justin Bieber and Hailey Baldwin met while backstage at a taping of the Today Show. It's believed that her dad, Stephen Baldwin, and his mom, Patti Mallette, orchestrated the introduction, which was captured on camera. In the short clip, Hailey and Justin can be seen shyly shaking hands as Baldwin facilitates the meeting.
Two years later, they publicly crossed paths again at the premiere of Justin's Never Say Never documentary in New York City. In a later cover story interview with Vogue, Hailey told the outlet she thought he was "cute," but clarified she never considered herself to be a "Belieber," saying, "I was never a superfan, of him or of anyone. It was never that crazed, screaming thing. I didn't think about it in any kind of way except for the fact that he was cute. Everybody had a crush on him. But for the first few years we had a weird age gap."
2014: Justin Bieber and Haily Baldwin Start Dating
Justin and Hailey's romantic timeline can be traced back to around 2014 when they reconnected through their shared religion.
November 2014: Justin and Hailey are Spotted Together at Hillsong Church
Fans first began speculating that Justin Bieber and Hailey Baldwin were dating after the two were photographed standing next to each other during a service at Hillsong Church in NYC. Although they weren't dating at that moment, Hailey told Vogue that the megachurch was responsible for rekindling their friendship. "One day Justin walked into Hillsong and was like, 'Hey, you got older.' I was like, 'Yeah, what's up?' Over time he became my best guy friend. I was running around with him as his homie, but we weren't hanging out [romantically]."
December 2014: Justin and Hailey Insist They're Just Friends
Despite heightened romance rumors throughout the year, Justin and Hailey maintained that they were just friends. "I've known him since I was so young—since I was like 13—and we've just been good friends over the years," she told E! News in December. "We have just stayed close and there's nothing more to it than that." Justin doubled down on the claim when he shared an Instagram photo of the two of them with the caption, "People are crazy. I'm super single and this is my good friend u would know otherwise."
December 2015: Hailey is Spotted on Vacation with Justin's Family
Amid his on-again, off-again relationship with singer Selena Gomez, Hailey Baldwin was spotted on vacation with Justin Bieber and his family in Tulum, Mexico, over the 2015 holiday season. They were also seen kissing on New Year's Eve at a party in St. Bart's, where Justin performed.
February 2016: Justin and Hailey Confirm They're Dating Casually
Justin Bieber graced the March 2016 cover of GQ, and in his interview opened up about the status of his relationship with Hailey, who he called "someone I really love." Although admitting they "spend a lot of time together," he said that he wasn't quite ready to commit to a traditional relationship. "I know that in the past I've hurt people and said things that I didn't mean to make them happy in the moment. So now I'm just more so looking at the future, making sure I'm not damaging them," he said, adding that he was considering what their future together could look like. "What if Hailey ends up being the girl I'm gonna marry, right? If I rush into anything, if I damage her, then it's always gonna be damaged. It's really hard to fix wounds like that. It's so hard ... I just don't want to hurt her."
Around the same time, Hailey confirmed to E! News that they were "not an exclusive couple" because he was preparing to go on tour: "Relationships at this age are already complicated, but I don't really like to talk about it because it's between me and him."
2016: Justin and Hailey Have a "Dramatic" Breakup
Shortly after the GQ cover story, Justin and Hailey went through a tumultuous breakup. In their Vogue cover story, Hailey reflected on how they parted ways, saying, "Negative things happened that we still need to talk about and work through." She continued, "'Fizzled' would not be the right word—it was more like a very dramatic ex-communication," she explained. "There was a period where if I walked into a room, he would walk out."
Justin went on to date Sofia Richie for a few weeks toward the end of 2016, and he rekindled his relationship with Gomez from October 2017 to March 2018. Hailey was linked to Shawn Mendes in early 2018 after they attended the Met Gala together, though she denies they were romantically involved.
June 2018: Justin and Hailey Rekindle Their Romance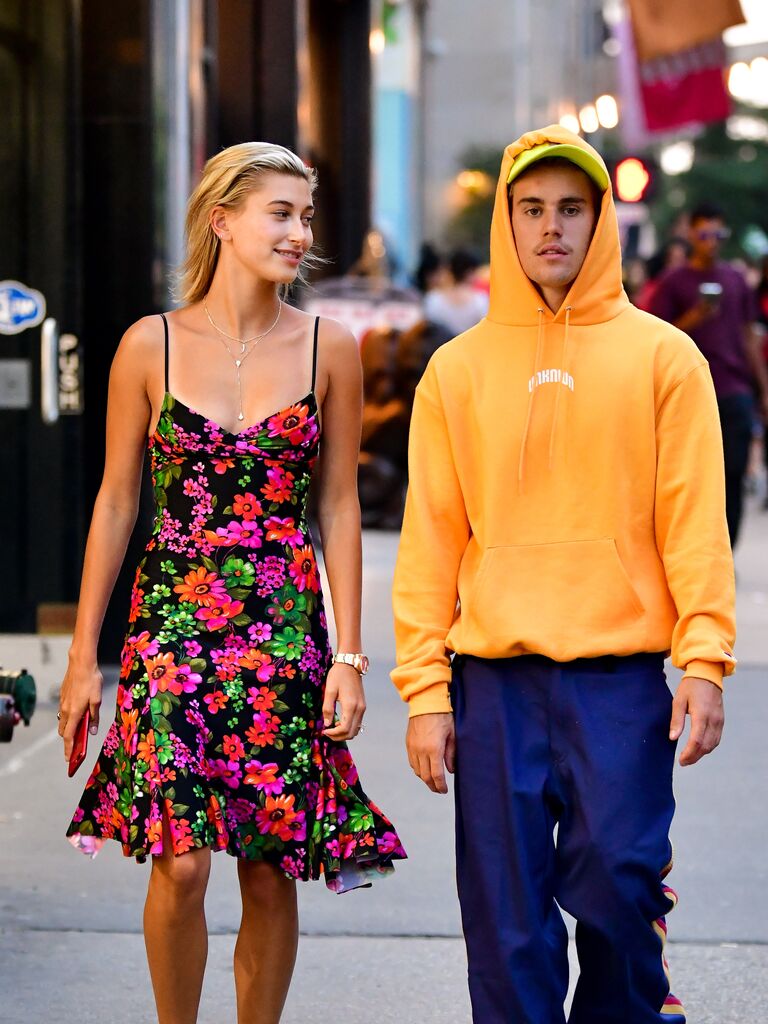 Just as Hillsong was responsible for bringing Justin Bieber and Hailey Baldwin together in 2014, it also facilitated their reconciliation in 2018. "The common denominator, I promise you, is always church," Hailey told Vogue of their reconnection, which took place when they crossed paths at a conference in Miami. "By then we were past the drama. I just gave him a hug. By the end of the conference, he was like, 'We're not going to be friends.' I was like, 'We're not?'"
The new couple embarked on a summer of PDA, as they were photographed getting cozy all around the country, from Brooklyn to the Hamptons and Washington.
2018: Justin Bieber and Hailey Baldwin Get Engaged
Justin Bieber and Hailey Baldwin got engaged on July 7, 2018, in the Bahamas. The romantic proposal took place while the couple enjoyed dinner on the tropical island. Eyewitnesses who watched the moment go down revealed the details to TMZ, saying, "Everyone was at a restaurant on the property doing salsa dancing when Justin's security told everyone to put their phones away, because something special was about to happen," they alleged. "Justin then proposed in front of everyone."
Hailey Bieber's Engagement Ring Details
Hailey Bieber's engagement ring undoubtedly played a role in the rise in popularity of oval-cut diamonds. Justin proposed with a solitaire oval-cut diamond set on a yellow gold band, which was designed by Jack Solow of Solow & Co. Inc Diamond Jewelers. The whopping center stone is estimated to be between 4 to 8 carats, and it's valued at $500,000, making it one of the most expensive celebrity engagement rings of all time.
Justin confirmed the news by posting an ode to his wife-to-be on Instagram a few days later. "Hailey I am soooo in love with everything about you! So committed to spending my life getting to know every single part of you loving you patiently and kindLY," he wrote. "I promise to lead our family with honor and integrity letting Jesus through his Holy Spirit guide us in everything we do and every decision we make. My heart is COMPLETELY and FULLY YOURS and I will ALWAYS put you first! You are the love of my life Hailey Baldwin and I wouldn't want to spend it with anybody else."
2018: Justin and Hailey Bieber's Wedding Details
Justin and Hailey Bieber's wedding took place on September 13, 2018—the first one, that is. The couple headed to a courthouse in Manhattan for a civil ceremony. The bride was photographed in an all-white ensemble for the special occasion.
When you think of Justin and his wife Hailey Bieber's wedding, though, you probably imagine their lavish sequel ceremony. Justin and Hailey's second wedding took place in South Carolina on September 30, 2019, which we look back on here.
The Biebers Were Celebrated By a Star-Studded Guest List
Mr. and Mrs. Bieber were celebrated by 150 loved ones at their second wedding. Stars like Kris Jenner, Kylie and Kendall Jenner, model Joan Smalls, Justine Skye and Jaden Smith attended the exclusive soirée. The couple later unveiled behind-the-scenes, intimate footage from the wedding day in Justin's Seasons series on YouTube. In fact, when the bride walked down the aisle in her stunning number, the entire room applauded and cheered.
The Bride Wore Multiple Wedding Looks
Hailey Bieber's wedding dress instantly became one of our all-time favorite celeb looks, though it was far from the only notable outfit she wore. The bride rotated through a total of four dresses throughout the wedding weekend, including a Vivienne Westwood minidress for the rehearsal dinner; a custom Off-White gown with matching veil emblazoned with the words "till death do us part" for the ceremony itself; a Ralph & Russo halterneck that she wore later in the evening; and a custom Vera Wang slip dress that she wore with trainers at the reception. The groom opted for a classic tuxedo and accessorized with a custom spiky, studded grill on his bottom front teeth that matched Baldwin's wedding and engagement ring.
2019-Present: Justin and Hailey Bieber's Marriage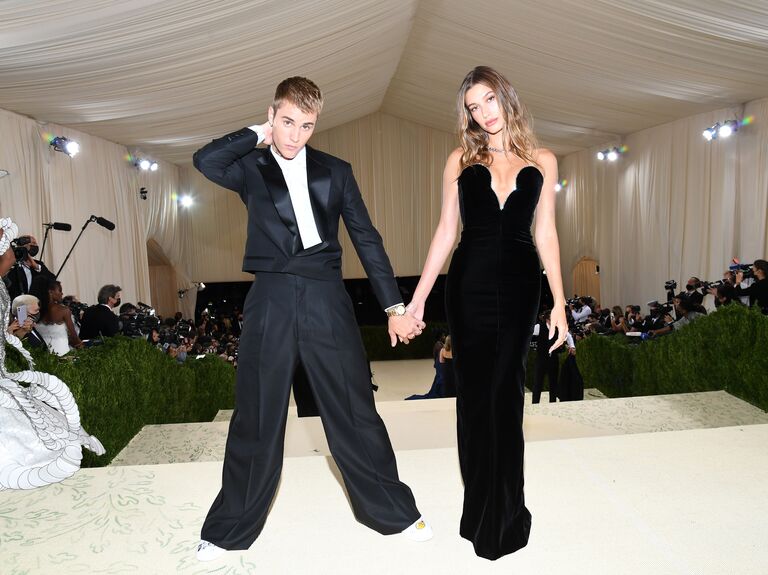 The Biebers have been open about their marriage, including the challenges they've faced together since their weddings, including health scares, mental health struggles, and their thoughts on children. We break down what Justin Bieber and his wife have been up to since swapping vows.
February 2020: Justin and Hailey Dish on Married Life
A few months after their second wedding, Justin and Hailey opened up about life as newlyweds on another episode of Seasons. Justin gushed about his wife, saying, "to share my life with [Hailey] just makes it so much more rewarding."
She added, "He was the first person I ever had real feelings for. When things kind of went south for a little bit and we went our separate ways, I just knew that no matter what the outcome was going to be, he was going to be somebody that I loved for the rest of my life. No matter what, he was always going to hold a special place in my heart."
March 2022: Justin Supports Hailey Through a Health Scare
Hailey Bieber suffered a scary health crisis in March 2022 when she experienced a mini-stroke, which landed her in the hospital. She opened up about the ordeal on Instagram Stories, saying she "was sitting at breakfast with my husband when I started having stroke-like symptoms and was taken to the hospital."
She was ultimately diagnosed with PFO, which means she had a small opening in her heart. She called the experience "one of the scariest moments I've ever been through," but confirmed that an operation to close the tear went "very smoothly."
The pop star spoke about his wife's health during a concert shortly after the procedure. "Obviously you guys know, most of you probably know or seen the news about my wife," he shared. "She's okay, she's good. It's been scary, you know, it's been really scary but I know for a fact that God has her in the palm of his hands."
May 2022: Justin Opens Up About Mental Health Struggles
During an intimate conversation with Apple Music radio personality Ebro Darden, Justin got candid about the mental health struggles he experienced early in his marriage. "It's a journey. I remember when I first got married, I hit a little bit of an emotional breakdown because I thought marriage was going to fix all my problems and it didn't," he told Darden "It just kind of was a reflection of like, man, you're a bit of a hypocrite man."
He continued, "You want your wife to do something that you're not doing and it's like, it's hard sometimes to look in the mirror and really have to realize, man, maybe you're not the person that you necessarily thought that you were. And that's just a result of trauma and life circumstances."
The following month, Justin experience his own health scare when he was diagnosed with Ramsay Hunt syndrome, a rare neurological disorder that caused the right side of his face to become paralyzed. Hailey offered unwavering support for her husband, telling Ryan Seacrest and Kelly Ripa on Live with Kelly and Ryan that "he's going to be totally fine." She called it a "really out-of-nowhere, weird situation," before saying they became "closer than ever" during the ordeal.
September 2022: Justin and Hailey Address Alleged Drama with Selena Gomez
Four years into their marriage, Justin and Hailey continued to face rumors and drama about his past relationship with Selena Gomez. In an interview on the Call Her Daddy podcast, Hailey addressed the situation, saying, "I respect her; there's no drama, personally."
A few weeks later, Hailey and Selena were all smiles as they posed for pictures together at the Academy Museum of Motion Pictures' second annual gala in LA.
May 2023: Hailey Shares Her Thoughts on Having Kids
Is Hailey Bieber pregnant? The answer is no…at least, not yet. On May 14, 2023, the model opened up to The Sunday Times about her desire to grow her family, saying that she and Justin want kids "so bad." "I literally cry about this all the time," she told the outlet. "I want kids so bad but I get scared. It's enough that people say things about my husband or my friends. I can't imagine having to confront people saying things about a child. We can only do the best we can to raise them. As long as they feel loved and safe."