A Kansas City Bachelor Party City Guide to Plan Your Weekend
The perfect plan for a bachelor party weekend of sports, beer, and barbecue.
by Allyson Johnson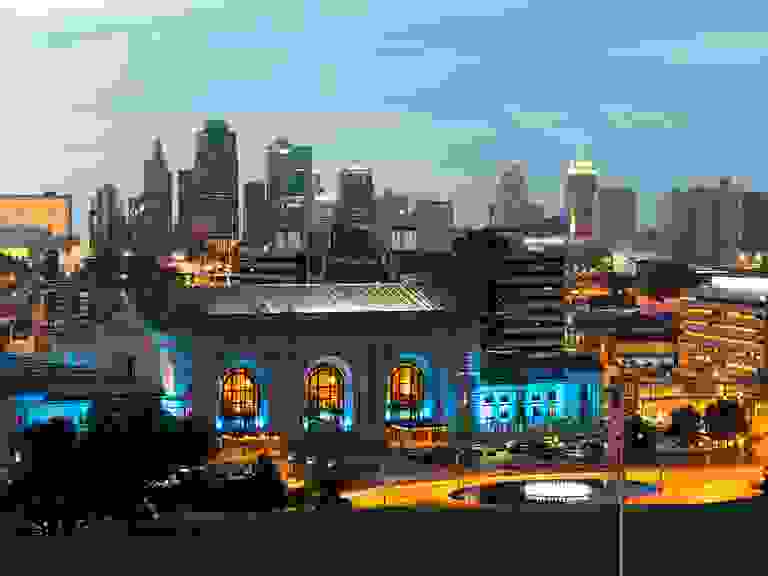 Kansas City is the quintessential city for a trip with all your best men. That's because a Kansas City bachelor party includes top-notch steaks, authentic KC barbecue, lots of live music in a hopping downtown, and plenty of sports—and it won't kill your budget. The city might not have been on your radar before, but Kansas City should be on every dude's trip bucket list. There's plenty to do and see, and it's the perfect way to send off your groom into a life of happily ever after. 

What Are Some Kansas City Bachelor Party Ideas?
There's no shortage of ideas when it comes to a Kansas City bachelor party, whether the group is looking for sports, good food, or just a plain ol' good time. 

For the sports-loving groom
You have plenty of options to schedule your Kansas City bachelor party trip around should you want to make it to a game. You've got the Chiefs for football fans or the Royals for baseball (book seats at the Craft and Draft to take in a game while you enjoy 75 different pours). There are also great golf courses in and surrounding the city if you're the types that are looking to play the links. 
For the foodie groom
Then there is the food scene: Kansas City is known for great steaks, for a start, and of course you have to taste your way through the barbecue options throughout the city. And if the food isn't enough, consider the craft beers, live music, and the bar district to whet your appetite for the city. 
For the party animal
Kansas City is not lacking when it comes to its nightlife. The Westport District is home to a plethora of bars and nightclubs; the Crossroads Art District boasts craft breweries and taprooms; and there's a craft cocktail scene in both districts between modern distilleries and speakeasies. Then there's gambling: Harrah's, Ameristar, and Isle of Capri, among other casinos, offer a chance to try your hand with Lady Luck.
Whatever your best buds plan for you, thank them all with a personalized gift from The Knot Shop—to go with the theme, consider a multipurpose barbecue tool set!
What Do You Do at a Bachelor Party in Kansas City?
There is plenty to see and do on a trip to Kansas City. If you're hitting up a game, factor that timing into your itinerary and prepare for larger-than-typical crowds. But if you aren't coming for the games, you'll find plenty else to do. Sports aside, here's a three-day itinerary to inspire your guys' weekend: 
Day 1
Afternoon: Once everyone has landed in Kansas City, the fun can begin. Get things started quickly with a brewery and distillery tour of the city. You can book a party bus to take you from place to place via available tours, or create your own tour through some of the city's top-notch locations including Boulevard Brewing Co., Cinder Block Brewery, Union Horse Distillery, and Holladay Distillery. 
Evening: By the time you're feeling good, you'll also be pretty famished. Head to Char Bar in the Westport District for authentic barbecue and southern food, including burnt ends, smoked rib trays, pork belly bites, and brisket chili. Char Bar has a great beer garden to close out the night and keep things a bit more low-key and casual after a day of drinking.
Day 2
Morning: Start your day at EJ's Urban Eatery, made famous for its meat and threes plates but open for weekend brunch with menu items like shrimp and grits, breakfast ribs, and biscuits and gravy (half plate or full). 
Afternoon: If you're not planning to make it to a Royals or Chiefs game, then hit the links at Shoal Creek Golf Course, a par 71 course that may just be the prettiest green space in the city. 
Evening: Line your stomach before a night out in KC's bar district. Anton's is one of the best places to grab that famous Kansas City steak.The casual tap room and restaurant serves 28-day aged cuts that will fill you up along with sides like smoked gouda mac and cheese and grilled gulf shrimp. Then it's back to the Westport District, where you can hit Fidel's Cigar Shopbefore your night of bar hopping. Make your way from Kelly's Westport Inn (a local dive), live music at The Westport Saloon, TikiCat (for a tiki bar theme and matching cocktails), or The Riot Room for local bands and a great patio scene.
Day 3
Afternoon:  End your Kansas City bachelor party weekend with what the region is most known for: barbecue. Hop on a barbecue tasting tour with KC Barbecue Tours. You'll sample ribs, brisket, burnt ends, pulled pork, smoked sausage and turkey, French fries, coleslaw, and beans from around the city—with plenty of beer to buy on site. 
Evening: Should you still be able to make it out for your last night and aren't stuck home with the meat sweats, head to Tom's Town for handcrafted cocktails, or see if there's a show at CrossroadsKC, and amazing outdoor concert venue that often hosts huge performers. 
Where Should I Stay in Kansas City for a Bachelor Party?
Check TripAdvisor for the best hotels to book in Kansas City. For budget-friendly options, the site recommends Harrah's North Kansas City Resort & Casino, which come with a side of nightlife options for those who don't want to sleep. The higher-endFontaine is great if you want a pool scene and chic setting. Or stay at the Kansas City Marriott Country Club Plaza, which is in walking distance to the bar scene in the Westport District. Airbnb options abound in the city too: For big groups opt for an ultra-modern townhome with a great location near the best of what the city has to offer, or for smaller groups, find yourself a little oasis near the city with your own private pool for daytime summer hangs. On VRBO, small groups can find a loft-style apartmentin the heart of downtown, and larger groups can stay in a mansion just four miles from all the action.
Disclosure: This post contains affiliate links, some of which may be sponsored by paying vendors.