The Complete Asheville Bachelorette Party Guide and Itinerary
This ultra-cool hidden gem in North Carolina has a little something for everyone.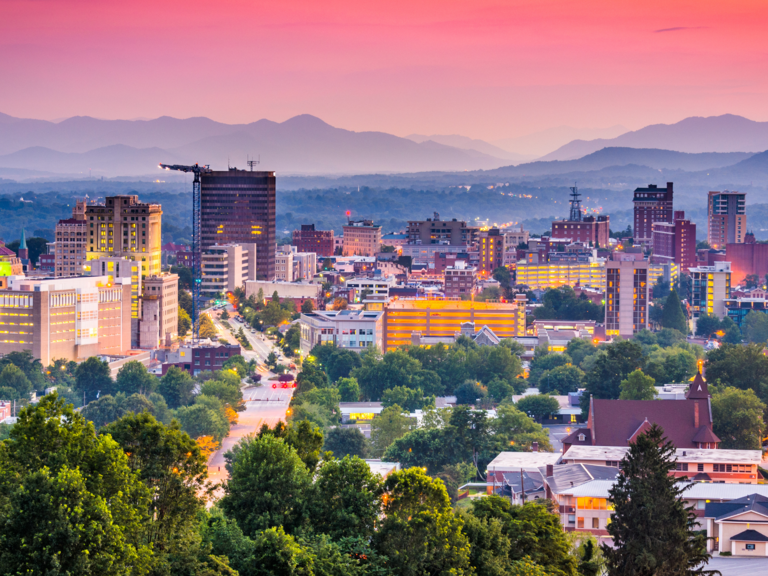 Photo: Sean Pavone / Shutterstock
We have included third party products to help you navigate and enjoy life's biggest moments. Purchases made through links on this page may earn us a commission.
When it comes to planning a bachelorette party, getting the location right is half the battle. Luckily, we have an under-the-radar bachelorette party destination that will appeal to almost everyone: Asheville, North Carolina. The town is vibrant, artsy, rich in both history and stunning architecture, and has a ton of must-try restaurants and bars. Below, you'll find everything you need to make your Asheville bachelorette party one to remember.
Asheville Party Planning in This Article:
Things to Do in Asheville for a Bachelorette Party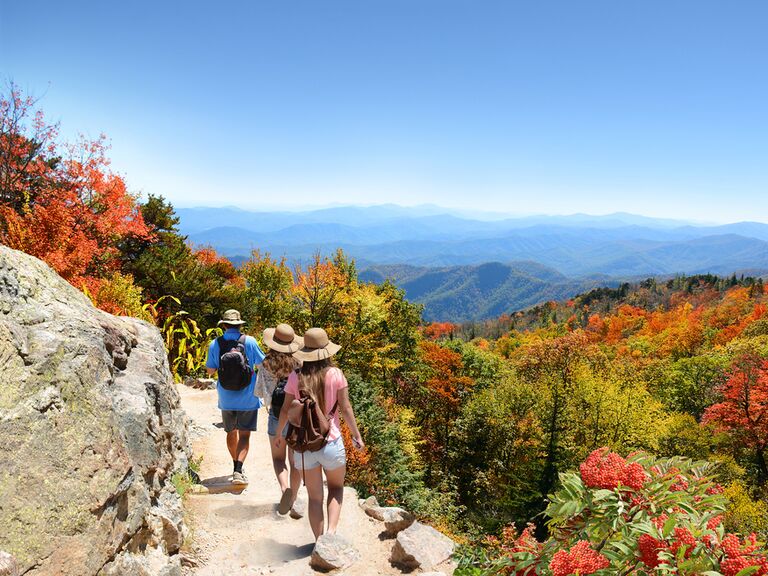 Whether it's art, food, music or R&R you're looking for, here are some of the best Asheville bachelorette party ideas to make sure your itinerary has a little bit of everything.
For the History Buffs
An absolute must-see when visiting Asheville is the Biltmore Estate. Nothing screams grandeur more than a 250-room castle (a.k.a. America's largest home), which was built by George Vanderbilt. With 8,000 acres of perfectly preened grounds, it's the perfect place to walk, talk and soak up the scenery with your group of besties. Be sure to book a behind-the-scenes tour while you're there.
For the Artsy Types
With over 25 galleries in the Downtown Asheville Arts District, art lovers will be spoiled for choice here. Plus, the impressive Asheville Art Museum is perfect for a group outing. With a rotation of interesting and out-of-the-ordinary exhibitions, you're guaranteed to find something fun to look at—most recently, they hosted "The Art of Food," Asheville Art Museum's tastiest collection yet.
For the Poetically Inclined
If the guest of honor loves poetry or literature, you're in luck. Running for over 20 years, the Montford Park Players is North Carolina's longest-running Shakespeare theater company. The best part? It's completely free, so this won't be a big hit to the budget.
For the Hikers
There are countless ways to get your kicks in Asheville. Whether you've got a group of adrenaline junkies or a group that simply likes to be at one with nature, you won't be short of things to do in Asheville. One thing that has to make your list is Great Smoky Mountains National Park. Pack a backpack, throw on some sneakers and explore. Depending on how adventurous your group is, you can take a dip in the creek, try your hand at fly fishing or rent mountain bikes and check out the many trails.
For the Music Lovers
If there's one thing the Blue Ridge Mountain Valley has plenty of, it's live music venues. From drum circles and contra dance to the Room Nine Nightclub and the Asheville Guitar Bar in the River Arts District, all you need to decide is what vibe you're looking for (and what to wear, of course).
Asheville Bachelorette Party Itinerary and Activities
We've put together a sample itinerary of Asheville bachelorette party activities so you can do an excellent job nailing down the schedule for your special trip.
Day 1
Your bachelorette party weekend is finally here, and what better way to kick-start the fun than with a tarot reading. The session starts with some guided meditation before each member of your group will receive their own personalized tarot reading. The card reader can come to you, so you can set up in the park, at your hotel or even at a local cafe.
After you've delved into the future, it's time to take your positive juju and enjoy some wine tasting. For a well-rounded wine experience, check out Blue Ridge Wine Tours, where you and your besties can get acquainted with Downtown Asheville's wine scene. There's the option to book a relaxing driving tour too, where you'll visit some of the wineries slightly further afield.
Next up, it's time to soak up the booze and enjoy a touch of fine-dining at popular lava-lamp-filled restaurant Jargon. Serving contemporary American dishes with a Southern flair, you can look forward to an ever-changing menu that includes delicious dishes like fried okra, stuffed clams and meatballs.
Day 2
Spend the morning exploring Great Smoky Mountains National Park by foot or on a small group Jeep tour. On this guided tour, you'll not only learn about the history of the area, but you'll also have the opportunity to stop off to shop for treasures. Plus, you'll get a bit of an adrenaline spike as your driver takes you for a spin across the park's rougher terrain.
Tonight, it's time to don your dancing shoes and hit the bars. Start with The Montford—its year-round sunset with unobstructed views of the Blue Ridge Mountains is a must-see. We recommend getting a spot on the patio early to avoid disappointment. Afterwards, make your way to Tiger Mountain for photo booth fun, cocktails and dancing.
Day 3
You've made it to day three and are undoubtedly in need of some pampering. With a plethora of dreamy places to sit back and relax, you might struggle to decide where to spend the day. We recommend either Shoji Spa and Retreat, with its Japanese-inspired treatments and setting, or the Asheville Salt Cave, with its amazing salt treatments that you can enjoy in a cave.
Next, grab some locally sourced American classics at the unpretentious HomeGrown and enjoy a stroll through Weaver Park on your way back to town.
Places to Stay in Asheville for a Bachelorette Party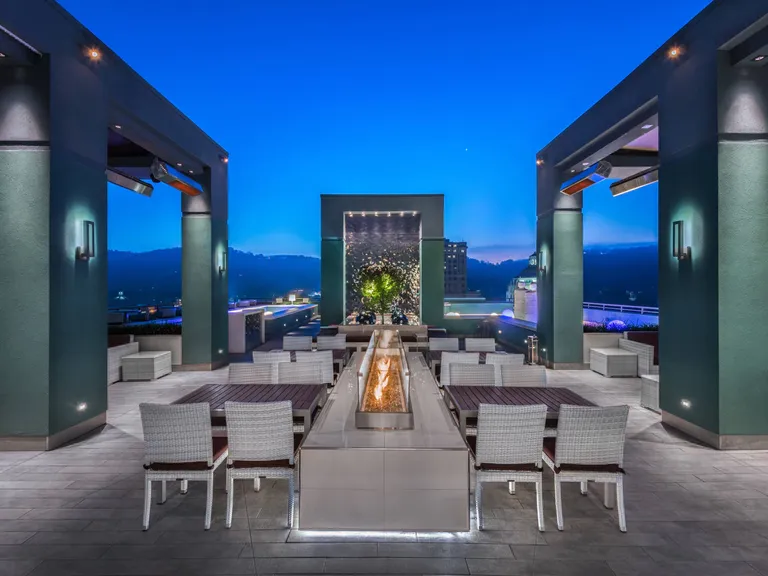 When it comes to the perfect place to rest your head during your Asheville bachelorette party, you're in luck: Asheville has countless home rentals and hotels that can cater to any size group. Here are some of our favorites.
Best Asheville Bachelorette Party Hotels
Hilton Garden Inn Asheville Downtown: Located within walking distance of vibrant Pack Square Park and near a plethora of Asheville's best bars and restaurants, the Hilton Garden Inn is a great spot to set up camp. This warm, modern hotel is set in a red-brick building and serves up beautiful views of the Blue Ridge Mountains.
The Omni Grove Park Inn: The Omni Grove Park Inn is a winning choice, renowned for its historical reputation—it's been visited by various presidents over the years. The Omni boasts stunning views and a poolside bar that's perfect for some stylish pre-drinks and pics.
AC Hotel by Marriott Asheville Downtown: Located smack dab in the middle of the action, the AC Marriott is one of the newer hotels to hit downtown, and it promises not to disappoint. With a stylish interior, a smattering of cool art, an on-site fitness center and a rooftop terrace, you'll certainly be in the right place to get the party started.
Pro tip: The Knot has partnered with Hotel Planner to help you secure the best group hotel rate and get free hotel advice from an expert travel planner.
Best Asheville Bachelorette Party Home Rentals
There are plenty of housing options for an Asheville bachelorette party, so check out TripAdvisor, VRBO, Airbnb, Expedia and Hopper Homes. If you're looking to supplement your vacation rental stay with some hotel amenities like a swimming pool or a fitness facility, you can also secure Asheville hotel day passes on ResortPass.
Modern Penthouse With Balcony, Chef's Kitchen and Beautiful City Views: A beautifully modern loft sleeping up to eight guests, this Art Deco building is in the heart of Downtown Asheville and couldn't be more glam if it tried. If the "wow" factor is what you're looking for, look no further.
Lux Walk to Asheville's Top Restaurants, Pubs: This home sleeps up to 10 and is located in a highly sought after area of Asheville. It's just a short walk from the Asheville Botanical Gardens and a short drive to the Blue Ridge Parkway. Oh, and did we mention there are three ensuites—so no fighting over mirrors.
Simple, Non-Conformist Asheville Eclectic: Recently renovated, this home-away-from-home resembles an art gallery. There is local art displayed throughout, including a 1939 print of a Great Smoky Mountains National Park map (trust us, it's a masterpiece). Start your day by making a coffee in the vintage metal kitchen boasting upcycled wood details, and enjoy the morning sun as it gleams through the home's custom stained glass. You won't want to leave.
Asheville Nightlife for a Bachelorette Party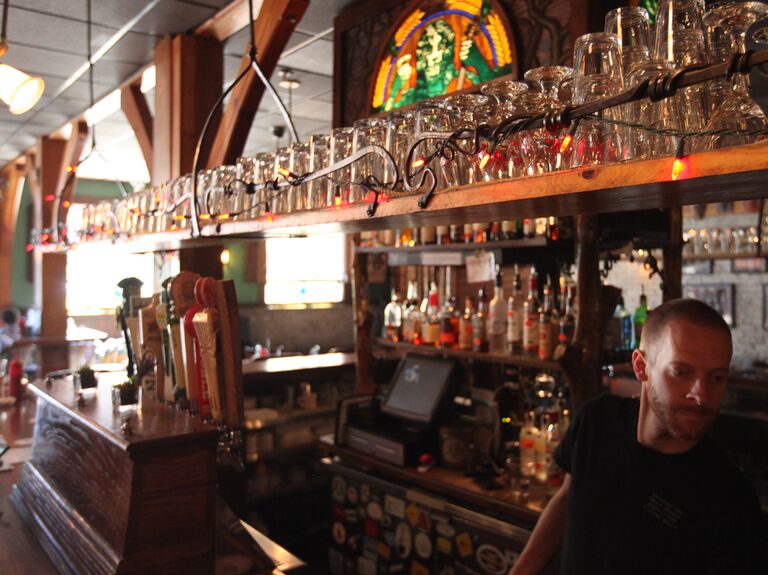 If there's one thing you won't be short of in Asheville, it's places to eat, drink and be merry. Whether you're searching for a cozy, laid-back restaurant or a wild nightclub experience, Asheville has something for everyone.
Best Asheville Bachelorette Party Restaurants
Sunny Point Cafe: Wholesome, hearty and indulgent to say the least, Sunny Point Cafe is the perfect spot to soak up the alcohol from the night before.
Cúrate: This Spanish tapas restaurant is truly extraordinary and will not disappoint. Hip and located in a former 1927 bus depot, you can expect small plates, cured meats and delicious drinks.
Chai Pani Asheville: Serving up Indian street food at its finest, Chai Pani offers the ultimate in elevated classic Indian dishes with an enticing twist—get ready for crunchy, spicy, sweet, tangy, brightly flavored Indian street snacks.
Best Asheville Bachelorette Party Bars
Scandals Nightclub: Nothing screams bachelorette more than throwing shapes in a bold and brilliant gay club—dancing is definitely on the menu here. But if that isn't your thing, The Grove House Entertainment Complex encompasses two other venues: Club Eleven on Grove and Boiler Room. Consider working your way through all of them.
Off the Wagon Dueling Piano Bar: Located downtown on Market Street and guaranteed to bring the party, you can request your favorite bangers and let the pianists do the rest.
Jack of the Wood: A classic Irish pub, Jack of the Wood has been open since 1996 and earned its reputation as being the place for a truly good time. While not a raving party bar, it is a much-loved pub setting with live music aplenty.
Expert Asheville Travel Tips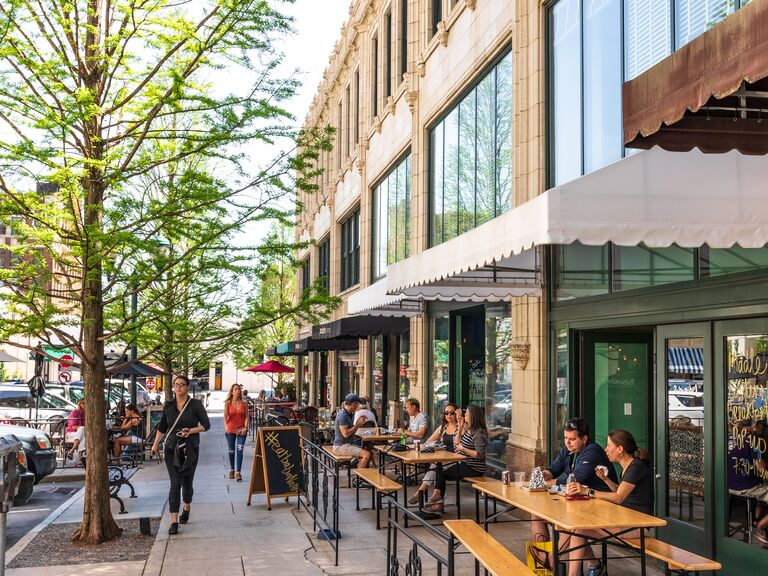 Below, we're sharing some tips to keep your travel plans as smooth and streamlined as possible.
Best Airlines Flying to Asheville
Asheville Regional Airport serves frequent nonstop flights daily to and from 26 destinations via six airlines, so planning your journey couldn't be easier. Check out American, Delta, JetBlue, United, Allegiant and Sun Country to see which offers the best times for your trip.
How to Get Around
You'll be pleased to hear that a car rental isn't necessary if you're planning on staying central in Asheville, as you can explore most of downtown by foot. That being said, if you're taking to the mountains, renting a car is necessary as there isn't any public transportation.