How to Get Legally Married in Kansas and Plan Your KS Wedding
Get hitched in the Sunflower State.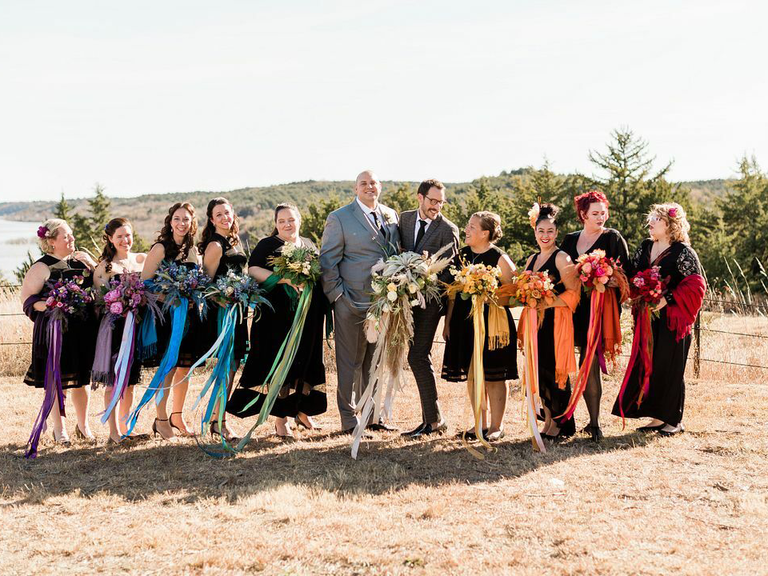 KELLY CZUPKIEWICZ
Ah, Kansas. Nestled in the heart of the United States mainland, Kansas is both the agricultural center of the country and the iconic setting for one of our all-time favorite movies, The Wizard Of Oz. If you're well on your way to hosting the perfect wedding in Kansas but are looking to make sure that everything is 100% legal, don't fret, we've got you covered. Applying for a Kansas marriage license is fairly straightforward and should be a breeze as long as you have all of your information in order. Once you've got the license squared away, check out The Knot's Marketplace to find the best pros to make your dream wedding a reality.
In the words of Dorothy Gale, "there's no place like home". And for those seeking a Kansas marriage license, there's no place like the Sunflower State to plan your big day.
How to Get Married in Kansas
If you're well on your way to tying the knot in Kansas, you may be counting down the days to your trip down the aisle, but there are a few legal details you better get straight before you step into the next stage of your life.
Is there a waiting period to get married in Kansas?
For couples counting down the days until they tie the knot in The Sunflower State, make sure to nab your marriage license in time, since there is a 3-day waiting period for hopeful spouses-to-be. It can take up to 2 weeks for marriage license applications to be processed, so make sure to leave enough time before you walk down the aisle to have everything squared away.
What are the legal requirements to get married in Kansas?
Before you run to the courts to put in your application, keep in mind that both you and your partner must be at least 18 years of age or 16 with a completed consent form from a parent or guardian. According to kscourts.org, state law does not require an officiant to be present at the wedding for it to be legally binding, however, if the couple is proceeding with a proxy marriage, where only one party will be present at the ceremony, an officiant and two witnesses must also be present for the Office of Vital Statistics to accept the marriage.
What's considered a common law marriage in Kansas?
Kansas is one of the few states that recognizes common law marriage. This means you can be legally wed even without the traditional ceremony or marriage license. As long as you and your partner are both interested in being married to one another, live together, and public act as if you were married (wearing wedding rings or referring to each other as your spouse), you can be legally wed in Kansas. Unfortunately, common law marriage does not pass over to most other states, so if you move, your marriage won't be legal.
Kansas Marriage License 101
If you're planning on hosting a traditional wedding ceremony, you first must get a marriage license from the County Clerk's Office. Making sure your special day goes off without a hitch doesn't require too much work, but make sure to read through all the details before you get ahead of yourself.
What do you need to get a marriage license in Kansas?
Interested parties must first submit a marriage license application to the County Clerk's Office. In the application, you need to include details such as your full name, Social Security Number, previous marriage details, name change request, phone number, and date of birth. You won't be required to show a driver's license or any other form of photo ID when applying.
Partners must also include payment details for their application, such as a credit card, debit card or electronic check information.
What does a Kansas marriage license cost?
Kansas marriage licenses are one of the more expensive applications in the country, clocking in at $85.50. If you are planning on paying with credit, debit, or electronic check, expect to pay a small additional fee.
How long does it take to get a marriage license in Kansas?
It can take up to two weeks for you to receive your marriage license after you've placed your application, so make sure you aren't in a rush to hurry down the aisle. The license is valid for six months after it's issued by the clerk's office, so it's better to plan ahead and get your license a few months in advance than be biting your nails and hoping that it comes in time for the ceremony. To check up on the status of your application, you can contact the District Court in your county for more details.
Can you apply for a marriage license online in Kansas?
Soon-to-be-married couples can apply for a marriage license both in person and online, so don't worry if you aren't currently living in the area where you plan to get married or if you can't get a day off from work to hop down to the clerk's office.
How do you get a copy of your Kansas marriage license?
Once you've happily bound yourself to the love of your life, you can request a certified copy of the marriage certificate two weeks after the wedding date.
How to Plan a Kansas Wedding
You've got the spouse of your dreams, now all that's left is planning the perfect day to get hitched. For those getting married in Kansas and looking to stay close to their roots, the state has a thriving bluegrass and country music backdrop. Kansas is also home to a Tulip Festival that is a joy to experience every year.
The Different Cities and Areas to Consider for a Kansas Wedding
For those interested in a gorgeous cityscape with a waterfront view, Wichita is the perfect place for your special day. Kansas City is home to some wonderful parks and historic backdrops great for a more traditional or elegant wedding, and Topeka has breathtaking gardens and churches where you definitely won't have trouble finding the perfect background for those memorable photos.
What to Look For in a Kansas Wedding Venue
Kansas has wedding venues that are traditional, modern, historic, rustic and everything in between, so don't worry about finding a location that fits your wedding theme. Although Kansas is well known for its country and bluegrass music, those interested in less rustic or country atmospheres will have no trouble finding a location suited to their interests. Kansas is home to ballrooms, museums and golf clubs that are perfect for a more sophisticated event, as well as the more laid-back barns, farms and parks.
How to Find Kansas Wedding Vendors
When it comes to finding the perfect vendors for your once in a lifetime event, check out our wedding vendor marketplace to get some ideas. When it comes to flowers, cakes, music and decor, whatever your personal style is there will be a Kansas vendor who has you covered.
The Best Times of Year to Have a Kansas Wedding for Good Weather
No matter the city you pick, keep in mind that Kansas weather is no joke. Tornado season begins around May and goes through June, but tornadoes can often be seen outside of those summer months. Although Kansas tends to see mild winters, even a small snowfall can back up the streets and derail all of your plans due to traffic. The most popular times for couples to tie the knot are fall and spring, since Kansas summers can be swelteringly hot and often bring thunderstorms.
With all that information in your pocket, go forth and plan the perfect Kansas wedding, but make sure you've tied up all the legal ends so your day can go off without a hitch!