Everything You Need to Know About Getting Married in Kansas
Look to The Knot for local details about getting married in Kansas, from choosing your wedding venue to getting your marriage license.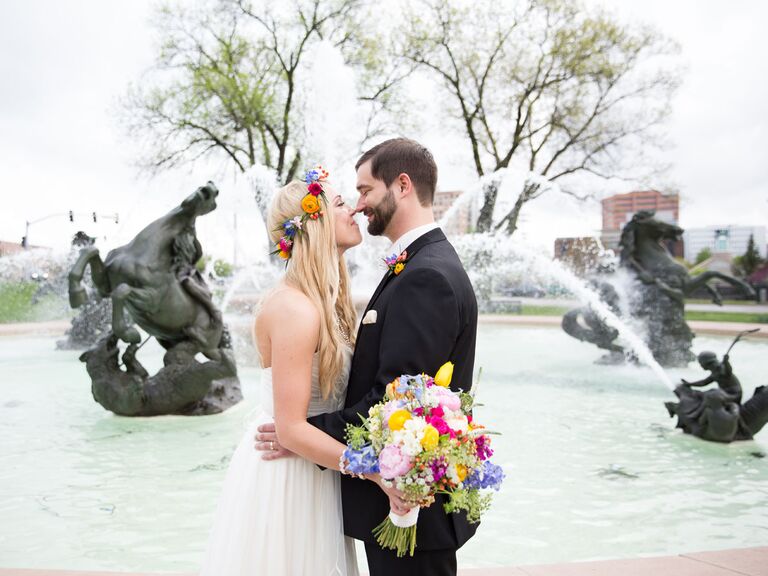 Marissa Cribbs Photography
Ultimate Guide to Getting Married in Kansas
Kansas's state motto, "Ad astra per aspera," translates to "To the stars through difficulties." Such an inspiring sentiment is a terrific mantra for couples to utter as they enter into marriage, and the variety of lovely wedding locales makes Kansas a prime spot for couples seeking their ideal wedding venue while heading into the starry skies of a life together. Wedding venues in Kansas include open farms with rustic flair, contemporary event spaces and historic buildings dripping with character.
Use this comprehensive guide as you plan your Kansas nuptials. Discover what some of the amazing wedding venues in Kansas have to offer, and take a look at all the elements involved in making things official so you can keep track of all the details. As you plan, keep your end goal of a memorable wedding in mind, and have fun throughout the process—it's the beginning of the most enjoyable time of your life. Follow your wedding checklist to make sure everything is done on time.
Top Wedding Trends in Kansas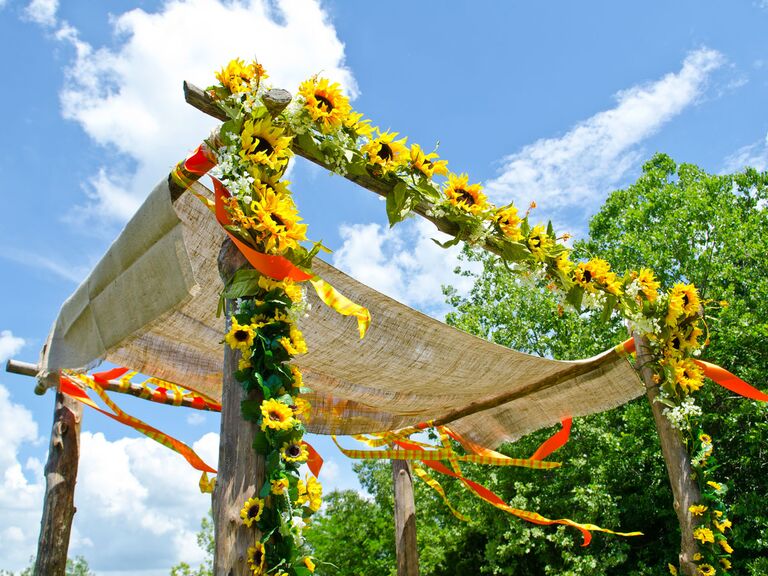 Not only are Kansas wedding venues diverse and easy to personalize, but having this midwestern state as your wedding location also means that you get to enjoy the trends and traditions of the area.
When it comes to wedding trends, however, Kansas couples are varied and unique in how they approach their big day. According to The Knot 2015 Real Weddings Study, 64 percent of Kansas couples throw a semi-formal wedding, 17 percent opt for a black-tie event and 17 percent decide to host a casual affair. As you search for Kansas wedding venues, check that each spot fits your desired level of ambience. If you envision your guests dancing in a ballroom under a glittering chandelier, there are a number of formal wedding sites that can make this a reality.
Don't forget to incorporate a few of the traditions and customs that make Kansas a great state. Kansas has a thriving atmosphere for country and bluegrass music. The state even hosts the Country Stampede, a four-day festival that celebrates country tunes. Adding a few of your favorite country songs to the reception playlist will give your festivities a bit of rustic charm and pay homage to Kansas's musical history.
Kansas Marriage Rates and Wedding Costs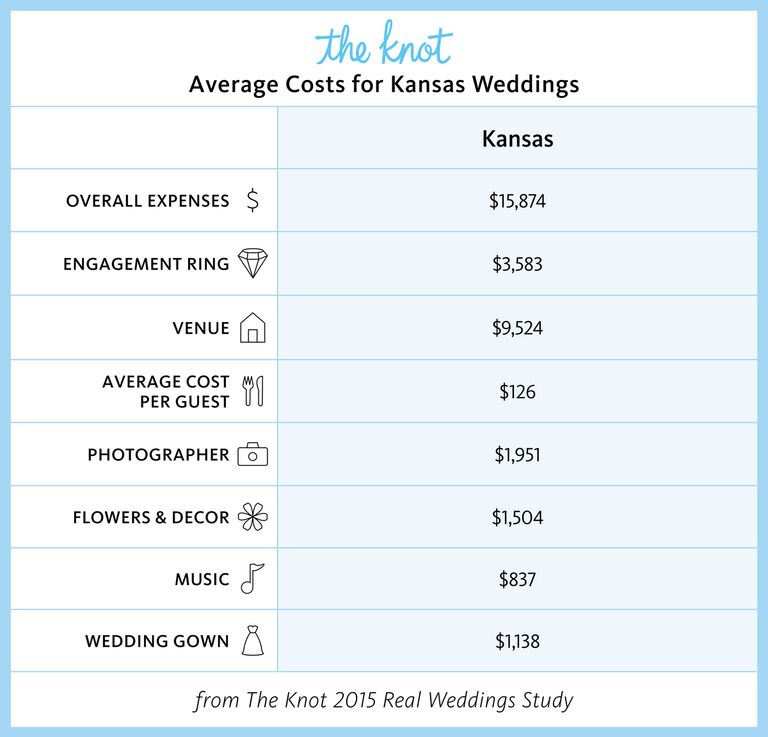 Planning a wedding can be a lot of fun, but affording it is another story entirely. No matter which type of wedding venue you choose or what type of theme fits your personalities, make sure you've created a budget and that you're sticking with it. The Knot Budgeter can help keep you on track! But before you take that important step, here's a little background info on how many couples are tying the knot in Kansas, plus what you can expect to pay for common wedding categories in Kansas, as reported by The Knot 2015 Real Weddings Study.
Kansas Marriage Stats
So how many couples are actually getting married in Kansas? Turns out that marriage rates in Kansas are below average with 6.1 out of 1,000 people, compared to the national marriage rate of 6.8 out of 1,000 people.
Budget Breakdown: Kansas Wedding Costs
Getting a sense of what you'll pay for your wedding day expenses will make it easier to budget and negotiate with vendors. Above you'll find average costs for some of the more common wedding categories.
Top Cities to Tie the Knot
Large, urban centers and homey, rustic towns are just a few of the awe-inspiring options you have for your Kansas wedding. The following three cities are popular with couples searching for a wonderful site for their nuptials:
Make It Legal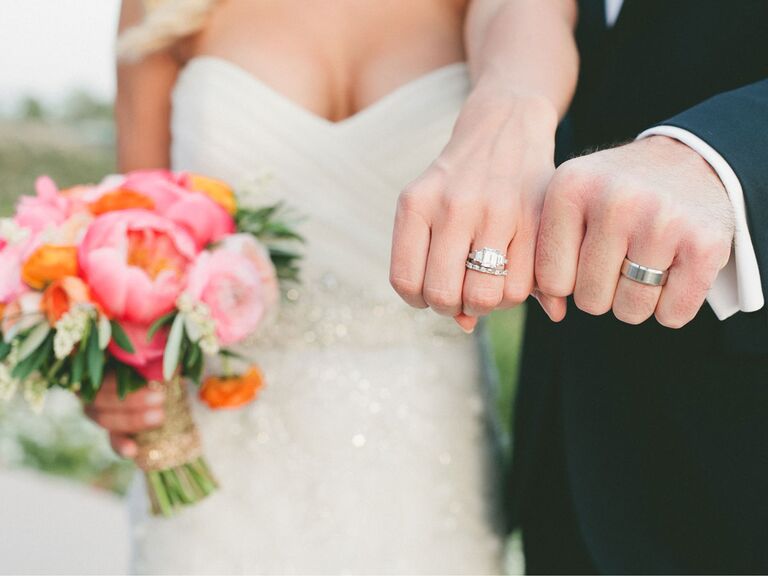 As you plan your wedding, it's easy to immerse yourself in all the fun activities like bridal shows, cake tastings and reception music. Don't forget about the technical side of getting married. It's essential to understand the process for obtaining a Kansas marriage license so your wedding isn't delayed due to a technicality. It's also vital to understand what permits you need for your event space, in addition to the rules and regulations governing the use of the space. After your wedding, knowing how to legally change your name makes the process less overwhelming.
Getting a Kansas Marriage License: The Basics
The process for obtaining a marriage license in Kansas varies slightly based on the county where you apply for the license. Check with the specific Clerk of the District Court's office so you understand that office's procedures. The process to get a Kansas marriage license requires two visits to the Clerk of the District Court's office. You need the following when you make your first trip to apply for a marriage license:
Identification, such as a driver's license or Social Security card
Proof of a dissolution of marriage if your partner or you have been married before
One member of the couple (it's not necessary for both individuals to be in attendance to apply for the license)
Exact change to pay for license ($85.50 as of 2016)
State laws don't require a blood test to issue a Kansas marriage license, but you must be 18 years of age to apply.
Once you apply for the marriage license, there's a three-day waiting period. You apply for the license, wait three days and make a second trip to the Office of the Clerk of District Court to pick up the license. The clerk gives you a worksheet for your partner and yourself to complete. When you pick up the license, the completed worksheet is required, and you both must sign the worksheet.
Your license is good for up to six months from the date of issuance. A license is valid throughout the entire state of Kansas, so don't worry if you apply for your license in a different county than the one you plan to wed in.
You also need an official to perform your wedding ceremony. In the state of Kansas, the following individuals have the authority to solemnize a marriage:
Ordained clergyman of any religious denomination
Licentiate of a denominational body
Judge or justice of a court of record
Municipal judge of any city in Kansas
Retired judge or justice of a court of record
Kansas also permits a couple to wed through mutual declarations of marriage. The declaration must be in accordance with the rules of the couple's religious society or sect.
Permits and Other Legal Requirements for Kansas Wedding Venues
The required permits and rules vary based on the site you choose for your Kansas wedding; inquire with the site's event coordinator to see that you have everything to host a memorable celebration. If you're interested in outdoor wedding venues in Kansas, you'll likely consider one of the state's lovely parks. In order to host a special event at a state park, a special event permit is required. Inquire with the park office for the steps to obtain the necessary permits, as they may vary based on the location you choose. Quiet hours are another thing to take into account when planning the flow of your wedding day. For example, Kansas state parks have quiet hours between 11 p.m and 6 a.m. Start your event early to avoid cutting the party short.
If you wish to serve alcohol at your event, check with your venue regarding what's permissible. Some wedding venues in Kansas only allow beer and wine, while others allow hard liquor as long as a licensed server who has the correct permits and event insurance serves it.
How to Change Your Name in Kansas
You may decide to change your name once you're married. In Kansas, the process to change your name is fairly simple but a bit time consuming. To change your name, take the following steps:
Request a certified copy of your marriage certificate (the copy with a raised seal).
Contact the Social Security administration, either in person or via its website, to apply for a new Social Security card. Mail the application to the Social Security Administration in your area. Expect your new card in about 10 business days.
Visit the DMV for a new license. Bring your old driver's license, marriage certificate and new Social Security card.
Once your name is officially changed, it's time to make sure all of your accounts, policies and documents reflect your new name. Items that may require your attention include:
Bank accounts
Investment accounts
Utility bills
Professional organizations
Student records
Credit cards
Loans
Voter registration card
Legal documents
Passport
Medical records
To make the process as simple as possible, utilize the name change service HitchSwitch. Its kit lets you change your name everywhere with one single form and frees your mind to focus on the more enjoyable components of tying the knot. Read all you need to know in our guide.
It's All About Timing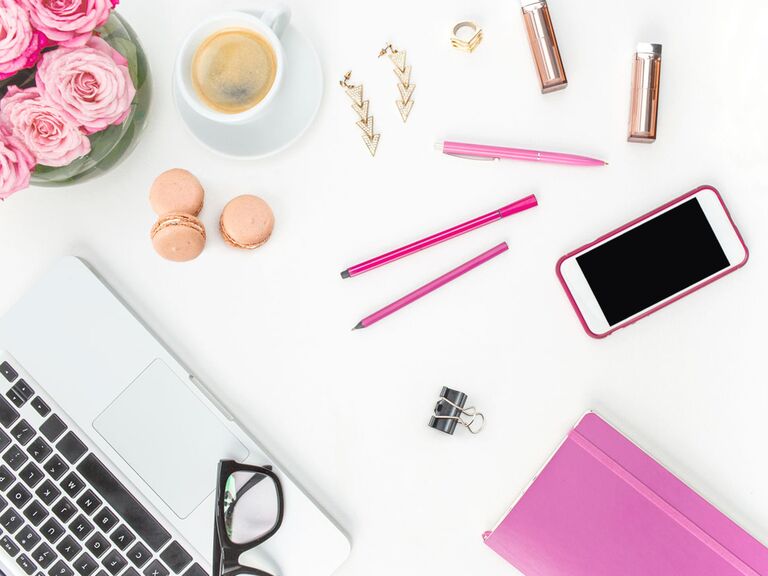 According to The Knot 2015 Real Weddings Study, fall is the most popular time for weddings in the state. It's no surprise that 39 percent of couples choose this season; the cool, crisp air ensures that everyone is comfortable, and the changing leaves are a gorgeous backdrop for photos. Summer is a close second, with 33 percent of couples opting for the satisfyingly warm weather. Spring is the third most popular time, with nearly 21 percent of couples decide to marry amidst the fresh blooms that spring is synonymous with. Winter is the least-popular time of the year for a wedding; a mere 7 percent of couples wed between December and February. Holidays and the possibility of snow and ice make these months a risky time to host an event.
The Four Seasons in Kansas
Even though winter in Kansas is comparatively mild to some states, there's still the possibility of a snowstorm. It only takes a few inches of winter precipitation to snarl traffic and cause treacherous travel conditions. January has an average temperature of 40 degrees Fahrenheit and an average snowfall of 5 inches, making this a somewhat difficult time to get around in most parts of the state.
Overall, spring brings milder temperatures and a significantly decreased chance of precipitation. Cold snaps are a likely event, however. April's average temperature is a lovely 67 degrees, and the chance of snowfall is practically zero by this point.
Summers are famous in Kansas for the hot days and mild nights. In July, the average high is 89 degrees Fahrenheit, and the average low is 68 degrees Fahrenheit. However, summer thunderstorms are a real possibility. Have a rain plan; some venues offer tents in case a stray shower pops up. Others have community rooms or halls reserved for rainy summer days.
In Kansas, fall brings an "Indian summer." This period usually showers residents mild, sunny days that are low in humidity. The nights are cooler, but not uncomfortably so. Thanks to the decrease in humidity, the season feels remarkably pleasant, which is probably why so many couples love this time of year for weddings.
Kansas Wedding Dates to Avoid
It's every bride's worst nightmare: guests, the wedding party or even the groom is late to the wedding because of horrible traffic. Keep this wedding mishap at bay by avoiding weeks or days with large local events. By doing so, you also make it easy for out-of-town guests to find affordable lodging.
If you're on a budget, stay away from dates close to major holidays. The costs associated with booking Kansas wedding venues and vendors tend to be more expensive at these times of the year. Your guests may also have to pay more for their hotel rooms or even deal with a lack of rooms. Use our comprehensive guide to learn what dates to avoid.
Here are some of the most popular festivals and events that take place in Kansas throughout the year:
Tulip Time Festival, Topeka (April)
Beef Empire Days, Garden City (late May to early June)
Wichita Riverfest (late May to early June)
Symphony in the Flint Hills (mid June at a variable location)
Amelia Earhart Festival, Atchinson (mid July)
Dodge City Days (late July to early August)
Kansas State Fair, Hutchinson (early to mid September)
OZtoberfest, Wamego (late September)
Great Guest Experiences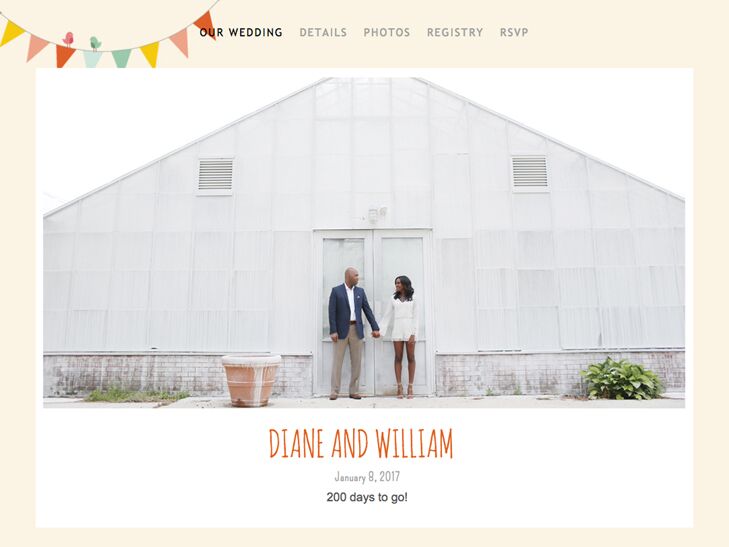 You appreciate the time, money and effort that your guests spend to attend your wedding. Help them be as comfortable as possible during their stay in Kansas by assist them with their travel plans. A personalized wedding website is a terrific way to assist your guests in finding lodging, transportation options and even places to grab a delicious meal. The information is always accessible to your guests to help their stay go smoothly.
Finding Your Way: Kansas Travel Info
To get to Kansas, your guests have a few alternatives. Flying is the quickest option, but it may be more expensive than other methods. Kansas has three primary airports:
Kansas City International Airport
Manhattan Regional Airport
Wichita Dwight D. Eisenhower National Airport
Kansas City International Airport is located in Kansas City, Missouri, but it offers the most domestic and international flights in the area. Once your guests are in Kansas, the comprehensive highway system helps your guests get to their final destination. Kansas has the third-largest state highway system in the country.
I-70 is an east-to-west route that goes through the following cities:
Colby
Salina
Hays
Junction City
Lawrence
Topeka
Kansas City
Bonner Springs
I-30 runs north to south, providing easy access to Wichita, El Dorado, Emporia, the suburbs of Kansas City and Ottawa. For short trips, taxis and ridesharing, such as Uber, are ideal options for guests who don't have a rental vehicle.
Around Town: What to Do and See in Kansas
During their time in Kansas, it's practically impossible for your guests to not find something to do. Kansas has diverse entertainment possibilities, ensuring there's something for everyone. Tell your guests about checking out the following Kansas attractions:
Sedgwick County Zoo (Wichita)
Deanna Rose Children's Farmstead (Overland Park)
Botanica: The Wichita Gardens (Wichita)
Kansas City Capitol Building (Topeka)
Dwight D. Eisenhower Presidential Library, Museum & Boyhood Home (Abilene)
Lake Shawnee (Topeka)
Oz Museum (Wamego)
Monument Rocks (Oakley)
Go Local: Food and Favors

Whether your guests are natives to the Sunflower State or are visiting to the first time, they'll love the flavors and culture that make it a terrific place to be. Introduce your guests to some of Kansas's most popular food items by incorporating them into your wedding menu. When it's time to say goodbye to your loved ones, present them with a wedding favor that reminds them of their time in the Sunflower State.

Kansas Flavors: Unique Regional Foods for Your Wedding
Immense wheat production is one of the characteristics that make Kansas an agricultural powerhouse. Put this wheat to good use by serving loaves of homemade bread at your wedding. Homemade bread makes a tasty appetizer when presented with home-churned butter. Or, opt for a sweet variety and add it to your dessert table.

Even though residents in the southern states of the United States might beg to differ, Kansas residents know that their state has some of the best barbecue. Let your guests decide which state's barbecue they like best by making it one of the options at your wedding. They might just fall in love with the tanginess that sets it apart from the crowd—remember to offer plenty of napkins if you serve this midwestern comfort food.
Do Your Guests a Favor: Kansas-Inspired Take-Home Treats
With so many wonderful local treats, coming up with take-home treats for your Kansas wedding guests should be a breeze. Even if you're on a budget, a home-baked mini pie or a bottle of Stormchaser IPA from Free State Brewing Company in Lawrence will go a long way toward leaving your guests with fond memories of your wedding celebration. Check out The Knot Shop for personalized wedding favors, and here are some more ideas:
Small glass jars of colorful chocolate-covered sunflower seeds
Local honey from Pome on the Range in Williamsburg
A bottle of custom-labeled Kansas City-style barbeque sauce
Tins of flavored popcorn from Topsy's in Overland Park and Topeka
Kansas City Guides
Enchanting river views, charming historical sites and classic religious buildings are just a few of the many Kansas wedding venues that you can choose from. The following three cities have some of the most treasured spots that Kansas has to offer, from transitional warehouse wedding venues in Wichita to luxury wedding venues in Kansas City. Once you have your ideal locale booked, use The Knot vendor marketplace to find the top wedding pros for your event.
Wichita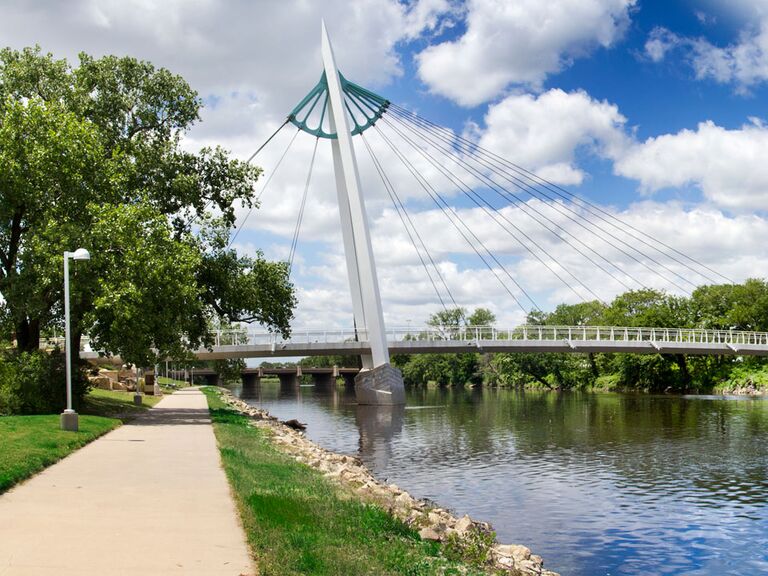 Wichita is the largest city in Kansas, but has humble beginnings as a trading post on the Chisholm Trail. Today it has evolved into a thriving home for multiple industries and artistic endeavors. The Arkansas River flows through the city, providing breathtaking water views for photo backdrops. When finding a Wichita wedding venue, you have your pick of sites that provide manmade and natural beauty.
Old Town, a neighborhood in Wichita, is home to numerous warehouse spaces that are a part of history. These warehouses have been converted into event spaces that give weddings a bit of character.
For local Wichita wedding pros, check out:
Kansas City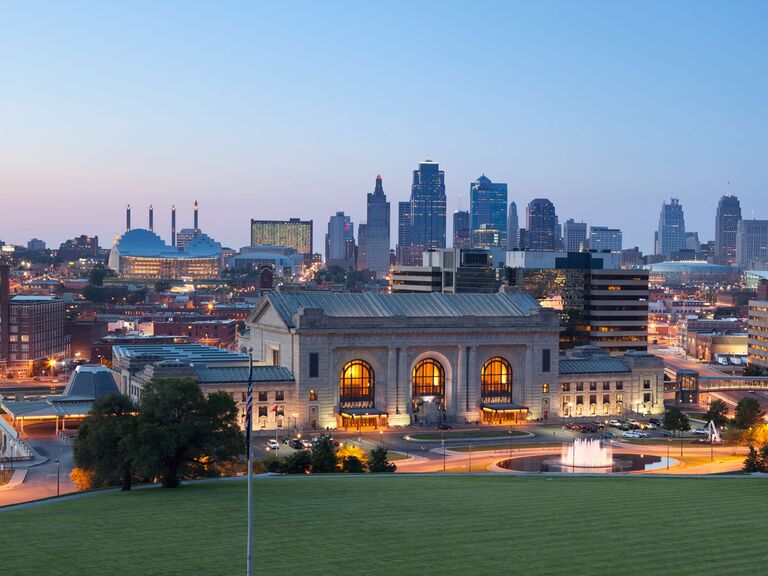 Kansas City has the distinction of being the third-largest city in Kansas. It rests comfortably at the junction of the Missouri and Kansas rivers. This city includes a flourishing downtown area in addition to many suburbs.
Multiple parks make up some of the offerings for Kansas City wedding venues and are magnificent places for an outdoor wedding. Notable sites are sprinkled through the city, such as the Roman Catholic Archdiocese and the Rosedale Arch, giving you and your Kansas City wedding photographers ample choices for beautiful and historic backdrops.
For local Kansas City vendors, check out:
Topeka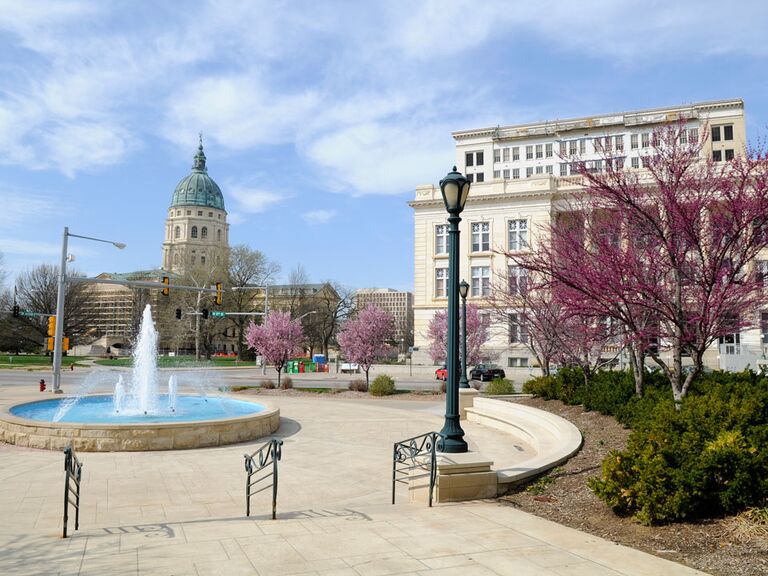 Topeka is Kansas's capital city. Downtown and streetscape improvements have transformed Topeka into one of Kansas's most picturesque spots. As you browse Topeka wedding venues, consider Gage Park. It's home to Reinisch Rose Garden and Doran Rock Garden, two amazing locations that add beauty to Topeka.
Some churches in Topeka display lovely stained glass windows. The First Presbyterian Church in Topeka has its sanctuary completely decorated with Tiffany stained glass, making it one of the few in the nation with this distinction.
For local Topeka vendors, check out:
Check out more Kansas wedding inspiration here.
Don't forget to download The Knot Wedding Planner app—it's a must-have for on-the-go planning.
Download for iOS: Wedding Planner App by The Knot

Download for Android: The Knot Wedding Planner