Pantone Color of the Year 2015 Is Marsala: See 12 Ways to Use as a Wedding Color
by Simone Hill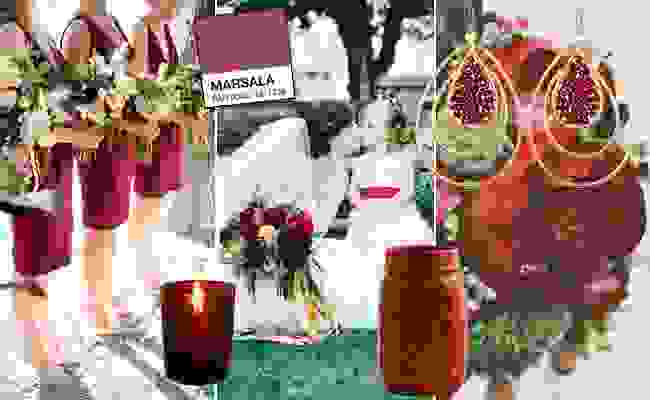 Today, Pantone announced that their official color of 2015 is marsala, a brownish red that evokes the richness of the Italian wine it's named for–we're predicting marsala is going to be a hot hue for weddings too! The past two years Pantone chose jewel tones for their color of the year, a rich fuchsia called Radiant Orchid was their 2014 pick and in 2013 brilliant emerald topped the color list. We love that marsala has a sophisticated earthiness, which pairs well with a variety of metallics colors, like gold, rose gold and copper (which is having a moment of it's own right now).
Even though dark red is usually associated with fall and winter weddings, marsala is actually a very versatile wedding color when paired with complementary colors or neutrals. Marsala, blush and ivory is a classic and pretty palette for any season or pair the color of the year with bright corals and oranges for a summery vibe. When it comes to wedding flowers, peonies and dahlias grow naturally in this dark red hue, and these big-headed blooms evoke a romantic quality. We especially love them layered with eucalyptus leaves. See our style board below and shop some of our favorite products in marsala (then take our poll and let us know what you think about marsala!).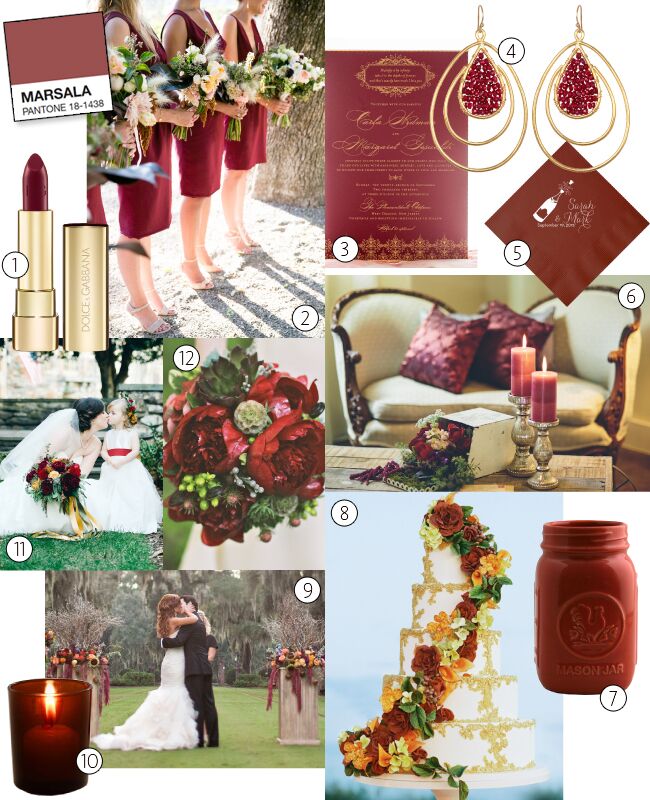 1. Marsala Lipstick
Buy here: Dolce & Gabbana, The Lipstick Classic Cream Lipstick in Wine, $33, Sephora.com
2. Marsala Bridesmaid Dresses
From the album: An Autumn Garden Wedding at Beltane Ranch in Glen Ellen, CA
3. Classic Marsala and Gold Wedding Invitation
From the album: A Pleasantdale Chateau Wedding in West Orange, NJ
4. Marsala Earrings
Buy here: Wendy mink Garnet Roundel Earrings, $198, CharmAndChain.com
5. Marsala and Gold Personalized Cocktail Napkins
Buy here: Cocktail Napkins, from $30, ForYourParty.com
6. Marsala and Ivory Wedding Lounge Space
From the album: A Romantic Post Card Inspired Shoot in Dripping Springs, TX
7. Rustic Marsala Mason Jar
Buy here: Persimmon Mason Jar, $15, WaitingOnMartha.com
8. A Marsala and Gold Cascade Wedding Cake
From the album: A Potomac View Terrace Wedding in Washington, DC
9. Marsala and Orange Wedding Ceremony Flowers
From the album: A Rich Autumn Wedding in Richmond Hill, GA
10. Marsala Votive Candle Holder
Buy here: Dark Amber Votive, $5 for a set of four, JamaliGarden.com
11. Marsala Flower Girl Flower Crown and Belt
From the album: A Traditional Wedding at Graylyn Estate in Winston-Salem, NC
12. A Peony and Succulent Marsala Bridal Bouquet
From the album: A Vintage Chic Wedding in Pittsburgh, PA
Want more? Of course you do!
> 8 steps to choosing your wedding colors
> Top 13 wedding color and style mistakes not to make