25 Gifts Your Boyfriend's Mom Will Get All the Feels About
She'll definitely think you're a keeper when she opens one of these.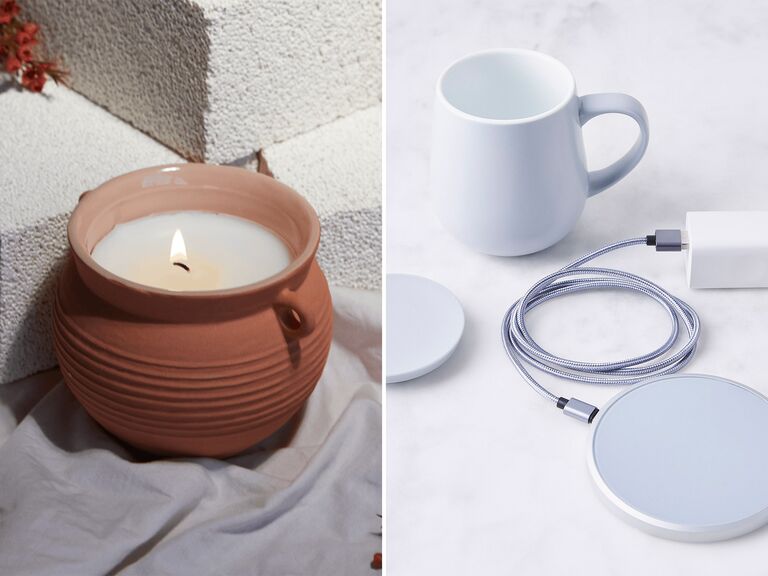 We have included third party products to help you navigate and enjoy life's biggest moments. Purchases made through links on this page may earn us a commission.
Being the best at gifting doesn't have to be at the top of your life-goals list, but when it comes to getting gifts for your boyfriend's mom, you'll certainly want to put your best foot forward. After all, she had a part in bringing up the guy you love (or are falling in love with, maybe?), so she'll appreciate a gift letting her know you're smitten with her work (wink wink). The challenge, then, is more about finding something that'll flatter her style, vibe with her home, let her enjoy some R&R, honor her interests or potentially even turn her onto a new hobby.
Whether you're picking out a present for the first time or you've shopped for your boyfriend's parents already, it's normal to feel nervous about making a great impression. Just know that nine times out of 10, her feedback is going to be, ''Thank you so much, I love it!'' So take a deep breath.
That said, if you really want to knock her socks off (and get her in some comfy slippers instead…read on), we're here to help with 25 of the most thoughtful gift recommendations for the holiday season, Mother's Day or just because.
1. Jennifer Bravo-Grulkey Essential Oil Diffuser Bracelet
Do you recall your boyfriend saying that his mom was starting to "get into crystals" and energy bracelets? Why not gift her with a colorful aromatherapy bracelet and an invitation to join you for your Saturday morning yoga class, then? Not only will she love the opportunity to hang with you, she'll feel oh-so-at-peace with her cool new bead and lava stone bracelet (we're fans of the garnet and rose quartz one). She just needs to add a drop of her favorite essential oils onto the gemstones and she can keep good vibes on her side all day long.
2. UGG Women's Lenny Knit Robe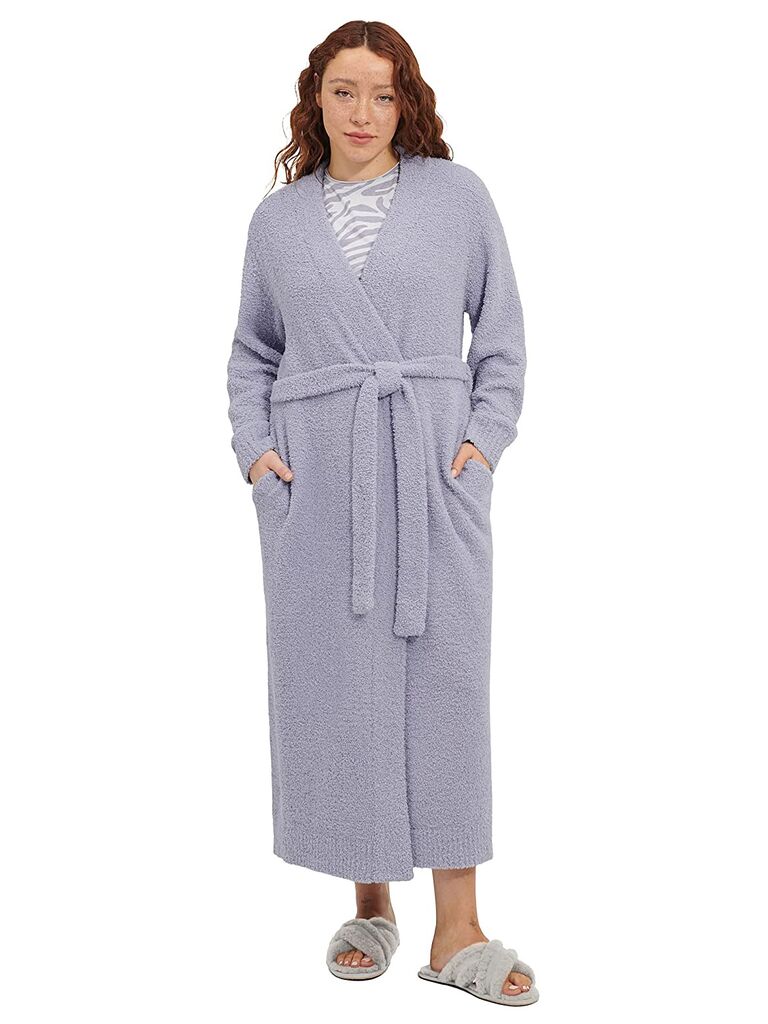 Remember that time you and your boyfriend's mother became best friends on that ski trip you took to Stowe, VT? It involved hot stone massages at the spa, fresh mocktails during your pedicures and the plushest robes the staff basically needed to pry from your hands on your way out? Well, you might not be going back this year, but she can still get in the spirit with this splurge-worthy full-length robe by UGG. The soft, neutral colorways and snug tie belt will put her on the right course to cozy.
3. Paddywax Santorini 8.5 Oz. Candle in Raw Clay & Pear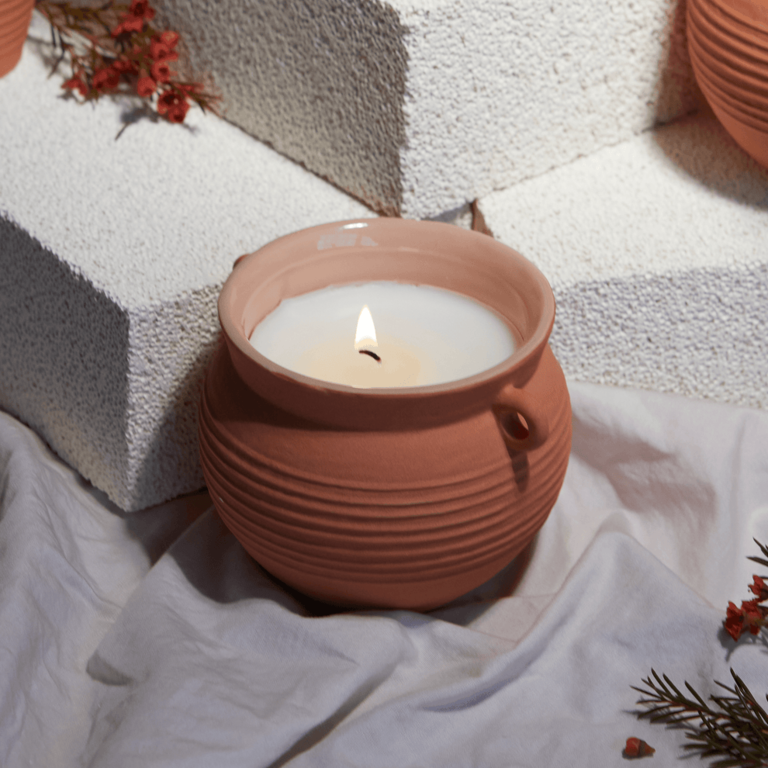 As long as you know she won't have an allergic reaction or scent aversion to it, a luxe soy candle is sure to be a fire present for any occasion, especially one that isn't just dumped into a basic glass candle mold. This giftable candle is hand-poured into a small, matte ceramic pottery jug with handles and ribbed details to match the Mediterranean style and scent of Santorini—it's straight-up paradisiacal. Plus, when the candle is all used up, she can repurpose the stylish pot as a planter for succulents.
4. Terrain Glass Cloche With Matches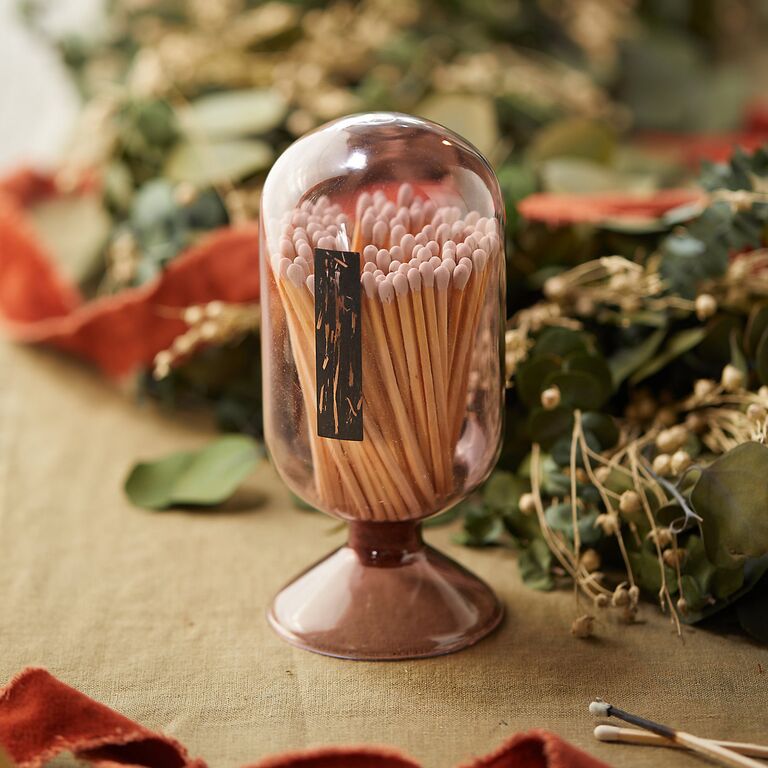 And if you really want to set her heart on fire, pair your candle with a set of matches to complete the gift. This fetching glass cloche comes filled with 120 matches and a strike-on-bottle flint that ensures Mom always has a light ready when she needs it. It's available in lavender, gray, Kelly green and dark yellow—with hand-blown hues as haute as these, she'll never go back to regular matchbooks again.
5. Le Creuset Stoneware Oil Cruet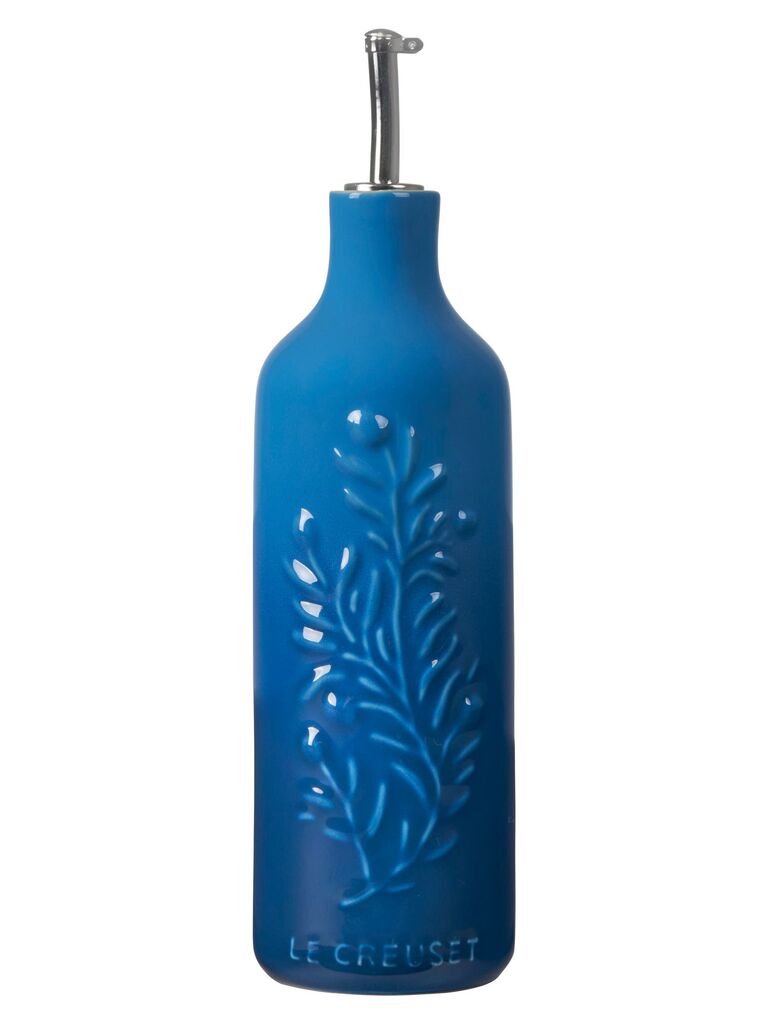 Sometimes, the most thoughtful gifts are the ones that let her know you've been paying attention. Consider this beautiful floral cruet, in a coveted Le Creuset color, if you know your boyfriend's mom always sets out artisanal bread and flavored dipping oils when she's entertaining guests. Fill it with a special savory-infused oil and add a cute "O-live you!" note to go with it.
6. Uncommon Goods Gourmet Oil Dipping Spice Kit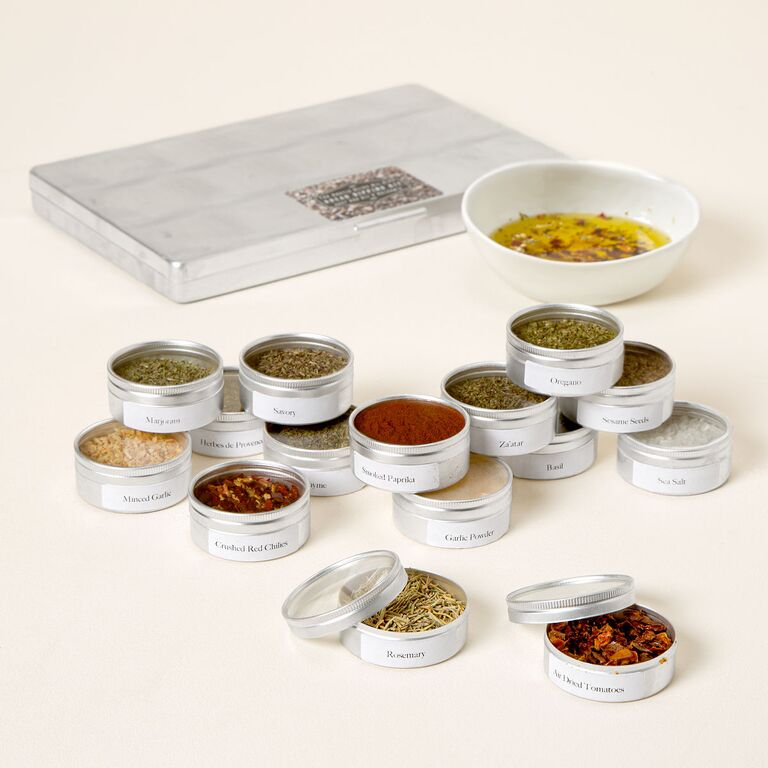 Speaking of spices, if your boyfriend's mom never leaves the supermarket without a shaker from McCormick, then this curated collection of herbs and spices is a gift for all seasons. It features 15 tins that are ideal for oil blending and bread dipping—they even come with bread pairing suggestions. From Herbs de Provence to air-dried tomatoes, the fancy flavors are sure to impress.
7. LAKE Pajamas Pima Long-Long Set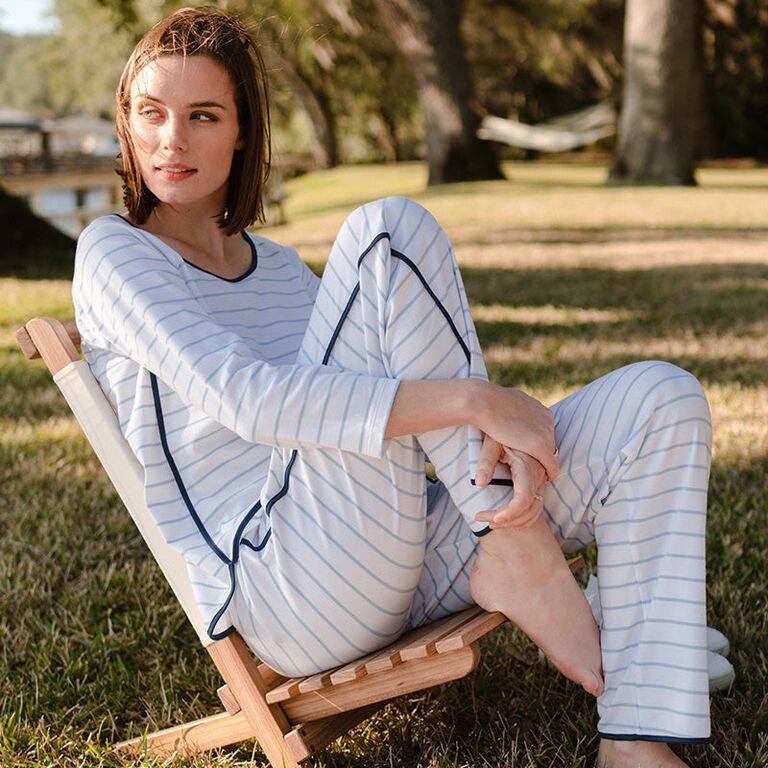 The perfect pajamas do exist, and your boyfriend's mama needs to have 'em. Lauded as the "cashmere of cotton," these buttery soft pajamas are made from 100% Peruvian Pima cotton and utterly luxurious. Choose from a few timeless stripe colors, including blue, pink and green.
8. The CAKER The Everything Bundle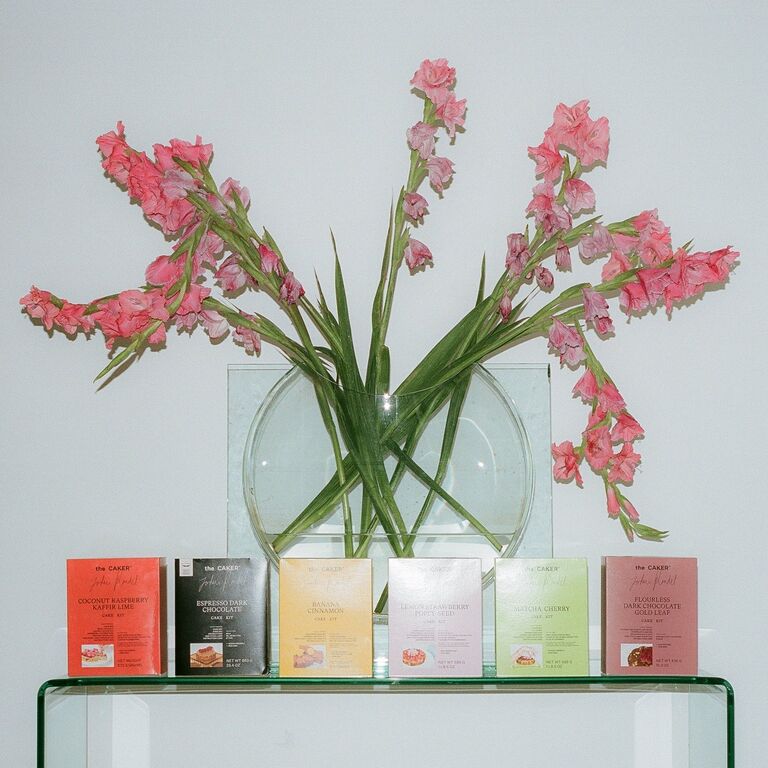 Does your future mother-in-law love binging shows like ''The Great British Bake Off?'' Because yes, you can indulge her interests with some traditional patisserie-style baking supplies OR you can go a little more modern. This bundle of cake kits from The CAKER is delicious and features everything she'll need to whip up six of Jordan Rondel's most popular confections: Coconut Raspberry Lime, Flourless Dark Chocolate Gold Leaf, Lemon Strawberry Poppy Seed, Banana Cinnamon, Matcha Cherry and Espresso Dark Chocolate. You can even serve it up (along with the cake pan, adding another $10) with a note that says ''Pics on Instagram or the cakes didn't happen'' kissy face, because these chic desserts are all kinds of social media worthy.
9. Click and Grow The Smart Garden 9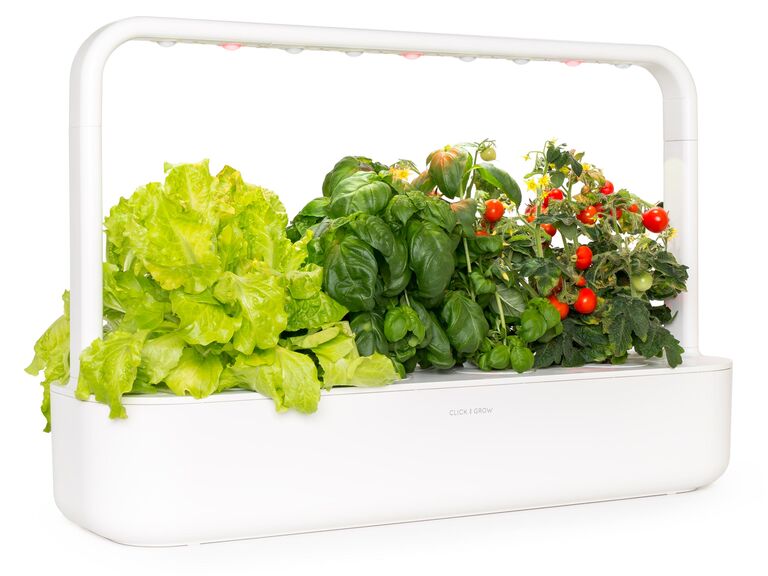 If you're brainstorming gift ideas to impress her, why not hype up one of her goals or resolutions for the new year: to finally get around to that garden she's been talking about. This innovative self-growing garden will let your boyfriend's mom grow 100% organic herbs, fruits, salads and flowers that are free from GMOs and pesticides and fresher than any plants available in stores. It comes with a quick start guide with pro-gardener tips and she can download the companion app to become even more of an expert. Hey, if she's planted a seed in everyone's head that she wants to find her green thumb, water it and let it grow!
10. BloomsyBox Fantasia Bouquet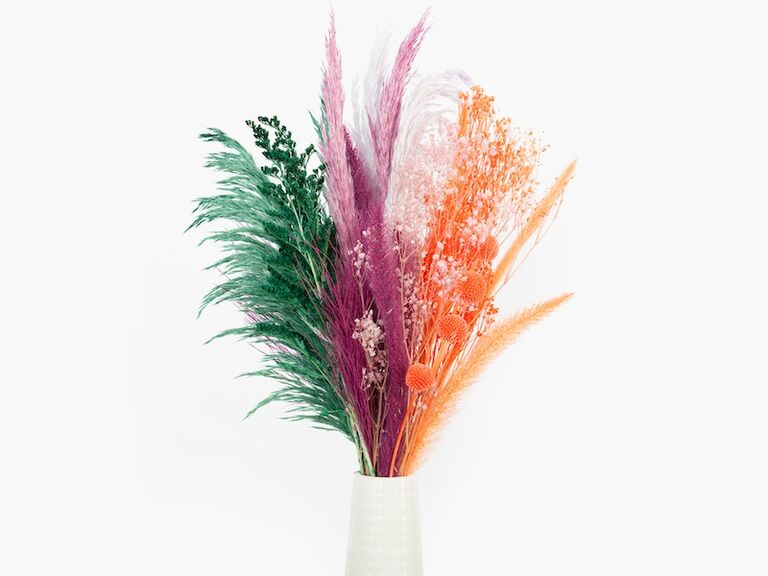 Still haven't figured out which flowers are her faves? That's okay, you're bound to find out as time goes on. Until then, though, you can gift her an expertly dried bouquet with blooms that don't require any maintenance and look gorgeous anywhere they're displayed. This one has a rich gemstone tonality, which is great for the colder months in the year. But if the birthday girl was born in February, May or November, she'll likewise love the thought you put into birthstone-inspired botanicals. Arewerite?
11. Spring & Mulberry Discovery Collection
For the mom who simply can't get enough chocolate, gift these grown-up chocolate bars (which are sweetened with dates, not refined sugar). Unlike a basic truffle box or a Valentine's Day heart box from Russell Stover, this next-level discovery gift set includes Spring & Mulberry's complete collection of date-sweetened chocolate in globally inspired flavors like Mango, Urfa Chili, Black Lime and Lavender, Bee Pollen and Rose Petal. Each bar is a true work of art when it's unwrapped.
12. UnHide Marshmallow Blanket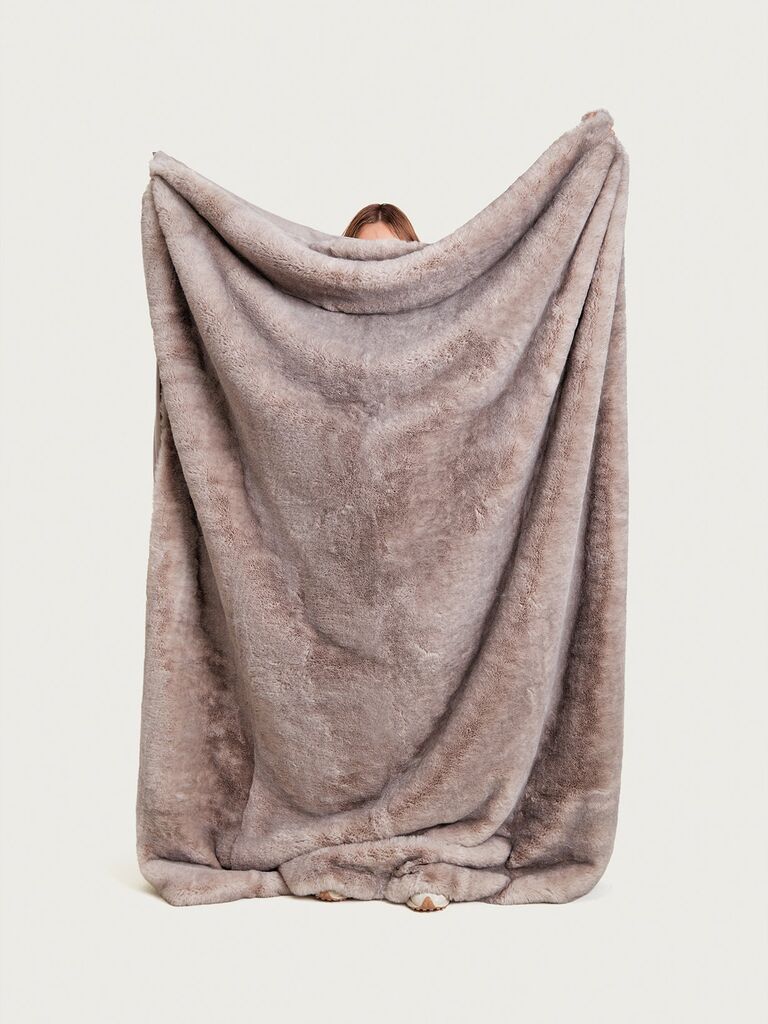 Let's be honest, who doesn't love a ridiculously comfortable throw blanket? It's always an amazing gift. This marshmallow-soft and therapeutic heavyweight faux fur blanket is made almost entirely from recycled materials, so it's a dream your BF's mom will just melt into. The neutral colors are home decor #goals and we'd happily stretch and snuggle up under any of them: Silver Wolf, Beige Bear and Rosy Baby are just a few.
13. Joanna Buchanan Sparkle Bee Coasters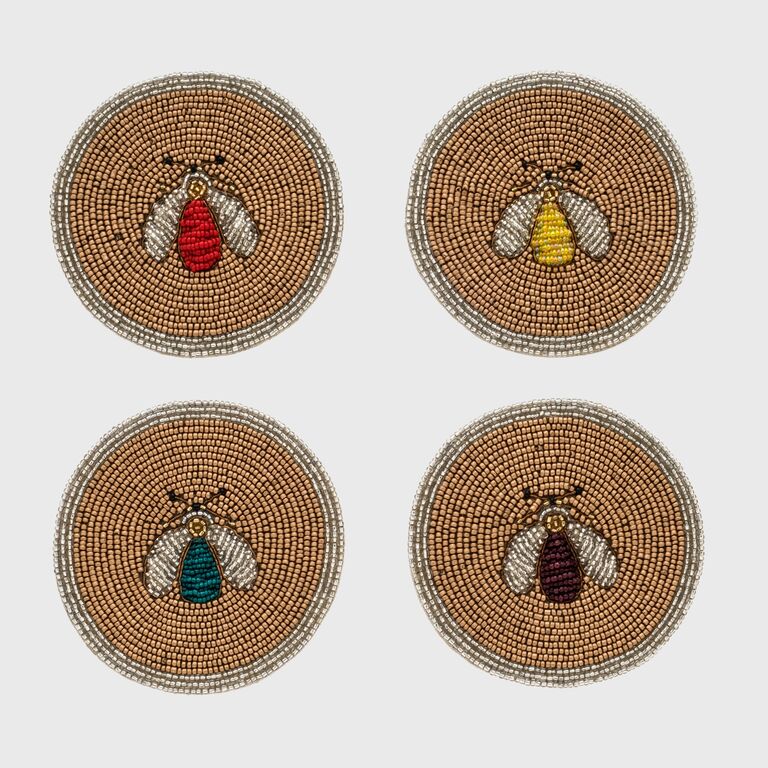 Costume jewelry is nice, but what about costume coasters—especially for a housewarming gift? So chic. These colorful, hand-beaded glass on cotton coasters are a welcome addition to any accent table, and if your boyfriend's mom loves collecting conversation pieces for their home, then the signature Joanna Buchanan honeybees will surely have her buzzing.
14. Rifle Paper Co. Nutcracker Holiday Jigsaw Puzzle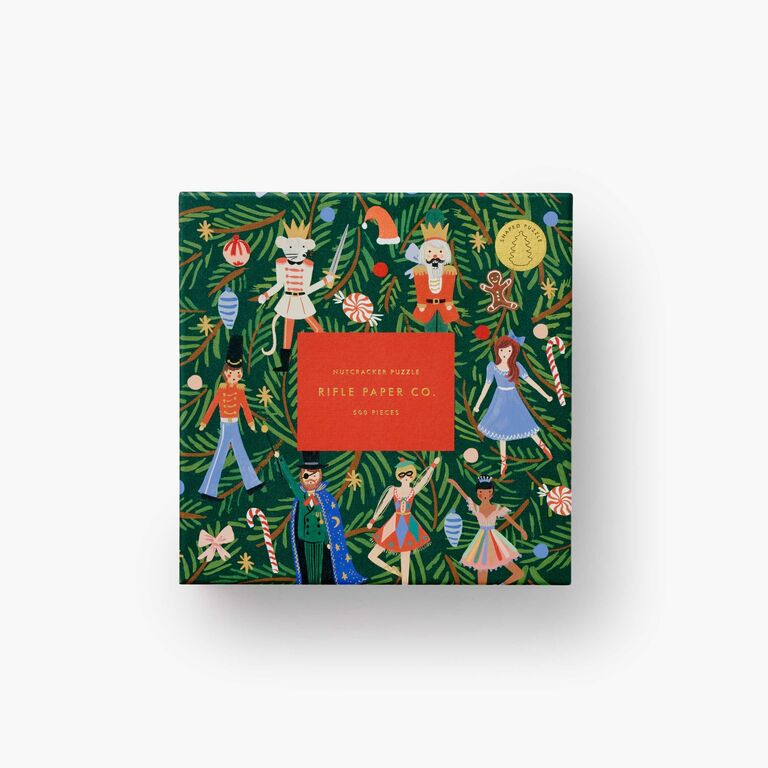 It definitely makes things easier if the mama you're shopping for collects things. If she has a noteworthy nutcracker collection for the holiday season, use that as inspiration but go in a bit of a different direction. She'll piece things together when she opens up the Rifle Paper Co. puzzle box and sees all the makings of a Christmas tree hung with Mouse King and Sugar Plum Fairies ornaments. Bonus points if you tell her you're ready and willing to team up for a full night (all the hours) of jigsaw assembly.
15. Levain Bakery 8 Cookies in a Holiday Tin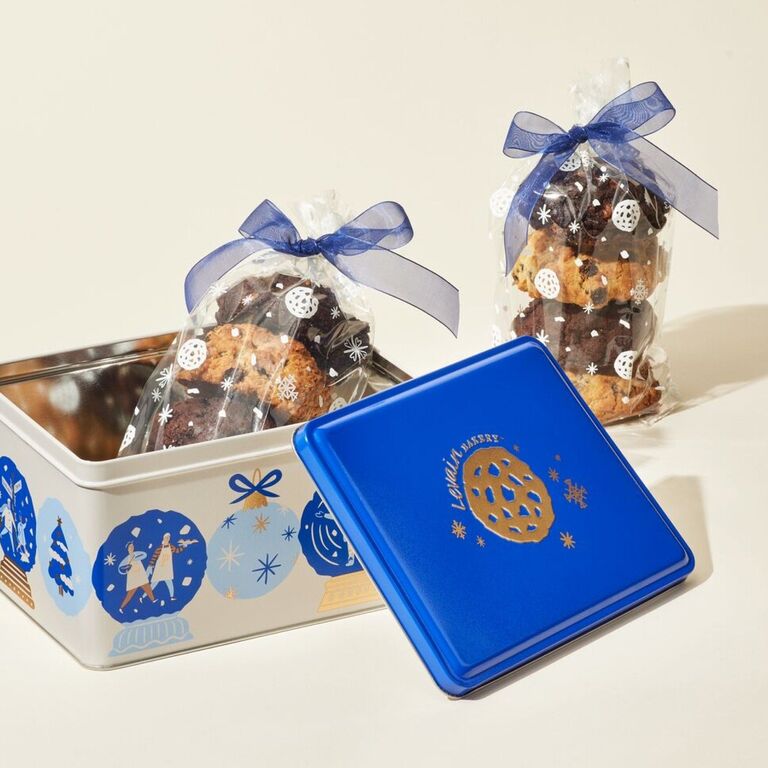 Chocolate chip cookies, but make it fashion. That's exactly what this exclusive decadent-cookie holiday tin says. Launched for the first time by the iconic, award-winning Levain Bakery, the limited-edition tin is filled with a signature assortment of six-ounce chocolate cookies and features whimsical holiday vignettes designed by famed illustrator Libby Vander Ploeg. It's the perfect way to say ''I'm so thrilled to be here, thank you'' the first time you're invited over to meet your boyfriend's family.
16. Paravel Grand Tour Duffel Bag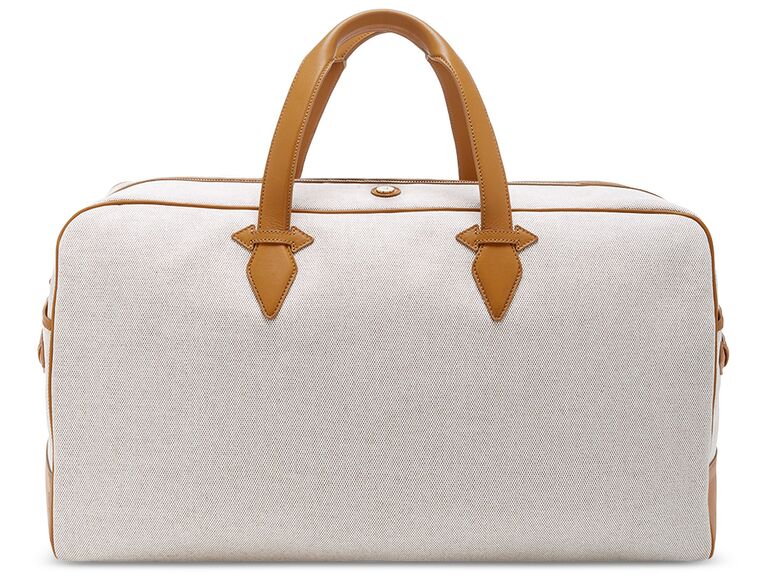 If you guys just moved in together this year, going with a gift that says ''You're welcome to stay with us whenever you want'' is destined to go a long way with your boyfriend's mom. And this lightweight, eye-catching and versatile duffle from Paravel does it. Easy on the eyes and boasting quality, sustainable construction to keep it road trip-ready for the long haul, the vegan leather-wrapped carryall will easily become her new favorite travel accessory. And if a wedding and grandkids happen to come LATER ON (no pressure!), you can be sure she keeps it in rotation.
17. Cuyana Slim Leather Passport Case in Stone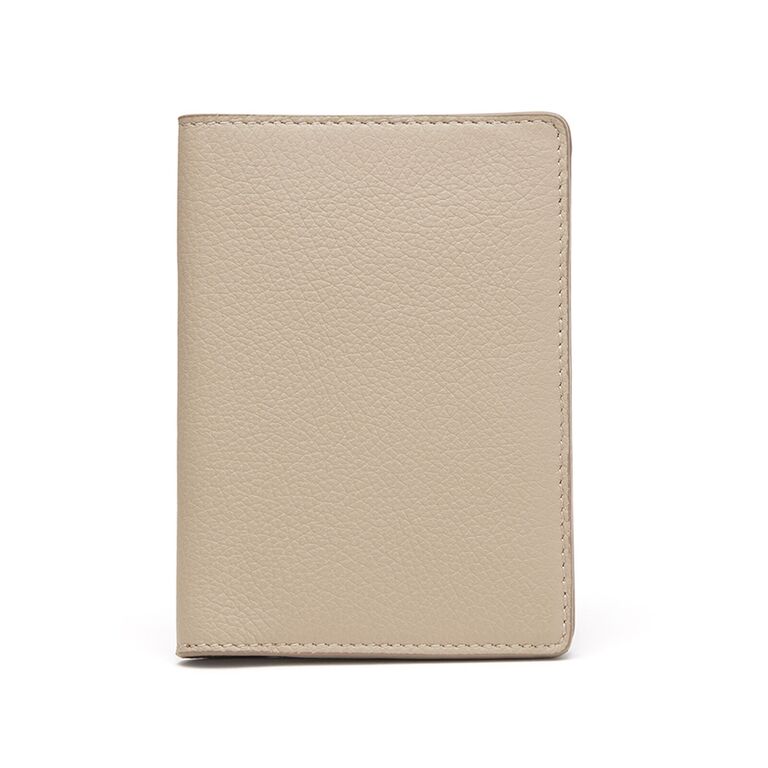 You're never obligated to get your boyfriend's parents gifts for going away, but a little bon voyage goodie never hurts. A stone-colored, slim leather passport case is not only fashion-forward, it's functional; if you've heard stories of her misplacing the important ID just days before an international jaunt (no judgment there!), then help a mama out. She will love you for it.
18. Salt & Straw Culinary Perfume Flight by Imaginary Authors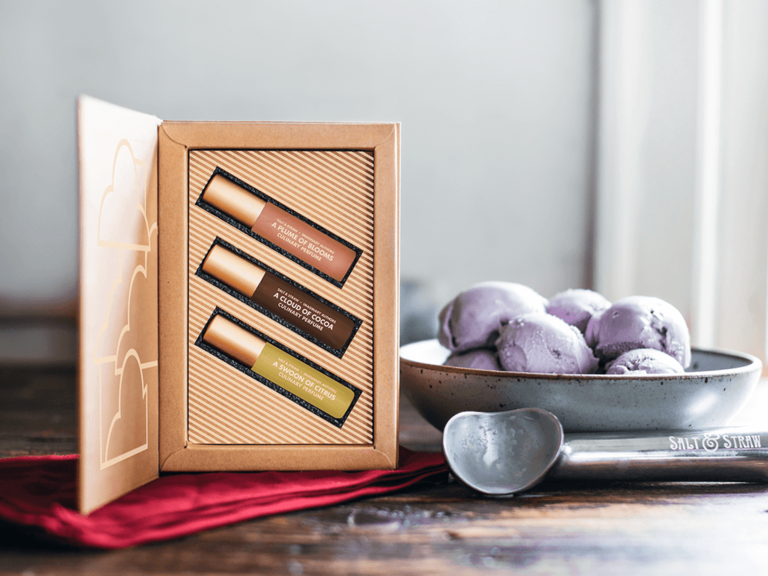 Just like flowers, perfume is a gift that might be a little too personal to knock out of the park if you're still getting to know her. But this culinary perfume flight will surprise and delight (or should we say shock and amaze, because it's really that good). The three travel-size spritzers contain 100% edible fragrances meant to be sprayed on scoops of ice cream to intensify their scrumptiousness. As she works through the flavors—floral, chocolate and citrus—she'll unlock entirely new tasting experiences.
19. Olive & June Gift Card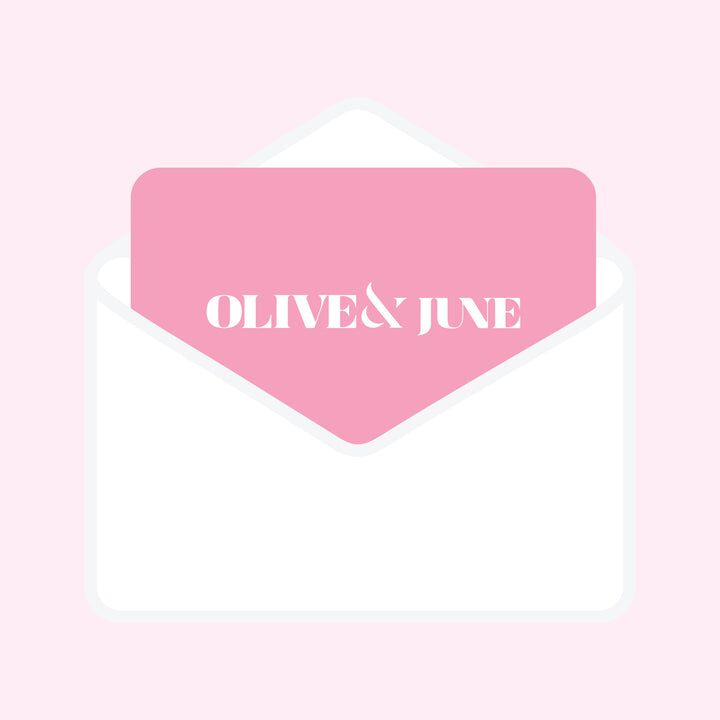 If your boyfriend's mom is ''not like a regular mom,'' but a cool mom, then she probably knew about glazed donut nails way before it became the thing to ask for at every nail salon. She might even follow the same influencers you do on social media. In any case, treat her to an Olive & June gift card as your next holiday gift and you'll be the first to hear about the newest mani craze you won't want to miss out on.
20. VoChill Stemless Wine Glass Chiller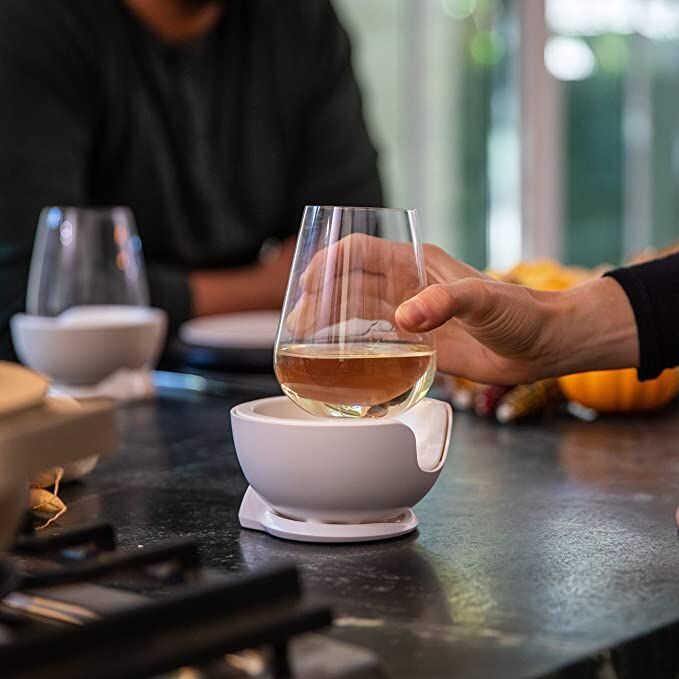 Wine glasses are great, but wine glass chillers? Even better. The VoChill was designed for wine enthusiasts—your boyfriend's mom included—to be able to enjoy a crisp, cool drink of rosé or chardonnay without being compromised by metal or plastic tumblers. All she needs to do is freeze the Chill Cradle, let it get nice and cold for at least three hours, pour a healthy glass of her favorite vintage and then let it rest in the VoChill between sips.
21. OHOM Self-Heating Ceramic Mug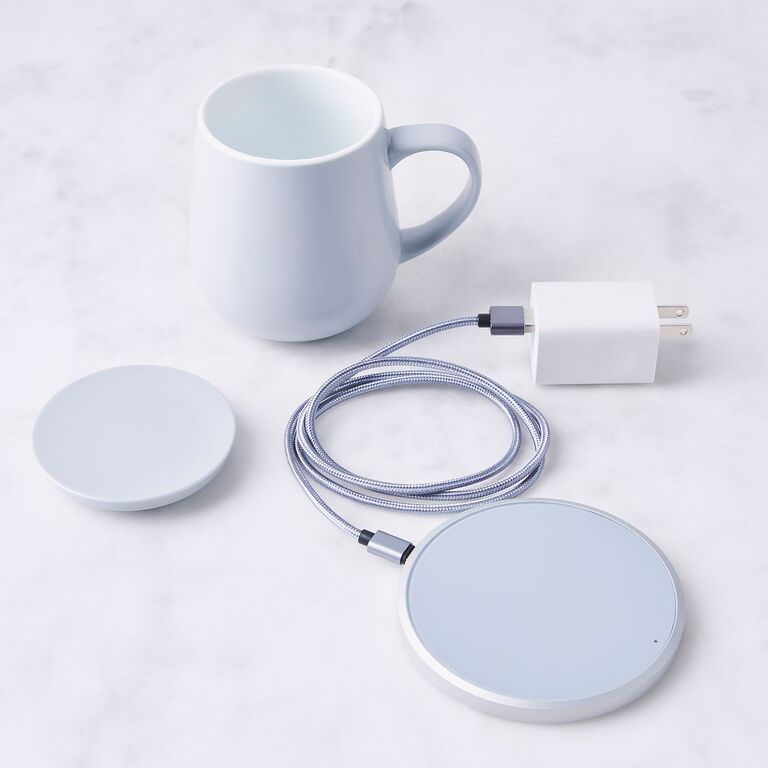 If your boyfriend's mom loves her wine cold and her coffee extra hot, we can be friends! But probably not as close as she will be with her new bestie: this ceramic coffee mug that keeps a just-right 130°F temperature using its electromagnetic tech superpowers. So, whatever she's drinking—be it a chai latte or a simple, no-frills drip coffee—doesn't have to be warmed up 20 times before noon. The platform can also charge phones (if they're wireless-charging compatible, that is).
22. Allbirds Wool Dwellers Slippers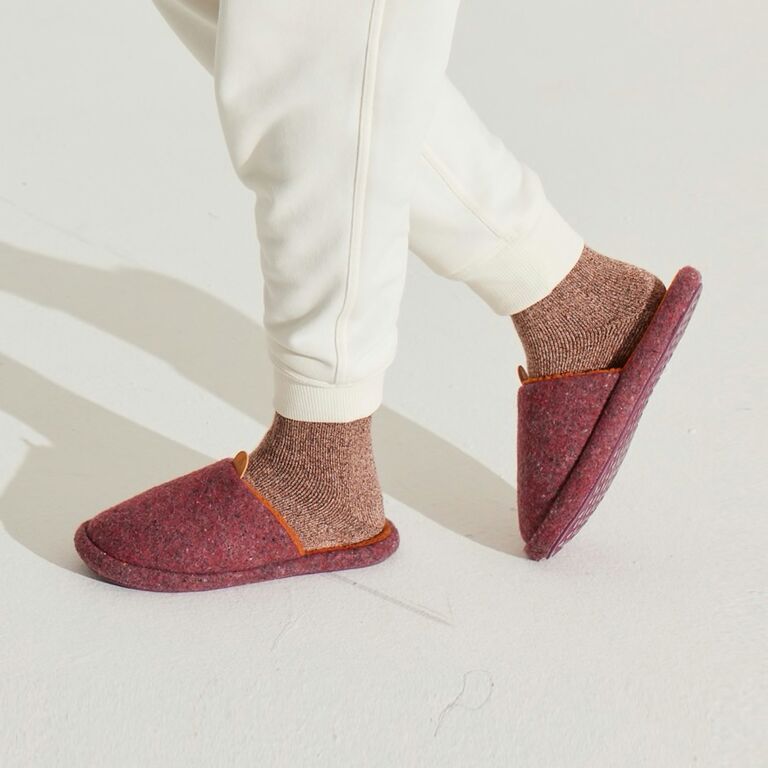 We're big fans of Allbirds ridiculously comfy shoes, but can you think of anything that says ''love you'' more than a trendy pair of slippers billed as ''A hug for your feet?'' We'll wait… These super-dreamy slippers are made from the upcycled scraps of the brand's wool shoes coupled with a squishy and cloud-like midsole. And they're available in a few stylish colorways to match your second mama's weekend warrior wardrobe.
23. Gorjana Wilshire Charm Adjustable Necklace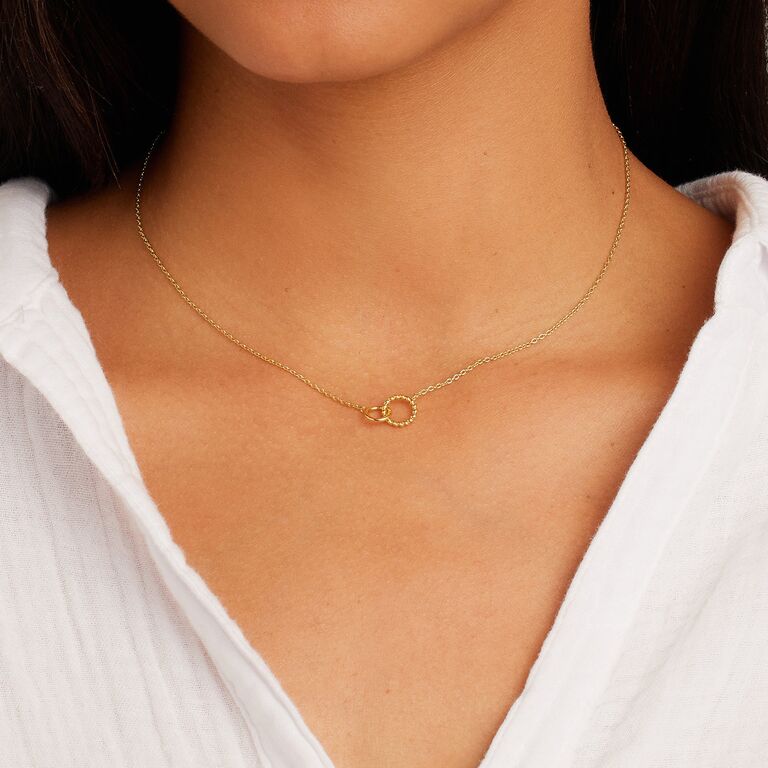 We totally get it if the idea of presenting your just-getting-serious boyfriend's mother with a mom necklace on Mother's Day doesn't feel quite right yet. But you can still let her know how much you appreciate your growing relationship with a gold charm necklace featuring two interlocking circles. Just pair it with a handwritten card and some meaningful words about how excited you are to be joining their ''circle of trust.''
24. Framebridge The #1 Gift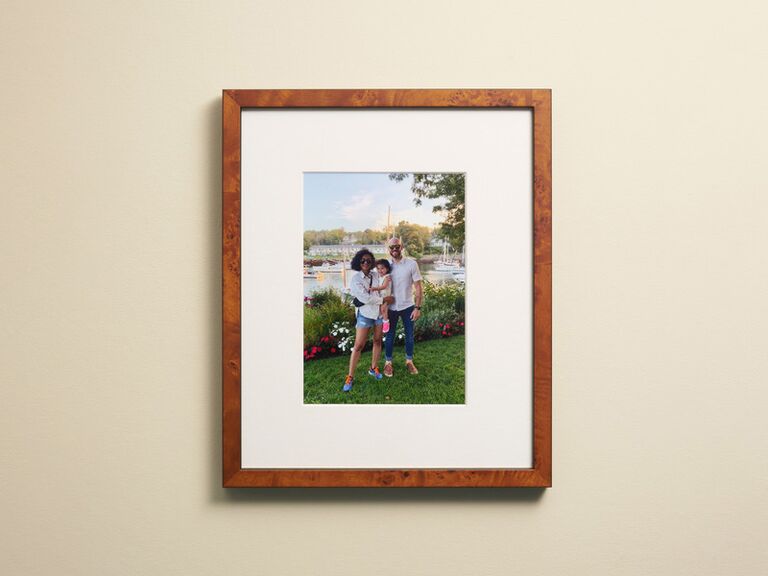 The objective should never be to make Mom cry with a birthday gift, but with a framed picture of you and her grown-up child together, smiling and in love, we wouldn't be surprised if there were tears. All you need to do is choose your frame style and upload a photo. After that, Framebridge will print, frame and deliver it in a premium gift box with a matching bow. It could even be a keepsake that gets used at your wedding... Remember when?
25. HP Sprocket 3x4 Instant Photo Printer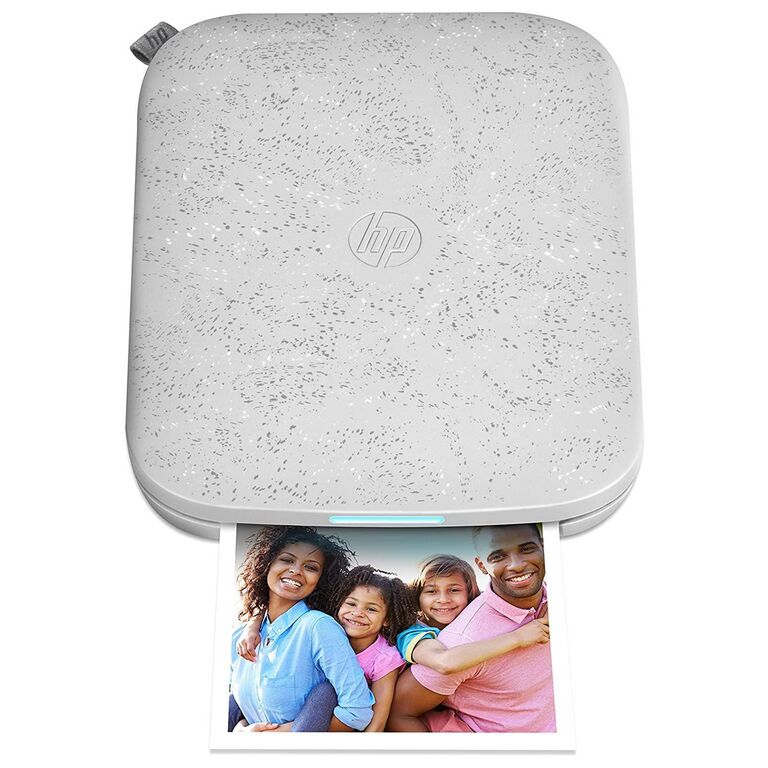 On the topic of pictures, is your boyfriend's mom just absolutely in love with her grandchildren? Every time you see her, she's showing off pics of the cuties on her iPhone, and asking you how she can increase her storage. Well, this is the perfect gift to make good on all of those camera roll captures. She can use the free app to edit photos from her phone (Apple or Android), then instantly print glossy, sticky-backed, 3.5"x4.25" pictures and stick them everywhere!