Everything You Need to Know About Getting Married in Montana
Look to The Knot for local details about getting married in Montana, from choosing your wedding venue to getting your marriage license.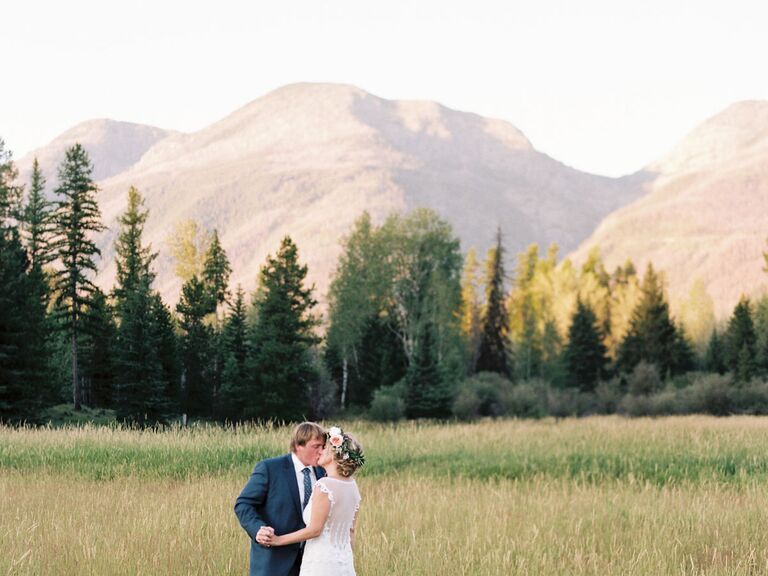 Jeremiah and Rachel Photography
Ultimate Guide to Getting Married in Montana
With its rugged natural landscapes and vast blue skies, there's a reason people call Montana "Big Sky Country." Forests, meadows and mountains (the state appropriately gets its name from the Spanish word meaning "mountainous country") grace the western part of the state, and traveling eastward, Montana levels out into wide, open plains.
The state motto, "Silver & Gold," aptly describes the relaxed nature of Montana residents, and every town and city exudes some element of down-home charm. People from around the world enjoy traveling to Montana for its diverse beauty and fresh pine-scented air, and couples who marry here appreciate a variety of indoor and outdoor wedding venues spread throughout the state.
Top Wedding Trends in Montana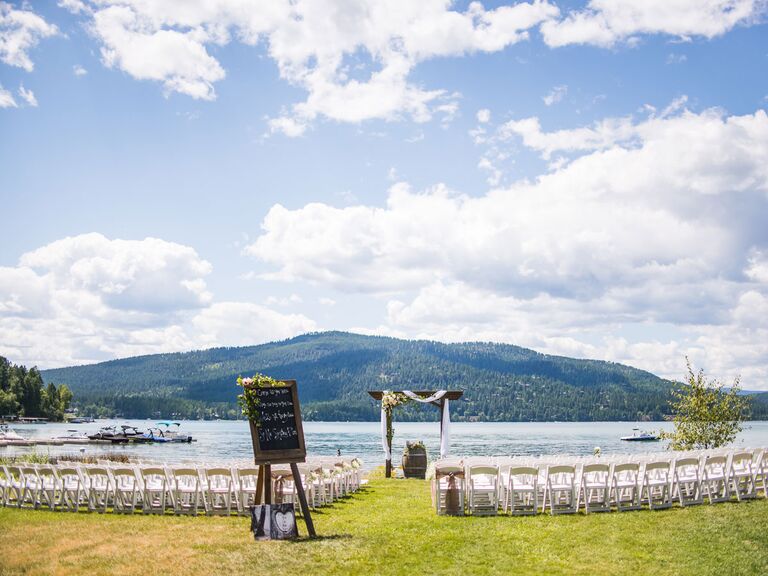 During warm-weather months, beautiful parks, meadows and lake shores serve as romantic Montana wedding venues—a local photographer's paradise. Cooler weather opens up plenty of indoor options, from historic bed-and-breakfast inns to mountain lodges. Keep in mind: Local churches, theaters, museums, restaurants and hotels transform into wedding ceremony and reception locations in any kind of weather.
The large number of farms and ranches in Montana make rustic weddings popular—couples can hold ceremonies on farmhouse lawns and post-nuptial festivities in adjacent barns. Decorations like hay bales, whiskey barrels, galvanized tubs and string lights add to the country charm.
Montana Marriage Rates and Wedding Costs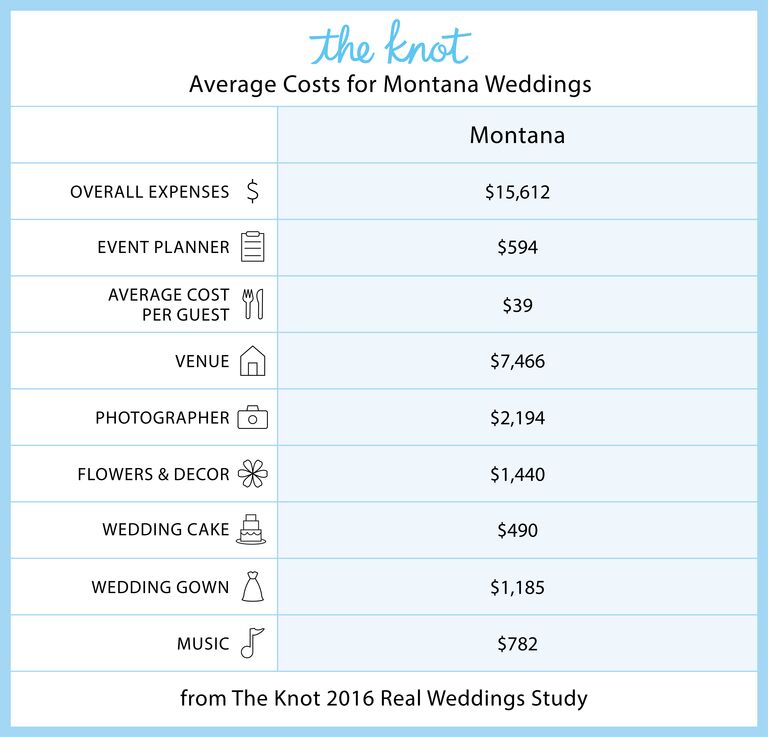 Planning a wedding can be a lot of fun (follow our wedding checklist to check off all your to-dos), but affording it is another story entirely. No matter which type of wedding venue you choose or what type of theme fits your personalities, make sure you've created a budget and that you're sticking with it. The Knot Budgeter can help keep you on track. But before you take that important step, here's a little background info on how many couples are tying the knot in Montana, plus what you can expect to pay for common wedding costs in Montana, as reported by The Knot 2015 Real Weddings Study.

Montana Marriage Stats

So how many couples are actually getting married in Montana? Turns out that marriage rates in Montana rank slightly above the national average at 7.9 per 1,000 people, and couples spend an average of 12 months planning their wedding. Just over half of Montana weddings are casual celebrations, and a mere four percent are formal black-tie affairs. On average, Montanans spend $16,201 for wedding ceremonies and celebrations—excluding the engagement ring and honeymoon—with the cost per guest averaging $152.

Budget Breakdown: Average Costs for Various Wedding Categories

Getting a sense of what you'll pay for your wedding day expenses will make it easier to budget and negotiate with vendors, whether you're looking for Missoula DJs, florists in Billings, Helena photographers or Bozeman wedding venues. Above you'll find average wedding detail costs for couples planning a wedding in Montana.

Top Cities in Montana to Tie the Knot

Outdoor options are seemingly endless across the state, but if you're seeking a more urban vibe for your nuptials, a number of towns and cities lend to a variety of wedding venues in Montana. However, the following three places stand out as the most popular wedding destinations in the state:
Make It Legal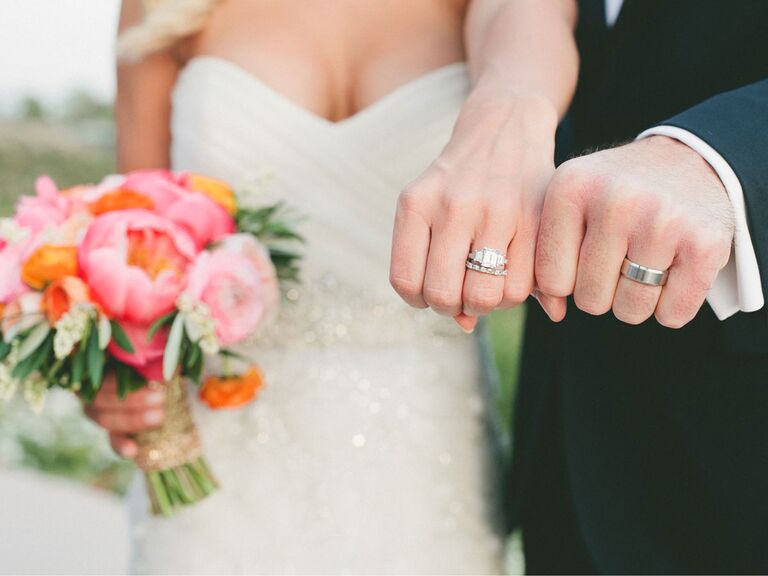 While we hope that planning your wedding feels like it's filled with fun events like cake tastings and finding the perfect DJ or band, there are some strings attached to tying the knot here. Understanding the ins and outs of not only getting your Montana marriage license, but also taking care of details like permits and changing your name(s), is equally important in the weeks and months leading up to saying "I do."
Getting a Montana Marriage License: The Basics

Montana does not require local residency to apply for a marriage license. To get a Montana marriage license, you'll need to visit the office of the Clerk of District Court in any county and pay a cash fee of $53. You can use a newly acquired marriage license immediately, or it is valid for 180 days. Application for a marriage license in Montana requires appearance in person and the following documentation from both individuals:
A valid picture ID, like your driver's license or passport
Know your Social Security number
Know your father's first, middle and last name, current residence and state of birth
Know your mother's first, middle and last name, current residence and state of birth
Proof of divorce or a spouse's death certificate if you are divorced or widowed
Proof of a Rubella test for women under the age of 50
Age Requirements
You must be at least 16 to get married in Montana, and people under the age of 18 require parental consent, approval by a judge and premarital counseling.

Permits and Other Important Legal Requirements for Montana Wedding Venues

Keep in mind that certain Montana venues may require special permits. Example: In state parks, groups larger than 30 people are subject to a special-use permit and differently priced fee. Couples can contact a regional park manager for more information. Montana's national parks also require permits for weddings in most park areas.

Individuals Who Can Solemnize Montana Weddings

In order for your wedding to be legal and valid, you'll need to understand who can preside over your wedding ceremony. State law allows the following individuals to solemnize weddings in Montana:
Clergy
A judge (or retired judge) of a court of record
A public official with powers to solemnize marriages
A city judge, justice of the peace or mayor
A tribal judge
How to Change Your Name in Montana
If you decide to change your name after the wedding, start with a new Social Security card by filling out an application at the Social Security Administration's website. Then, visit the local DMV (with your new Social Security card and driver's license) to get a new license. These two forms of identification will be helpful in changing names on any bank accounts, credit cards or a passport. Other important considerations for a name change include the payroll department at work, voter registration, mortgage and insurance companies, utility companies and the post office. To make name change much easier, you can go to HitchSwitch and fill out one form instead of many for a small fee.

It's All About Timing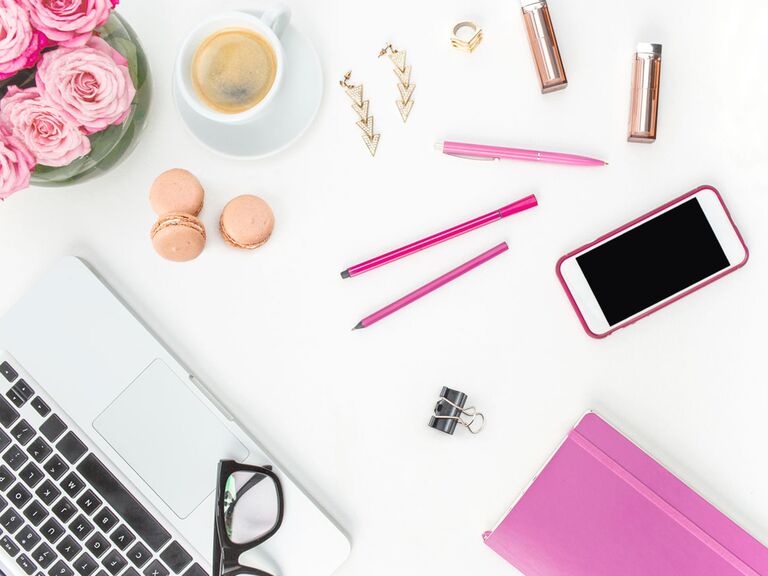 The Four Seasons in Montana
Because of the scenic opportunities an outdoor wedding provides, summertime is extra-popular for weddings in Montana—65 percent of Montana couples get married from June through August, as high temperatures during these months average between 75 and 86 degrees. Plan ahead: Couples should reserve popular venues at least a year or two in advance. When the weather cools a bit, though, you can't count out fall. The Knot 2015 Real Weddings Study found that 23 percent of Montanans choose a fall wedding date, when the leaves turn a brilliant shade of gold, red or brown—making for unforgettable photo ops.
Due to rainy, cooler weather in the spring, only 10 percent choose this time of year for nuptials. With average high temperatures varying between 31 and 39 degrees, having a winter wedding in Montana is not for the faint of heart—only 1 percent of couples opt for a winter wedding.
Montana Wedding Dates to Avoid

Depending on where you get married in Montana, there are some important dates you may want to avoid to make sure that your wedding guests are comfortable and can easily find a place to stay. Ask your wedding planner or venue for tips about how to avoid delays or local events that might make your wedding weekend more difficult for guests and more costly for you.
If you're on a tight budget, try to avoid common national holidays and busy weekends that tend to inflate the cost of everything! (We cover these dates for 2016 to 2018 in our comprehensive guide). Additionally, here are some popular festivals and events you may want to note for 2017:
Whitefish Winter Carnival, Whitefish, early February
Garden City Brewfest, Missoula, May
Lewis & Clark Festival, Great Falls, third week in June
North American Indian Days, Browning, mid-July
Montana Folk Festival, Butte, second weekend in July
Festival of Nations, Red Lodge, early August
Sweet Pea Festival, Bozeman, early August
Huckleberry Festival, Trout Creek, mid-August
Yellowstone Ski Festival, West Yellowstone, late November
Great Guest Experiences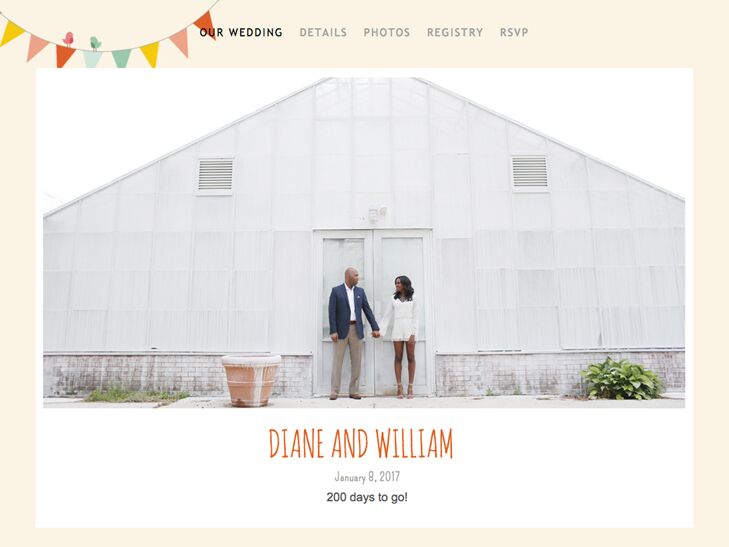 Helping your guests feel comfortable and welcome is one of the key ingredients to wedding success. With such a wide variety of unique wedding venues in Montana, there are so many places for a celebration that is a true reflection of your couple style while also making it fun for your friends and family. Before and after your celebration, guests can seek out local activities, like mountain biking and whitewater rafting in the summer or ice skating and skiing in the winter. No matter where or when you choose to get married, giving your guests a great experience starts with you creating your very own wedding website. It's a great way to keep everyone connected and informed.
Around Town: What to Do and See in Montana

From recreation areas to sites steeped in history, guests can find several attractions across the state for entertainment before and after your wedding day. Locals and visitors alike seek out these Montana stops:
Montana State Capitol
St. Mary's Mission
Marcus Daly Mansion
Our Lady of the Rockies
Museum of the Rockies
Hungry Horse Dam
Glacier National Park
Yellowstone National Park
Zoo Montana
Big Sky Ski Resort
C. M. Russell Museum
Little Bighorn Battlefield
Go Local: Food and Favors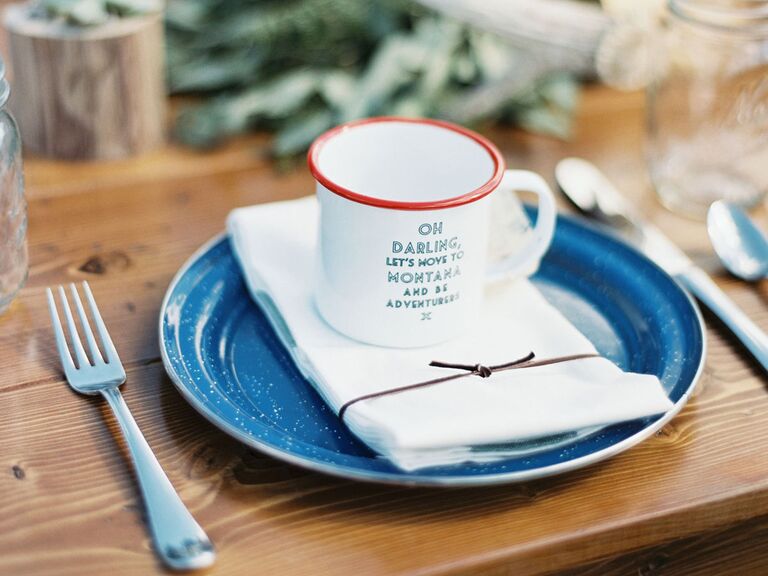 Whether you come from two born and bred Montana families or are bringing in relatives from all over the country (or world), embracing unique elements of the state will help make your wedding memorable for all who attend. Consider these ideas for bringing the food and culture of Montana to your wedding celebration.

Montana Flavors: Unique Regional Foods for Your Wedding

A walk through any Montana neighborhood on a summer evening invigorates the taste buds with smells of different meats grilling. In addition to locally grown livestock, big game abounds in the state, making dishes like elk, venison and bison popular. Local types of fish pulled from lakes, rivers and streams include trout and walleye.
Montanans also take great pride in fresh produce grown across the state, and residents and visitors enjoy fruits and vegetables at a myriad of farmers markets. When in western Montana, take to the forests for summertime huckleberry picking. Dark purple in color, huckleberries offer a sweet flavor similar to blueberries with a hint of tartness. Local huckleberry products like syrups, jams and chocolates make great mementos for Montana weddings, whether for family, the wedding party or guests.
Flathead Lake is famous for the abundance of cherry orchards that line its shores. You can pick your own cherries at a reduced price, and it's hard not to sample them for yourself while doing so. The image of Flathead's famous cherries brandishes many products from art and décor to syrup and beer. Organic farms in Montana like Lifeline Farms near Victor and Amaltheia Organic Dairy outside Bozeman sell organic dairy products and beef at various groceries in the state.
Want to sample some of what Montana has to offer? Wine and food festivals make a popular pastime for locals and visitors, and can't-miss events around the state include:
Wine and Food Festival, Great Falls, March
Taste of Bigfork, Bigfork, April
MSU-Billings Wine & Food Festival, Billings, May
Strawberry Festival, Billings, June
Whoop-Up Days and Rhubarb Festival, Conrad, June
Bite of Bozeman, Bozeman, July
Huckleberry Festival, Trout Creek, August
Do Your Guests a Favor: Montana-Inspired Take-Home Treats
Get your game on and tie in your favorite local team. University rivals in the state—the University of Montana Grizzlies in Missoula and the Montana State University Bobcats in Bozeman—offer plenty of ideas for wedding favors, especially when couples are die-hard fans or alumni. Pennants, pins and keychains make fun favors, and sugar cookies cut in bear, bobcat or "M" shapes make a tasty wedding dessert.
For more rustic weddings in Montana, gift sugar cookies cut in horseshoe, cowboy hat or boot shapes, Western-style key chains and charms, or miniature bottles of hot sauce. Small brown paper or burlap bags tied with raffia make charming containers to complete the look. Check out The Knot Shop for other personalized favors.
City Guides
Wedding venues in Montana vary according to the city, but many couples turn to the largest cities in the state for inspiration. Spread across the state, Billings, Great Falls and Missoula each have their own highlights that offer couples the opportunity to express themselves, stay on budget and make memories that last a lifetime. To start, check out why the three cities below have some of the best wedding venues in Montana, and then hook up with local vendors through The Knot ultimate wedding vendor marketplace.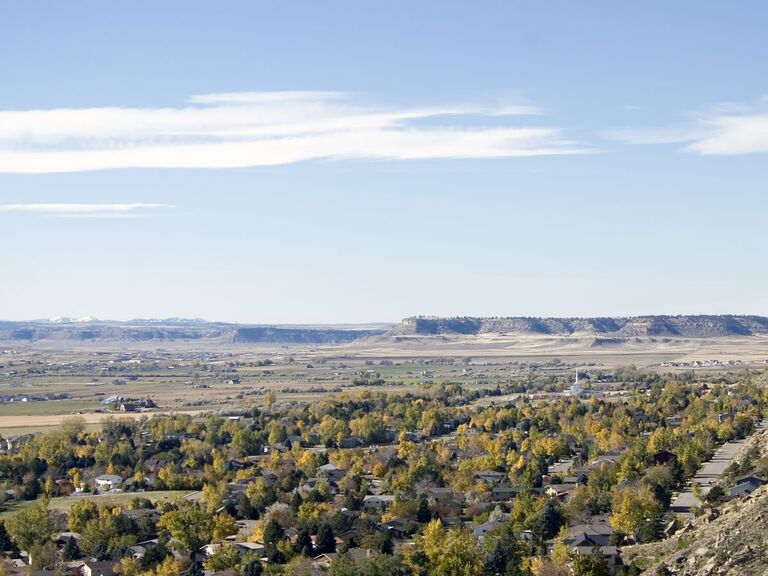 Located in the south-central part of the state, Billings is the largest city in Montana, with just over 110,000 residents. Founded as a railroad town in 1882, the community grew rapidly, which lead to its nickname, "Magic City." Billings is divided by a canyon naturally sculpted by the Yellowstone River. The rugged stone canyon walls have come to be known as the Rimrocks, or Rims, by locals.
Billings offers a variety of indoor and outdoor venues for wedding celebrations. With design details like vaulted ceilings, Roman columns, exposed brick walls and wood flooring, the historic Billings Depot makes one of the most popular wedding venues in Billings. Couples looking to escape the city enjoy options like Rock Creek Resort, set in the mountains near Red Lodge, about 70 miles away.
For wedding professionals in Billings, check out: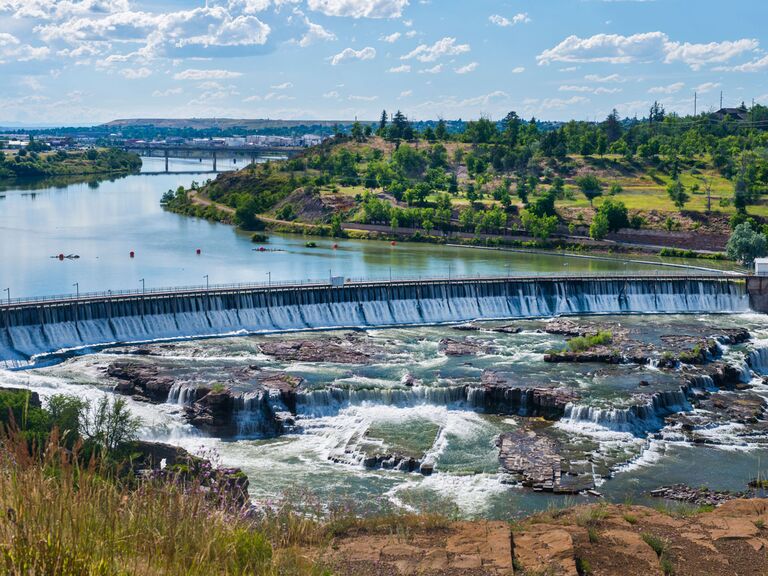 The county seat of Cascade County, the city of Great Falls plays home to roughly 60,000 residents. Located in central Montana on the northern Great Plains, it gets its name from a series of five waterfalls located within a 10-mile stretch of the Missouri River. With the river running through the city and in close proximity to two state parks, Great Falls boasts picturesque outdoor venues for a memorable Montana wedding.
Just 40 miles east of the city, Arrowpeak Lodge offers breathtaking, natural scenery and charming cabins for limited lodging. Couples looking for options within the city often turn to the Meadow Lark Country Club, a venue with lush grounds situated on the riverbank.
For wedding professionals in Great Falls, check out: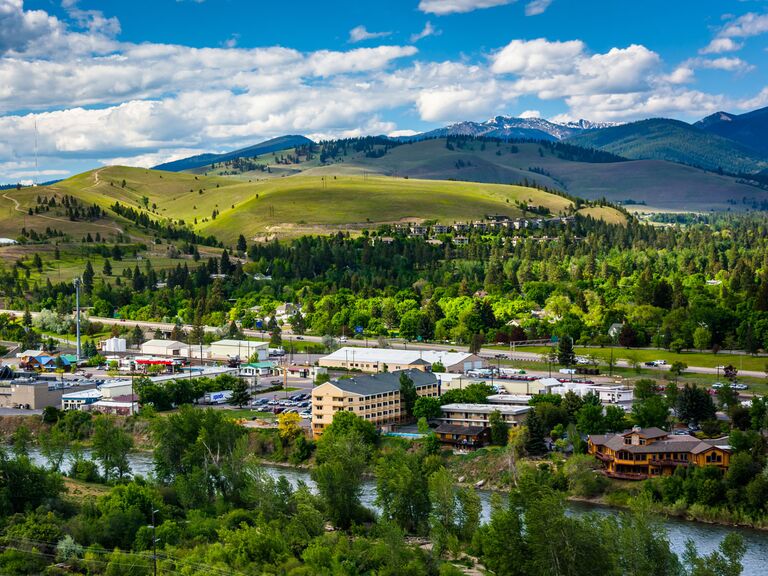 Housing just over 70,000 residents, the beautiful city of Missoula lies just 35 miles from the Idaho border. Sometimes called "the hub of five valleys," Missoula is surrounded by five mountain ranges. In fact, where the city now sits was once the bottom of glacial Lake Missoula a mere 13,000 years ago. Three rivers run through the community, adding to its scenic surroundings.
Take advantage of the nearly unlimited natural beauty at nearby ski areas and beautiful parks, meadows and campgrounds. Many couples who live in Missoula even trek an hour north to Flathead Lake to exchange vows amid rustic barns, estates, lodges and charming lakeside vineyards. And don't overlook the University of Montana (offering both indoor and outdoor options), the Gibson Mansion and the Missoula Children's Theater, an upscale downtown venue, as equally stunning venue options.
For wedding professionals in Missoula, check out:
Check out more Montana wedding inspiration here.
Don't forget to download The Knot Wedding Planner app—it's a must-have for on-the-go planning.
Download for iOS: Wedding Planner App by The Knot
Download for Android: The Knot Wedding Planner