These 13 Montana Wedding Venues Offer Views for Days
Celebrate your big day in Big Sky Country.
There's a reason Montana is nicknamed the "Big Sky" state. No matter what part you drive through — from Missoula and Helena to Bigfork and beyond, you'll find yourself in awe of the nature surrounding you. This western region is home to iconic landmarks, including Glacier National Park, the Rocky Mountains, and some of the best stargazing you'll find in America. Not to mention famed hikes, snow mountains, lakes, and the 50-mile Going-to-the-Sun Road that offers picturesque views and adventures. For the lucky couple who says "I do" in this spec of the United States, there is no shortage of beautiful Montana wedding venues to choose from. Whether you choose a peak or a valley, all of these offer an immersive experience that creates your dream wedding. Here, our picks for the best very Montana wedding venues:
Summer Star Ranch in Helena, Montana
For a ranch wedding, the location of this Montana wedding venue will check all of your boxes. It's in between Glacier National Parks and Yellowstone, which means you will experience unbelievable views from every direction. Plus, on a clear day, you can see all the way to Helena, the state's capital. And if you like to have options, you'll appreciate the variety of venue set-ups, including the barn itself, as well as outdoor options when the weather is blue-skied and sun-filled. If your bridesmaids are up for a glamping experience, you can also rent their tents or cabin the evening before your wedding and wake up to a front-row view of the sunrise over the area.
Moonlight Basin in Big Sky, Montana
Maybe you and your soon-to-be spouse love Montana, but it's not where you call home. Or perhaps, one of you grew up in the state but since moved away. Whether your event is a part or full-destination wedding, this venue option could be ideal. Trust us, you are in Big Sky country here, and it's beautiful. Thanks to Moonlight Basin's location near Yellowstone National Park, it's super-easy to make a trip out of your celebration! There are multiple wedding ceremony options, including an outdoor area with a view of Lone Peak and a rustic lodge for indoor exchanges. A big bonus for this pick is the fact they provide a super-long list of in-house supplies, including chairs, flatware, dishes, tables, and so on. During the wedding planning process, this removes a significant 'to do' list item.
Averills Flathead Lake Lodge in Bigfork, Montana
As most couples realizing once they start piecing their wedding day together, what you thought you wanted might not be what you end up selecting. What's unique about this Montana wedding venue is that it allows you to get creative and design your own masterpiece. It's located on Flathead Lake, a serene body of water ideal for photo opportunities. You can have your wedding reception under a large tent, inside the rustic lodge, and say 'I do' with sprawling mountains behind you. And if you enjoy the home cooking comfort food, their on-site chef will leave your guests feeling fulfilled and happy. If your budget has some wiggle room, consider one of their wedding packages, which allows you to have the whole ranch and lodge to yourself for three nights. Their on-site team can also create a destination experience that includes hiking, horseback riding and more.
The Barn on Mullan in Missoula, Montana
As one of the biggest tourist cities in the state, there are plenty of wedding venues in Missoula. But The Barn on Mullan is unique. It offers both indoor and outdoor ceremony options, catering to up to 350 guests. Since it can become quite chilly in this area, they also offer seasonal stone fire pits and patio heaters to ensure your guests are toasty. If you and your partner want to have the mountains as your backdrop but still host an upscale affair, this event venue is sophisticated and classy and also gets high remarks for a professional full-service team. Though it can host large outdoor wedding parties, the setting is ideal for intimate gatherings, and elopements, too.
The Woodlands at Cottonwood Canyon in Bozeman, Montana
When you close your eyes and imagine your perfect wedding photos, do you see you and your partner stealing kisses and waltzing through woodlands? With large, impossibly beautiful trees surrounding you? There's no denying Montana is a nature-lover's paradise, and The Woodlands at Cottonwood Canyon delivers on elegance, charm and style. One of their most sought-after ceremony and reception options is The Great Room, complete with an attached patio, fireplaces and chandeliers. To take some of the pressure off, you can also transform the venue to fit your unique taste, thanks to a plethora of table, chair and linen options. Seal the weekend celebration by staying in their honeymoon cabin, which oozes romance.
Rainbow Ranch Lodge & Restaurant in Gallatin Gateway, Montana
Gallatin Gateway is known for its natural beauty, remarkable views of the Gallatin Range, and its quaint, very small-town feel. Rainbow Ranch Lodge is nestled on the Gallatin River and is one of Montana's most popular alpine wedding venues. You can plan your big day to be hosted outside on The Lawn, with the foothills in the distance, in their Barn or Events Tent, or for a micro wedding under 50, the Lodge can accommodate. This venue is excellent for year-round weddings since it's a short drive from both Yellowstone National Park and Big Sky Ski Resort. This means your weekend can be full of skiing and sleigh rides in the winter or white water rafting and hiking in the summer. And then everyone can convene at the venue for an unforgettable evening. Might we suggest having a rehearsal dinner in one of the event venue spots, then having your special day somewhere else? No matter what you choose, it'll be magical.
The Baxter Hotel — Downtown in Bozeman, Montana
You may love Montana mountain ranges, but you also adore the city. And while Bozeman doesn't offer the chaos of NYC, it still has that downtown feel you're craving. Check out this beloved hotel for your wedding day, featuring five unique venue spaces. You can dance the night away in the most popular space, The Grand Ballroom, which includes arched windows, original accents that date back decades, and maple hardwood floors. They can help with florists, caterers, photographers and any other vendors you might need to make your dream wedding a reality. However, don't be fooled by the name since they no longer offer lodging accommodations and serve mainly as an event space. Luckily, there are plenty of hotels nearby for you and your guests.
Union Pacific Dining Lodge in Yellowstone Mountain, Montana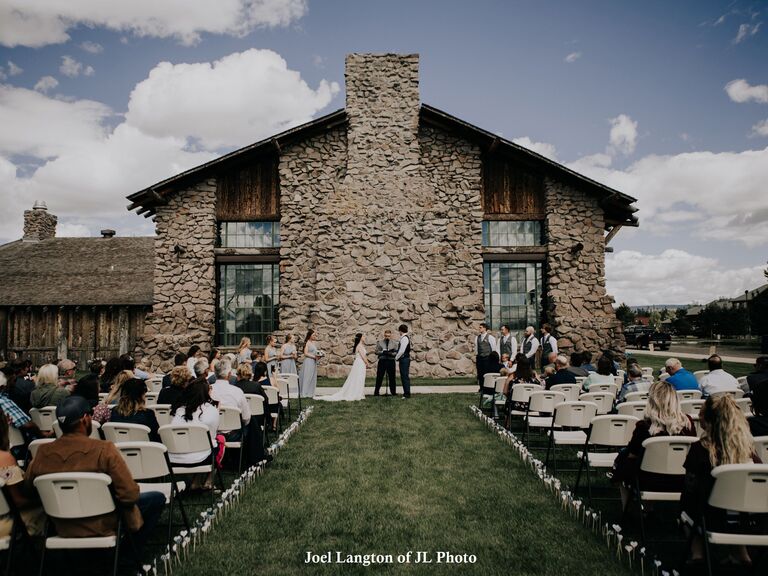 When you host your special day at Union Pacific Dining Lodge, you can choose from two main areas. The first is the Mammoth Room, which, as the name suggests, has ample space. And by oversized, we mean huge: around 6,600 square feet, that's 120 feet by 55 feet. This includes the prettiest fireplace you've ever seen, standing at more than 15 feet tall. Of the four walls, three are entirely windows, creating a gorgeous setting for up to 400 guests. The second option, The Firehole, is smaller but still large, around 1,650 square feet. This space can host up to 100 people and features a rustic style. What's unique about this Montana wedding venue is the time allotment: your rate includes 48 hours of use so that you could host your rehearsal dinner in the same area. There's also a fully-equipped kitchen for your caterers and a beautiful bridal suite for getting-ready photos.
The Chateau Event Center in Bozeman, Montana
If you want a vibe of 'home on the range' and 'elegance' — this is the Montana wedding venue for you. The Chateau Event Center isn't a single, standalone building but a sprawling destination consisting of 40 acres of land. You can explore their grounds, featuring a creek, foliage, and plenty of venue options. The most popular is the event center itself, which includes all of the tables, chairs and tech equipment needed to host a fantastic wedding. You can also have your ceremony outdoors in their incredible, lush gardens, including a picture-perfect gazebo. For the cocktail hour, consider the pavilion, which has 2,500 square feet of outdoor/indoor space to mingle and toast to the start of your marriage.
Chico Hot Springs Resort & Day Spa in Pray, Montana
If you dream of an outdoor wedding with gorgeous views and plenty of space, this Montana wedding venue will have you swooning. They have several rooms available, but the Garden Pavillion is among the most beloved since it's nestled next to their natural hot springs. When you host your 40 person event here, everyone can enjoy scenic views of gardens and mountains. As a perk, this venue has an on-site culinary team, so you don't need to outsource food or drinks.
Rockin' TJ Ranch in Bozeman, Montana
Montana locals know the true beauty of the Bridger Mountains. They are awe-inspiring and ideal as the backdrop for one of the happiest days of your life. When you say 'I do' at Rockin' TJ Ranch, you'll have views of this range, all while being surrounded by lush lawns and cottonwoods. Their in-house team provides all catering, Catering Under the Big Style, and they can create everything from family-style and plated to buffet. If you're having a destination wedding, it's a big bonus it's only ten miles away from the Yellowstone International Airport.
320 Guest Ranch in Gallatin Gateway, Montana
All you need is each other — and the great outdoors. The 320 Guest Ranch has it all: the kind of mountain views you dream of, a large tent for dining and dancing, a bouquet hall for cocktail hour, and much more. They also do every aspect of the wedding — from setting up and breaking down to food and beyond. Couples who want all of their guests to surround them throughout this special time also have cabins and chalet accommodations. While on the property, your loved ones can, of course, celebrate your love, but also go fishing, horseback riding and rafting.
Historic Marysville General Store in Marysville, Montana
Marysville is a super-small but super-cute town in Montana. It was once a gold mining destination, and it still has remnants of those glory days. One of the most unique places to become spouses is their 1900s-era general store in the heart of downtown. It's been restored with original fixtures, and can fit up to 120 guests. There are views of the surrounding mountains and an antique vibe that oozes romance and charm.