18 Neon Wedding Sign Ideas to Light Up Your Wedding Day
This wedding decor trend is a modern and memorable way to light up your big day.
We have included third party products to help you navigate and enjoy life's biggest moments. Purchases made through links on this page may earn us a commission.
Nothing says "ready to party" like a neon wedding sign. The trend has only picked up steam in recent years as couples have found new, bold ways to include neon in their wedding decor. Whether you want to make a big statement with your wedding hashtag, create one-of-a-kind wedding photos with a modern ceremony backdrop or give your wedding venue dance floor an extra special glow, we're willing to bet there's a neon light sign on this list to fit your needs. And if you're in the early stages of wedding planning and don't know exactly what you want, we encourage you to explore neon signage for your bridal shower or bachelorette party, too. There's so much variety out there, not to mention the option to work with companies to customize your wall art. Take a look at our picks. To quote Alicia Keys, big lights will inspire you.
Neon Sign Custom King Mr & Mrs Wedding Neon Sign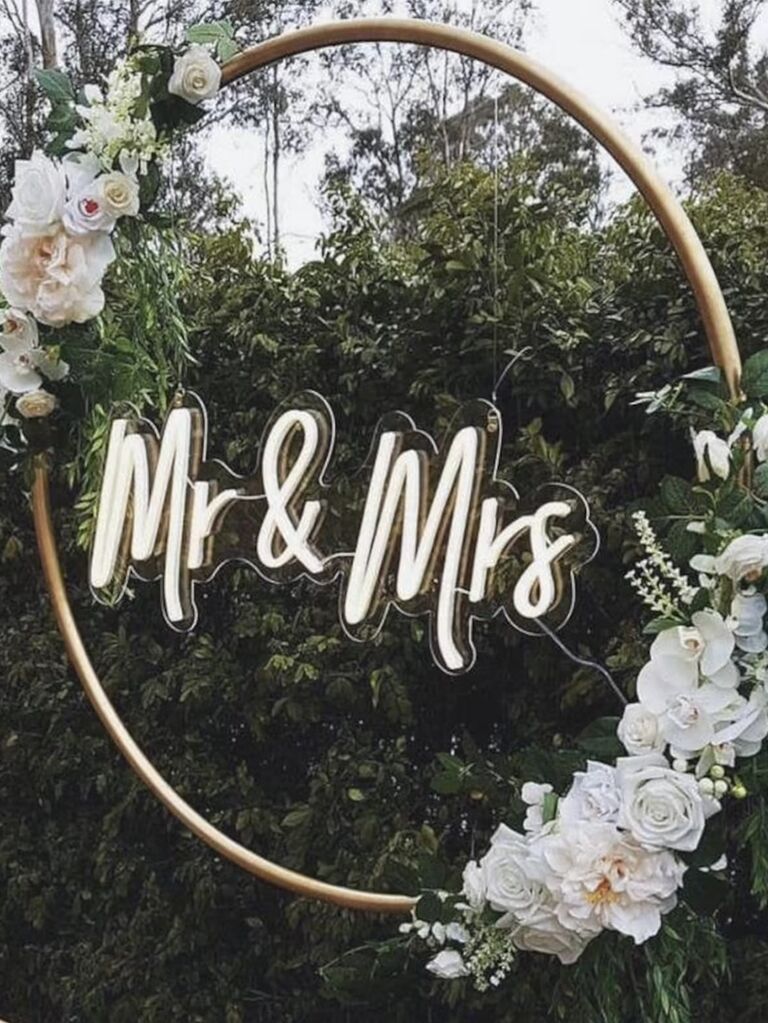 Whether hung from a decorative hoop, propped against faux greenery or displayed in front of floor-to-ceiling string lights, this Mr. & Mrs. neon LED sign serves as an eye-catching focal point for your wedding decor.
Neon Sign Kingdom 'Til Death Do Us Party Neon Sign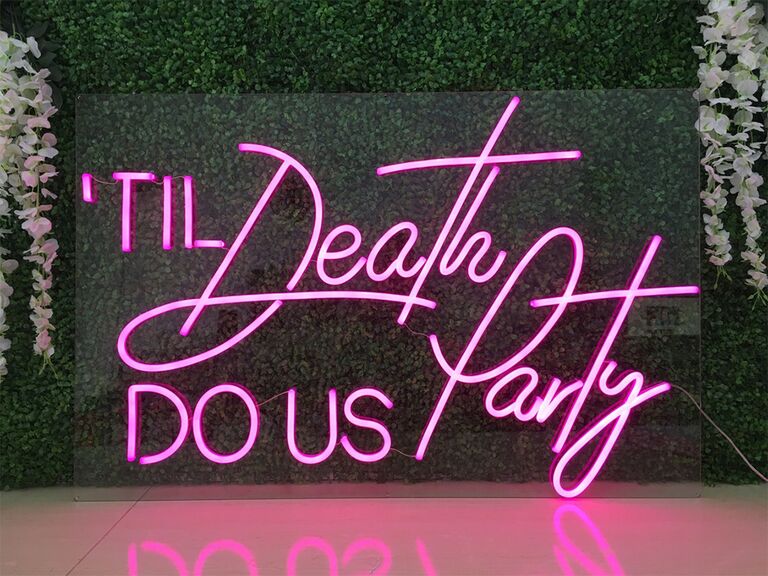 This sign sets the mood for a fun-loving couple's reception. Featuring a witty take on marriage vows, it lets guests know that they're in for a party to remember.
SJ Worktop Happily Ever After Neon Sign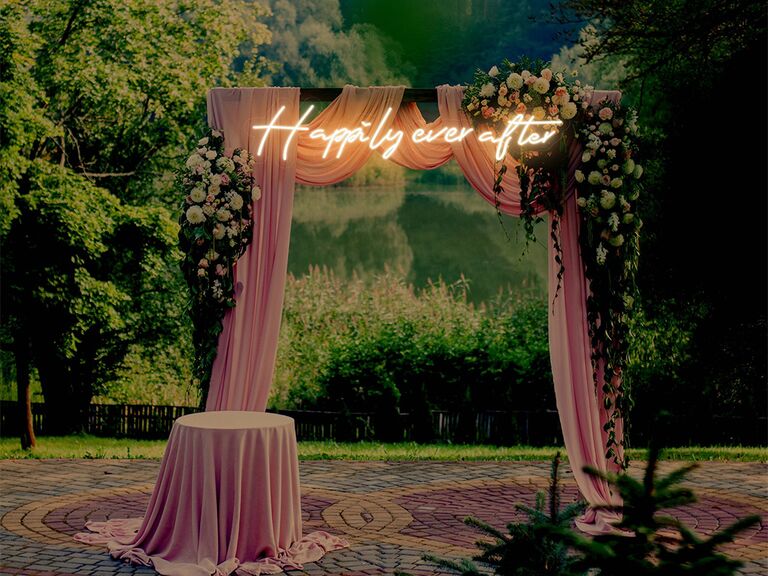 Top off a fairytale wedding with this romantic "happily ever after" neon sign. Use it as part of a modern altar during your ceremony, then set it up at the reception for even more photo ops as newlyweds.
Neon Craftsman Surname Wedding Neon Sign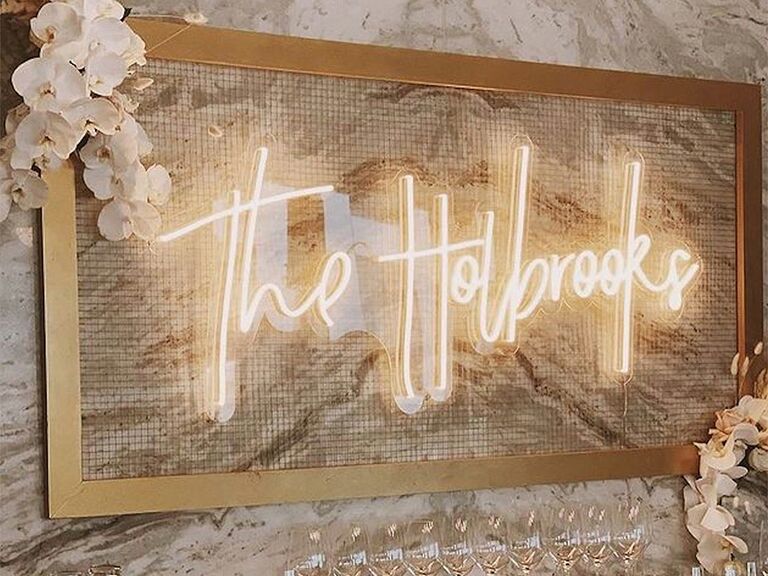 One of the best parts of the neon wedding sign trend is how easy they are to customize. This option for displaying your married last name comes in several different sizes and style choices.
Helen LED Co It Was Always You Neon Sign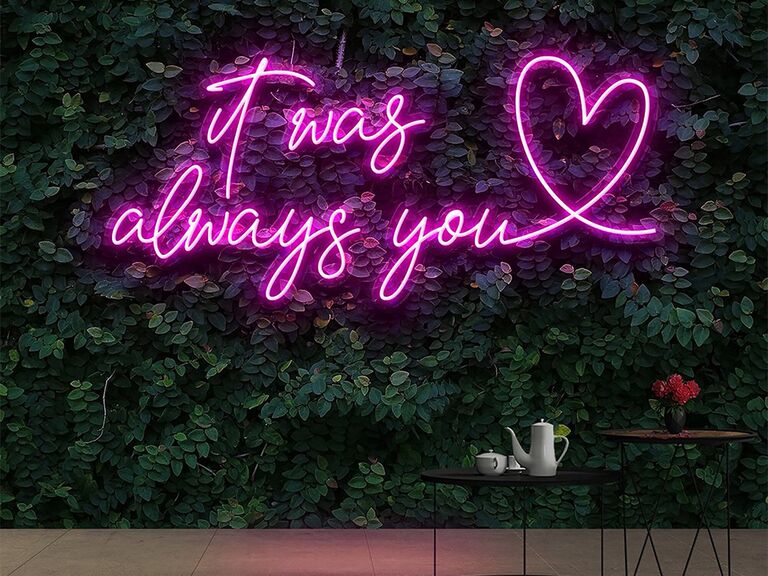 The neon heart accent gives this already romantic LED sign a little something extra. And how sweet would it look against a flower wall backdrop at an outdoor ceremony?
Name Glo Take a Seat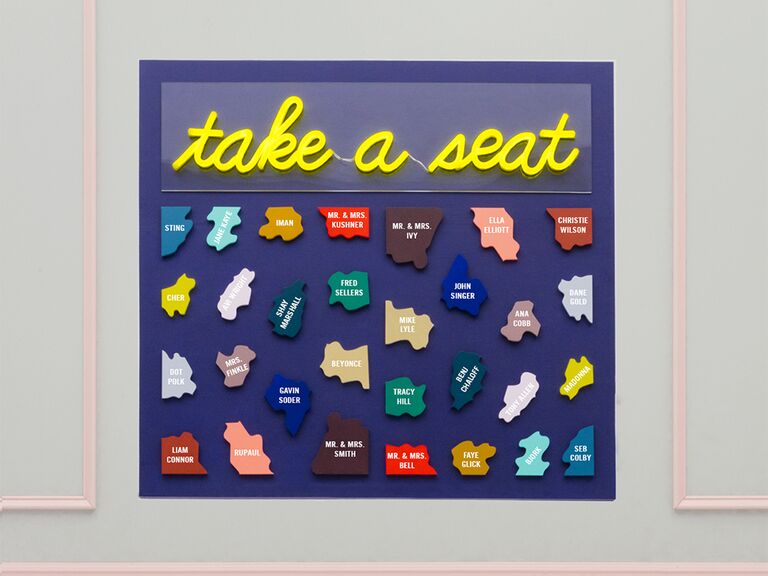 Talk about an attention-grabbing seating chart display. All eyes will be drawn to this neon yellow sign, meaning no guest should have trouble finding their table.
Yellowpop All You Need Is Love LED Neon Sign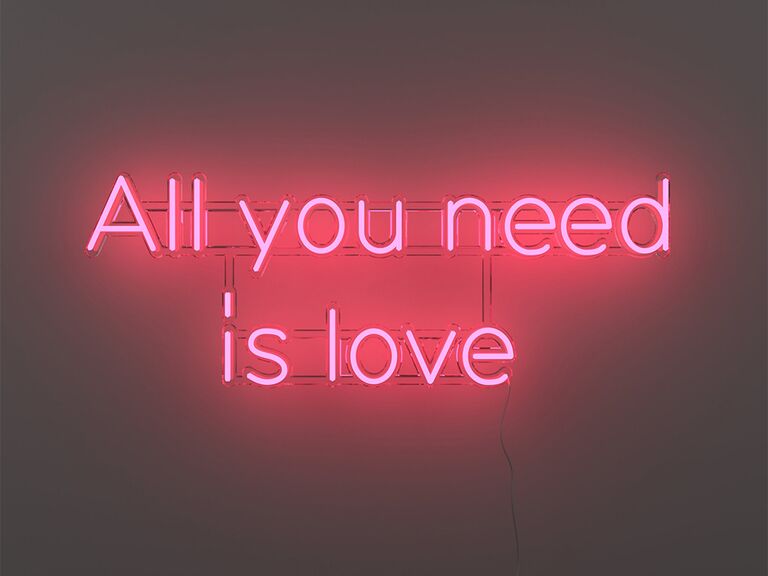 Another option that will look good at your reception and in your home for your happily ever after, this sign takes a timeless sentiment that fits wedding days as well as your everyday life.
mk neon You Are My Dream Neon Sign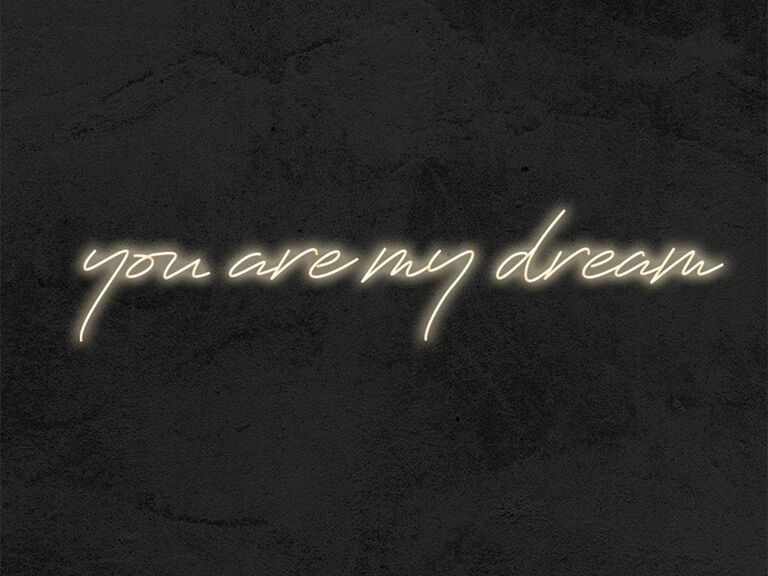 This minimalistic neon sign is fittingly dreamy in warm white, but you can pick the color best suited to your wedding theme. It also makes a striking backdrop for engagement photos as well.
Freefly Goods Written in The Stars Custom Neon Sign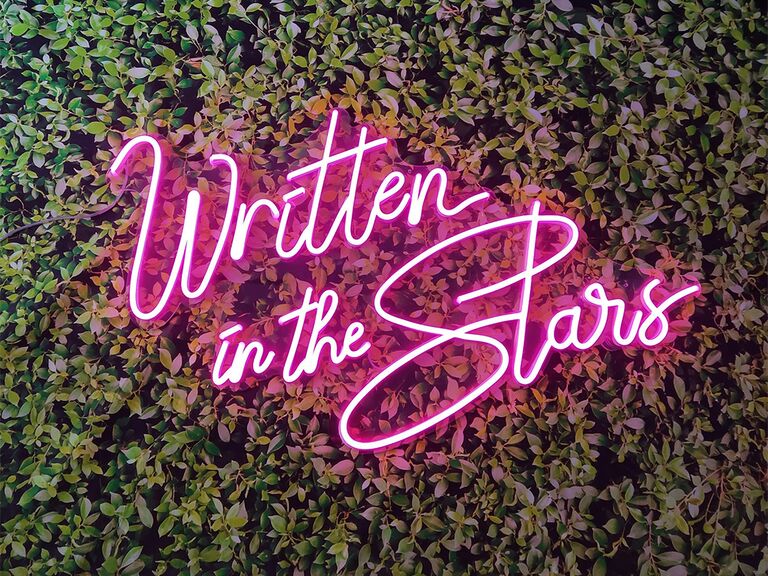 While you can fully personalize pretty much every aspect of this neon sign, we're huge fans of the hot pink "written in the stars" example pictured.
Name Glo Halo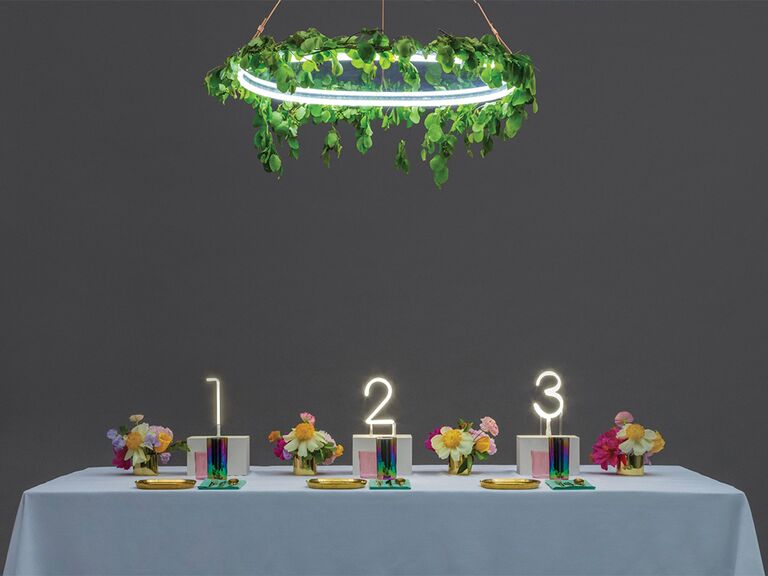 Hang this white LED neon halo wedding decoration over the sweetheart table at your reception and the spotlight will always be on you. It can also be used during your wedding ceremony as a nontraditional chuppah.
Custom Neon Two Grooms Are Better Than One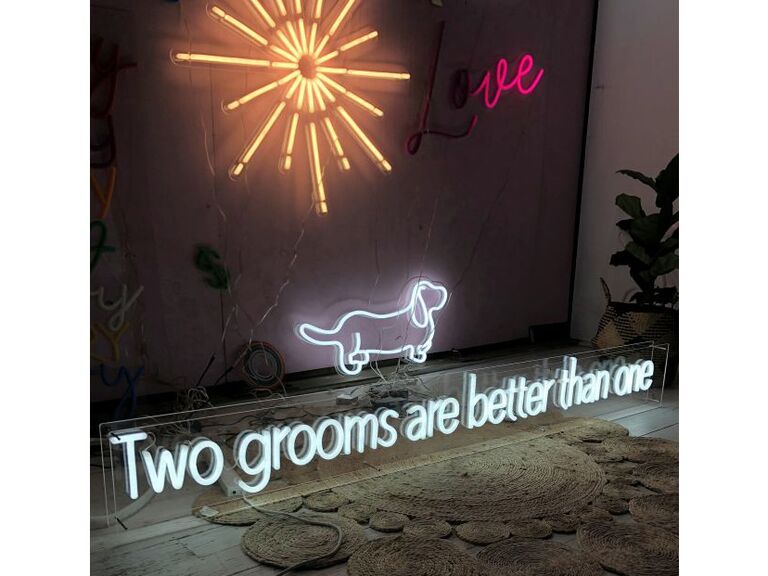 Most neon signs are short and sweet, but we love this oversized option in modern sans-serif font. It comes encased in acrylic for hanging and displaying.
Name Glo Let's Dance! LED Neon Sign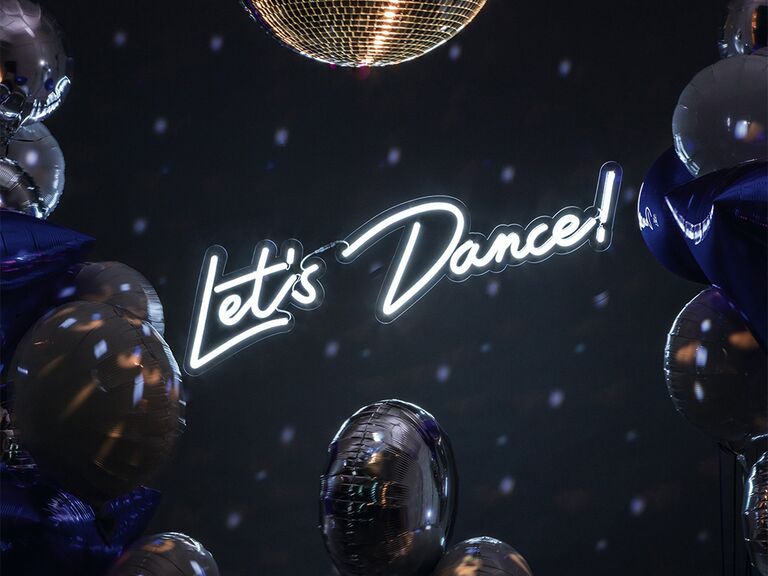 Get the wedding party started with this fun neon wall sign. Display it on the DJ booth or hang it behind the band as a reminder to your guests to get on up and dance the night away.
Trinx Chatsworth Cocktails Neon Sign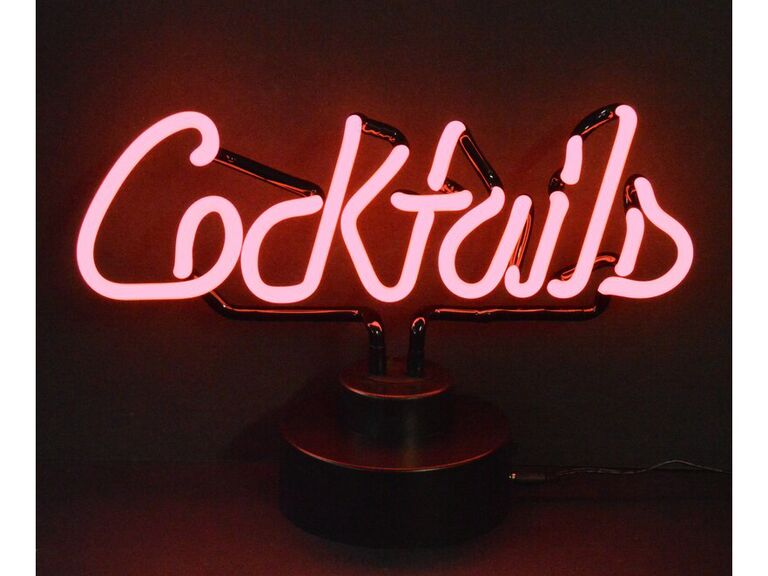 This pink neon sign makes a big statement while still being small enough to set up on the bar during cocktail hour or mount above a framed description of your signature cocktail.
Custom Neon Freestanding Bar Sign in Circle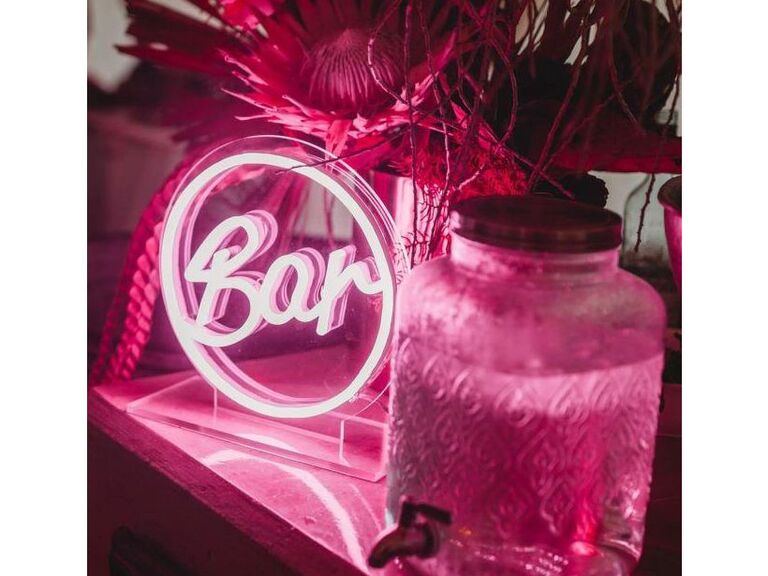 If you prefer a neon sign option that doesn't try to be the center of attention, this freestanding bar sign makes a stylish statement without overtaking the rest of your wedding day decor.
Hey Lights Wedding Monogram Custom LED Neon Initials Sign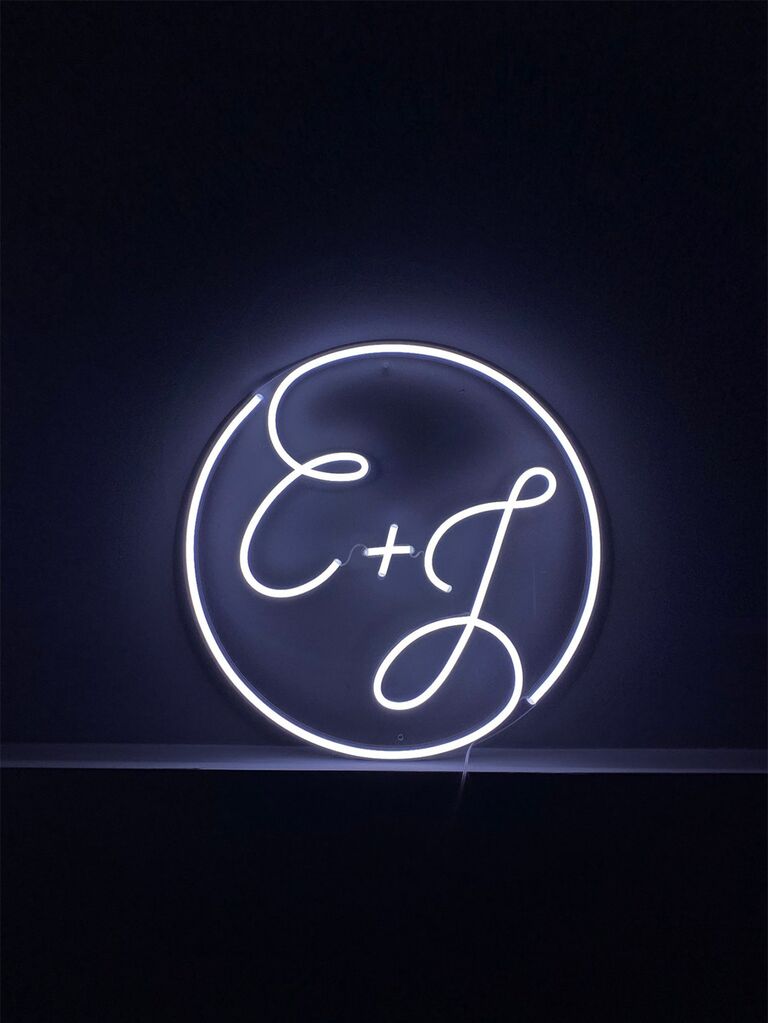 Another custom neon sign option, this unique monogram option is made with the couple's initials and a simple "+" or "&" between them.
Yellowpop This Must Be the Place LED Neon Sign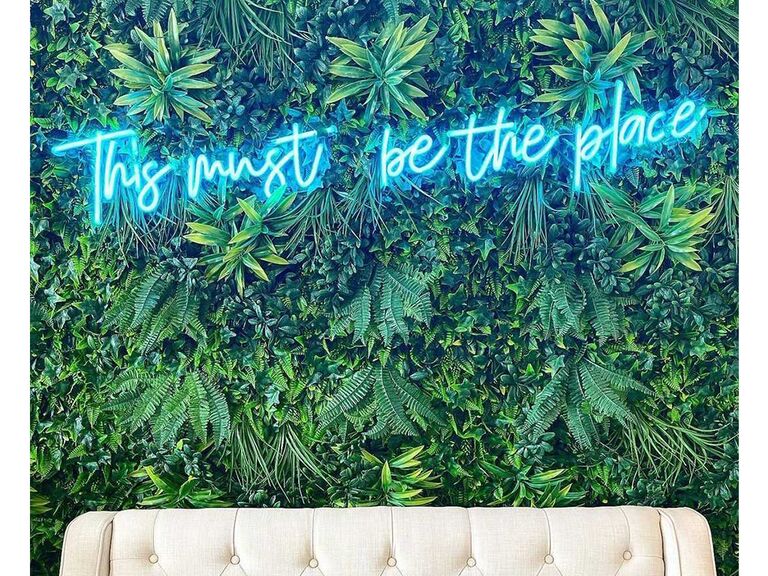 For many musically inclined couples, the Talking Heads' "This Must Be the Place" is a perfect encapsulation of finding true love. It's also a romantic way to describe the wedding itself. With family, friends and loved ones by your side, this must be the place.
California Neons Better Together Custom Neon Sign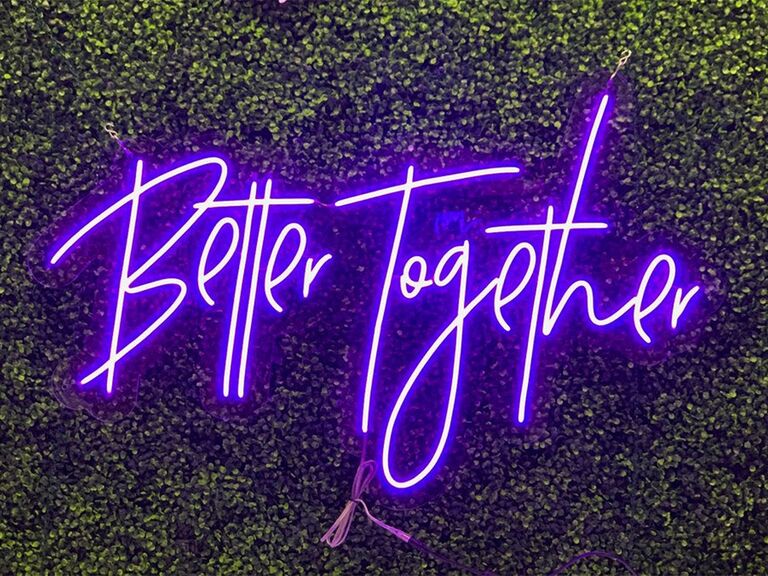 With a whopping 36 different font styles to choose from, you can stick to the "better together" example or work with the seller to customize a neon sign saying virtually anything you want. If you need more inspiration, we love the idea of making a custom neon sign for your wedding hashtag.
Neon Sign Kingdom Crazy in Love LED Neon Sign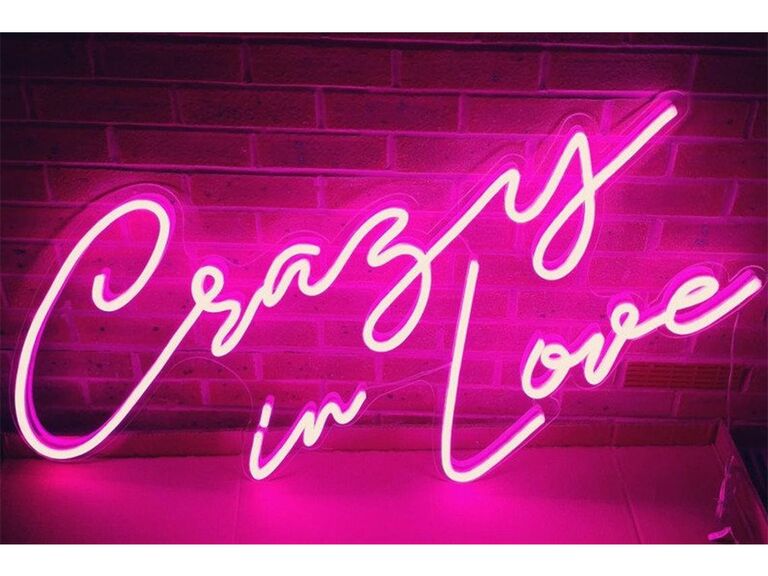 Channel your inner Beyoncé on the dance floor, in photos—and heck, just in life—with this "crazy in love" wall hanging.