30 Perfect Wedding Songs for Parent Dances
They're touching reception events: The bride waltzing with her dad, the groom tangoing with his mom. Here're some of our favorite tunes to use.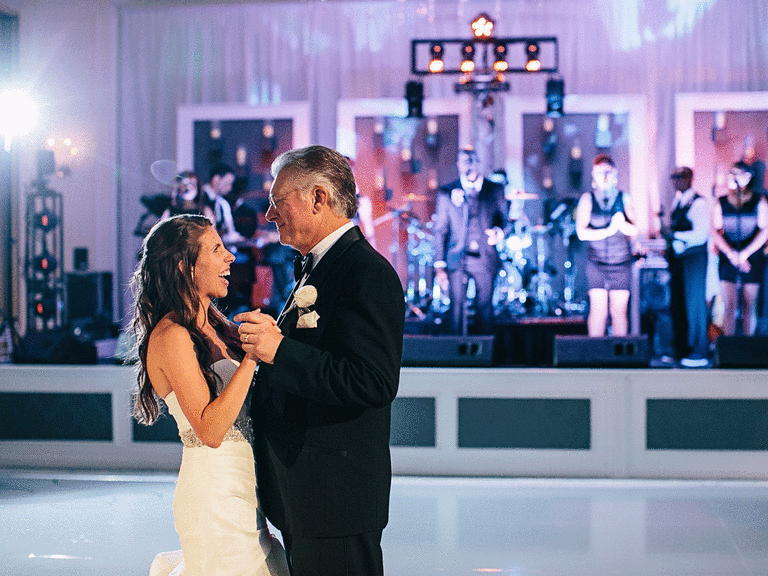 Trying to come up with the perfect wedding song to dance to with Dad or Mom? Start by deciding if you want a beautiful slow ballad or also want a song with meaningful lyrics. (Warning: If you choose a tear-jerker, plan the dance for later on in the reception, when the party is beginning to wind down and most of the pictures have already been taken!)
Below is a list of popular mother and son wedding songs as well as father and daughter wedding songs. We recommend reading through the whole list for ideas -- some songs work for a father-daughter or mother-son wedding dance. Or, you may want to choose one song and have both dances at the same time.
Mother/Son Wedding Songs
"Blessed" (Elton John)
"Can I Have This Dance" (Anne Murray)
"Close to You" (The Carpenters)
"Have I Told You Lately" (Rod Stewart or Van Morrison)
"Loves Me Like a Rock" (Paul Simon)
"I Can See Clearly Now" (Johnny Nash)
"I Wish You Love" (Gloria Lynne)
"In My Life" (The Beatles)
"Stand by Me" (Ben E. King)
"Through the Years" (Kenny Rogers)
"Unforgettable" (Nat King Cole/Natalie Cole)
"What a Wonderful World" (Louis Armstrong)
"You Are the Sunshine of My Life" (Stevie Wonder)
Father/Daughter Wedding Songs
"Can You Feel the Love Tonight" (Elton John)
"Daddy's Little Girl" (Al Martino)
"Daddy's Hands" (Holly Dunn)
"If I Could" (Ray Charles)
"Isn't She Lovely" (Stevie Wonder)
"Lean on Me" (Bill Withers)
"Lullaby" (Billy Joel)
"My Funny Valentine" (Carly Simon)
"My Girl" (The Temptations)
"She's Leaving Home" (The Beatles)
"Sunrise, Sunset" (from Fiddler on the Roof)
"Thank Heaven for Little Girls" (Merle Haggard)
"The Way You Look Tonight" (Frank Sinatra)
"Times of Your Life" (Paul Anka)
"Turn Around" (Harry Belafonte)
"You Are So Beautiful to Me" (Joe Cocker)
"Whenever I See Your Smiling Face" (James Taylor)