13 Fort Lauderdale Wedding Venues You Don't Want to Miss
South Florida is home to dance parties, warm ocean breezes year-round, hidden gems and wedding venues for whatever type of party you've dreamt up.
Palm trees. Ocean views. Tropical weather. These are just a few things that make South Florida's Fort Lauderdale a perfect spot for a vacation, bach parties, and destination weddings. Even if you grew up in the Sunshine State, just stepping inside a Fort Lauderdale wedding venue feels like a great escape.
It's a bit more low-key than nearby Miami Beach and West Palm Beach, but there's still access to plenty of shopping and restaurants to keep you and your guests busy (when you're not, you know, celebrating your future together). Everglades National Park is within driving distance, as are several other spots to stake out a place in the sand like Hollywood Beach, Deerfield Beach and Dania Beach. If you want to use different settings for a rehearsal dinner, you'll have no shortage of options.
And when it comes to Fort Lauderdale beach wedding venues, there are plenty with Atlantic Ocean views ready to host your special event. But you're not limited to an oceanfront wedding if it's not what your heart desires. Country clubs, breweries and hotels allow couples to make a different kind of splash and say "I do" all at the same time.
But there are a few things you should know before deciding on this Broward County hot spot for your special day. Fort Lauderdale temperatures are typically mild year-round, making it ideal for snowbirds who want a winter wedding sans ice. But it may not be the place for you if you want freshly falling snow in your winter wedding photos. It's also prone to hurricane season from June through November. But if you've never met a winter coat you liked and can pivot if Mother Nature forces you to, Fort Lauderdale is a dream wedding location.
Your pros can help you make your special day memorable, and you can find the best in the business on The Knot Vendor Marketplace. One of the first items on your to-do list is booking a spot for your wedding reception. These Fort Lauderdale-area venues are perfect for your wedding day.
Bonnet House Museum & Gardens in Fort Lauderdale, Florida
Bonnet House Museum & Gardens is a whimsical, romantic paradise set on 35 acres of land. The luscious, secluded grounds are lined with palm trees and the gardens feature tropical and subtropical plants. Couples can tie the knot during an outdoor wedding ceremony in the fragrant hibiscus garden or on a veranda overlooking the water. A statement fountain offers a picturesque backdrop for photographs. The covered reception space boasts an understated elegance and doesn't try to compete with its surroundings. Couples can choose to hang drapes and string lights from the ceiling or allow the South Florida sunshine to pour through the skylight.
B Ocean Resort in Fort Lauderdale, Florida
Imagine saying "I do" under a wedding arch located steps from the Atlantic Ocean with the toes in your sand. B Ocean Resort gives couples access to a 10,000-square-foot private beach to use for a waterfront ceremony. The cocktail hour and reception can also take place on the beach, or couples can make use of the event space's other locations, including the expansive Promenade Ball Room with floor-to-ceiling windows giving way to breathtaking ocean views. The Point Room and Lido Salons A, B, C offer similar ambiance for more intimate gatherings. For a more distinct setting, couples can host up to 175 guests at an evening cocktail reception on the Clipper Pool Deck.
Living Sculpture Sanctuary in Davie, Florida
A botanical paradise located in the Fort Lauderdale suburb of Davie, Living Sculpture Sanctuary is enchanting at every turn. And the hidden gem's features, from the Zen moon gates to the cascading waterfalls and 100-year-old oak trees, will put even the most nervous to-be-wed in a tranquil state of mind. There's no reason to go wild with design if you don't want to—Living Sculpture is brimming with natural beauty. Couples can say "I do" surrounded by a trio of waterfalls, oak trees and wildlife in the Healing Falls Esplanade. The wooden deck has a lounger swing and offers peaceful views of the koi pond below.
The Historic Maxwell Room in Fort Lauderdale, Florida
The moment you step foot into this delightful Fort Lauderdale wedding venue, you'll feel as if you've been transported to another place and time. Built in the mid-1920s, the Historic Maxwell Room's red-brick interior and garden-style courtyard with bistro seating exude an effortless European charm. Couples can begin their big day with a wedding ceremony surrounded by gorgeous blooms in the private courtyard or opt for a more public display on the buzzing south side of the New River. The Roaring 1920's den features brick walls, a red-wooden bar and leather stools, allowing guests to toast to you in a space with Gatsby-era vibes.
Sonesta Fort Lauderdale Beach in Fort Lauderdale, Florida
Couples who want a beachfront setting, whether they're outside or inside the banquet hall, will want to check out this venue. Sonesta Fort Lauderdale Beach's interior feels more like a yacht club than a run-of-the-mill hotel, and the walls full of windows give way to breathtaking panoramic views of the Atlantic Ocean. The crisp, white walls feel fresh and airy, and the blue carpeting adds another nautical touch. Colorful LED lights give the space just the right amount of South Florida nightlife flair. Couples envisioning a small, intimate outdoor ceremony can host it on the Breeze Terrace. Located on the second floor, it provides a bird's-eye view of the ocean and holds 70 guests.
The Venue Fort Lauderdale in Fort Lauderdale, Florida
Couples whose top priority is hosting a dance party for the ages will fall head over sky-high heels for this stylish contemporary banquet hall. The Venue Fort Lauderdale's grand ballroom has concert-quality audio and visual capabilities, ensuring your wedding reception is flawlessly executed. Put up a slideshow of your love story, showcase Zap photos or simply ensure the music and lighting are so good guests will never leave the dance floor (except to change into flip flops—maybe). Before you nail a wow-worthy entrance into your reception, you'll make things official underneath sparkling Swarovski crystal chandeliers that serve as glamorous accents to whatever ceremony design you and your florist dream up.
Funky Buddha Brewery in Oakland Park, Florida
Rustic elegance meets industrial chic at this off-beat brewery, perfect for couples hoping to hand-craft a different kind of wedding day. At Funky Buddha Brewery, which is located less than five miles outside Fort Lauderdale, couples can exchange rings in the barrel room surrounded by their loved ones and aging beer. The reception space features a dramatic curved ceiling with gray brick walls and steel chairs. Funky Buddha Brewery also puts guests to work (if they choose). As they dine, party-goers can learn how to mill the grain or put a cap on the bottle, giving beer lovers insight into the local production process. This event venue is also dog-friendly, allowing Fido to join in the fun. When the night is over, couples can arrange transportation for guests back to a Ft. Lauderdale area hotel—there's no shortage of those.
The Addison in Boca Raton, Florida
Life slows down in Boca Raton, which is located about 20 miles from the bustle of Fort Lauderdale. The Addison epitomizes these relaxed vibes but also seamlessly mixes a Gatsby-style glamour. Century-old banyan trees line the ceremony space and provide both a whimsical touch and shade from the sun. Couples have access to the entire grounds for photos, and the classic architecture, trees and gardens provide endless backdrops. Couples have multiple options for the reception, including the Fountain Room, where a fountain serves as a centerpiece. The Main Dining Room makes use of vintage chandeliers to set a classic scene.
The Westin Fort Lauderdale Beach Resort in Fort Lauderdale, Florida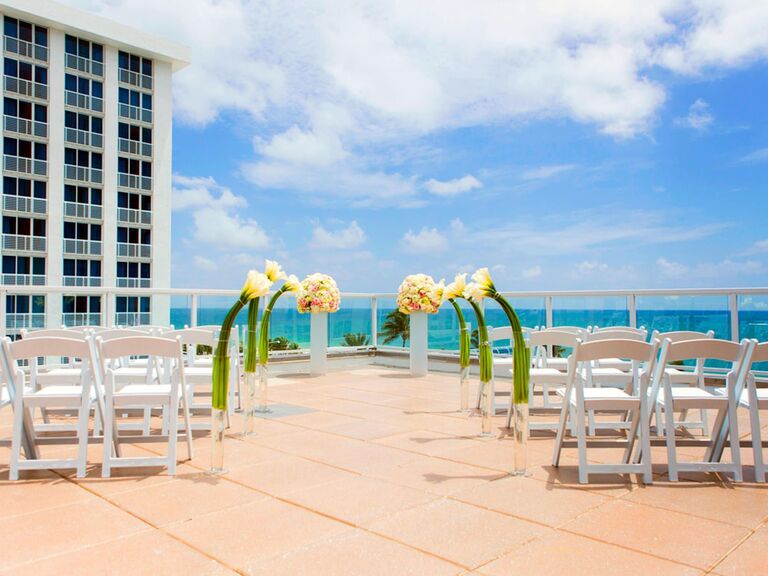 The Westin Fort Lauderdale Beach Resort embodies everything there is to love about South Florida. The Sky Terrace is on the rooftop overlooking the water, and the warm ocean breezes will be a welcome guest at your ceremony on a balmy summer day. Or, you can get right down by the Atlantic by opting for a beach ceremony in the sand. When it comes time for dinner and dancing, the Las Olas Ballroom is ideal for couples who believe everyone is an A-lister. It seats up to 610 people for a banquet reception. The pool provides a unique backdrop for more intimate soirees.
Riverside Hotel in Fort Lauderdale, Florida
Couples looking for the convenience of a hotel wedding but also want a unique event venue can have the best of both worlds at Riverside Hotel. Located at the heart of Las Olas Blvd., the to-be-weds can draw design inspiration from the always-bustling, versatile strip. The Skyline Terrace gives easy access to three distinct photo backdrops: the river, the city of Ft. Lauderdale skyline and the ocean. The terrace opens up into the spacious ballroom, where white tablecloths and wooden chairs exude an unstuffy-yet-sophisticated charm. Those hoping to take in warm summer breezes all night can opt for the Las Olas Veranda, which provides 12,000-square-feet of open-air space.
Fort Lauderdale Marriott Pompano Beach Resort and Spa in Pompano Beach, Florida
Whether you're from Florida or not, you deserve to feel relaxed and well taken care of on your wedding day. Fort Lauderdale Marriott Pompano Beach Resort and Spa offers couples a chance to leave their entire wedding weekend, from rehearsal dinner and welcome drinks to the morning-after brunch, to the pros. It features seven event rooms and 8,200 feet of event space, ensuring every party feels distinct. Couples can invite guests to sip pre-wedding cocktails on the pristine South Lawn and say "I do" in a romantic sunset ceremony. Guests can spend the night in comfortable rooms with beach views, and couples can shake off jitters with a light massage or facial at the on-site spa.
Deer Creek Golf Club in Deerfield Beach, Florida
This Deerfield Beach venue is ideal for couples who want to show guests the Fort Lauderdale area but host their big day in a country club setting just outside the city. Deer Creek Golf Club allows couples to make use of a sprawling outdoor space featuring beautifully manicured grounds, lush landscaping with palm trees, exotic plants and a picturesque cascading waterfall. The staff provides white-glove service from start to finish, including giving guests lemonade or cucumber water upon arrival. The newly renovated ballroom's 15-foot arched make for an impressive photo backdrop and allow natural light to illuminate the space from every angle. When the sun goes down, timeless crystal chandeliers ensure the room sparkles all night long.
Floridian Ballrooms in Pembroke Pines, Florida
Set in the Fort Lauderdale suburb of Pembroke Pines, Floridian Ballrooms give couples plenty of options for their big day and offers all-inclusive packages for those who want the most bang for their buck. The event venue can host intimate or large affairs in rooms with enough room to comfortably hold 35 to more than 500 guests. The double staircase foyer provides an elegant setting for wedding party photos or a grand exit. Couples, their DJs and florists can let their imaginations run wild here. The all-white ballrooms exude South Florida style. They also serve as the perfect canvas for colorful up-lighting or any whatever theme you've dreamt up, from timeless glamour to modern elegance.