Everything You Need to Know About Getting Married in Florida
Look to The Knot for local details about getting married in Florida, from choosing your wedding venue to getting your marriage license.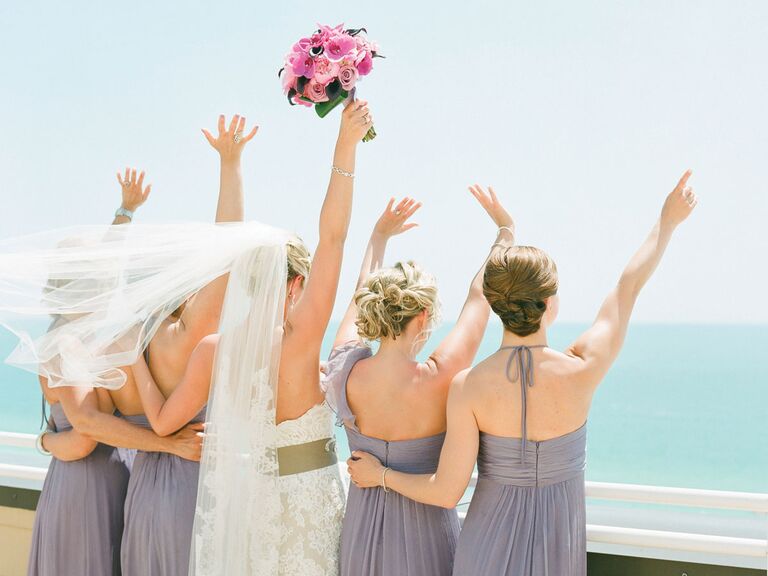 Ashley McCormick Photography
The Ultimate Guide to Getting Married in Florida
With more than a thousand miles of coastline and some of the most unique environmental features in the country, Florida has diverse wedding options. Mother Nature's power is often on full display here, and whether you're watching thunderhead clouds roll in over the gulf or touring the Everglades on a fan boat, you'll be experiencing only a fraction of what this peninsular state has to offer. These natural features are just part of what makes getting married in Florida undeniably attractive.
Tens of millions of visitors flock to the Sunshine State each year. Even if you aren't a native Floridian, the active and well-honed tourism industry can make planning and travel for your Florida wedding to be an easy walk on the beach. Still, navigating the wedding planning process can be time consuming and confusing for many brides and grooms—but you don't have to go it alone. Whether you call Florida home or you're planning your first visit just to tie the knot, our comprehensive guide will help you understand all the important basics to get you started—from obtaining a marriage license here to navigating the local climate. Follow your wedding checklist to help you plan.
Top Wedding Trends in Florida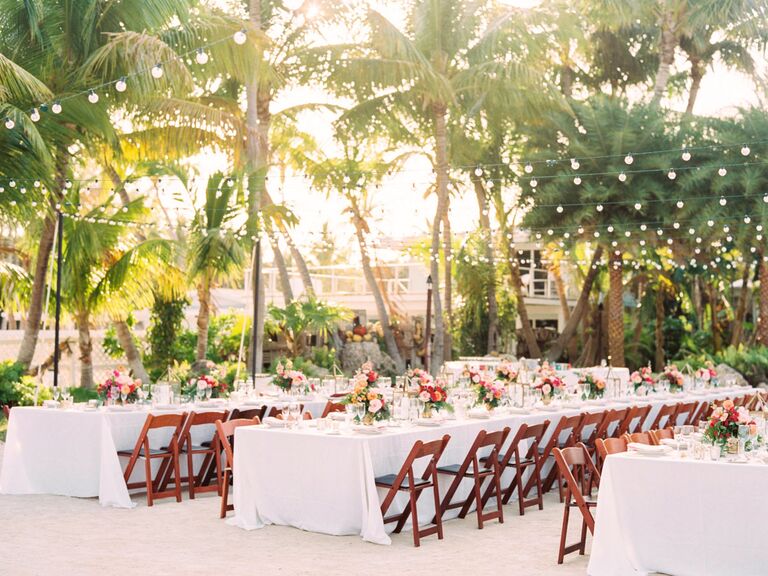 With so many planning options, where do you begin? Those hundreds of miles of coastline are a popular choice for couples in the state, and according to The Knot 2015 Real Weddings Study, a solid majority of Florida weddings take place outdoors. However, we also found that beach weddings are not as popular as you might assume—only about a quarter of 2015 wedding ceremonies in the state took place on the beach.
When it comes to wedding trends, Florida couples are varied and unique in how they approach their day. For example, couples in northern Florida, which is bordered by Georgia and Alabama, are more likely to wed inside a religious institution than couples on the west coast, which has tourist appeal thanks to the Gulf of Mexico. Semiformal may be most popular wedding style, and southern Florida sees the largest number of black-tie weddings at 29 percent.
You can bring in local Florida tradition by focusing on nautical and natural themes for your wedding décor. If you're a graduate of one of the large state universities, consider a color scheme that matches your team colors for ultimate fanfare. Additionally, Florida has a culturally diverse population, especially in the southern part of the state, and it's not uncommon for people from Jewish or Latin-American backgrounds to incorporate those elements into their Florida weddings.
Florida Marriage Rates and Wedding Costs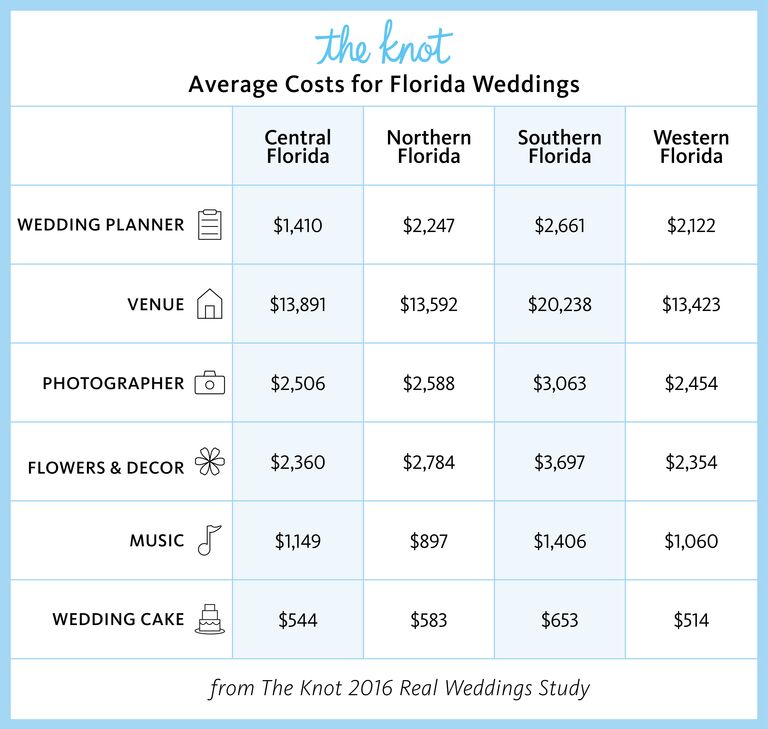 Planning a wedding can be a lot of fun, but affording it is another story entirely. No matter which type of wedding venue you choose or what type of theme fits your personalities, make sure you've created a budget and that you're sticking with it. The Knot Budgeter can help keep you on track! But before you take that important step, here's a little background info on how many couples are tying the knot in Florida, plus what you can expect to pay for common wedding costs in Florida, as reported by The Knot 2015 Real Weddings Study.
Florida Marriage Stats
So how many couples are actually getting married in Florida? In 2014, Florida's marriage rate was 7.3 per 1,000 people. There are plenty of wedding venues to accommodate all these ceremonies, too. But paying for one of those venues is another thing to consider.
Budget Breakdown: Average Costs for Florida Weddings
Getting a sense of what you'll pay for your wedding day expenses will make it easier to budget and negotiate with vendors. Budget can be a big sticking point when it comes to wedding planning, but that doesn't mean it has to be stressful. Even Florida beach weddings on a budget are within the realm of possibility; plan smart and you can get what you want.
Looking to keep the budget on the low side? Look to northern Florida. Our Real Weddings Study showed that, in 2015, the average wedding ceremony and reception budget for this part of the state was $22,251. That's actually 21 percent higher than the previous year, when the average budget was $18,454. By contrast, southern Florida tends to have more black-tie affairs, leading to more expensive weddings, with 2015 budgets averaging $32,609. Central and west Florida had comparable 2015 averages at $24,122 and $25,769, respectively.
Take a look at the chart above for some more specific information (as reported in The Knot 2015 Real Weddings Study) on how couples spent their money getting married in Florida, broken down by region.
Top Cities in Florida to Tie the Knot
With so many great places for wedding events, it can be hard to narrow down your options. Based on trends, though, we can identify which cities and locations in the state are the most popular for couples getting married in Florida:
Make It Legal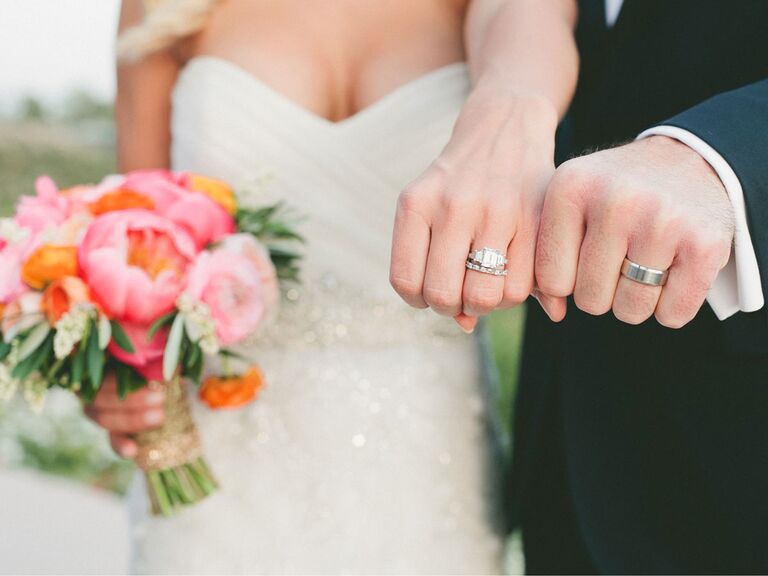 While we hope that planning your wedding feels like it's filled with fun events like cake tastings and finding the perfect DJ or band, there are some strings attached to tying the knot in the Sunshine State. Understanding the ins and outs of not only getting your Florida marriage license, but also taking care of details like permits and changing your name(s), is equally important in the weeks and months leading up to saying "I do."
Getting a State of Florida Marriage License: The Basics
Obtaining an official State of Florida Marriage License involves jumping through a few hoops, but if you plan ahead and apply in advance of the wedding day, you won't have anything to worry about. The State of Florida requires a three-day waiting period between application and the marriage license becoming effective. Non-residents do not have to undergo this waiting period. In-state couples who don't want to wait can attend a premarital education program from an approved provider. Other rules include:
Both members of the couple must be present and age 18 or older
You both must present valid government ID that confirms your name, date of birth and signature
Previously married applicants must provide the exact date a divorce or annulment became official or the exact date of the previous spouse's death
Licenses are valid throughout the state for 60 days after the issue date
All couples applying for a marriage license in Florida must read the state-published "Family Law Handbook" before applying; copies of this book are widely available and are also accessible online. Because the State of Florida marriage license is issued on the state level rather than by county or municipal governments, it is valid in any county, though the county you apply in will be the one that keeps your license on file.
Other Legal Requirements for a Florida Marriage
Obtaining your State of Florida marriage license is just the first step toward making your marriage legally valid. You must also have an authorized person officiate your wedding ceremony. In Florida weddings can be legally performed by Florida notaries of the public, clerks of the circuit courts, ordained ministers and other clergy, all judges and other judicial officers (including those who have retired). Religious organizations, such as the Society of Friends, that don't have a hierarchical structure can use whatever means they deem appropriate to solemnize a Florida marriage. The person who performs your ceremony is then responsible for returning the marriage license to the county that issued it within 10 days of the ceremony.
Finally, if you get married on public land in Florida, you may be required to obtain a permit. These permits are issued on the local level, so you'll have to research the specific rules of the county you are considering. Walton County, for example, requires permits for special events such as weddings on county beaches. The rules regarding Florida beach wedding permits vary. Individual cities such as Pompano Beach and Dania Beach require permits, but nearby Fort Walton Beach does not require permits for weddings on its city beaches. Working with a local Florida wedding planner may be helpful in navigating these details.
How to Change Your Name in Florida
After your wedding, your marriage certificate is all you need to change your name with the Florida DMV. This can help kickstart other name change efforts, such as your federal IDs, credit cards and bank accounts. May we suggest: Check out HitchSwitch professional name change service or follow our simple guide to changing your name.
It's All About Timing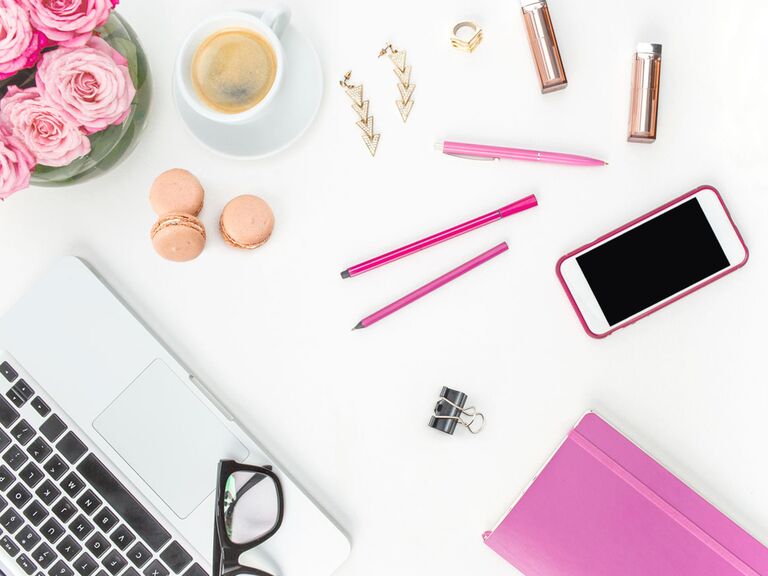 Luckily, getting married in Florida is a good idea just about any time of year, especially on the coast. The Knot 2015 Real Weddings Study shows that for most of the state, spring, summer and fall are the most popular wedding months. Winter, compared with the rest of the country, is a popular month for central Florida weddings: 22 percent of 2015 marriages in this area occurred during the wintertime, a higher percentage than any other part of the United States.
The Four Seasons in Florida
They don't call Florida the Sunshine State for nothing. However, aside from the fact that the state's climate is generally warm and rarely sees temperatures dip below freezing, it's hard to put Florida's weather in a neat little box. Florida is long, and the extreme north of the Sunshine State experiences weather in a different way than the extreme south.
Because warm temperatures are pretty much a given just about anywhere in Florida, you may want to turn your attention to rain. The rainiest time of year differs across the state's latitudes, but in general, the summer months from June through September see the most rain in Florida. During the rainy season, total monthly accumulations of 7-plus inches are not at all unusual.
Florida Wedding Dates to Avoid
With hundreds of thousands of visitors coming through the state every year, every season could be considered tourist season in Florida. But some times of year are less busy (and more affordable!) than others, and that's worth considering when you set a date. Even if you and most of your guests won't have to travel far, selecting an off-peak time is considerate to guests who have to fly in for your wedding, and it also means a potentially quieter, less hectic ceremony. Insider tip: Wedding pros may also cut you an off-season deal!
As with almost anything else in this unique state, peak tourist seasons vary by location. A local wedding planner can help you with the details, or you can take a DIY approach and call around to various local visitors bureaus in the locations you're considering. As a general rule, summer tends to be the peak season for the northern parts of the state, while the southern parts see more tourists in winter.
Popular travel dates such as national holidays and school spring breaks are also typically busy times. You may also want to sidestep hurricane season, which is at its peak from June through November.
Great Guest Experiences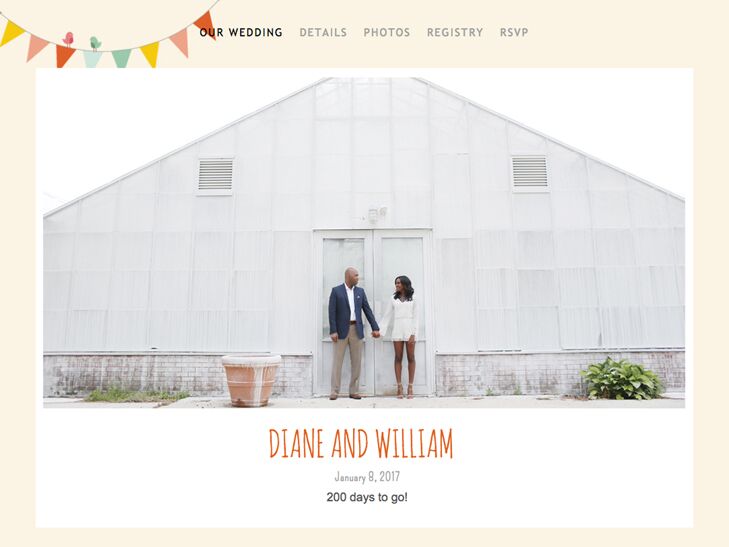 Even if everyone you're inviting to your Florida wedding was born and raised in the state, it's still a good idea to help your guests feel in-the-know, comfortable and welcome—one of the key ingredients to wedding success. Use our guest list manager to keep track of who's coming, and make a free wedding website to help keep everyone informed.
Around Town: What to See and Do in Florida
No matter where you choose to get married, you and your guests will have access to everything from museums and amusement parks to deep-sea fishing and snorkeling. There are many reasons why tourists flock to Florida, and the beach isn't the only one. Consider inviting your guests to one of these places for an enjoyable group outing pre- or postwedding:
Walt Disney World (Orlando)
Kennedy Space Center (Titusville)
Dry Tortugas National Park (Key West)
Big Cat Rescue (Tampa)
The Turtle Hospital (Marathon)
Parker Manatee Aquarium/South Florida Museum (Bradenton)
The Wizarding World of Harry Potter (Orlando)
Gulf Islands National Seashore (Pensacola Beach)
Ernest Hemingway Home and Museum (Key West)
Naples Botanical Garden (Naples)
Finding Your Way: Florida Travel Info
Planning fun events isn't enough to ensure your guests have an amazing time. You need to help them get to your wedding, and if you aren't familiar with the part of Florida where you'll be married, you should a little research for your own peace of mind. For travelers there are numerous airports throughout Florida, including international airports in Tampa, Miami, Orlando, Panama City Beach, Daytona Beach, Fort Lauderdale, Jacksonville, Key West and St. Petersburg, just to name a few. There are also many regional airports in Florida, so connecting flights should be widely available.
Larger Florida cities such as Miami, Orlando, Tallahassee, Tampa, Jacksonville and Gainesville have some public transportation options, which could take care of all your wedding guests' travel needs from the airport. Otherwise, driving is a good option in Florida, which has a convenient network of major thoroughfares, including highways and interstates—this includes Interstate 75, which runs almost the entire length of the state from north to south, and Interstate 10, which runs the entire width of the state, west to east, from the Alabama border to Jacksonville.
Go Local: Food and Favors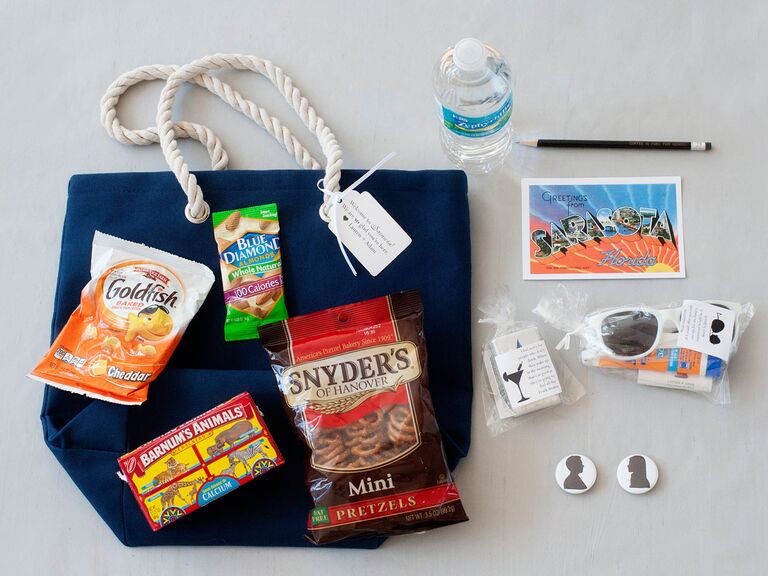 Whether you want a formal wedding reception or prefer to celebrate your union with a casual barbecue, you'll have plenty of local Florida cuisine to choose from. Some delectable treats even make excellent wedding favors to send your guests off with happy memories. Consider these ideas for bringing the food and culture of Florida to your wedding celebration.
Florida Flavors: Unique Regional Cuisine to Consider
While many of Florida's signature cuisines have to do with iconic local foods such as oranges, Key Lime and seafood, the state's blend of Afro-Caribbean and Latin-Caribbean cultural influences also has a large impact on the state's culinary landscape. Dishes such as conch fritters, Cuban sandwiches and Jamaican-spiced fish meet with Southern foods such as grits and fruit cobbler to make unforgettable meals. Even if you just include a simple appetizer course of blackened Gulf shrimp over grits, you'll be bringing the fresh flavors of Florida to your wedding dinner table.
Do Your Guests a Favor: Florida-Inspired Take-Home Treats
There are a few different ways you can approach your wedding favors in a way that embraces the Florida spirit. Beach totes printed with your wedding logo and packed with everything from sunblock and aloe lotion to custom-printed sunglasses with a cute slogan for your wedding event is a natural approach. Check out The Knot Shop for other personalized wedding favor ideas, and consider these ideas to get you started:
A sampler of locally grown Florida citrus
Mini Key Lime pies
Airbrushed T-shirts or hats from a seaside airbrush artist
A custom-painted sand dollar or seashell
Sun-shading hats with accents in your wedding colors
Caribbean curry spices in a decorative container with a sweet thank-you tag attached
A commemorative vial of local beach sand with a magnifying glass
Florida City Guides
You know by now that getting married in Florida will take some planning work, but it will ultimately be worth it. No matter which places to get married in Florida have caught your eye at this point, it's important to make searching for vendors a high priority, unless you want a complete DIY wedding. The availability of good caterers, for example, may make or break your decision to host your Florida wedding in a certain place. Here's some detailed information on the most popular wedding cities in the Sunshine State, and check out our wedding vendor marketplace.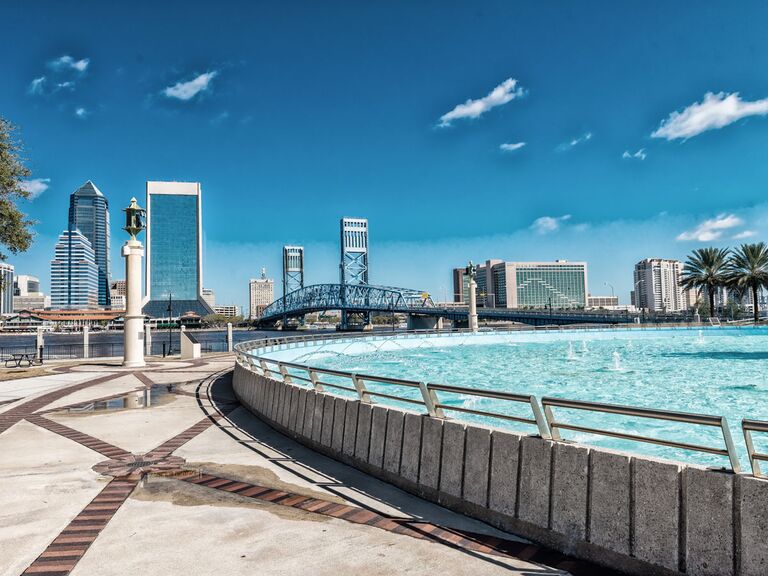 Jacksonville is located in the northeastern part of the state, near the Georgia border. This is one of the largest cities in Florida, and it's developing rapidly. (Read: You and your guests can enjoy a variety of new and different restaurants and attractions.)
For local Jacksonville vendors, check out: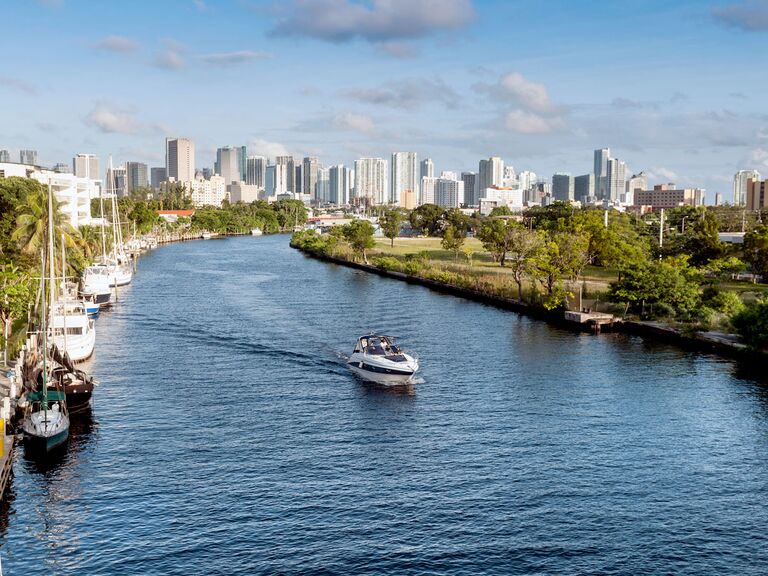 From its scenic beaches to its neon art deco architecture, Miami is a feast for the eyes. You and your guests can enjoy everything from world-class shopping and dining to wild nights out in South Beach and relaxing daytime golf rounds at the city's many courses. Miami is a culturally rich city, and it's a great place for a lavish Florida wedding.
For local Miami vendors, check out: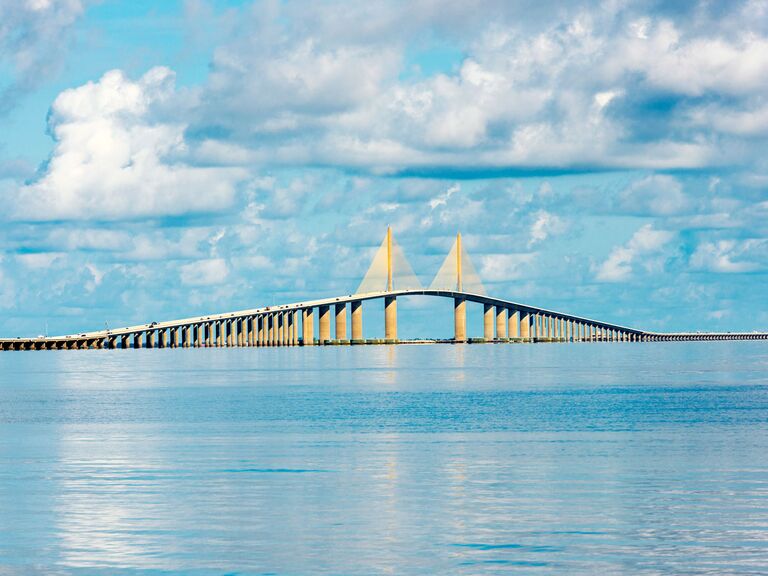 Located on Florida's west coast, Tampa sits on Tampa Bay, rather than the Gulf of Mexico. You can easily access the Gulf by boat, but if you don't one of your own, a day charter is within easy reach. Tampa is also a popular venue for sporting events, something to consider as you set a date in this area.
For local Tampa vendors, check out:
Widely known as the home of internationally beloved amusement parks such as Walt Disney World and Universal Orlando, this city has much to offer. Whether you've got your sights set on a wedding in the Magic Kingdom or you plan to steer clear of the amusement park side of town, you'll find excellent wedding resources in this part of central Florida.
For local Orlando vendors, check out: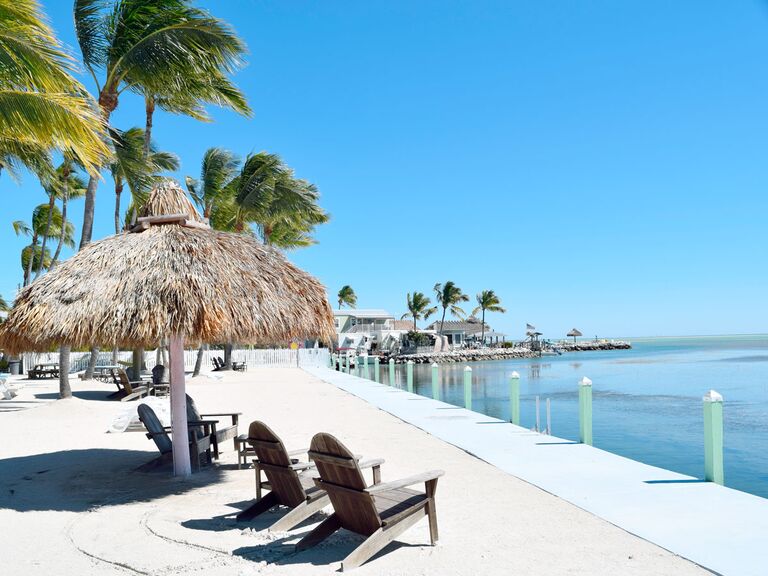 Separated from Florida's mainland by water but connected by a nearly seven-mile-long bridge, the Florida Keys are a truly magical area. Bringing you close to the Caribbean without technically leaving the lower 48 states, these islands boast crystal-clear waters for world-class diving and snorkeling. The Keys have their own unique culture that will help you feel like you're in a different world entirely—which may be exactly what you're looking for in a wedding location.
For local Florida Keys vendors, check out:
Check out more Florida wedding inspiration here.
Don't forget to download The Knot Wedding Planner app—it's a must-have for on-the-go planning.
Download for iOS: Wedding Planner App by The Knot
Download for Android: The Knot Wedding Planner