Celebrate Your Heritage With These 20 Polish Wedding Songs
From polkas to waltzes, these songs are the perfect ode to your Polish culture.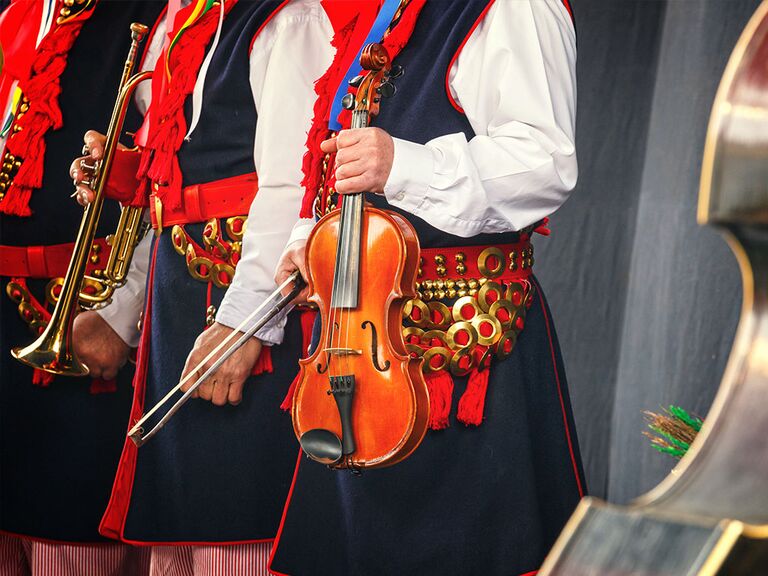 Shutterstock
Polish weddings are known for their lively spirit, and the music that accompanies them is just as important as the wedding itself. If you are from Poland or come from a Polish background, you know just how important it is to have Polish wedding music incorporated into your wedding reception.
Whether you plan on having a traditional Polish wedding or just want to incorporate a few wedding traditions, choosing a playlist that honors your culture can be a huge undertaking. From choreographed polkas to folk songs and waltz medleys, we're here to help make the process easier with a list of the 20 best Polish wedding songs that every couple can use on their big day. Once you've made your playlist, be sure to let your DJ or live band know of your song selections, especially those that are accompanied by cultural traditions.
"Serdeczna Matko," The Cathedral Singers
Lyrics You'll Love: "Serdeczna Matko/ Opiekunko Ludís/ Niech cie placz sierot, Do litosci wzbudzi/ Wygnancy ewy/ Do ciebie wolamy/ Zmiluj sie zmiluj/ Niech sie nie tulamy"
This 18th-century Polish hymn is a classical piece often performed at church ceremonies or at the reception during the unveiling of the bride, often referred to as the "Oczepiny." For this tradition, the bride sits in a chair and is surrounded by female loved ones while they sing this hymn to send blessings to the new bride.
The Polish lyrics translate to "Loving Mother/ Protector Ludís/ Let the orphans weep/ Awaken to pity/ Exile of Eve/ We cry to you/ Have mercy/ Let us not cuddle." Adding it to your playlist will be a sweet ode to your heritage.
"The Unveiling Song," Ron Urbancyzk
Lyrics You'll Love: "You promised to be true/ And love throughout the days/ In all your days ahead/ Uphold vows made today/ Remember to be good/ And live in wedded bliss/ And in our presence now/ Honor him with a kiss"
After the "oczepiny," this polka tune is played in celebration of the bride's rite of passage and newfound marriage. During this song, guests will sing and dance around the bride as her wedding veil is removed from her head and replaced with a traditional Czepek headdress.
"Kocham," Cleo featuring Ekipa
Lyrics You'll Love: "Piękne życie czeka na-nas/Tak pełne barw/Tak dobrze (tak dobrze)/Tak dobrze jest nam"
This hit single, released by Polish artist Cleo in 2021, is everything we love in a pop love song. Grab your partner and dance away to uplifting lyrics like, "A beautiful life awaits us/ So full of color/ So good (so good)/ It's so good for us."
"Polish Wedding March," LNM Productions
Lyrics You'll Love: Instrumental
The "Polish Wedding March" is a classic polka song originally played on the village streets to announce that there was a wedding and let everyone know that they're invited to celebrate. This tune is the embodiment of a traditional Polish wedding party and is an excellent choice for your reception entrance.
"Let Me Call You Sweetheart/ I Love You Truly," Ron Urbancyzk
Lyrics You'll Love: "Let me call you sweetheart/ I'm in love with you/ Let me hear you whisper/ That you love me true/ Keep the love light glowing/ In your heart so true/ Let me call you sweetheart/ I'm In Love with You"
Also played after the unveiling of the bride, "Let Me Call You Sweetheart/ I Love You Truly" is a traditional Polish polka song sung by the groom to the bride who is either seated or dancing. Who wouldn't want to be serenaded by their partner on their wedding day?
"White Roses," Eddie Blazonczyk and the Versatones
Lyrics You'll Love: "In my garden, there are two roses just for you/ No one else will ever do"
Not all polka needs to be fast. Slow it down and dance along to this soft folk song during your wedding reception. This tune would also be a wonderful choice to play while guests mix and mingle at cocktail hour.
"Beer Barrel Polka," Frankie Yankovic
Lyrics You'll Love: "I've been in love with Rosamunde for days/ I think every hour she needs to know/ I see her lips with the happy smile/ I want to do everything to kiss her"
Polka is meant to be entertaining and make your guests happy, and Beer Barrel Polka is no exception. Just wait until you see how your Polish family reacts when they hear this classic party song start to play.
"Tavern in the Town," Jimmy Sturr
Lyrics You'll Love: Instrumental
Jimmy Sturr is an American polka musician who has won 18 out of the 24 Grammy Awards for Best Polka Album. It's safe to say with a track record like that, any of his hits, including "Tavern in the Town," will be sure to get your guests out on the dance floor.
"Myśli i słowa," Bajm
Lyrics You'll Love: "Czasem zapominam, że/ Tylko to/ Liczy się/ Widziałam w Twoich oczach tamten blask"
This love song by the Polish rock band Bajm was made for a first dance. The Polish lyrics translate to "Sometimes I forget that/ Only this/ Counts/ I saw that glow in your eyes/ When you said love for the first time." It doesn't get any more romantic than that.
"Doghouse Polka," Babe Wagner
Lyrics You'll Love: Instrumental
Turn on this tune to get guests onto the dance floor. Another Polish favorite, "Doghouse Polka" is an excellent choice for getting people in the mood for dancing at your reception.
"Prawy do lewego," Kayah
Lyrics You'll Love: "Wstał by nowy toast wniesć/ Za rodzinę świętą rzecz/ No i teściowych też/ Rodzina to jest siła!"
Catchy, upbeat and funny, "Prawy de lewego" is a very popular polka song played at Polish wedding receptions. The tune's fast tempo, lively dynamics and fun lyrics are exactly what's needed to keep the energy up at your reception.
"Tatusiu Waltz," Alvin Styczynski
Lyrics You'll Love: "Dzis jest moje wesele/ Today is my wedding/ I ludzie patrza sieand/ And all the people are looking/ Tatus zemna tanseuje/ Daddy, you're dancing with me/ Nigdy nie zapomne cieand/ And I'll never forget you"
Looking for the perfect father-daughter dance song? The "Tatusiu Waltz," translated in English to "Father's Waltz," is a polka song sung from the perspective of the bride telling her father how special he will always be to her. Typically, each lyric is sung in Polish and then immediately translated into English, making it a great choice for those hosting a fusion Polish-American wedding.
"Apples, Peaches, Pumpkin Pie," Frankie Yankovic
Lyrics You'll Love: "Apples, peaches, pumpkin pie/ Who's not ready? Holler I!/ Let's all play hide and seek"
One of the oldies, this polka hit by Frankie Yankovic is loved by generations. So whether you have older guests or little ones, everyone is sure to join in when this lively folk song starts to play.
"Closing Time," The Chardon Polka Band
Lyrics You'll Love: "So, gather up your jackets/ Nove it to the exits/ I hope you have found a friend/ Closing time, every new beginning/ Comes from some other beginning's end, yeah"
Having an American wedding but still want to incorporate Polish wedding songs? Play this polka cover of "Closing Time" by American rock band Semisonic at the end of the night for a fun and modern twist that pays homage to both cultures.
"Worth It," Gromee featuring ÁSDÍS
Lyrics You'll Love: "It's the best night of my life/ And I'm not leaving 'till it ends/ Keep it going, show me you can dance/ This is your last chance"
Dim the lights, grab your bridal party and get the party started at your wedding reception by playing "Worth It" by Polish DJ Gromee.
"Bo jestes Ty," Krzysztof Krawczyk
Lyrics You'll Love: "Gdy zaczyna się noc/ Już wszystko mam/ Cóż więcej mógłbym chcieć?/ Bo jesteś Ty"
Set the mood for your first dance with pop acoustic song, "Because You Are." The sweet lyrics \ translate to "When the night begins/ I already have everything/ What more could I want?/ Because you are." There won't be a dry eye in the house.
"Wedding Oberek," Stanislaw Trzeciak
Lyrics You'll Love: Instrumental
Does your family want to perform a traditional folk dance? Named one of the five official dances in Poland, the Oberek is a joyful dance filled with energetic jumps, turns and lifts, it's the perfect wedding tradition for a Polish celebration.
"Hop Scotch Polka," Bob Crosby and His Orchestra
Lyrics You'll Love: "Oh, you hop a little on your little left shoe/ You hop a little on your right one too/ You kick a button like the Scotch kids do/ That's the Hop Scotch Polka"
The "Hop Scotch Polka" is full of nostalgia and will be fun for all if played at your reception. New to dancing? Don't worry, these lyrics help guide you every step of the way.
"Sto lat," Sławomir Wolski
Lyrics You'll Love: "Sto lat/ Sto lat niech żyje/ Zyje nam"
This traditional Polish tune is used for a variety of celebrations and landmark events. For Polish weddings, guests joyfully sing to the newlyweds to wish them many years of health, love and happiness together! The lyrics cheerfully translate to, "Good luck/ Good cheer/ May you live a hundred years." Play this before dinner or as the last song at your reception to go out on a high note.
"The Bridal Dance," LNM Productions
Lyrics You'll Love: Instrumental
At the wedding reception, the bride puts on an apron while guests line up to dance with her during "The Bridal Dance" and pin money to a special apron worn by the bride. At the end of the song, the groom tosses his wallet into the apron, picks up his bride, and carries her out of the room to end the night.