Couples Share Their Own Wedding Postponement Stories Amid COVID-19
"Everything you're feeling is valid right now."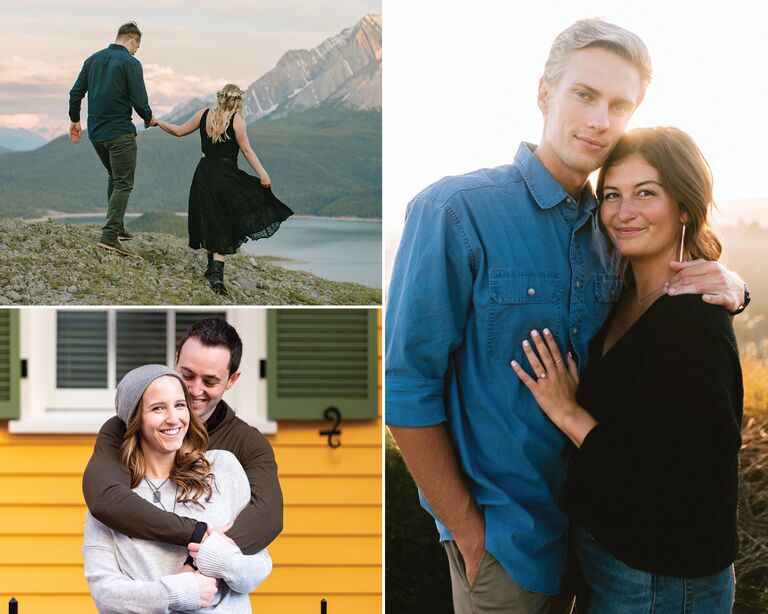 Dillon Phommasa; Roey Yohai; Darren Roberts Photography
When it comes to big life events, weddings represent a culmination of the things that we care about most—family, friends, love, the past, the present, the future—all wrapped up into one beautiful day. Ultimately, a celebration of what it means to love and be loved by people near and far. However, weddings also present a quandary in the ongoing fight against coronavirus: they're often multi-generational gatherings of often more than 10 people, many of whom have flown in from all across the country (or globe), and conditions include dining, conversing and dancing in close quarters.
In the last 10 days, many couples have made the choice to reevaluate and postpone their weddings. It's a decision that was not made lightly, given what a wide web of individuals—from vendors to guests to venue staff—it impacts. Given the CDC (Centers for Disease Control and Prevention) and the federal government's current regulations regarding social distancing, many couples with wedding dates set for spring 2020 have now made an important call: save the celebrations for another season. And in doing so, they're helping the international plea for everyone to help "flatten the curve" by social distancing.
Above all, the sentiment we've heard from couples who've postponed their big day was one of gratitude—for vendors who were willing to be flexible with scheduled dates, for family and friends who were supportive, and for their health and each other, especially amid such uncertain times. Here, The Knot spoke to real couples who rescheduled their nuptials, and where they've landed after changing-the-date.
The Couple Who's Marrying on Their Date (On Their Own)
Couple: Veronica Nunez and Daniel Bradshaw
Original Date: March 21
Location: La Quinta, California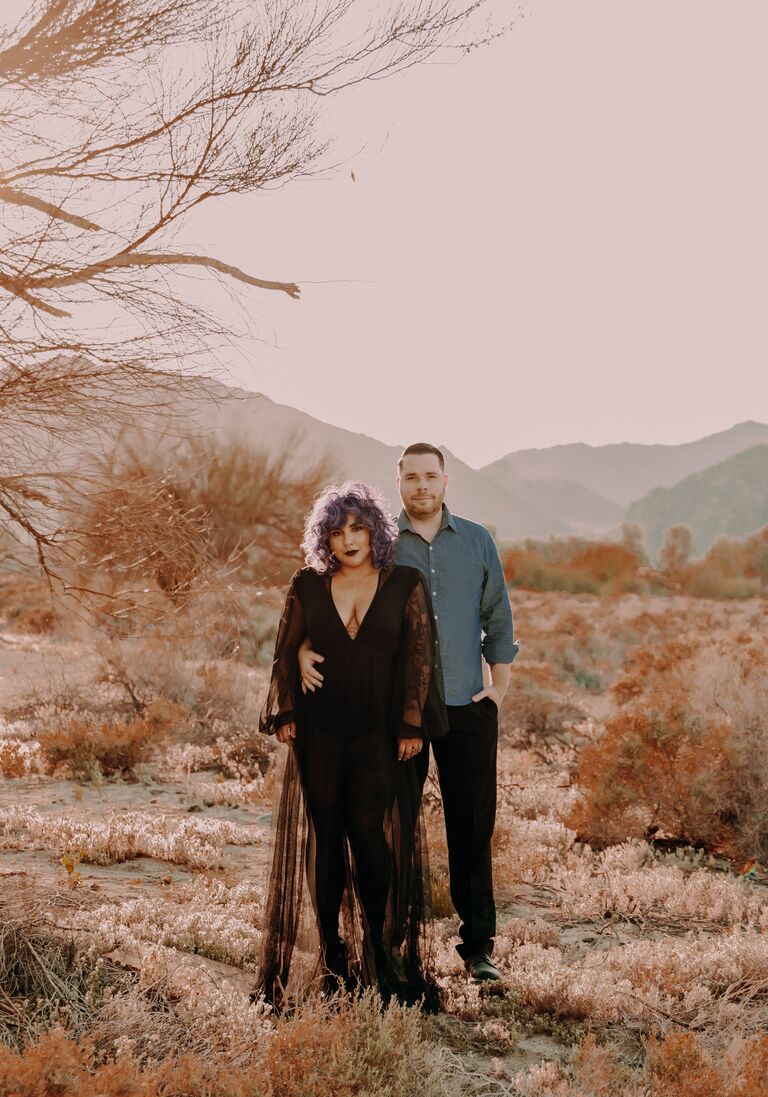 "The decision hit us hard," hair and makeup artist Veronica Nunez tells The Knot. "We were five days away from our wedding and it was paid in full. When we called vendors, we could hear the panic in their voices. After some discussion, all vendors and the venue agreed to honor our contracts for a future date. Luckily, flights, hotels, and AirBnbs were offering full refunds to friends and family."
Nunez explains that she and her fiancé originally opted to downsize their guest list in order to accommodate for the CDC's recommendation of limiting social gatherings to 50 people or less (they had originally planned for 130 people), but soon, the venue itself had to shutter its doors to events so as not to risk the staff and local community.
"[Our family and friends] all understand and extend their deepest sympathies," Nunez says, adding that the most important aspect of their wedding truly was to be celebrating with their loved ones. For now, however, she and her partner will celebrate their would-be wedding date by having a "small ceremony with an officiant and our parents."
The Couple Who Says 'It's an Ongoing Mourning Process'
Couple: Bekki Hammill and Ian Hastings
Original Date: March 28
Location: Toronto, Ontario, Canada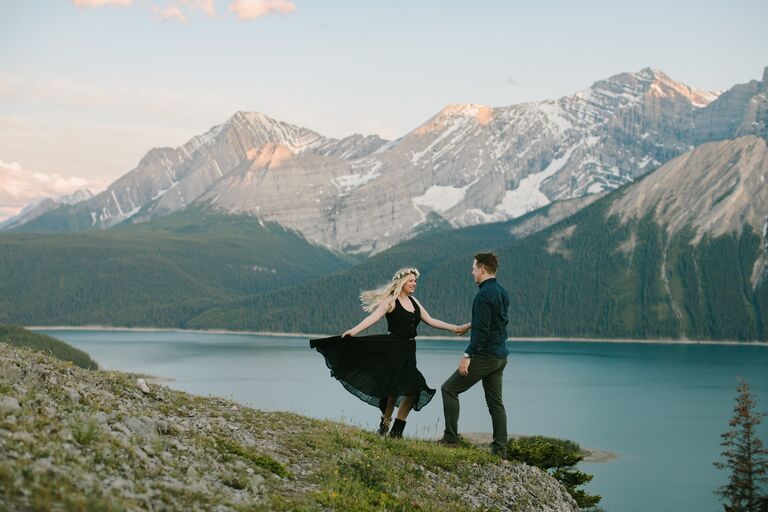 This duo was excited for their destination wedding in Canmore, Alberta, but plans quickly unraveled in the weeks leading up to the date. "We had seven guests who were to fly in from the USA who would be unable to cross the border without self-isolating for 14 days upon arrival in Canada," she says. "Last Friday, March 13, I received a call that our Swiss honeymoon was canceled… It was that afternoon when we realized that we had to have a very serious conversation and make some difficult decisions."
It was very emotional. "Many, many tears were shed," she says of a conference call with her parents and her future in-laws. "We made the decision together… and it's an ongoing mourning process."
Overall, their advice to couples to acknowledge it's a tough time. "Take it one day at a time. It will be a roller coaster of emotions," Bekki adds. "There will be good days and bad days.. just remember you and your partner are in it together. Don't push each other away—I have a habit of retreating when going through tough times—but instead, acknowledge you've both had something taken from you. You will both go through your own grieving process."
The two will schedule another date, hopefully for the winter. "My dream has always been a winter wedding in the mountains and spring skiing events," she says. "I'm still hoping for winter wedding. I'm not sure I could wait another whole year since we've been engaged since September 2018… But we have every intent to press 'play' again, when the chaos of the world has calmed."
The Couple Who Went With Their Backup Plan
Couple: Tim Ebner and Heather Petrovich
Original Date: March 28
Location: Washington, D.C.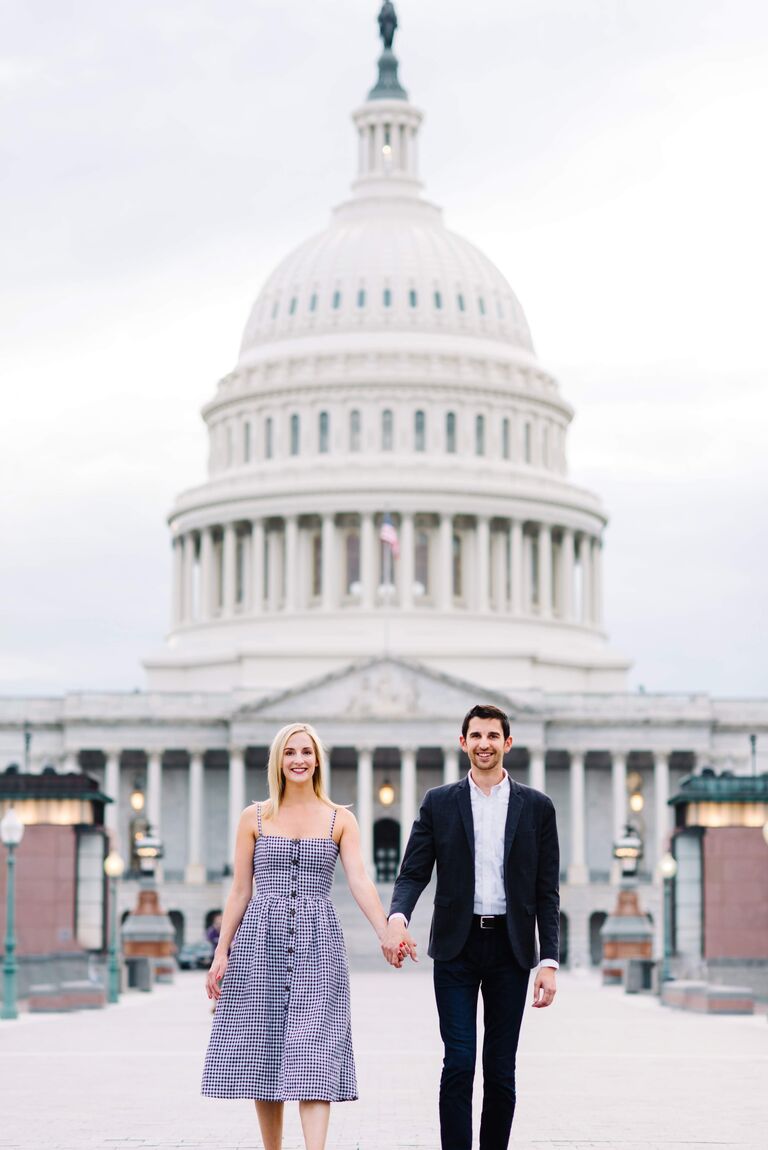 In addition to having to postpone wedding plans, Tim Ebner and his fiancée Heather have also had to cancel their honeymoon plans, another stressful but important decision many couples are having to make. "We were supposed to go to Japan and Fiji," he tells The Knot. Instead, the couple has postponed their nuptials to July 3 at the same venue.
"Start contingency planning right now and read all of your contracts," he says of advice he might have for couples who are in the middle of planning now. "I can't stress this enough."
"We also want to give a shout-out to our planner, Candy Borales of Candy & Co.," he adds. Overall, Tim says, his family and friends have been supportive and gracious through all the uncertainty and changes. "We're getting showered with deliveries," he laughs. "Wine. Cookies. Safe to say the wedding diet is off."
The Couple Who Says It's About the Marriage
Couple: Sarah Yates and Byron Manzo
Original Date: March 28
Location: Laguna Beach, California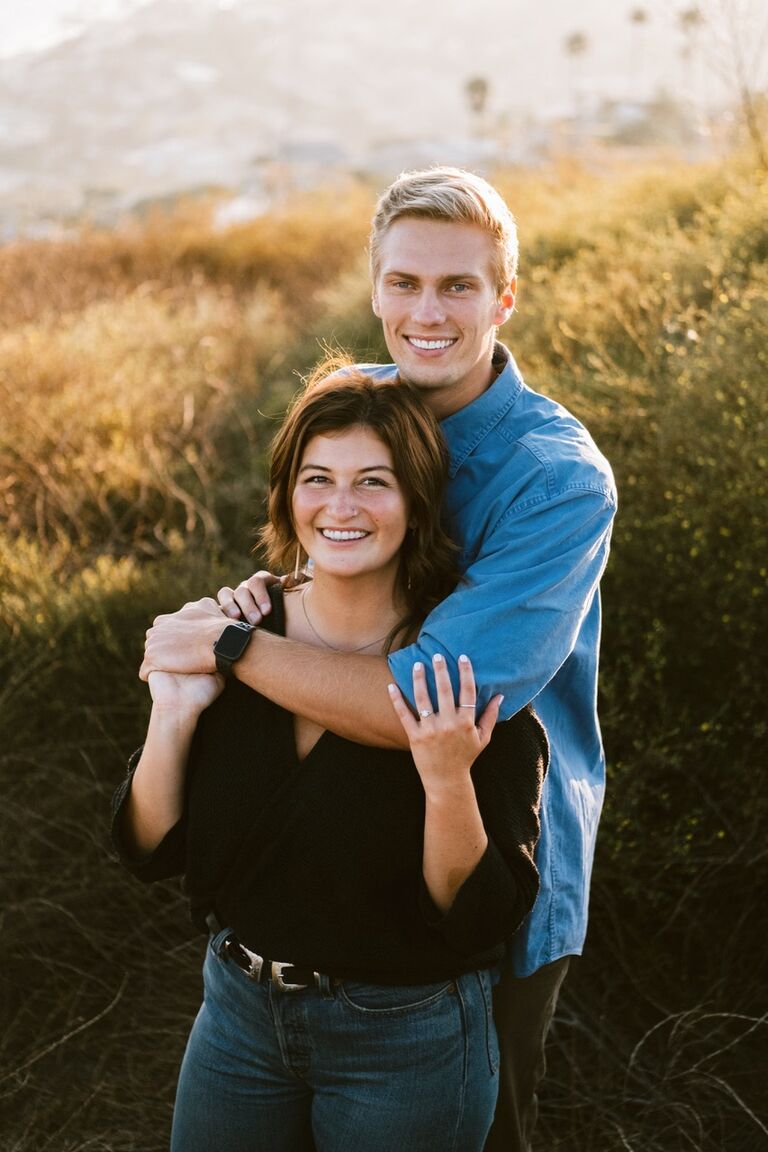 Maintaining a healthy perspective is something Sarah Yates has been doing since finding out that the intimate wedding she and her partner had envisioned wasn't going to happen this month.
"Our advice to other couples going through this same experience is to remember why you're getting married," she says. "It's so easy to get caught up in being a bride that you can lose sight of being a wife. These trying times have brought us so much closer, we've kept an honest and open line of communication, we constantly check in with one another and if one of us is starting to feel the weight of everything, the other one steps up to ease their mind."
Adds Yates: "Everything you're feeling is valid right now and it's been such a great time to remind each other that we're in this together. We just feel so incredibly lucky that we have a partner to navigate this with, and we constantly remind ourselves we're doing okay, and simply put, we've just been nice to each other. A wedding is just one day of your life, but your marriage is the rest of your life, so we're putting our energy into building our marriage first and the wedding will fall into place. And plus, what a crazy story to tell our kids one day!"
The Military Couple Who Faced a Travel Ban—Then Postponed
Couple: Emily Harmon and Michael Brown
Original Date: April 3
Location: Nashville, Tennessee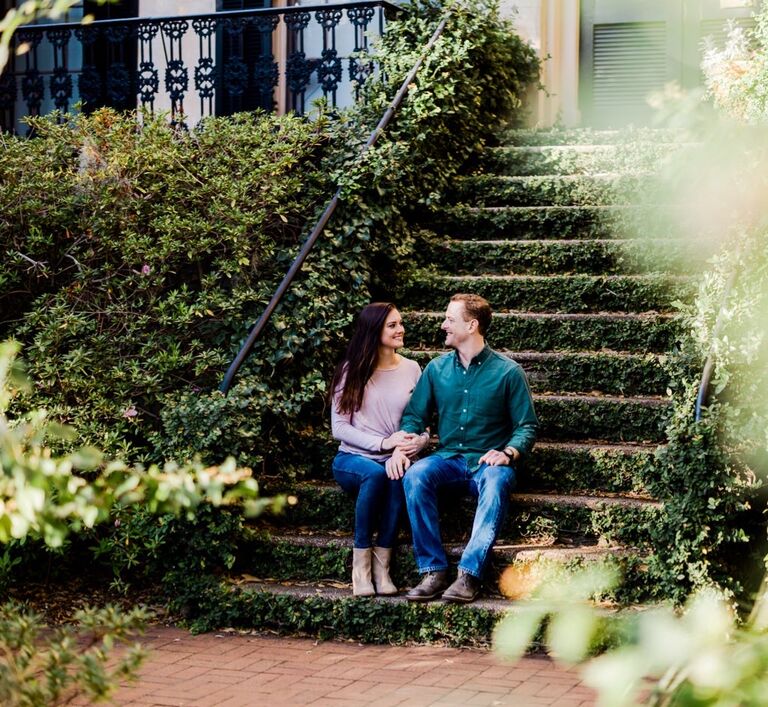 Emily Harmon was just kicking off her bachelorette weekend in Charleston when she got a worrying text from her fiancé, Michael Brown, asking if she had a minute to talk. "He broke the news to me about the military domestic travel ban in effect until May 11," she says. (Brown currently serves in the U.S. military, and on March 14, the Department of Defense announced a domestic travel ban for all military personnel.)
Harmon and Brown were set to wed in Nashville but live in Georgia, which would mean that he wouldn't be able to attend his own wedding. During her bachelorette weekend, the bride-to-be contacted her wedding planner and in turn, the pro contacted the owner of the venue, who quickly offered up available dates for the remainder of 2020. "It actually turned out to be a blessing in disguise," Harmon says of the military travel restriction. "Because we had to postpone as a result of the DOD domestic travel ban, we ended up getting to pick our new wedding date. Less than 48 hours later, the reality of COVID-19 started setting in with brides booked at the venue. If we had waited even a couple days to reschedule our wedding, I'm not sure there would have been any dates left in 2020."
Harmon added that the number one priority she and Brown have for their wedding is to be able to celebrate with loved ones, and is grateful for the love and understanding they've received from guests. "We immediately contacted our family and wedding party once our venue gave us a date that we thought would work," she says. "We are both feeling good about our decision. The safety and well-being of our loved ones trumps any reason to keep our original wedding date."
The Couple Who Will Have a Sequel Wedding—A Year Later
Couple: Carly Friedman and Andrew Zakroff
Original Date: April 4
Location: Philadelphia, Pennsylvania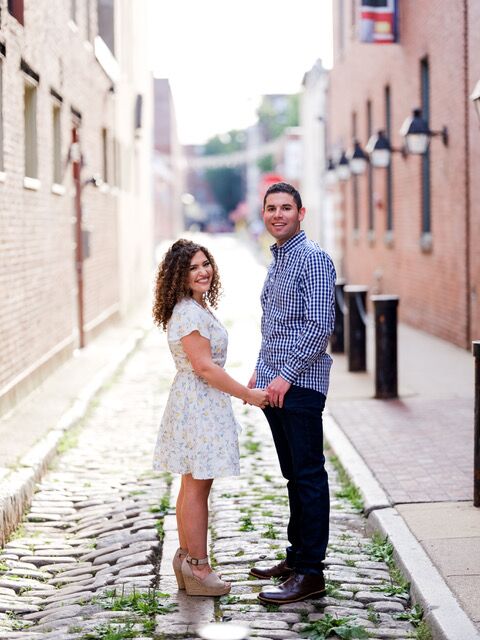 Carly Friedman isn't taking any risks. Rather than postponing her April 4 wedding a few months, she went ahead and requested a full year's postponement. "We originally contacted our vendors on March 11 before things got as crazy as they are now," she tells The Knot. "We contacted them just asking for alternative date options and started formulating a backup plan. We made the call on Thursday evening, March 12, to cancel our wedding. On Friday, we officially had all vendors put a hold on April 3, 2021, a year after our postponed wedding date."
Friedman and her fiancé still plan to hold a small legal ceremony on April 4. It'll be the couple and their rabbi. "My godmother told me she had a small, intimate wedding, and she said she felt complete afterwards and it is important that Andrew and I still get married this April if we can, because it'll bring a sense of joy in this crazy world," she says. "We have been together for seven years so our time has come to get married."
In terms of advice Friedman has for other couples, she says being "proactive" and "listening to your gut" are key. "We were going to try and wait it out, but we felt in our gut we had to postpone and I am so glad we got on the bandwagon early," she says. "Stay positive. Yes, it sucks, but we are all going through it together. I think I went through the 7 stages of grief for my wedding in the last week, but I know we are getting married. It is only a matter of when. Don't forget the most important thing in all this is the marriage itself, not the big wedding. It really put everything into perspective."
The Event Planner-Bride Who Says It Was a 'No-Brainer'
Couple: Christie Yerks and Chris Luhrs
Original Date: April 11
Location: Morven Park, Virginia
"From the beginning of our wedding planning, Chris and I always had two main goals," Christie Yerks, one-third of the team behind event planning team Grit & Grace, tells The Knot. "One, we wanted the most important people we loved to be able to be a part of it. With my grandmother in the highest risk age group and my dad currently in an immunocompromised condition, moving the wedding to a later date so that they could be there was a no-brainer."
"Our second goal was that we wanted our wedding to be a happy, easy experience for our friends and family," she adds. "During our planning process, we tried to make decisions to make our wedding easy to get to, not expensive for someone to attend, and so forth. Given the concerns and confusion in the current situation, we didn't want any of our guests battling with the decision of whether attending our wedding would put them at risk."
As an event planner, Yerks says she knew to be vigilant about staying on top of the news and be adaptable to change. "This is a completely unprecedented time and everyone is unsure of what the next few weeks hold," she says. "I allowed myself to feel sad for a day or two—I had worked so hard on all of the plans and we were so close to the big day—but now I mostly feel thankful."
Yerks cited understanding vendors and supportive family members as people she's especially thankful, especially given the times. She's staying positive about postponing the date so that it will give everyone "something to look forward to for when we all come out of this."
"I think everyone knows that we have to focus on health right now," she says. "There are people out there dying, there are doctors and nurses fighting tough battles every day, the least we can do is delay."
The Couple Who Says, 'Keep Perspective'
Couple: Julie Samuels and Ben Schlang
Original Date: April 18
Location: New York, New York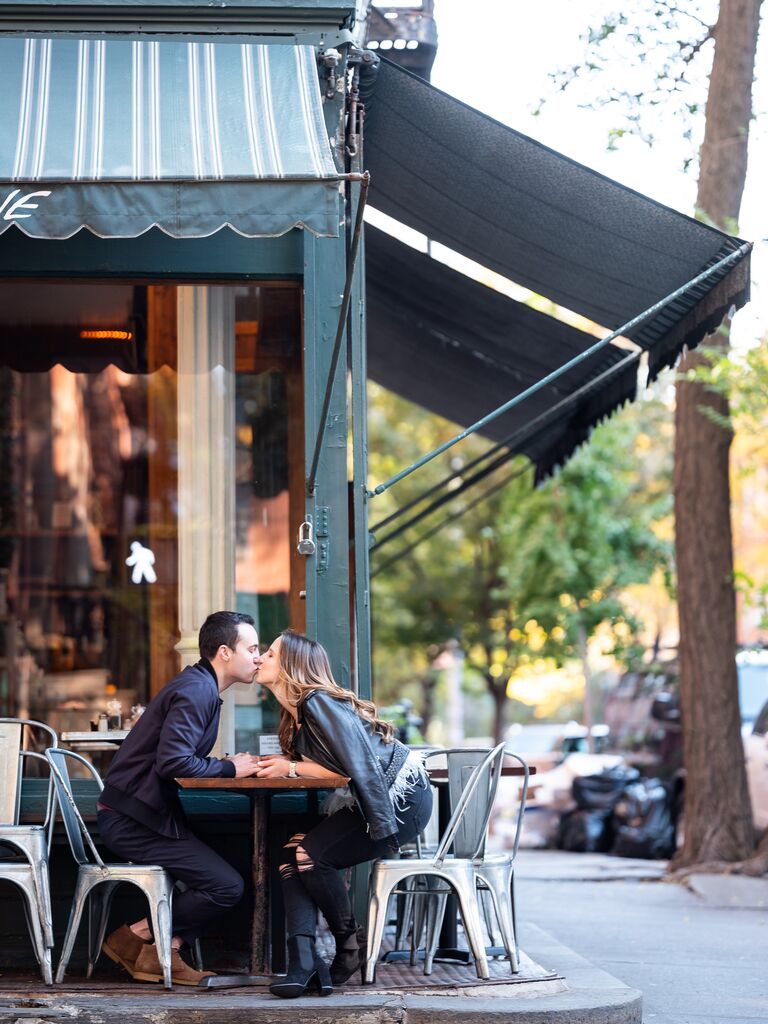 When Julie Samuels had to make the call to postpone her April wedding to September, she similarly thought about the reality of what mattered most.
"You've waited your whole life to get married … wouldn't you rather wait a bit longer for it to be the wedding you always imagined?" muses Samuels. "I also think at this point, we are in the midst of a global pandemic and crisis. Of course I am upset, but this is so much larger than just me. There are people dying, losing jobs, unable to walk at graduation, go to summer camp, etc. I understand that a wedding feels like the biggest, most important and monumental thing to us right now but there will be other huge, monumental things in our lives and we have to keep perspective."
"We will still be married and we still get to be with the love of our lives, [we] just need to wait a bit longer to celebrate," she adds. She and her fiancé are still hoping to get legally married on April 18, but are working through logistics with their rabbi.
The Couple Who Found an Even Better Wedding Date
Susan Murray and Richard Brown
Original Date: April 24
Location: Atkinson, New Hampshire
Susan Murray's loved ones were similarly helpful in offering up a positive spin to the unexpected change in plans. "No matter what day it is, we wouldn't miss it for the world!" is one sentiment that she heard over and over again after having to postpone her April wedding to early July.
"Truthfully, everyone has been positive about it all," she tells The Knot. "Their first reactions are usually, 'Ugh, I'm so sorry!' but it is always followed up with a positive outlook like, 'July is the best month to get married!' or 'Your beach theme will be perfect during July!' My favorite one has been, 'I won't be pregnant anymore and can drink with you!' Everyone has been great."
Murray and her fiancé will also have to postpone their honeymoon for now, but thankfully, both airlines and hotels were more than understanding about their cancelation. "We got a full refund from our hotel in Aruba and JetBlue credited our account," she says. "We were able to re-book everything for our honeymoon in July at the same hotel (but $600 more) and both airlines. Unfortunately, our original flight home on Delta fell out of the 'April 30th' deadline for no extra fees to change our flights, so we had to pay an additional $400 to switch them. But it will totally be worth it in the end!"
The Couple Who Will Do Something Virtual First
Couple: Christina Farr and Jarred Colli
Original Date: May 10
Location: New Orleans, Louisiana
On top of fluctuating markets, CNBC reporter Christina Farr had to monitor the likelihood of her May 10 wedding panning out. "We were still planning to go ahead with the wedding, but with reduced numbers, until the CDC advised against gatherings of more than 50 people," she says. "At that point, we knew we needed to cancel or postpone it. We emailed our guests right away to let them know."
Farr, 32, and Colli, 33, are still in the process of securing an alternative option, but they've felt reassured by most of their vendors. "Most have been super understanding and offered to let us reschedule for free for another date. Others have tried to charge us an additional fee for rescheduling, or are withholding part of the deposit," she says. "So with our original budget in mind, we have some calls to make before we decide."
Still, they want to honor their original date of May 10, or numerically pleasing 5/10/20. "One idea we have is to do something digital on our original wedding date. We might get all dressed up and invite our friends to a virtual toast," she says.
Something she advises all couples to do? "Breathe," Farr says. "It's really stressful having to think through these decisions. Many of us have saved up for our weddings and spent months on planning. It's a bizarre situation to go from talking through music for the DJ to having to cancel the entire thing in the space of 24 hours. If you do decide to cancel, let your guests know immediately but take a 24-hour break before contacting vendors. Give yourself a bit of time to process. Then start thinking about what your next steps might be."
The Couple With 'Incredibly Accommodating' Vendors
Couple: Gabriella Jacobo-Blonder and Her Partner
Original Date: May 2, 2020
Location: Cancun, Mexico
For Gabriella Jacobo-Blonder, the likelihood of her wedding, set to take place in Cancun, Mexico, on May 2, began to look less and less likely as companies began enforcing strict travel restrictions and work from home policies. She and her partner decided to postpone their nuptials the second week of March.
"The CDC advised against parties over 50 people and we knew it was likely that our guests wouldn't feel comfortable getting on a plane, let alone an international flight," she tells The Knot. "For that reason, it was pretty easy to make our decision to reschedule our wedding. In fact, I feel that the decision was made for us."
They will no longer be having a destination wedding, because, as Jacobo-Blonder notes, "Given uncertainties around the outbreak, we didn't feel comfortable rescheduling and finding ourselves in the same position at a later point in time."
The biggest concern that she had when considering whether or not to post was "the safety and comfort of [their] guests." Additionally, making sure that any money they and their guests had already put toward the wedding was reimbursed was top-of-mind. "Without these refunds, we were concerned that we would not be able to afford having another wedding of the same caliber," she says. "Luckily, our venue, Belmond Maroma, was incredibly accommodating throughout this process and lived up to their reputation as being one of the top hospitality companies in the world."
"Now that I've made my decision, I feel a huge sense of relief that I am not putting my guests in an uncomfortable and risky situation," she adds. "[And] given current circumstances, we are thankful to have our health, happiness, and each other … that's special enough!"
Published March 2020. With Reporting by Esther Lee.