19 Retro Wedding Invitations That Give Groovy Vibes
These bold invites are totally out of sight.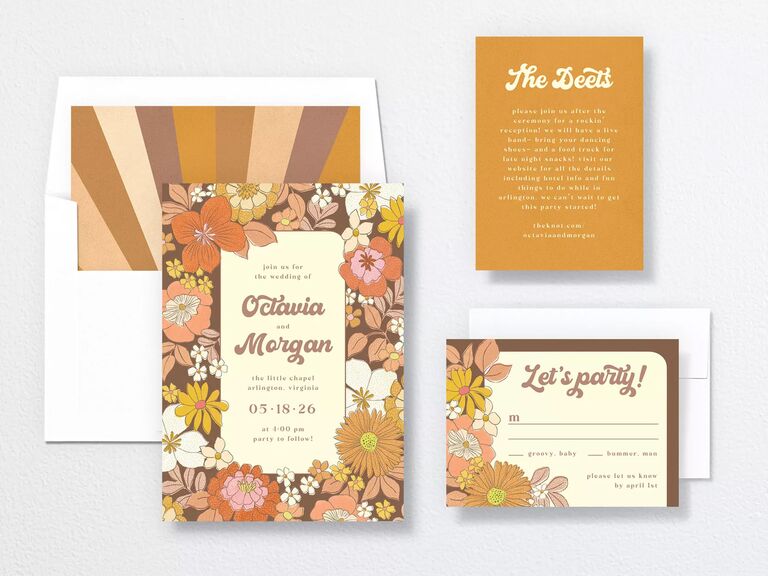 We have included third party products to help you navigate and enjoy life's biggest moments. Purchases made through links on this page may earn us a commission.
Will your dance floor have a disco ball? Are you donning a dress with a 1960s silhouette? Is your big day playlist composed of everything from Fleetwood Mac to the Bee Gees? Sounds like you're having a retro wedding. Now, all you need are some retro wedding invitations to put out the good vibes.
Whether you and your besties will be boogieing down at a sequin-lined nightclub or your reciting your vows at a festival-like outdoor ceremony veiled in flower power, you'll have your prospective guests stoked about your nuptials if your wedding stationery is slammin'. We're bananas about these retro wedding invitations that hint at the free-spirited, bohemian-style or Studio 54-inspired celebrations ahead. Keep scrolling for our faves, including some nifty picks from The Knot Invitations.
1. The Knot Retro Sunburst Wedding Invitations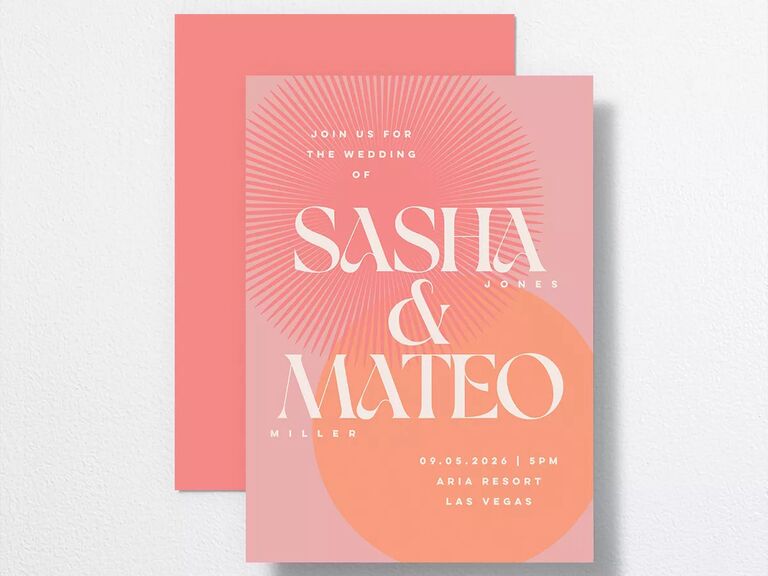 Who wouldn't check "gladly accepts" after getting this delightful little invitation in the mail? Featuring geometric motifs (a sunburst and a circle) that were a big thing in the1970s, the card comes in eight joyful color combinations, with just the right balance of day-of details to drum up excitement for your retro affair and pretty design elements. Plus, by sending these bright and cheery invitations out into the world, you'll definitely be manifesting a sunshine-filled wedding day.
2. The Knot Retro Stack Wedding Invitations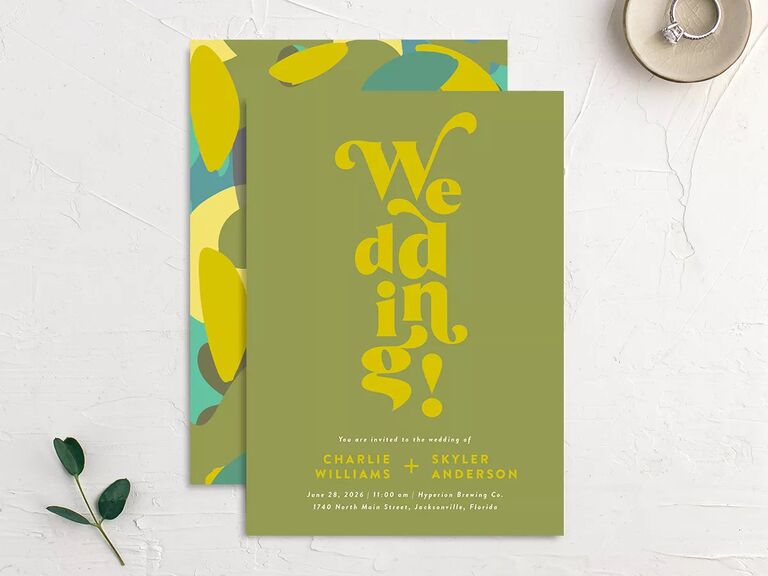 Cluttered wedding invitations, with information splashed over every inch of the card, can be pretty overwhelming. That's why we're really digging this design, which lays the most important deets about your day out beneath the much larger stacked "wedding" in cool retro typography. The retro lingo references (like "The Skinny") spill over onto the enclosure cards, too.
3. The Knot Retro Bloom Wedding Invitations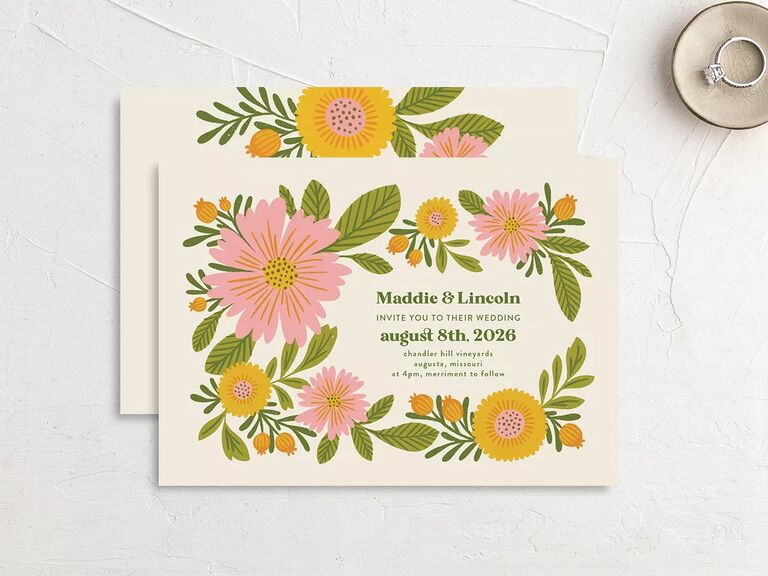 Chrysanthemums and poppy-like flowers and a whole lot of lively stems blossom around your loved-up wedding particulars in these retro-style wedding invitations that are fit for anyone with an inner flower child. The "proposal" to attend your wedding is casual, not stuffy (with just your first names doing the inviting). And the mix of serif and sans-serif fonts keeps things playful.
4. Unmeasured Event Funky Groovy Tie-Dye Wedding Invitations
Would you say you're a couple of "Deadheads" (lovers of rock band The Grateful Dead)? Or maybe your meet cute happened at a Woodstock-like music festival? However your love story came to be, if you've been twisting and turning over the idea of a tie-dye celebration, this three-piece invitation set that's printable and branded with starbursts, tie-dye borders and a peace sign is your sign to do it. With our full support!
5. The Knot Retro Spotlight Wedding Invitations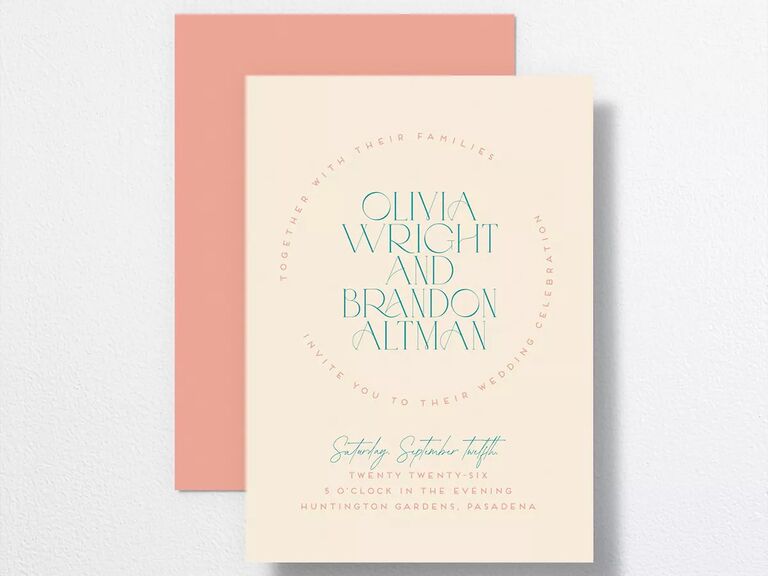 Your retro touch doesn't need to be heavy. In fact, we adore this invitation card that encircles your names with a beautiful bid: "Together with their families [your names] invite you to their wedding celebration." All of the pertinent day-of info, like your wedding date, time and venue is outlined on the bottom. The color pairings—like pink and mint green, blue and magenta, green and lilac, etc.—are quite stellar, too.
6. The Knot Retro Watercolor Wedding Invitations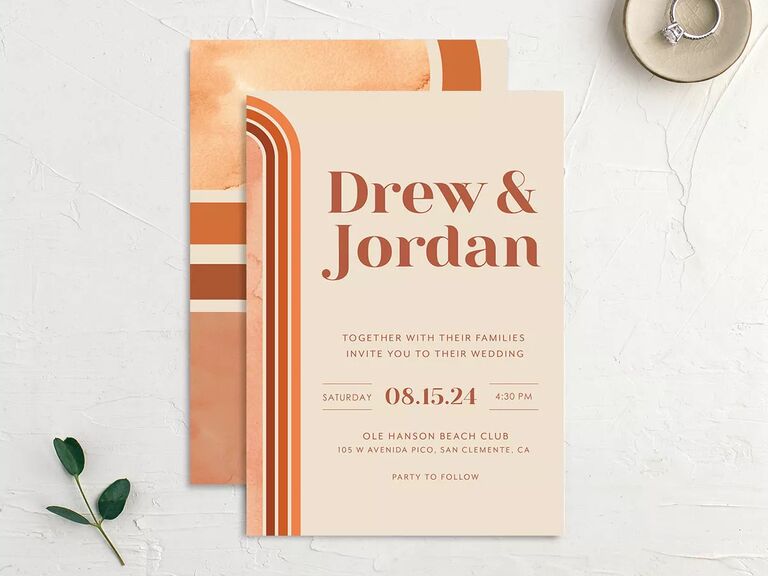 Did you know that the first Earth Day was celebrated in 1970? Which is all the more reason why earthy, muted hues were so of-the-moment back then. If your big day is happening somewhere that Mother Nature can serve as a blissful backdrop, then you'll love setting the tone with this retro-inspired wedding invitation. Your first names headline the main invitation, with your event info spelled out underneath in all-caps. There's a curved rainbow motif on the left-hand side as well as linear, geometric patterns and watercolor fills on the back side.
7. Baumbirdy Checker Wash Wedding Invitations
This checkered wedding invitation toes the perfect line between modern and retro, since we've seen the pattern all over Insta lately. The arch center panel also gives vintage vibes, as does the cool font that showcases your names. Choose form a slew of custom colors, but we love the pale blue and cream pattern—it reminds us of a retro kitchen.
8. The Knot Retro Botanical Wedding Invitations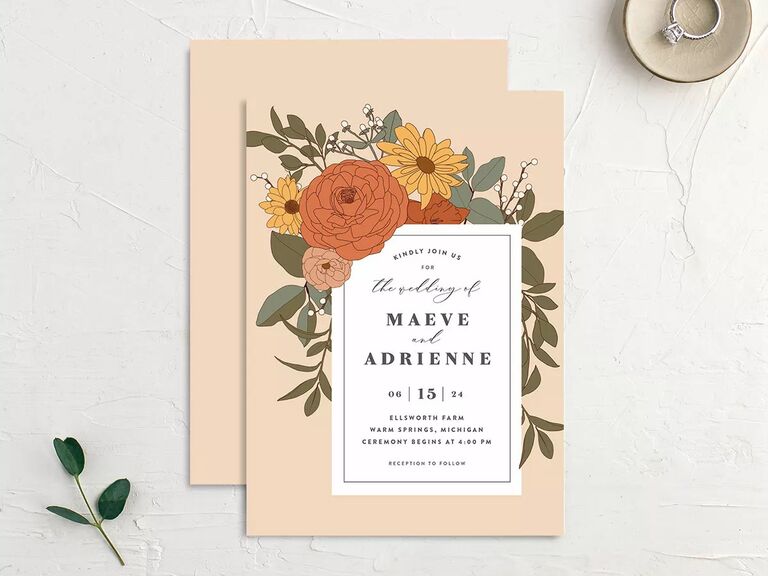 We love how these retro wedding invites showcase two distinct colorways that each work well for either a daytime or nighttime soiree. Everything about your nuptials is ensconced in a stark white text box and scribed in harmonizing fonts. But the dynamic, hand-drawn floral illustrations are really what take this invitation to the max in the best way possible.
9. The Knot Retro Floral Wedding Invitations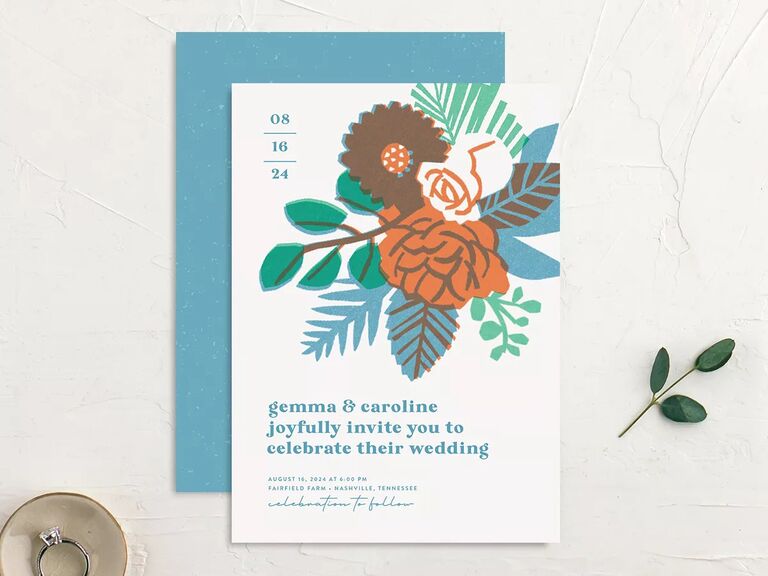 Such a pretty, eye-catching floral takeover, right? But that's not all—your official invitation phraseology, using words like "joyfully invite you to celebrate," written in lowercase serif font, is friendly, warm and welcoming. With such a vast feeling of togetherness, you might even start hearing The 5th Dimension song, "Aquarius/Let the Sunshine In," echoing in the background. That might just be us singing along, though.
10. The Knot Groovy Blooms Wedding Invitations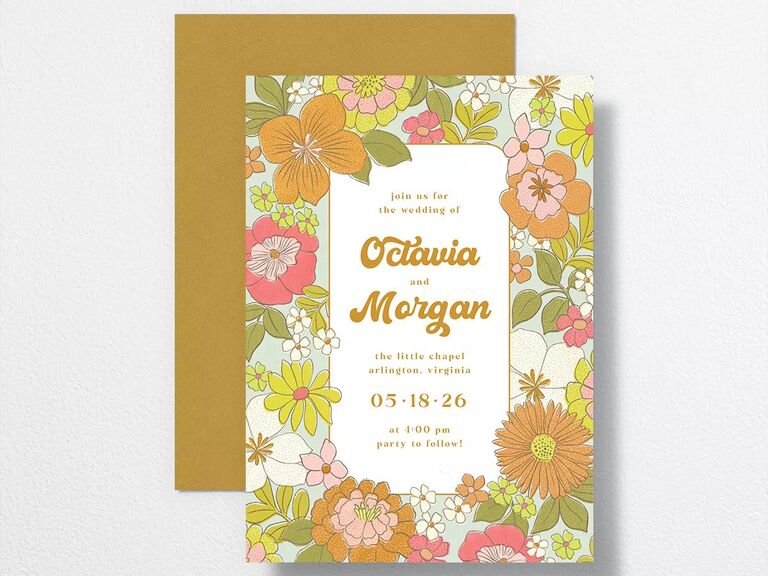 We wouldn't blame your guests if they slid this groovy wedding invitation out of its envelope and immediately wanted to stream some vintage TV. The border of cool blooms is reminiscent of 1960s- and 1970s-style wallpaper (trending hard these days) and would also lend itself well to a photo backdrop. And let's not forget the playful font. That's why it's one of our favorite retro wedding invitation designs.
11. The Knot Retro Shapes Wedding Invitations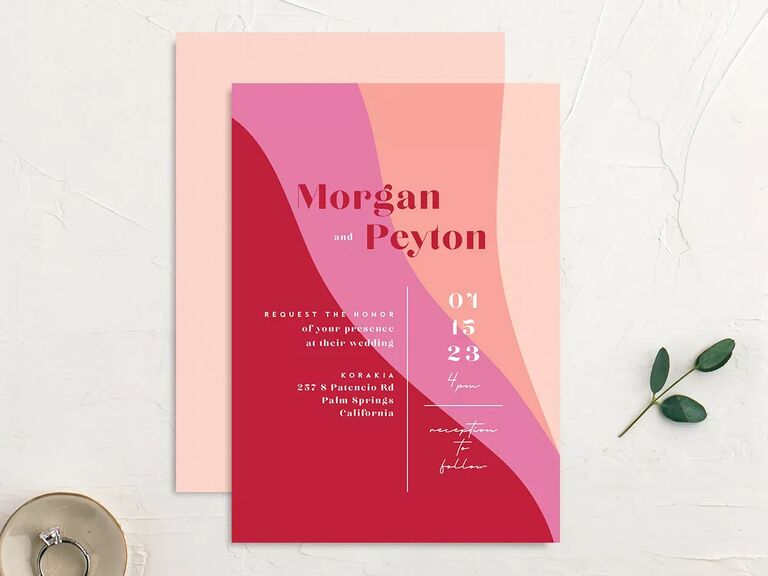 At first glance, you'll definitely get a strong sense of retro nostalgia with this wedding invitation: The geometric shapes and cool color themes recall a 1970s vibe, with a modern twist. The orange or cream color scheme is best for a boho blowout and the pink or teal options are sublimely chic for a bright, non-traditional affair. Barbiecore goes retro? Count us in!
12. The Knot Flower Market Wedding Invitations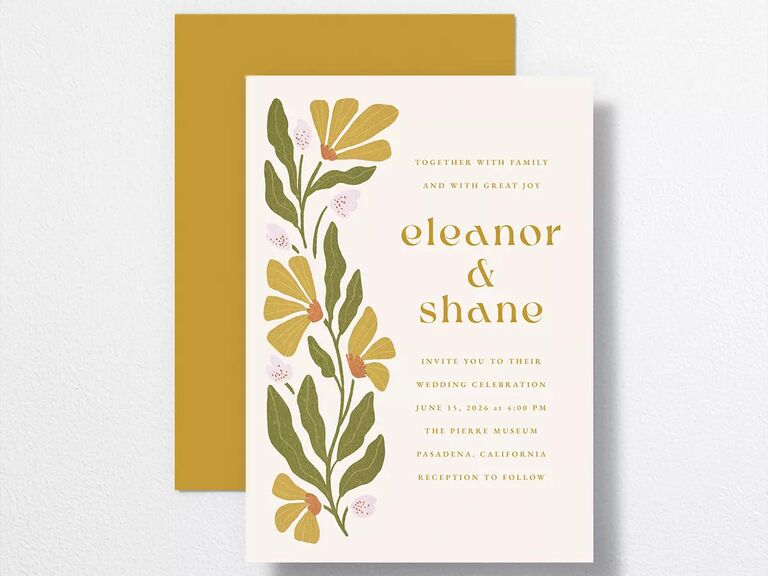 Will flowers feature in a big way on your big day? If so, then you'll need to keep this wedding invitation suite, flanked with a gorgeous blooms-and-greenery garland, in your sights. The font is delicate, but still retro, giving us all the warm and fuzzies.
13. Oak House Mustard Hipster Wedding Invitations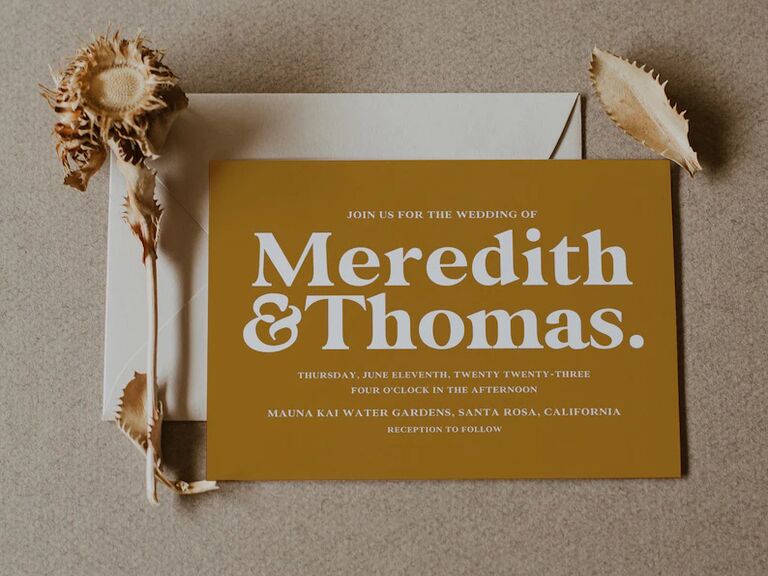 We've seen velvet tuxedos in this exact mustard yellow color and, spoiler alert: They were dreamy! So we can likewise imagine sending these minimalist suites out for a warehouse wedding with upholstered, bubble-like sofa lounges, intriguing brass lighting installations and some more retro wardrobe choices. Bonus points to this seller, too, who will send you a free proof (to see what your names will look like in the ultra-cool vintage font) if you're still on the fence about ordering.
14. The Knot Wedstock Wedding Invitations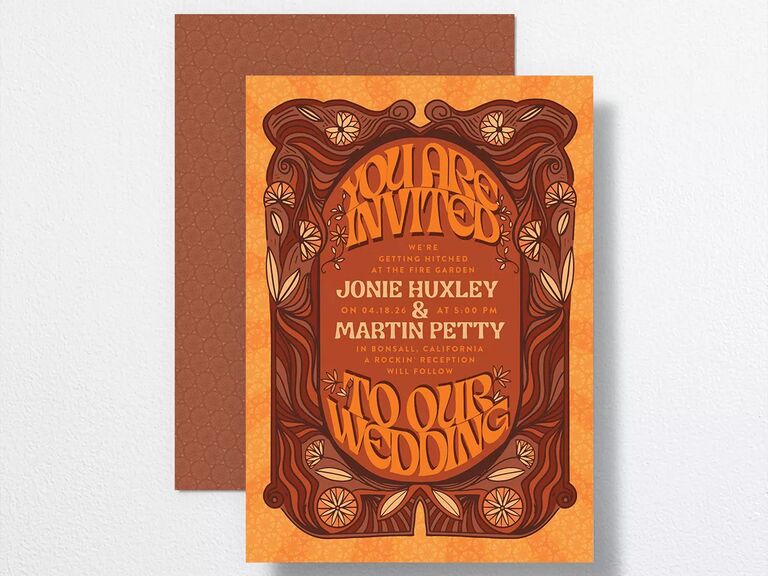 Woodstock, but make it a wedding. If you'll be celebrating with your closest family members and friends at a glamping site or are planning an outdoor fete with a far-out airstream and fun festival fare, then an invitation with star-quality is essential. These groovy invitations frame your names and most valuable info in a very psychedelic way, along with all the hidden floral touches throughout the rest of the invite.
15. Bethania Lima Pop Love Wedding Invitations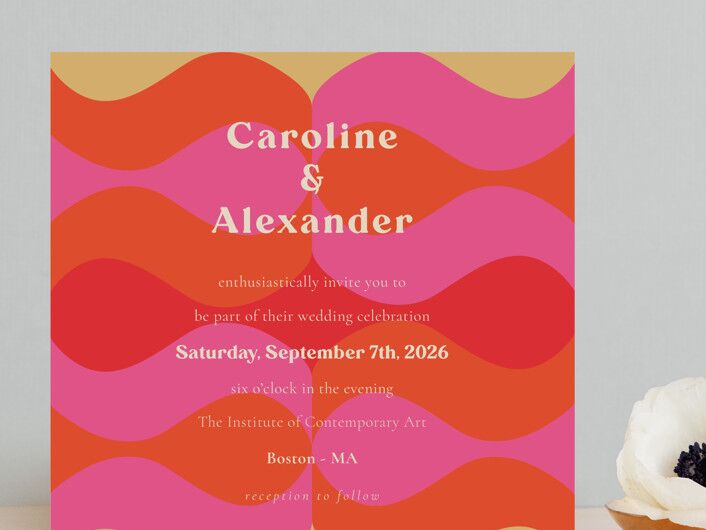 The thing about retro wedding invitations is just how transportive they can be. Like this ultra-groovy, wavy one that's taking us straight to the 1970s. Can't you just see this pattern on a disco shirt in the best way?
16. Papier Daisy Chain Wedding Invitations
Will you wear flowers in your hair on your wedding day? Daisies are just divine and they look stunning as they dance around your wedding details here. The square wedding invitation card is simple, but that's precisely what we love about it. Now about dotting your wedding cake with daisies…
17. Wildflower Paper Co. Retro Floral Wedding Invitations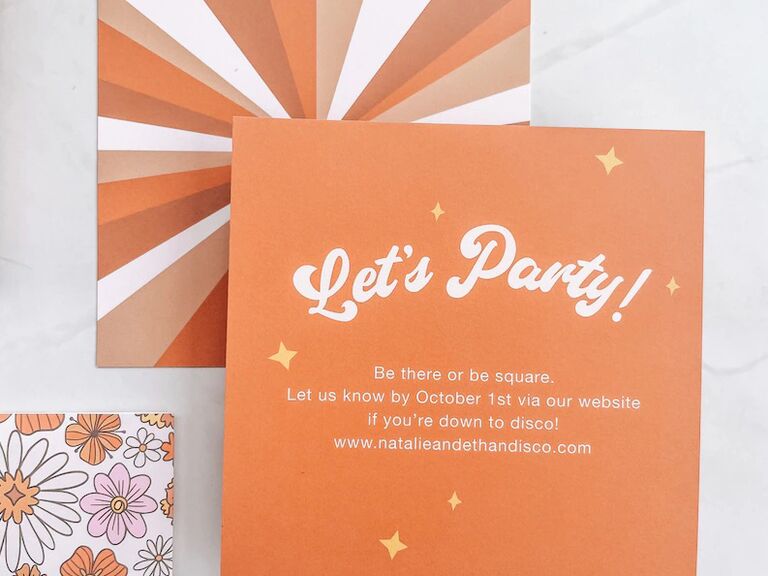 Yeah, baby, yeah! This retro floral wedding suite is giving Austin Powers and we're not mad at about. You have a huge variety of invite suites to choose from, too, with corresponding enclosure cards and more. The floral backings, puffy retro fonts, geometric graphics and playful belly bands are great, but we'd be lying if we said it wasn't the choice in paper options that made us bug out most.
18. Papier Yellow Blossoms Wedding Invitations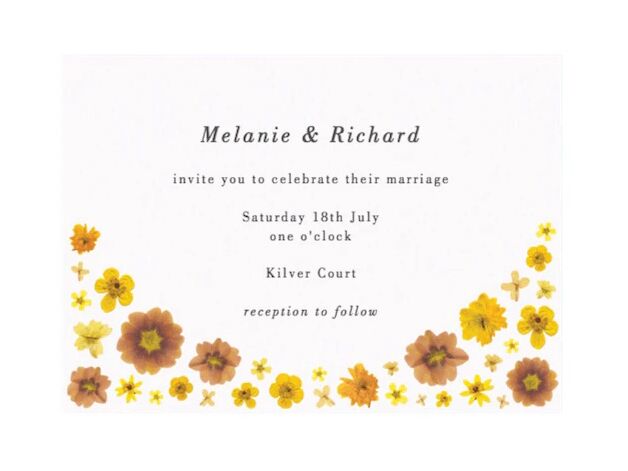 Like we said before, mustard yellow is a mainstay in the retro color rolodex and it goes exceptionally well with goldenrod and rust, too. So, if this palette makes sense for your party, then you have to take a peek at this invitation (additional cards offered separately). The flowers ground the whole thing, but it's the rectangular card shape and bare bones wording that really have us hooked—subtle retro elegance.
19. Papier Happiness Blooms Wedding Invitations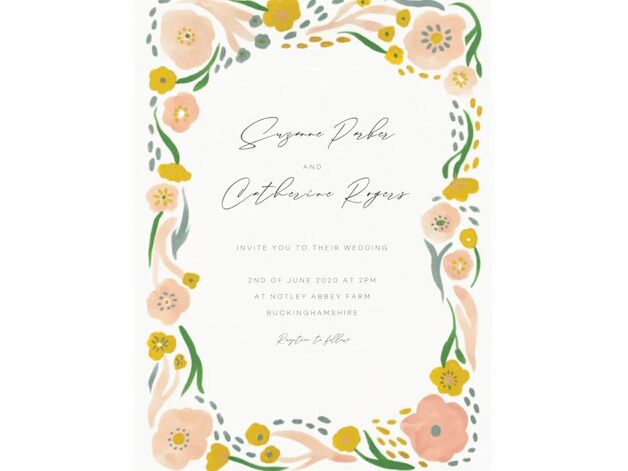 The soft florals blissfully bordering your big-day whose, whats, whens and wheres give this retro wedding invitation mainstream appeal (because not everyone can get down with the look). If your day will have romance mixed with a little whimsy and some 1970s-centric styling, this invite is oh-so-suitable. You might even have some guests framing the full-splash flower backside of your invite to incorporate into their own gallery walls at home.