See Sareh Nouri Wedding Dresses From Bridal Fashion Week
Check out the designer's latest collection of gowns.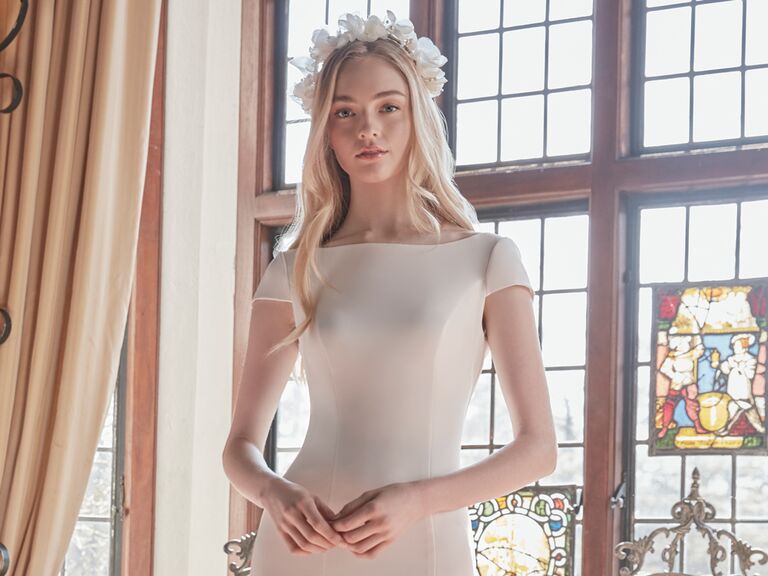 Finding the perfect wedding dress can be an exciting—but daunting— task, especially when you're envisioning a feminine look that still feels modern. Luckily, Sareh Nouri's wedding dresses strike that perfect balance, with streamlined silhouettes and luxe fabrics that help brides-to-be score a look that's both of the moment and elegant.
See every dress from Sareh Nouri's 2022 collection below.
Sareh Nouri's Spring 2022 Wedding Dresses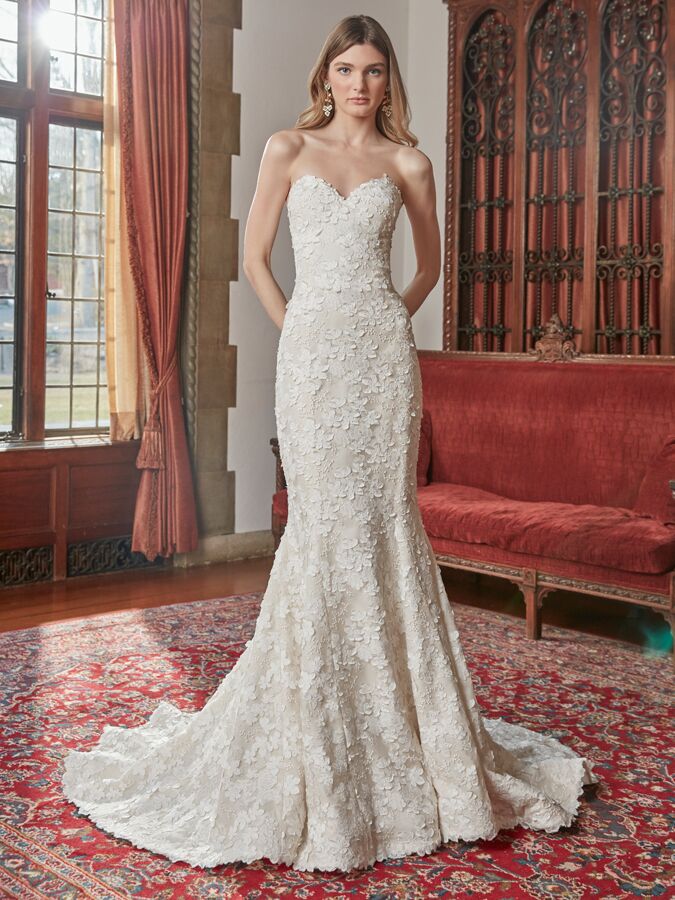 "Call Me Fancy" Gown; strapless lace fit-and-flare wedding dress with godet hem and chapel train.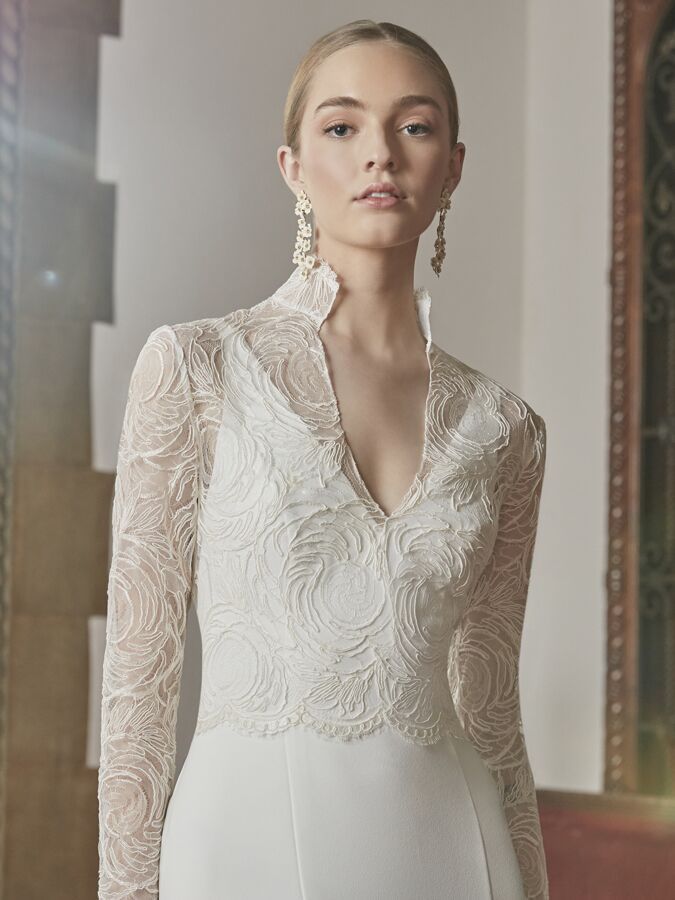 "Cameron" Bolero; lace bolero with stand collar V-neck and buttons on the back.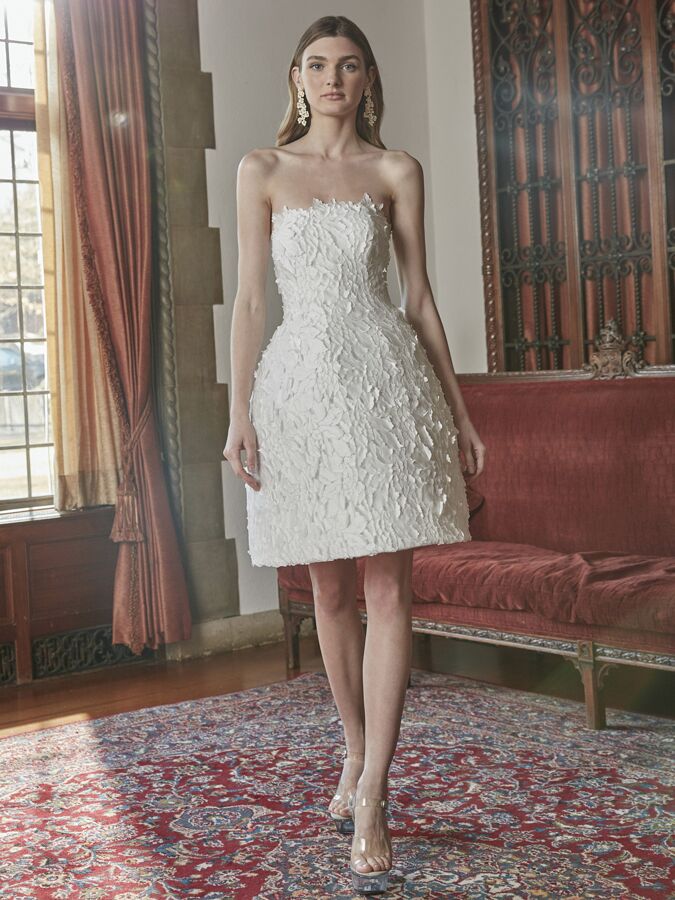 "Love is in the Air" Dress; strapless lace mini dress with leaf and floral pattern.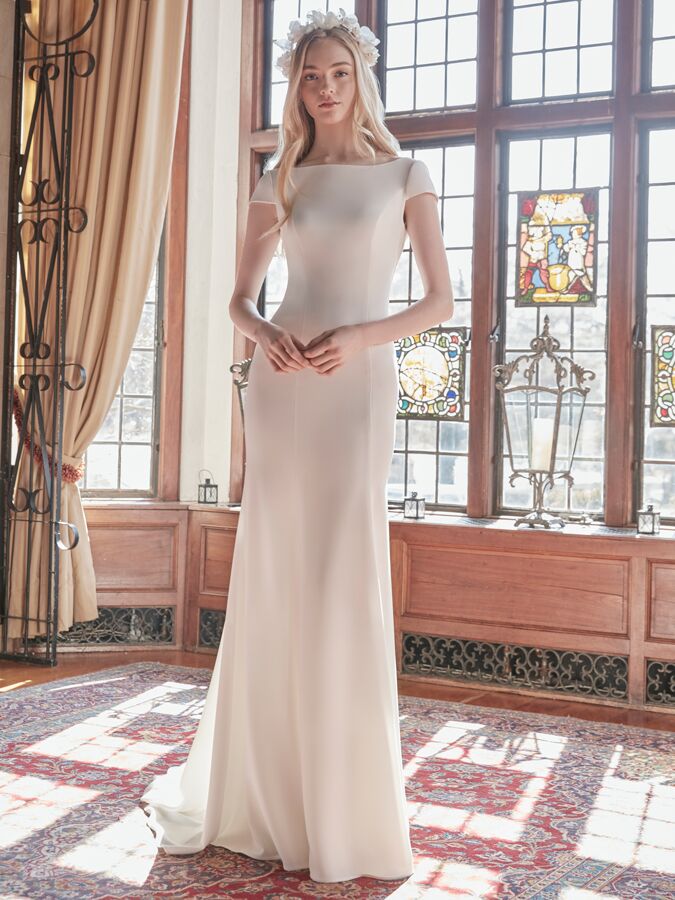 "Head Over Heels" Gown; crepe fit-and-flare wedding dress with cap sleeves and boatneck.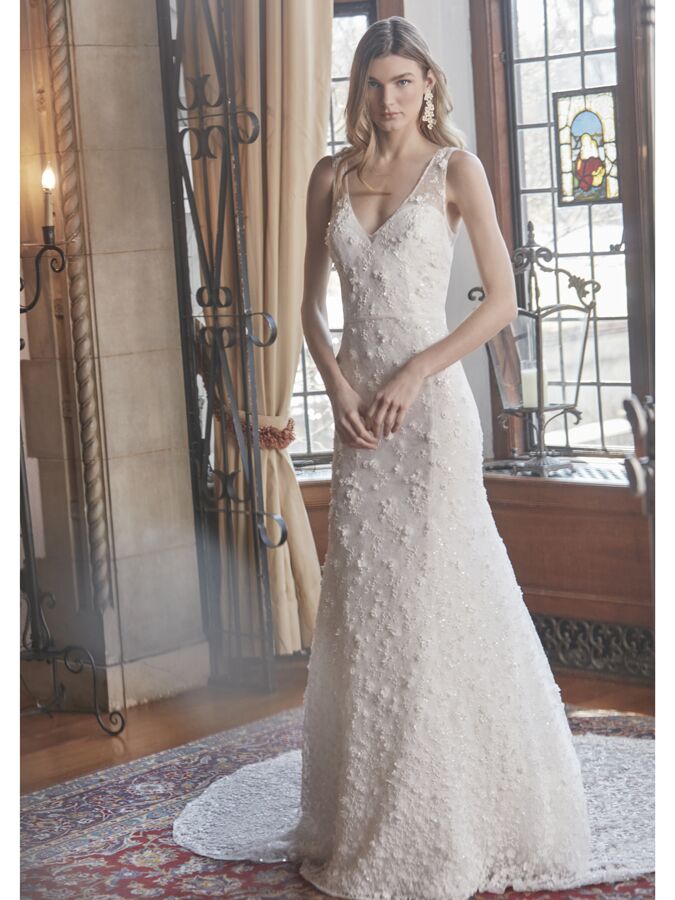 "Love At First Sight" Gown; lace fit-and-flare wedding dress with V-neck and chapel train.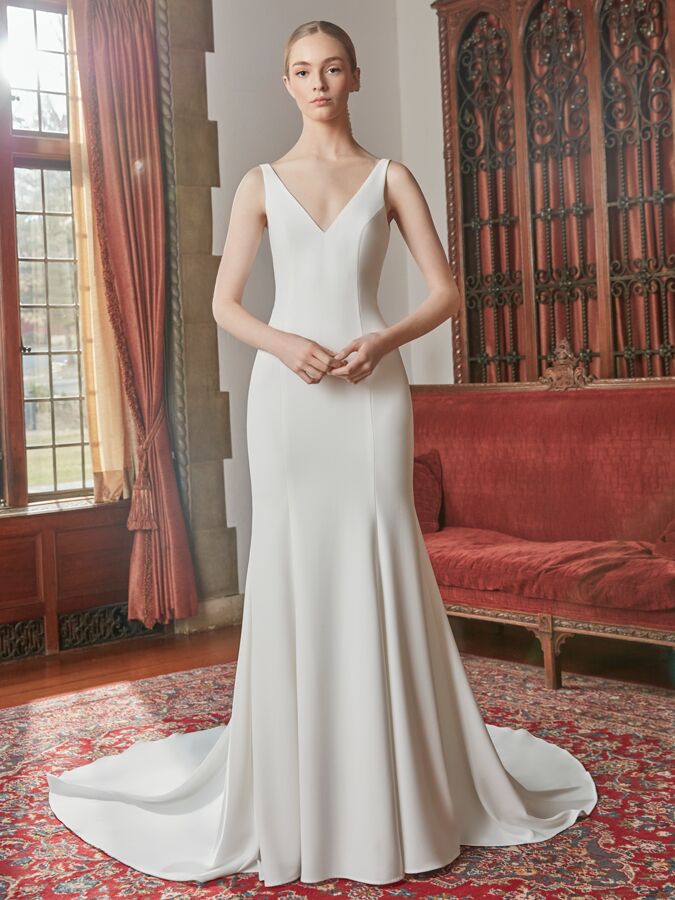 "Pretty Woman" Gown; crepe fit-and-flare wedding dress with V-neck and buttons down the back.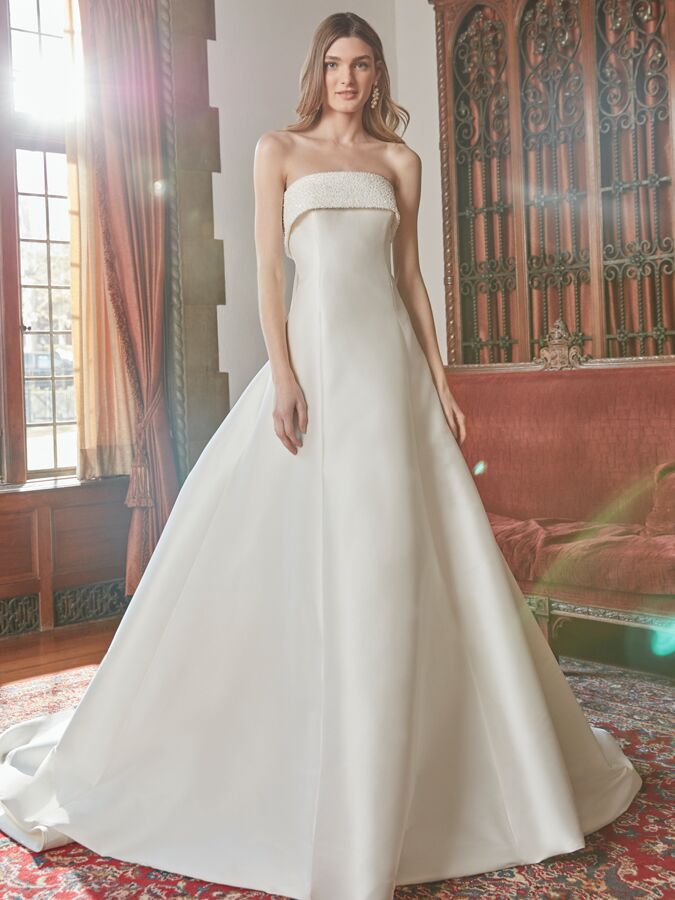 "Crown Jewel" Gown; Italian stretch mikado strapless A-line wedding dress with beaded lace collar and cascading petal down the back.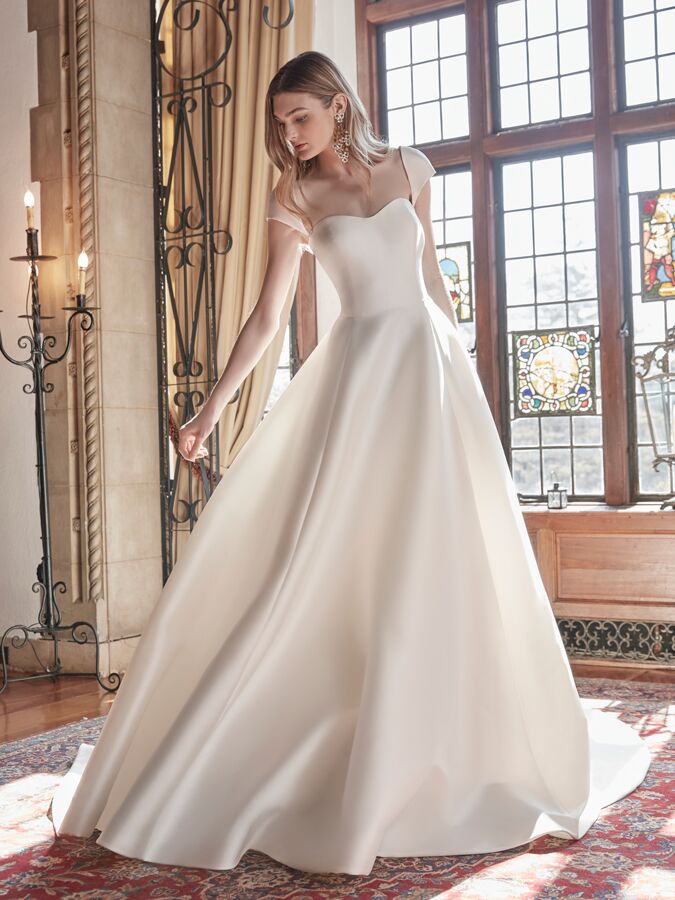 "Pride and Joy" Gown; Italian stretch mikado ball gown with sweetheart neckline and cap sleeves.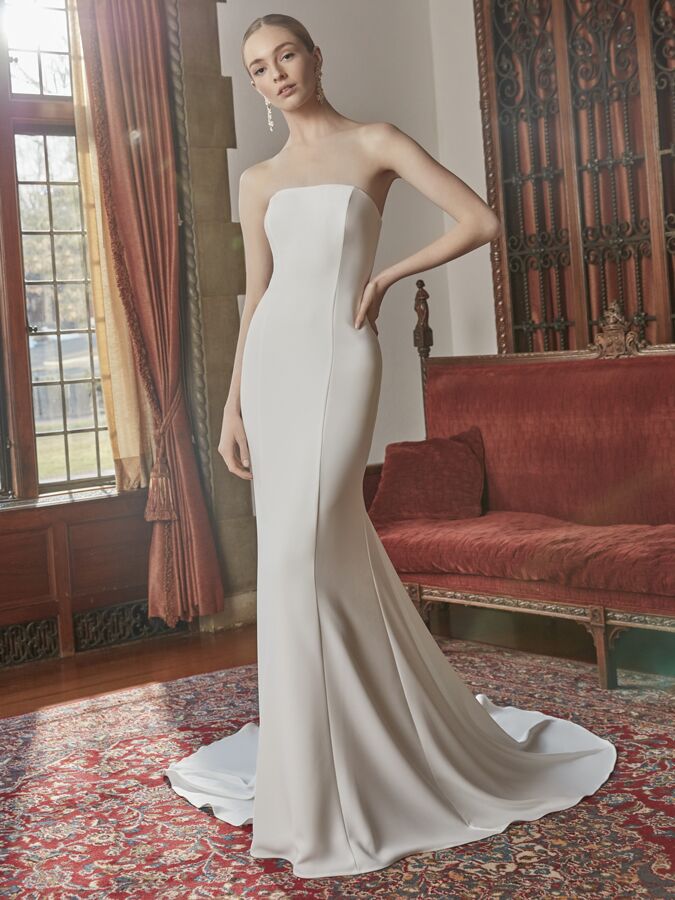 "Crazy For You" Gown; strapless Italian crepe sheath wedding dress with straight neckline and buttons.
"You're the One" Gown; fit-and-flare wedding dress with off-the-shoulder short sleeves and architectural seaming.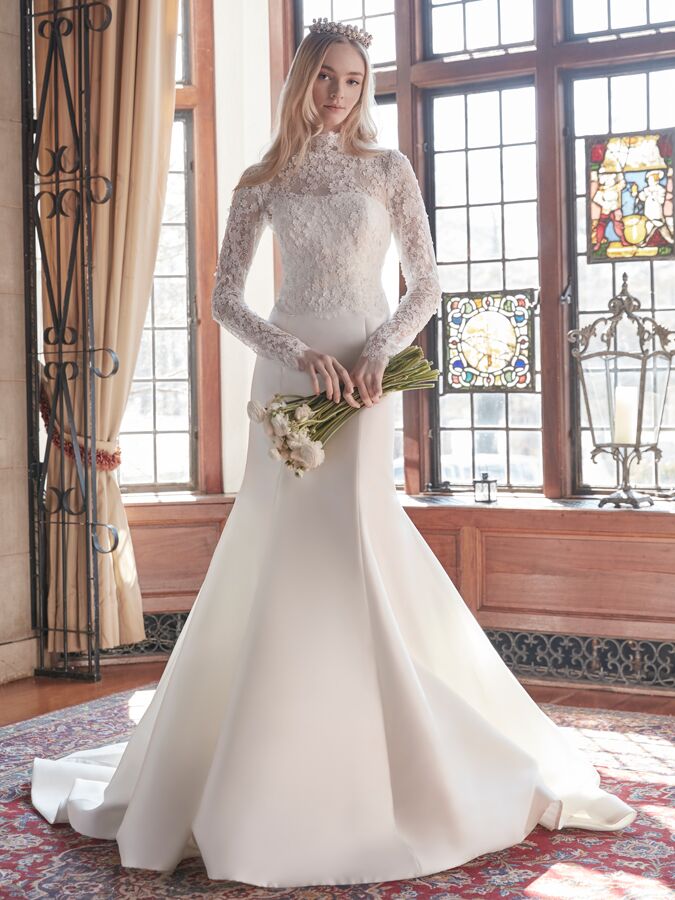 "Your Majesty" Gown; long sleeve lace fit-and-flare wedding dress with choker collar.
"Fit For a Queen" Gown; long sleeve lace ball gown with button front and sheer lace back.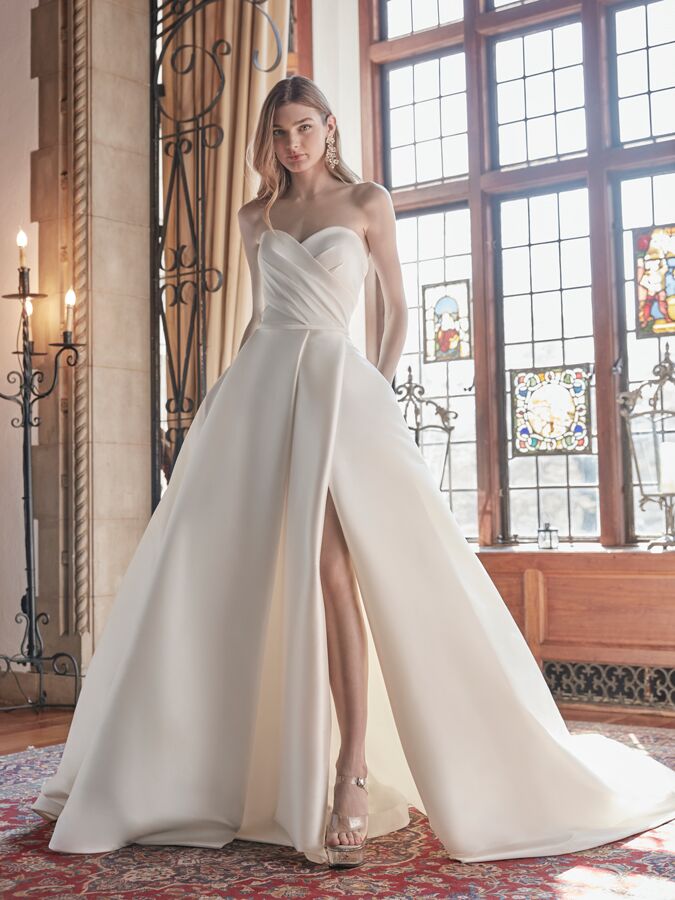 "Royal Highness" Gown; strapless ball gown with ruched bodice , sweetheart neckline and side opening.
Designer Sareh Nouri's Signature Style
Timeless, elegant, sophisticated, and feminine are all descriptions commonly associated with Sareh Nouri's wedding gowns. Bespoke fabrics (think: fine French lace and luxe Italian silk) and unique draping are key to her take on modern romance, and Nouri's 2022 dress collection is no exception.
"I believe that finding a wedding dress is like finding a true friend; you should be able to trust it, you should never regret it, and whenever you see it… it should always make you smile," says Nouri on her website. She clearly designs with that mantra in mind, paying close attention to even the smallest details to add a timeless femininity and capture the hearts of her to-be-wed fans.
A Brief History of Wedding Dress Designer Sareh Nouri
Born in Iran, Sareh Nouri moved to Virginia with her family at age ten. After attending George Mason University, Nouri worked on a variety of commercial and non-profit advertising campaigns, utilizing her degree in graphic design. However, it wasn't until it came time to find a dress for her own wedding in 2009 that she turned her sights (and talent) to the bridal industry. Nouri's vision of finding a dress that was both sophisticated and ethereal proved to be more difficult than she initially thought — instead of settling, she opted to design her own dress.
Sareh Nouri Collection History
After successfully designing her dream gown for her 2009 wedding, Nouri was inspired to begin work on her first bridal launch. The namesake collection hit the runway in 2012 at New York Bridal Fashion Week, and featured a selection of six timeless wedding gowns and an assortment of sashes. Each of her collections since have been inspired by a theme that guides the development and aesthetics of her designs. Most recently was Nouri's Fall 2020 collection, aptly named, "French Romance," which was inspired by the Versaille Gardens, highlighting floral motifs and intricate lace details. Nouri's forthcoming Spring 2022 collection is known as "Enchantment Collection." Fit for a queen (and with designs named after many of them), this collection featured eye-catching contemporary details and classic regal silhouettes.
Nouri frequently credits her degree in graphic design and her Persian heritage as a source of motivation and inspiration for her designs. Using her graphic design knowledge, she's able to create unique patterns for her sashes and gowns that are absolutely one-of-a-kind.. Her Persian heritage also comes into play with both her fabric selection and the very identity of her collections. Her Neda gown, which uses lightweight materials and symbolizes freedom, is a tribute to Neda Sultan, an Iranian political activist who lost her life fighting for freedom.
Sareh Nouri wedding gowns are all made in the USA, manufactured in her New Jersey Atelier using rich fabrics like silk tulle, silk organza, and Sophie Hallete French lace to create an element of grandeur that's ever present in Nouri's gowns.
Famous Sareh Nouri Brides
Pop culture fan? Then you've probably seen at least one Sareh Nouri bridal gown while you've been skimming US Weekly or celeb gossip blogs. Her designs have been spotted everywhere from television shows like Cake Boss and E! News to the MET Gala, and famous fans include Juliana Rancic, former American Idol star Diana DeGarmo and Miss America, Caressa Cameron.
Fun Facts about Sareh Nouri
Nouri grew up surrounded by artists and painters and spent much of her time, before designing wedding dresses, studying Persian calligraphy. Calligraphy and dress designing might seem like two totally different practices, but in Nouri's mind it all comes down to creating with an original and innovative eye.
Sareh Nouri Previous Wedding Dress Collections
Sareh Nouri's Fall 2021 Wedding Dresses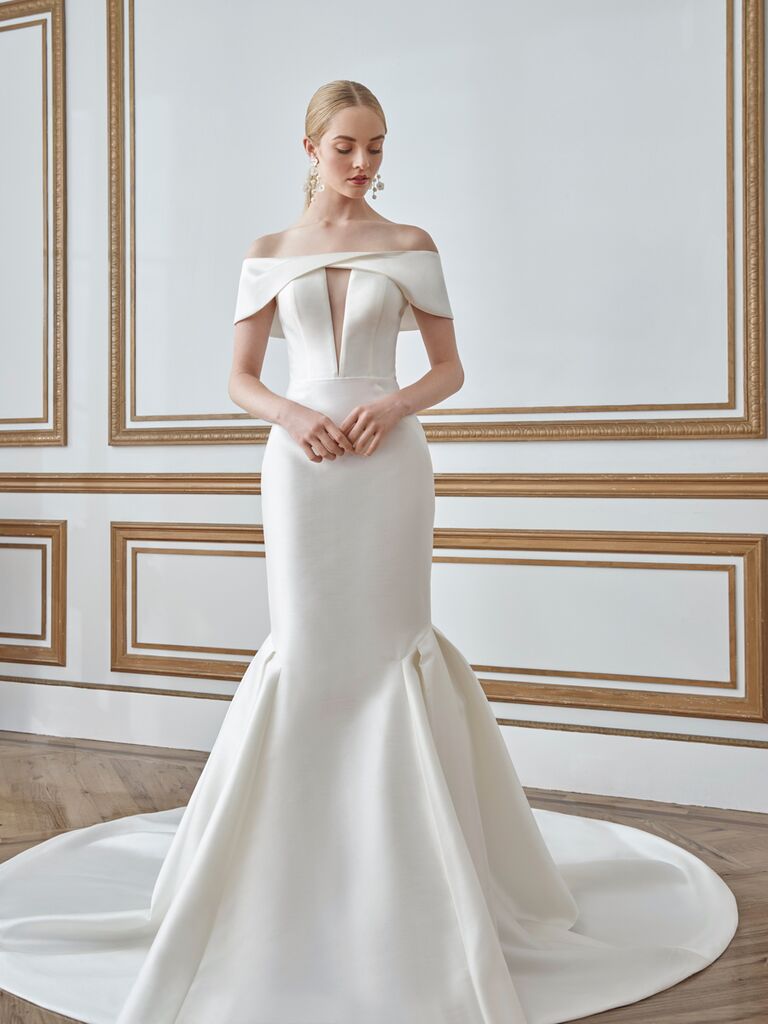 "Edith" twist off-the-shoulder collar top fit and flare gown with plunging neckline and lace back detail.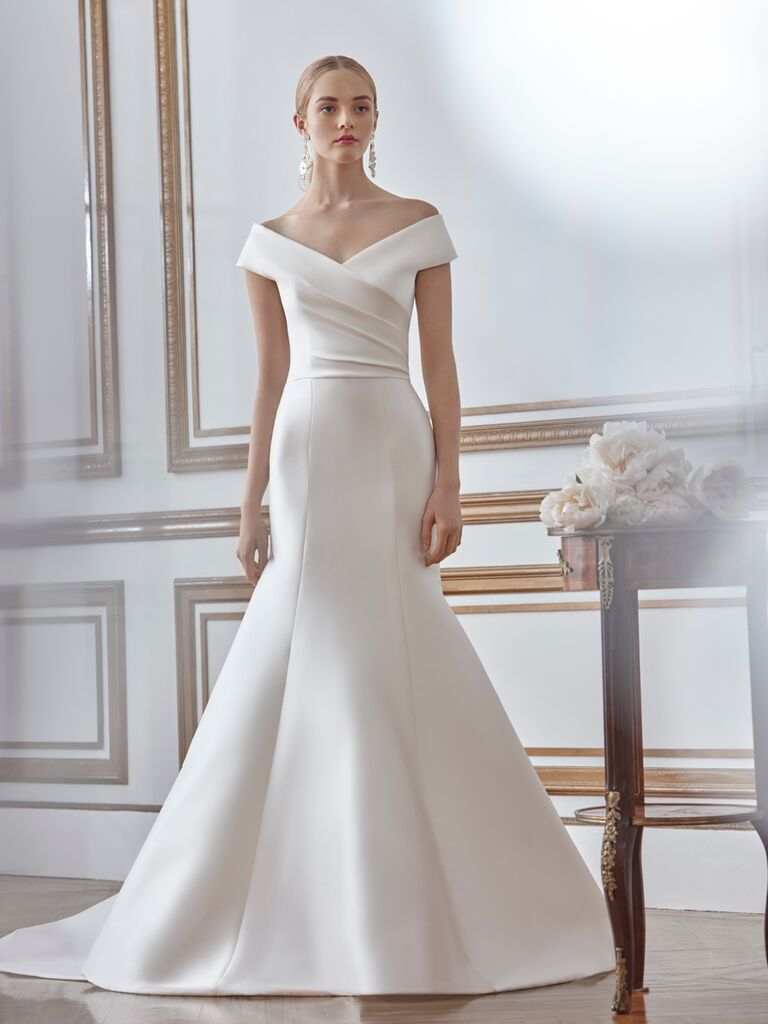 "Emma" off-the-shoulder diagonally draped fit and flare gown with covered buttons extending to the hem.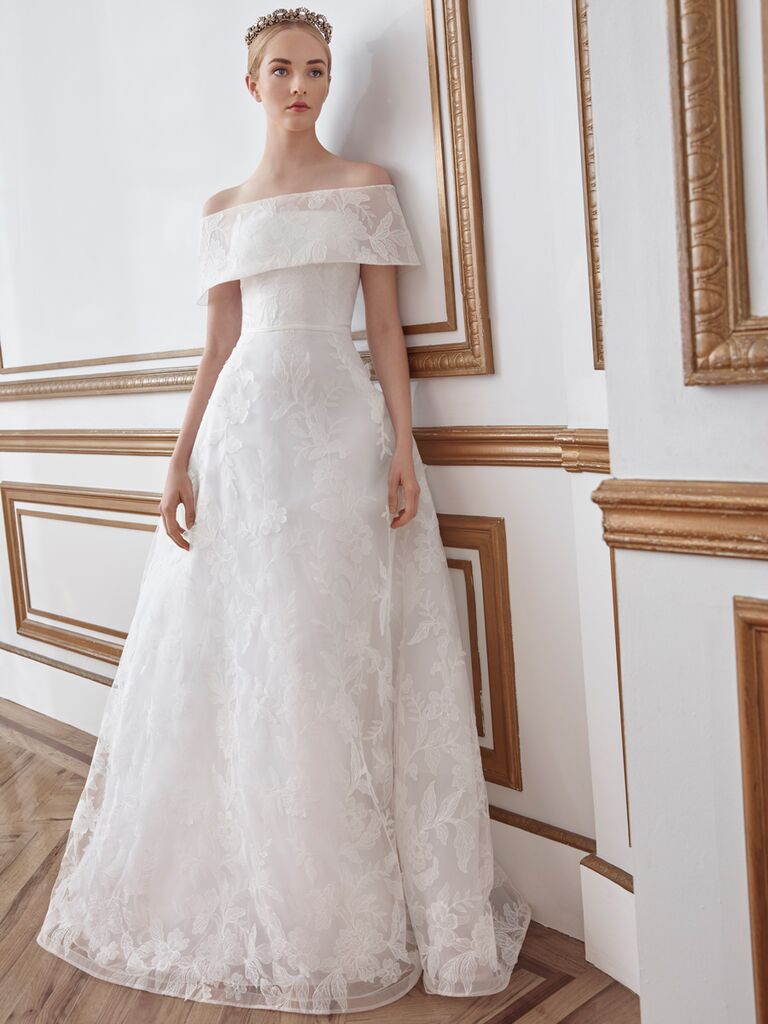 "Florence" soft floral and leaf lace A-line gown with matching detachable capelet.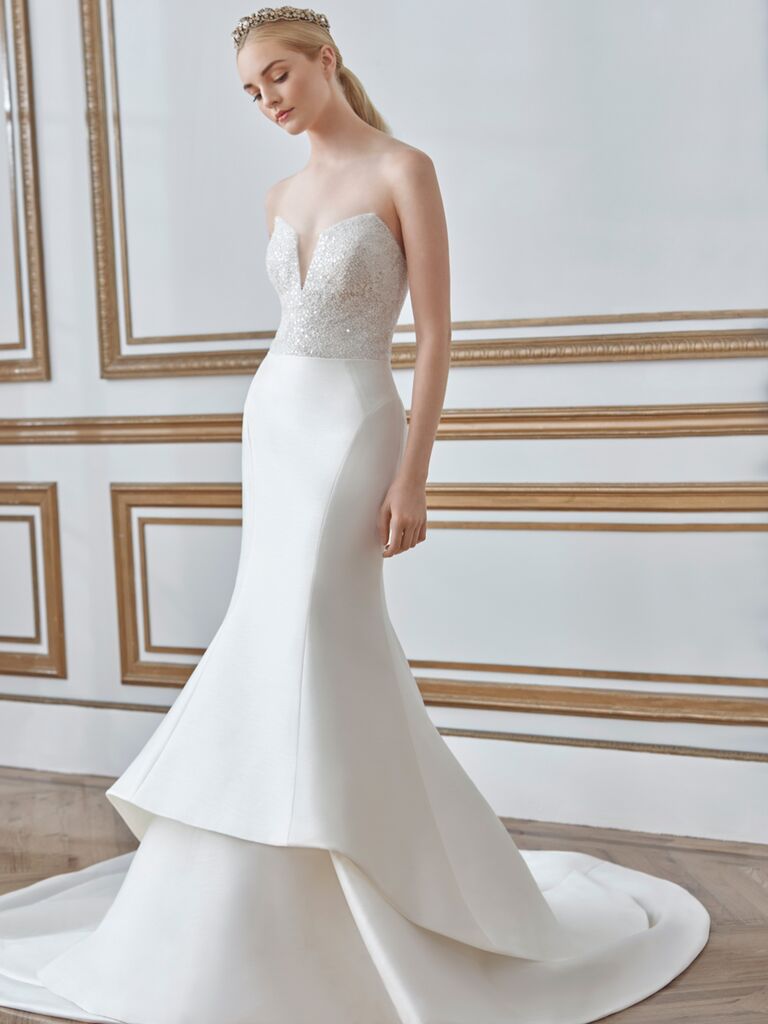 "Gatsby" sequin lace asymmetrical flare gown with modified tulip neckline bodice and buttons down to chapel train hem.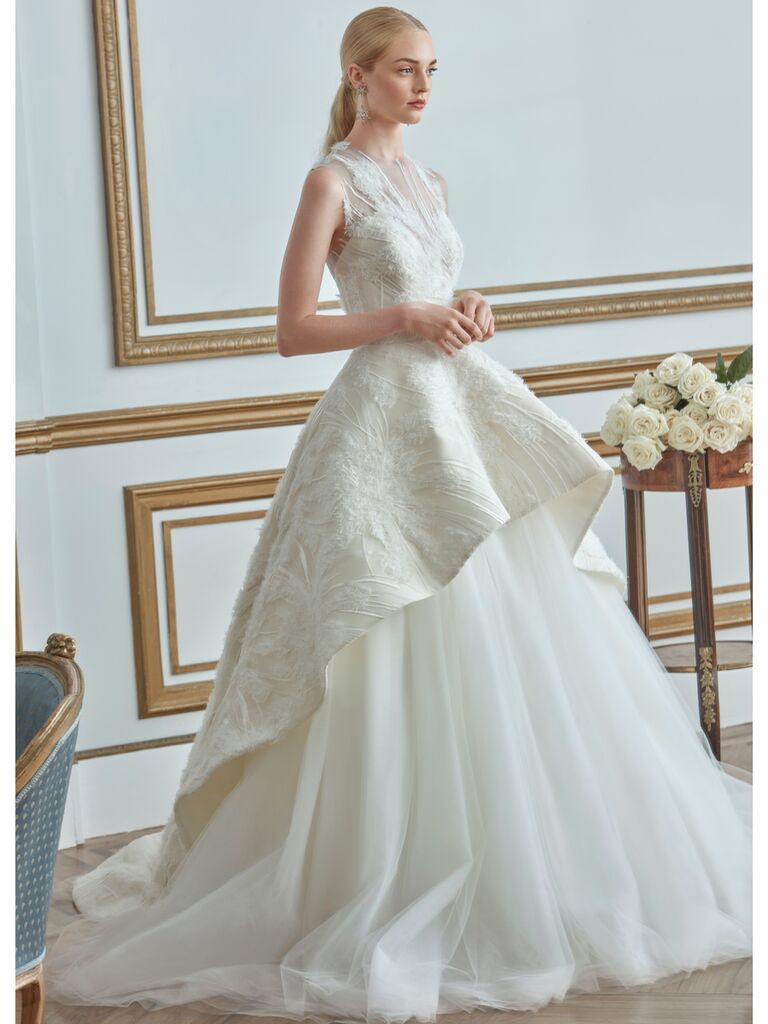 "Josephine" two tiered applique ball gown with illusion jewel neckline and back.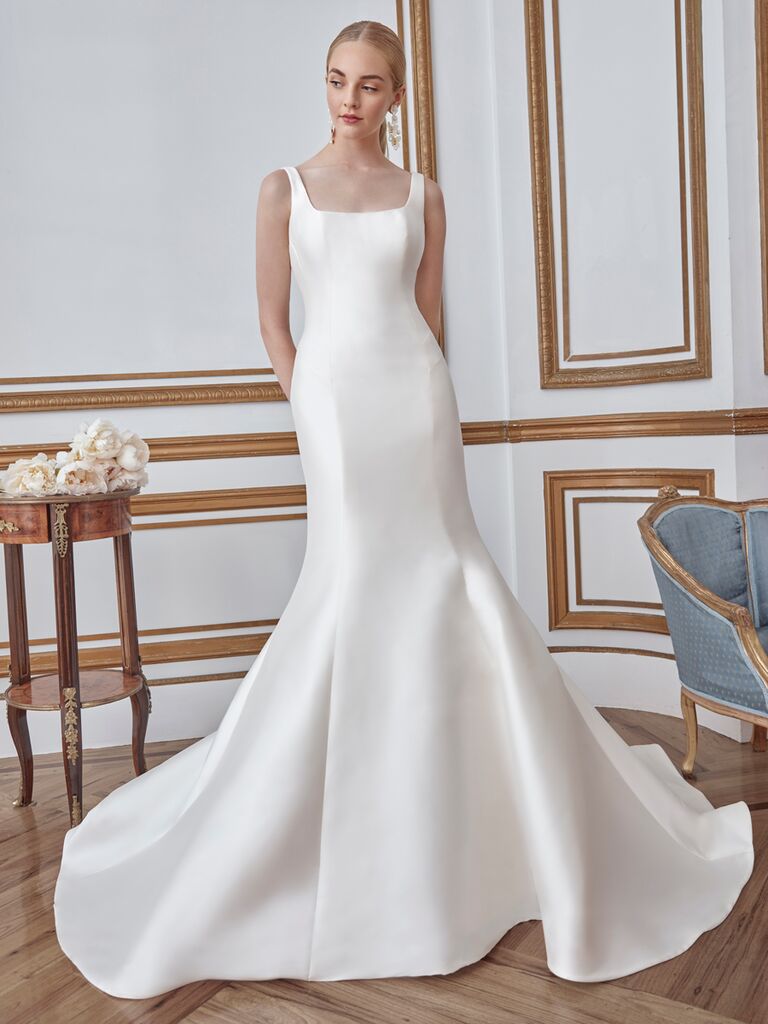 "Ren" square neck tailored fit and flare gown with low scoop back and oversized floor-length bow at the back.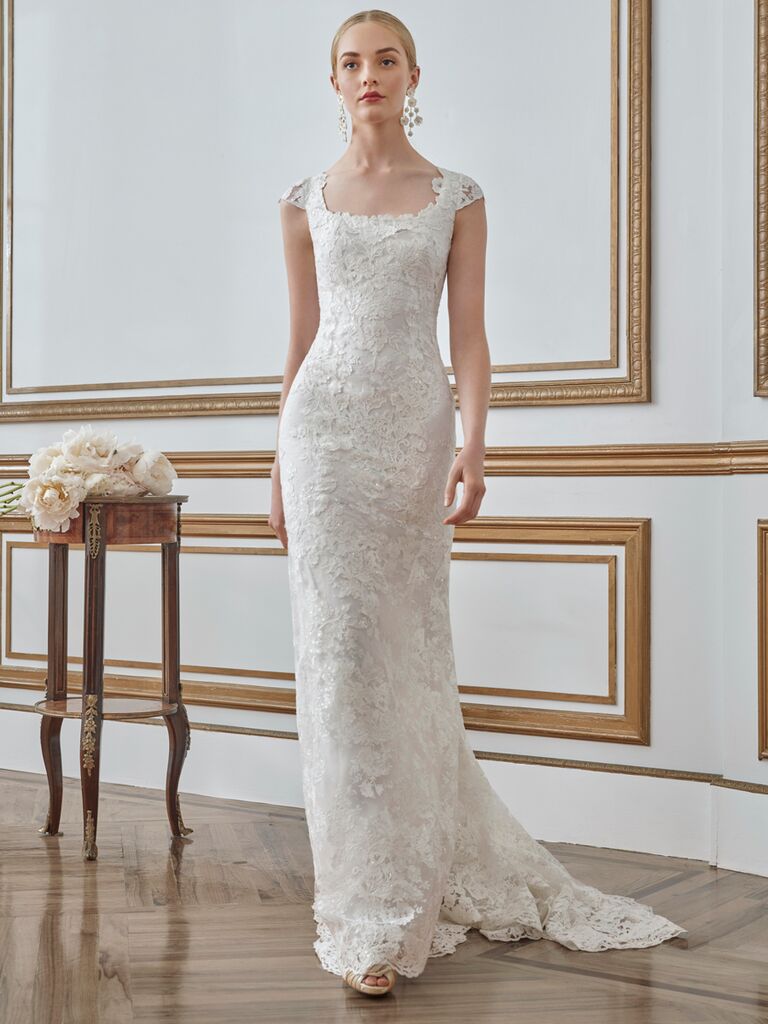 "Rosemary" embroidered three-dimensional lace slim trumpet gown with sheer cap sleeves and illusion open back.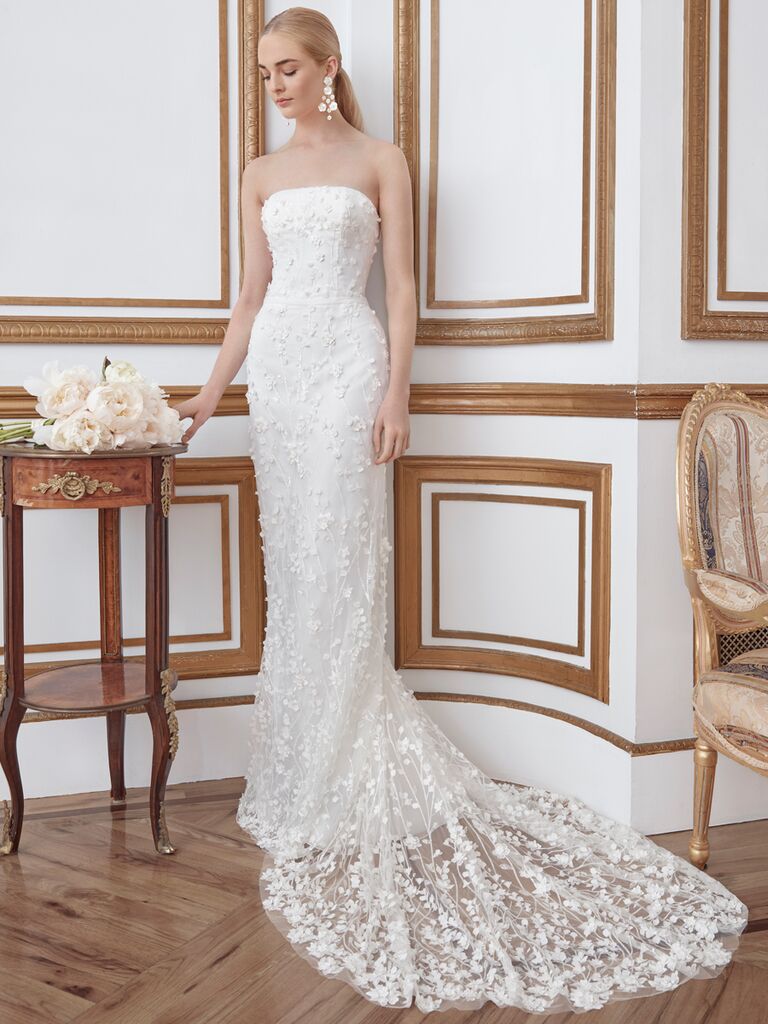 "Rosalind" strapless three-dimensional floral embroidered sheath dress.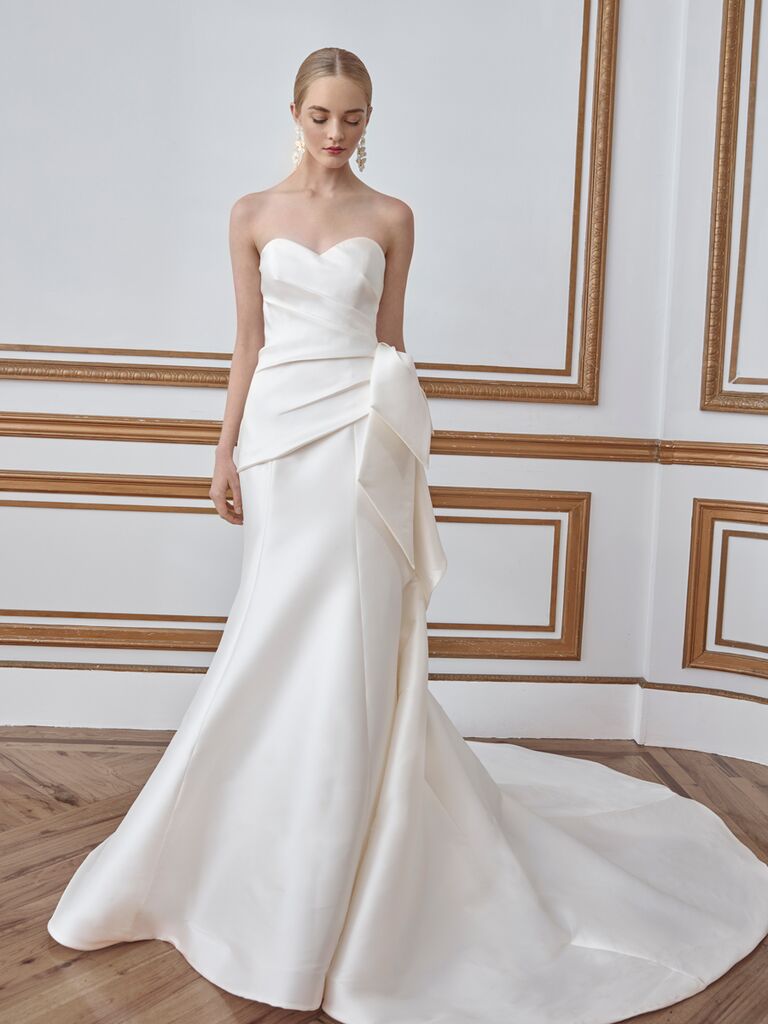 "Cecilia" strapless sweetheart trumpet gown with diagonal draping and signature side bow.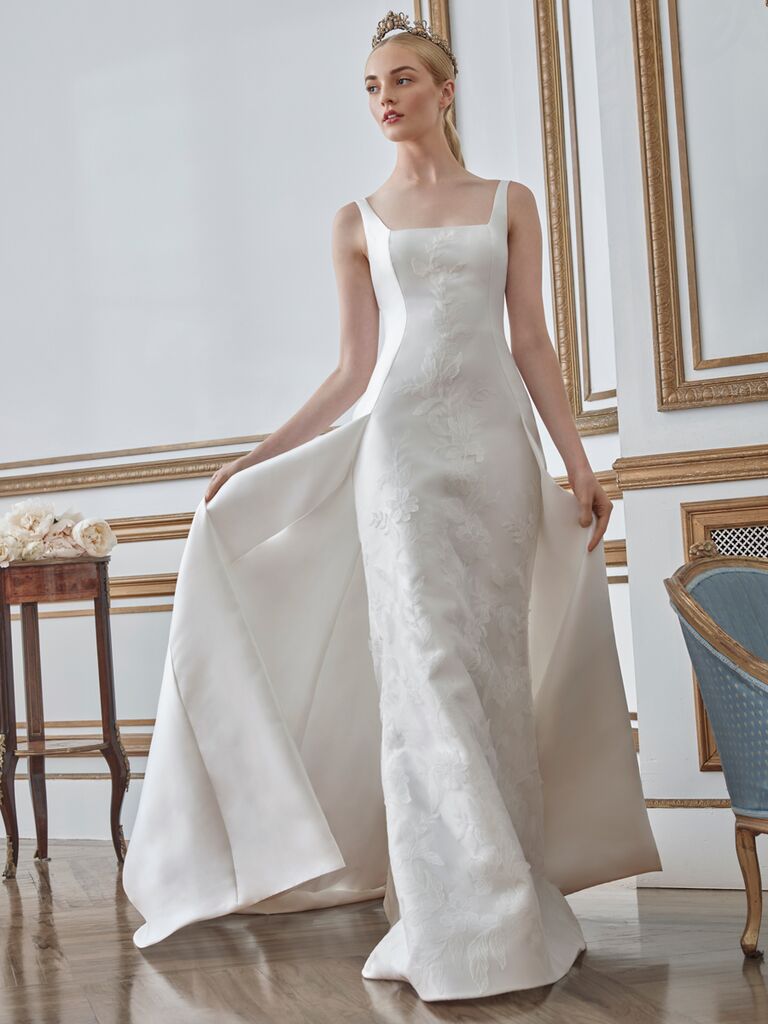 "Marjorie" square neckline floral lace trumpet gown with modified overskirt.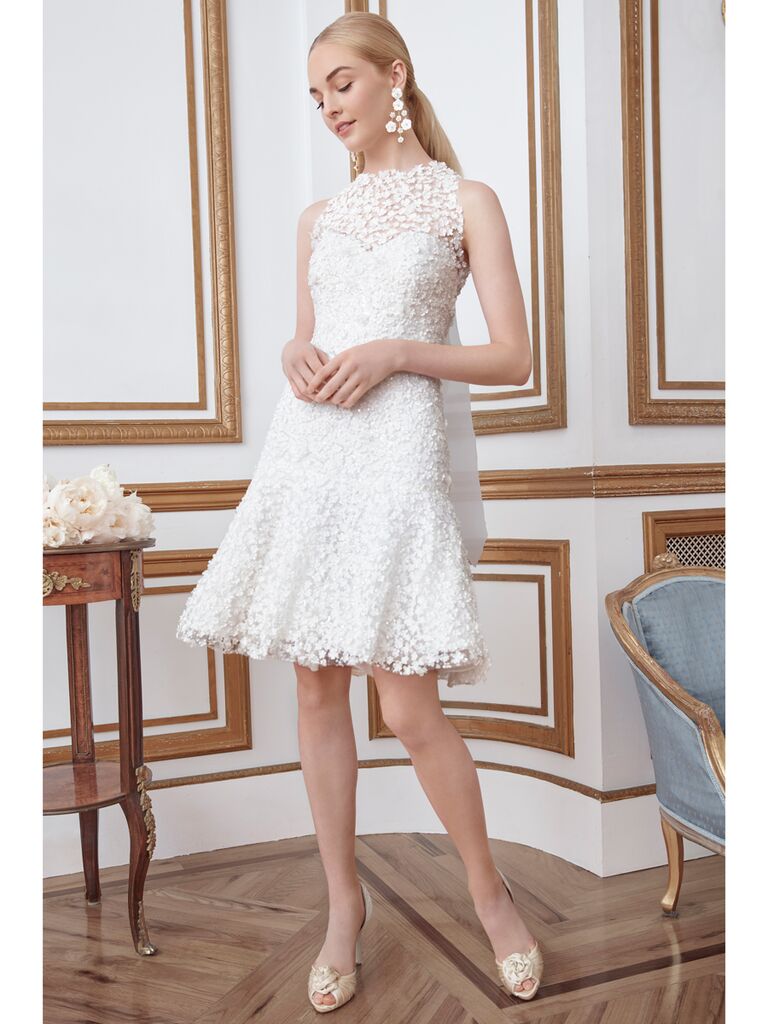 "Daisy" floral embroidered mini dress with illusion sweetheart neckline underlay and bow on back.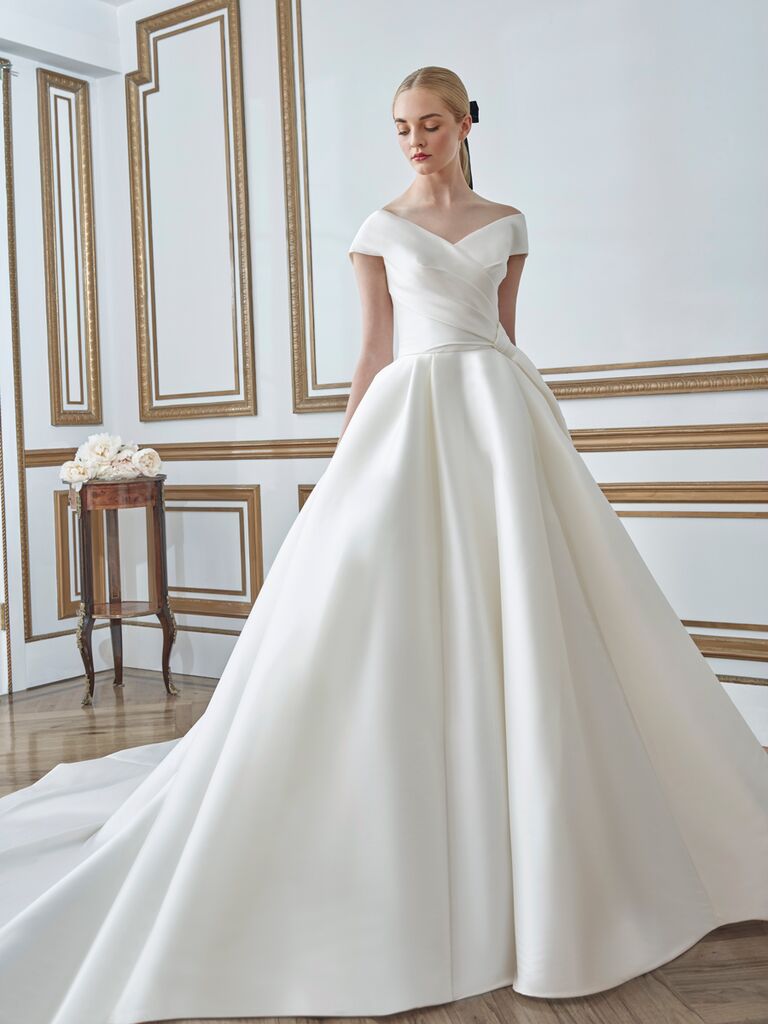 "Blaine" off-the-shoulder diagonally draped pleated ball gown with side bow and petals cascading down the skirt's side.
To check out all the Bridal Fashion Week galleries, plus wedding dress advice and more, go to TheKnot.com/bridal-fashion-week.