9 Ways to Save as a Wedding Guest
Have a stacked wedding season this year and not sure how to budget? We've got your back.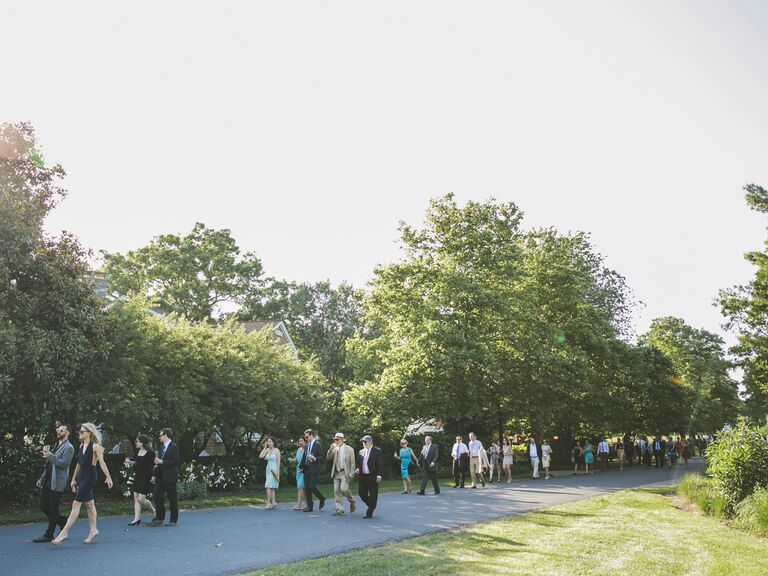 Eddie Winter/ Readyluck
Buying a gift, finding something to wear, traveling to the wedding—the costs of being a guest can really add up, especially if you're going to more than one wedding in a short period of time. We know every trick in the book for being a stellar guest without completely breaking the bank. Here are some genius ways to save.
Book a group deal.
It's not just hotels that have group rates—some airlines (American Airlines, Delta and Virgin America) have reduced fare programs too. The caveat: You'll usually need at least 10 people to get a discounted rate, and in some cases you'll need to put a deposit down in advance of your travel. Word to the wise: Make sure everyone you get on board is reliable and won't leave you in a lurch last minute.
Split your travel and accommodations.
Round up a group of your single friends and split a hotel room, or buddy up with another couple on a car rental. It makes way more sense to split the cost than to have a rental SUV and only use two seats (they can pitch in on gas too!). If you're not close enough with other guests of the wedding, ask someone in the bridal party if they know anyone interested in teaming up. They can help connect you, even if it's just for a shared taxi ride from the airport to the hotel.
Buy your registry gift early.
Being prompt with the gift isn't just a way to earn brownie points with the couple—it's also a smart way to save money. In addition to spacing out the expenses, you'll have a wider range of choices on the registry. Wait too long and everything in the mid-range may already be snapped up. If you're left with gifts that are out of your budget or there are several items priced in the low range, you're not completely out of luck. Put together a curated gift of multiple items, like a bartending kit filled with a martini shaker, jumbo cube tray, corkscrew and coasters. This approach can get you to your target price.
Pitch in for a group gift.
There are likely one or two big-ticket items on the couple's registry, whether it's a barbeque grill or a five-star camping tent. Set your sights on that (it's probably what they want most anyway). If you're attending the wedding with a group of people you know, suggest everyone chip in to buy the couple their splurge gift. Round up enough people until the per-person cost is at a reasonable price. The couple gets their dream gift and you give something you can comfortably afford. It's a win-win for everyone.
Rent, don't buy, a dress.
We can't fix the fact that every single weekend plan for the next three months is wedding related, but this wardrobe solution can help ease the burden. We get it—you don't want to wear the same black dress to everything, and the dress-disguised-with-bold-accessories trick only works so many times. Renting is the perfect happy medium. Sites like Rent The Runway let you borrow designer dresses for a fraction of the retail price. You'll feel great without spending your paycheck on a one-season dress—winning!
Buy a staple suit.
Here's the thing about suit and tux rentals—they add up quickly. You not only need the suit, but a vest, shoes and a matching bow tie. Before you know it, your rental suit is the price of a rental car (most tux rentals will run you anywhere from $80 to $150 each). Consider investing in one or two staple suits (black and navy are classic) that fit and feel great. Invest in something nice because all that dance floor fist-pumping can take a toll on the seams and fabric. You'll want something that lasts through more than just a few weddings. Change up your shirt and tie and you can literally wear the same couple of suits to every wedding you'll ever be invited to.
Get in on the hotel room block.
Hotel room blocks secure a group rate for everyone that's generally lower than listed prices. Plus, couples usually choose a hotel that's easy to get to and from the wedding or someplace where provided transportation makes pickups and drop-offs. That means you won't have to foot the bill on a late-night ride when the after-party's over.
Look for alternatives to a hotel.
If transportation isn't an issue—say you're road tripping to the wedding—then skip the hotel altogether and look for rental options instead. Airbnb or HomeAway often offer several bedrooms (and a kitchen) for the price of a hotel room—perfect for an extended wedding weekend vacation. Keep in mind: Rentals are often less expensive than a hotel room, but you might not see the savings if it means you'll have to rent a car or spend on taxis to get everywhere.