Should I Buy A Gift For the Bachelorette Party Too?
by Simone Hill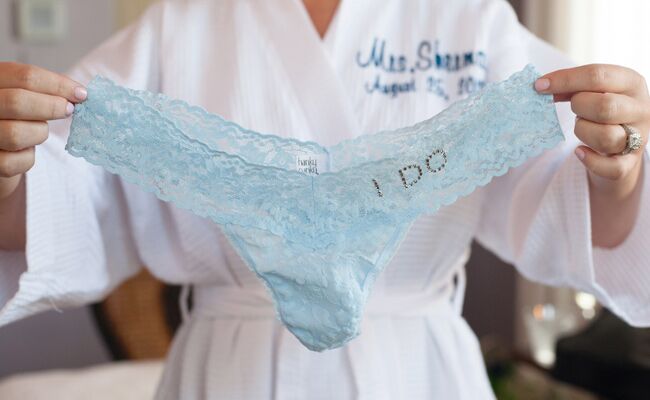 photo by
Marni Rothschild Pictures
So your close friend is getting married and you're already shelling out a few hundred bucks to hit the town in Vegas, Napa, Charleston or Miami (all amazing spots for a destination bachelorette) and you're wondering whether you should bring a gift for the bride. Gift giving can be a touchy subject, especially when it comes to all of the pre-wedding events, so trust us, you're not the first person to question whether you need to shell out for another gift or whether your presence is enough of a present.
Here's our answer: Giving a gift definitely is not required, but it's totally fine to get one and small joke gifts are pretty typical (think lingerie or something so kinky that you can barely face the cashier with a straight face when you buy it). Since her mom and grandma will probably be at the shower that wouldn't exactly be the time to gift something naughty, but the bachelorette is the perfect opportunity. Other (totally optional) ideas include a group gift of a fancy set of lingerie or even paying for her wine tasting or her tab at the bar during the weekend. These are things she will totally appreciate and not expect at all, which will make it all the better. Another instance when it might make sense to buy the bride a gift is if you can't make it to the bachelorette. Of course she'll be understanding (even if you're bummed), but sending a card saying how you wish you could be there and a bottle of champagne to get the party started is definitely a thoughtful touch.
Brides-to-be, keep in mind your bridesmaids and friends are already spending money to attend the wedding, bridal shower and your bachelorette (that could mean paying for cross-country flights, a few hotel nights and multiple gifts). If you think they may feel pressured to bring gifts then you could let your maid-of-honor pass on the info if you'd prefer not to receive gifts at all.
Want more? Of course you do!
> 6 fun coordinating bachelorette party looks
> 4 must-haves for an epic bachelorette
> Want to sketch nude models for your bachelorette? You can!