Everything You Need to Know About Silk Bridesmaid Dresses, Plus 21 to Shop Right Now
Don't give this trend the slip—silk bridesmaid dresses are here to stay.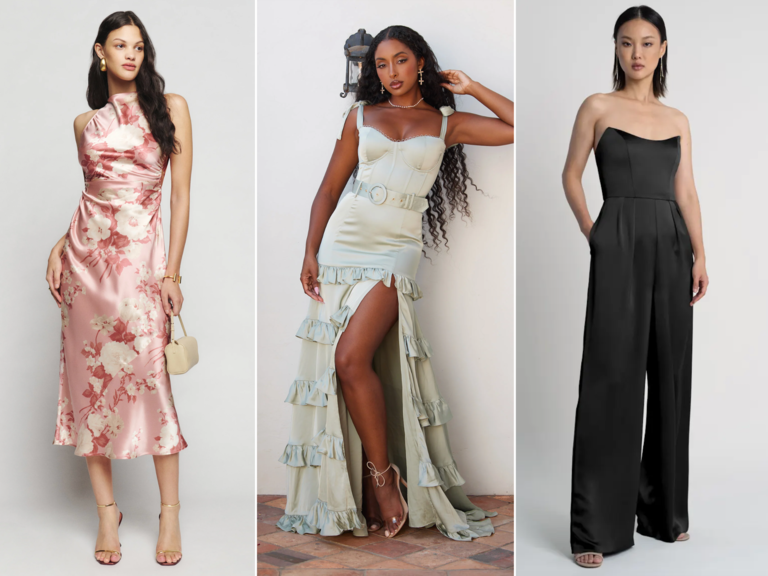 Photos, From Left to Right: Reformation, V. Chapman, Bella Bridesmaids
We have included third party products to help you navigate and enjoy life's biggest moments. Purchases made through links on this page may earn us a commission.
Wedding trends come and go—especially when it comes to the bridal party—but one thing that's stood the test of time is silk bridesmaid dresses. Of course, what those look like changes with the times. In its current trendy iteration, silk and satin bridesmaids dresses get a casual make-under: We're seeing midi-length slouchy slip dresses everywhere from beach weddings to ballroom affairs. But, historically the material was synonymous with black-tie, and still can be in full-length gowns (some even with mini trains of their own!) and structured styles like those from V. Chapman and bridal labels like Amsale and Jenny Yoo. Below, we've rounded up 20 stunning satin and silk bridesmaid dresses to shop right now; and then keep scrolling to learn the difference between the materials and a few factors to consider when selecting the perfect gowns.
In this article:
21 Best Silk Bridesmaid Dresses You Can Shop Now
You can't go wrong in selecting a silk or satin bridesmaid dress for your big day—now the only tough decision is what color to choose. Champagne silk bridesmaid dresses and black silk bridesmaid dresses are timeless and sophisticated, but our current favorites come in some of the season's trendiest hues—think burnt orange and rust, sage green and light blue, even poppy pink.
V. Chapman Lisianthus Dress in Sage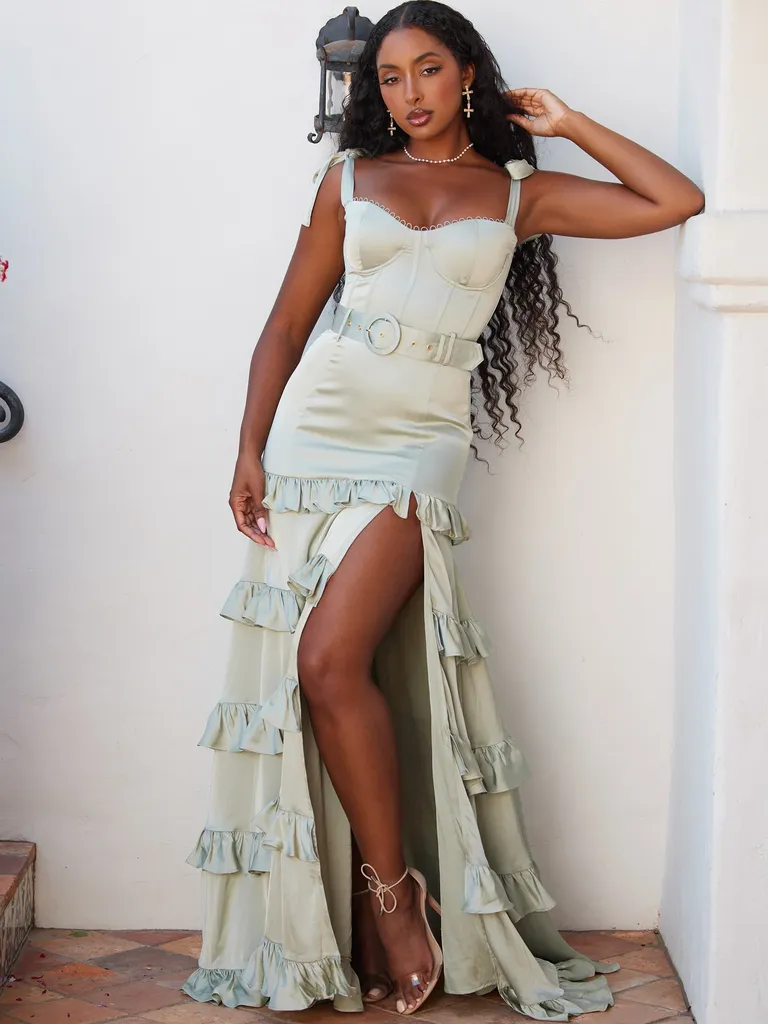 Laid-back slip dress-inspired silk dresses are extremely of-the-moment, but for black-tie affairs we love a more structured satin bridesmaid dress. This one in sage green satin has a corset top and tiered ruffle skirt, but it's the wide attached belt that really makes it stand out.
Size Range: 00-14 | Fabric: Polyester and spandex | Color: 1
Dannijo Mossy Maxi Slip Dress in Blue Breeze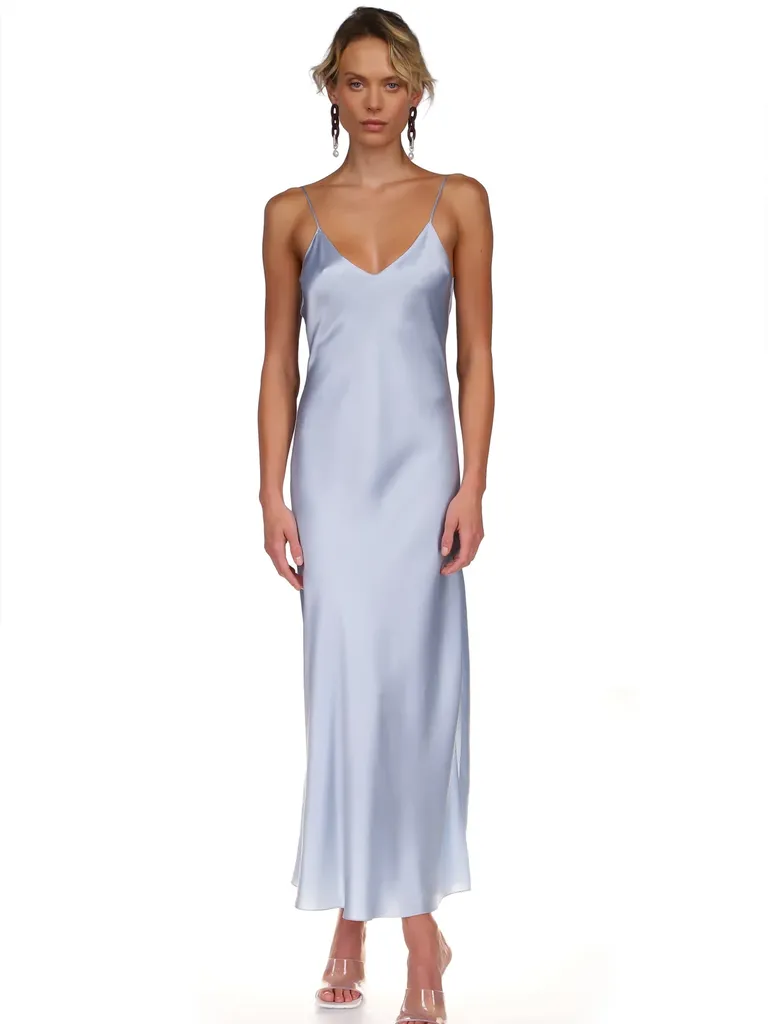 The cult favorite queen of the slip dress, Dannijo has done the unthinkable: created a bridesmaid dress that can actually be worn again post-nuptials. Your tribe can style it with a sweater and sneakers, belt it and more after the wedding; on the big day, try it with stilettos and statement jewelry.
Size Range: XS-XL | Fabric: Silk | Colors: 8
Reformation Cassette Silk Dress in Bellini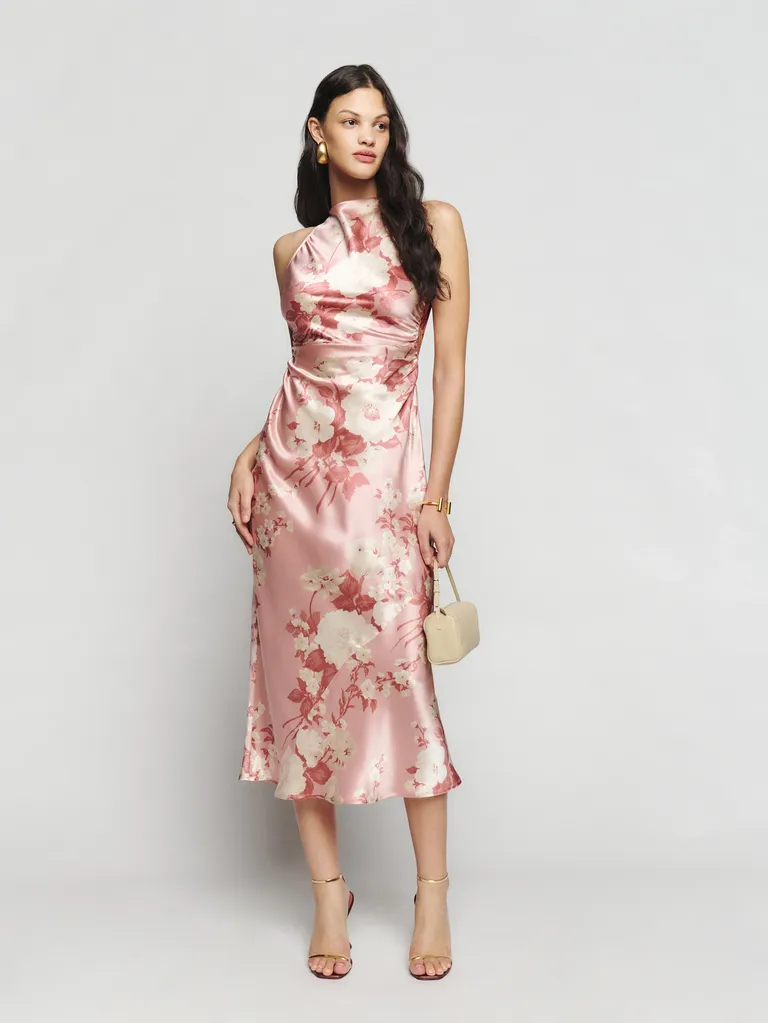 A floral frock in trending hues of pink, this high cowl neck midi screams—whispers?—spring garden wedding. Its fabric makeup is the rare 100% silk charmeuse, making it lightweight and ultra luxe (just note it requires extra special care). Subtle ruching in all the right places promises a perfect fit, while the open crisscross back adds drama.
Size Range: 0-12 | Fabric: Silk | Colors: 10
Azazie Brookelle Stretch Satin Dress in Rust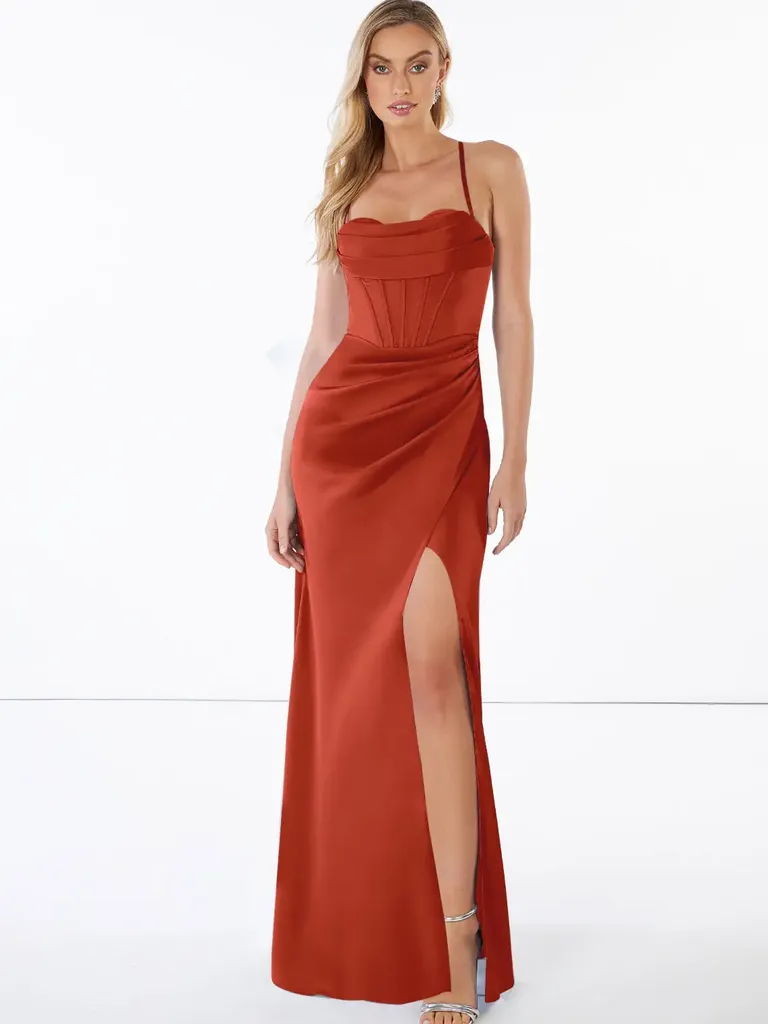 The boned bodice top and floor-length skirt make this a great fit for a black-tie wedding with just about any color palette: The gown is available in nearly two dozen hues, with rust being our pick for an on-trend fall affair. Psst, aiming to please a big bridal party? Azazie keeps colors consistent across styles, so every bridesmaid can select a flattering style in the same cohesive hue.
Size Range: 0-30 or custom | Fabric: Stretch satin | Colors: 23
Jenny Yoo Jonie Jumpsuit in Black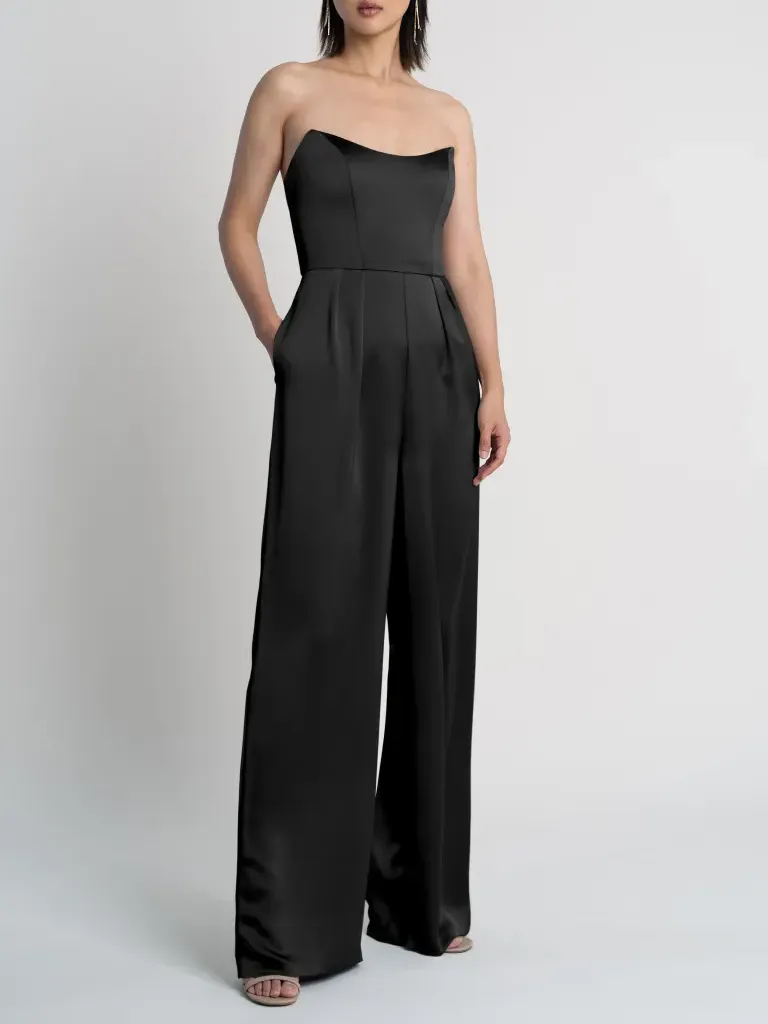 Mix things up with a jumpsuit. This one has all the elements of a black-tie gown in timeless black: luxe satin fabric, structured strapless bodice top and a whole lot of glam. Gift your girls with crystal drop earrings to finish the look.
Size Range: 00-32 | Fabric: Luxe satin | Colors: 24
Amsale Jara Dress in Emerald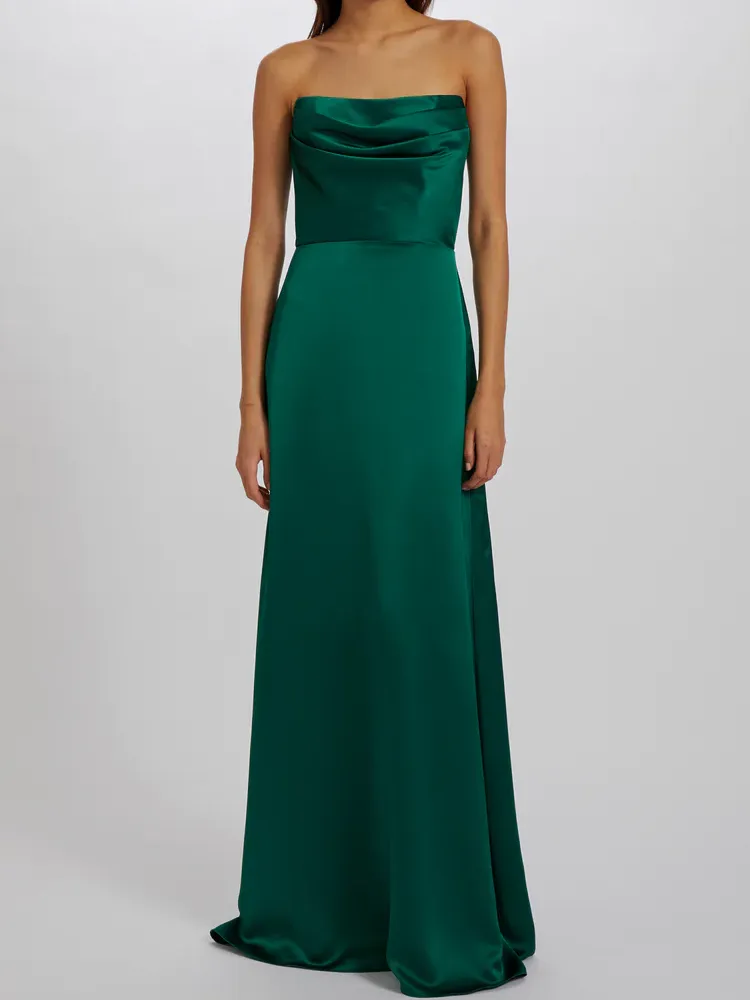 It's available in an impressive 29 hues, but emerald is our on-trend pick for this strapless bridesmaid dress. Amsale is known for its fabric and craftsmanship; the fluid satin this gown is rendered in feels like butter and lays beautifully. We love this style with a statement necklace or earrings and a chic slicked hairstyle.
Size Range: 00-32 | Fabric: Fluid satin | Colors: 29
Revelry Athena Satin Dress in Gold Champagne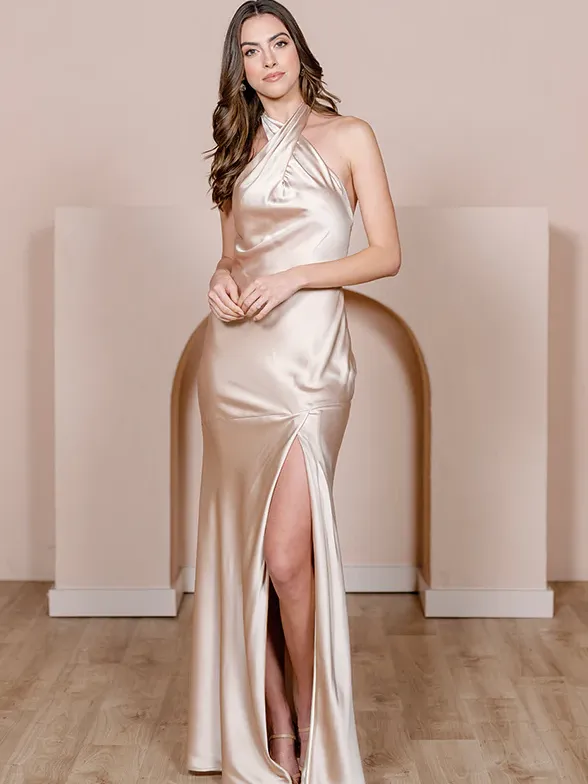 A refreshingly inclusive label in all senses of the word, Revelry is a must-explore for any bridal party. The options are endless, but our current fave? This crisscross high neckline halter silk champagne bridesmaid dress. The hue is perfect for airy spring and summer affairs; top it with a faux fur stole for winter weddings.
Size Range: 0-34 | Fabric: Fluid satin | Colors: 35
ASTR the Label Monroe Dress in Slate Blue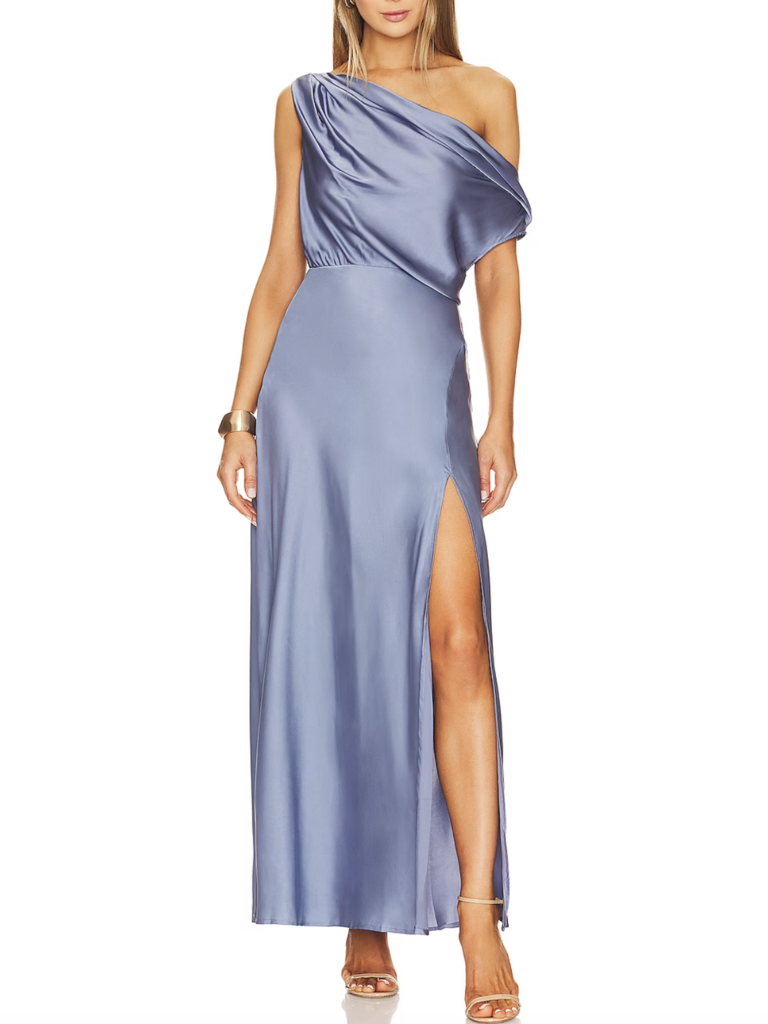 A unique silhouette will set your wedding apart in this year's trendy sea of silk bridesmaid dresses. This slate blue style by ASTR the Label offers just that, with a draped asymmetrical off-the-shoulder bodice and high slit in the full-length skirt. It would be equally at home in a garden setting or black-tie ballroom.
Size Range: XS-XL | Fabric: Polyester and elastane | Color: 1
Birdy Grey Eugenia Convertible Midi Dress in Satin English Rose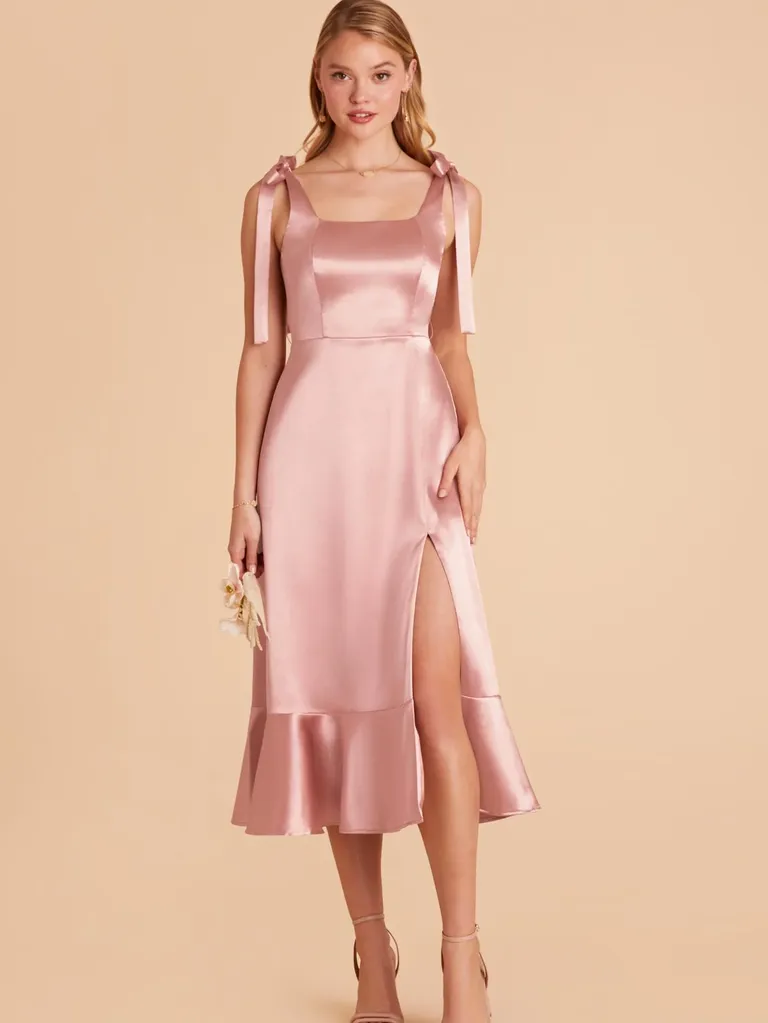 Knock out multiple trends with one chic rust silk bridesmaid dress: This Birdy Grey style has an on-trend square neckline, demure shoulder ties and a ruffle at the midi hemline. Not to mention the color: Shades of rust and burnt orange are ultra of-the-moment, and especially fit the bill for autumn affairs.
Size Range: XS-3X | Fabric: Polyester | Colors: 25
Show Me Your Mumu Samantha Ruffle Wrap Dress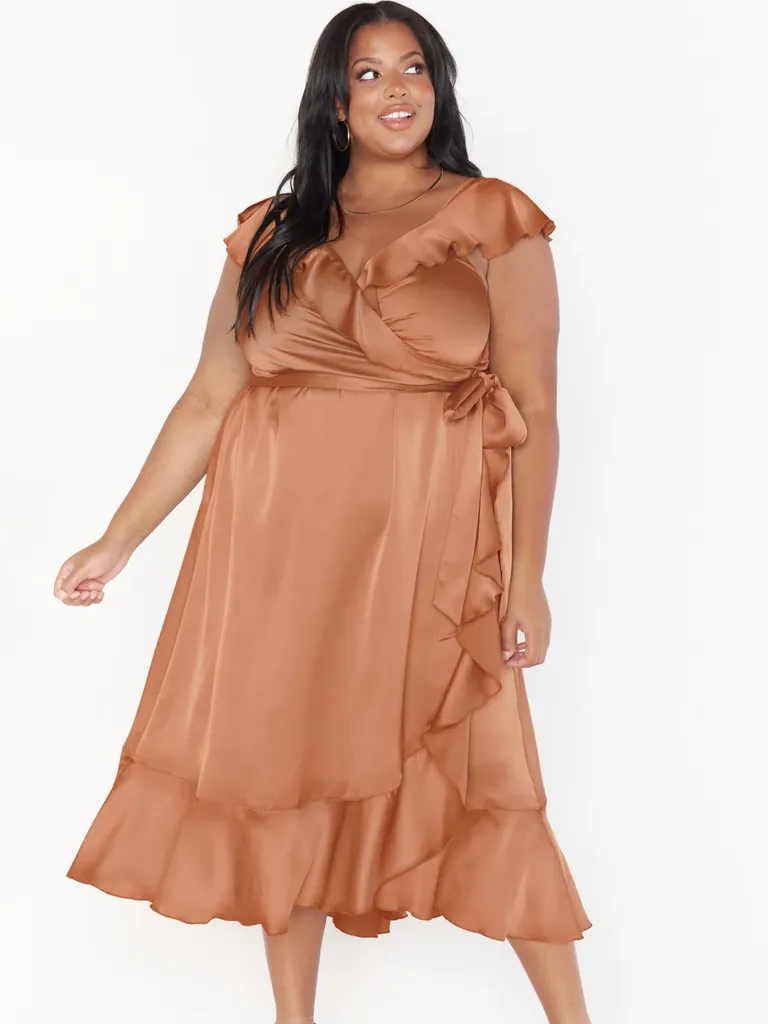 Available in extended sizing, this ruffle wrap dress is the epitome of easy and breezy. Not only will your maids look chic, but they'll also be able to dance the night away. Psst, the mock wrap style is actually secured with an elastic waist and sash, and the unique V back still lands high enough to wear a bra underneath, so everyone can feel extra comfortable.
Size Range: XXS-3X | Fabric: Polyester | Colors: 12
AW Bridal AW Meggie Dress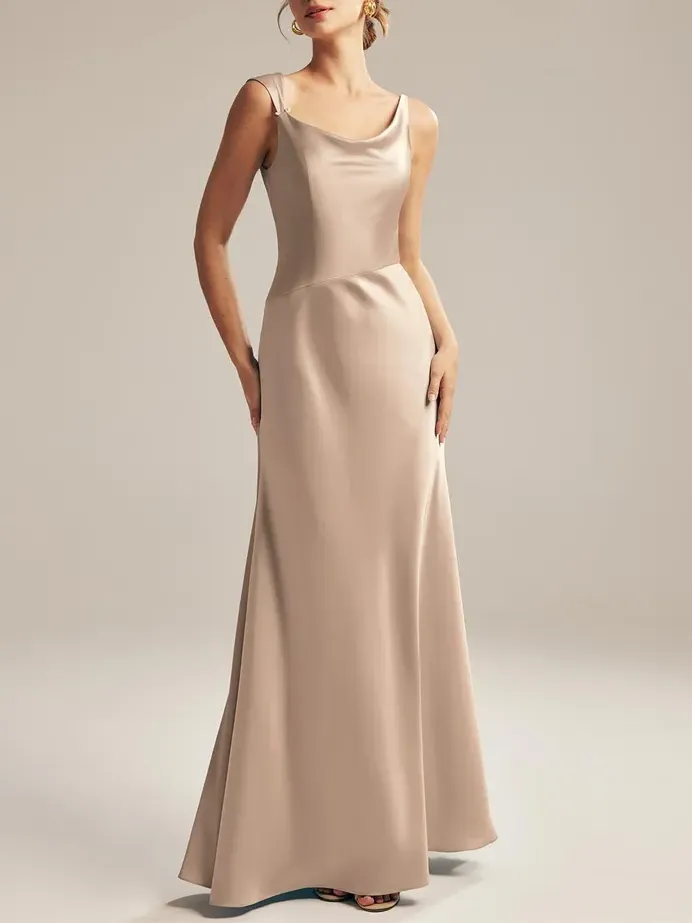 With a super subtle cowl neck and asymmetrical waistline, this sophisticated black-tie gown is giving off Disney princess vibes. Pair it with chandelier earrings and a pair of Cinderella heels to show off the champagne satin charmeuse.
Size Range: 0-14 | Fabric: Satin charmeuse | Colors: 30
Ieena for Mac Duggal Side Ruched Satin Halter Gown in Shell Pink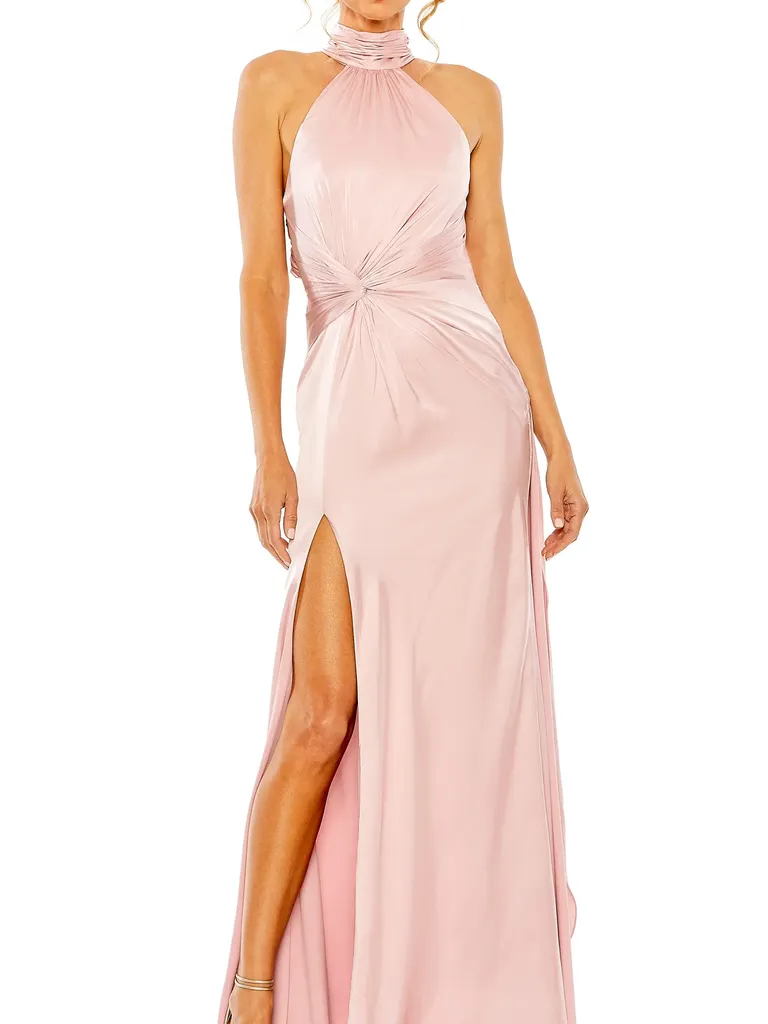 With two colors dubbed shell pink and ocean blue (which are just trending monikers for classic colors), this gown gives mermaid in the best way. Its fashion-forward silhouette and open back make it an ideal pick for brides who aren't afraid to be upstaged. There is enough detail to shine without statement accessories; we'd pair it with simple stud earrings and an updo.
Size Range: 2-12 | Fabric: Polyester | Colors: 2
Elliatt Devon Dress in Pink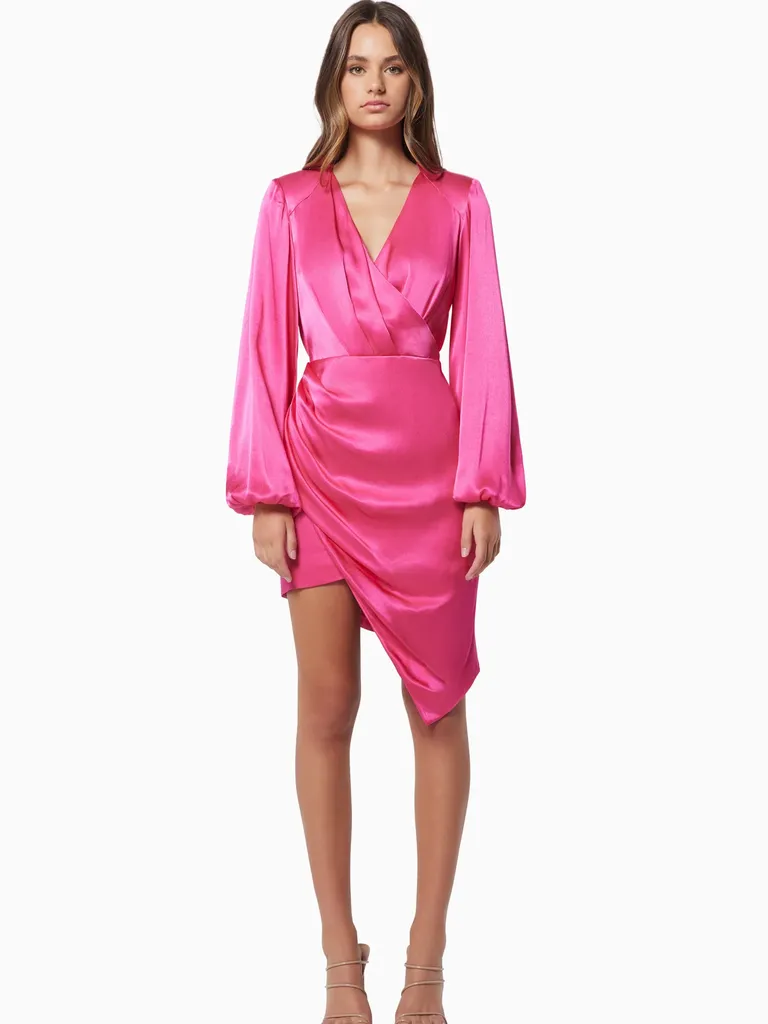 Calling all party brides. Give your bridesmaids the gift of a gown they can really rewear—this one would transition seamlessly from the aisle to the club. Its poppy pink hue is on-trend for weddings, where bold color currently reigns supreme, and the satin fabrication is lightweight enough to outdance any curfew.
Size Range: XS-XL | Fabric: Viscose | Color: 1
Dessy Group Draped Satin Grecian Column Gown in Willow Green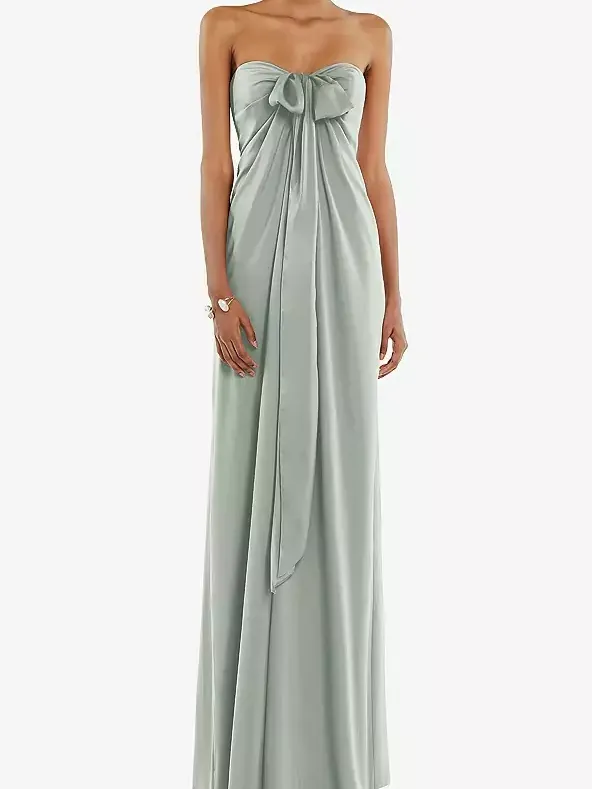 Our top pick for versatility is this Grecian column gown, with a just-right drape and convertible straps that let your bridesmaids choose between a halter, one-shoulder or strapless neckline. Pro tip: This style is also great for pregnant bridesmaids, as the fabric allows enough room for a baby bump.
Size Range: 00-30 | Fabric: Polyester | Colors: 25
Significant Other Demi Backless Long-Sleeve Gown in Chocolate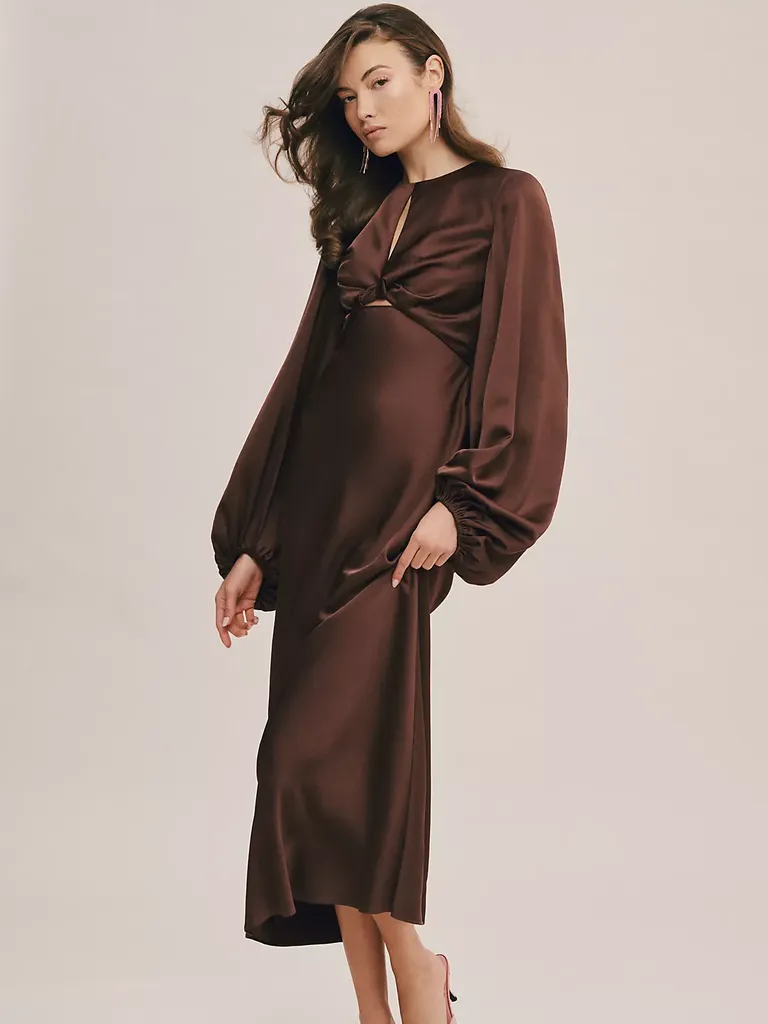 Finding brown silk bridesmaid dresses can feel like searching for a diamond in the rough, but here's one that certainly shimmers. The billowing sleeves and twisted keyhole cutouts are unique details, while the open back and ankle length keep it timeless.
Size Range: 2-12 | Fabric: Polyester and rayon | Colors: 5
Kennedy Blue Arwen Dress in Light Blue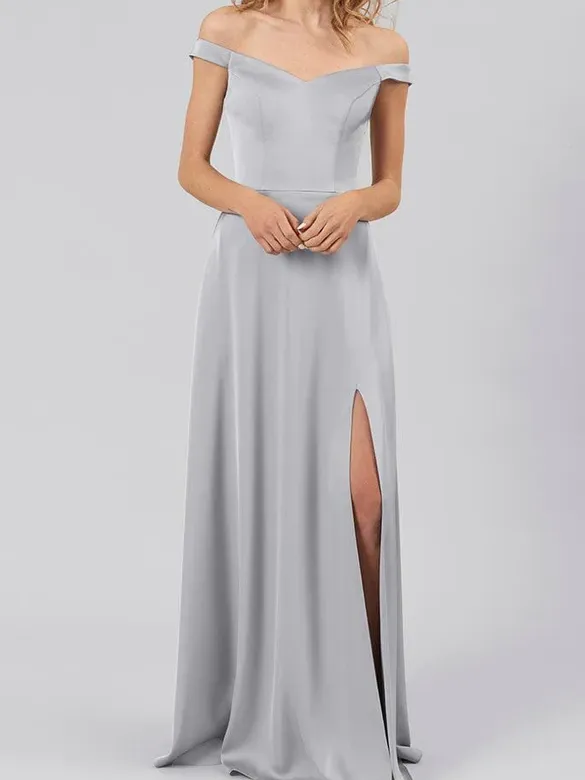 A Cinderella style, this light blue silk bridesmaid dress is perfect for fairy-tale weddings. Boning in the bodice offers support and an A-line skirt allows for easy movement; a stretch lining below the satin makes it even more comfortable. In other words, no one will be running home to change at midnight.
Size Range: 00-32 | Fabric: Satin | Colors: 15
Eloquii Satin Maxi Dress in Periwinkle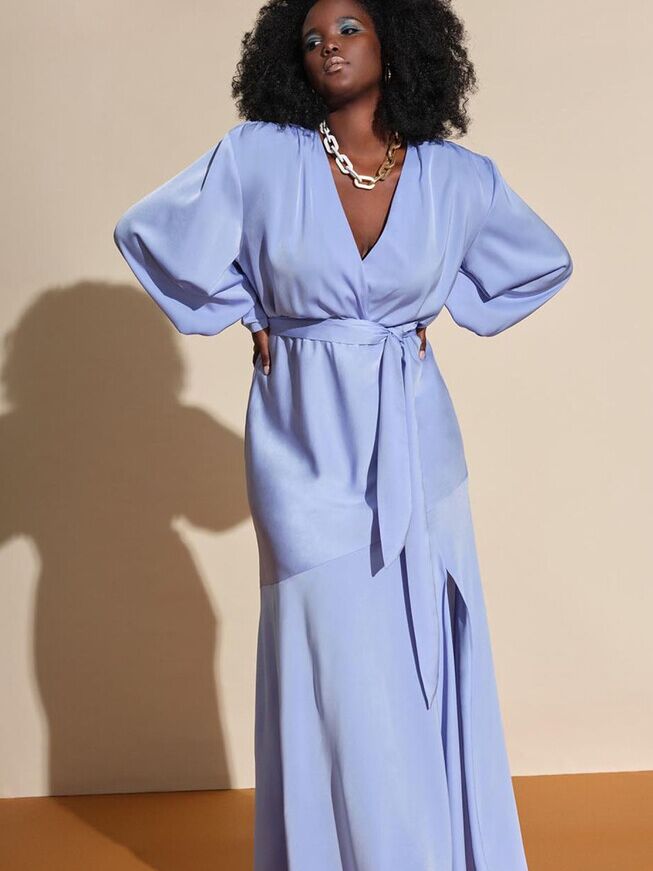 Your maids will be oh-so-pretty in periwinkle (or magenta or mauve) with this satin maxi wrap dress. A matte flounce below an asymmetrical seam in the skirt is an unexpected detail that adds a little extra dose of style.
Size Range: 14-32 | Fabric: Polyester | Colors: 4
Lulus Broadway Show High Low Maxi Dress in Emerald Green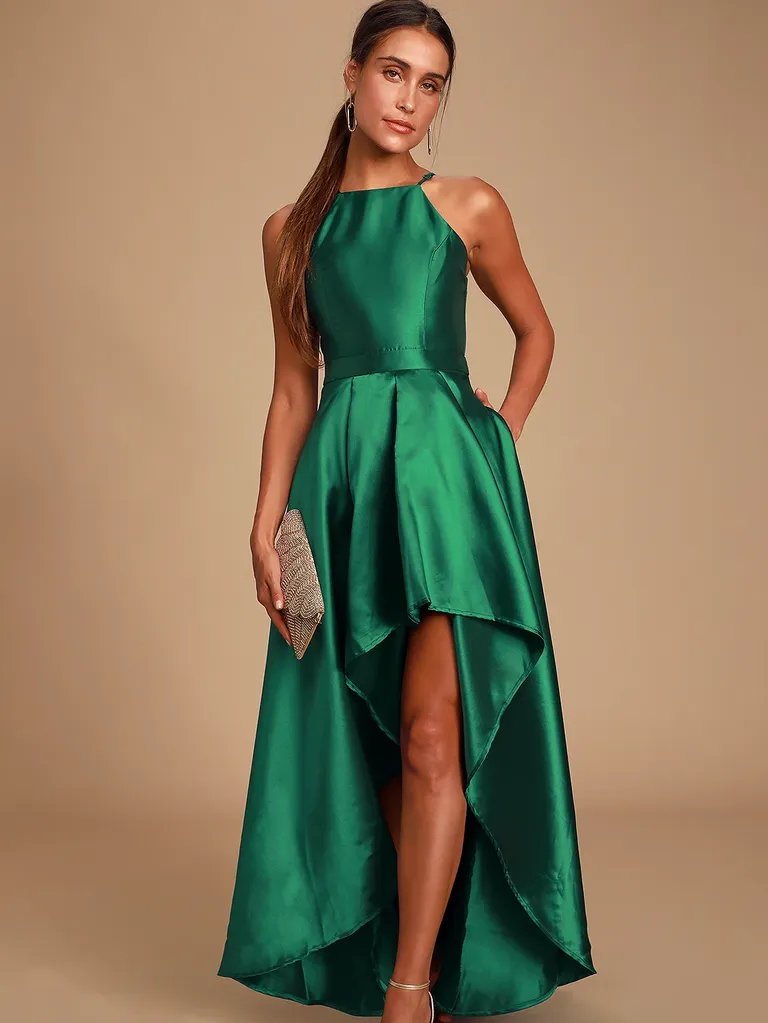 A high-low style at a palatable price? Count us (and all your bridesmaids) in. This pretty pink silk bridesmaid dress has an on-trend high square neck and box pleats that add a little volume to the skirt. It's especially great for twirling on the dance floor, and pairs perfectly with a statement shoe.
Size Range: XS-XL | Fabric: Polyester | Colors: 4
Rewritten Roma Dress in Burnt Orange Satin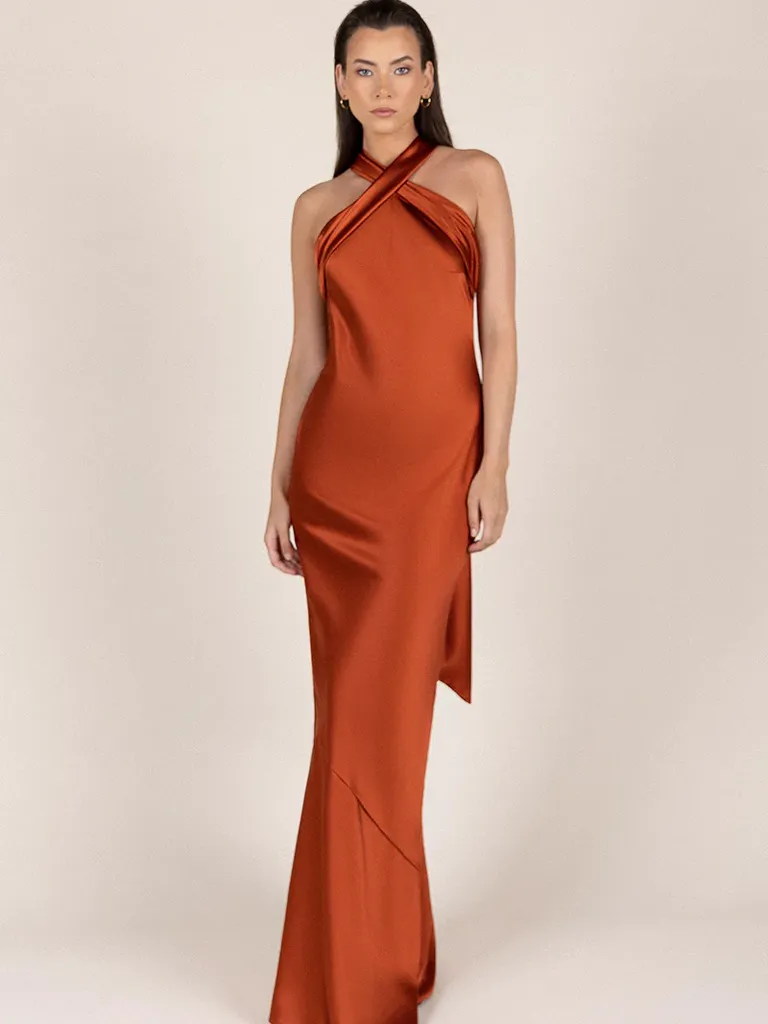 A sustainable bridal brand based in the UK, Rewritten is a new favorite for chic bridesmaid dresses. The flowing satin and bias cut of this burnt orange silk bridesmaid dress make it ideal for a float down the aisle—and beautiful to rewear again and again as a guest at future black-tie weddings.
Size Range: 8-18 | Fabric: Polyester satin and crepe de chine | Colors: 3
Six Stories Cowl Back Satin Bridesmaids Dress in Oyster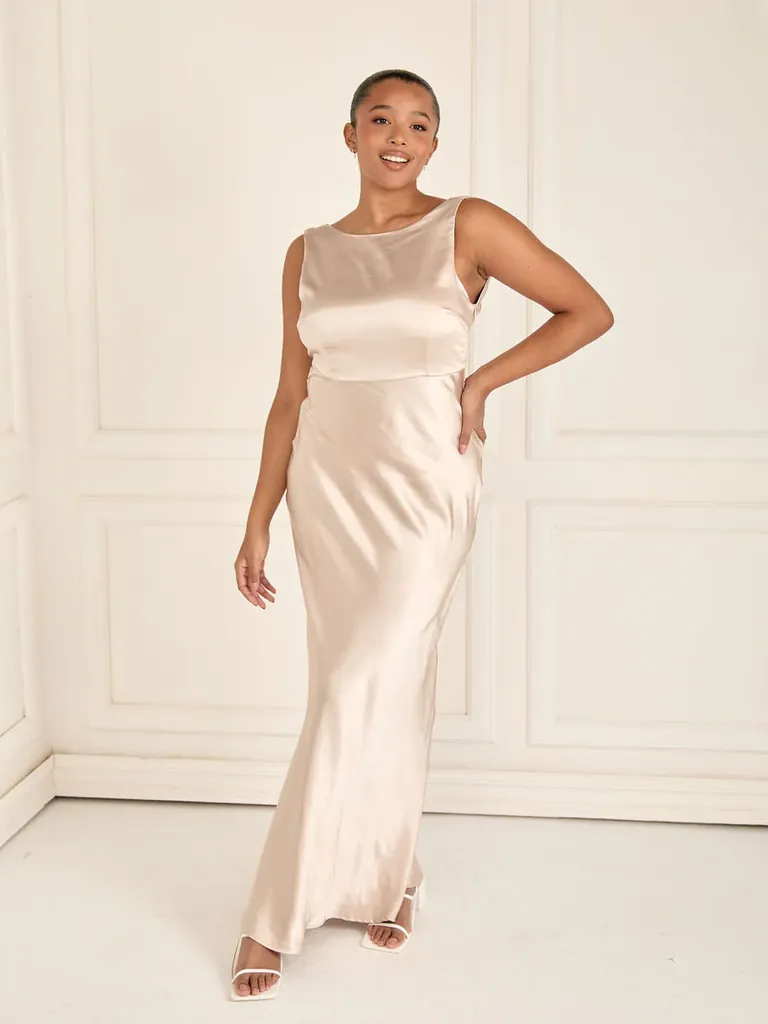 If you're envisioning something that's both timeless and trendy, look no further. This boat neck bridesmaids dress has a fitted bodice with a cool cowl back, flowing satin floor-length skirt and just the right amount of sheen to the champagne hue. It's a beautiful canvas for statement jewelry in gold or silver.
Size Range: 2-14 | Fabric: Polyester | Colors: 1
For Love & Lemons Jewel Dress Maxi in Sage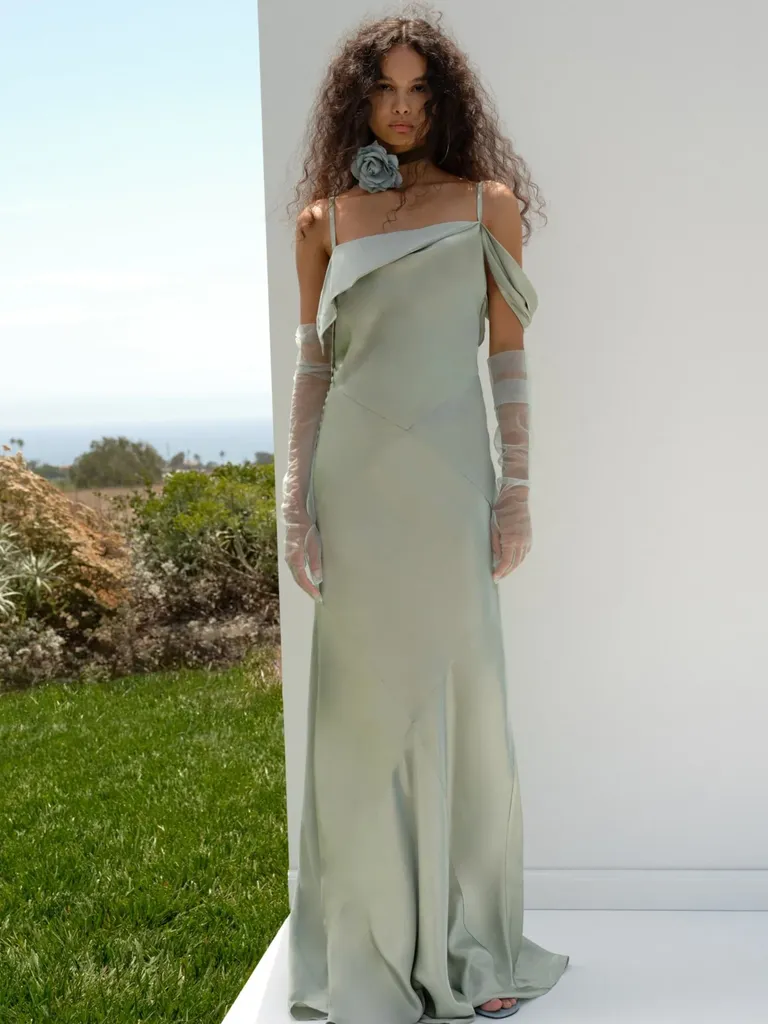 Ideal for the avant-garde, this sage silk bridesmaid dress has a row of covered buttons at the side, floor-length framed skirt and a miniature flounce at the asymmetrical neckline. Bonus: It's rendered in a unique ecovero viscose, produced responsibly from plant-based materials. We can see this style at a wedding in an ancient castle or modern art museum.
Size Range: XXS-XL | Fabric: Ecovero and viscose | Colors: 3
Silk vs Satin: What's the Difference?
Put simply: Silk is silk and satin is, well, just about any number of things. Silk is a pure material, whereas satin is woven; it can be crafted from silk, but also from cotton, nylon, polyester, viscose, rayon or any combination of these. You'll often see a modifier with a satin gown: silk satin, fluid satin, stretch satin. Satin can be rendered in infinite ways, and each has its own nuance, but overall is a slightly more versatile, and forgiving, material than silk. Silk, on the other hand, is luxe. It's a breathable, natural fabric derived from silkworms, and the price tag often reflects that. (Satin can vary greatly in price.) When shopping for gowns online, take a look at product descriptions for a full materials breakdown. Shopping in person? One quick and easy way to tell the difference is that silk will be shiny and super soft on both sides of the fabric; satin will appear matte on the inside and has a slightly rougher texture due to the woven quality.
What to Know Before Choosing a Silk Bridesmaid Dress
Before you jump on this bridal bandwagon, there are some need-to-knows when it comes to silk bridesmaid dresses. Here are a few things to consider.
Garment Care
When choosing between silk and satin bridesmaid dresses, it's important to understand practicality. Pure silk dresses are a little harder to take care of—they require a trip to the dry cleaner, whereas satin can usually go in the washing machine (just be sure to check the label for care instructions!).
Wrinkles
A fabric's resistance to wrinkles depends on the breakdown of materials. Thicker satins made from polyester are typically less prone to wrinkles, while materials closer to silk wrinkle more. Neither should be folded or bunched in a suitcase (looking at you, destination bridesmaids!), but if the gown does get wrinkled, it can be ironed inside out or steamed. Again, though, always check the label for care.
Accessories
Silk and satin bridesmaid dresses are gorgeous canvases to show off a pair of stunning statement earrings, or frame a stellar necklace in a V neckline. However, we recommend against accessorizing with bracelets—the fabric is prone to snag as your arms swing against the body.
Shapewear.
Some silk and satin materials can be unforgiving, and many bridesmaids prefer to wear some form of shapewear underneath for a smoother appearance. Yet overall, the slinky silhouettes rendered by these materials can be incredibly flattering.
Where to Buy Silk and Satin Bridesmaid Dresses
A quick Google search proves there are infinite options for where to purchase silk or satin bridesmaid dresses—but a few retailers stand out in the satin sea. Here, we've rounded up some starting points for you based on quality and selection, size range, price point and other factors.
Birdy Grey
Satin is the name of the game at Birdy Grey, where most satin bridesmaid dress styles are made from a 100% polyester weave. You can shop by color—there are 25 satin hues, including trending shades like rust and terra cotta—and the color is consistent across styles, if each member of the wedding party wants to select a silhouette that flatters her best. A huge selling point here? All satin dresses from the retailer run at less than $100, making it an affordable choice for your whole crew.
Size Range: XS-3X
Price Range: $49-$99
Dannijo
If you have your heart set on 100% silk, look no further. Dannijo has mastered the silk slip dress, with chic styles cut on the bias for a flattering fit. It's our top pick for a midi or floor-length silk bridesmaid dress that can truly be worn again and again after the big day. Note that gowns here are pricier due to the pure silk fabrication, but the quality backs up the price tag.
Size Range: XS-XL
Price Range: $325-$595
Amsale
For black-tie affairs, we love satin bridesmaid dresses from bridal brand Amsale. The label's gowns are structured and formal, but they're rendered in a buttery fluid satin that's breezy and comfortable. And, bonus, a wide range of sizing makes it a great fit for the whole crew. Note that gowns are made to order and so are nonrefundable—we recommend shopping in-store (find the brand at Bella Bridesmaids shops across the country) to try it on before purchasing.
Size Range: 00-32
Price Range: $295
Revelry
We stan an inclusive fashion label, and Revelry is just that: The brand is a top pick for unique satin styles in sizes from 0-36. Plus, they make the process seamless with an at-home try-on option (brides, host your crew and make a girls' night of it!), plus the option for exchanges or refunds within 14 days (except on made-to-order styles). Dresses are crafted from a luxe and lustrous charmeuse satin with a bit of stretch to it, another plus.
Size Range: 0-36
Price Range: $189