40 Plus-Size Bridesmaid Dresses That Are Truly Stunning
Shop gorgeous options in a whole range of shapes, colors and price points—including styles under $150.
by The Knot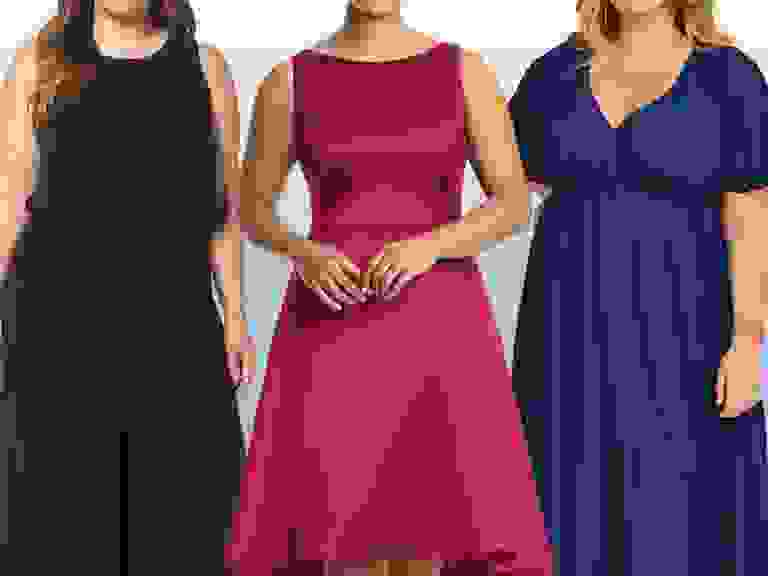 As you're shopping for bridesmaid dresses, you're obviously thinking about your celebration's aesthetic. But it's just as important to consider your wonderfully unique group of attendants. (What styles do they like? What are they most comfortable in?) You want each of your 'maids to feel their best on the wedding day, which is why we're committed to sharing stunning outfit options for every taste, size and body type.
Here, shop our favorite plus-size bridesmaid dresses (and plus-size maid of honor dresses) in a range of popular shapes, colors and price points. Forget about what someone told you was "flattering"—these amazing garments embrace all the latest (and most timeless) trends. Because your crew can—and should—wear whatever strikes your collective fancy. (And if you can't come to a group decision, we recommend trying mismatched bridesmaid looks.) On that note, most of these options aren't only available in plus sizes, so you can buy them for anyone in your bridal party.
Wondering where to buy bridesmaid dresses in plus sizes? Any retailer on this list is a safe bet when it comes to selling stylish attire, but our favorite online bridal shops include Brideside, David's Bridal and The Dessy Group. You can also turn to department stores like Nordstrom and fast-fashion faves like ASOS for more unique gowns. (Hint: A dress doesn't have to be labeled a "bridesmaid" dress to work for the wedding day. Just make sure the stock is high enough to outfit all your attendants. You should also keep alterations in mind, as off-the-rack options won't be custom-made.)
Picks by popular category:

Picks by popular color:

Plus-Size Bridesmaid Dresses by Popular Category
Here, shop for specific budgets, features and lengths. But don't stop scrolling after you're done browsing the category you came for. There are way more inexpensive, sleeved, long and short options sprinkled throughout this roundup!
Plus-Size Bridesmaid Dresses Under $150
We know affordable bridesmaid dresses (and ones that definitely don't look cheap) are eternally in high demand. That's because, let's face it, these garments are rarely worn more than once. Plus, bridesmaids have a lot of expenses already, and they're probably (and generously!) footing this bill too. In turn, we've rounded up five beautiful options under $150. Which, FYI is about the national average cost of bridesmaid dresses.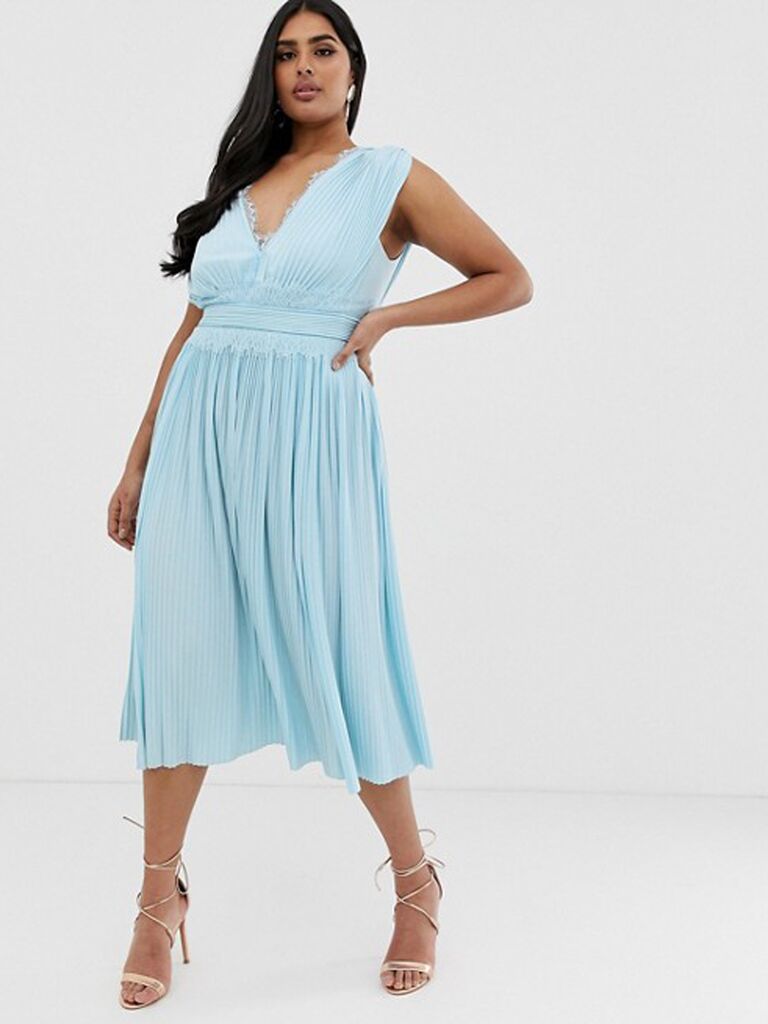 Can we talk about this color? The shade of blue is simply beautiful. We'd say the under-$100 price tag is pretty beautiful too. And don't forget about those dreamy lace accents, all of which make this affordable plus-size piece a real winner.
ASOS DESIGN Curve premium lace insert pleated midi dress in Blue, $76, ASOS.com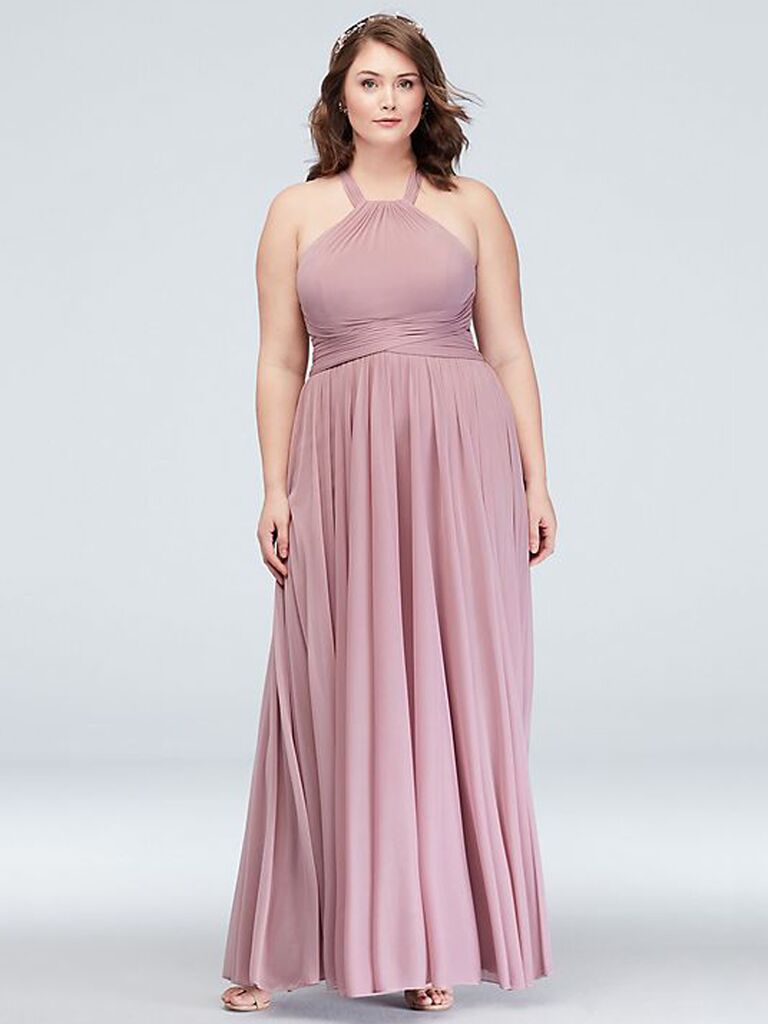 High necklines are having a moment, but that's not the only element of this gown we love. The shape is super-versatile and the wrapped waistline flatters everyone.
David's Bridal high-neck mesh bridesmaid dress with full skirt, from $150, DavidsBridal.com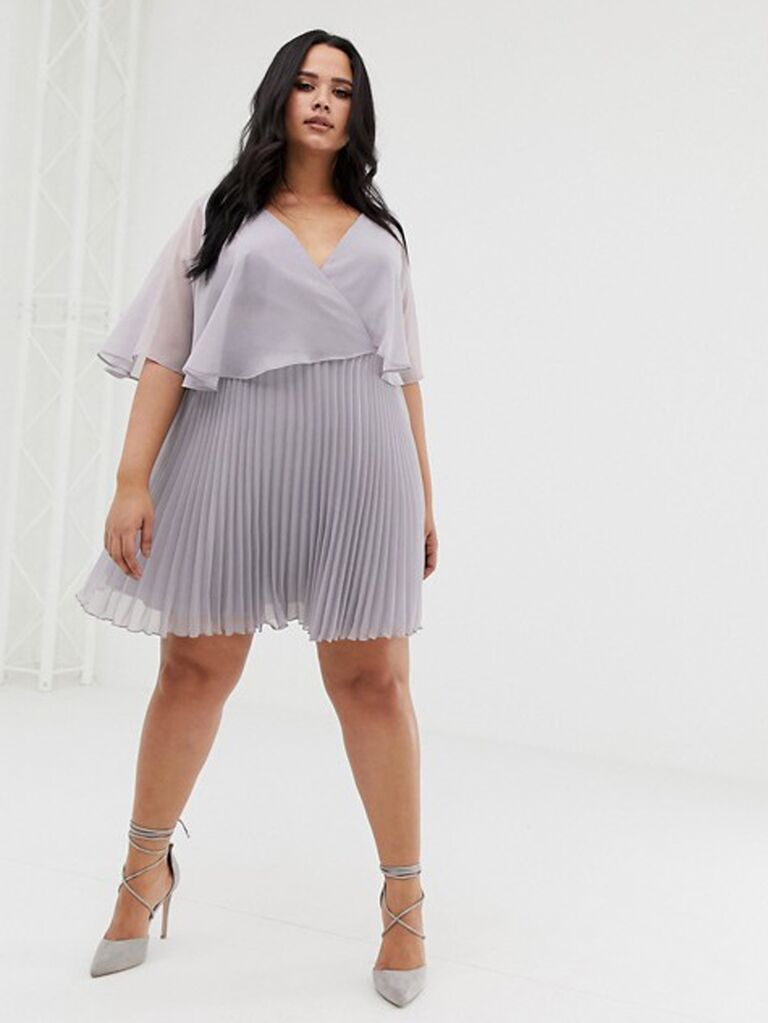 You thought $150 was affordable? How about closer to $50? This plus-size bridesmaid dress comes in a sweet purplish-gray hue and at an even sweeter price point.
ASOS DESIGN Curve flutter sleeve mini dress with pleat skirt in Gray, $51, ASOS.com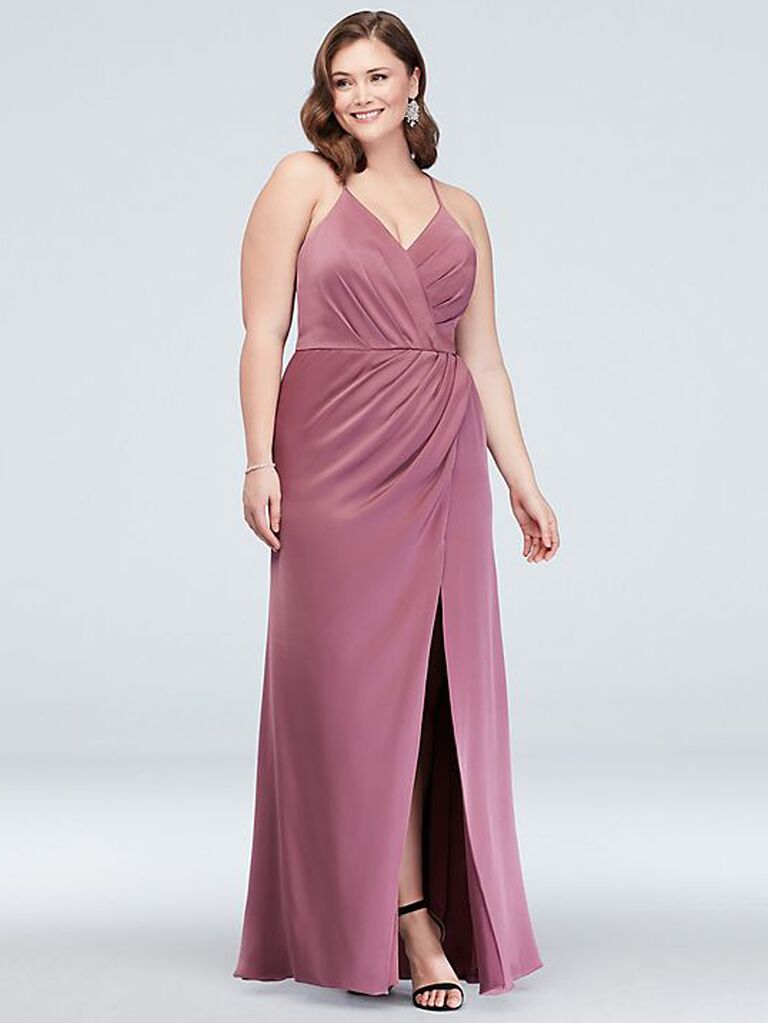 We're big fans of wrap dresses—the style is effortlessly elegant. This one benefits from a chic V-neck and skirt slit too. Plus, the color options are plentiful.
David's Bridal spaghetti strap crepe-back satin bridesmaid dress, from $130, DavidsBridal.com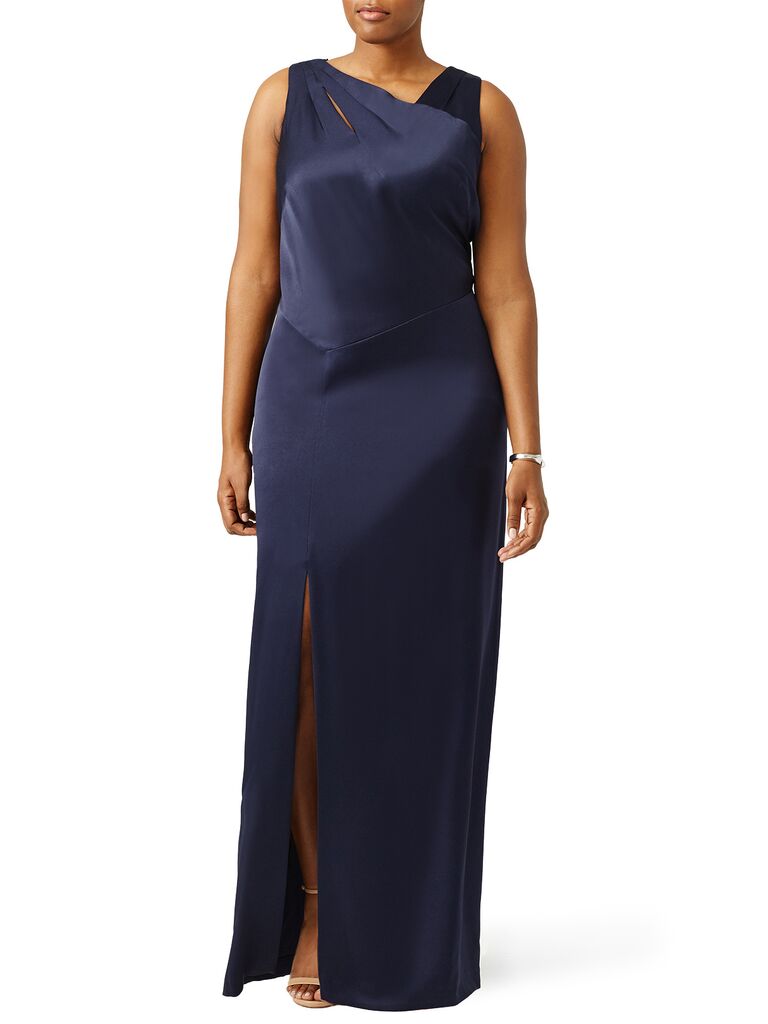 Did you know you can rent bridesmaid attire? Well, now you do. Rent the Runway allows 'maids to order designer styles at a fraction of their retail cost and return them after the wedding. This navy plus-size evening gown has the coolest neckline.
Kay Under side slit cut out gown in Navy, from $95 to rent, RenttheRunway.com 
Plus-Size Bridesmaid Dresses with Sleeves
It's no wonder so many shoppers are searching for bridesmaid dresses with sleeves—there are so many fun styles to choose from. Whether you love how elevated long sleeves feel or you're obsessed with the off-the-shoulder trend, we've found plus-size options for you. (And again, all these categories overlap—so keep on scrolling for more!)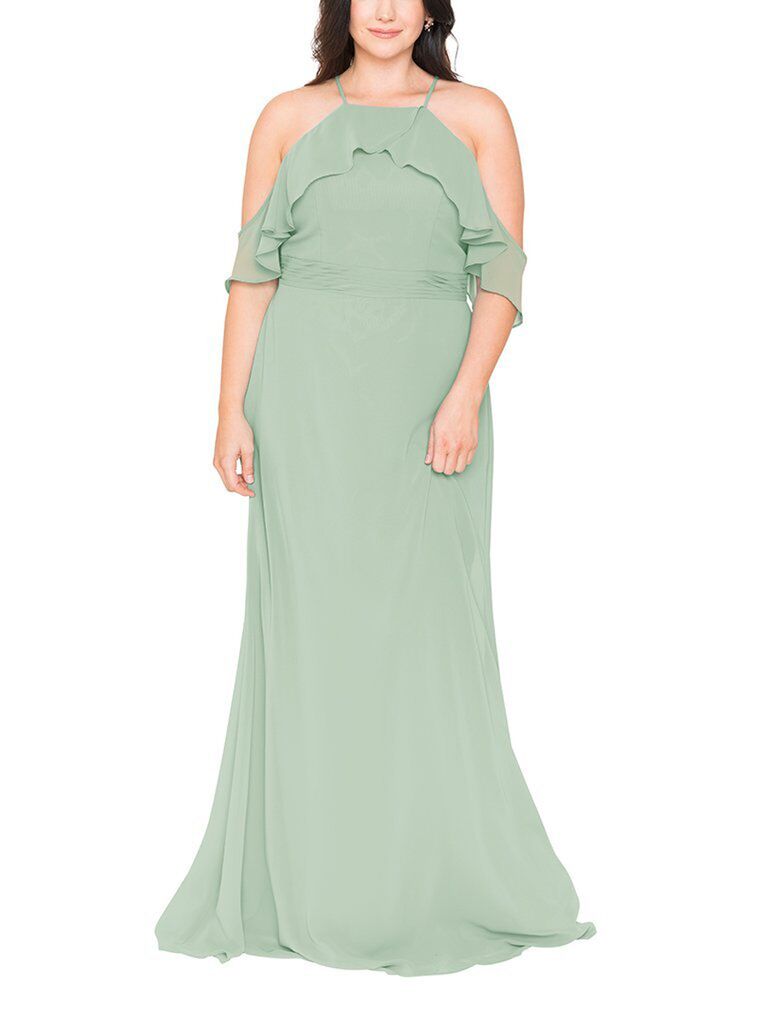 The world has warmed up to cold shoulders, aka sleeves with shoulder cut outs. This version of the trend features pretty ruffles that'll look lovely floating down the aisle.
Brideside Lupita bridesmaid dress, from $180, Brideside.com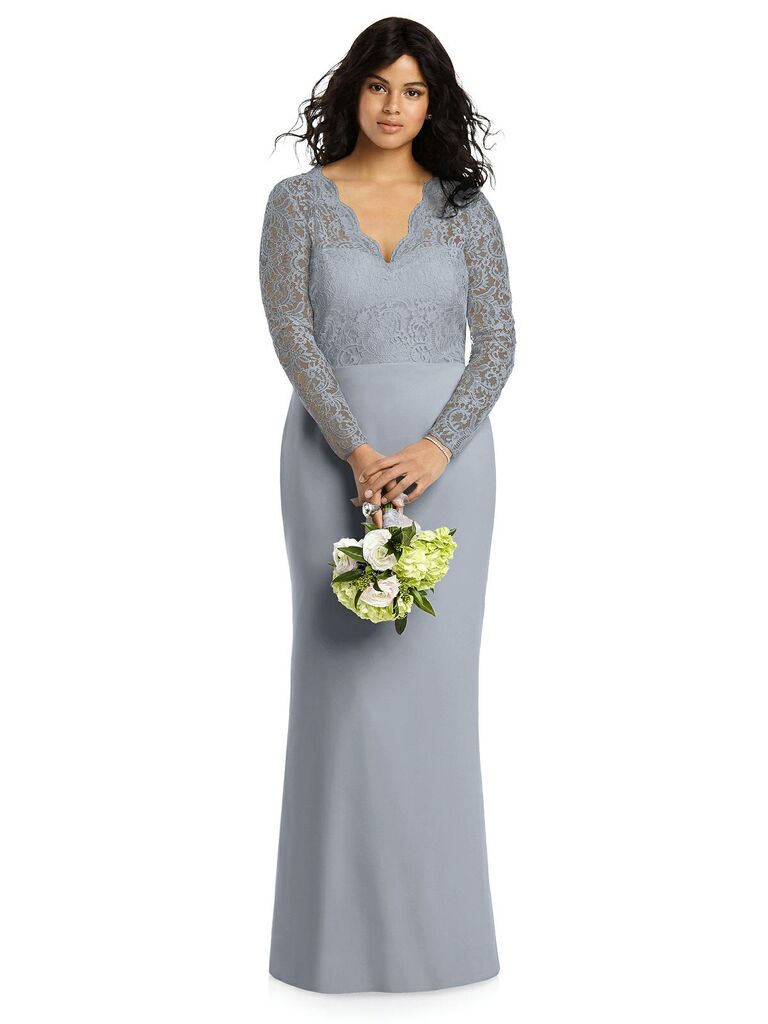 If you're still obsessed with Kate Middleton's wedding dress and all things lace, consider outfitting your 'maids in this royally elegant, long-sleeve gown.
Dessy Collection Style 3014 bridesmaid dress, from $278, Dessy.com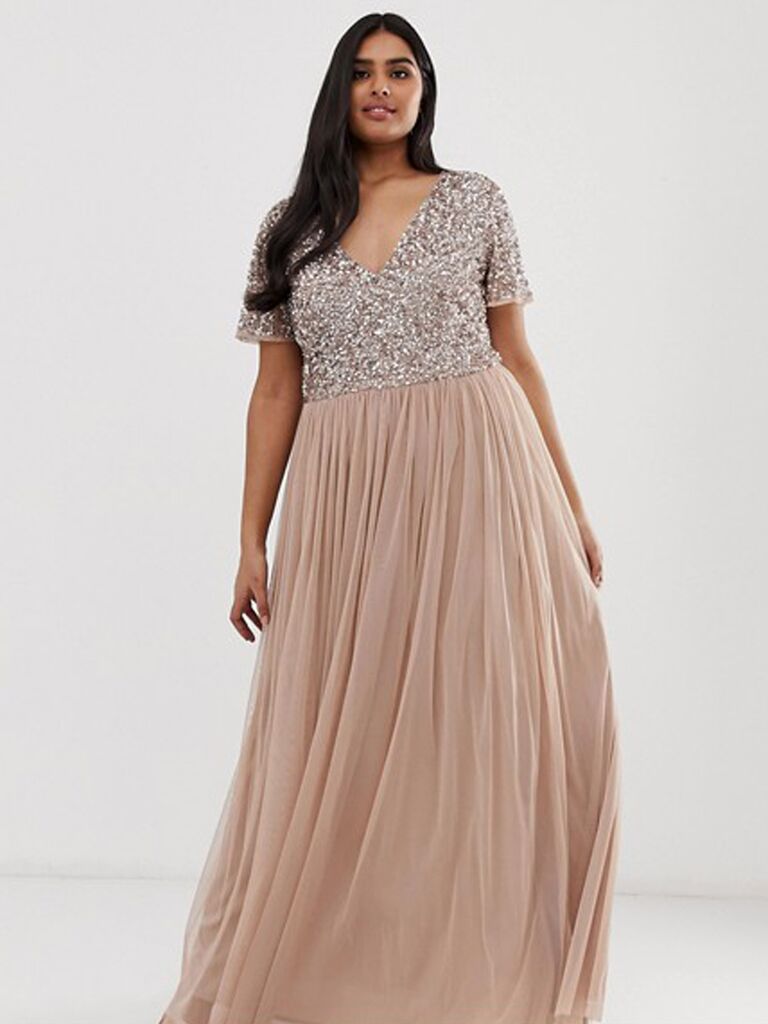 Searching for some sparkle instead? Say hello to this blush plus-size bridesmaid dress. The glam, short-sleeved bodice is bedazzled with sequins, while the long, flowy skirt beautifully softens the look.
Maya Plus bridesmaid v neck maxi tulle dress with tonal delicate sequins in Taupe Blush, $109, ASOS.com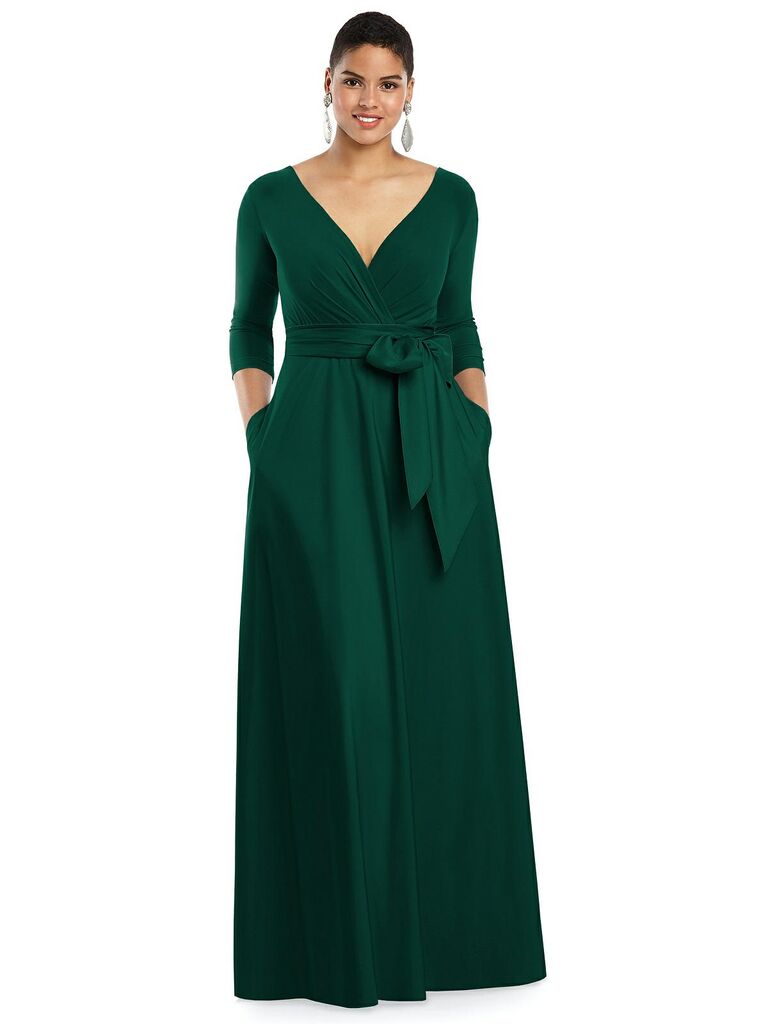 Here's another long-sleeved option. Bonus: This one has a cute waistline bow and pockets. Pockets!
Alfred Sung D736 bridesmaid dress, from $229, Dessy.com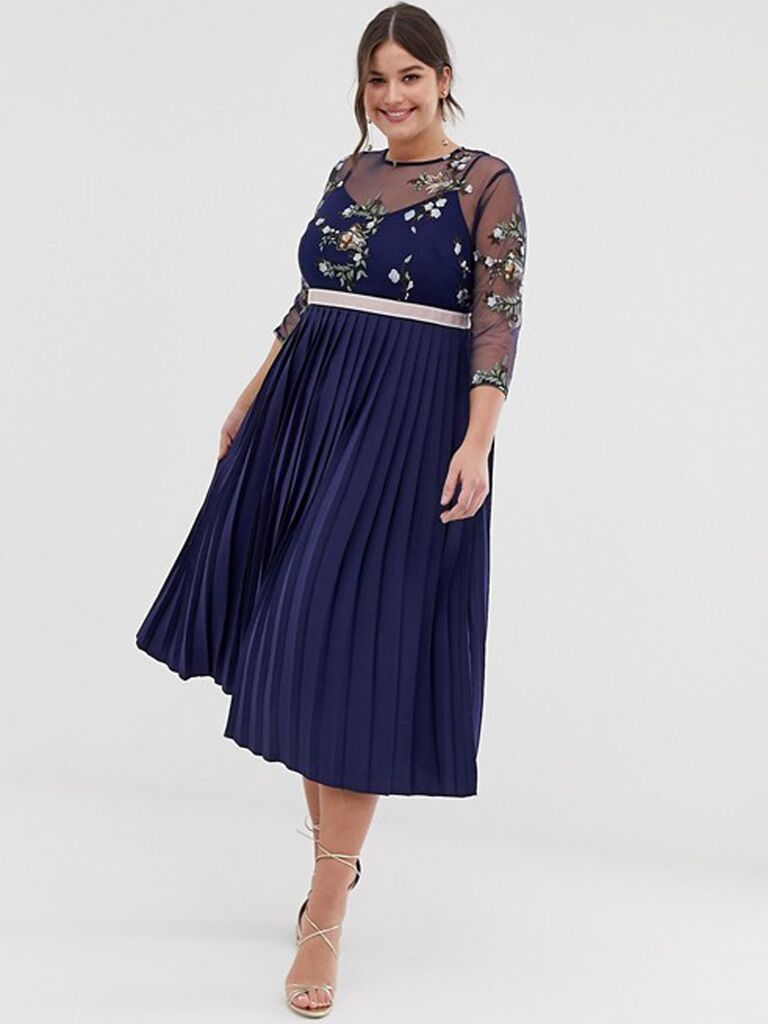 Throwing a garden wedding? Put this navy plus-size bridesmaid dress on your radar. We're swooning over the floral embroidery on the sheer three-quarter sleeves. (Honestly, have we ever met illusion details we didn't like?)
Little Mistress Plus embroidered top midi dress in Navy, $130, ASOS.com
Long Plus-Size Bridesmaid Dresses
Generally speaking, long bridesmaid dresses are more formal dresses. But fabric, embellishments and more best determine whether they'll suit your dress code. This roundup is full of long gowns in a wide array of styles, including the five below.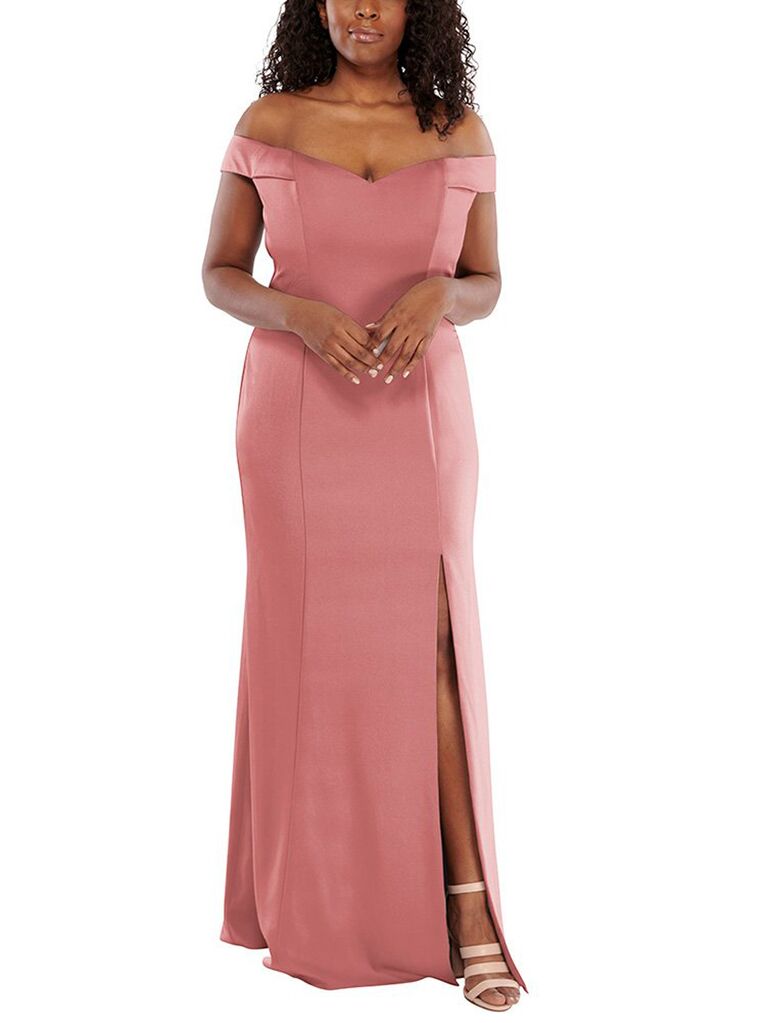 See, we promised we weren't done with sleeves. This fitted, off-the-shoulder number is as sophisticated as they get.
Aura by Brideside Thea bridesmaid dress, from $195, Brideside.com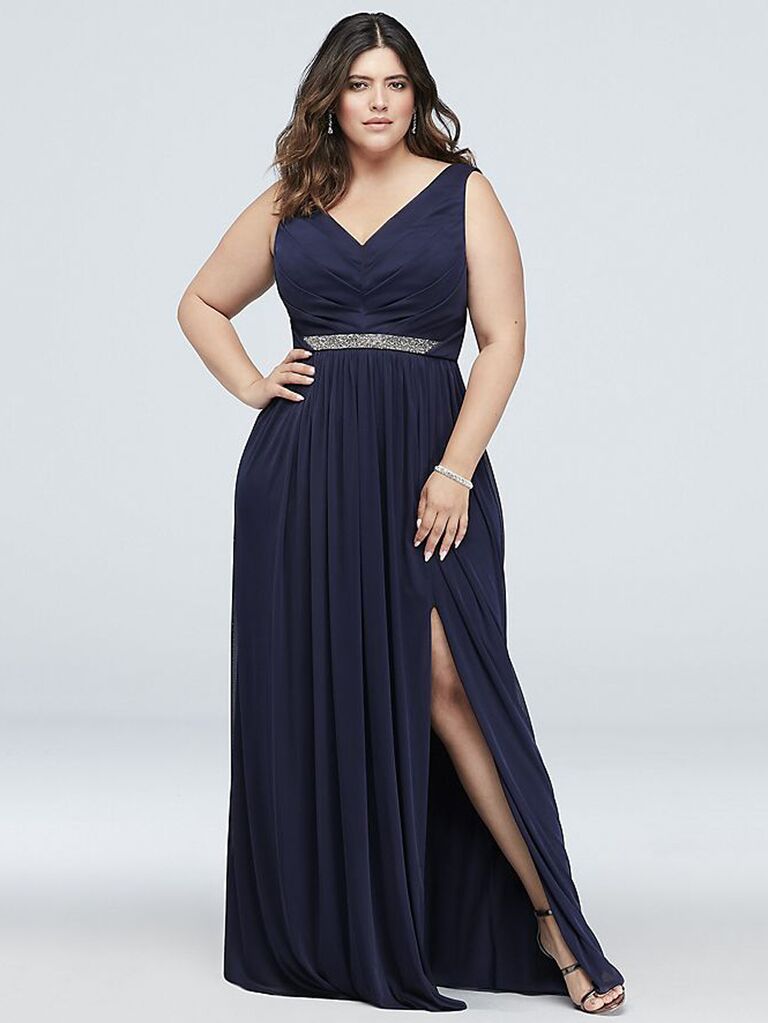 Why splurge on a bridesmaid belt when you can get a gown that comes with one? This embellished A-line style is a classic choice.
David's Bridal long mesh dress with V-neck and beaded waistband, from $180, DavidsBridal.com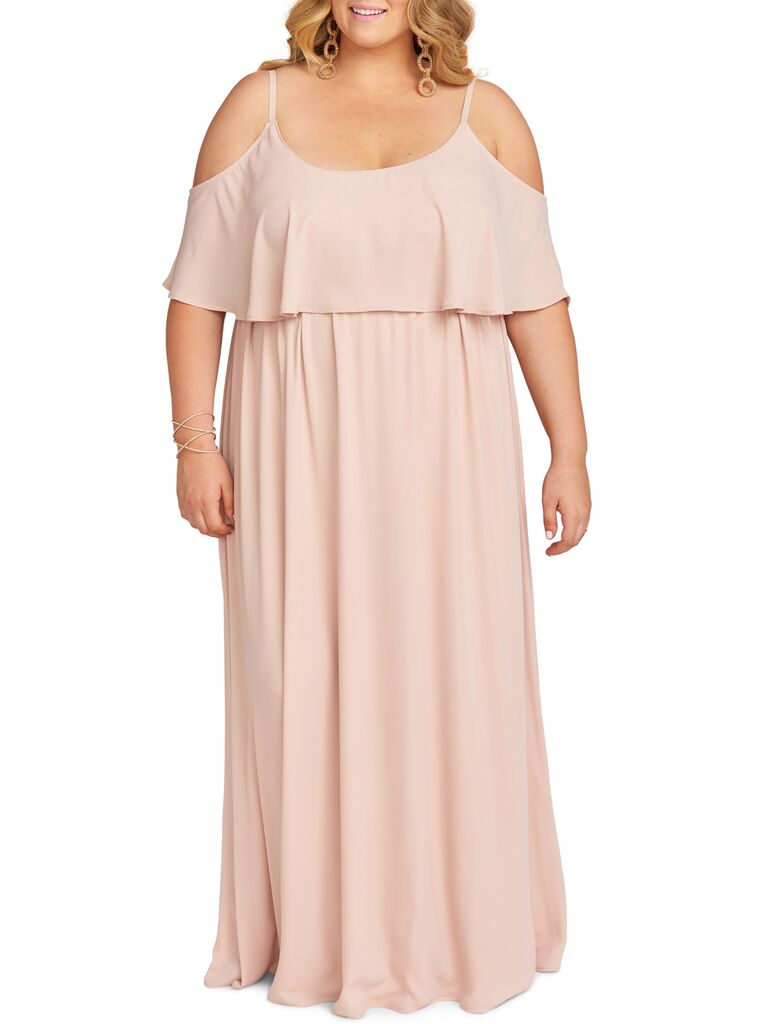 We aren't done with cold shoulders, either. This plus-size maxi is a more casual take on the long bridesmaid gown.
Show Me Your Mumu Caitlin ruffle cold shoulder evening dress, $172, Nordstrom.com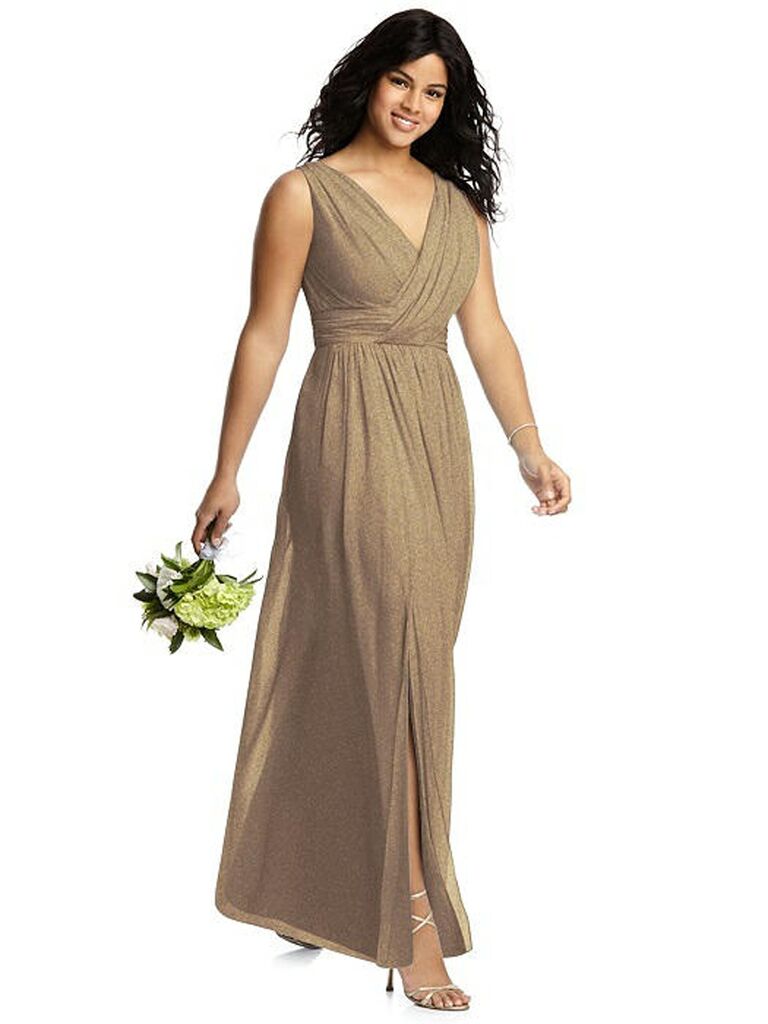 Want your 'maids to dazzle down the aisle? Order them all this shimmery frock with a Grecian-goddess silhouette. (We've also seen brides have their attendants alternate between sparkly and non-sparkly gowns for a cool mismatched look. But be forewarned: You may have a hard time telling some of your besties they can't wear this glittery stunner!) And if you're thinking more outside-the-box, there's even a similar jumpsuit style.
Dessy 2894LS shimmer bridesmaid dress, $294, from Dessy.com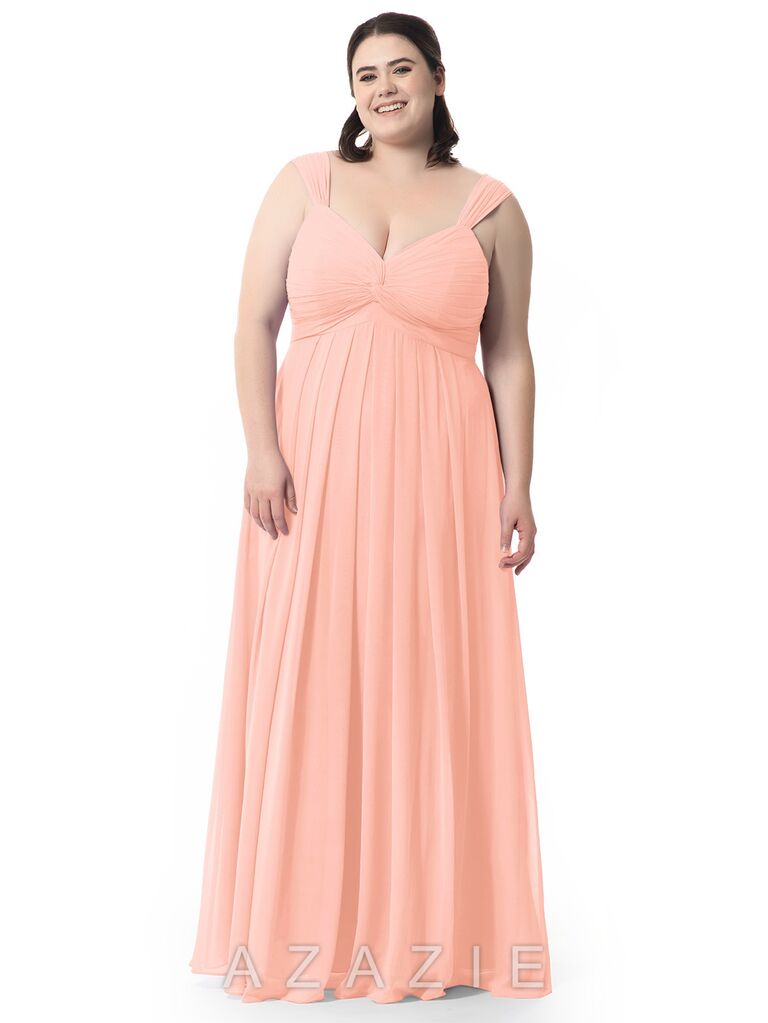 This romantic off-the-shoulder gown comes in multiple shades of the ultra-trendy color coral. (Pantone even named it the color of the year.) We're partial toward those, but you really can't go wrong with any of the dozens of hues available.
Azazie Kaitlynn bridesmaid dress, $119, Azazie.com  
Short Plus-Size Bridesmaid Dresses
Knee-length styles tend to be the most informal, but that's not a definite rule. You also have the option of tea-length or midi hemlines. Or, even more flexible, playful high-low styles. Here, find five short plus-size bridesmaid dresses we stand behind.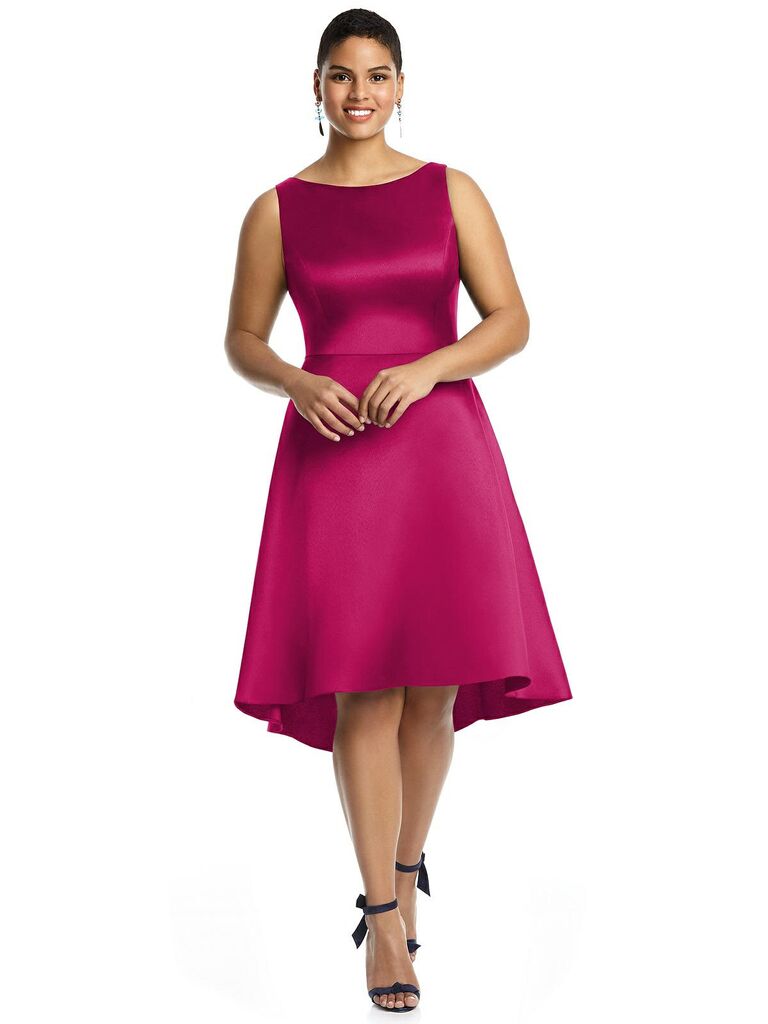 Hello, high-low! This high-neck gown has an asymmetrical hemline that'll look amazing as they walk down the aisle in it.
Alfred Sung D697 bridesmaid dress, from $208, Dessy.com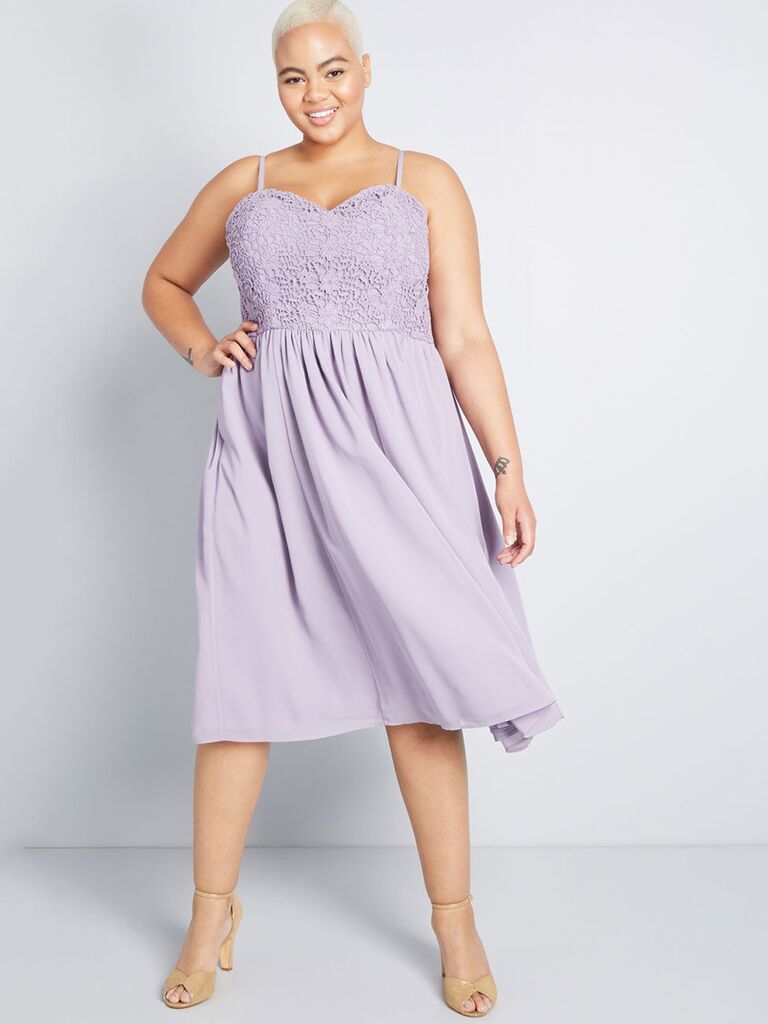 This short, plus-size bridesmaid dress has a sweet lace bodice and spaghetti straps ideal for warmer weather. It comes in two gorgeous hues: slate blue or lavender. It's also one of many affordable options under $150 in this roundup.
Modcloth Exceptional Attire A-line dress, $119, Modcloth.com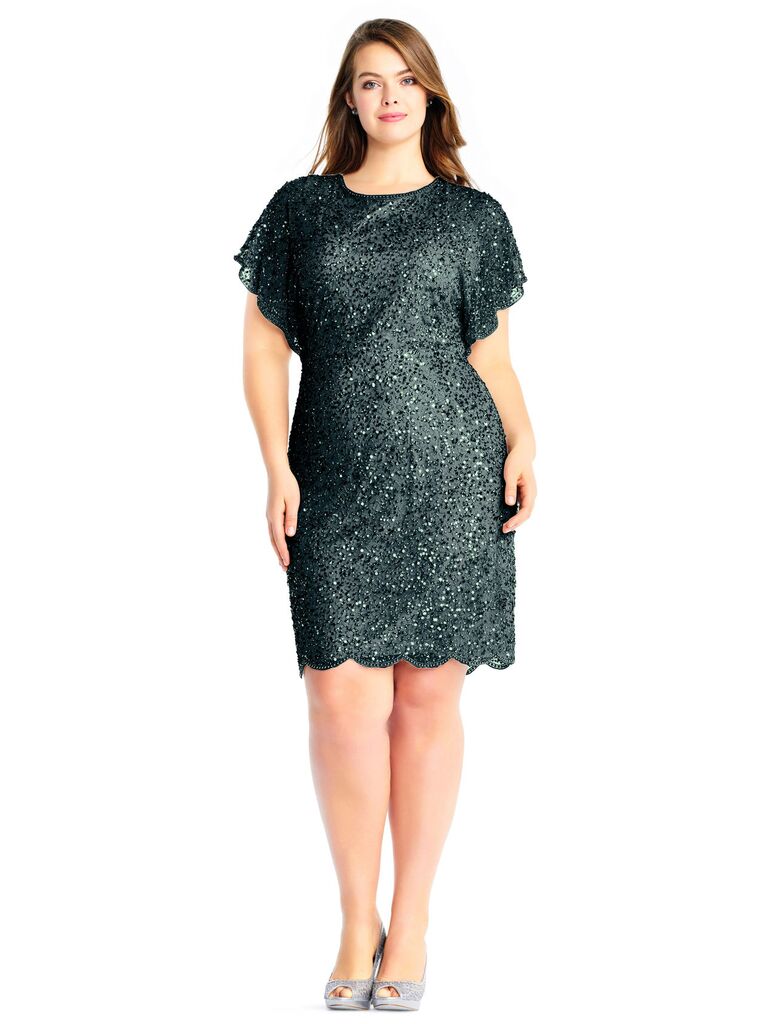 This sequin cocktail dress is totally appropriate for a fancy nighttime event. It comes in blush rose gold, rich emerald green and an ivory white—who says your 'maids can't wear white?
Adrianna Papell sequin beaded cocktail dress with flutter sleeves and scallop trim, $219, AdriannaPapell.com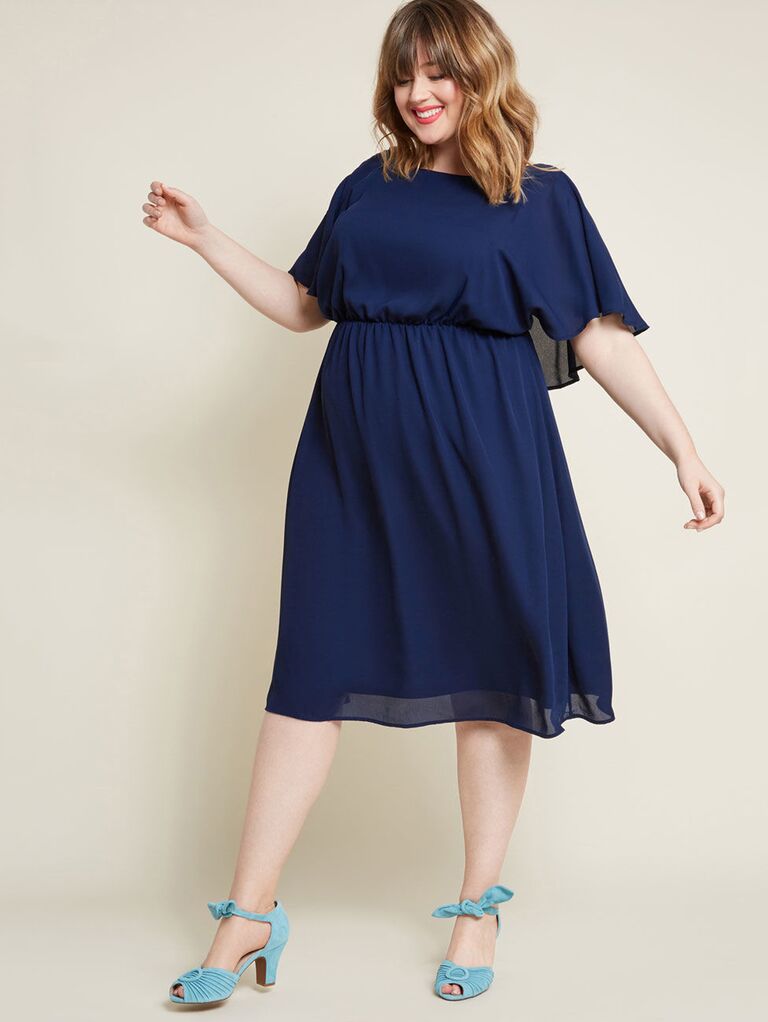 Navy is so timeless and versatile, which is why you'll see it a lot on this list. We like this short-sleeved, plus-size look for a nautical celebration. Don't miss the affordable price, either—it's under $100.
Modcloth Stated Sophistication midi dress in Navy, $79, Modcloth.com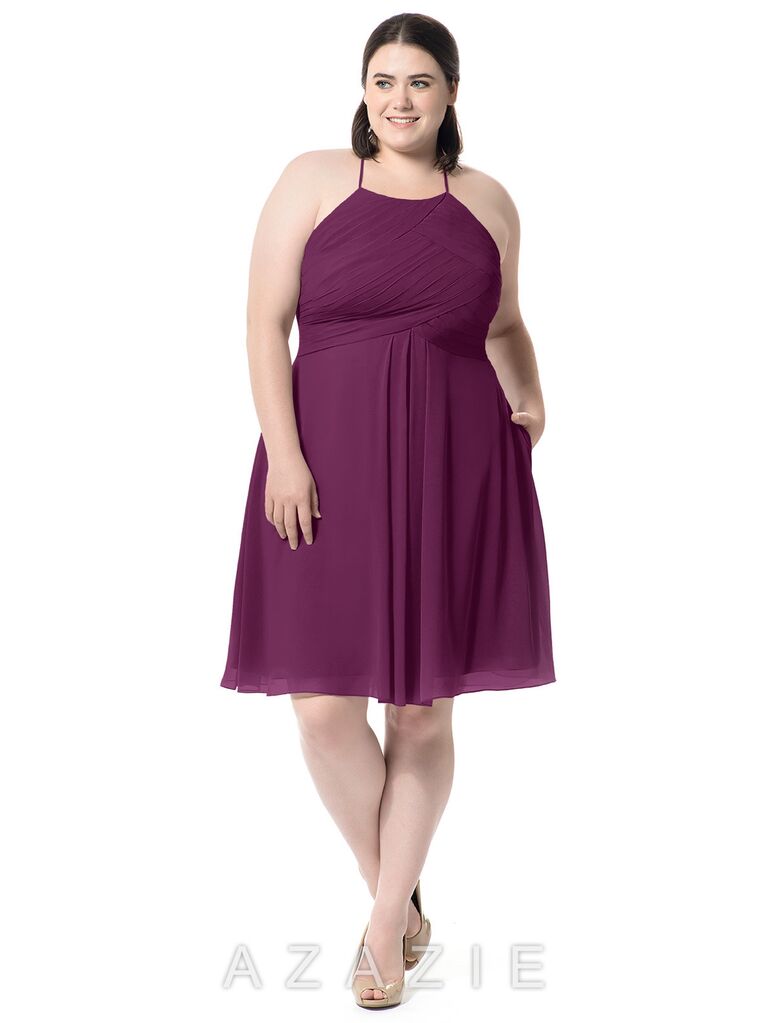 More pockets, wahoo! This short bridesmaid dress has a fashionable pleated bodice. And it's under $100 too. Talk about a win-win.
Azazie Adriana bridesmaid dress, $99, Azazie.com
Plus-Size Bridesmaid Dresses by Popular Color
Below, you'll find four of the most popular bridesmaid dress colors. Don't see a shade that suits your wedding's palette? Don't worry. Most of the styles ahead come in many, many more shades to choose from. Just click on their links to see additional color options.
Black Plus-Size Bridesmaid Dresses
Black is having a moment, especially as couples continue to make tradition. The color contrasts stunningly against white bridal attire. But even if no one is wearing white, it can look utterly elevated (or utterly cool). Without further ado, five black plus-size frocks we love.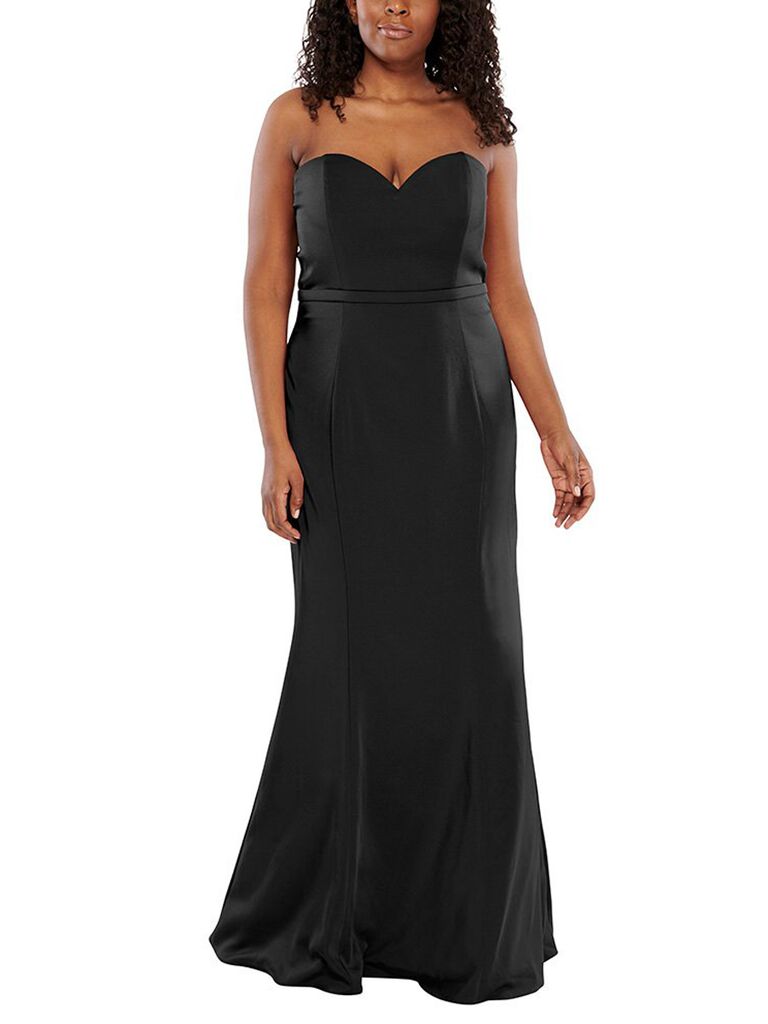 This strapless fit-to-flare bridesmaid dress defines sophisticated.
Aura by Brideside Rhea bridesmaid dress in Black, from $195, Brideside.com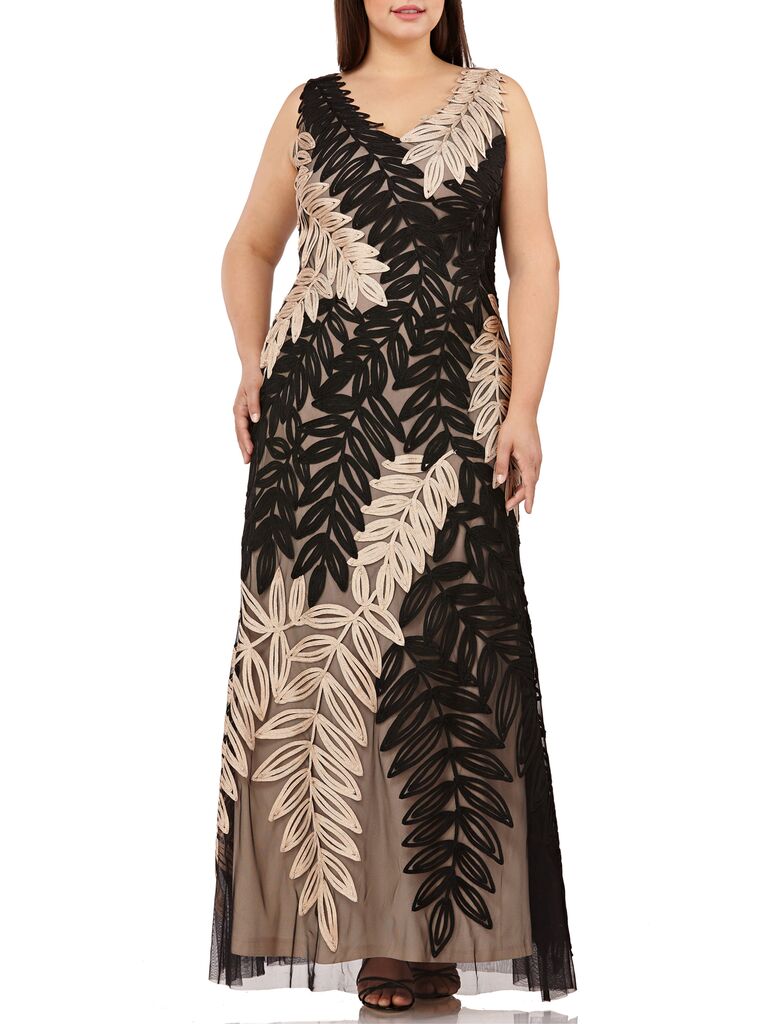 The dresses you pick don't have to be all black to embrace the color's elegance. This floral-embroidered plus-size evening gown is accented with gold.
JS Collections two-tone embroidered leaf gown in Black/Gold, $358, Nordstrom.com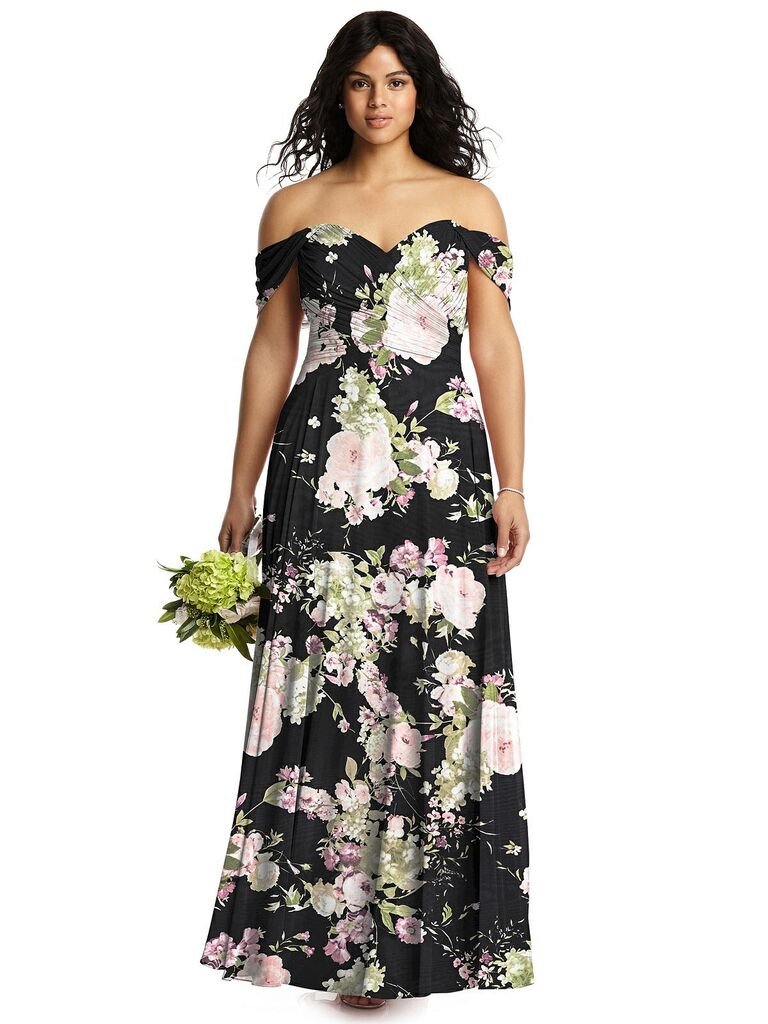 Here's more proof that black patterns are fair game. This moody, ethereal gown is printed with pink, white and green blooms. It's got "enchanted garden" wedding written all over it.
Dessy Collection Style 2970 bridesmaid dress in Noir Garden, from $284, Dessy.com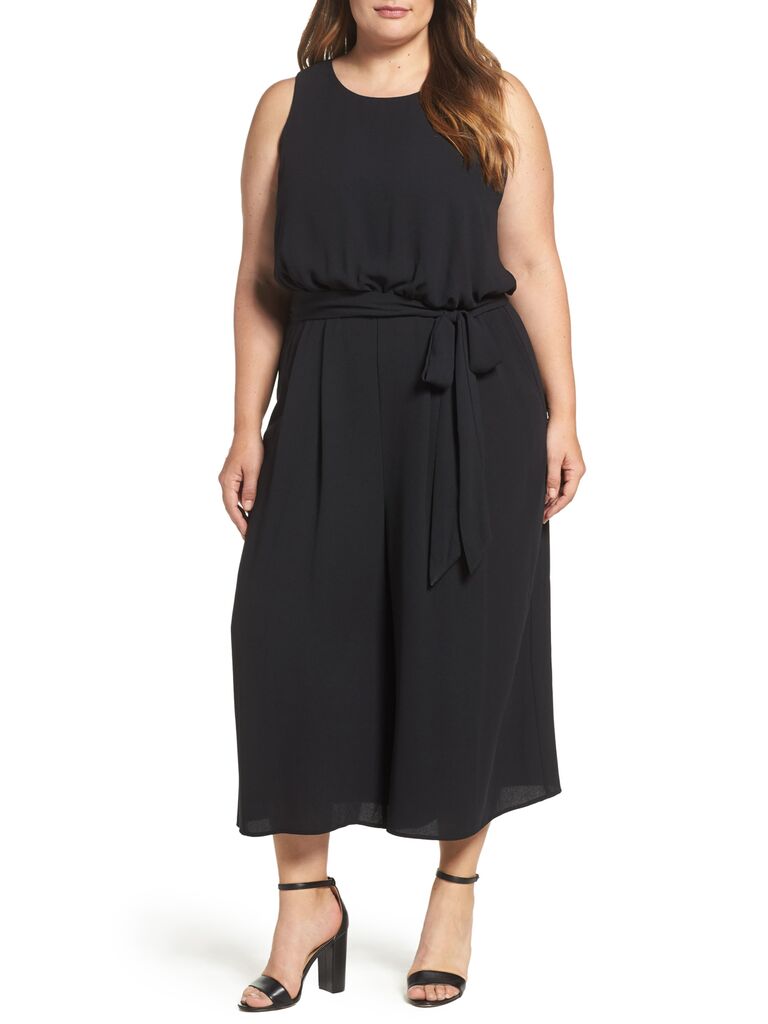 While we're talking about unique bridesmaid attire, remember: skirts aren't required. Get a hold of this casual-cool plus-size jumpsuit that works as a bridesmaid dress alternative. We stan a bridal party in pants—or a mix of pants and skirts, for that matter.
Vince Camuto Moss crepe wide leg crop jumpsuit in Black, $138, Nordstrom.com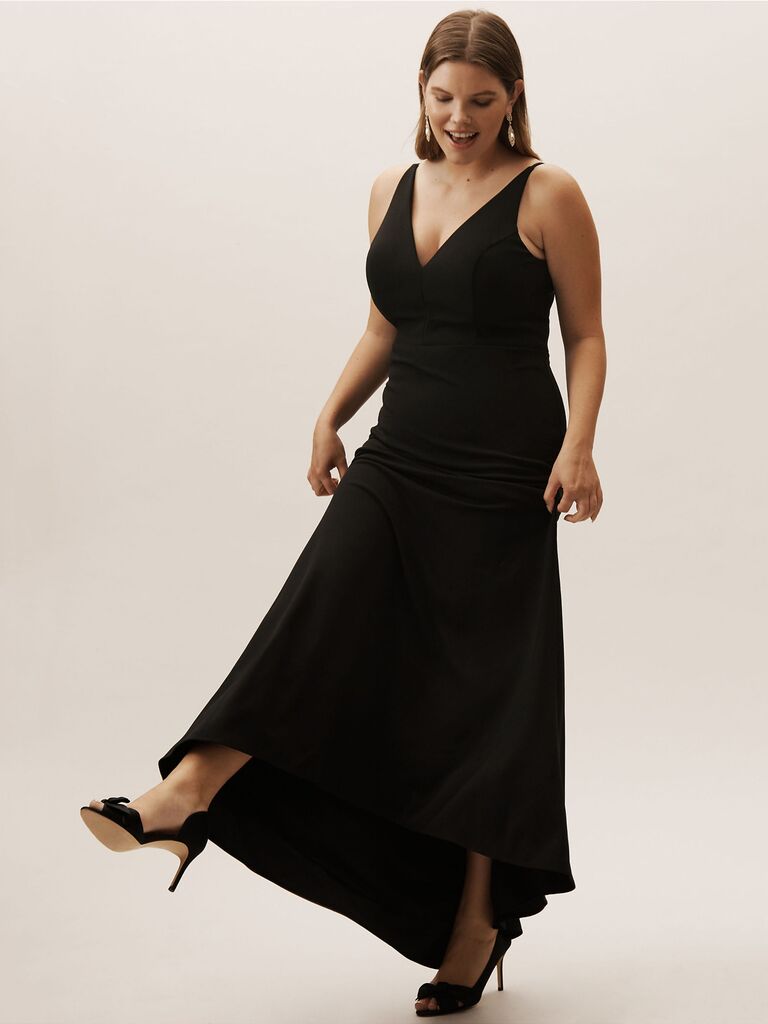 This feel-good stunner is oh-so sleek and sultry. It's also stretchy for added comfort.
BHLDN Jones dress in Black, $198, BHLDN.com
Blue Plus-Size Bridesmaid Dresses
You don't have to be exchanging vows by the sea to take advantage of these blue plus-size bridesmaid dresses. In fact, some of the natural hues featured would absolutely stun in a clear-skies mountain setting. Or indoors, if that's your style.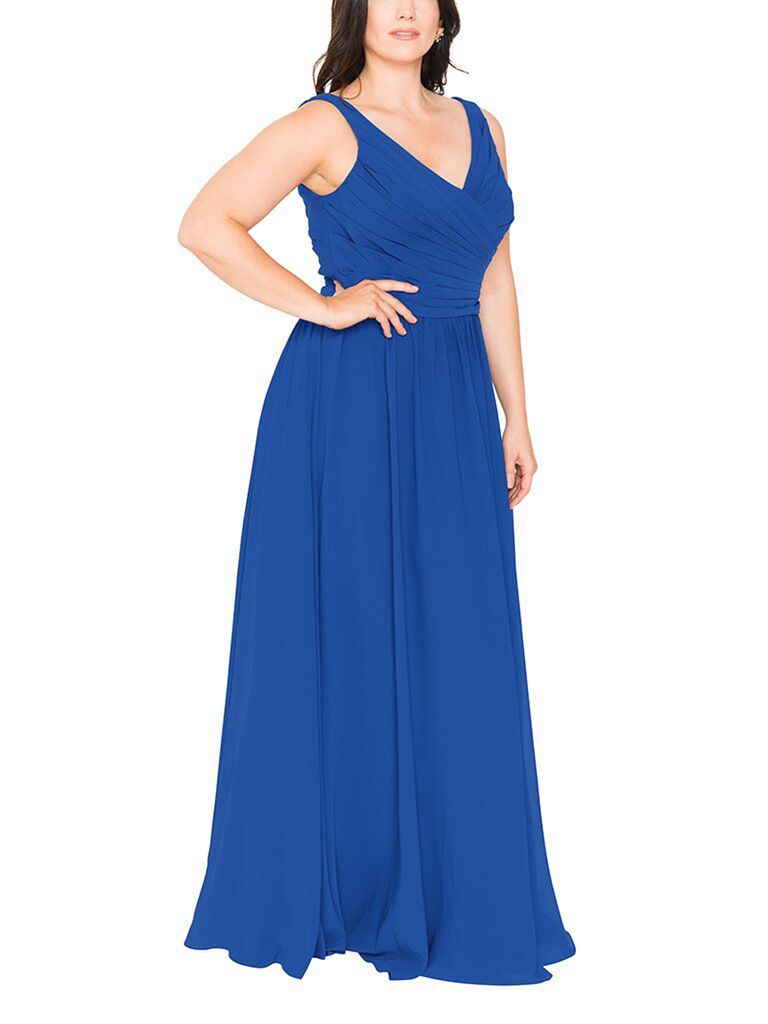 Royal blue is a beloved hue, so we had to include this classic royal blue bridesmaid dress.
Brideside Blair bridesmaid dress in Blueberry, from $180, Brideside.com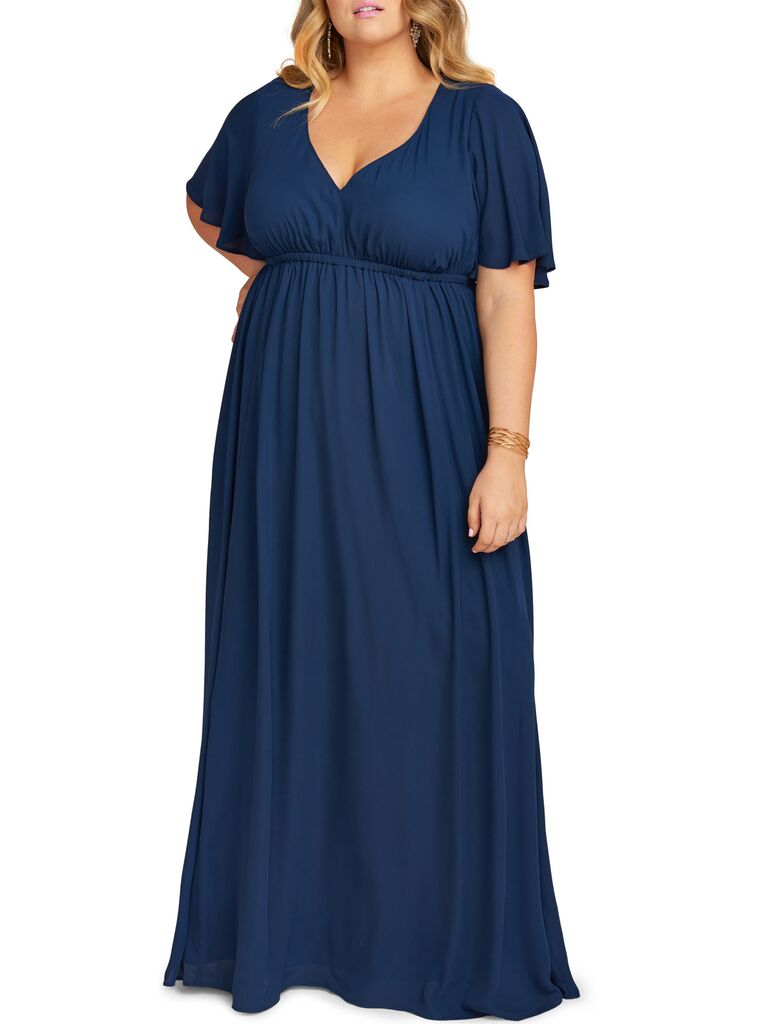 This dark blue, plus-size frock has darling flutter sleeves and a fashionable V-neck too.
Show Me Your Mumu Emily evening dress in Rich Navy Crisp, $198, Nordstrom.com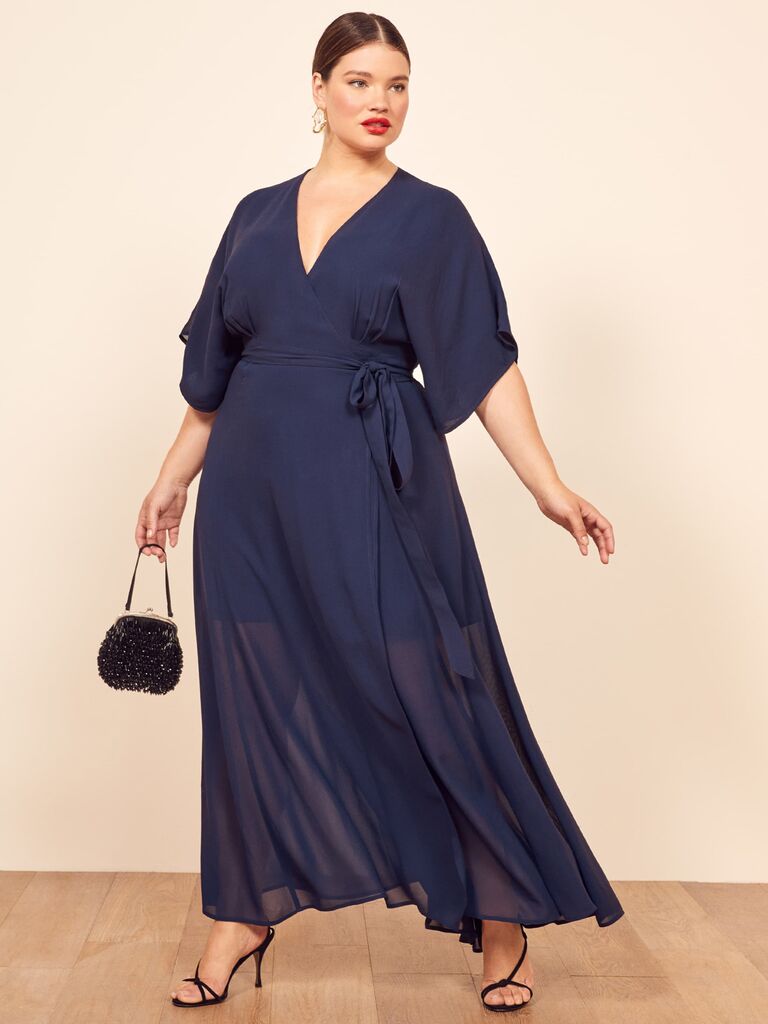 A sheer maxi overlay takes this navy, wrap, plus-size mini dress from "out on the town" to "ready for the 'I Do's." (Not your taste? It also comes in a blush-like shade of champagne.)
Reformation Winslow dress in Navy, $268, Reformation.com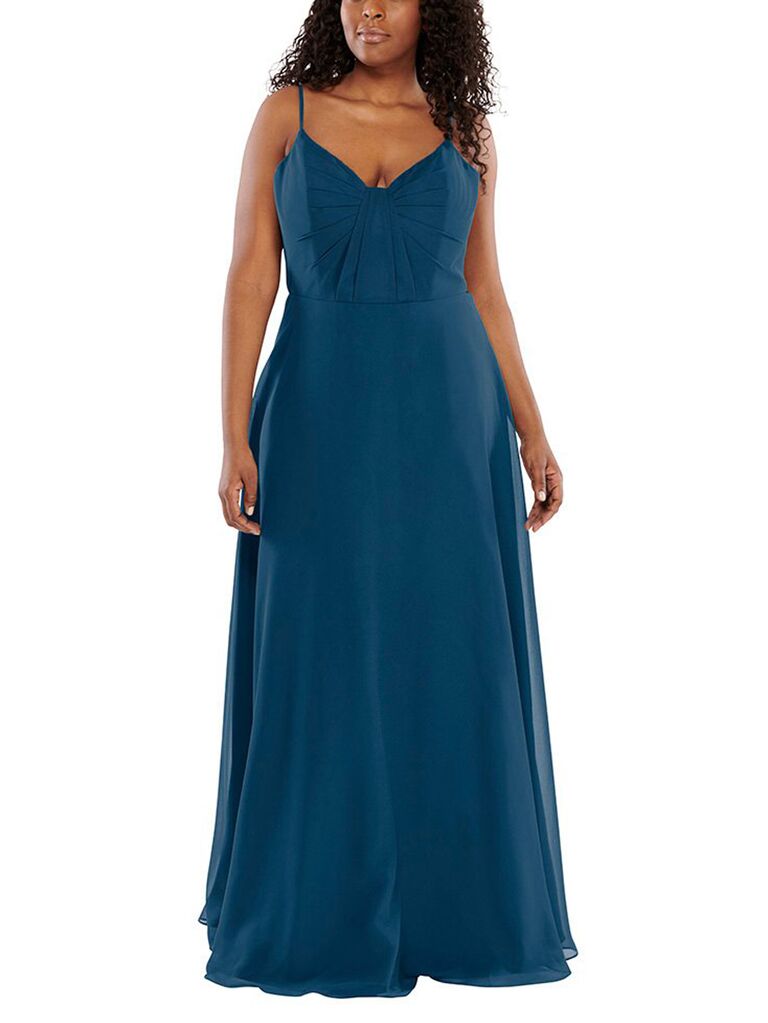 There are tons of stunning shades of blue, including this aquatic hue. Other notable features include the gathered bodice and back bow.
Aura by Brideside Stella bridesmaid dress in Marine Blue, from $180, Brideside.com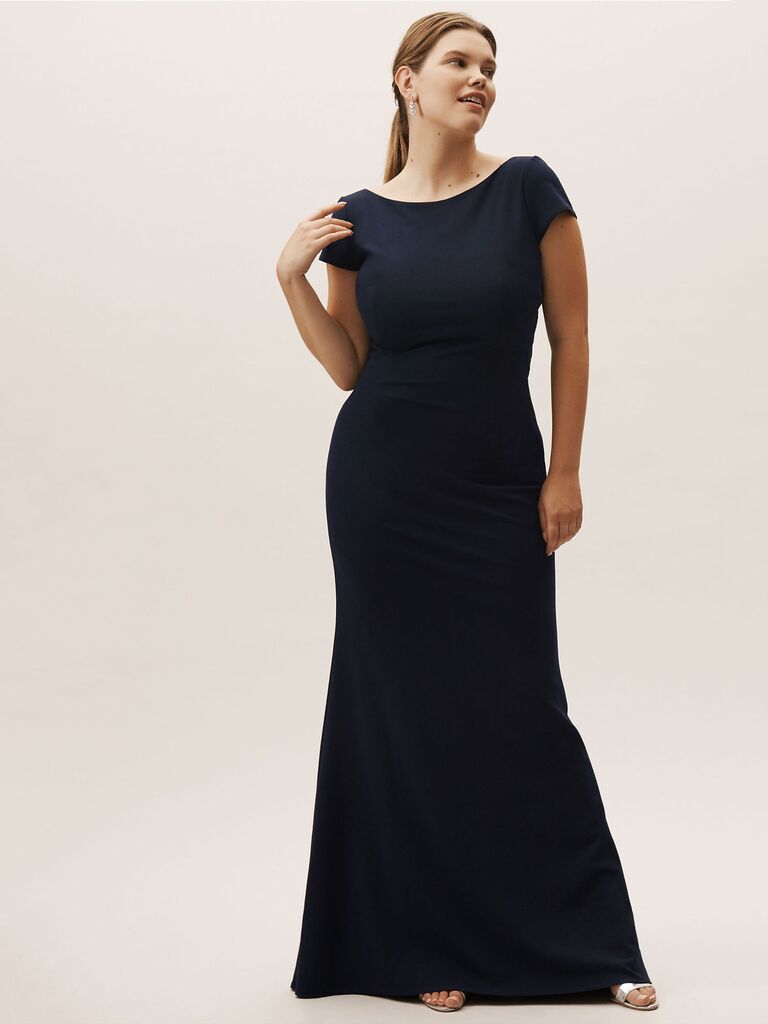 Maybe Meghan Markle is your style soulmate. If that's the case, outfit your bridesmaids in this navy boat-neck gown.
BHLDN Madison dress in Navy, $280, BHLDN.com
Purple Plus-Size Bridesmaid Dresses
We shopped online for purple plus-size bridesmaid dresses in all the best shades, from dreamy floral hues like lavender to rich fruity shades like plum. So, expect to find options for every season, below.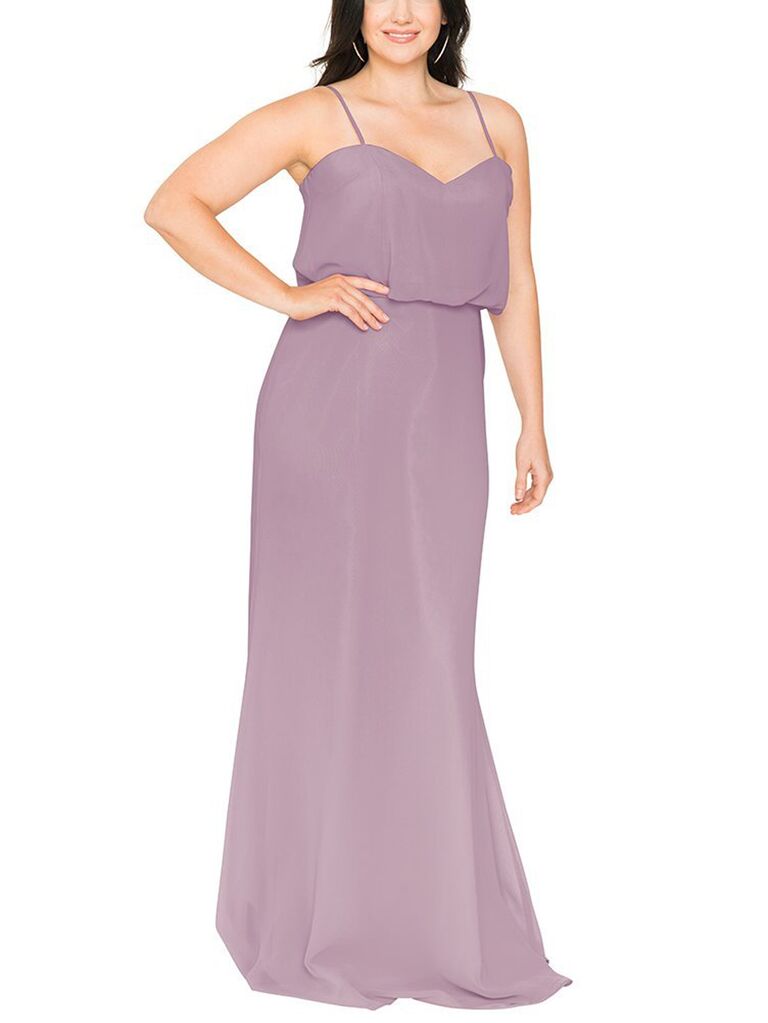 This dusty purple bridesmaid dress has simple spaghetti straps and a blouson bodice that combine for a fun silhouette.
Brideside Penelope bridesmaid dress in Macaron, from $180, Brideside.com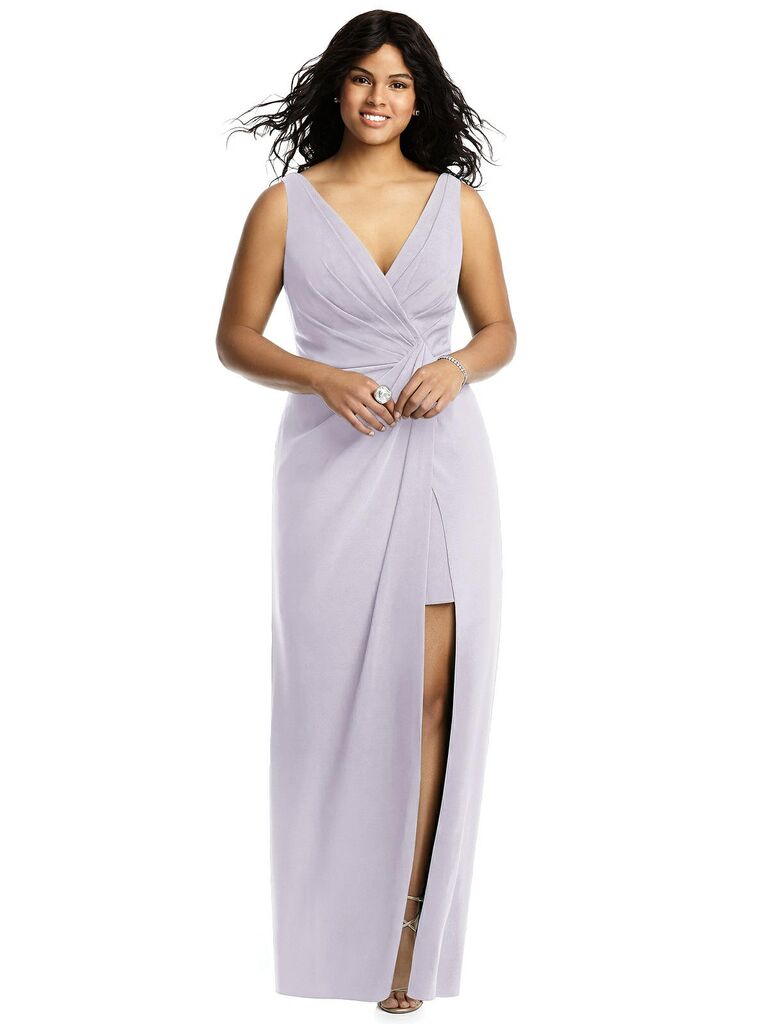 Here's an icy purple number with a hint of shine, making it uniquely suited for early spring.
Jenny Packham JP1013 bridesmaid dress in Moondance, from $268, Dessy.com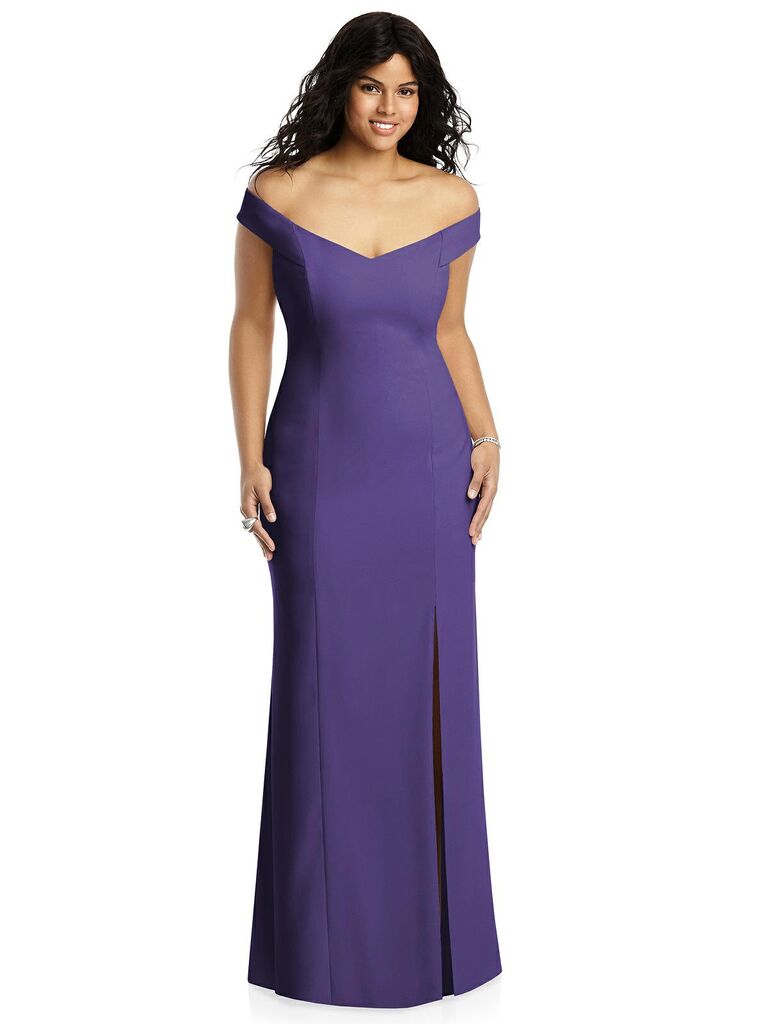 Love all of Pantone's spotlight shades? This dramatic off-the-shoulder gown comes in the brand's 2018 Color of the Year: "Ultra Violet."
Dessy Collection Style 3012 bridesmaid dress in Regalia, PANTONE Ultra Violet, from $257, Dessy.com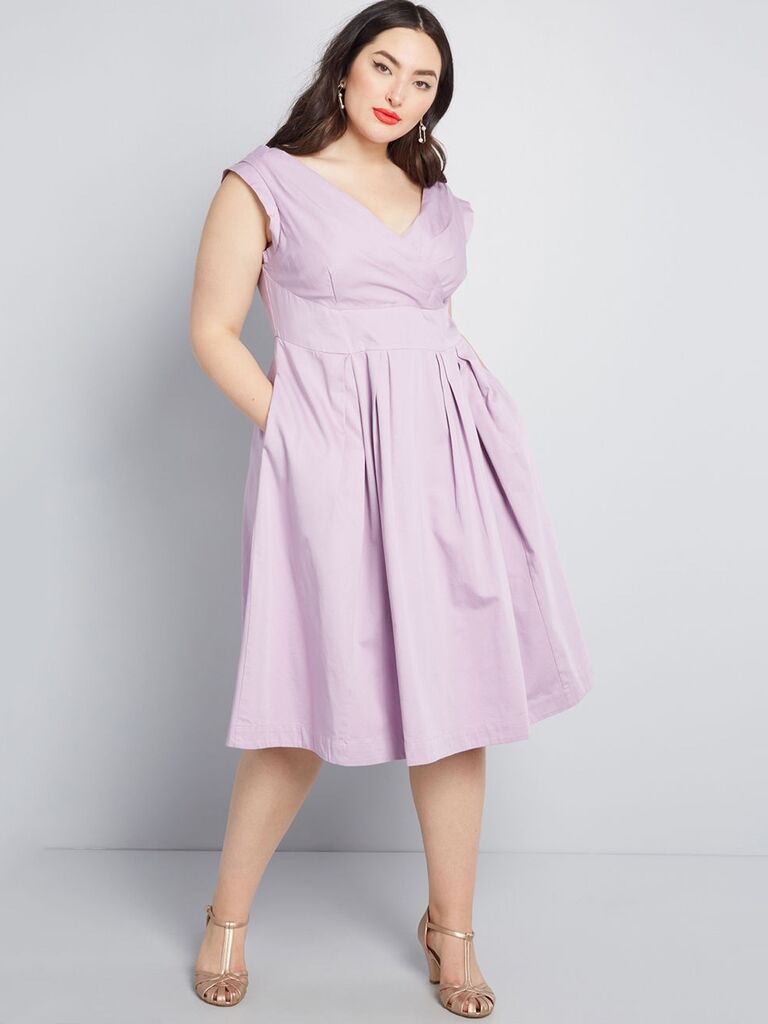 This purple plus-size number is perfectly retro, thanks to the short skirt and gathered fabric.
Modcloth x Emily and Fin Keener Postures A-line dress in Lavender, $139, Modcloth.com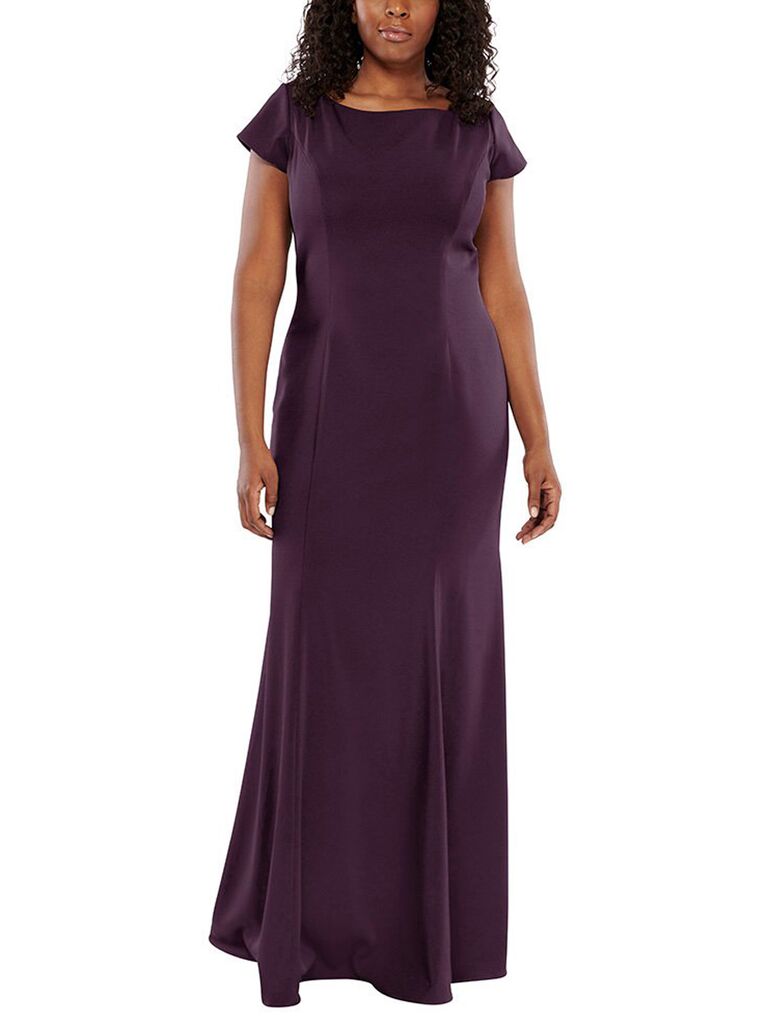 This berry-colored, short-sleeve gown was made for fall and winter weddings.
Aura by Brideside Elara bridesmaid dress in Aubergine, from $195, Brideside.com
Red Plus-Size Bridesmaid Dresses
Are you more into deep burgundy or firey red? Whatever your answer, you'll be pleased with the assortment of red plus-size bridesmaid dresses below.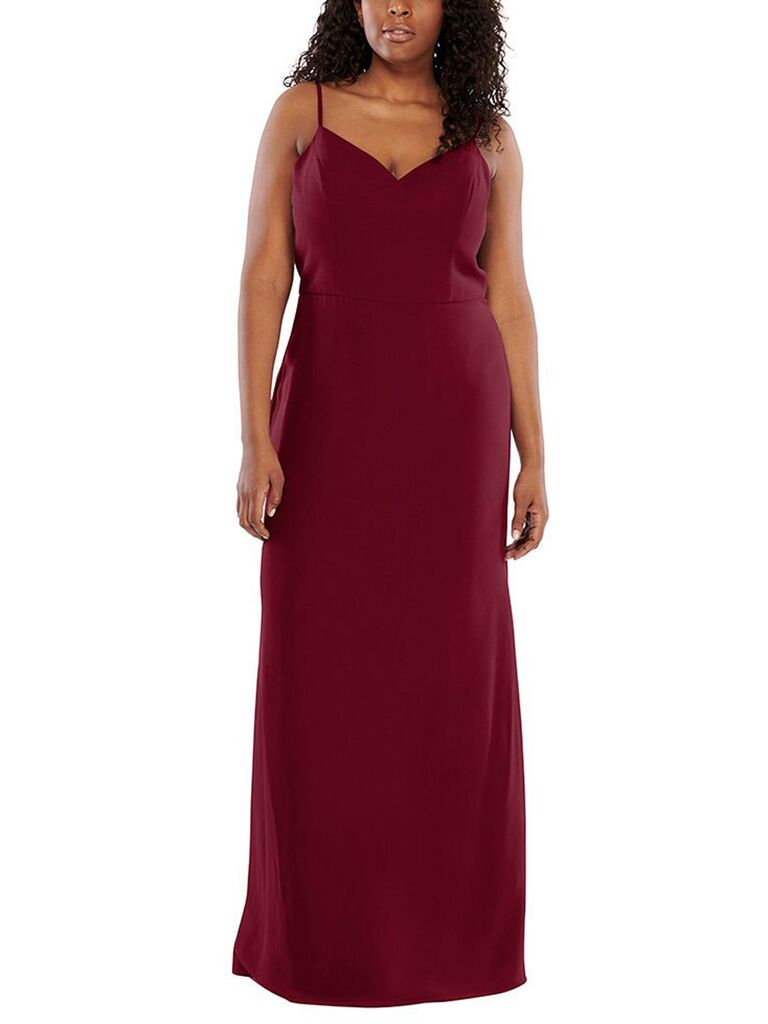 Why stop at a V-neck when you can have a V-back too? This burgundy, spaghetti-strap bridesmaid dress boasts both.
Aura by Brideside Halley bridesmaid dress in Burgundy, from $180, Brideside.com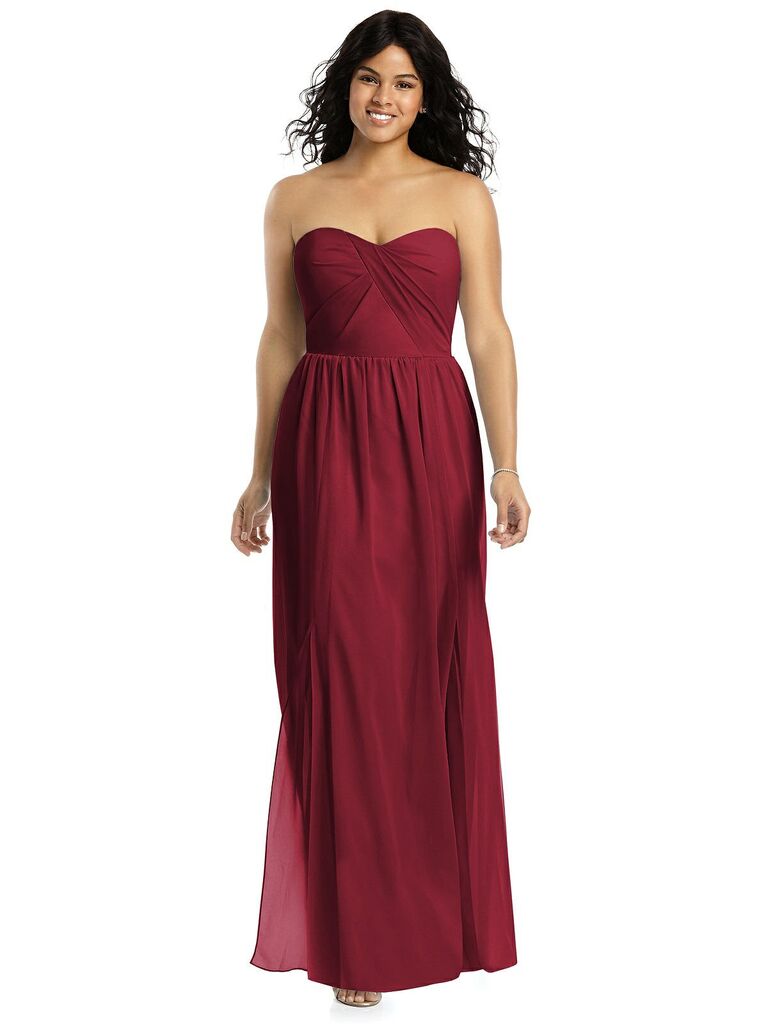 Timeless silhouette, meet timeless color. This gown pairs a strapless shape with a rich ruby red for a look your crew won't be embarrassed of in 20 years.
Social Bridesmaids 8159 dress in Claret, from $208, Dessy.com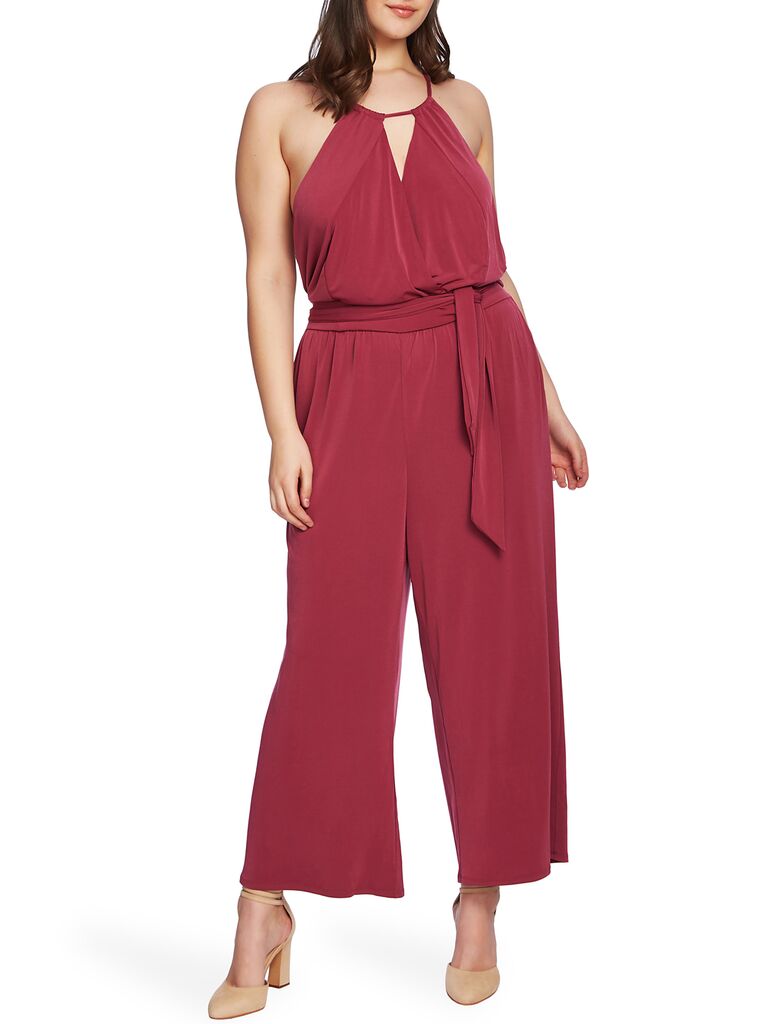 We wanted to give one final reminder that bridesmaid jumpsuits are A-okay. Honestly, they're downright awesome (and probably much more comfortable on the dance floor). This one comes in a pretty berry shade that doesn't look too trendy. We bet your 'maids will love wearing this plus-size number again.
1.STATE halter neck jumpsuit in Berry Charm, $119, Nordstrom.com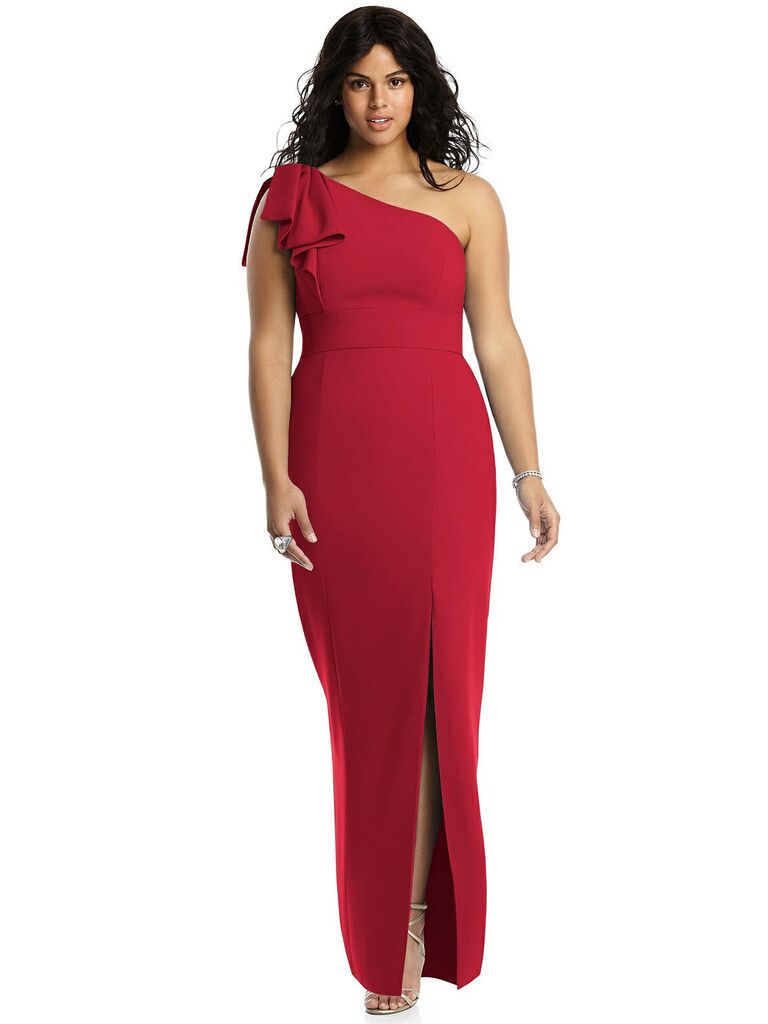 This saturated shade of red is called "Flame" and we can see why: Your bridesmaids will look hot, hot, hot in this one-shoulder garment with ruffled accents.
After Six 6769 bridesmaid dress in Flame, from $263, Dessy.com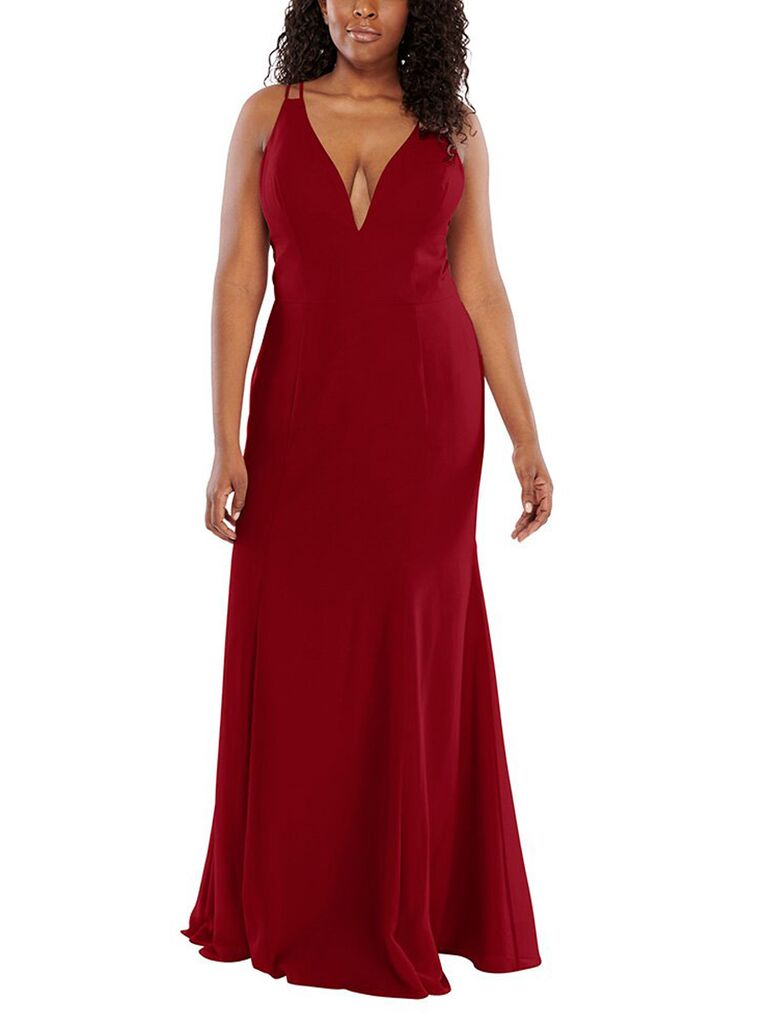 Clearly, gemstones are incredible sources of color palette inspiration. This garnet shade is breathtaking. We're also into the sleeveless neckline and strappy back.
Aura by Brideside Gemini bridesmaid dress in Garnet, from $180, Brideside.com
For more beautiful bridesmaid dresses, visit your local bridal retailer or browse our fashion pages.
Disclosure: This post contains affiliate links, some of which may be sponsored by paying vendors.