32 Plus-Size Bridesmaid Dresses for Every Budget and Style
From long sleeves to budget-friendly finds, these plus-size dresses are made to wow.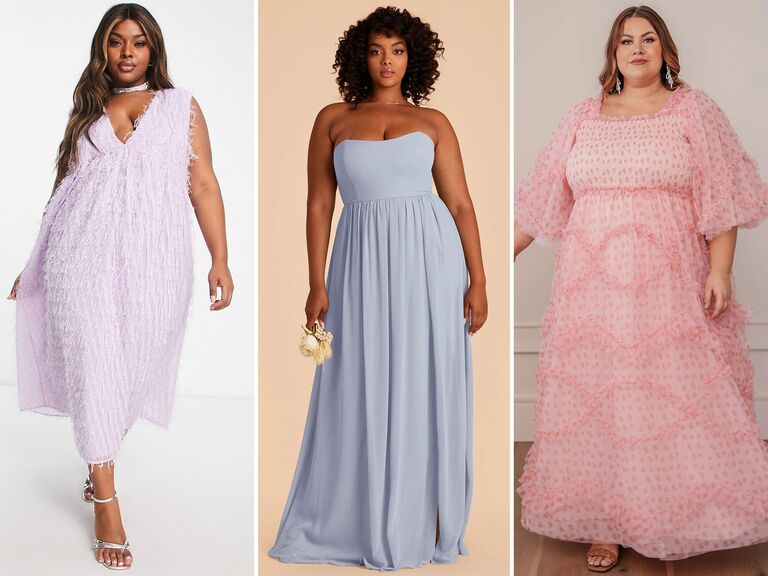 We have included third party products to help you navigate and enjoy life's biggest moments. Purchases made through links on this page may earn us a commission.
As a bridesmaid, you deserve a dress that embraces your beautiful body and reflects your style. With so many stunning plus-size bridesmaid dress options available on the market, finding the right one for you can feel overwhelming at first. That's where we come in: between floor-length formal gowns and midi slip dresses, there is an ideal style for you.
To help narrow down your search, we curated a list of plus-size dresses from trusted retailers who keep size inclusivity top of mind. Scroll down to learn about dress shopping from the experts, along with our list of the best plus-size bridesmaid dresses that fit every style and budget.
In this article:
Expert Advice: What to Look for in Plus-Size Bridesmaid Dresses
To help make finding a plus-size bridesmaid dress easier, we tapped CEO and founder of Birdy Grey, Grace Lee, who offered her expert advice on everything you need to know when finding your perfect fit. "When shopping for a bridesmaid dress, you want to spotlight your favorite assets—whether you're a size 2 or a size 14," says Lee. "But curvy women might have a unique set of challenges, like making sure straps are supportive enough for their bust or finding a curve-hugging style that's actually comfortable to wear all night."
Below are some of Lee's tips and tricks to help you find the dress that highlights your lovely silhouette, shows off your favorite features, and makes you feel beautiful.
Focus on Silhouette: "When shopping for plus-size bridesmaid dresses online, look for styles that show off your shape," Lee recommends. "They highlight the waist and gently flow around the rest of the body for a dreamy effect. Our Hannah Dress is a great option because the silhouette complements curves and it has beautiful flutter sleeves for arm coverage that still allow tons of movement."
Consider Different Fabrics: "Choose fabric that's not too clingy so you can feel comfortable all day—and night! Our chiffon drapes beautifully along the body, giving a pretty shape but still offering space to breathe. If you're looking for something more form-fitting to show off those sexy curves, opt for something that isn't going to feel too constricting, like crepe or velvet."
Don't Forget the Neckline: "Try dresses that will elongate your torso and neck. V-necks, sweetheart necklines, and scoop necklines will all lengthen your upper body and accentuate your lovely bust. The Devin Dress and the Jane Dress are two options that have a cold-shoulder for those that prefer a little arm coverage, but the Grace Convertible Dress and the Amy Dress are great options too!"
Look for Reinforcements: "Look for dresses with thicker straps," says Lee. "If you need some extra support for your bust, a dress with bigger straps (or sleeves) will hide any bra straps so you can sit, stand, and dance the night away without worry."
Wear What Makes You Feel Confident: "Wear what makes you feel most beautiful; look back on pictures where you felt your best, or go through your closet and find the dresses that you love the most. What do they have in common? Do they accentuate your bust, or cinch in at the waist? Do they hug your curves or flow out around you? All of this information can help you choose your bridesmaid dress."
Find Inspiration and Support: "Look at pictures and reviews to double check your choice," Lee tells us. "When you're shopping online, it's tough to know what the dress will look like IRL. We're lucky to have an active Birdy Grey community online, and I recommend using that to your advantage. Scroll through our Instagram and TikTok to see what different styles and colors look like on different bodies. And if you don't see what you're looking for, send us a note—we're here to help!"
Where to Buy Plus-Size Bridesmaids Dresses
Nowadays, there are more plus-size bridesmaid dress options than ever before. To make shopping online a breeze, we've curated a list of a few beloved size-inclusive retailers that have dress options for all shapes and sizes:
Our Favorite Plus-Size Bridesmaid Dress Picks for 2023 Weddings
1. Amsale Pryce Off-the-Shoulder Column Dress in Dark Green
Size Range: 0-16W
Dark green bridesmaid dresses have been one of the most popular colors for fall weddings in recent years. The rich hue looks great on all skin tones, and the one-shoulder neckline and column silhouette will draw attention to all the right places.
2. JessaKae Isla Dress in Dusty Blue
Size Range: XXS-6X
Love ruffles? If so, consider this dusty blue plus-size bridesmaid dress with fluttery sleeves. This sweet, feminine number was just made to be worn to an English garden party-inspired wedding.
3. Birdy Grey August Convertible Dress in Dusty Blue
Size Range: XS-3X
One dress, multiple styles. This flowy gown comes with both removable straps and detachable sleeves, meaning you can choose to wear it strapless, with spaghetti straps or simply off-the-shoulder.
4. ASOS Anaya With Love One-Shoulder Maxi Dress in Red Plum
Size Range: 14-24
The unique lace side cutout on this burgundy plus-size bridesmaid dress makes it an immediate "add to cart." Perfect for a fall wedding, the gown's mesh fabric with ruching at the waist is giving feminine and flattering all at once.
5. Revelry Dakota Sequin Dress in Champagne Gold
Size Range: 0-32
Want the aisle to also feel like the red carpet? Dakota is a fitted plus-size bridesmaid dress that is covered in head-to-toe sequins that accentuate the curves in all the right places. Plus, the fancy draped scoop back adds extra glamour to the already sparkly ensemble.
6. Kennedy Blue Jay Gown in Marigold
Size Range: 00-32
Hello there, sunshine! Your bridesmaids will be beaming in this yellow plus-size bridesmaid dress with a modern square neckline and classic A-line skirt.
7. Azazie Kenzi Pleated Chiffon Jumpsuit in Black
Size Range: 0-30
Who says a bridesmaid dress needs to be, well, a dress? Lean into the unexpected and wear a plus-size bridesmaid jumpsuit instead—and yes, it has pockets.
8. BHLDN Lennox Crepe Dress in Navy
Size Range: 0-26W
We can't get enough of the beautiful crepe fabric used to create this navy plus-size bridesmaid dress. The result is a polished look that will command the room when it comes time for evening toasts.
Plus-Size Bridesmaid Dresses Under $100
1. Birdy Grey Monica Dress in Satin Taupe
Size Range: XS-3X
Channel Old Hollywood vibes with this affordable plus-size bridesmaid dress. The satin taupe is utterly romantic, while the twist-front halter and sexy side slit add just the right amount of glam.
2. Lulus Thoughts of Hue Surplice Maxi Dress in Light Grey
Size Range: XS-3X
We're getting all of the Greek goddess vibes from this budget-friendly Lulus dress, and we're not mad about it. The silhouette is ultra-flattering, and the banded waistline really defines the figure.
3. ASOS DESIGN Curve Satin Maxi Dress in Mink
Size Range: 0-26
Make it modest, but modern (and affordable!) This ASOS Curve gown has a high neckline and long batwing sleeves that provide coverage while still remaining fashionable.
4. Baltic Born Helen Tank Sparkle Gown in Mulberry
Size Range: XS-3XL
Thanks to the gold sparkle sequins and keyhole back, this Blatic Born gown is equal parts rustic and glamorous. It's the best of both worlds. Would you believe us if we told you this plus-size bridesmaid dress was only $78?
5. Azazie Lianne Dress in Terracotta
Size Range: 0-30; Custom Sizing Available
Two straps are better than one, right? This terracotta plus-size bridesmaid dress has tank straps that are joined by sheer off-the-shoulder straps to support the bodice before cascading into a flowy chiffon skirt.
6. Ever Pretty Cold Shoulder Bridesmaid Dress in Burnt Orange
Size Range: 0-26; Custom Sizing Available
Here's proof that orange can make a beautiful plus-size bridesmaid dress. The cold-shoulder neckline and warm, burnt shade make it ideal for a rustic fall wedding.
7. Baltic Born Celine Maxi Dress in Wine
Size Range: XS-3XL
Want your maids to float down the aisle? Look for dresses with flowy fabric, such as this chiffon plus-size maxi dress from Baltic Born, that will allow your bridesmaids to move freely all night long.
8. Birdy Grey Alex Convertible Dress in Black
Size Range: XS-3X
An elegant and timeless choice, you can't go wrong with a black bridesmaid dress. This floor-length crepe gown has a modern square neckline with removable shoulder ties that you can adjust to your comfort level—and it's only $99!
Plus-Size Sleeved Bridesmaid Dresses
1. JessaKae Senna Tulle Dress in Desert Rose
Size Range: XXS-6X

Ruffled sleeves are having a moment, and we hope it stays that way! This polka-dot plus-size bridesmaid dress comes in a number of hues, like red pear and honey gold, that will have you ready to make an entrance.
2.Revelry Vera Velvet Dress in Romantic Rose
Size Range: 0-32; Custom Sizing Available
Not only do velvet dresses look and feel luxurious, but they'll also keep you warm at a winter wedding. This long-sleeved plus-size bridesmaid dress from Revelry has dainty velvet buttonties at the wrist that soften the fitted look.
3. Lulus My Whole Heart Long Sleeve Wrap Dress in Dark Navy Blue
Size Range: XS-3X
Want a bridesmaid dress that's twirl-approved? Look no further. The price tag is also quite lovely, coming in at under $80. Not to mention the chic, sultry wrapped bodice and side slit, which work together to make this navy plus-size dress a surefire hit.
4. Kennedy Blue Luca Dress in Moss
Size Range: 00-32
Get ready for a breathtaking walk down the aisle in this whimsical, sage green gown. With a modestly-covered back, short flutter sleeves, and a flowy chiffon skirt with pockets, what's not to love?
5. XSCAPE Plus Size Ruched Lace Gown in Plum
Size Range: 18W-22W
Make an entrance with this plum maxi dress with sparkling short sleeves and scalloped edging. It features lace cap sleeves and a ruched waist that is both comfortable and flattering on the body.
6. Azazie Sue Dress in Dusty Rose
Size Range: 0-30; Custom Sizing Available
We're in love with this dusty rose bridesmaid dress that enhances curves and has a sexy side slit for movement. The romantic off-the-shoulder chiffon sleeves are just the cherry on top.
7. ELOQUII Satin Maxi Dress in Periwinkle
Size Range: 14-28
This satin long-sleeve bridesmaid dress makes a stunning addition to any summer wedding palette. Beyond its soft periwinkle color, this style features dramatic shoulder pads and a subtle thigh-high slit.
8. Ever Pretty Chiffon Formal Dress in Cameo Brown
Size Range: 0-26
This chiffon plus-size bridesmaid dress is a work of art. It's elegant enough for any fall or winter wedding thanks to the airy lantern sleeves and an applique design that accentuates the waist.
Midi Length & Short Plus-Size Bridesmaid Dresses
1. Lulus Molinetto Lace Ruffled Tiered Sleeveless Dress in Navy Blue
Size Range: XXS-3X
Textured yet muted, Lulu's Molinetto dress boasts a delicate flutter sleeve bodice, allover floral lace and a high fitted waist, all while being elevated by a breathable ruffle skirt that falls just above the ankles.
2. AW Renee Dress in Sage Green
Size Range: 0-30; Custom Sizing Available
Midi bridesmaid dresses are always a good choice, and AW Bridal's Renee dress comes in 26 versatile colors. The cowl neckline and tea-length hemline are both iconic and timeless at the same time.
3. Bar III Ruffled Sleeveless Wrap Midi Dress in Crushed Mint
Size Range: 0X-4X
Keep your bridesmaids cool and comfortable in this midi plus-size bridesmaid dress. The green-blue color of this ruffle-trimmed bridesmaid dress is perfect for a wedding in the summer sun.
4. Plus Size Casual One Shoulder Feather Mini Dress in Orange
Size Range: L/10-12 - 4XL/26
Can we hear a little commotion for the feathers? We also can't help but adore the vibrant orange hue and relaxed fit for a casual spring wedding.
5. ELOQUII Puff Sleeve Satin Heart Dress in Mon Amour
Size Range: 14-32
Patterns aren't limited to just florals. The unique and playful heart design on this soft pink plus-size midi dress from ELOQUII makes the sweetest statement.
6. Show Me Your Mumu Samantha Ruffle Wrap Dress in True Gold Luxe Satin
Size Range: XXS-3X
All that glitters is gold, and we can see why: this ruffled mock wrap dress is an absolute showstopper. The shiny satin finish and high-low neckline will make sure your maids stand out.
7. Ever Pretty Midi Chiffon Bridesmaid Dress in Pink
Size Range: 0-26
Spring celebrations and pink bridesmaid dresses go hand-in-hand, which is why we can't get enough of Ever Pretty's midi chiffon dress. The ruched bodice and playful skirt can be comfortably worn all day (and night).
8. Show Me Your Mumu Jess Ruffle Midi Dress in Sage I Do Floral
Size Range: XXS-3X
We love the floral bridesmaid dress trend, especially for outdoor weddings, and this sage lightweight plus-size bridesmaid dress from Show Me Your Mumu was made for summertime nuptials. Add a pair of nude heels and gold earrings to tie the look together.