40 Plus-Size Bridesmaid Dresses That Are Truly Stunning
Shop gorgeous options in a whole range of shapes, colors and price points—including styles under $150.
by The Knot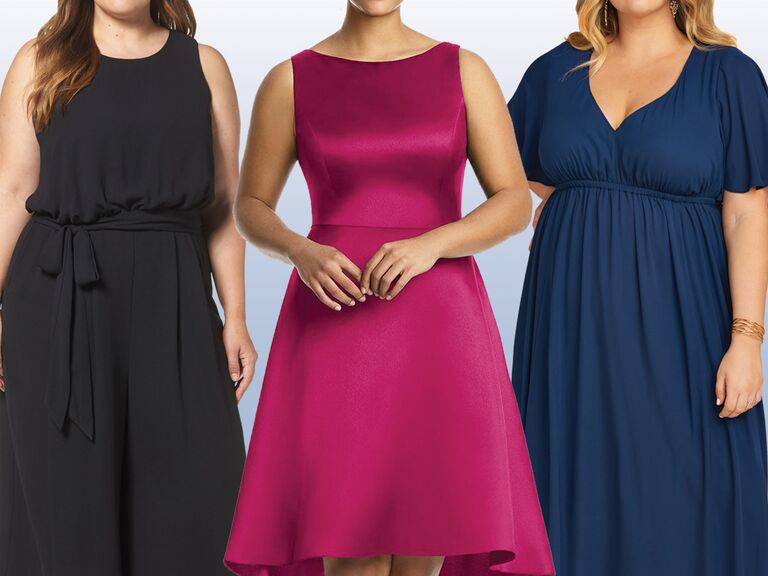 As you're shopping for bridesmaid dresses, you're obviously thinking about your celebration's aesthetic. But it's just as important to consider your wonderfully unique group of attendants. (What styles do they like? What are they most comfortable in?) You want each of your 'maids to feel their best on the wedding day, which is why we're committed to sharing stunning outfit options for every taste, size and body type.
Here, shop our favorite plus-size bridesmaid dresses (and plus-size maid of honor dresses) in a range of popular shapes, colors and price points. Forget about what someone told you was "flattering"—these amazing garments embrace all the latest (and most timeless) trends. Because your crew can—and should—wear whatever strikes your collective fancy. (And if you can't come to a group decision, we recommend trying mismatched bridesmaid looks.) On that note, most of these options aren't only available in plus sizes, so you can buy them for anyone in your bridal party.
Wondering where to buy bridesmaid dresses in plus sizes? Any retailer on this list is a safe bet when it comes to selling stylish attire, but our favorite online bridal shops include Brideside, David's Bridal and The Dessy Group. You can also turn to department stores like Nordstrom and fast-fashion faves like ASOS for more unique gowns. (Hint: A dress doesn't have to be labeled a "bridesmaid" dress to work for the wedding day. Just make sure the stock is high enough to outfit all your attendants. You should also keep alterations in mind, as off-the-rack options won't be custom-made.)
Picks by popular category:

Picks by popular color:

Plus-Size Bridesmaid Dresses by Popular Category
Here, shop for specific budgets, features and lengths. But don't stop scrolling after you're done browsing the category you came for. There are way more inexpensive, sleeved, long and short options sprinkled throughout this roundup!
Plus-Size Bridesmaid Dresses Under $150
We know affordable bridesmaid dresses (and ones that definitely don't look cheap) are eternally in high demand. That's because, let's face it, these garments are rarely worn more than once. Plus, bridesmaids have a lot of expenses already, and they're probably (and generously!) footing this bill too. In turn, we've rounded up five beautiful options under $150. Which, FYI is about the national average cost of bridesmaid dresses.