Spring Wedding Pitfalls and How to Avoid Them
Don't let the weather put a damper on your day. Just plan ahead and you'll be able to overcome these seasonal snags.
by The Knot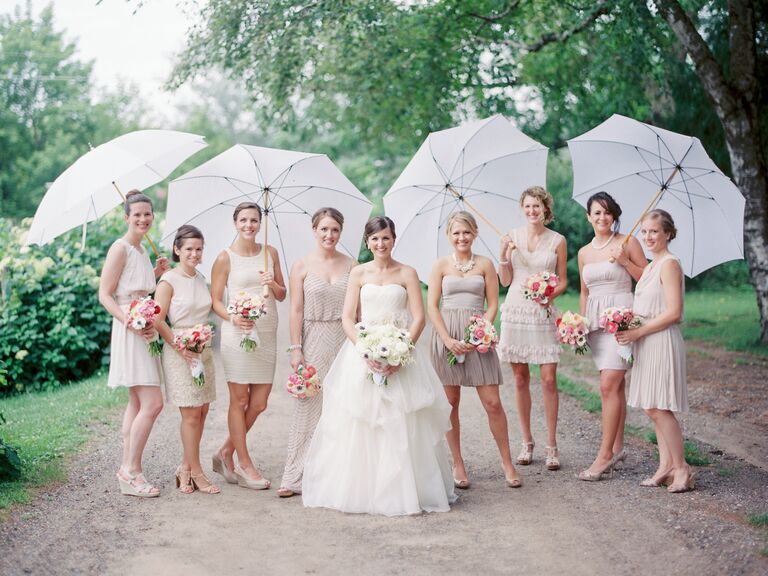 Emily Steffen Photography
Pitfall #1: Rain
The Plan: A good rental company can be your best friend. For an outdoor wedding, find a rental company with a rain policy; this agreement will get you a tent at the last minute (usually for a little extra) in case of a soggy weather forecast. If guests will be walking between different buildings or tents, rent hallways to provide coverage along the way. For venues with a flat front, order a canopy and have valet parking to guarantee dry guests. Rain can also do a number on your hair. Consider weaving in extensions or a hairpiece; they won't frizz or go flat.
Pitfall #2: Mud
The Plan: Include an instant stain-remover stick in your emergency wedding kit. If your dress does get muddy, wait until the dirt dries (a hand-dryer or blow-dryer can speed up the process) and try to flick it off. Still there? Use the stick. To protect white wedding shoes from mud during downtime, step into plastic bags and secure them at the ankle with rubber bands (included in the kit). Or for a cute photo op, wear preppy galoshes.
Pitfall #3: Chilly Evenings
The Plan: Cooler temps predicted? Post the news on your wedding website, alerting guests, especially out-of-towners, about proper attire. Another gracious touch: Set out a basket of colorful shawls. (Ask a friend from a big city to grab cheap ones from a street vendor.) Keep candle flames alive when it's breezy by placing pillars in glass hurricane holders, using battery-operated flameless candles that look real (and even flicker), or ordering pre-used candles -- they're romantic and the sunk-in wicks won't be exposed.
Pitfall #4: Bugs
The Plan: If you're saying "I do" by a lake, at the beach, or on the grounds of a country club, critters can crash your party (not as funny as Vince Vaughn and Owen Wilson showing up). Keep baskets of bug repellant at the end of the aisles, and light citronella torches during the ceremony to scare away mosquitoes. Ask your florist for the best blooms for outdoor weddings (ones that don't attract bees). If you can't live without a certain bug-friendly flower, the florist may be able to remove the stamen to get rid of the smell. Have your hairstylist use unscented hairspray and skip the perfume until you're inside the ballroom.
Pitfall #5: Afternoon Heat
The Plan: Scorchers sneak into spring. Hang parasols along the back rows of chairs for guests to grab. Or buy small cold packs, put them in fabric sleeves imprinted with your monogram, and have your ushers hand out the frozen favors (for wrists and the back of necks) with the programs. Elegant and practical gifts for the groomsmen are personalized handkerchiefs; during a steamy picture-taking session, they can wipe away perspiration. If your cake will be displayed outside, order one covered in fondant icing, which holds up well in the heat. With all eyes on the bride, play with a half-up, half-down hairstyle that can easily be pulled into a bun if you get overheated. When a dress with sleeves is a must, consider an airy mesh material.
Special thanks to: Laura Bianco and Kara Thorson, co-owners of My Bellissima in Florham Park, New Jersey