How to Be a Good Friend to Someone Whose Wedding Was Impacted by the Coronavirus
Here are a few meaningful ways to show your love and support.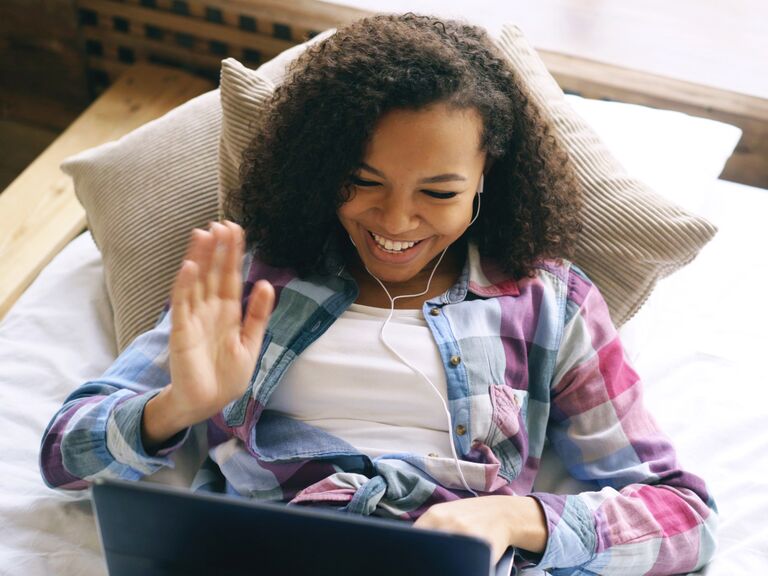 silverkblackstock / Shutterstock
We have included third party products to help you navigate and enjoy life's biggest moments. Purchases made through links on this page may earn us a commission.
Because of the novel coronavirus, more and more couples are having to face the challenge of changing their wedding plans. If you know someone who's been affected, you may be stumped on how to help—especially with social distancing limiting your options. If you can't stop by to deliver a big hug, what can you do? There are actually a few small ways to show your support that make a big difference. Find our ideas below.
Schedule a Virtual "Wine and Whine"
Sometimes, the best thing you can do is simply empathize. If you know your friend needs to air their grievances in order to feel better, give them the space to let it all out. Plan a phone call or video chat to sip on something comforting—be it rosé, margs, hot chocolate or tea—in each other's company. (Want to send their choice of libation straight to their door as a sympathy gift? Check out the service Drizly.)
Use the time to let them process what they're feeling without any judgement, and acknowledge that they're being put in a tough situation. Giving them a platform to express their anxieties and frustrations shows you care and that you're really listening. An "I'm sorry, I know this sucks" can actually go a long way.
Take Something Off Their Plate
Wedding planning can be hectic even without a global pandemic to worry about. Now, your bestie (or sister, or whoever) might feel downright overwhelmed. If you can, offer to lessen the burden by taking on a tangible task. It doesn't have to be big, because honestly, crossing anything off a to-do list can feel like a huge relief.
You can start by asking them what they need—they may know just the thing. But if even answering that question is stressing them out, try offering up a few examples. What if you compiled contact information for the people they need to get in touch with? What if you sent emails and texts on their behalf? Maybe they'd like help updating their wedding website with their event's new details, or with finding services that'll give affected couples deals on things like stationery reprints or change-the-dates. Now that's helpful!
Or, Put Something On Their Plate!
It may be something you joke about when you're struggling to pick a place to go for brunch, but figuring out what to eat can actually be a real pain point—especially when they've got other things to worry about and resources may be limited. Giving them access to food they enjoy will help them spend less time in the kitchen (or at the chaotic grocery store) and more time winding down. After all, a nourishing meal can soothe the body (and we like to think an indulgent one soothes the soul).
Consider getting them a gift card for Caviar, Postmates, DoorDash or Seamless so they can support their favorite local businesses by ordering takeout. (Just make sure the service you choose is available in their area—you can also ask them which services work with the restaurants they frequent.) Or, you could gift them a meal subscription service that makes cooking way easier. For that, we like Home Chef, Purple Carrot (a good plant-based option) and Blue Apron.
Tell Them They're Special—and That Their Wedding Will Be Too
Disrupted wedding plans aren't ideal, and your loved one has every right to be upset. But just because things have changed doesn't mean they won't still be awesome. While saying "It'll all be fine!" can come across as flippant, there's nothing wrong with gently reminding them why they're having this wedding in the first place. What it's really all about is the love, so show them they've got that aplenty.
If they were forced to cancel prewedding festivities like their bachelor(ette) party, a virtual celebration can still demonstrate how much you adore them. Playing a virtual bachelorette game as a group can be a great way to make your loved one feel connected with friends and family, and have fun while doing it. Consider going in on a group gift too that they can open "at" the event. A big, thematic bundle (check out The Knot Shop for bride-to-be gear) lets them know it's okay to still embrace their soonlywed status.
Of course, you shouldn't write off smaller symbols of love. A note expressing your condolences might mean more than you think. Right now, Etsy has some cutely worded options, from an "I'm here for you, even though we're apart" card to one that says "when life gives you lemons, it's okay to be a lil' sour" (and comes with a matching gift!).
You also can't go wrong with another classic idea: sending flowers to cheer them up. UrbanStems delivers blooms nationwide. Alternatively, there's always Edible Arrangements, a tasty twist on tradition that'll make them (and their future spouse) smile.
At the end of the day, if you're reading this, it means you're already a great friend. Just keep being you, do what feels right and let them know you're only a FaceTime away.