Drawing a Naked Guy for Your Bachelorette Party Isn't Awkward at All—Here's Why You Should Do It
If you're looking for a bachelorette party that's more scandalous than a spa day but less raunchy than a male stripper, The Artful Bachelorette is the perfect mix of classy and cheeky.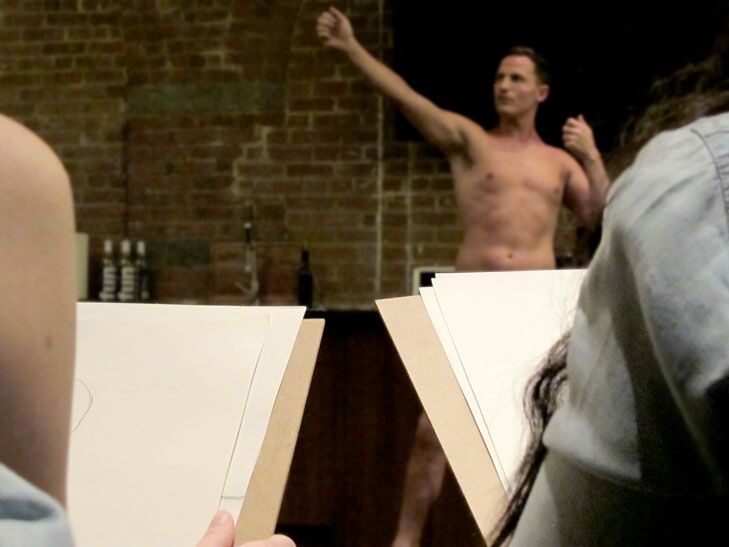 From an outsider's perspective, it may look like being an editor at The Knot is nothing but one big bachelorette party, so to speak, but on certain occasions, we actually do try out fun bachelorette activities.
Our latest adventure with The Artful Bachelorette proved to be one of the absolute best we've experienced in a while. The company, founded by Australian artist and entrepreneur Fleur Childs, provides a two-hour private art party where a nude male model unleashes your and your friends' creative sides by drawing him while sipping bubbly. Sounds pretty perfect, right? It is.
Last week, our editorial team gathered at Chelsea Wine Vault, an elegant, intimate private space located in Chelsea Market in Manhattan, for our party, hosted by the lovely Childs, where aprons, pads and pencils were neatly waiting for us on each seat—along with these dashing gents.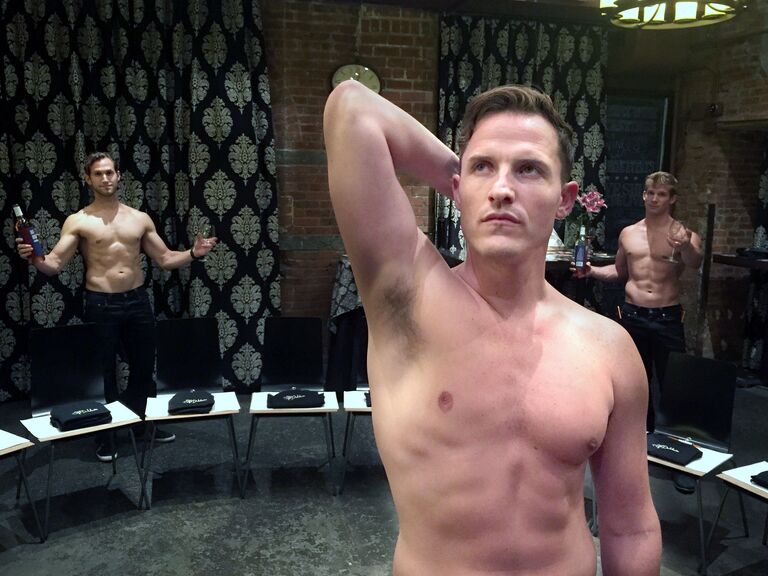 Wine was immediately served by attentive, shirtless waiters who also assisted with getting us sharp pencils or topping our glasses off throughout the evening. A table of cheeses and chocolates was set out for a little mingling before the party and during a short break in between. And from the first sketch to the last sip, we had the best time in the most saucy, yet tasteful, way possible. And before you think it may be a bit too much for you or your group, think again:

Misconception #1: Looking at a naked guy with your friends is just awkward.
It doesn't matter how old you are—when there's a naked guy just standing in front of you and all your friends, you're definitely going to laugh out of sheer awkwardness at first. You may also turn red in the face, or start fanning yourself with your drawing paper (let's face it, we all have that friend). All are very normal behaviors—but we promise, your Artful Bachelorette host is a complete professional who does an amazing job of putting the group at ease and making the atmosphere fun and light.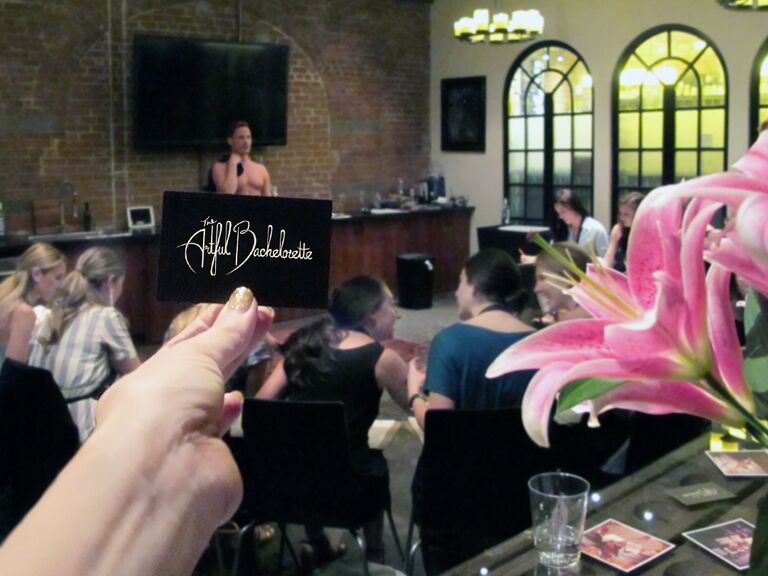 And while it is full frontal, 360-degree nudity with nothing—repeat, nothing—left to the imagination, the wine definitely helped any jitters anyone had. After about 10 minutes (or one to two glasses, either way), the nudity was no big deal and we were well on our way to becoming famous artists—which brings me to my next point.
Misconception # 2. You can't draw.
I'm a writer for a reason. My drawings were easily the worst of the bunch, especially since we have one editor who went to art school and could literally give Jack Dawson a run for his money drawing French girls, plus a handful of fabulous designers and photo editors who put my stick figures with oblong genitalia to shame.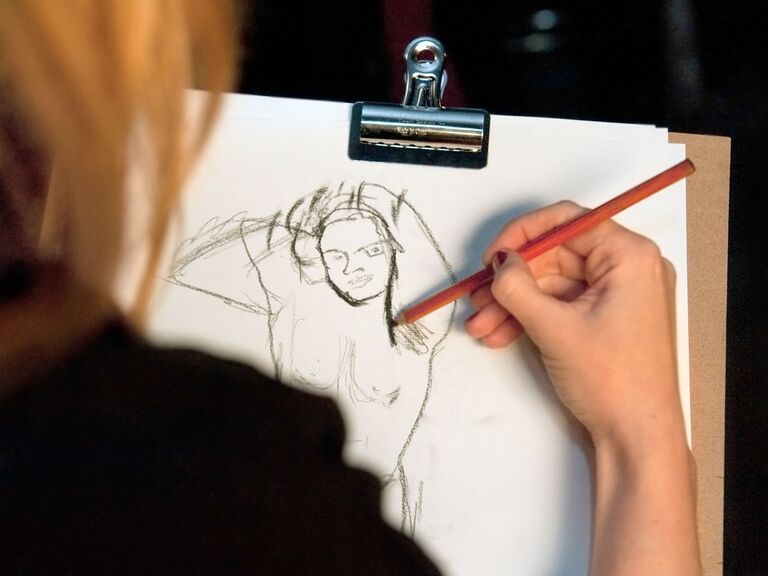 Nevertheless, our host took a few moments to walk us through the concept of each different drawing and technique, giving us all confidence along the way. And even though I'm not going to be designing illustrations for The Knot magazine anytime soon, it was fun drawing with charcoal, which I haven't done since art class in the seventh grade.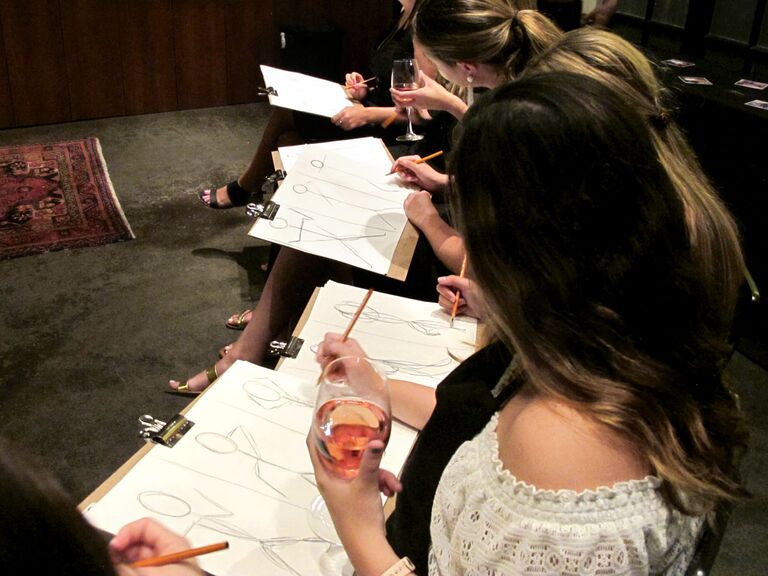 Out of all the drawings you do, there are a few that involve group work or not looking at the page, which is a nice way to mix it up and give everyone a little challenge. We even did one round where everyone drew for a minute and then left their drawing in their seat and moved to the next seat, round-robin style, so everyone could have a hand in adding something artsy or hilarious to the drawing. We could put the model in a setting too—some drawings had him under the sea, on the moon and one had him at Hogwarts, obviously. Each model also chose their favorite drawing, and the winners were given a Hershey's Kiss and a photo op with said models—a total win-win.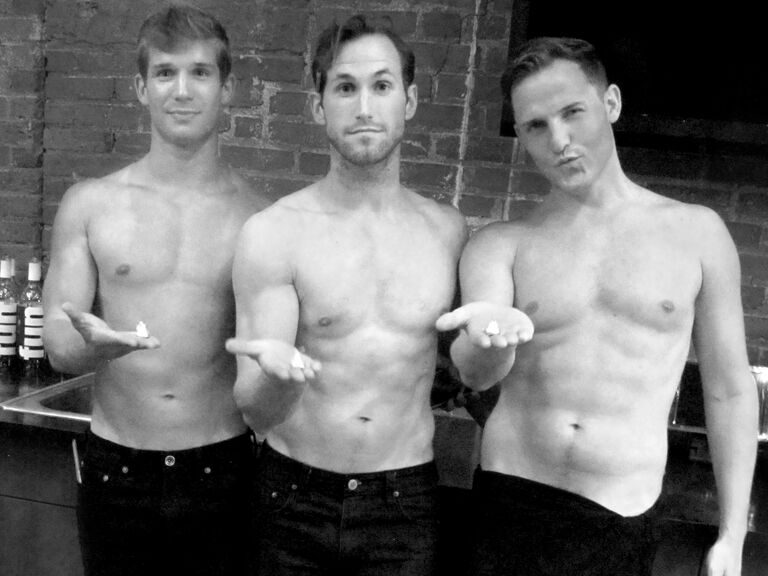 Misconception #3: It has to be a ladies-only bachelorette party.
Even though The Artful Bachelorette hosts a ton of bachelorette parties, the fun isn't limited to only ladies getting married. They've also hosted bachelor parties, anniversary parties, coed bachelorette/bachelorette parties and more celebrations for people of all sexes and ages. Have a bridesman or man of honor or a grandma who's still 25-years-old at heart? Bring them along too! Lots of straight and same-sex couples have also brought their partner along. (But if the guest of honor would prefer the nude model covered up a little, he's happy to toss on a swimsuit.)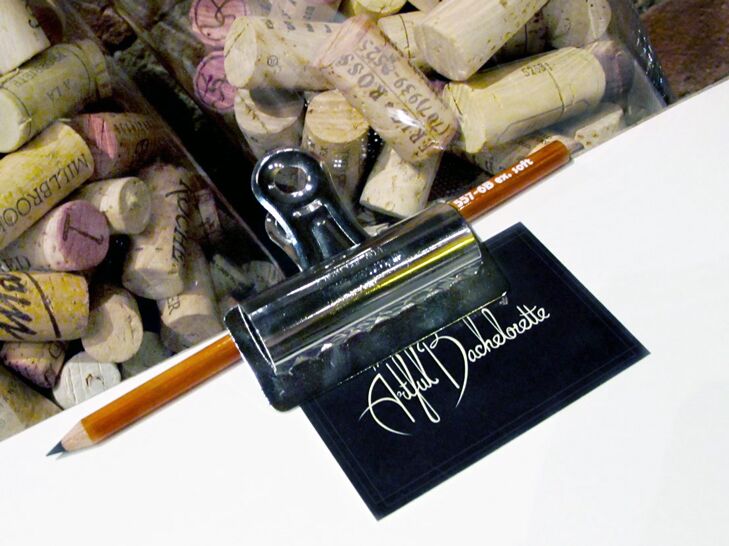 The Artful Bachelorette is currently available for parties in New York City, Philadelphia, New Jersey, Dallas, Houston, Austin, TX, Los Angeles and Palm Springs, CA. To book The Artful Bachelorette for your bachelorette party (and we highly recommend it!), go here.