'The Bachelorette' Stars Kaitlyn Bristowe and Shawn Booth Are Engaged!
With the fanciest of sparklers on her finger, 'The Bachelorette' star and her new fiancé broke the happy news last night.
by Julia Naftulin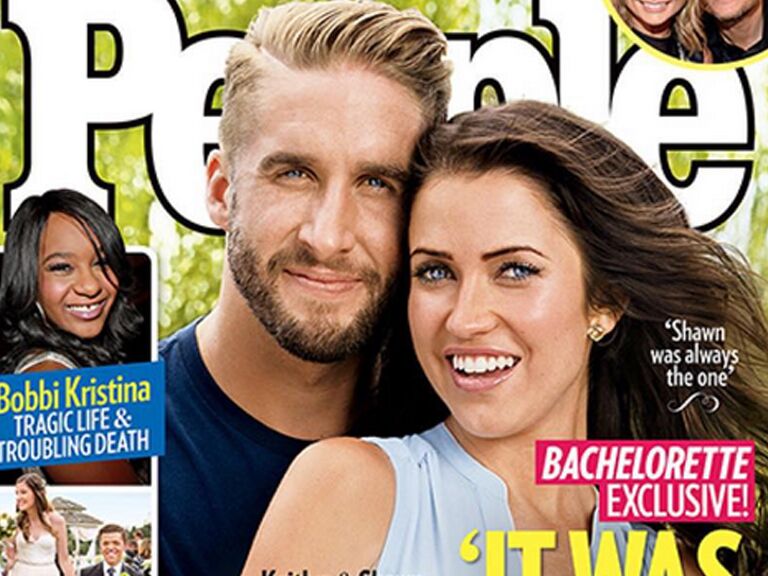 Congratulations are in order for Kaitlyn Bristowe and Shawn Booth of The Bachelorette! This season of the ever-popular ABC show ended with a happy "yes" from Bristowe, who accepted Booth's proposal and a $150,000 Neil Lane ring -- reportedly the most expensive in the show's 11-season history! "I fall more and more in love with you every time I see you," Booth told Bristowe during the finale. "I see a best friend, a partner in crime. You have already made me the happiest guy in the world. I love you so much."
After getting engaged, the happy couple graced the cover of this week's People, where Bristowe showed off her gorgeous princess-cut sparkler with a diamond halo set atop a twisted diamond-encrusted band.
Now that it's official, the couple can't wait to enjoy time together out of The Bachelorette spotlight. "We just want to do anything normal," Booth tells People. "Going out to dinner, just hanging out with our family and our friends."
"And grocery shopping!" Bristowe adds.
Bristowe and Booth have already started wedding planning too -- on an episode of Jimmy Kimmel Live. Not only did the talk show host have Bristowe try on wedding dresses (including a gorgeous strapless Anne Barge gown!) while he donned a few bridesmaid dresses of his own, but he also had the couple make a pledge to stay together. Bristowe and Booth placed their hands atop a stack of Us Weekly magazines and repeated after Kimmel: "We, Kaitlyn and Shawn B., do solemnly swear, that we are in love, that we will get married, or we will at least be together one year from today, because if we're not, this was a huge waste of everyone's time."
See the video in its hilarious entirety here:
Congrats again to the lovely (and humorous) couple!