The Knot and Uncommon Goods Present the Ultimate Anniversary Gift Guide
We've joined forces to bring you the best gift ideas.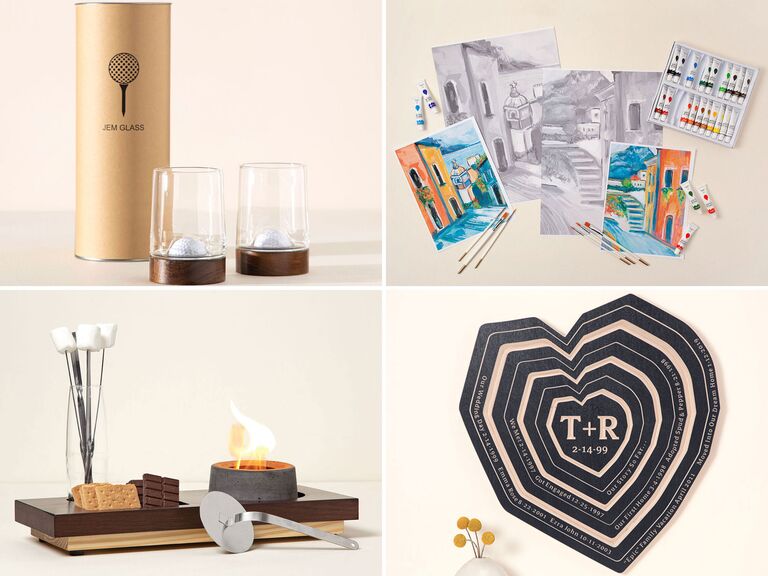 We have included third party products to help you navigate and enjoy life's biggest moments. Purchases made through links on this page may earn us a commission.
When Uncommon Goods asked us to curate a list of our favorite anniversary gifts from the site, how could we say no? As a marketplace of meaningful and unique presents, it's been a go-to shopping destination for The Knot editors time and time again. Uncommon Goods has an impressive selection of gifts for every year of marriage—and yes, that includes presents that reflect the traditional and modern anniversary themes. By combining the site's milestone-worthy inventory with our gifting expertise, we've come up with the ultimate anniversary gift guide for your spouse or any married couple in your life. Keep scrolling for a sneak peek of some of our all-time favorite anniversary gift ideas. Then, head to Uncommon Goods to shop the entire collection.
1. The Personalized Anniversary Journal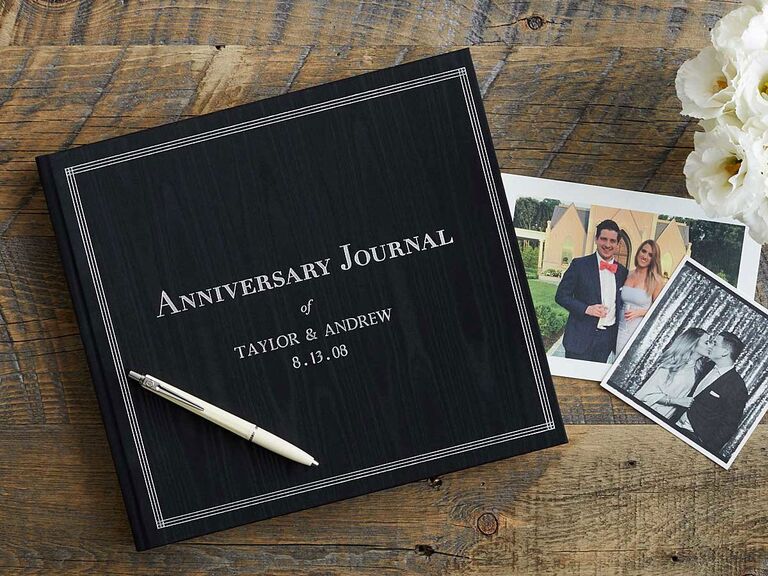 Uncommon Goods' anniversary book is the ultimate gift for spouses celebrating their first year as a married couple. This personalized keepsake is designed to document every wedding anniversary, from the first to the 60th. There are four pages dedicated to each milestone: two with journal prompts, one for notes and one for adding photos. The prompts spark romantic reflection on the previous year (think: your favorite songs, movies and books), and there's space to share how you celebrated each particular milestone. Now for the finishing touches: The front cover is foil stamped with your names and wedding date, and the journal comes with a matching storage box.
2. Romantic Date Night Painting Class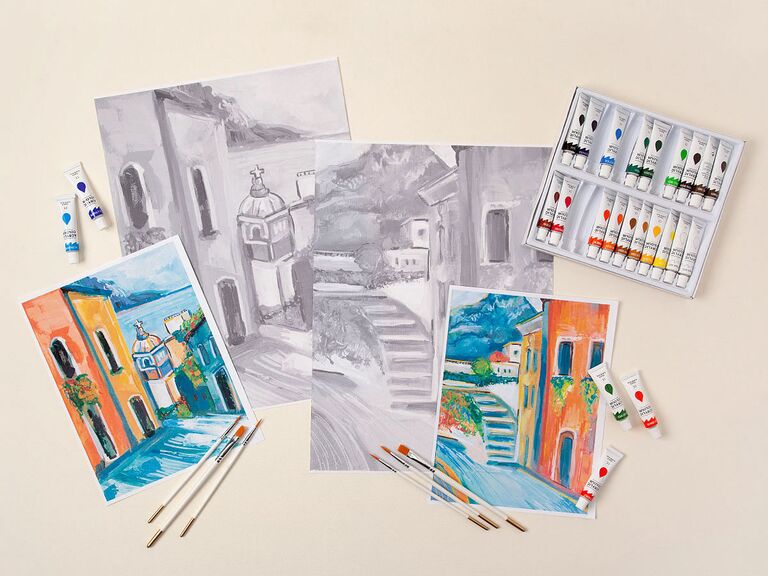 Right now, experiences are huge when it comes to gifting—and that includes wedding anniversaries. Giving your spouse (or the couple) something special to do together is a lovely way to celebrate another year of marital bliss. As one of the best gift retailers on the web, it's no surprise that Uncommon Goods has already cracked the code when it comes to experiential presents. The site has a cool selection of virtual gifts—many of which have a physical component too, so you get the best of both worlds. Our favorite? This online couples painting class, taught by passionate visual arts instructor Jennifer Funnell.
3. Mini Gold Dipped Lace Heart Earrings
At this point, you might be wondering: Is there anything Uncommon Goods doesn't have? And it's true, the site really does have something for everyone and every couple. For the spouse whose love language is shiny things, turn to the marketplace's selection of unique, handmade jewelry. These dainty heart-shaped earrings are created by mother-and-daughter duo Tulianna and Alejandra Garces. Each earring starts with cutting and sewing a piece of lace, which is then sealed in wax, dipped in copper and finished with 24-karat gold. The romantic jewelry is a testament to the traditional art of lacemaking, which in turn makes it an extra-fitting gift for the 13th anniversary (AKA: the lace anniversary). The gold finish also makes it an on-theme present for anyone celebrating 50 years of marriage.
4. Better Every Year Tree Ring Art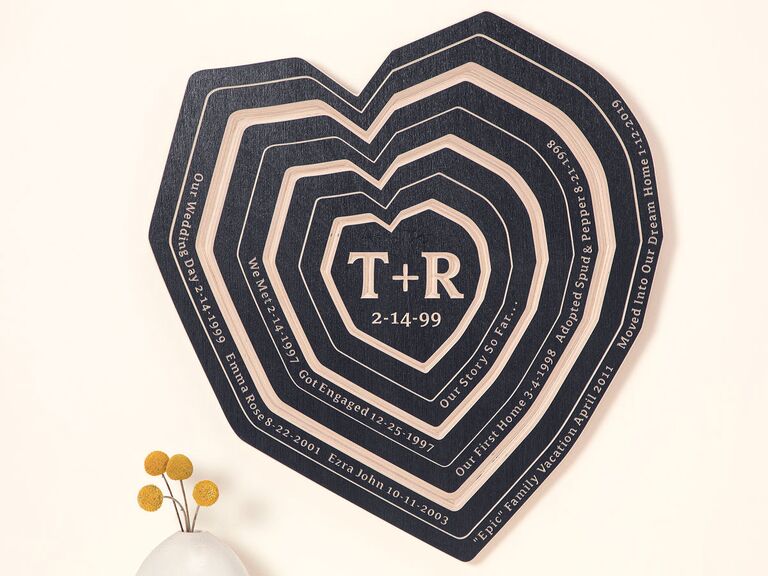 Here's another one of our favorite anniversary gifts from Uncommon Goods. Rachel and Jared Ergo run the creative family business behind this meaningful piece of decor. The heart-shaped keepsake mimics the rings of a tree, symbolizing all the years you've dedicated to one another. Inside the rings, you can engrave up to eight special moments in your lives, like the date you met, got engaged, tied the knot, moved into your first home and beyond. At the center, the wood is etched with your initials and one extra-special date. (Psst, because it's made of wood, it's an especially good present for five-year anniversaries.)
5. Personalized Couple Hobby Blanket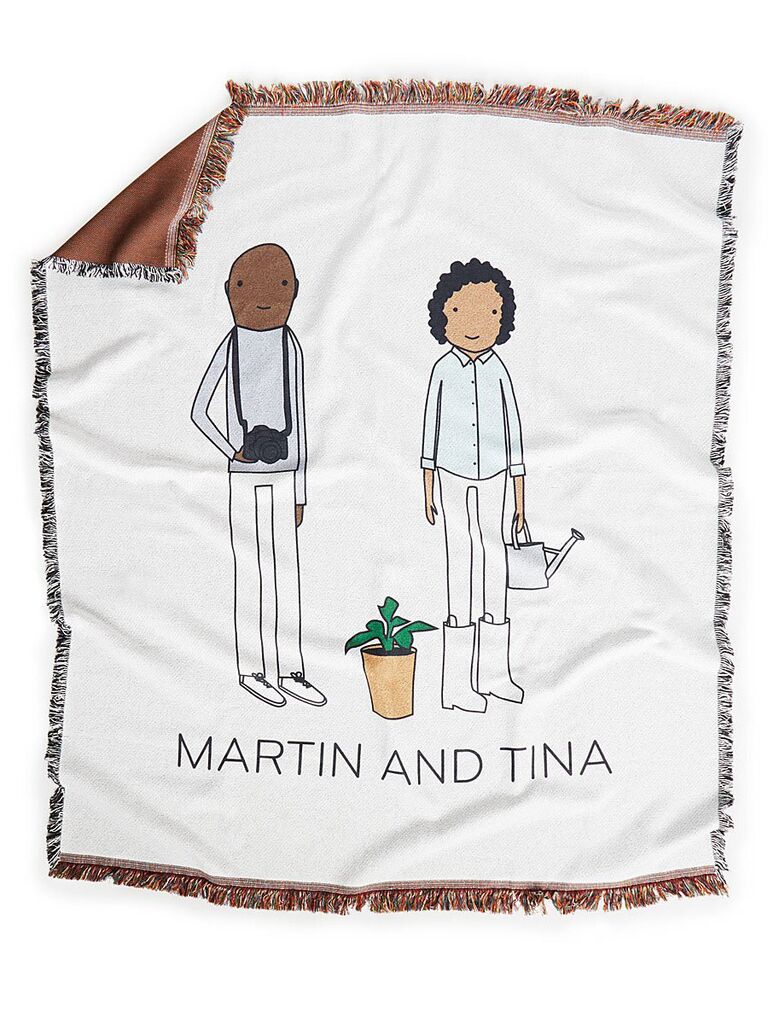 Michigan-based artist Shelly Klein has some of the coolest offerings on Uncommon Goods (and that's saying something). The maker turns giftable items like coffee mugs, throw pillows and T-shirts into even more thoughtful presents personalized with custom illustrations of couples and families. We especially love this cozy blanket as an anniversary gift for a special duo. You can incorporate each person's favorite hobby, like playing sports, reading or gardening. They can curl up underneath it whenever they're enjoying movie nights at home.
6. Golf Lover's Whiskey Set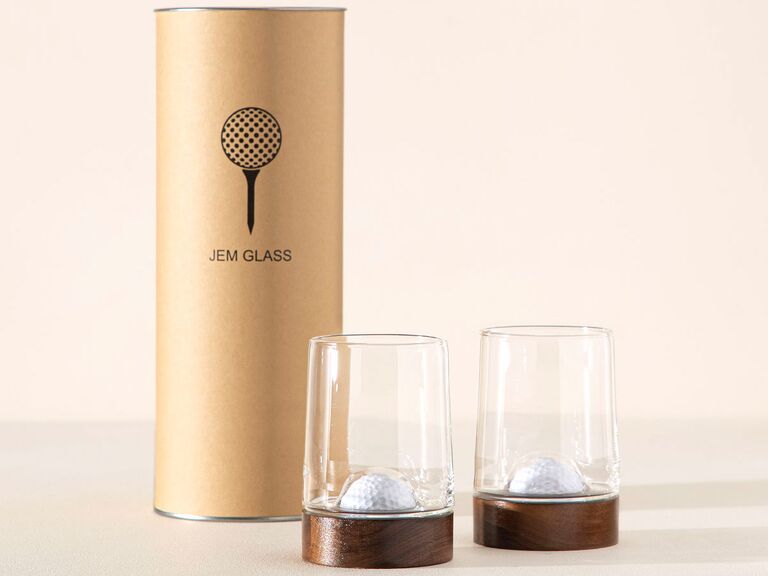 Some of the best gifts reflect your S.O.'s favorite activities, and luckily, Uncommon Goods has items to suit lots of different interests. If they're always hitting the links on a Saturday morning, they'll be pleasantly surprised by this unusual glassware. The set of two whiskey glasses comes with stylish walnut coasters that have real golf balls in the center. Each glass has a half-dome indent at the bottom, allowing it to fit perfectly over the golf ball coasters. The set comes in ready-to-gift packaging, but we recommend picking up a bottle of their favorite bourbon before you hand it over.
7. Intersection of Love Photo Print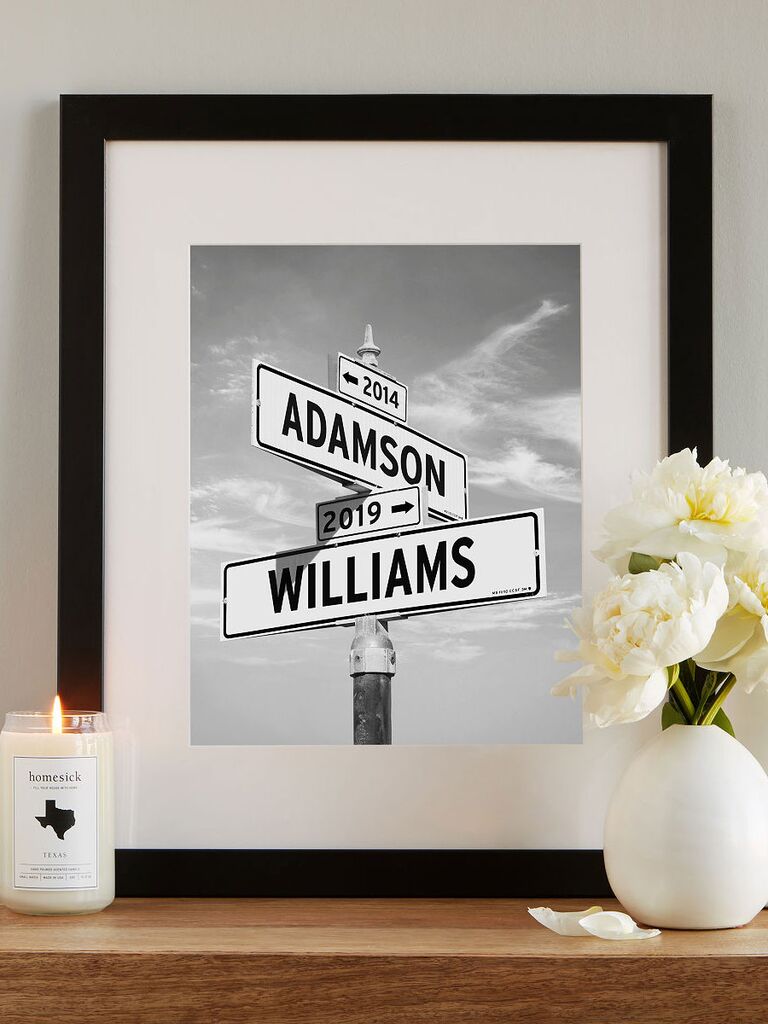 This sentimental photo print is hands-down one of the best wedding anniversary gifts from Uncommon Goods. It's the type of present that works for any anniversary, but you can also choose a thematic frame to suit specific milestones. There's wood for the fifth anniversary, tin for the 10th, platinum for the 20th, silver for the 25th and gold for the 50th. But what's most meaningful about this personalized wall art is the print itself. Artist Patricia Carlin uses a simple design to paint a beautiful picture. The intersecting street signs are customized with your names and two meaningful dates, representing the road you've journeyed down together. It's a sweet way to commemorate when your paths first crossed and when you tied the knot.
8. Better Together Personalized Book of Love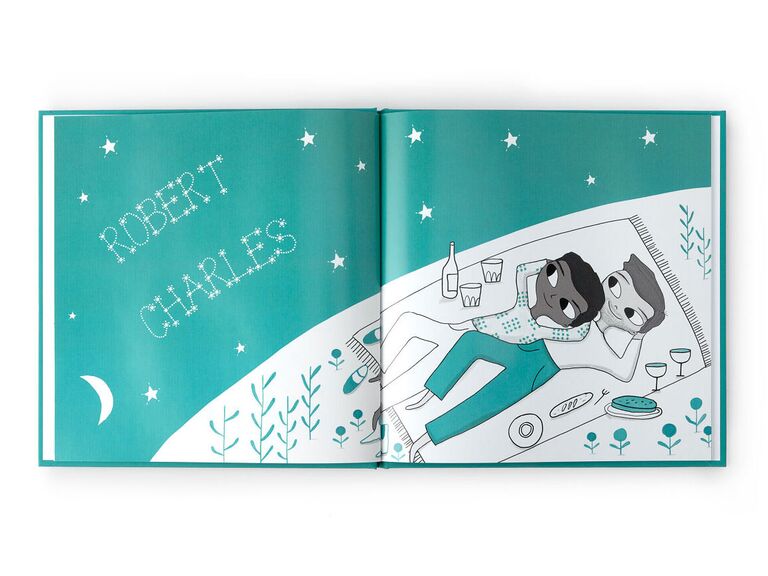 What better way to celebrate the tale of your (or the couple's) love than with a sweet storybook? This custom book is illustrated in the likeness of you and your spouse. Each page shows a romantic scene with text like, "I love the way we fit together" and "Hugging you makes my day." (Awwh!) It's a nice idea for anyone who appreciates a sentimental keepsake or cute token.
9. Indoor S'mores Fire Pit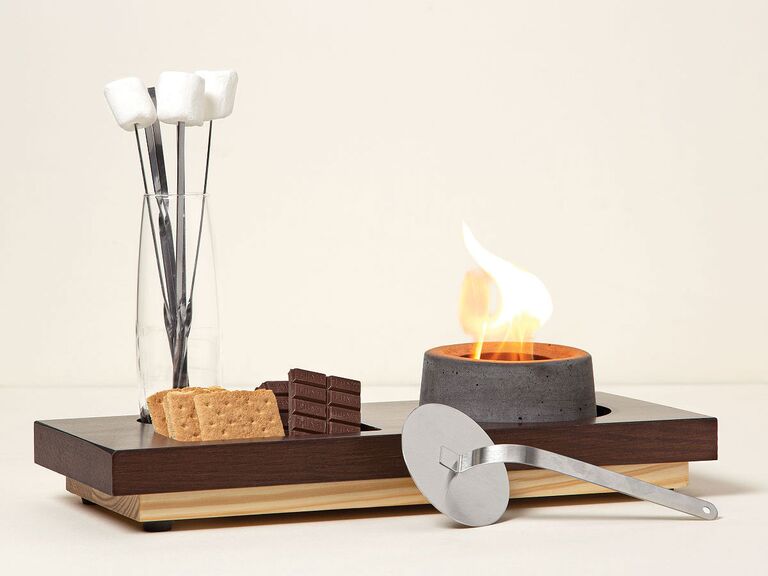 Of course, not everything has to be personalized or sentimental to be a great present. Sometimes, the best gift is the one you know they'll use all the time. How could anyone not want to get this s'mores station up and running on the regular? It has an indoor fire pit, making it perfect for cold nights cozied up at home, camp-themed dates in the living room and, well, late-night snacking. The gift set, made by Patrick Fitzpatrick and his team of local artisans, is designed with both beauty and function in mind. It includes a cedarwood base, concrete fire pit, glass votive, stainless steel snuffer and six stainless steel skewers.
10. The Kissing Mugs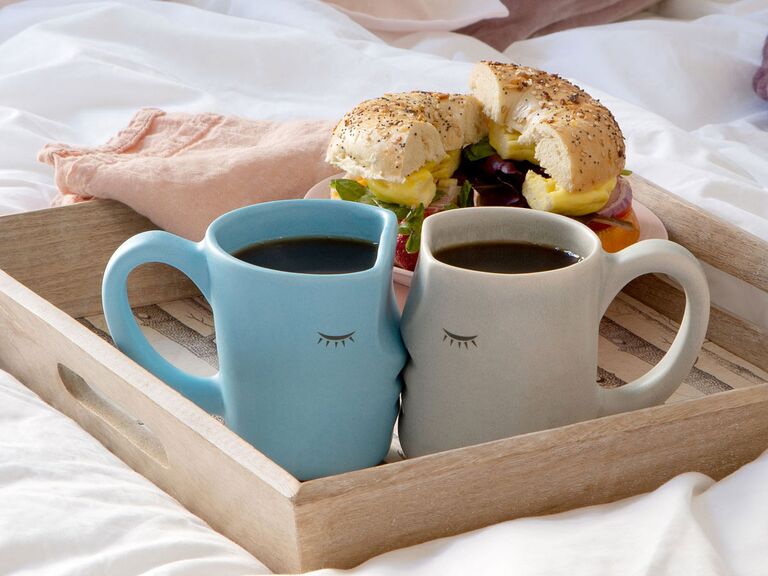 These playful mugs are a fun anniversary gift for a couple, especially if you know they're avid tea or coffee drinkers. The adorably designed drinkware fits together as if each cup is kissing the other. Not only that, but the handles on either side form the shape of a heart. Choose between blue and gray coordinating coffee mugs or red and tan. Pro tip: Porcelain is the traditional and modern gift for the 18th anniversary, so if you know anyone approaching this milestone, consider these porcelain mugs a perfect present.
Looking for more inspiration? Shop the full Uncommon Goods + The Knot collection.