27 Anniversary Gifts for Friends That Show Your Love and Support
Celebrate their marriage milestone with one of these thoughtful gifts.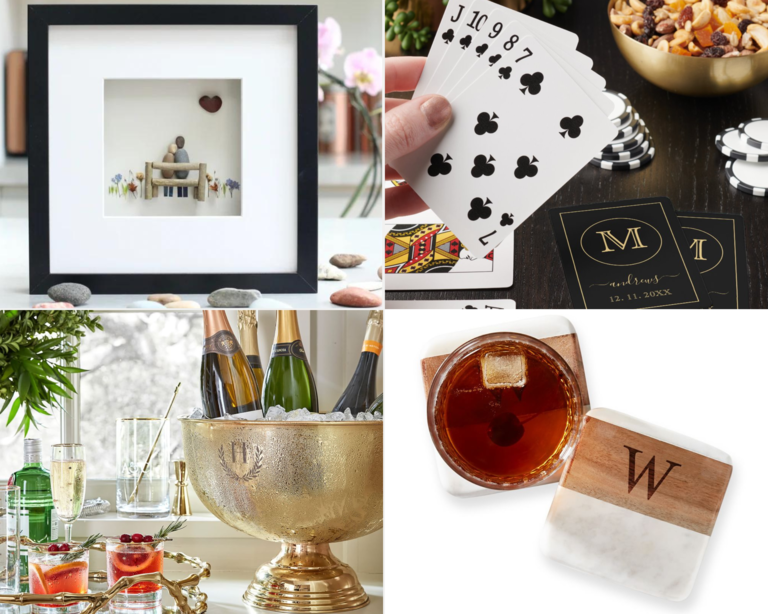 Photos, From Clockwise: PebbleartShop, Zazzle, Mark & Graham
We have included third party products to help you navigate and enjoy life's biggest moments. Purchases made through links on this page may earn us a commission.
If your friends are celebrating another year of wedded bliss, why not help them mark the occasion with a meaningful anniversary present? Shopping for others may seem tricky at first, but we're here to help you find great anniversary gifts for your friends. While couples often celebrate their wedding anniversaries just between themselves, there's no reason not to give a gift to your favorite pair if you want to. Momentous marriage milestones like the 1st, 10th or 25th wedding anniversary are often the best times to give a gift, although they're not the only ones.
Once you've decided you want to treat the lovebirds to something special, it's time to start your shopping. There are a few things to consider when searching for the perfect gift, like your relationship with the couple and what kind of lifestyle they enjoy. If you're very close to them, a sentimental gift like a personalized picture can be a really great option. On the other hand, if you don't know the couple as well, a practical present such as kitchenware or a bottle of wine may be more suitable. You can also get ideas from the activities they enjoy and gift them something inspired by a shared hobby or setting up a fun date night experience they can enjoy together.
1. Wedding Song Sound Wave Art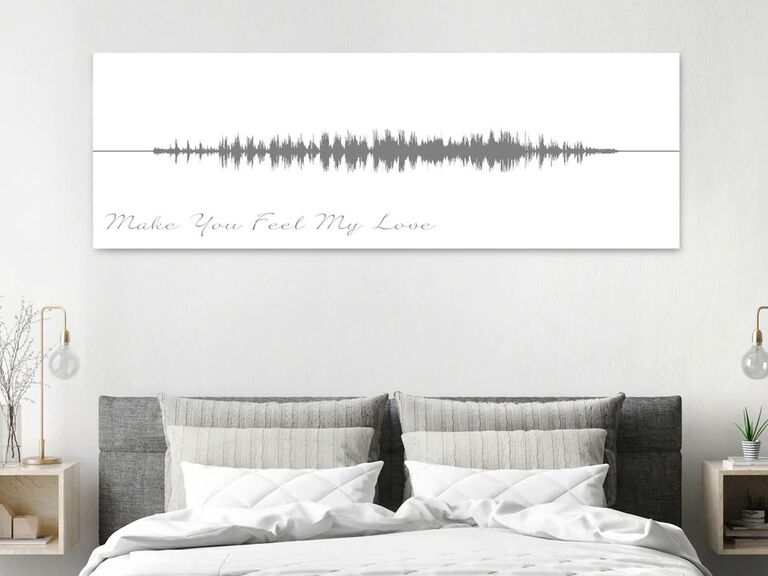 Don't be afraid to get a little sentimental when choosing wedding anniversary gifts for your friends. This unique sound wave art is the perfect way to commemorate their first dance and take them back to one of their most magical moments. Aside from being a really thoughtful gift, this cool canvas will make a modern and eye-catching addition to any room. Choose from 10 different sizes to fit their space (and your budget).
2. Engraved Picture Frame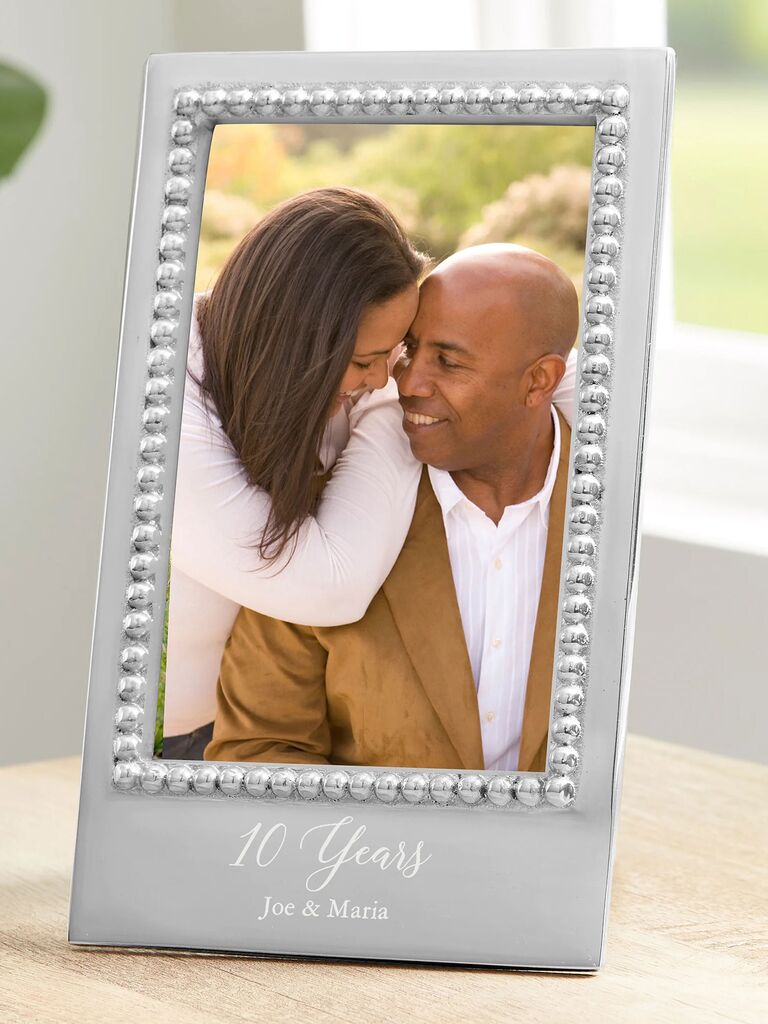 Picture frames make some of the best anniversary gifts for friends because—once filled with a photo—they're meaningful no matter what. This one is made from recycled aluminum and edged with a beaded border for added elegance. Have it engraved with their names and a heartfelt happy anniverasry quote for an extra personal touch.
3. Personalized Anniversary Book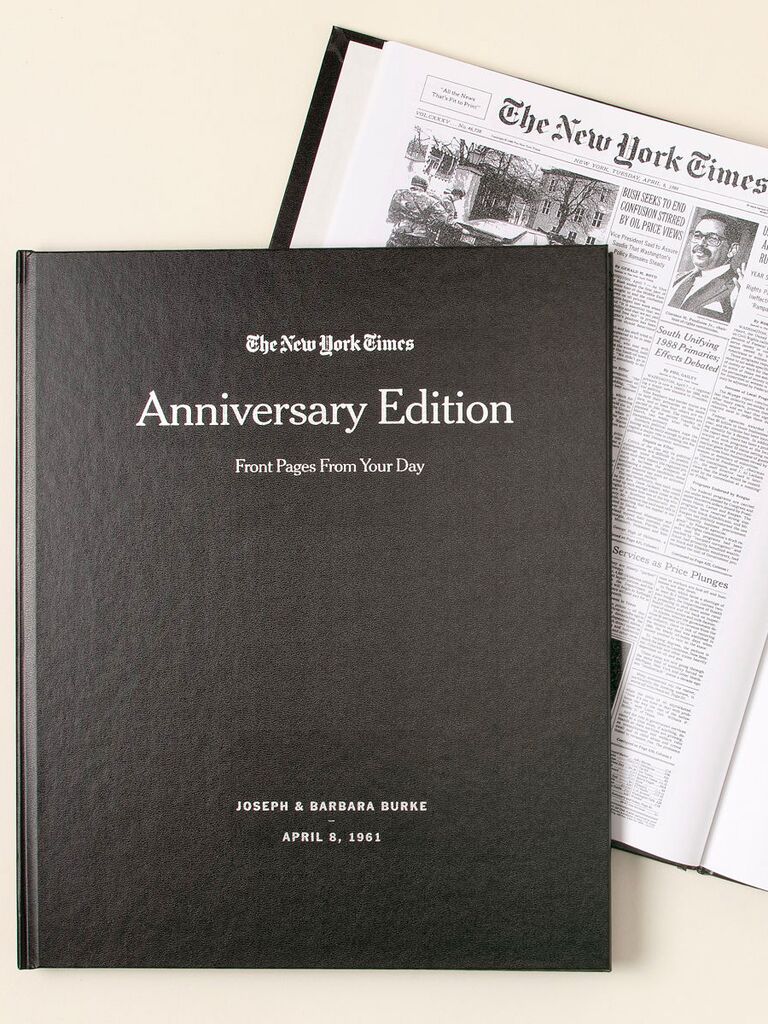 This personalized anniversary gift is sure to wow any couple who loves reading the newspaper on a Sunday morning. The leather-bound book features covers of The New York Times from their wedding day and celebrates every anniversary date that follows. Whether they've been married a decade or 30 years, they'll love reflecting on all that has happened since they said their vows.
4. Multi-Purpose Pan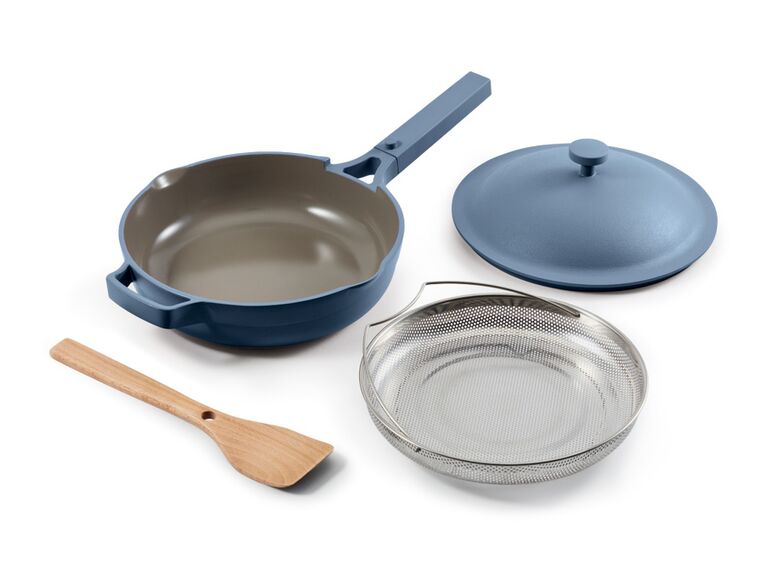 If your favorite couple loves cooking together, a new piece of kitchenware is a gift they're sure to appreciate. This multi-purpose pan from Our Place is highly rated for its versatility, style and eco-friendly materials. Ideal for steaming, searing, boiling and baking, it can replace 10 pieces of traditional cookware (saving time on washing up and storage space) for a thoughtful and practical gift any budding chef will love (and use!).
5. Mini Congratulations Cupcakes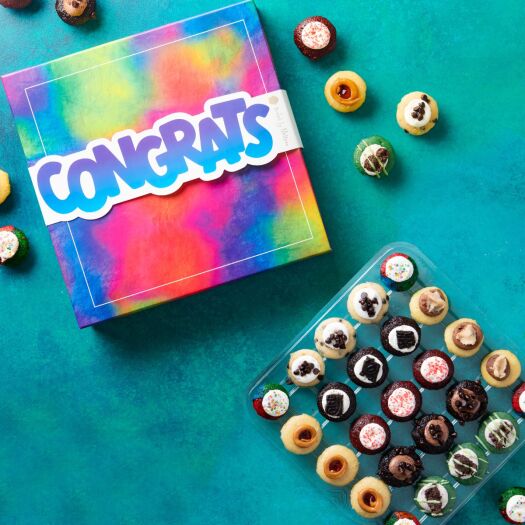 Shopping for friends with a sweet tooth? Here's a delicious anniversary gift they'll be delighted to unwrap. These colorful bite-sized cupcakes come in a range of flavors and are packaged in a bright box for a thoughtful presentation. Bonus: Gluten-free and vegan options are also available, so anyone with dietary restrictions won't have to miss out on the fun.
6. Personalized Anniversary Candle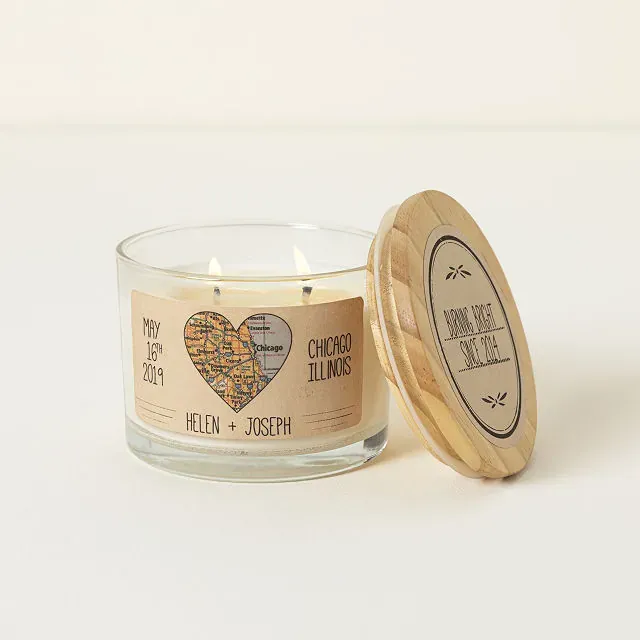 True love burns bright and what better way to celebrate your friends' happy union than a personalized candle? This one smells as good as it looks, with a delicious champagne scent and a customizable label with the couple's names, anniversary date and year. It also includes a heart-shaped map of a city (think: where they got married or met for the very first time).
7. Adventure Challenge Notebook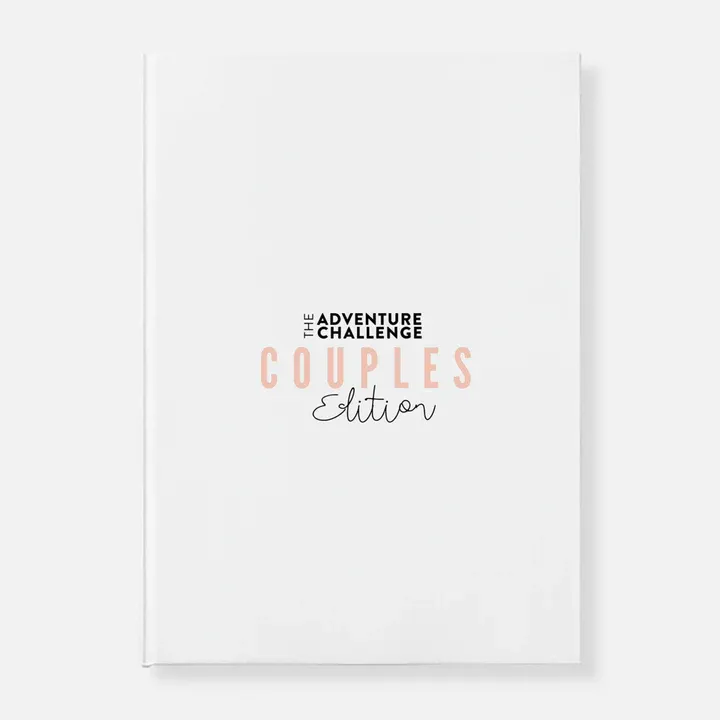 If your married friends have been together for years, chances are they're running out of date night ideas. Help them make time for each other with this bestselling notebook from The Adventure Challenge. It's packed with surprise scratch-off activities they can do together, like blindfolded baking or recreating their grandparents' first date. It's a fun and thoughtful gift any couple will be thrilled with. (Psst: Get 20% off sitewide with the code THEKNOT20).
8. Anniversary Pebble Art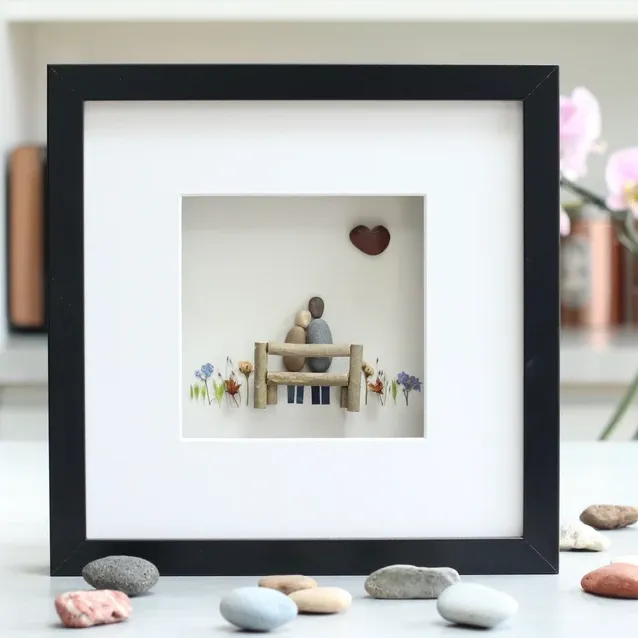 Whether the happy pair have been married for 1 year or 20, this cute pebble art is a gift they're sure to cherish. Handmade from locally sourced materials, it features two pebble figures cuddled together on a bench. A heart-shaped stone sits above them, adding a sweet and romantic touch to this sentimental gift.
9. Personalized Family Game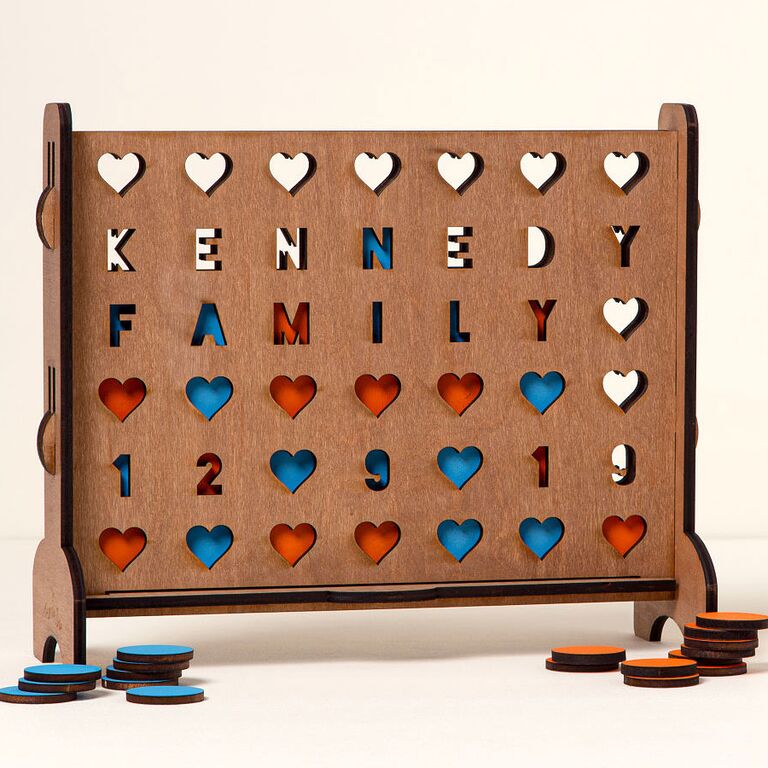 Uncommon Goods makes choosing anniversary gifts for friends look easy, thanks to a wide selection of personalized options. This handcrafted four-across game is a winner for a reason: It features the couple's name and anniversary, has heart-shaped slots and inspires a bit of friendly competition. If you're shopping for a more outdoorsy couple, there's even a jumbo-sized option they can play on their lawn.
10. Personalized Anniversary Blanket
If your friends are celebrating a major milestone, this embroidered blanket is a gift that'll warm more than just their hearts. Woven from 100% cotton, it can be personalized with their names or monogram for a thoughtful touch. You can also add their wedding date and a short message wishing them a happy anniversary. Best of all, the embroidery threads come in a variety of colors so you can choose one that reflects a specific anniversary theme or their existing decor.
11. Heart-Shaped Bamboo Plant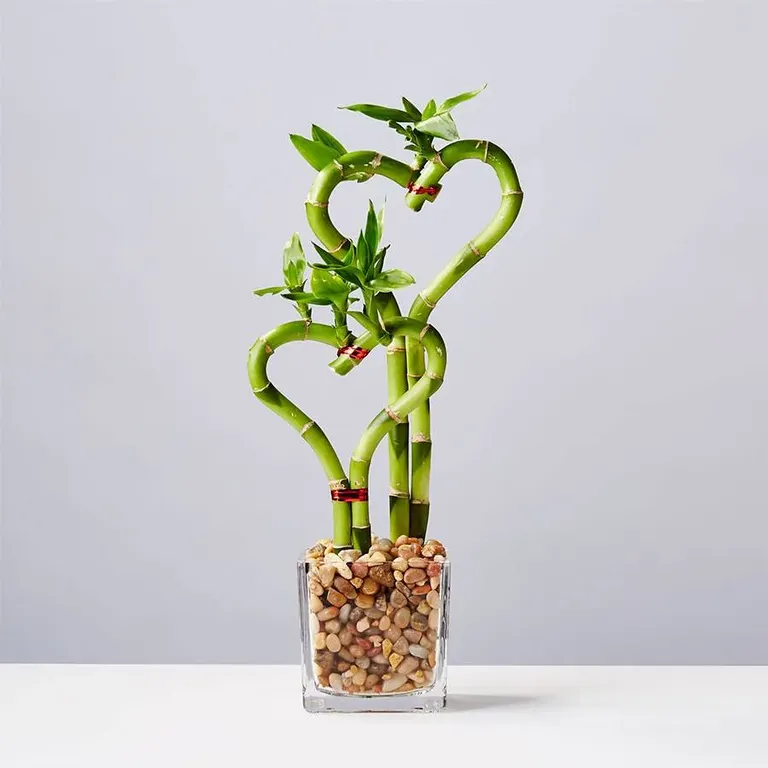 Great wedding anniversary gifts for friends come in all shapes and sizes as this striking bamboo plant demonstrates. Its stalks are twisted into the shape of two hearts, making it a fitting tribute to a couple who love and support one another through all of life's ups and downs. Bonus: This indoor plant also purifies the air, making their home a healthier (and happier) place to be.
12. Tinted Wine Glasses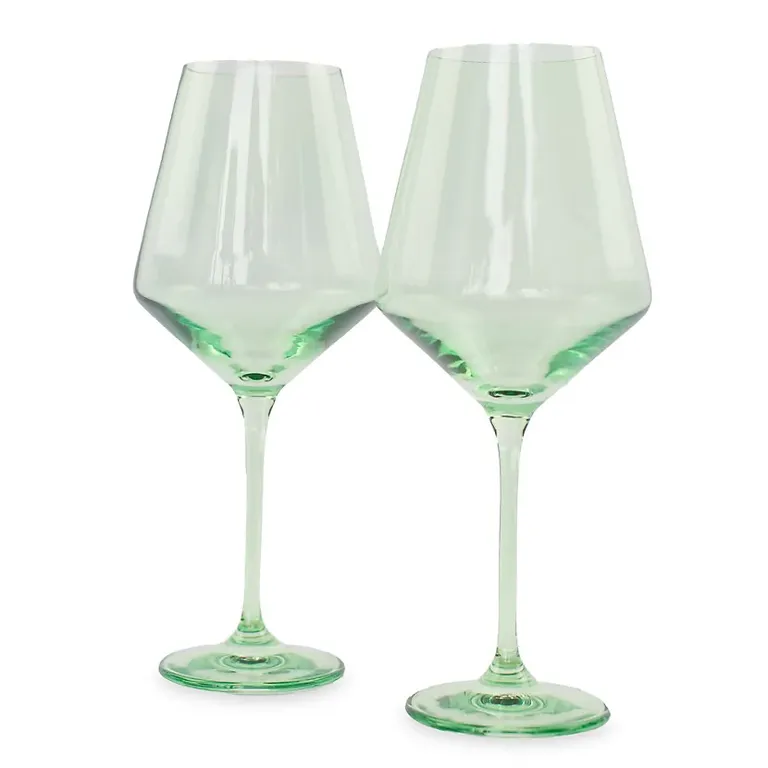 Give their glassware collection a modern upgrade with these tinted wine glasses from Saks Fifth Avenue. Sold as a pair, they're made from hand-blown glass and come in a variety of punchy colors, from sapphire blue and ruby red to mint green and blush pink. Want to be extra thoughtful? Team these funky glasses with a bottle of anniversary-worthy wine to help them get the celebrations started.
13. Personalized LP Record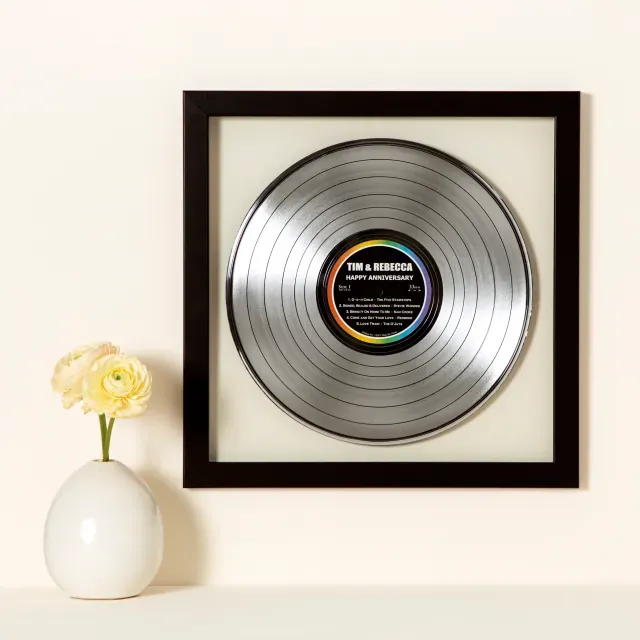 If the couple in question are lifelong music fans, this personalized LP record is a unique anniversary gift that'll take center stage. It's made from an upcycled vinyl record and can be customized with their names, anniversary dates and favorite tunes at the center. Add up to five of their most-loved songs (think their wedding tune or a chart-topper from the year they got married) to ensure this creative gift is a smash hit.
14. Fun Together Experience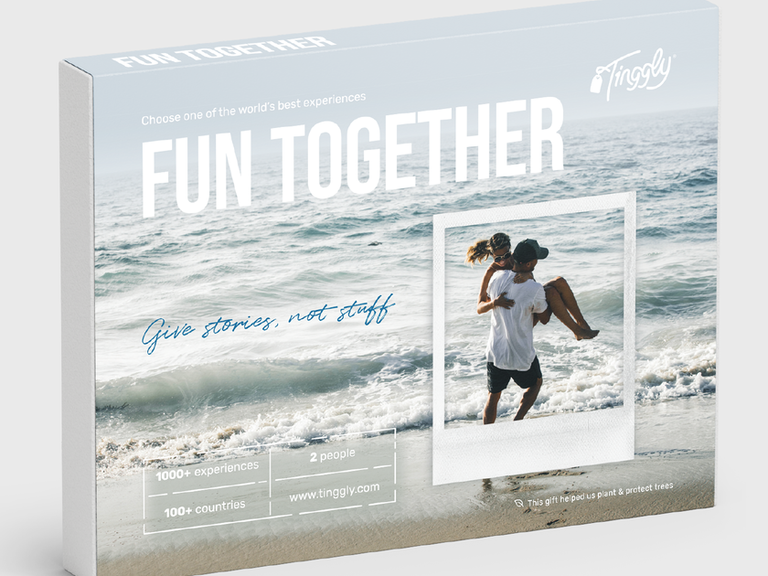 Finding great anniversary gifts for friends can be challenging, especially if the couple already has everything they need. This is where experience gifts come in handy—they don't take up space at home and they're guaranteed to help them make lasting memories. Tinggly's Fun Together Experience lets the happy couple choose from more than 1,000 activities all over the world, like whale watching in Hawaii, wine tasting in Portugal, surfing lessons in Australia and so much more. Whether they want to do something in their hometown or start planning their next vacation, it's a gift any adventurous couple will adore.
15. Monogrammed Ice Bucket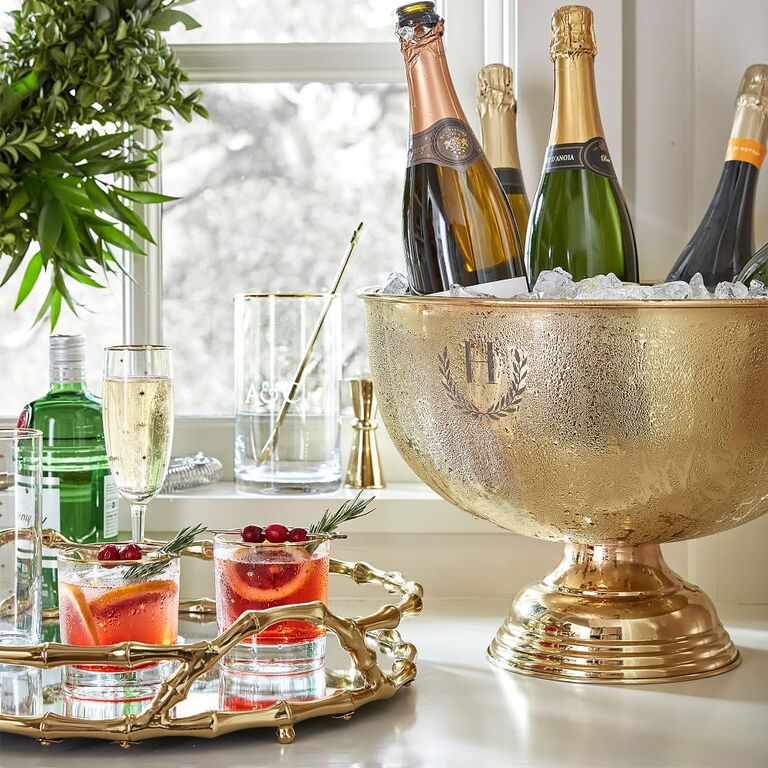 If your married friends are marking a big milestone (like their silver or golden wedding anniversary), this monogrammed ice bucket will add some glamor to the celebrations. It's available in copper, silver or gold and can be laser-engraved with their initials for a sophisticated touch. Practical and stylish, it's a thoughtful anniversary gift your pals can use for every big occasion.
16. StoryWorth Subscription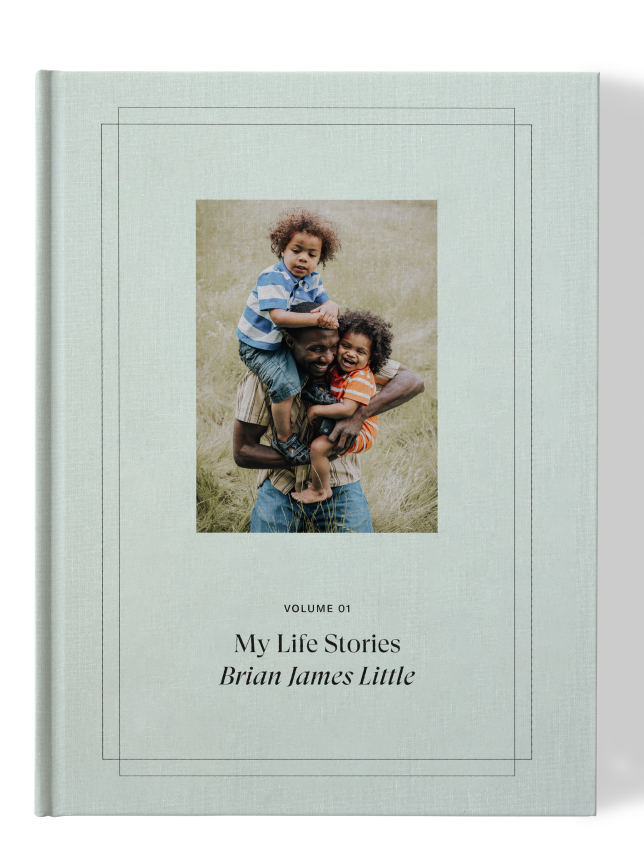 However long they've been married, it's likely your favorite duo has plenty of great stories from their shared lives. With this StoryWorth subscription, they can transform their personal anecdotes into a beautiful keepsake that they'll treasure forever. Every week, they'll be emailed a set of writing prompts to help them get their creative juices flowing. Once the year ends, their precious stories will be bound into a nostalgic memory book they can look back on with love.
17. Cocktail-Making Class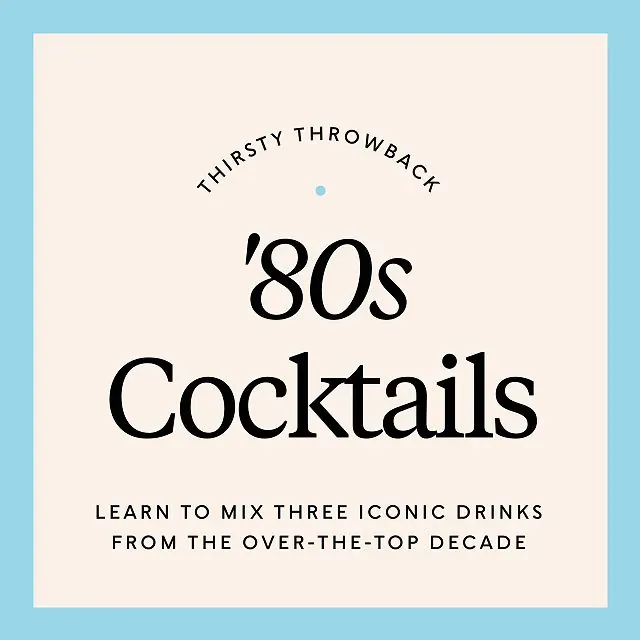 Looking for a practical gift that doubles up as a fun date night experience? This 90-minute virtual cooking class teaches couples how to make three 1980s-inspired cocktails from the comfort of their own home. During their tutorial, they'll learn how to mix up a fruity Blue Hawaiian, a classic Tequila Sunrise and a tangy Amaretto Sour. Bonus: The recipes can be adapted to make alcohol-free options the whole family can enjoy.
18. Luxurious Sheet Set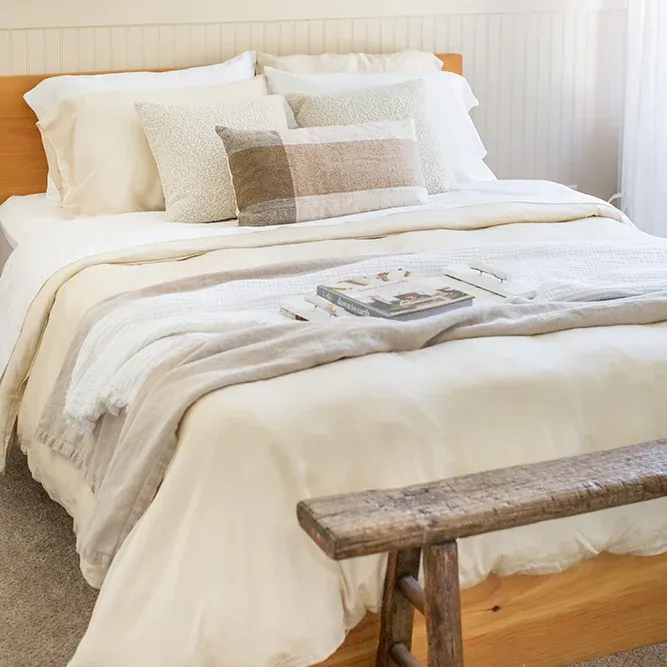 A great night's sleep can work wonders, with benefits including everything from improved mood to a stronger immune system. Help your friends catch their zzz's (and boost their energy) with this luxurious sheet set from Eucalyspo. It includes a fitted sheet, a top sheet and one or two pillowcases, all made from sustainably sourced lyocell fabric. This moisture-wicking and hypoallergenic material is also naturally cooling, making it especially fitting for anyone living in a hotter climate.
19. Monogrammed Playing Cards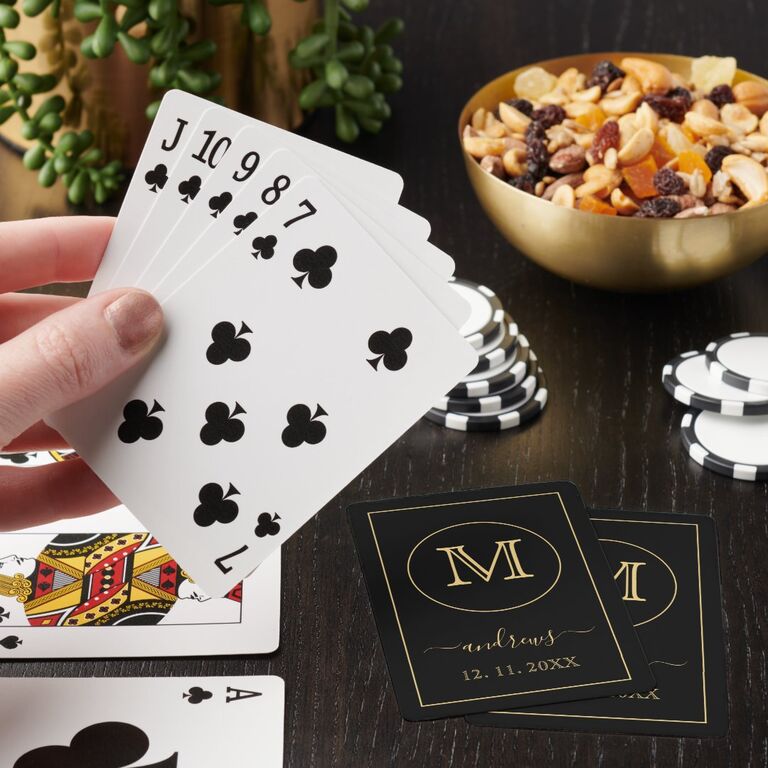 If Friday night poker night is part of your friends' weekly routine, they'll love this set of playing cards. They can be personalized with the couple's monogram, along with their wedding date and shared last name for a thoughtful touch. Our prediction? They'll be so impressed with this delightful deck they'll find it hard to keep their poker faces intact.
20. Personalized Flower Pot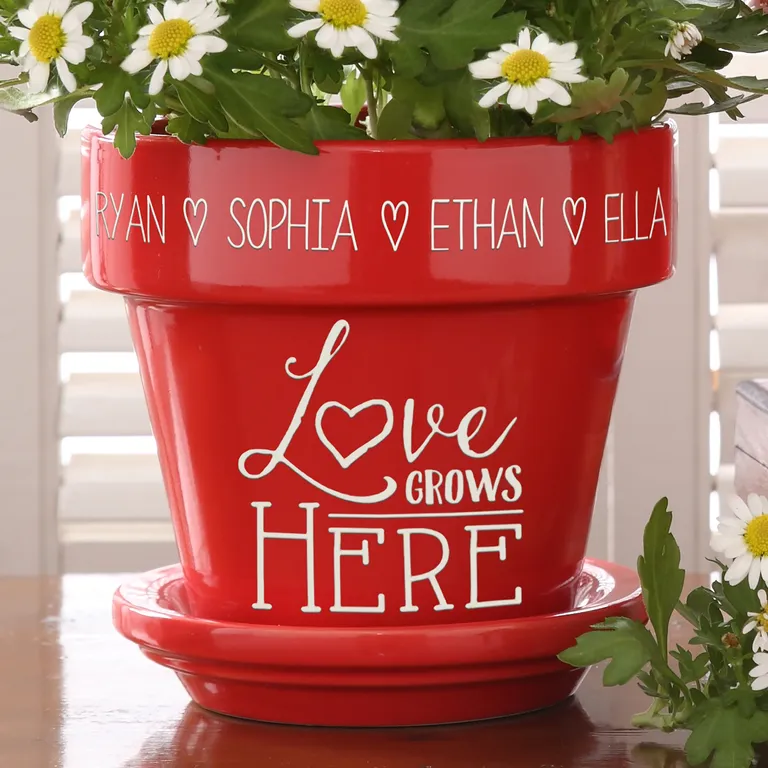 One of the best ways to find anniversary gifts for friends is to take inspiration from their hobbies. If they enjoy spending time in the garden, this cute flower pot is a practical gift they can actually use. The message "Love Grows Here" is etched onto the front, with space to add their names and a special date around the rim for a sweet touch. It's available in red or purple and comes with a saucer for easy drainage.
21. Luxury Picnic Gift Set
Encourage your friends to take a break from the daily grind with a luxurious picnic date. This gift set includes an insulated cooler bag filled with cheese, sausages, gourmet crackers, hot honey mustard and two bottles of wine—basically everything they need for a relaxing al fresco lunch. It also comes with two wine glasses, a bottle opener, a cheese board, a cheese knife and napkins for added convenience.
22. Monogrammed Coffee Mugs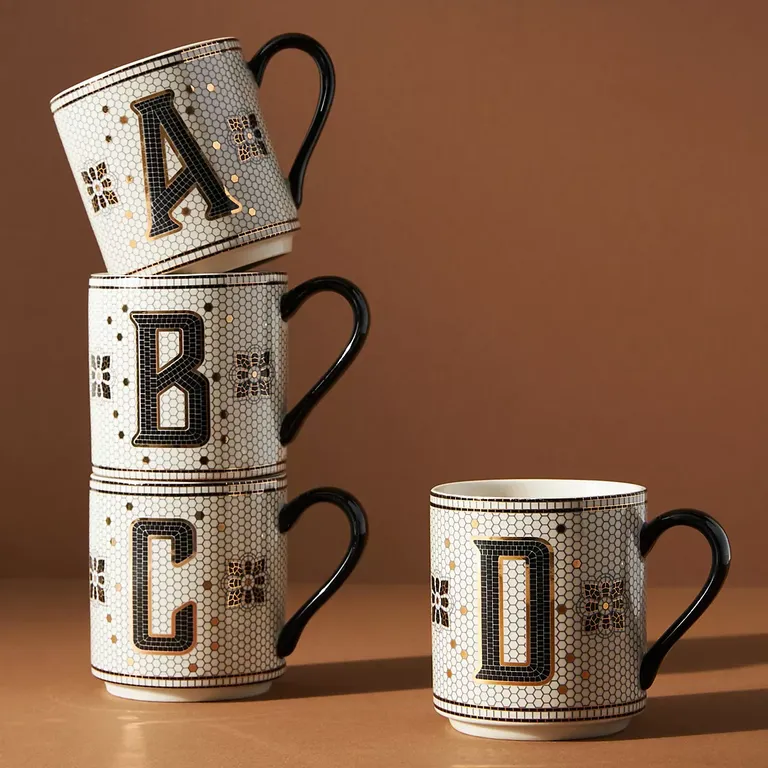 Wondering what to get your coffee-loving friends for their wedding anniversary? A set of stylish mugs, of course! These ones from Anthropologie feature a chic mosaic pattern finished with a bold black and gold monogram for added elegance. They're sold individually, but they're so affordable you can easily pick up two for your favorite duo.
23. Elegant Crystal Vase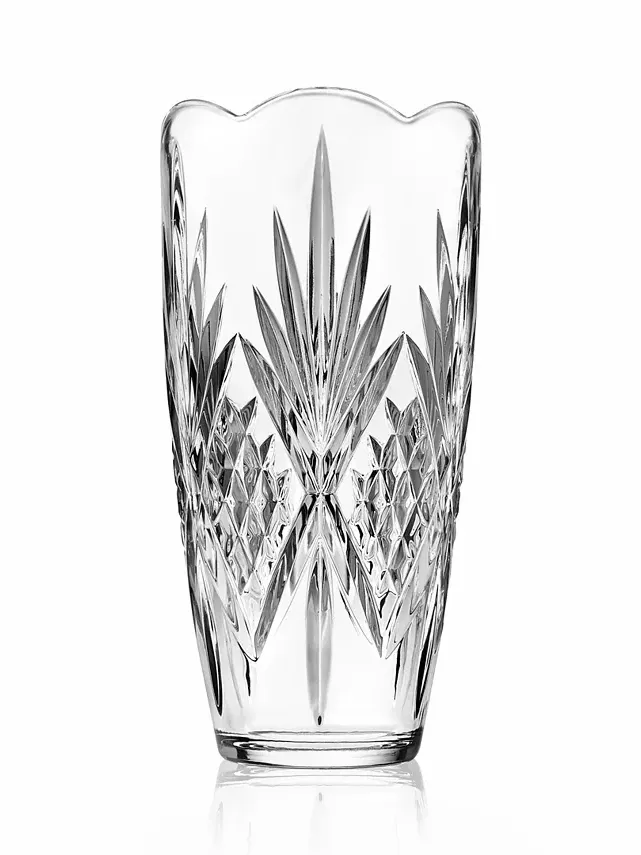 If your friends love to display fresh blooms in their home, a crystal vase is a practical anniversary gift they'll be thankful for. This stylish vessel is made from lead-free crystal glass and is finished with an elegant scalloped rim. It's a thoughtful gift that will add the finishing touch to any bouquet of anniversary flowers.
24. Classic Dutch Oven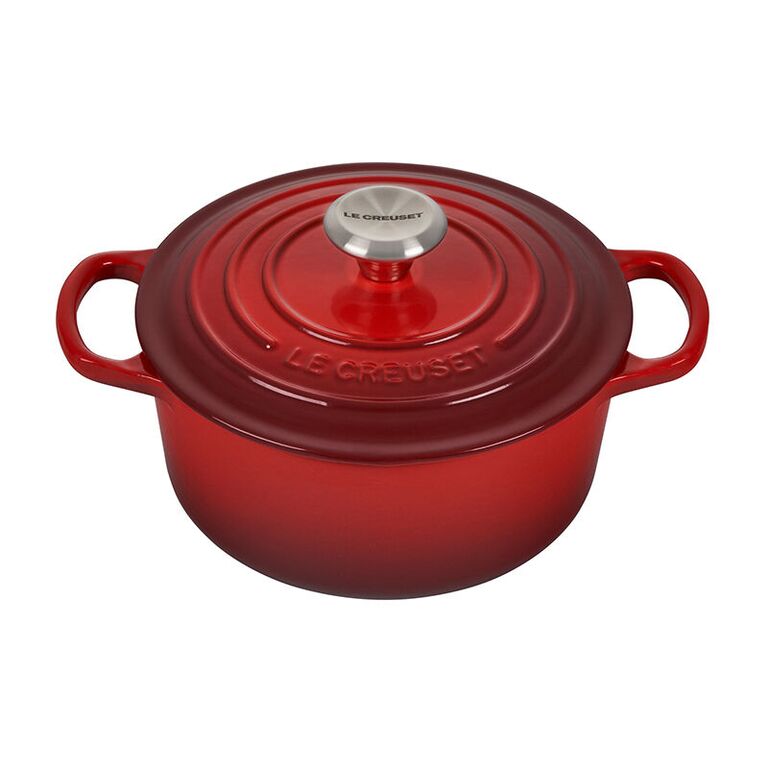 Any couple who likes to entertain will go wild for a piece of cookware from Le Creuset. This Dutch oven is made from enameled cast iron and can be used for slow cooking, braising, roasting, baking and so much more. It's a practical and stylish anniversary gift that's sure to make a statement at their next dinner party. Choose from an array of colors to suit their tastes and decor scheme.
25. Mystery Game Subscription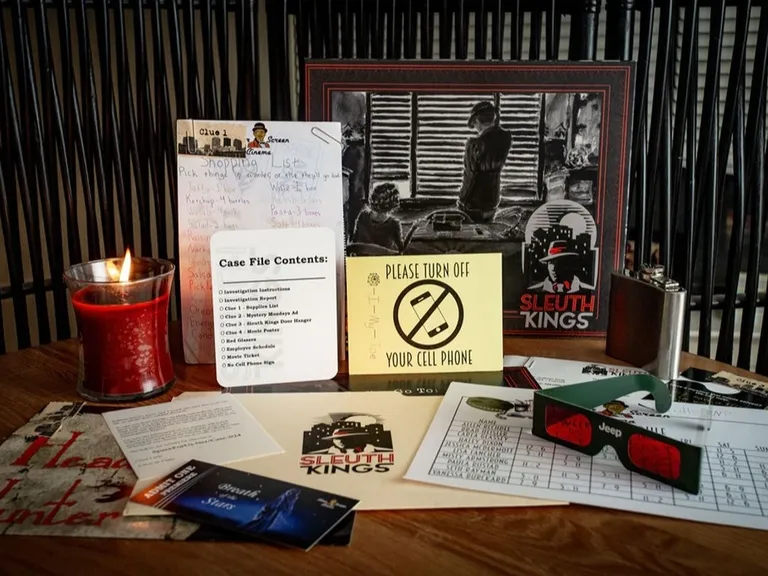 Trying to crack the code for the perfect anniversary gift for your friends? We think we've solved the riddle with this mystery game subscription. Every month (for four months), they'll receive a file filled with fictional evidence, clues and puzzles to help them unravel an unsolved case. Perfect for couples who love a challenge, this fun and interactive gift is guaranteed to shake up their date night routine. P.S.: It's suitable for all ages and any number of players, so they can even get the whole family involved.
26. Custom House Portrait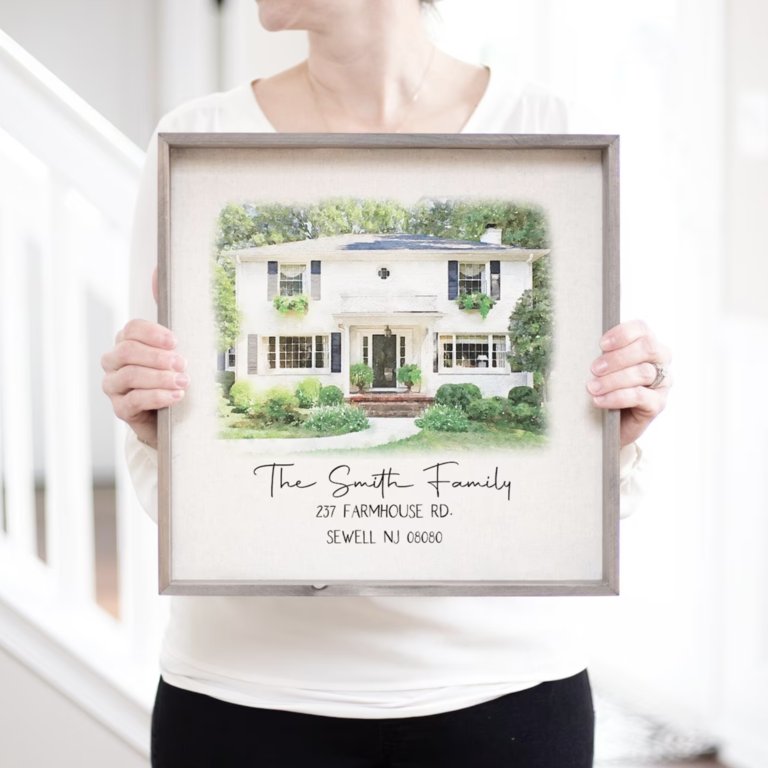 If your friends have lived in the same house since they got married, this custom portrait is a sweet way to honor their happy home. All you have to do is submit a photo of their abode to be transformed into a digitally generated illustration. Choose from a variety of framing options to give this thoughtful keepsake a polished and display-worthy finish.
27. Personalized Marble Coasters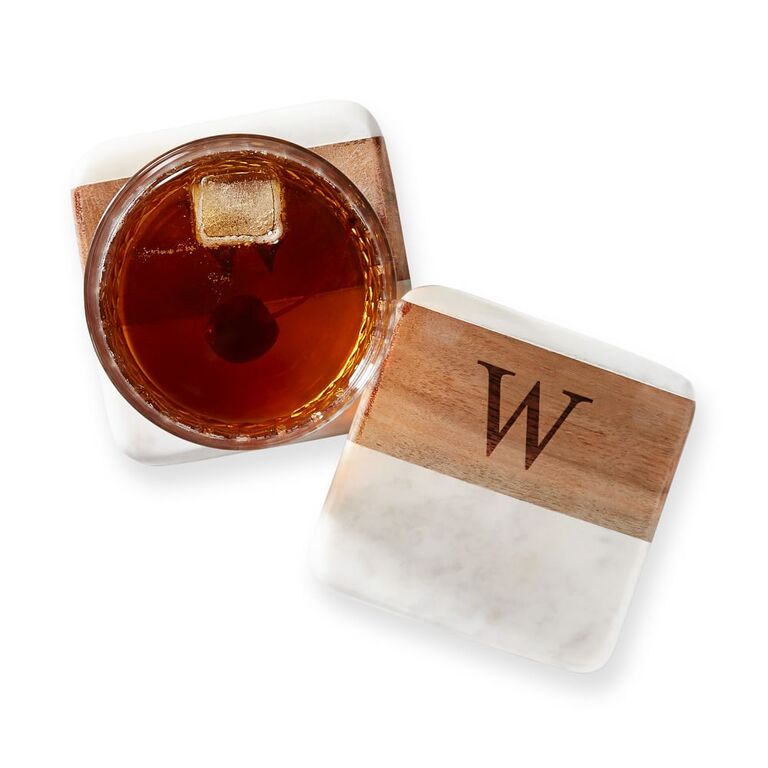 There are few things more enjoyable than hanging out with friends over a cup of coffee. Make the ritual even more special by gifting your loved ones a set of personalized coasters. This wood and marble set includes four or eight coasters (depending on your preference), with each one laser engraved with the couple's monogram for a sophisticated finish. They're a practical and stylish gift any houseproud couple will be delighted to show off.
Our team received [some of] these products as promotional samples in exchange for editorial consideration and independent review.