These Couples Got Married on Valentine's Day at City Hall, and You've Got to See Their Sweet Photos
With a photographer, live band and cupcakes, The Knot helped couples who got married at City Hall on Valentine's Day celebrate.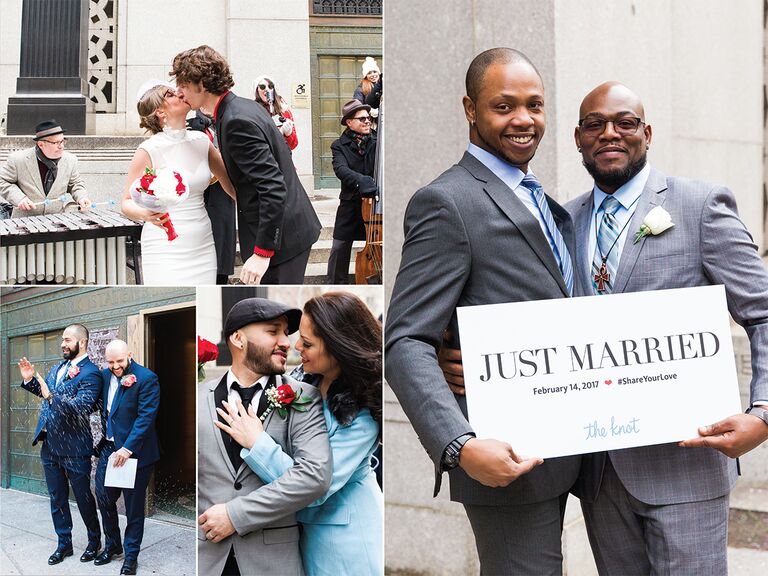 Matt Does Weddings
At The Knot, it's no secret that we love celebrating love in all forms—especially on Valentine's Day. Last year, we helped throw a party for couples married over 50 years, but this year, we wanted to celebrate newlyweds—specifically, couples who got married at the iconic City Hall in New York City on Valentine's Day. Together with The Knot editorial team, wedding photographer Matt Mantyla of Matt Does Weddings snapped beautiful photos of the newlyweds, Lapis Luna Music and Oh La La! gave couples their first dance with romantic tunes, and Magnolia Bakery provided cupcakes for a sweet treat—all on the sidewalk in front of the Marriage Bureau. And although it was only a mere 30 degrees outside, the significance of the day and cheers from friends, family members and onlookers warmed everyone's hearts. Of course, no two couples had the same love story, but every newlywed did have that "just married" smile and spirit we were so thrilled to capture.
See photos of the day and read stories from some of the newlywed couples below:
Eric & Ronnie
"We feel extremely happy. It's amazing. We wanted to keep our wedding small and have everyone near us who we both love and cherish. Everyone showed up—my baby brother, big sister, little sister, brother-in-law and niece. Our anniversary of being together is Halloween, so Valentine's Day is perfect for us to get married. We want to make all the holidays mean something to us and have a reason to celebrate."
Jamary & David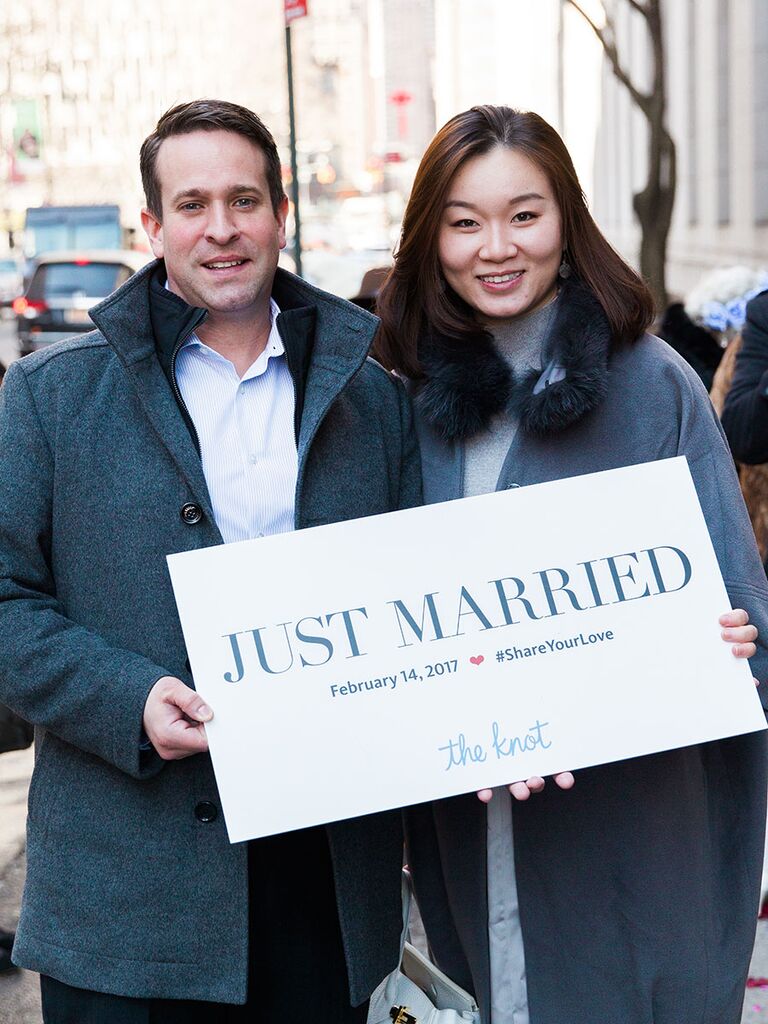 "I actually work for a jewelry company, so I got our rings for free from Frederick Goldman. We got them quickly, within 24 hours. I'll never forget this day—it's Valentine's Day and the day we got married."
Hilary & Eric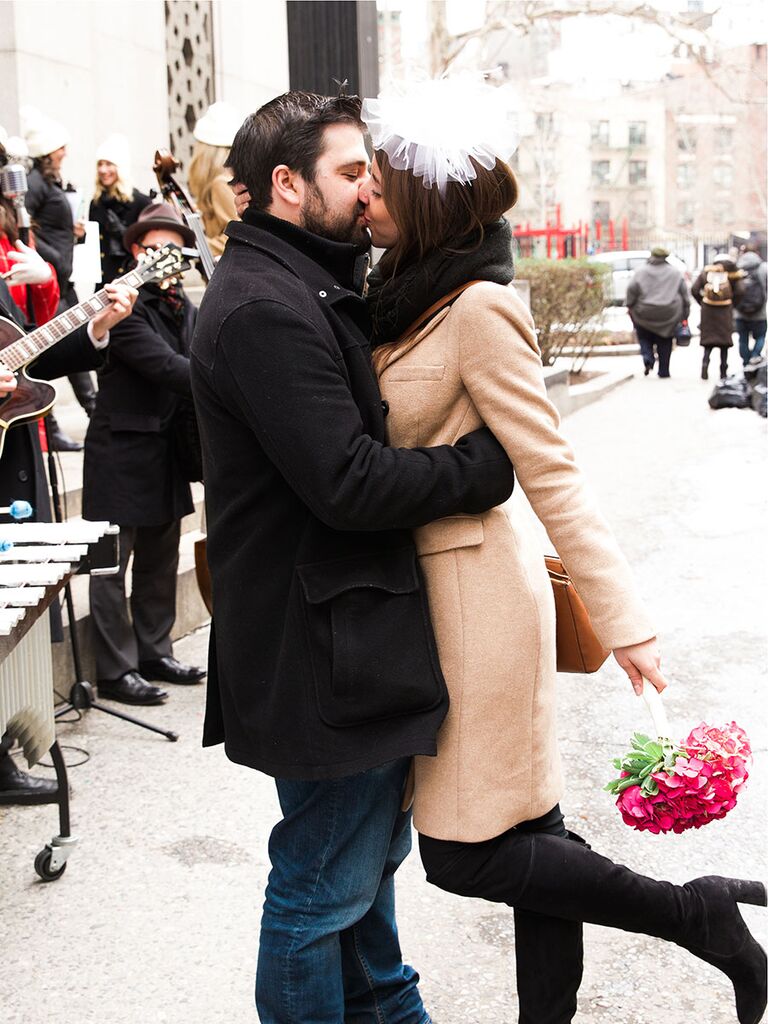 "We're getting married on Sunday, so [we thought] why not get our marriage license on Valentine's Day, the most romantic day of the year? Now we're going to see 50 Shades Darker, cook some food and have some wine. We met at McSorley's five years ago and I've been in love ever since."
Aleksandra & Adam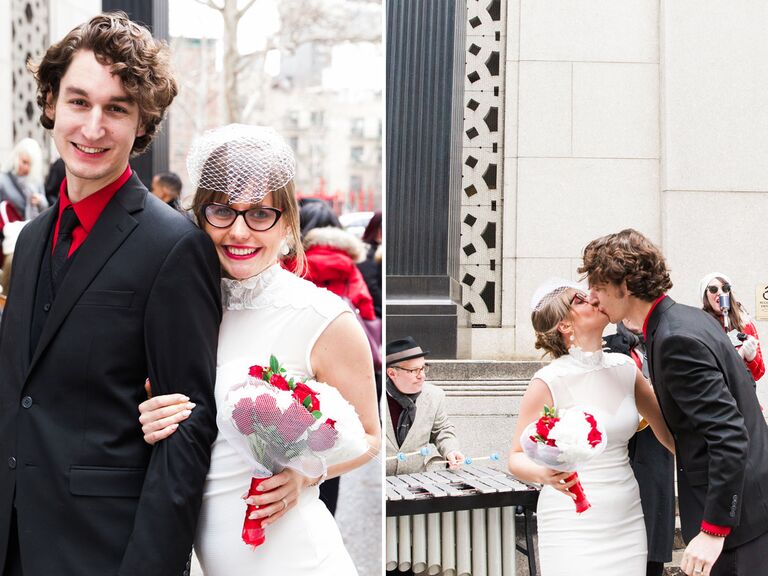 "It's Valentine's Day, so what better day to remember your anniversary? We're going to go take some pictures on the Brooklyn Bridge now. She's got a flight back to Poland tonight, and then I'm going back upstate. We met two years ago in New Hampshire at a summer camp. She worked in the kitchen and I was a counselor. We spent time together, stayed in touch and dated long-distance. She came back to the US last summer. We moved in together and it just all worked out."
Lily & Jason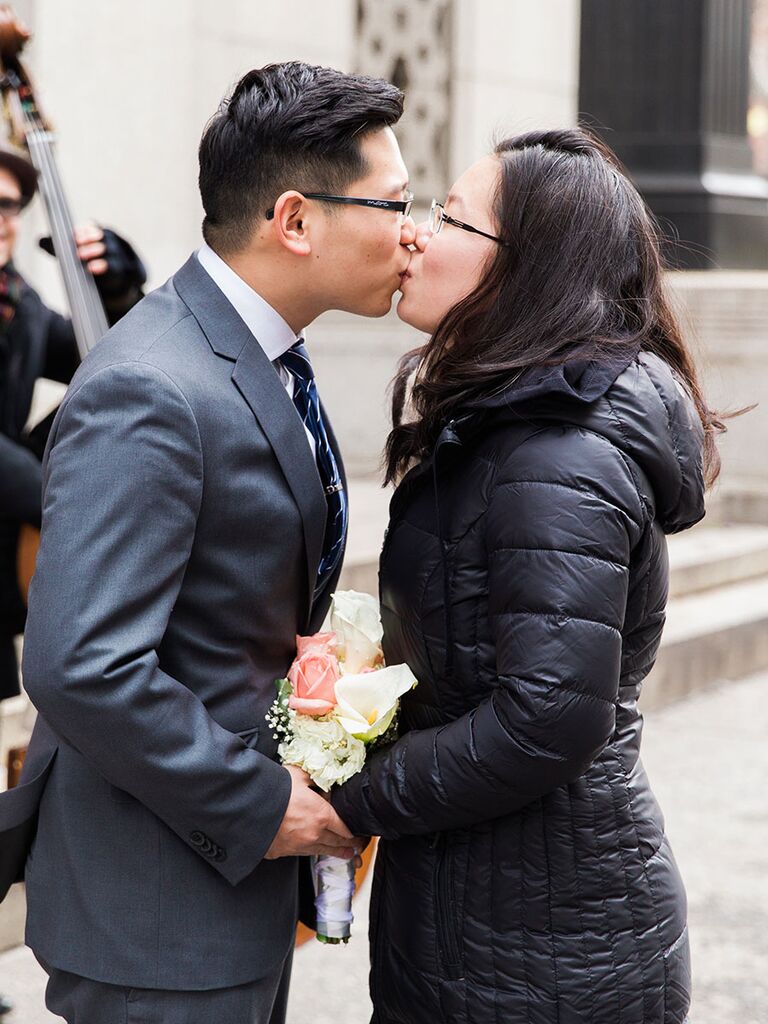 "We met in college. We wanted to get married today because it's a special day to share love. She's actually going to get Lasik surgery now, though."
Donna & Levance
"Today is a special day for lovers, and we are truly in love. We're going out to eat now and will have a quiet night together later. We met when I was shopping and he helped me with my bags!"
Ruth & Michael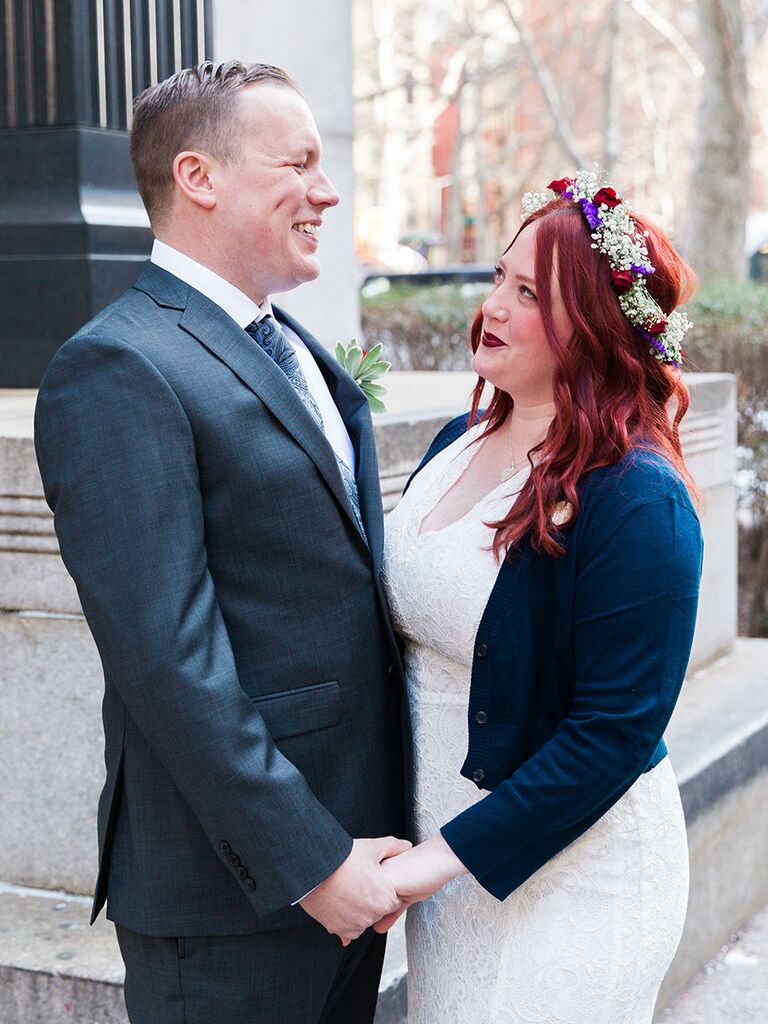 "Five years ago, we had our first date on Valentine's Day, so it's our anniversary. We're going to take pictures on the Brooklyn Bridge, go to an igloo bar and see family later for dinner. We met through my sister—she played matchmaker."
Cecilia & John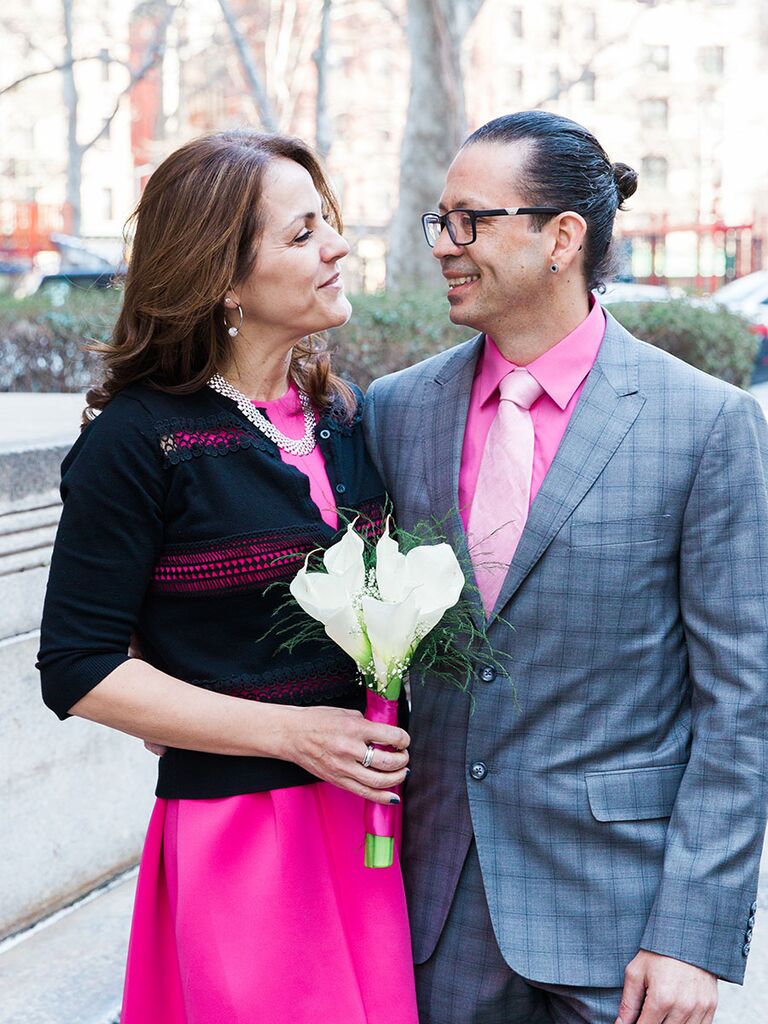 "It's a romantic day, so we just decided to be romantic and a little spontaneous. We decided to get married a few weeks ago. We're going out to eat and will spend the day in the city. We met because he's my hairdresser! He does a great job."
Xiu & Michael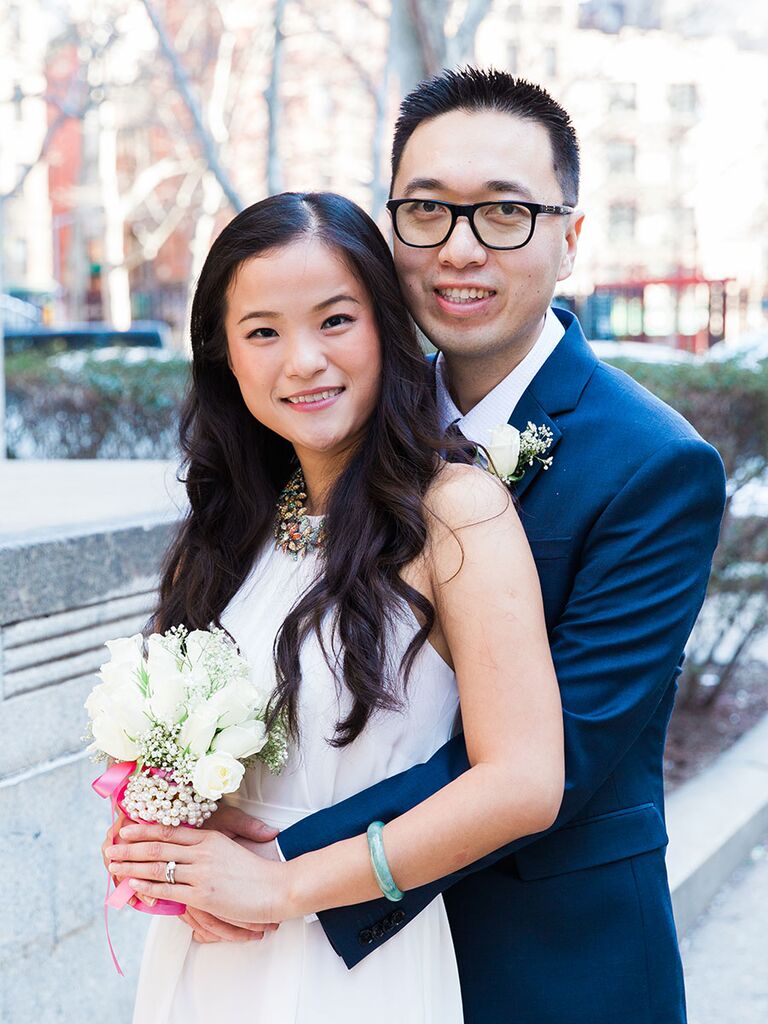 "The reason why we picked this day isn't because it's romantic or anything. It's because we're both very lazy and very forgetful, and we don't want to blame anyone for forgetting our anniversary date. We'll never forget every year! We're going to brunch now and calling it a day. We met at a friend's wedding."
Christian & Raymond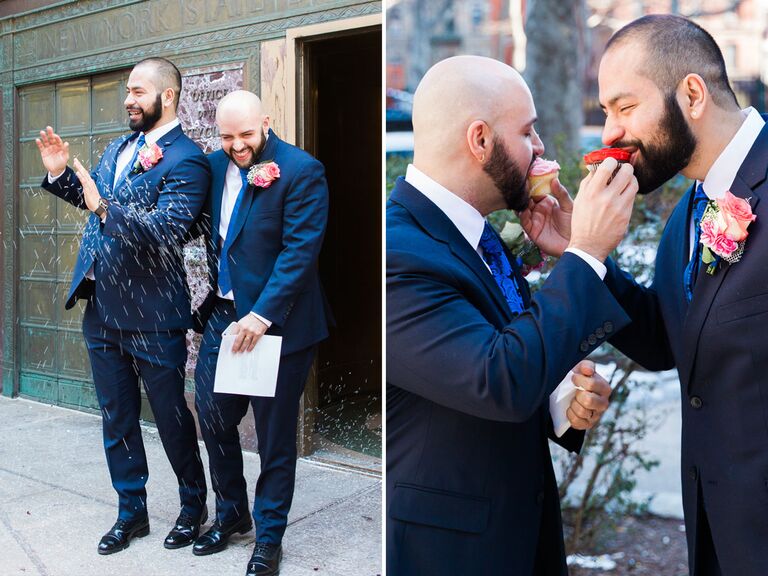 "City Hall is a very beautiful place, and I got inspired seeing so many couples get married here. It's very romantic. We're going to have lunch with family and close friends now. We met at the gym. I was doing squats and he we was next to me. We made eye contact and I asked him if he could help me. He has the better squats."