Vera Wang and The Knot Announce an Exclusive Wedding Stationery Collection
The iconic designs include invites, save-the-dates, thank-you cards and more.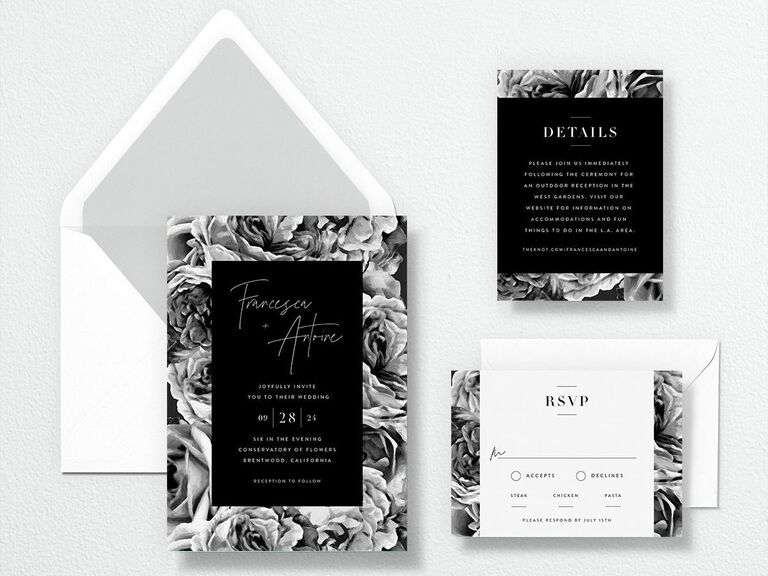 In a collaboration that celebrates both love and luxury, Vera Wang and The Knot have launched an exclusive wedding stationery collection for all couples. The Vera Wang x The Knot Collection, available only on The Knot, features 14 coordinating invitation and paper suites designed by Vera Wang. The iconic collection includes save-the-dates, invitations, day-of paper goods, thank-you cards and more—as well as new luxe envelopes and matching envelope liners. And, for ultimate cohesion, the stationery coordinates with free wedding website designs.
This collaboration comes at an exciting time, as weddings are back and bigger than ever before. At the heart of the Vera Wang x The Knot Collection is an empowering message for engaged couples: Live out your authentic love story. The eye-catching designs by Vera Wang capture a range of styles—from bold and modern to minimalist and romantic.
With whimsical floral prints and shimmering foil designs, the Vera Wang x The Knot Collection is the go-to destination for premium and luxurious wedding stationery for couples. Below, take a sneak peek at the collection's standout designs—available to shop now on The Knot.
Vera Wang x The Knot Wedding Invitations
Check out Vera Wang and The Knot's exclusive collection of wedding invitations for your upcoming nuptials. These high-quality invites are sure to leave a lasting impression on your guests.
Modern Minimalist Wedding Invitations by Vera Wang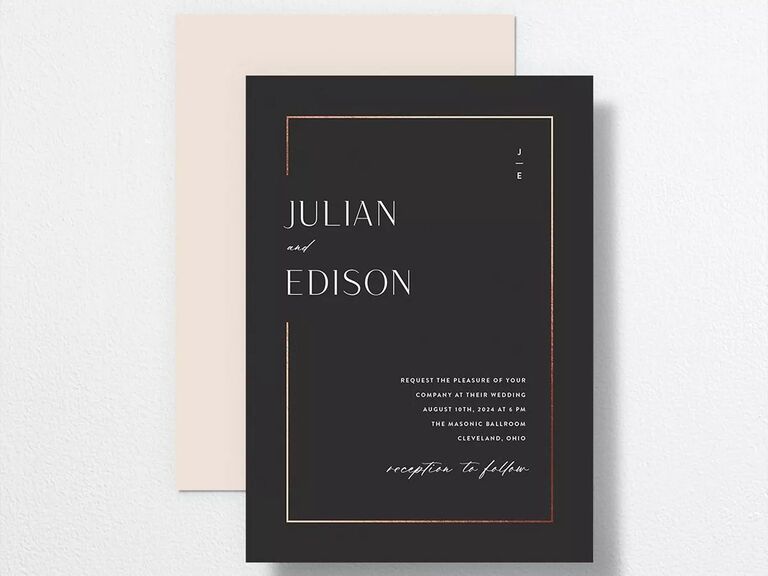 Embrace simplicity with a modern wedding invitation that's both straightforward and elegant. A sparkling foil border adds a gilded dimensional element to encase the details of your wedding. Your names are bestowed in the top left corner opposite of your initials, which are portrayed in a sweet couple's monogram.
Exotic Wedding Invitations by Vera Wang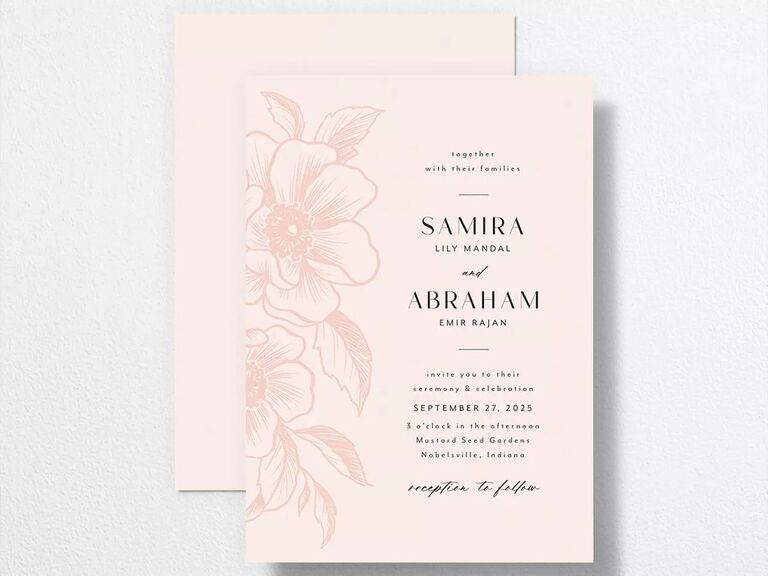 Simple yet captivating, this floral wedding invitation is a beautiful nod to nature. Alongside the botanical motifs are your names and event details presented in sophisticated type. Choose from eight elegant colorways to ring in your celebration, including cream, pink and black.
Opulences Wedding Invitations by Vera Wang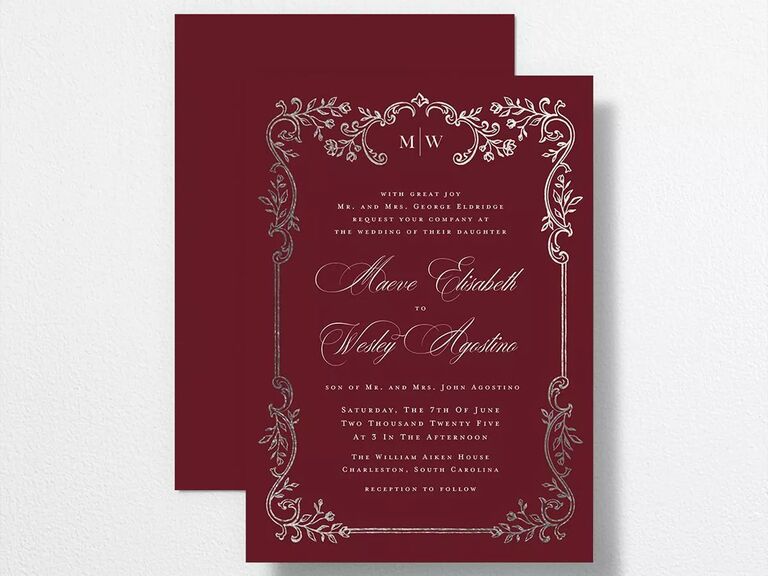 If you're throwing an extravagant party, then you'll need lavish wedding invitations to match. A shimmering ornamental foil frame encapsulates your wedding details on these distinguished invites fit for royalty. At the top of the card, your initials are shown side by side in honor of your forthcoming union.
I Do Wedding Invitations by Vera Wang
Your guests will be entranced by these stunning gothic-inspired wedding invitations. The words "I Do" pop vibrantly against the minimalist backdrop and contrasting type. For a chic surprise, the back of the card reveals a mesmerizing rose print that's utterly romantic.
Lace Wedding Invitations by Vera Wang
Offer your guests a taste of refinement with this lovely wedding invite overlaid with a blooming floral lace appliqué. The exquisite design pairs elegantly with your names and wedding details, which are printed in a mix of classic and modern lettering.
Vintage Wedding Invitations by Vera Wang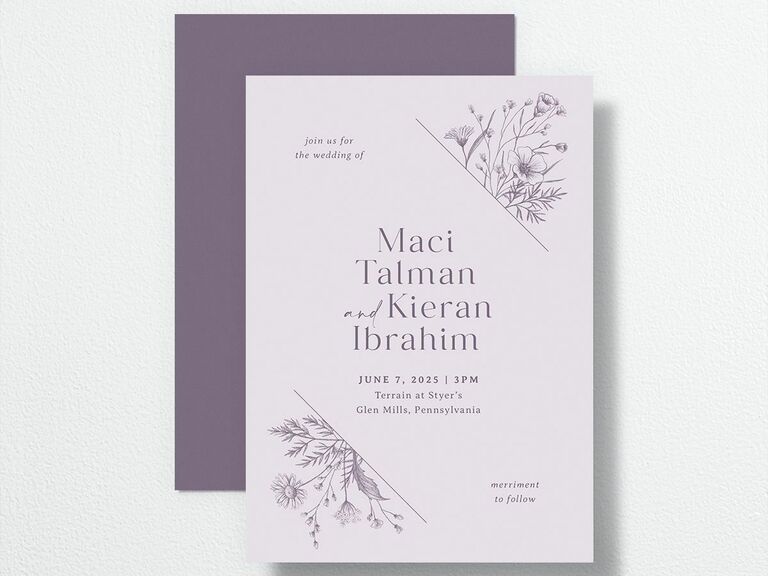 Wispy wildflower motifs decorate opposing corners of this blooming wedding invitation. Within the whimsical florals, your celebration details are gathered at the center of the card in beautiful typography. Finally, the back displays a monogram with your initials for an extra-special touch.
Etched Florals Wedding Invitations by Vera Wang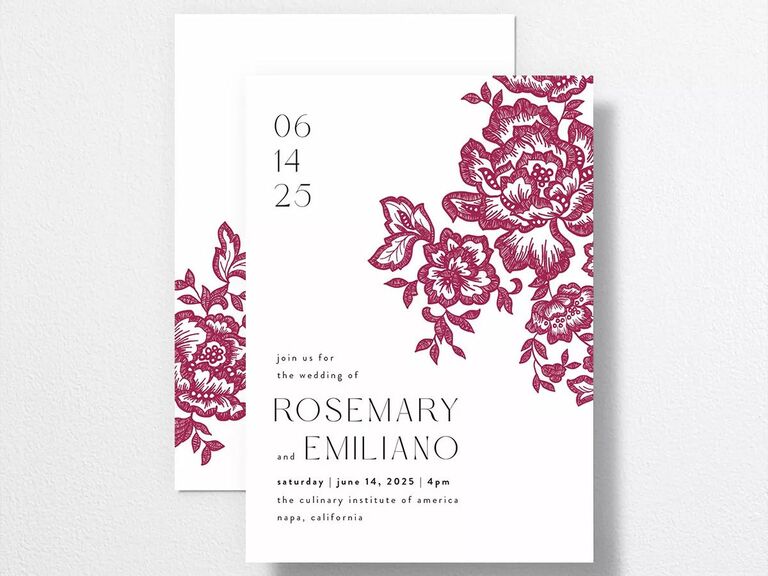 What's more romantic than illustrated flowers? They're gracefully incorporated into the design of this premium wedding invitation. As your eyes are drawn toward the bottom of the card, the details of your day unfold in a timeless font. And with six charming color options to choose from, it's the perfect complement to your summer garden soirée.
Delicacy Wedding Invitations by Vera Wang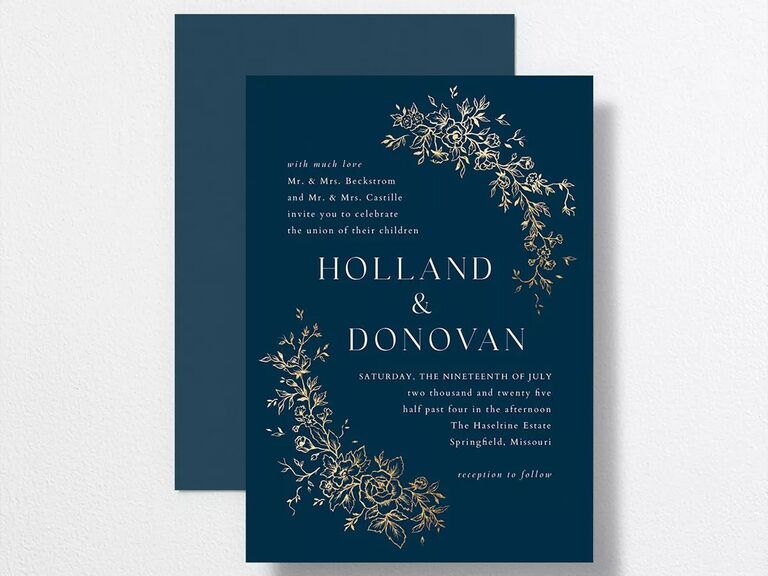 Glittering garlands of foil florals bring opulence to these sumptuous wedding invitations. Your names take center stage in a regal-inspired type surrounded by your wedding details. Select from six stunning color schemes and three foil colors to customize the luxe design.
Rose Garden Wedding Invitations by Vera Wang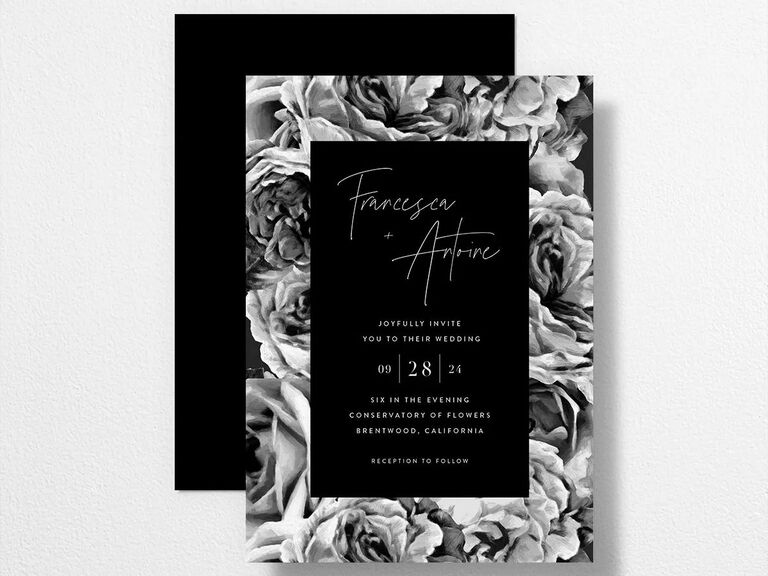 A vivid border filled with luscious roses frames your names and event details, which are presented in italic and classic fonts. The design is available in five timeless color themes, from gothic black to mystical purple, to kick off your romantic celebration.
Love Love Wedding Invitations by Vera Wang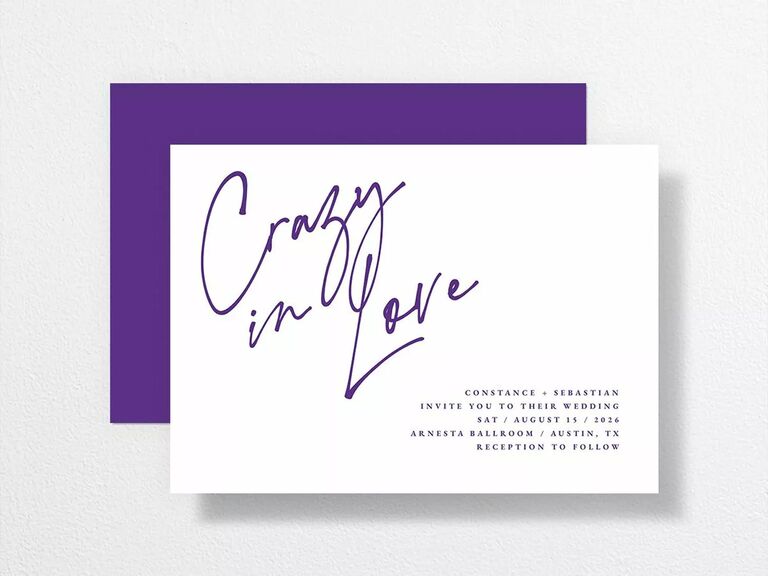 Reminiscent of a handwritten love note, this invitation lets your guests know how "Crazy in Love" you are with those very words printed in bold script. Filled with anticipation, your guests will then navigate to your event details, classily put forward in a serif font in the bottom right corner.
Bolero Wedding Invitations by Vera Wang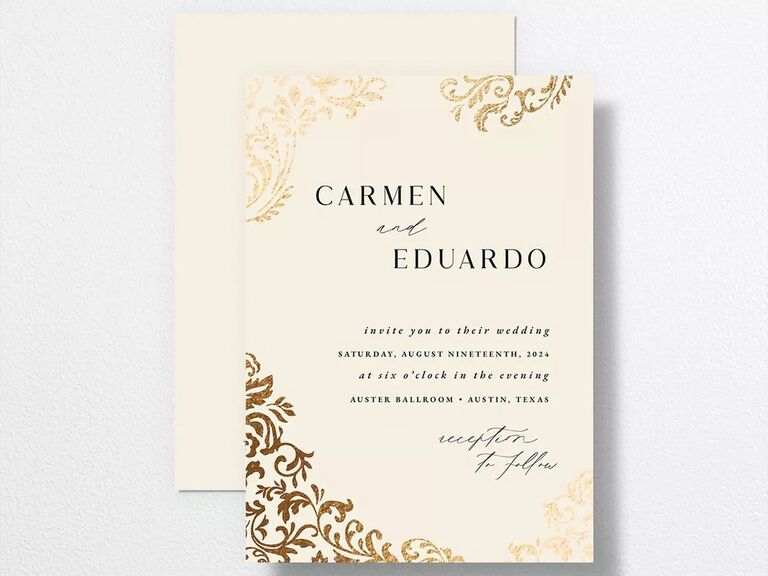 Swirling foil damask dances around the edges of this iconic wedding invitation. The shimmering foil encompasses your celebration information, while the alternating italics with a splash of calligraphy set a romantic mood.
Forever Wedding Invitations by Vera Wang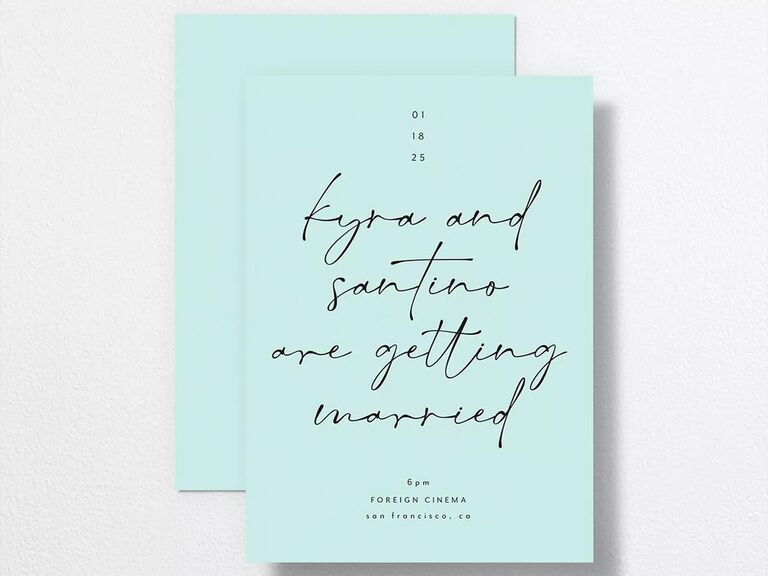 Celebrate your everlasting love with a wedding invitation that embodies elegance. On the front of this card, in a fanciful script-style scroll, is the announcement that you and your partner are getting married. Your wedding date and gathering details are set forth in a small, refined print that balances the bold center typography.
Our Time Wedding Invitations by Vera Wang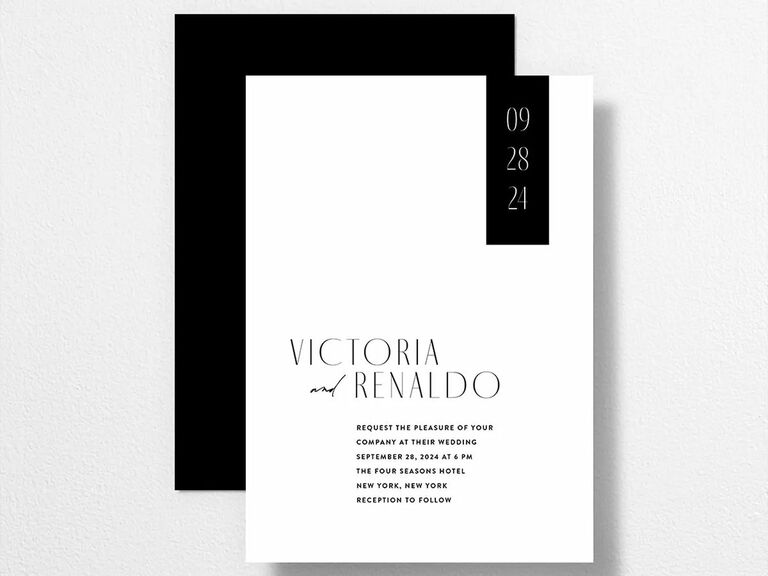 This minimalist wedding invitation features an understated, elegant design of the utmost sophistication. Your wedding date is suspended in the upper right corner, while your names band together in a captivating type above your gathering details.
Magic Garden Wedding Invitations by Vera Wang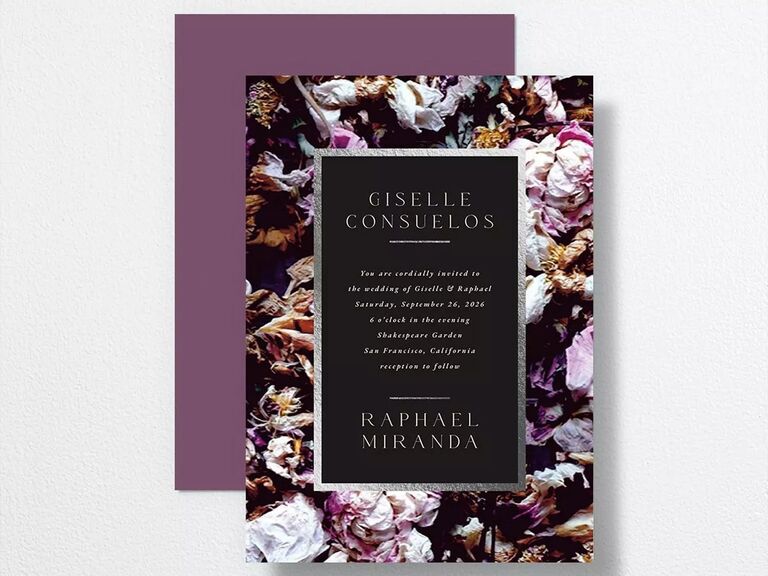 Rich florals and glistening foil create a magical backdrop for your long-awaited celebration. The gothic and alluring print draws guests into your event details, which are nestled in between your names in the center. The ethereal design comes in eight colorways, plus the back of the cards will match your chosen shade.