Everything You Need to Know About Getting Married in Vermont
Look to The Knot for local details about getting married in Vermont, from choosing your wedding venue to getting your marriage license.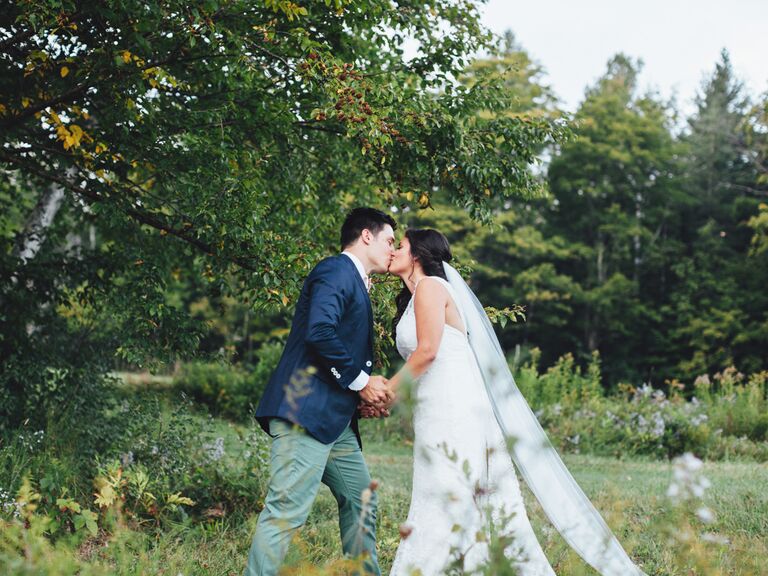 First Mate Co.
Ultimate Guide to Getting Married in Vermont
One of the states that make up picturesque New England, Vermont offers numerous beautiful backdrops for weddings. From rustic outdoor spaces to classic ballrooms and banquet halls, you can consider all the best Vermont wedding venues to plan your ideal wedding. From local offerings that include artisanal cheeses and world-famous maple syrup to storied fall foliage and fun activities, weddings in Vermont allow you to create lasting memories for you and your guests.
This comprehensive guide to Vermont weddings will help you navigate everything Vermont has to offer for your wedding day as well as your guests' stay in the area. You'll also find information on the legalities of getting married in the Green Mountain State and obtaining a Vermont marriage license. Follow your wedding checklist to make sure everything is done on time.
Top Wedding Trends in Vermont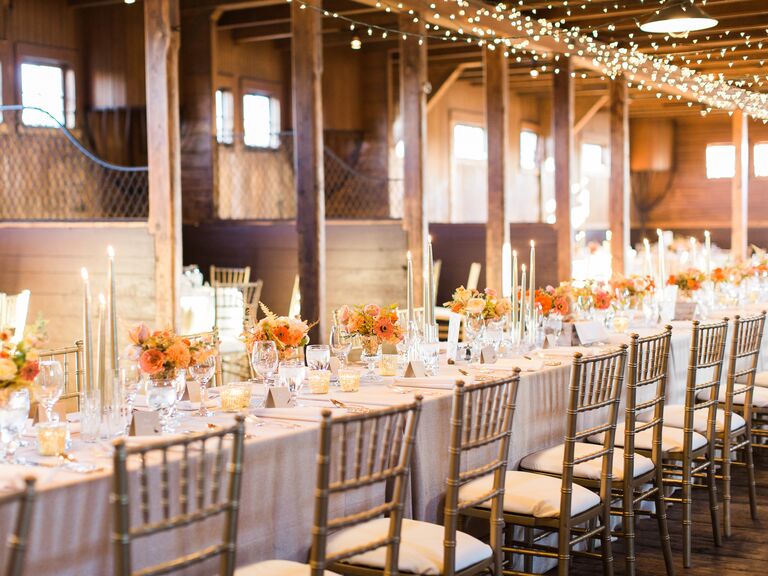 Vermont weddings have taken on fun trends revolving around the state's unique natural features. Some of the best wedding venues in Vermont are rustic barns or venues located in the mountains that offer picturesque scenes of fall foliage and natural rock formations.
Despite the colder temperatures, winter weddings have also become popular in Vermont. The snow-covered mountains offer a clean and stunning backdrop that you and your guests can enjoy from the comfort of a cozy indoor venue.
According to local florists, blush pink seems to be the popular choice when it comes to flowers and overall color schemes for Vermont weddings. In terms of style, according to The Knot 2015 Real Weddings Study, couples who got married in Vermont chose formal or semiformal weddings with a combination of indoor and outdoor receptions and ceremonies.
Vermont Marriage Rates and Costs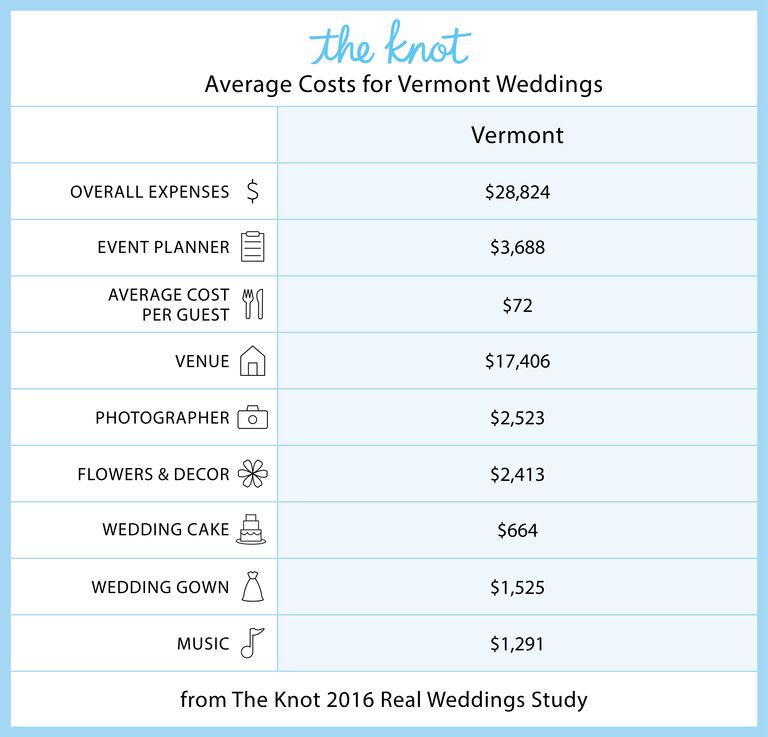 If you're planning a Vermont wedding, you're probably preoccupied with all of the details for the event. While you're thinking about what venue is best or what you'll be wearing, take a few minutes and read through some of the statistics regarding Vermont couples as well as the average costs of weddings in Vermont. All of the statistics here are averages based on surveys, but if you're looking for budget help for your own Vermont wedding, visit The Knot Budgeter to keep an eye on what you're spending.

Vermont Marriage Stats
According to government statistics, the marriage rate in Vermont is around 8.7 per 1,000 people. The average age of brides in the state is 29 years old, while the average age of grooms is 31 years old. Engagements typically last 13 months on average, according to The Knot 2015 Real Weddings Study. Those couples spent an average of $33,222 on their wedding (excluding the cost of the engagement ring and honeymoon). That average is dependent on the season in which you choose to get married (off-peak seasons tend to cost less money) and what details you have during your day.
Budget Breakdown: Average Costs for Vermont Weddings
If you're just beginning to plan your wedding, start by creating a budget of what you'd like to spend in total. Be prepared for this to change as you go, but if you create one early on, you can at least have a basic idea of what each detail will cost you. To help you better prepare this budget, see some average costs based on past weddings in Vermont above.
Top Cities in Vermont to Marry
Vermont is not low on beautiful places to get married, but most couples are saying "I do" in:
Make It Legal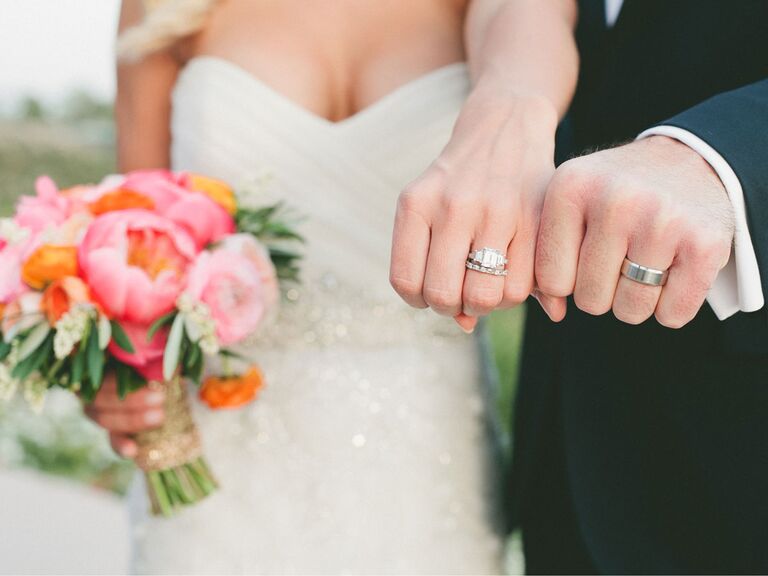 Figuring out where to have your Vermont wedding and what everyone will wear and eat are all fun things to plan, but a marriage is a legally binding commitment you have to complete in the proper fashion for it to be official. You have to gather all of your documents to get a Vermont marriage license and to change your name if you choose to do so. There may also be special permits or requirements for having the wedding. This information can help you figure out all of the technicalities.
Getting a Vermont Marriage License: The Basics
Couples have to submit a license application in the city where one of them lives. If you live out of state, you can simply go to any city clerk to submit the application. You must have basic information like your names, current residence, date of birth and place of birth. You'll also need your parents' names (including maiden names). Once you pay the applicable fee ($60), you'll get a Vermont marriage license.
While most clerks can issue a license with only one party signing, most prefer to have both parties present. If you've been married before, you might have to show proof of a divorce or a death certificate of your former spouse. All information regarding previous marriages or civil unions are kept confidential.
Once you get the license, you have 60 days to solemnize the marriage through a ceremony. After the ceremony is performed, the officiant has 10 days to mail the license to the city from which it was issued for the official certificate of marriage to be released.
When getting married in Vermont, both parties must be at least 18 years old. If a person between 16 years old and 18 years old is looking to get married, he or she must have the consent of a parent or legal guardian who is willing to sign an affidavit at the clerk's office to permit the marriage. No blood tests are needed in Vermont, but both parties have to be of sound mind. There's also no waiting period.
Permits and Other Important Legal Requirements for Vermont Wedding Venues
Each Vermont wedding venue has its own rules and regulations to follow, especially when it comes to serving liquor. These restrictions are usually outlined when you discuss your event with the venue. There might be instances where the venue needs specific permits for you to have your wedding on-site.
For example, if you're planning to get married on a farm (one of the more popular wedding locations in Vermont), the space has to have a "conditional use permit" that allows it to hold events under zoning bylaws. Unconventional Vermont wedding venues also have to obtain the proper licenses or permits for serving food or liquor. Usually, the caterer or bartender has the proper paperwork needed to serve your wedding.
If your wedding officiant isn't a Vermont resident or doesn't have a recognized ordination in the state, they'll have to file with a probate court for a permit in the specific county where the wedding is taking place. They can also register through the Secretary of State as a temporary officiant to a marriage. Remember, it takes time to apply and get approved for most permits, so keep deadlines in mind and set up your timetable accordingly.
How to Change Your Name in Vermont
To change your name to your spouse's name, you have to legally get married and register with the county clerk. There's a place on the marriage license application that allows you to take on your spouse's surname. You have to change your name on your Social Security card and driver's license. Your certified copy of the marriage certificate will allow you to update to your new surname. Have a look at our guide to changing your name to learn all the details. 
It's All About Timing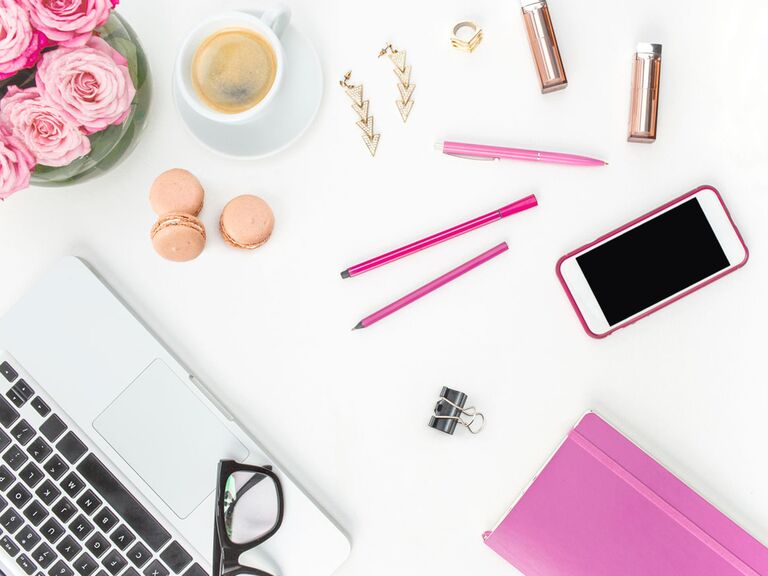 Vermont's geographical location makes the weather a determining factor in when people choose to have their Vermont wedding. According to The Knot 2015 Real Weddings Study, most people (50 percent of couples) choose to get married during the summer months in Vermont because the weather is at its best. That being said, fall weddings are becoming more and more popular, with 40 percent of couples picking that season for their 2015 Vermont wedding.
The Four Seasons in Vermont
There's a saying popular in this New England state that goes "If you don't like the weather, wait a few minutes."
Winter in Vermont is typically cold, rarely making it above the freezing mark. These temperatures usually start in late November and continue on through most of March and sometimes April. If it's a particularly cold year, Vermont can see snow as early as late October. Snowfall during the winter months can reach above 20 inches at any time. A bonus here though is that winter is considered off-peak for Vermont weddings, so things are relatively cheaper for couples.
Spring in Vermont is commonly known as "mud season" by the locals thanks to all of the melting snow left over from winter. This is why most couples pass on spring weddings in Vermont. Spring is also relatively short, since winter can be longer here than in other places. April can still be particularly cold with some snowstorms possible, so May is really the only spring month. High temperatures during the spring are usually in the mid- to upper 60s with lows in the low 40s.
Summer is considered the best option for a Vermont wedding because the temperatures are at their warmest. On average, the summer months tend to stay in the upper 70s with an average rainfall of around 4 inches each month. The southern regions of Vermont can see higher temperatures that reach into the low 80s.
Fall in Vermont features temperatures that range from the 50s to the low 70s and is a relatively short season, much like spring. Typically, fall begins around Labor Day and lasts through October. The temperatures are comfortable and the beautiful fall foliage adds to the picturesque landscape of the Green Mountain State.
Vermont Wedding Dates to Avoid
When you're planning your wedding, you should always avoid known holidays and any personally significant dates you don't want to overlap (family anniversaries, birthdays and similar events). For a complete list of dates to avoid in 2016, 2017 and 2018, check out our comprehensive list.
Specifically speaking about Vermont, there's one state holiday you might want to avoid. Bennington Battle Day falls on August 16th each year to commemorate the victory over British forces during the Revolutionary War. It's celebrated on the same day every year but may be observed on a Friday or Monday if the date falls on a Saturday or Sunday.
You should also be aware of any high-traffic events like music festivals or similar events that are happening around the area that might cause travel issues for you and your guests.
Great Guest Experiences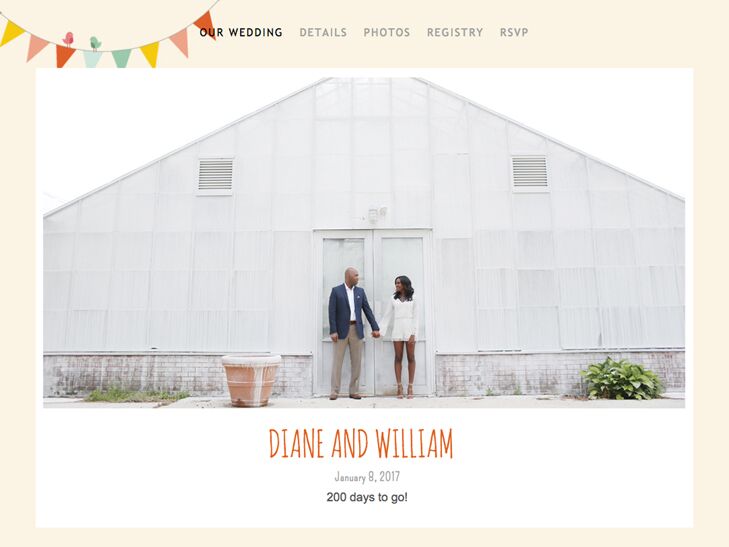 It doesn't matter when you choose to get married as long as your guests have the best experience possible. This experience can start before your wedding day if you create your own wedding website. This allows your guests to follow along as you plan your event, which can make them feel more involved and keep their excitement for the day building. You can also list some of the local attractions and activities that your guests can enjoy while in the area for your Vermont wedding.
Finding Your Way: Vermont Travel Info
Vermont is located in the northeast and is relatively easy to travel to and around. There are direct flights available to local airports and it's easy to navigate by car and rail. Once in Vermont, there are plenty of local travel options, including rental car services, Uber services, rail service and even ferry service.
If traveling by car, major interstates (I-89 and I-91) make driving easy. Vermont has ample state highways and byways that provide routes to the metro areas. It's a relatively short trip from surrounding cities too. Some estimated travel times to Burlington, Vermont, are:
Boston: 3 hours, 45 minutes
New York City: 5 hours, 50 minutes
Philadelphia: 6 hours, 50 minutes
Montreal, Canada: 1 hour, 55 minutes
Ottawa, Canada: 3 hours, 40 minutes
If traveling by plane, you can easily fly into Burlington International Airport, which is centrally located and accommodates major carriers for domestic and international visitors.
There is local ferry service for you and your guests to enjoy while you're in Vermont. These ferries allow you and your guests to take in the scenery of the Green Mountains as well as the Adirondacks. They run on Lake Champlain and allow you to get some great photographs for your wedding album.
If you or your guests are looking to travel by rail, the Vermont Rail System works with more than 350 miles of track that interchanges with other rail systems, including Amtrak's Ethan Allen Express, Canadian Pacific, New England Central, Pan Am Southern and the Canadian National Railway (among others). This helps out-of-town guests get to Vermont without flying or driving, and helps guests get around while in town.
Around Town: What to Do and See in Vermont
Vermont has much to offer in terms of attractions and activities to keep your guests entertained during their visit to the area. There are cultural attractions like art museums, history museums, performing art centers and historic sites that are great for all ages. There are also guided tours, which include Ben & Jerry's ice cream factory and the Vermont Teddy Bear Factory. There are also outdoor activities like hiking trails, bicycle paths and camping for you and your guests to enjoy if the weather permits.
Some of the other top attractions in Vermont are:
Magic Hat Brewing Company
Shelburne Museum
Smugglers' Notch State Park
ECHO Lake Aquarium and Science Center
Hildene, The Lincoln Family Home
Montshire Museum of Science
Jay Peak Resort
Church Street Marketplace
Go Local: Food and Favors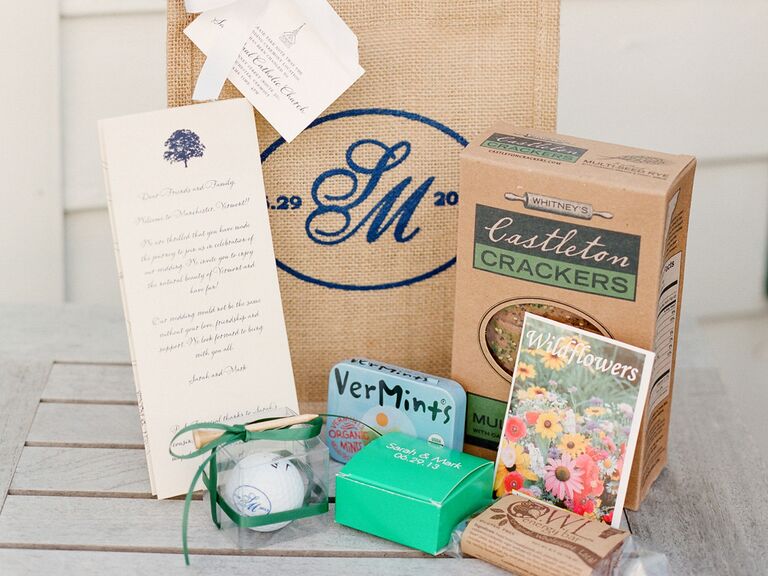 Vermont has so much to offer in terms of local products. The state is heavily involved in the farm-to-table movement, which can help you incorporate local flavors into your Vermont wedding.
Vermont Flavors: Unique Regional Foods for Your Wedding
You can find local dairy farmers that create artisanal cheeses, local breweries that create craft beers and, of course, locally made maple syrup. There are also farms where you can get meat or produce. If you're working with a caterer, you can discuss the possibility of making a deal with a farm so that you can use all locally produced foods for your Vermont wedding.
Do Your Guests a Favor: Vermont-Inspired Take-Home Treats
Wedding favors are always a great way to help your guests remember the fun they had at your wedding. These trinkets can be something generic like a monogrammed key chain or magnet, or they can be something related directly to your Vermont wedding. Any of these make for a great Vermont wedding favor:
Locally made jam
Local maple syrup
Cookies in the shape of the Green Mountain State.
Candles
Truffles
Check out The Knot Shop for other personalized favors.
Vermont City Guides
There are 11 different regions in Vermont where you can host your Vermont wedding. No matter what you're looking for, you can find Vermont wedding venues and vendors that fit your needs. There's so much the Green Mountain State has to offer that it's actually possible to get overwhelmed with all of your choices. Luckily, you can use our vendor marketplace to find a comprehensive list of some of the best wedding venues in Vermont along with other pros who can make your event special.
While there are a number of cities where you can hold your wedding, Burlington and Montpelier are two of the most popular.
Burlington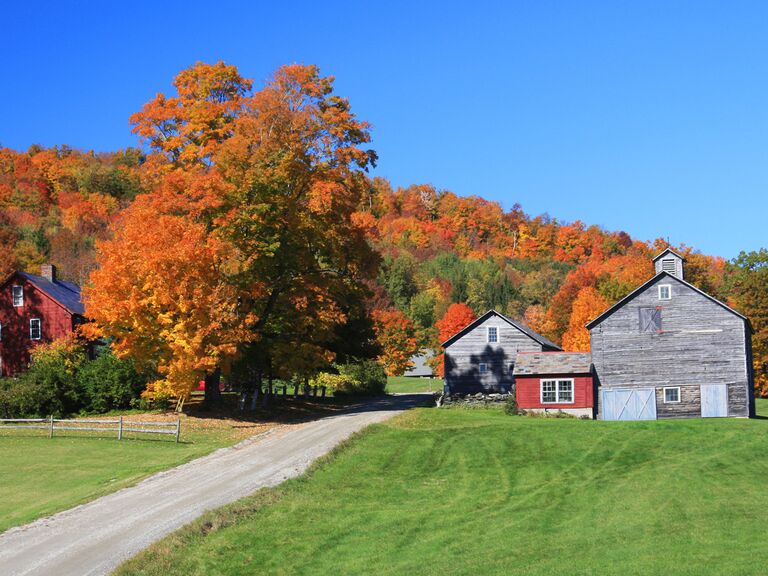 Burlington is the biggest city in Vermont and is one of the most popular spots to host a Vermont wedding. There are plenty of wedding venues to choose from throughout the city, and it still offers the beautiful natural elements that Vermont is known for: It's a waterfront city off of Lake Champlain with scenic views of the nearby Green Mountains and the Adirondacks.
The city, while being the largest in the state, is actually fairly small (there are only slightly more than 40,000 residents) and has all the charm of a small town. This welcoming feeling is great for wedding parties, especially for non-residents.
If you're in the minority and are looking to get married in the winter months, you can take advantage of the ski slopes in the city. If you're planning your wedding for another season, those same hills make great hiking trails. The location off of the lake makes it ideal for water activities.
Montpelier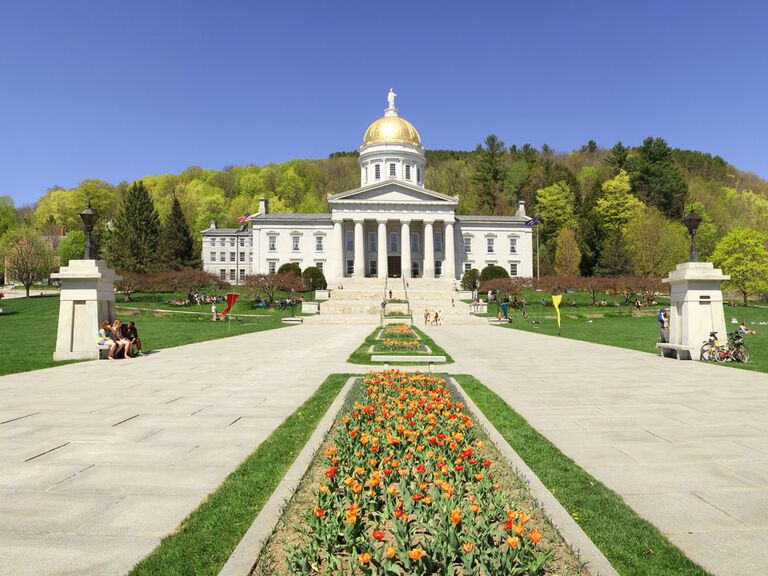 As Vermont's capital, this compact city is a hot spot for hosting Vermont weddings. Montpelier weddings offer small town charm (it has a population of around 8,000) with big city comforts, including plenty of great attractions and activities for you and your guests.
Montpelier is known for its community spirit—everyone comes together to take care of each other. When you have your wedding in this city, the same level of care and service is invested into your event. The city is rich in cultural arts and hosts some great museums, restaurants and cafés that can lend to your guests' wedding experience. Many Vermont wedding venues, like the Capitol Plaza Hotel & Conference Center, are also a class act, as are other amenities like the Fresh Tracks Farm Vineyard & Winery, where you can take the time to try some local fare before or after your event. You may even decide to use the winery to create some fun Vermont-inspired favors.
Check out more Vermont wedding inspiration here.

Don't forget to download The Knot Wedding Planner app—it's a must-have for on-the-go planning.
Download for iOS: Wedding Planner App by The Knot

Download for Android: The Knot Wedding Planner