See Viktor&Rolf Wedding Dresses From Bridal Fashion Week
Here's the designer's latest collection to hit the bridal runways.
by Stephanie Weers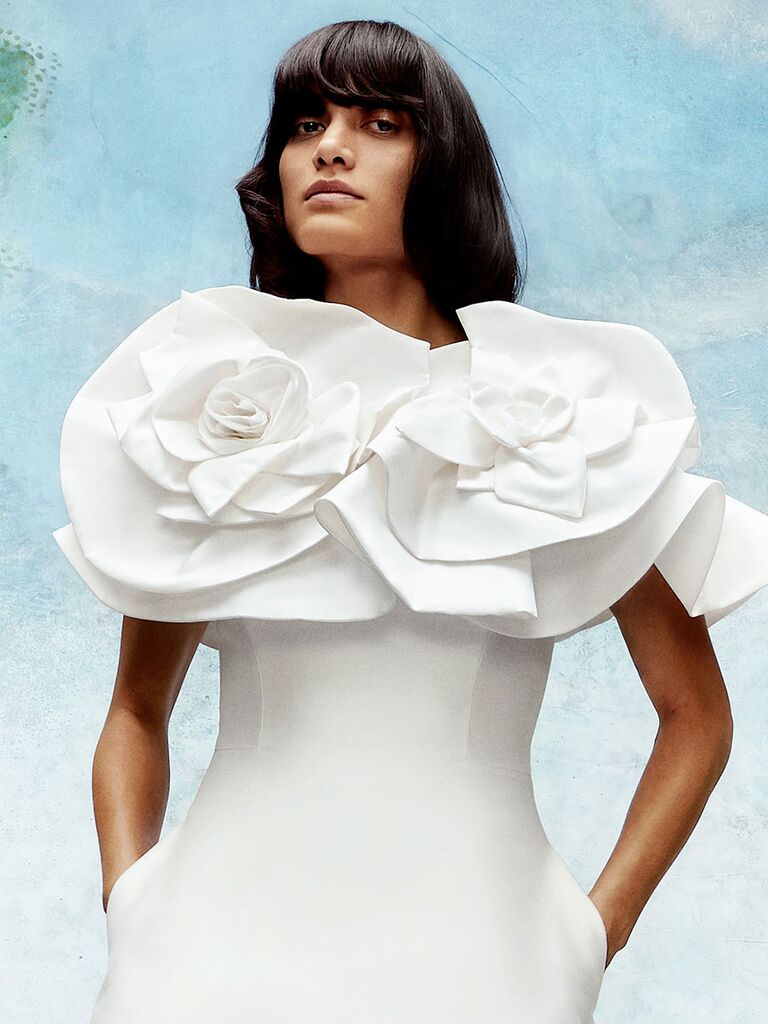 For modern brides who take a bold approach to style, consider Viktor&Rolf your match made in fashion heaven. The haute couture design duo has developed a reputation as masters of fashion artistry, and their recently launched Viktor&Rolf wedding dresses are no exception. The Amsterdam-based fashion house stepped into the world of bridalwear in 2016 with their 'Mariage' label, and has since produced numerous collections reflecting the delicate interplay of art and style. While there's no telling exactly what's next for Viktor&Rolf 2020, it's safe to assume they'll always be on the cutting edge for the high-fashion bride.
Viktor&Rolf's Fall 2020 Wedding Dresses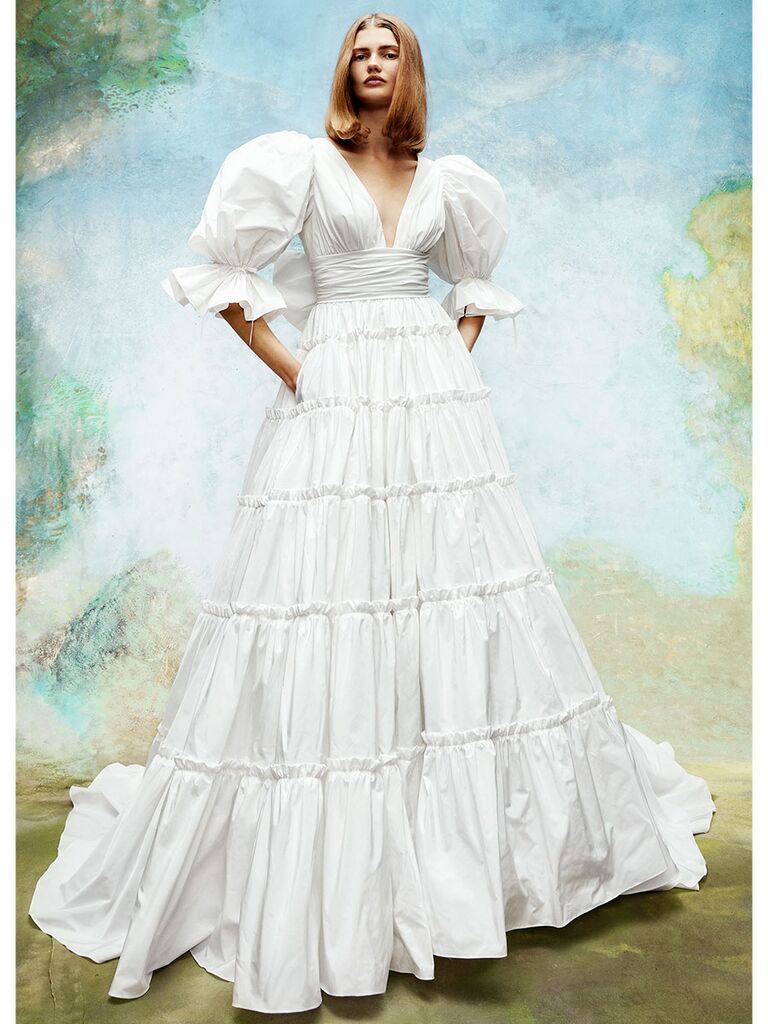 Diana Dream gown; ball gown with short, puffy sleeves, plunging neckline, and tiered skirt.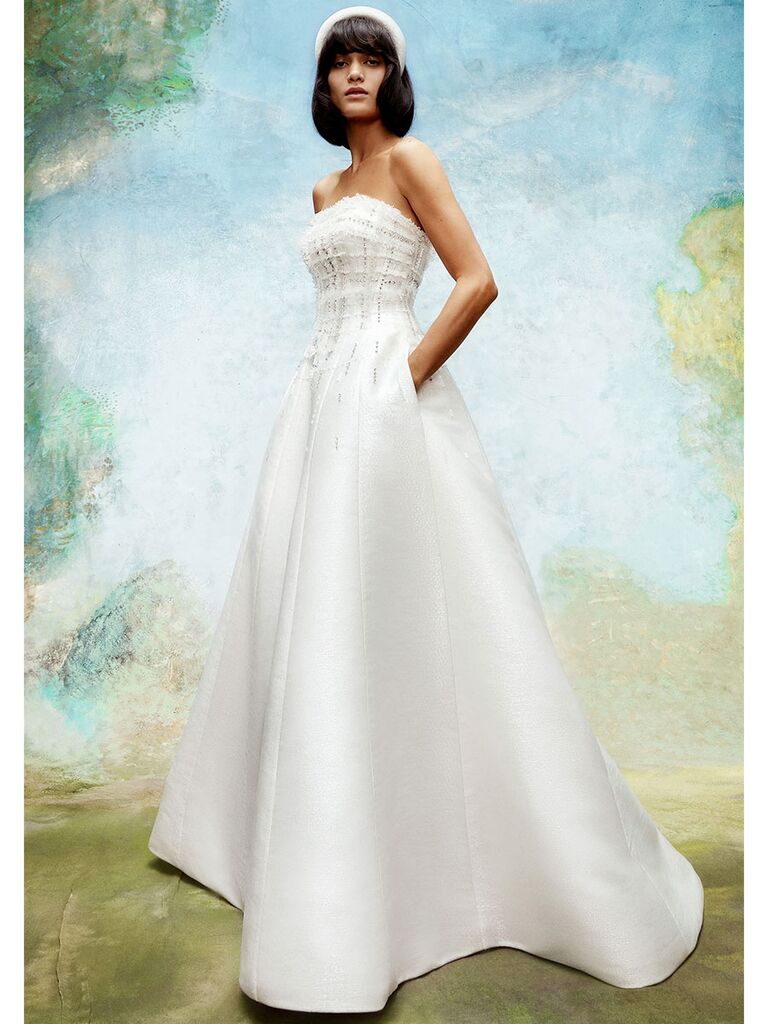 Frosted Tweed Regal gown; strapless a-line dress with patterned bodice.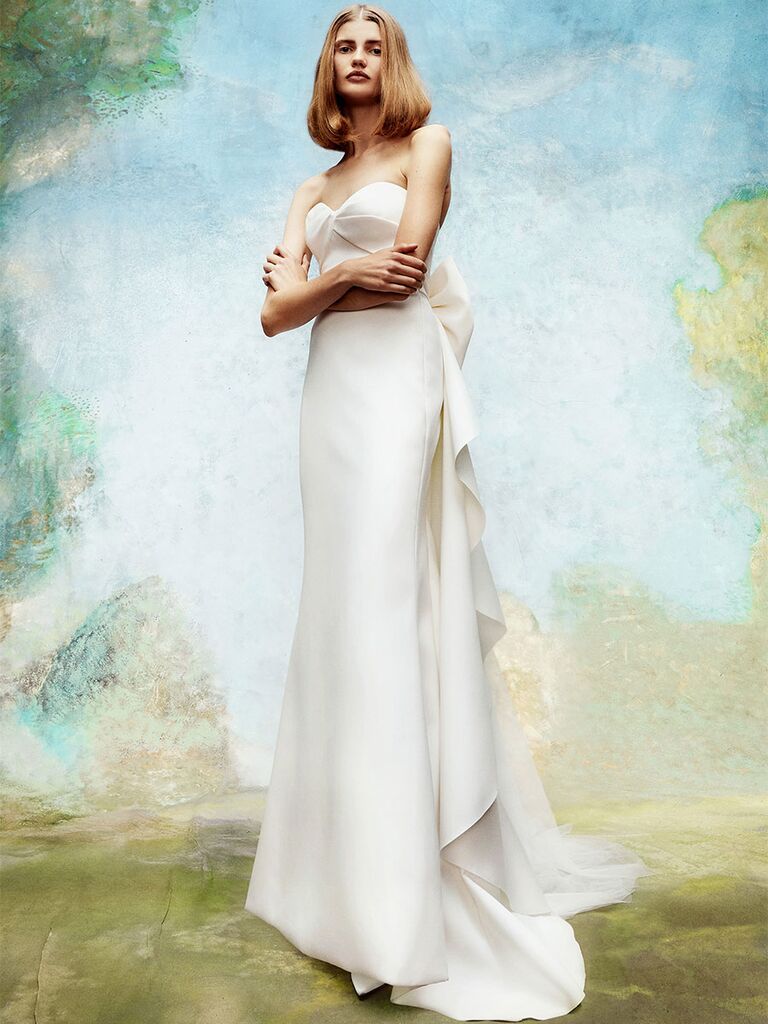 Cascading Volant Bow Dress; strapless sheath dress with sweetheart neckline and back bow.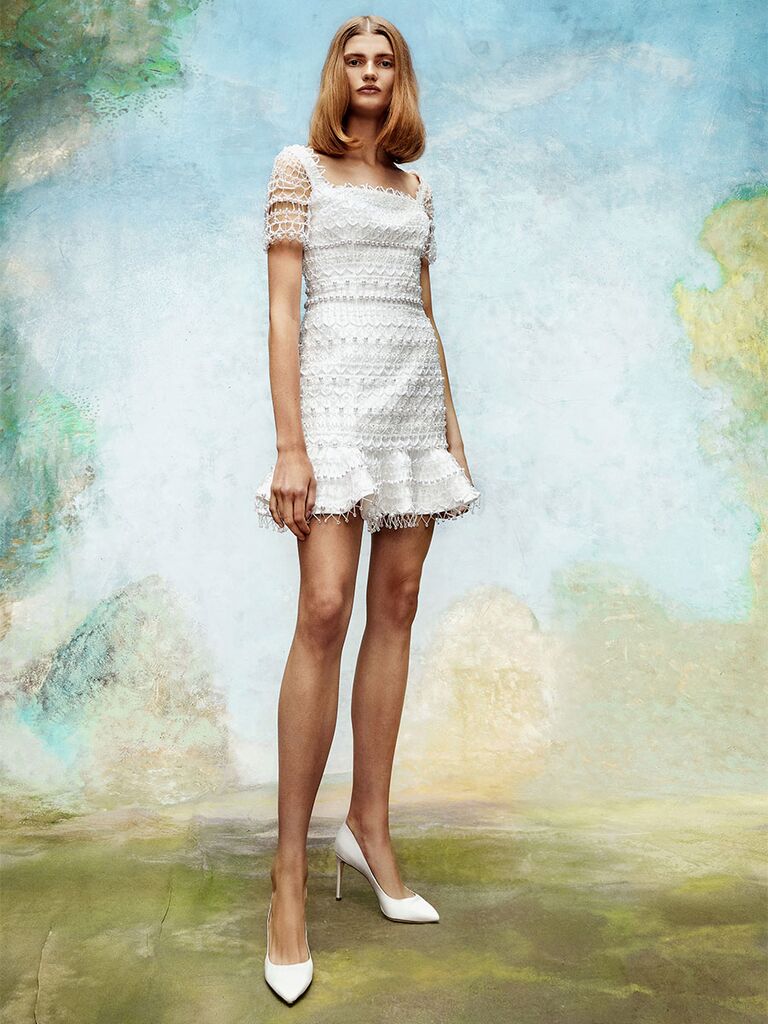 Frosted Lace Mini Dress; short lace dress with sheer lace sleeves and square neckline.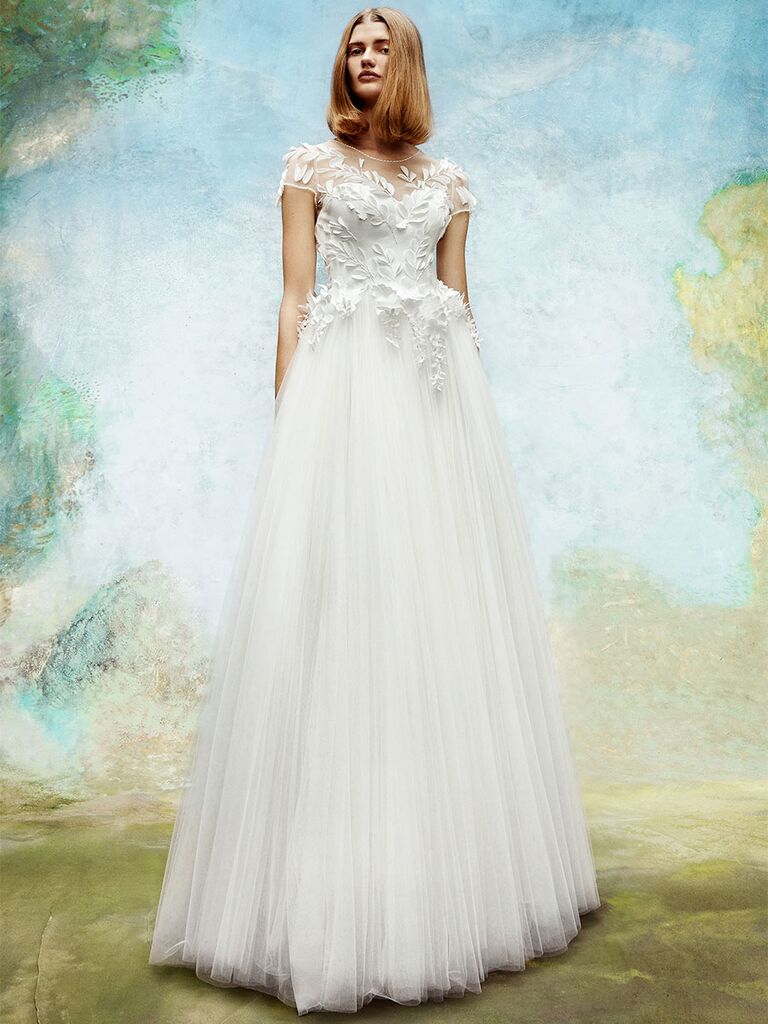 Wisteria Garden Embelleshed Tulle Gown; tulle a-line dress with illusion neckline and floral appliques.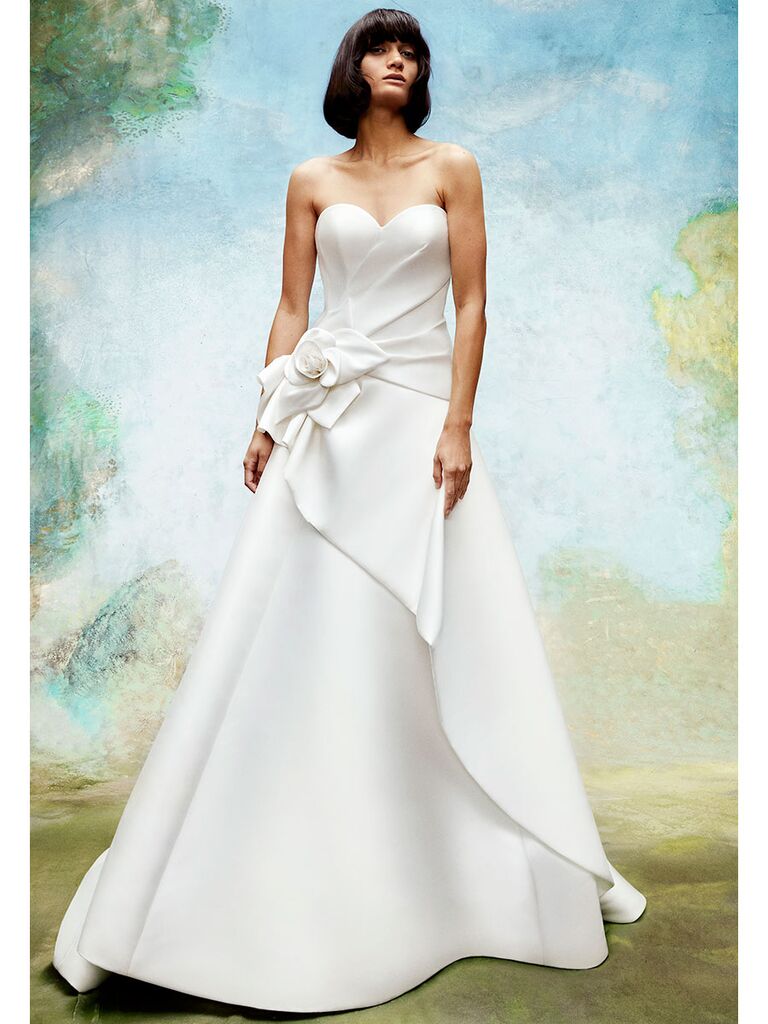 Wild Rose Draped Gown; strapless ball gown with sweetheart neckline and flower detail on hip.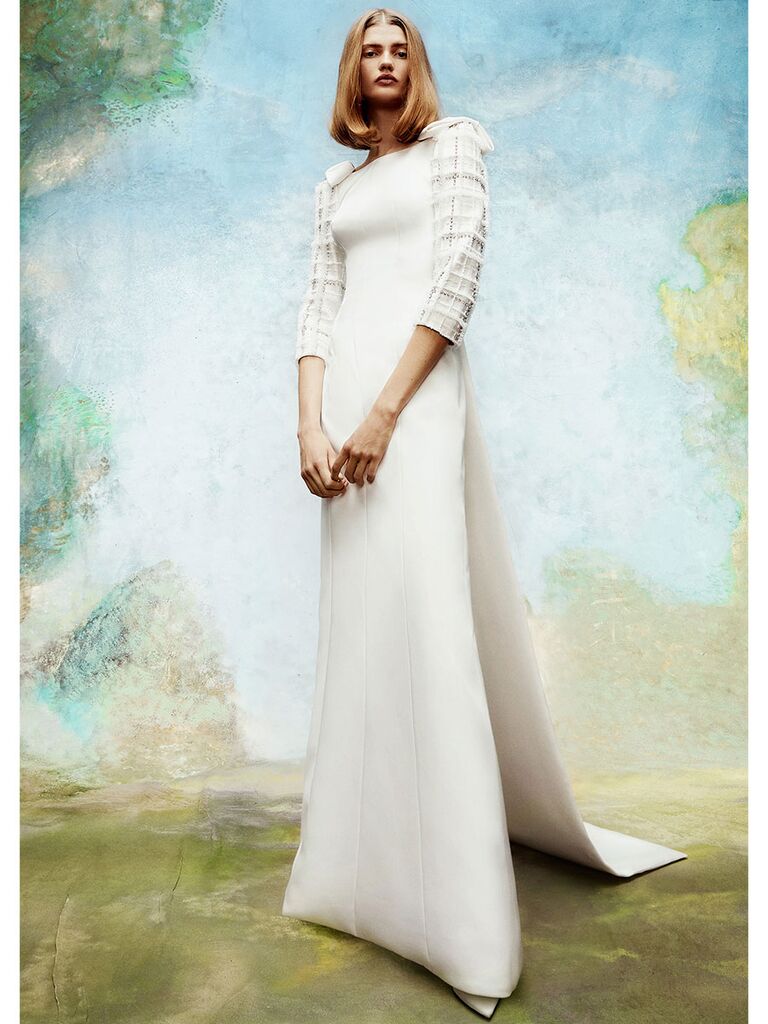 Frosted Tweed Column gown; long-sleeve column dress with cape and tweed sleeves.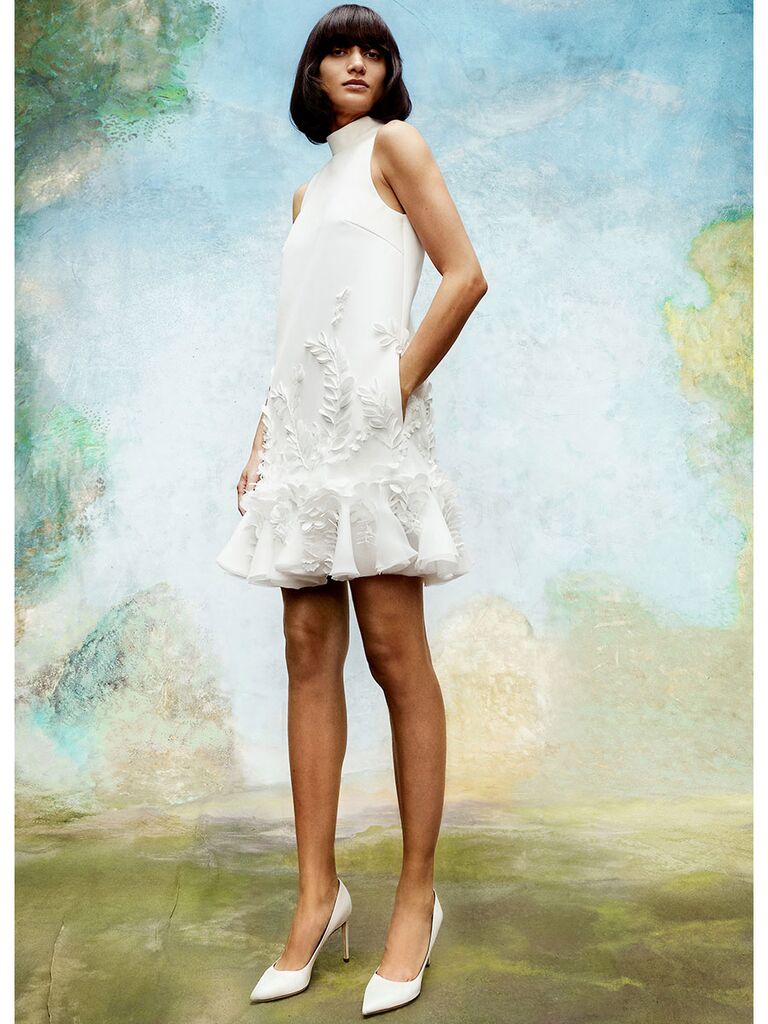 Wisteria Garden V-Back Mini Dress; high-neck short dress with floral appliques on skirt.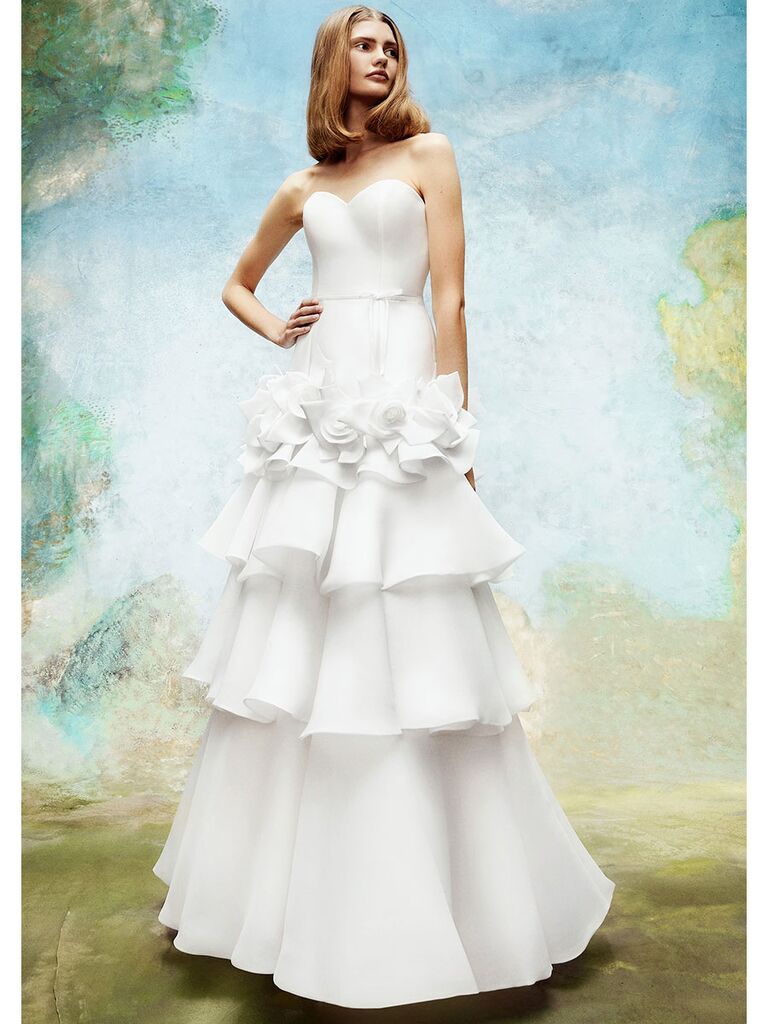 Wild Roses Tiered Gown; strapless trumpet dress with sweetheart neckline and tiered skirt.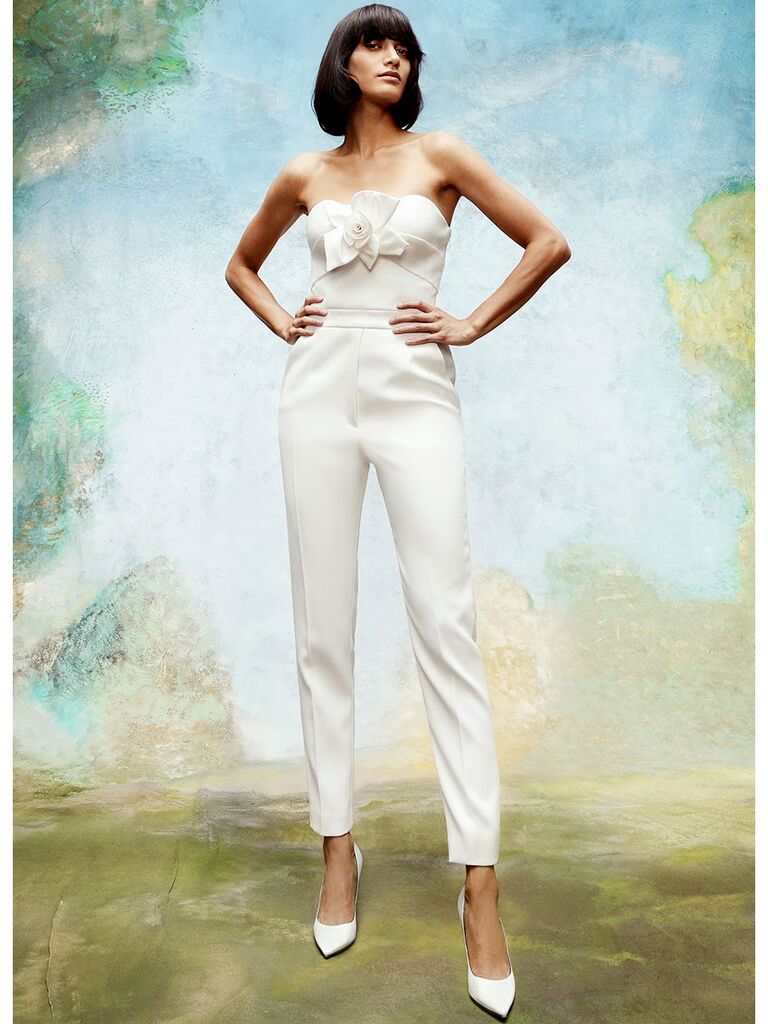 Wild Rose Bustier Jumpsuit; strapless jumpsuit with sweetheart neckline and floral accent on bust.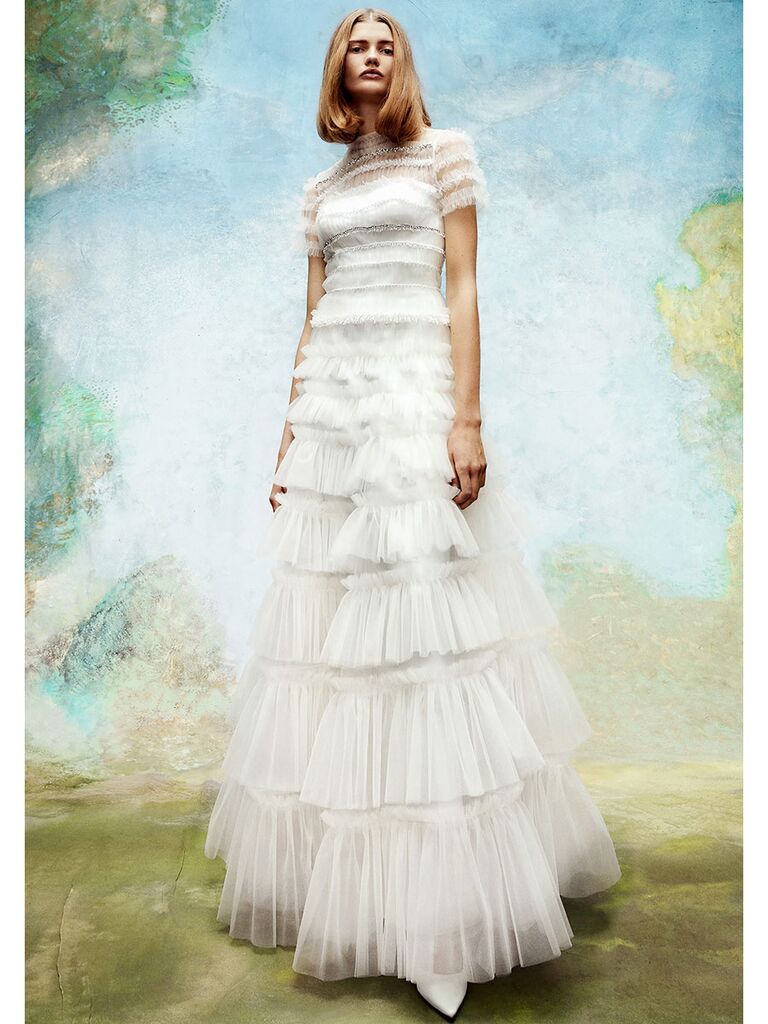 Embellished Tulle Ruffle Gown; a-line dress with illusion neckline and tiered tulle skirt.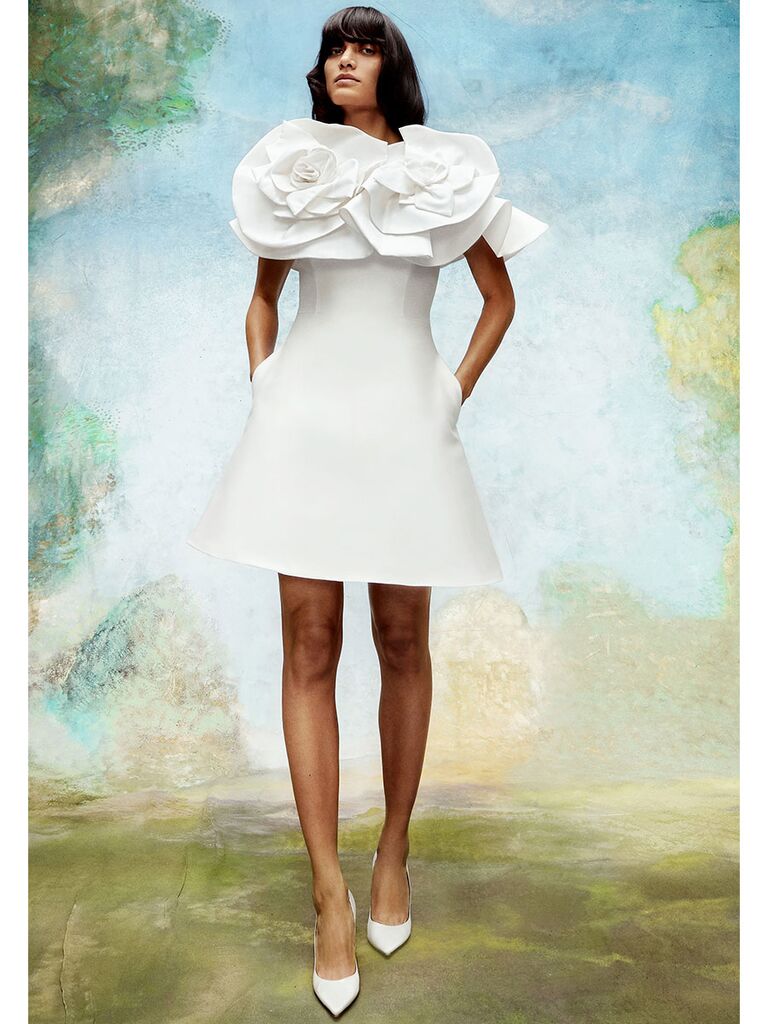 Wild Roses Volant Mini dress; short a-line dress with oversize flowers on neckline.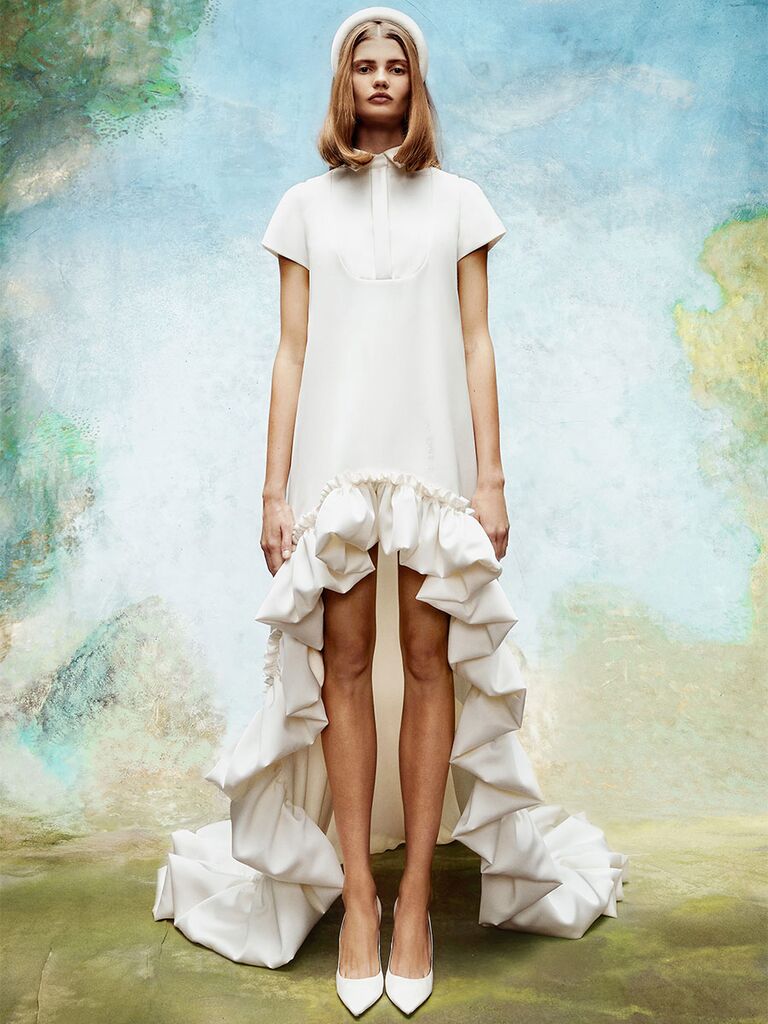 Dramatic High-Low Shirt Dress; short-sleeve shift dress with high-low hem and ruffled accent on skirt.
Dreamy Tulle Swirls Gown; strapless tulle ball gown with sweetheart neckline and floral pattern.
Frosted Tweed Godet Gown; trumpet gown with tweed bodice and back bow.
Designer Viktor&Rolf Signature Style
Since the initial debut of Viktor&Rolf wedding gowns at New York Bridal Fashion Week in 2016, the Dutch designers have developed a bridal style best defined as avant-garde with a classic twist. While brides can expect plenty of provocative style elements found within their signature haute couture, the 'Mariage' label translates high fashion looks into approachable designs for the everyday bride. With a brand mission "to create spectacular beauty and unexpected elegance through an unconventional approach to fashion," Viktor&Rolf bridal collections often feature statement bows, oversized 3-D blooms, sleek jumpsuits, and playful, knee-length gowns.
A Brief History of Wedding Dress Designer Viktor&Rolf
Dutch designers Viktor Horsting and Rolf Snoeren, founded Viktor&Rolf in 1993 upon graduation from the Arnhem Academy of Art and Design. It didn't take long for the duo to establish themselves within the haute couture world, making their Paris Fashion Week debut in 1998. Over the past twenty years, the luxury fashion house has continued to grow and evolve with the addition of several new labels, including the designers' bridalwear line introduced in 2016. Designed as luxury bridalwear with a fashion edge, Viktor&Rolf wedding dresses 2020 are priced between $3,000 and $6,500, and are sure to include many statement-making pieces.
Other Viktor&Rolf Labels
Best known for the conceptual designs of the Viktor&Rolf Haute Couture collections, the fashion house has added several new labels to their portfolio over the years. In addition to Viktor&Rolf wedding dresses, the brand includes designer eyewear in their 'Vision' collection, contemporary layering pieces in their 'Tulle' collection, and couture-inspired evening wear in their 'Soir' collection. The Viktor&Rolf brand is also highly regarded within the fragrance industry thanks to its signature Flowerbomb, Spicebomb, and Bonbon scents. 
Viktor&Rolf Collection History
Long before the official introduction of Viktor&Rolf bridal gowns within their 'Mariage' collection, the Dutch couturiers made headlines when they created Princess Mabel of Orange-Nassau's wedding dress in 2004. The royal wedding dress featured 248 handmade crepe bows, gradually increasing in size from the bateau neckline to the gown's legendary train. This dress solidified their status among the most celebrated designers in the world and is recognized as an icon of royal wedding fashion to this day.
Famous Viktor&Rolf Brides
Viktor&Rolf wedding dresses have caught the attention of many high-profile brides, including model Britt Bergmeister who wore a fitted, bow-back design for her 2019 wedding in Toronto. The same year, activist, model, and socialite, Amanda Hearst stepped out in Viktor&Rolf's 'Bejeweled Sparkle Mini' during her wedding weekend festivities. 
The designers are also a favorite among celebrities on the red carpet, with designs worn by Lady Gaga, Cardi B, Julia Roberts, Natalie Portman, Jennifer Lopez, and Zendaya, among others.
Fun Facts About Viktor&Rolf
Many Viktor&Rolf designs have been featured at exhibitions across the world thanks to their distinguished expression of fashion as an art form. Since 1994, their designs have been displayed in prominent galleries, including Musée d 'Art Moderne de la Ville de Paris, The Kyoto Costume Institute, Museum of Fine Arts, Boston, National Gallery of Victoria, Stedelijk Museum Bureau, Amsterdam, and many more
Viktor&Rolf Previous Wedding Dress Collections
Viktor&Rolf Spring 2020 Collection
See every dress from Viktor&Rolf's Spring 2020 line below.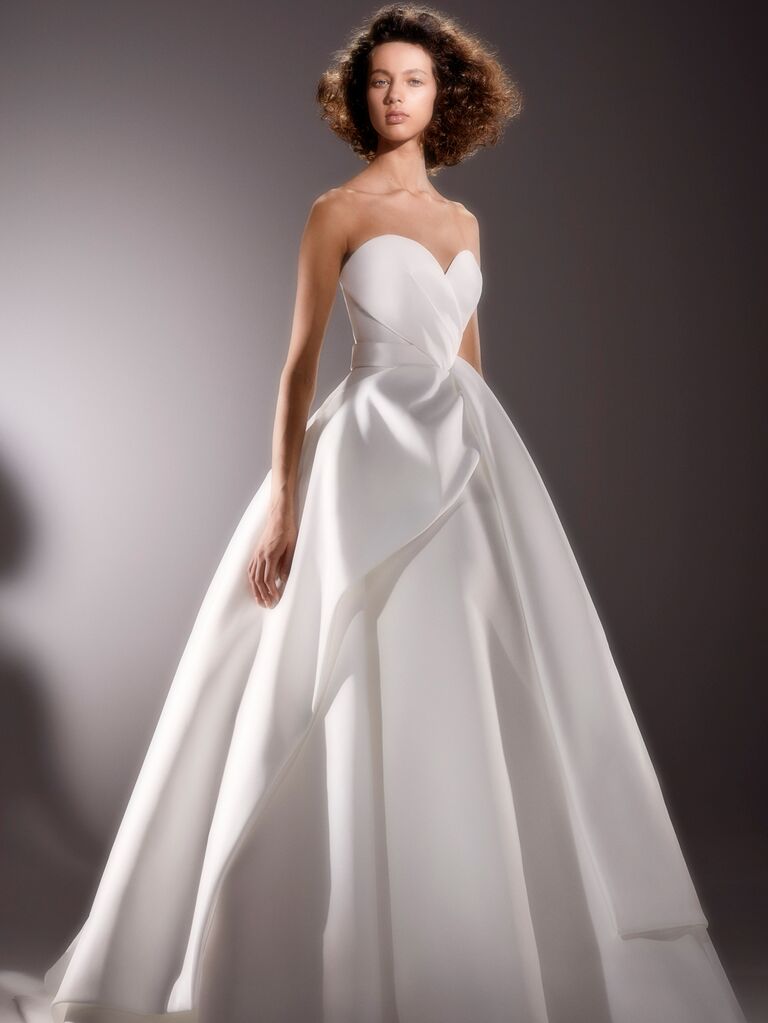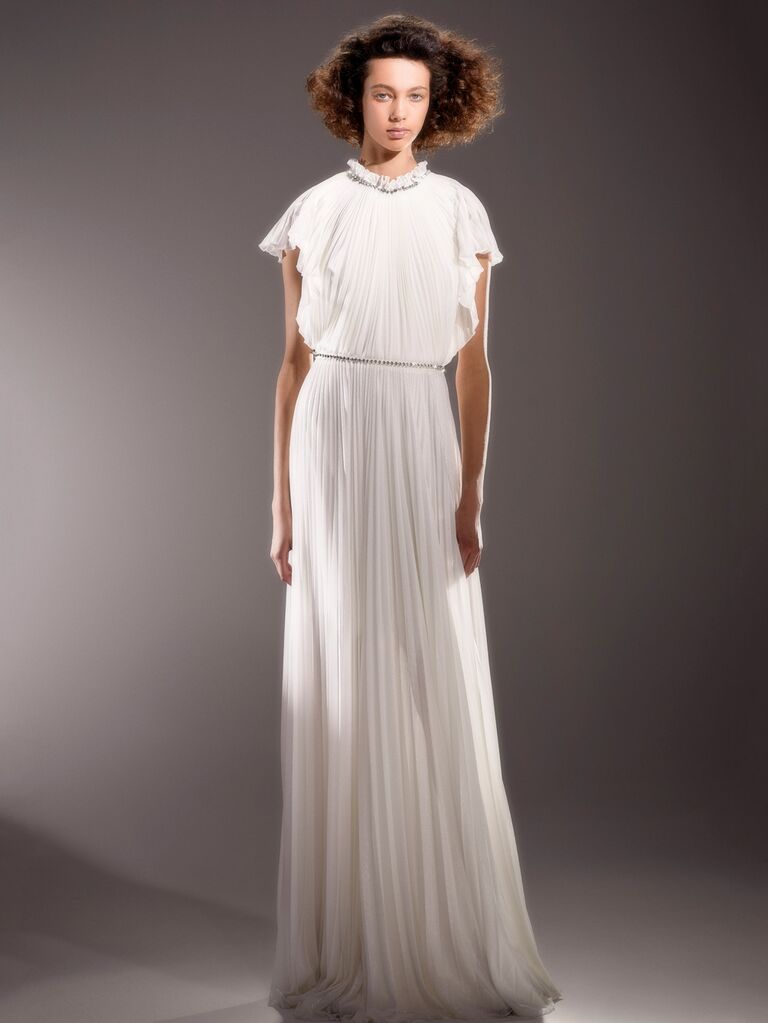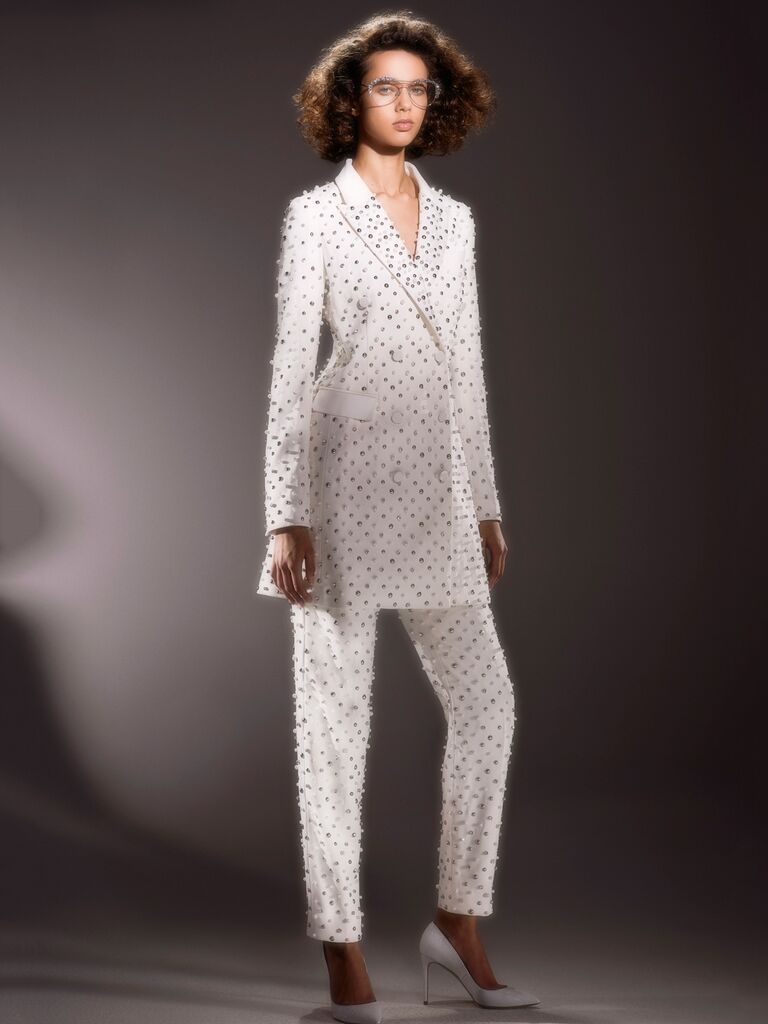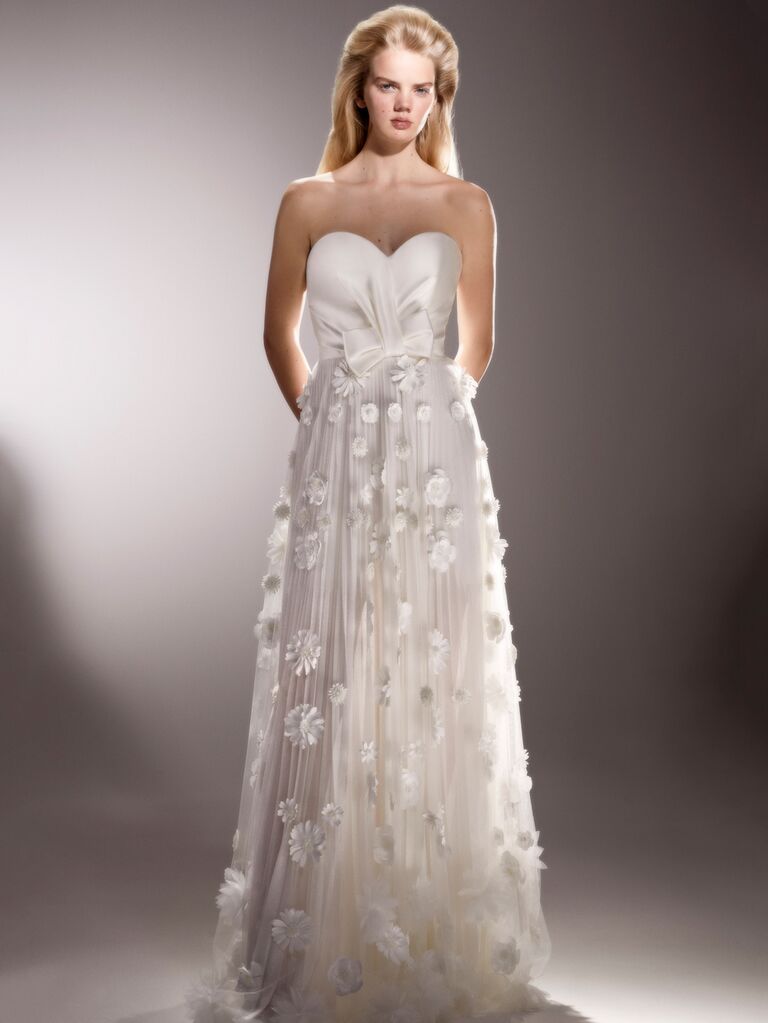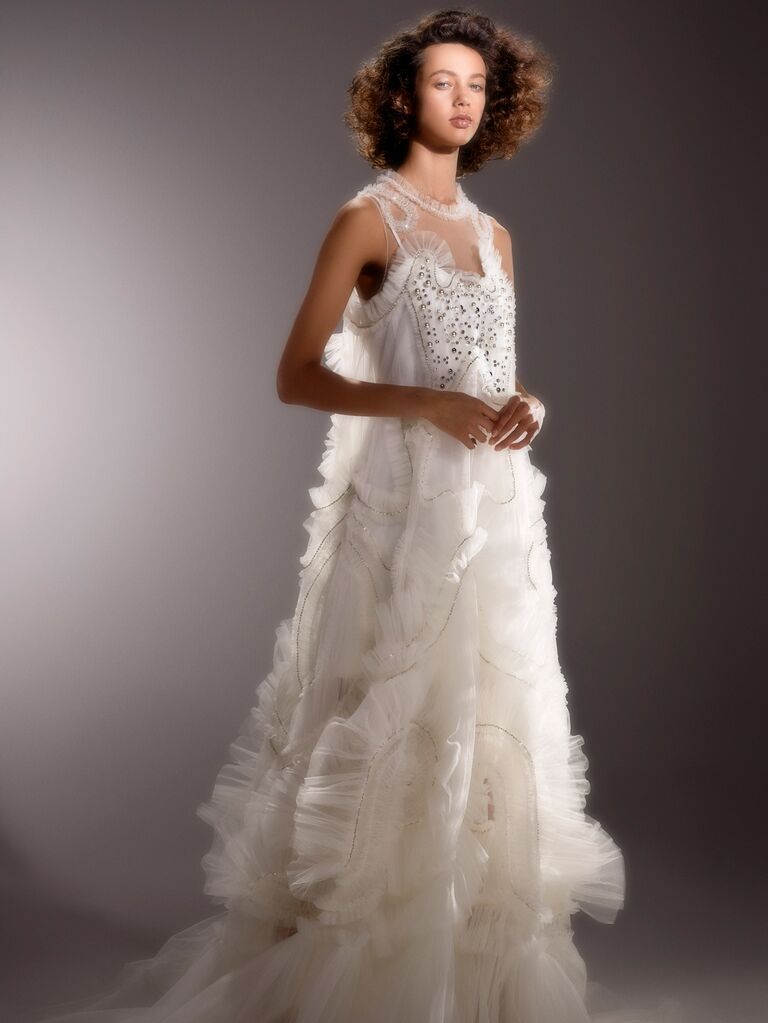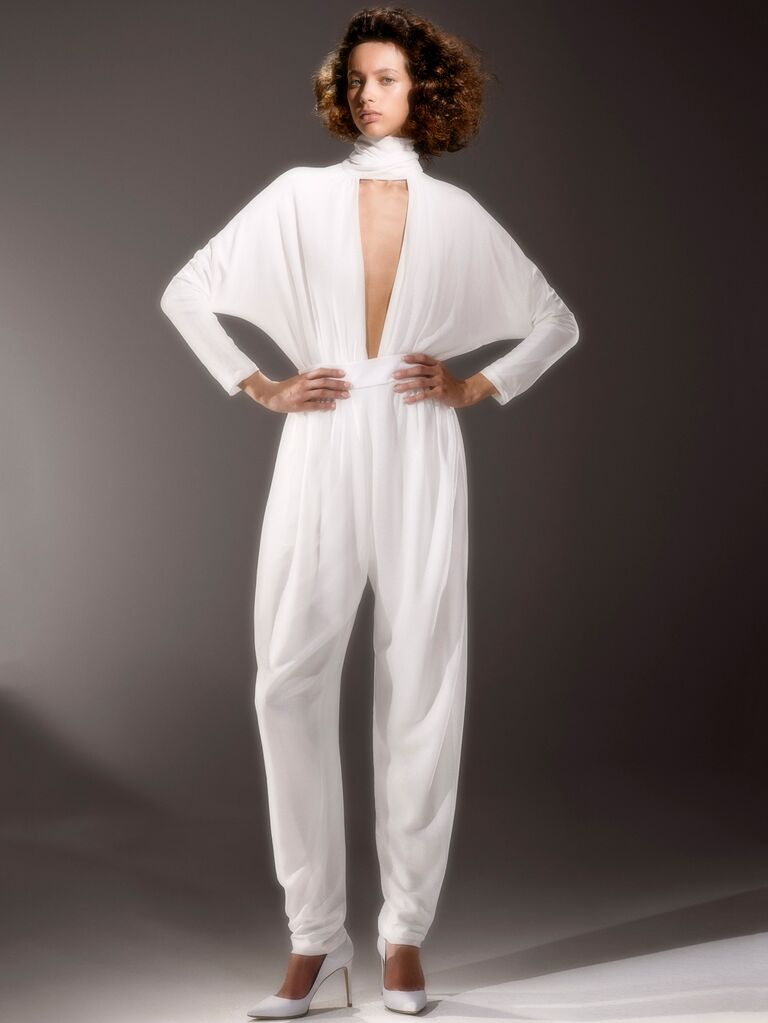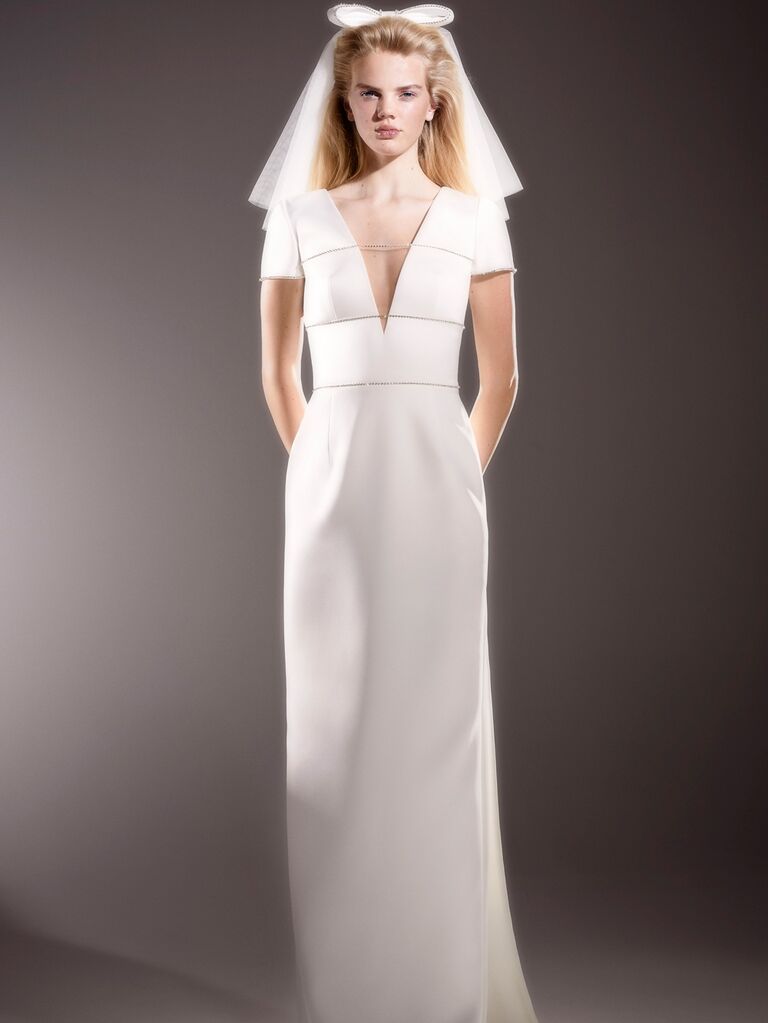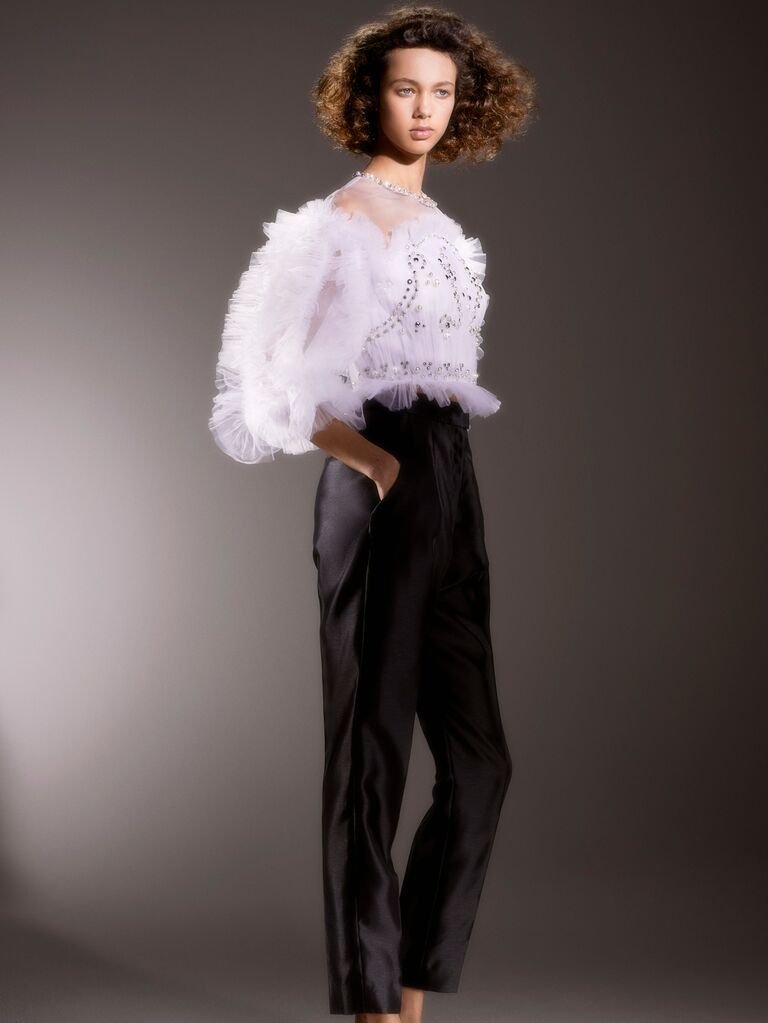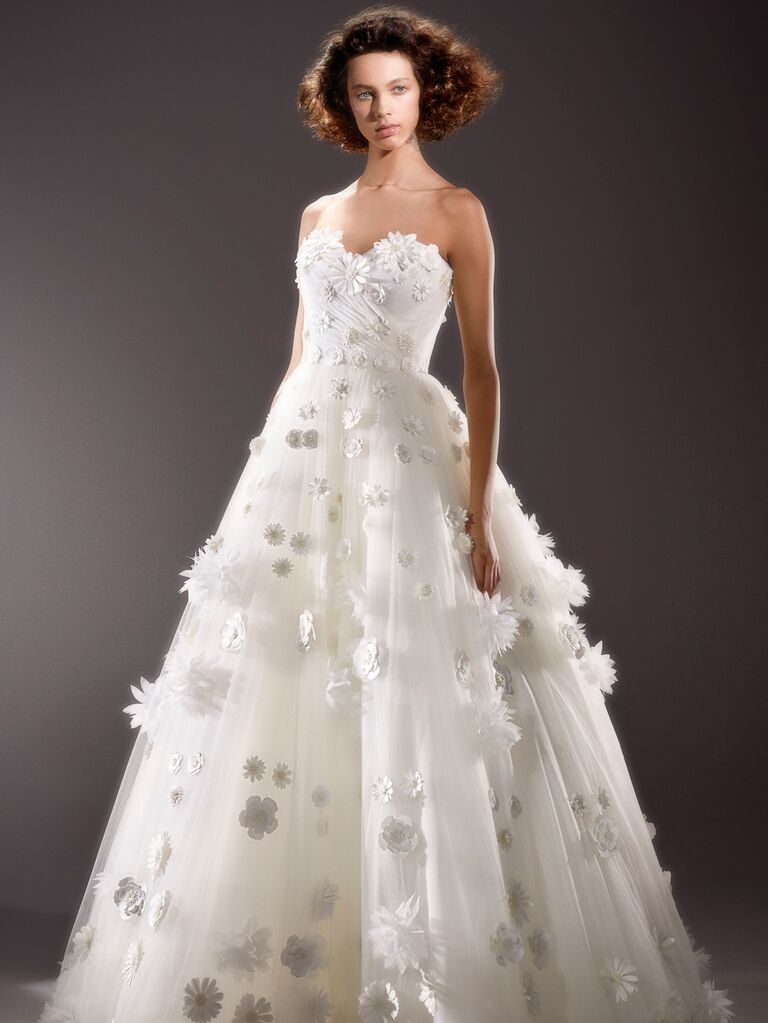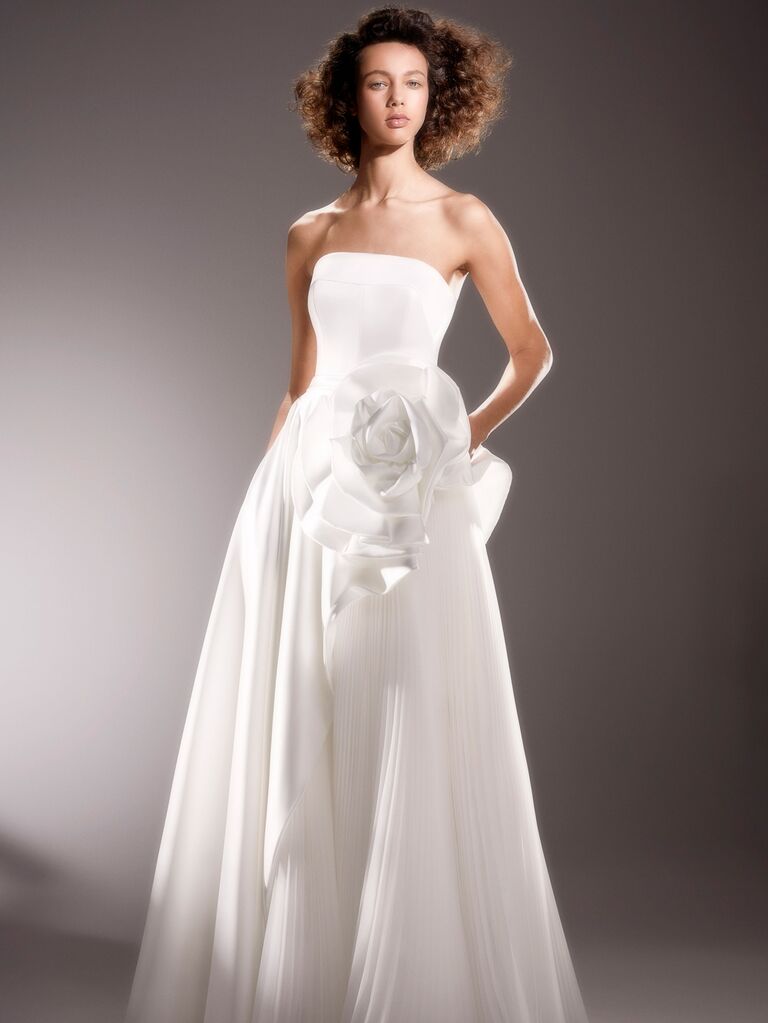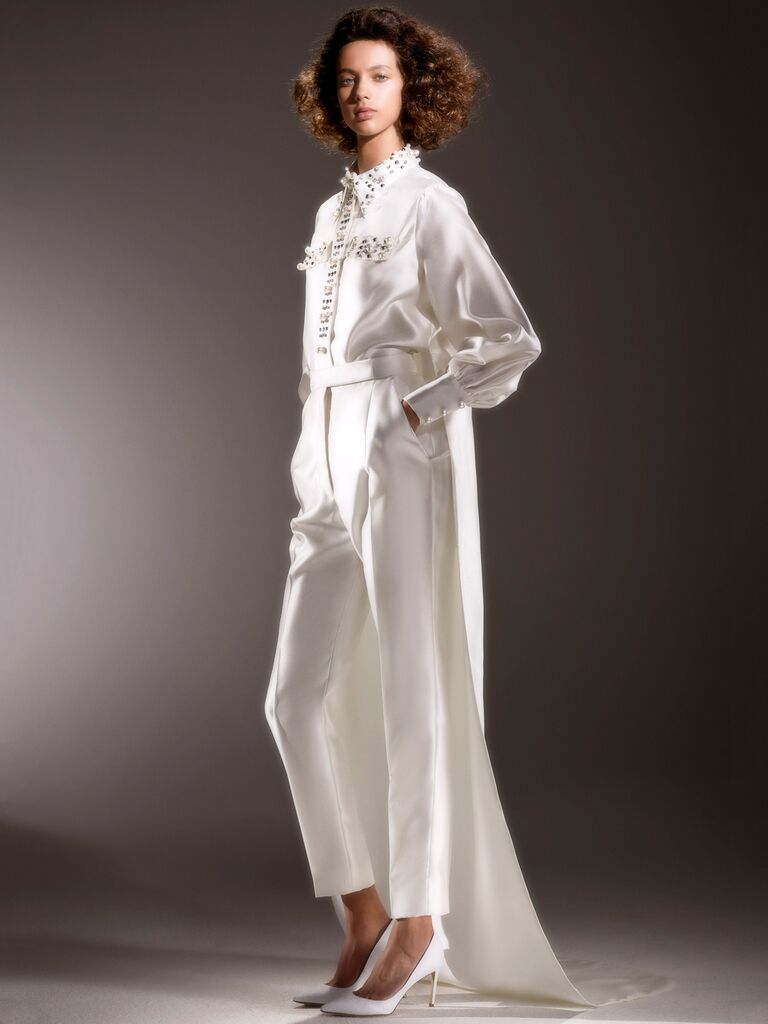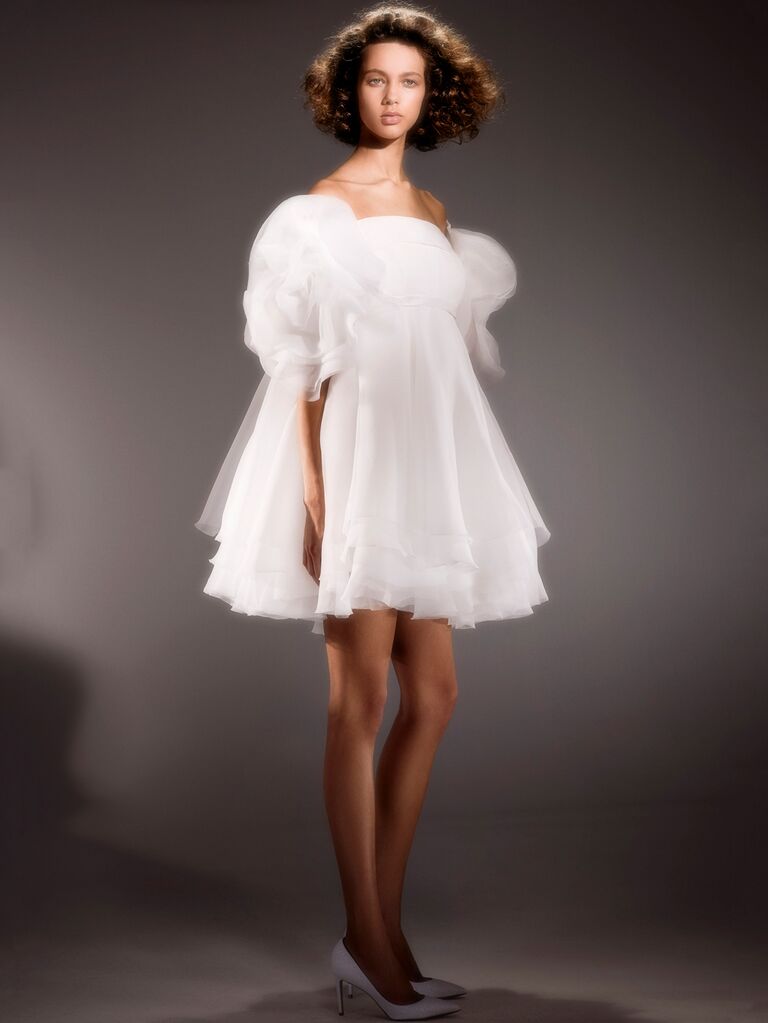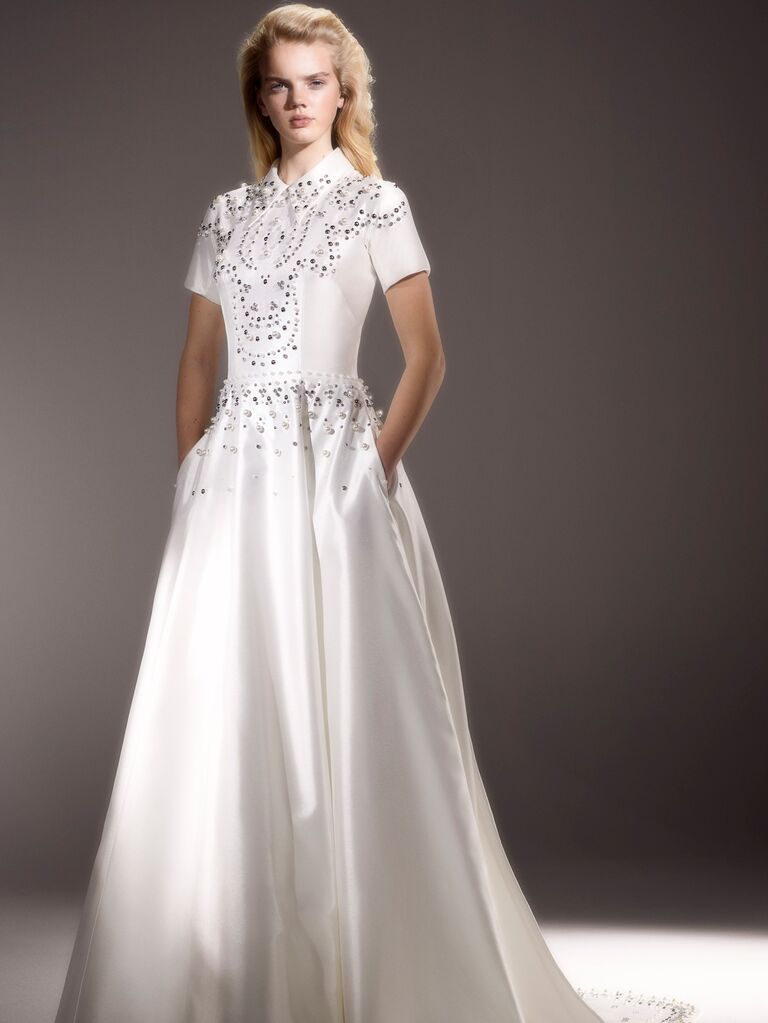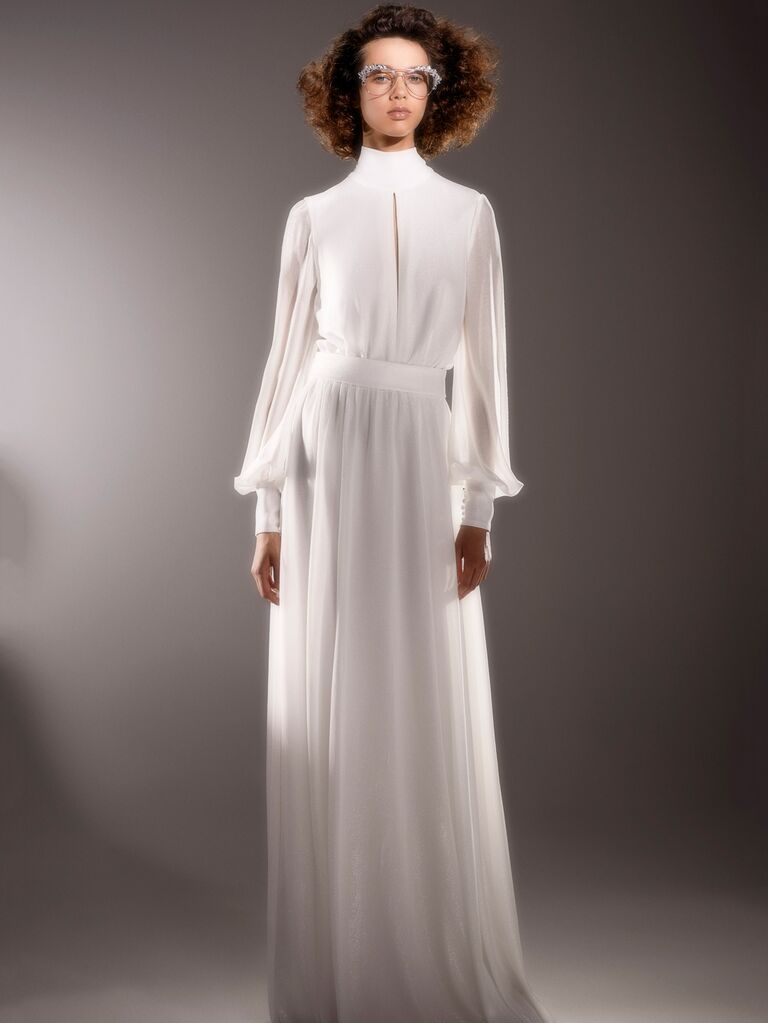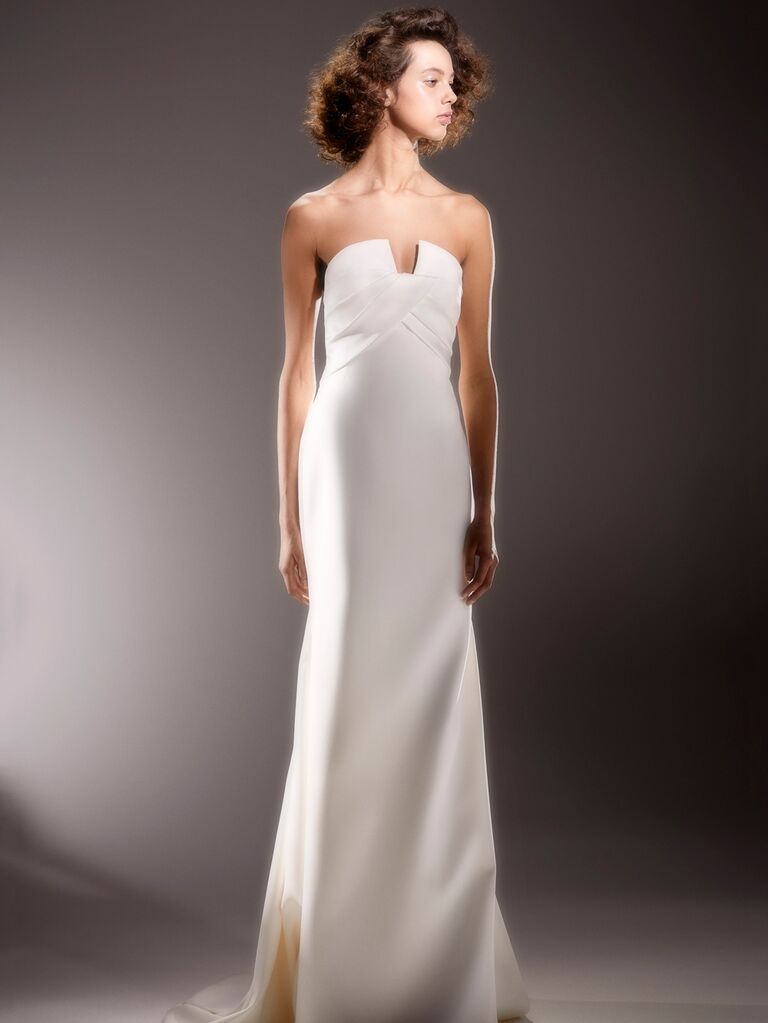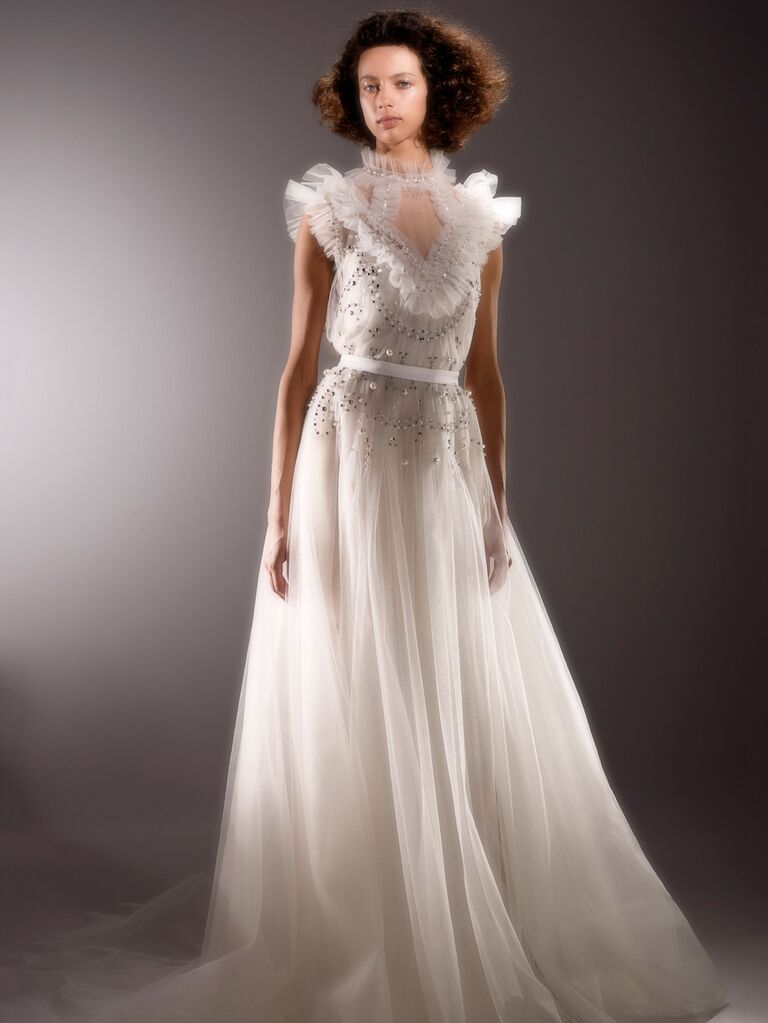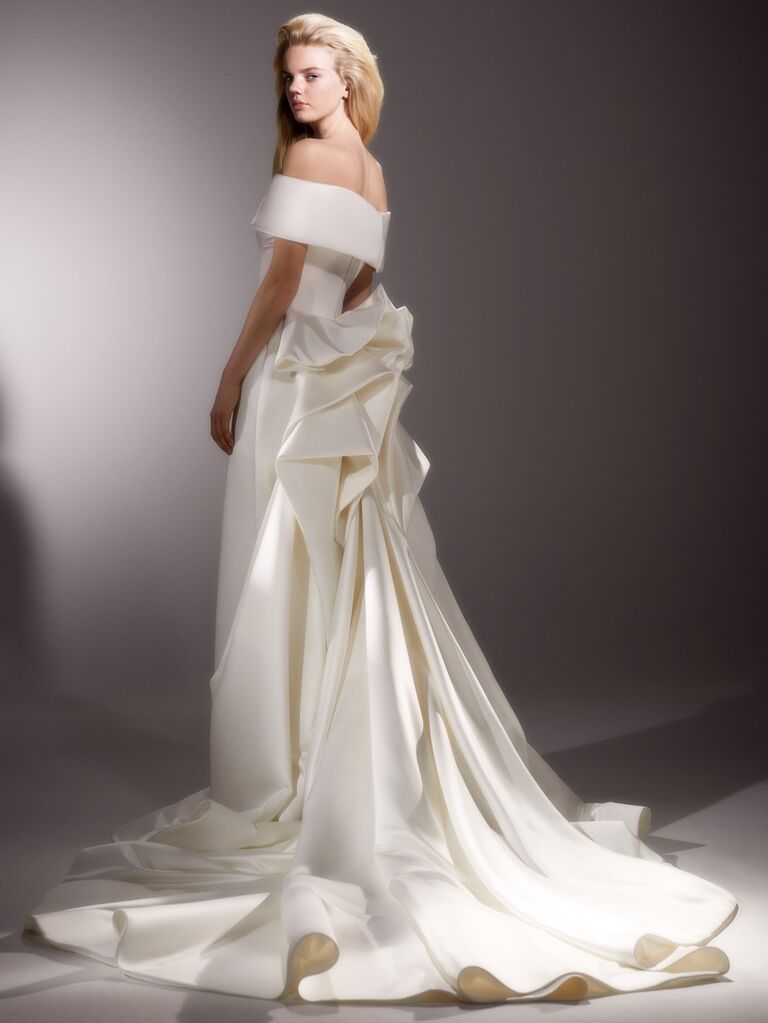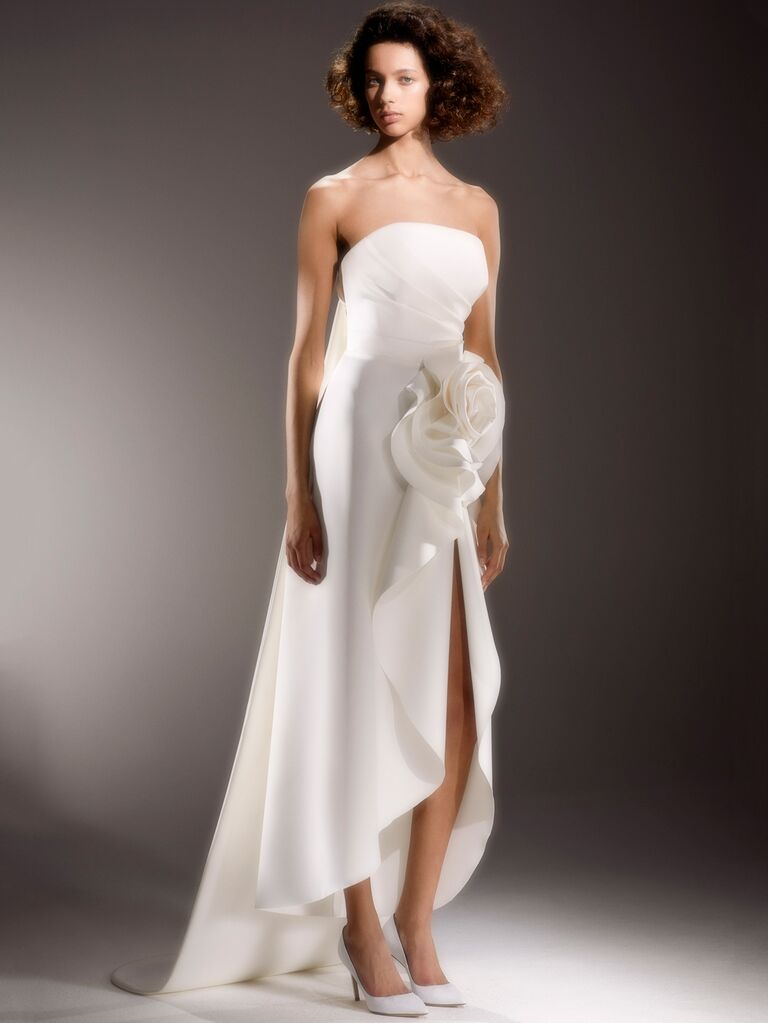 To check out all the Bridal Fashion Week galleries, plus wedding dress advice and more, go to TheKnot.com/bridal-fashion-week.