Find Out Everything You Need to Know About Wedding Linens
Our in-depth wedding linen guide has you covered.
We have included third party products to help you navigate and enjoy life's biggest moments. Purchases made through links on this page may earn us a commission.
Don't underestimate the power of a carefully chosen tablecloth or chair cover. Wedding linens make a big statement and allow you to infuse your personality into your event. Use wedding linens to enhance your color scheme and show off your style, whether that's preppy, bohemian or romantic. It's also a great way to elevate your guests' experience by including luxe wedding table linens and napkins.
With so many linen options available it may feel overwhelming to decide what works best for your wedding. What type of linens do you need, what colors should you choose and which wedding rental company has the best selection? We've broken down everything you need to know about wedding linens including the types and colors available, where to find them, and how to keep them looking crisp and fresh on your wedding day.
In this story:
What Linens Do You Need for a Wedding?
Depending on the setup and style of your wedding, you'll need linens for your guest tables, cocktail tables, buffet tables, dessert table, gift table and sweetheart table. Other items to consider are linen napkins, chair covers, table runners, table overlays and table skirts. If you're renting farmhouse tables and don't want to cover the natural beauty of the wood, choose a table runner and coordinating napkins for a touch of color. Chair covers are also a great option if you want to hide folding chairs or outdated banquet chairs and elevate the look of your guest seating.
Wedding Linens by Color
Whether you want luxurious gold, dreamy dusty blue or crisp white, there are so many amazing color options for your wedding linens.
Seamless White Table Linens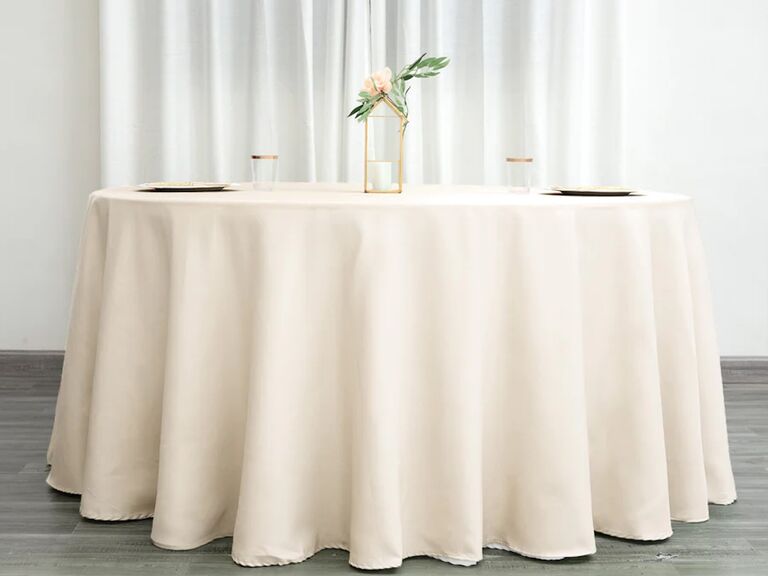 White table linens for a wedding provide a classic backdrop for the rest of your wedding decorations. Layer a pop of color on top or let your bold centerpieces stand out among this simple shade.
Damask Flocking Black Wedding Linen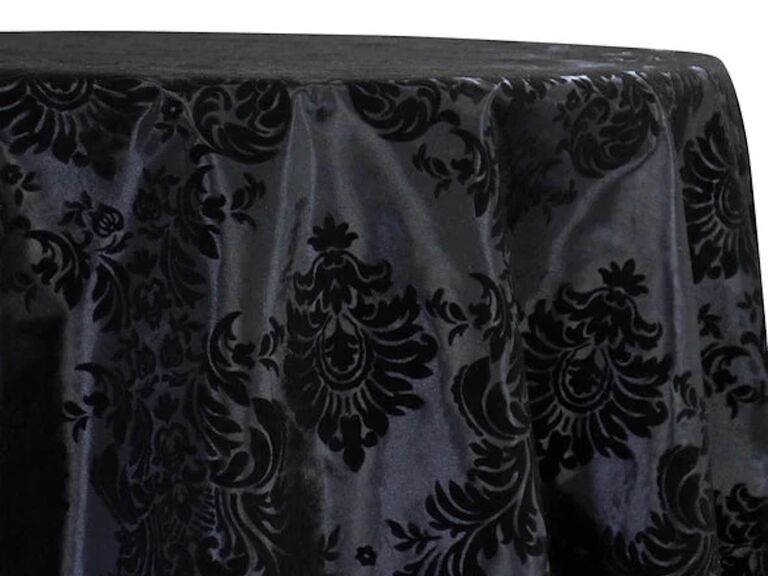 A print texture can soften the look of black linens in a wedding reception. The damask flocking stands out on these elegant wedding linens for a chic black-on-black look.
Blush Crinkled Taffeta Wedding Linen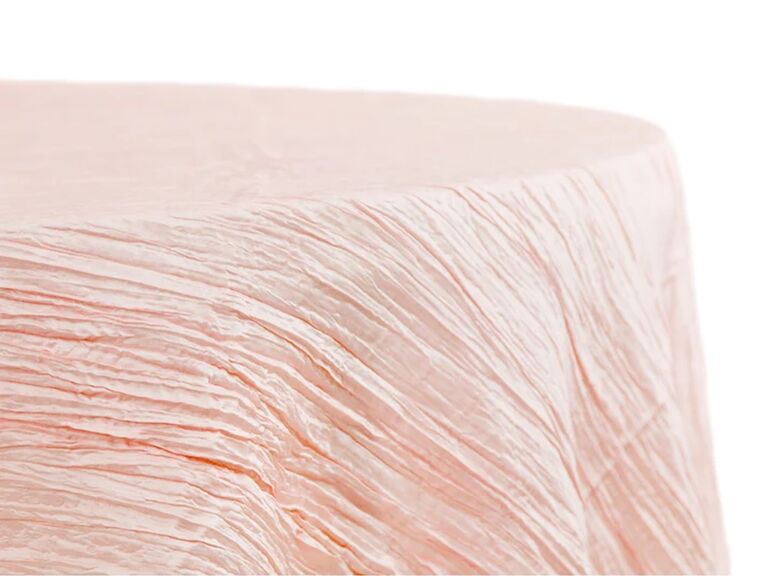 Including blush linens in your wedding gives your reception a soft and romantic vibe. The accordion crinkle pattern provides an elegant touch to these blush taffeta linens.
Navy Blue Linen with Geometric Design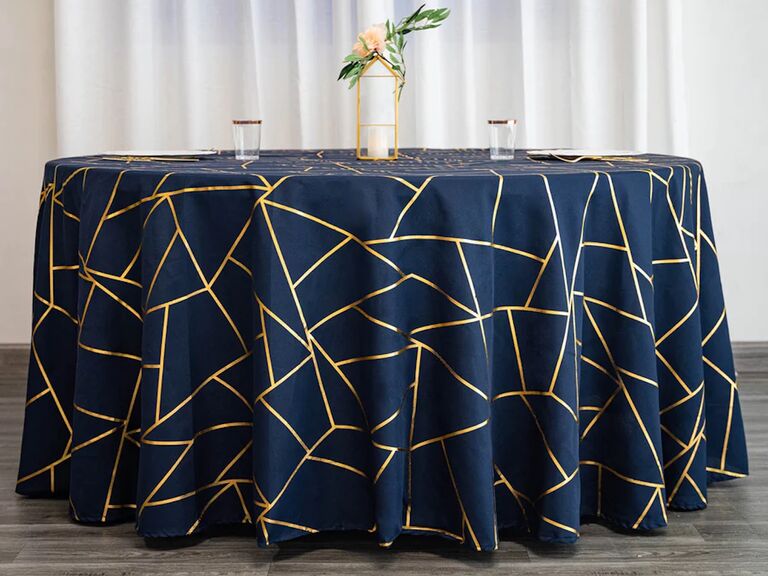 Whether you choose a soft pastel shade or bold navy, blue table linens for a wedding complement many centerpieces and themes. This unique navy blue tablecloth has a gold geometric pattern and would look great on a gift or dessert table.
Cloth Burgundy Wedding Napkins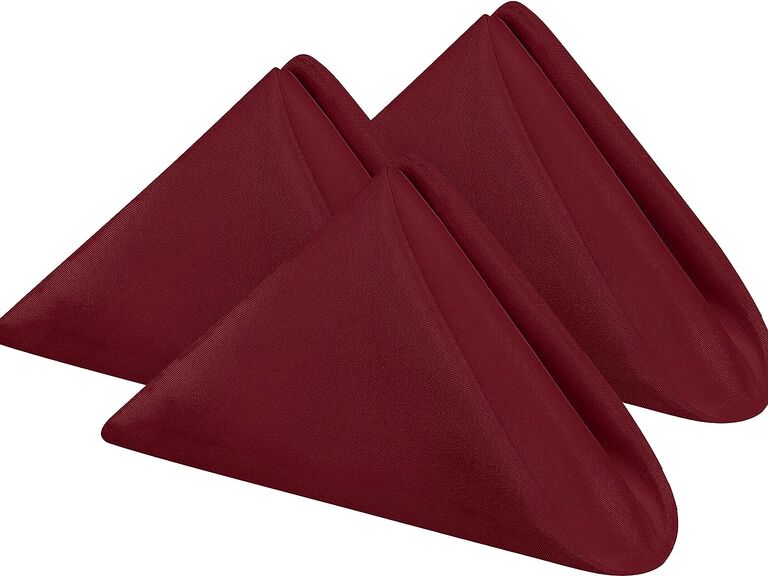 Use burgundy wedding linens as an accent color or the main hue on your reception tables. These chic burgundy napkins add instant sophistication to your tablescape.
Chic Champagne Wedding Chair Covers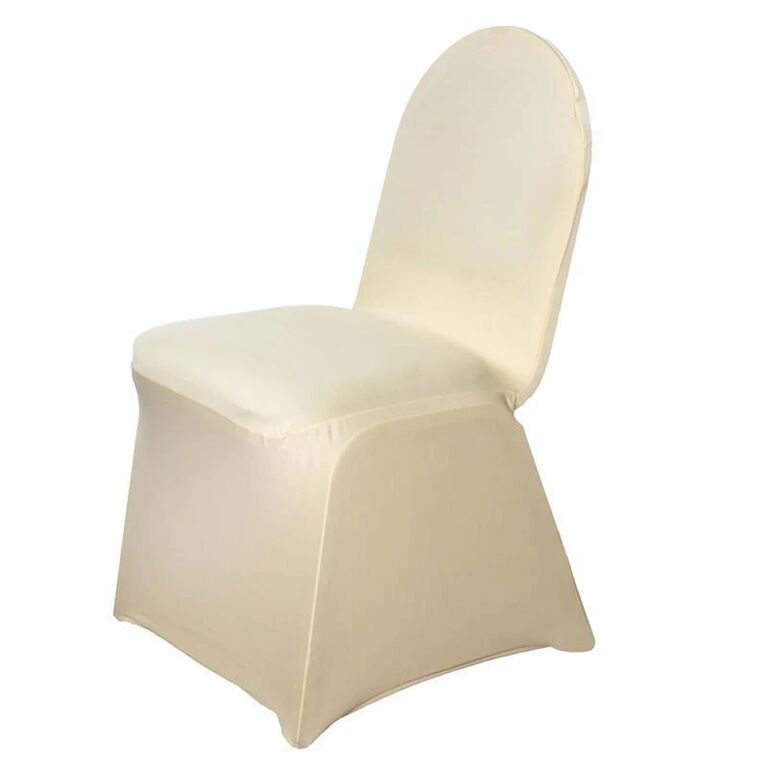 Add a touch of understated luxury to your soiree with champagne linens in your wedding. Champagne chair covers upgrade your space by concealing otherwise boring ceremony or reception chairs.
Dusty Blue Gauze Table Runner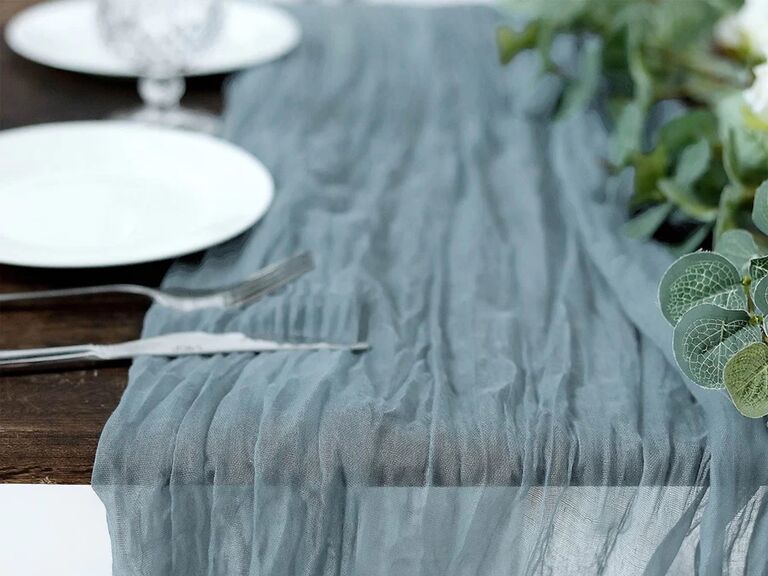 Dusty blue wedding linens give a dreamy effect to your wedding ceremony or reception. We love this gorgeous gauze table runner that looks stunning on a rustic farmhouse table.
Gold Sequin Wedding Table Linen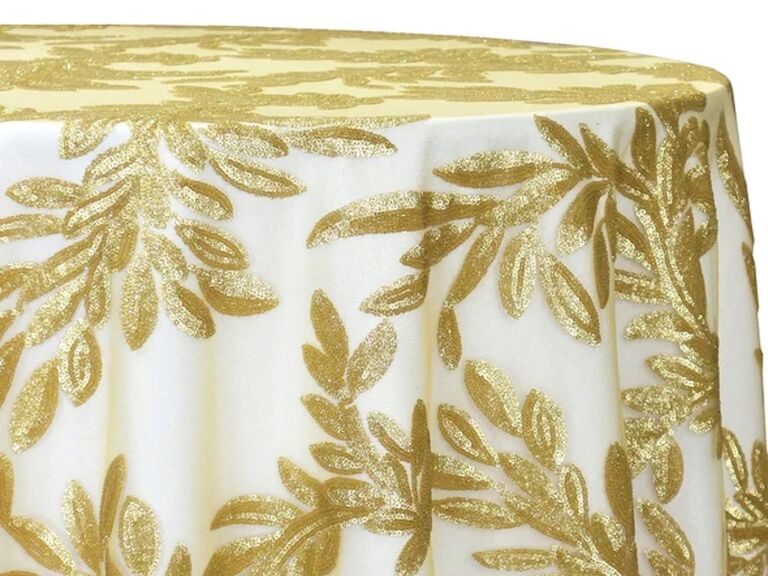 Gold table linens in your wedding are the epitome of opulence and grandeur. Choose solid gold linens for your tables or a design that includes accents of gold. This design features a gold sequin leaf pattern that pops against a white background.
Dusty Sage Rustic Wedding Table Linen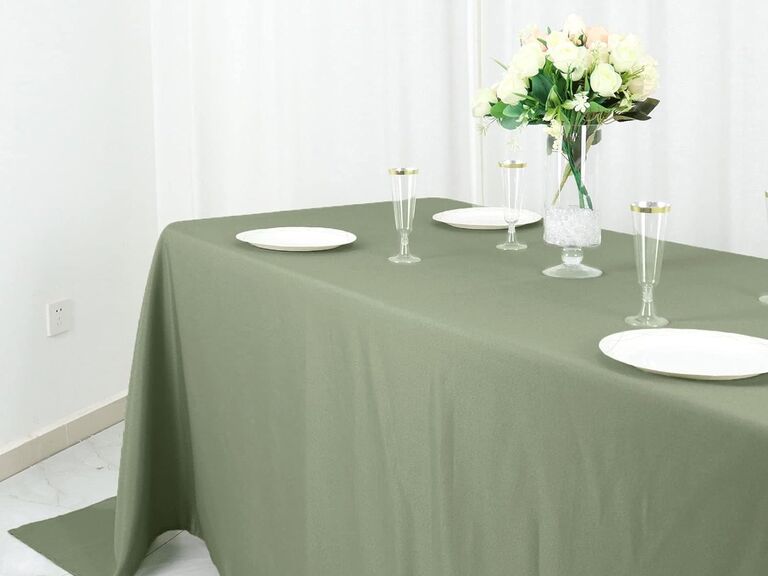 Evoke a sense of nature and tranquility by including green table linens in your wedding. This Amazon wedding linen comes in dusty sage, which matches a rustic wedding theme.
Sheer Organza Overlay in Eggplant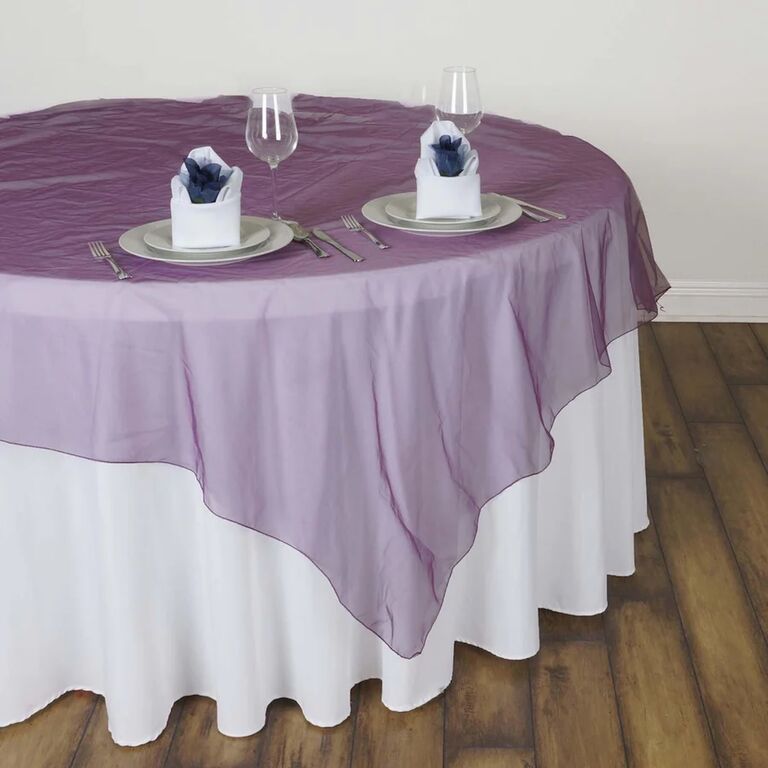 Overlays add a pop of color on gift and dessert tables. This royal eggplant shade complements the rich hues of a fall or winter wedding.
Where to Buy Wedding Linens
Purchasing your linens is a great option if you plan to use them again for future holiday parties or formal get-togethers. Check out the best places to buy linens for a wedding.
Average Cost of Linens for Wedding
Wedding table linens range from $6 to upwards of $100 per piece depending on the quality, fabric and color. Napkins and other miscellaneous items cost around $2 to $30 each. These costs can add up quickly and bust your budget if you're not careful. Splurge on linens where you want a touch of luxury, like guest napkins and your sweetheart table, and save elsewhere. Also keep in mind that costs are lower for white linens versus other colors, and polyester is the most budget-friendly fabric compared to satin, taffeta or velvet.
Where to Find Rental Linens for Weddings
It's easy to find reputable and high-quality rental linen locations in your area by checking out The Knot Vendor Marketplace. Read customer reviews, scroll through photos and reach out to the vendor all in one location. It's a great place to check out multiple linen vendors at once and narrow down your top picks that match your vision and budget.
How to Transport Table Linens for a Wedding
Wrap clean and ironed linens around a long cardboard tube to prevent wrinkling in transport. Layer each linen on top of each other on a clean, flat surface and roll them up together around the tube. Wrap plastic wrap around the middle and ends of your rolled linens to keep them from unrolling. You can also store them in large plastic bins to prevent dust, pet hair or messes from damaging them.
How to Choose a Wedding Linen Color
Choose linen colors that match your wedding color scheme and theme. You can also find inspiration from your venue décor, in-season flowers and current trends. Choose accent colors for napkins, overlays and runners that play well with your table linens. Mix neutral linens with colorful or patterned designs to give your setting more dimension and depth.
How to Determine How Many Wedding Linens You Need
The number of linens you need depends greatly on your guest count and the size of your tables. For example, if you have 100 guests sitting at 6-foot round tables, you'll need around 15 guest tables and linens for each one. We also recommend ordering two dinner napkins per guest to make sure you don't run out, because accidents happen.