21 Decorative Ideas for Your Wedding Gift or Card Table
Here's how to style this functional table to match your wedding decor.
The gift table is primarily a functional element of your wedding day, but that doesn't mean it has to be boring or unsightly. We're sharing 21 wedding gift table ideas to help you determine how to decorate your own when the time comes, while keeping the main purpose of the table in mind: to provide a place for guests to drop off cards and gift boxes. Read our tips for wedding welcome tables and gift tables below, then check out our favorite ideas to use at your reception.
In this article:
Wedding Gift Table Frequently Asked Questions
Are wedding welcome tables and wedding gift tables the same thing?
Wedding gift tables and wedding welcome tables are generally the same thing. The primary purpose of a gift table is to collect cards, gift boxes and other tangible items that guests bring to the wedding. Wedding gift tables are often decorated with signs to welcome or greet guests as they arrive at the venue.
Should you have a gift table at a wedding?
While standard wedding registry etiquette recommends that guests send gifts directly to your home before the wedding day, that may not always be the case. Having a gift table at your wedding is always a good idea, even if it's a simple table with a small box to collect cards. Some guests, especially older or more traditional relatives, may prefer to present you with their card or gift in person at the wedding, so we recommend creating a designated space ahead of time.
With lots of guests in attendance, it's important to plan for the unfortunate (but very unlikely) possibility that someone meddles with your gift table. To prevent wedding gift theft or other tampering, consider designating an event planner or trusted family member to keep tabs on the gifts throughout the wedding.
What do you put on a wedding gift table?
Card boxes, welcome signs and wedding guest books are the main items that go on a gift table. You can include additional decor, like a seating chart or escort cards, framed photos, flowers, wedding favors or candles to personalize the table as needed.
Where does the gift table go at a wedding?
The gift table should go in a visible location at the reception venue, ideally someplace that guests are guaranteed to walk past it. Keeping safety in mind, the table should be somewhere in the main event space (not a lobby) where it's easily within your eyesight. Place it near another high-traffic area where it would be hard to miss, such as near the bar or dessert table, and avoid setting it up too close to an exit.
Wedding Gift Table Ideas
1. Velvet Tablecloth
Luxe velvet fabric is a stylish addition to your welcome table for a fall or winter wedding. Choose a color like this pretty mauve hue to catch the eye, or keep things more classic with a neutral tone.
2. Nautical Theme
A blue striped tablecloth, lobster trap (or wooden basket) and decorative rope accents are all ideas for your wedding gift table if you're planning a nautical or beach-themed reception.
3. Votive Candles
Bring a homey, welcoming vibe to your gift table with the help of votive candles and simple floral arrangements. Specific signage for cards and favors will let guests know what goes where.
4. Refurbished Workbench
Add character to your reception space by repurposing unique furniture, like this vintage workbench, as your wedding gift table. Look for one-of-a-kind pieces that you can customize with flowers, signage and more.
5. Acrylic Card Box
If a simple wedding welcome table setup is more your style, opt for a sleek acrylic card box and a few flowers. It's uncomplicated but exceptionally chic.
6. Vintage Suitcases
Think outside the box (literally) by choosing unexpected items for your welcome table, like these vintage suitcases. They're a functional and decorative way to collect cards or gifts.
7. Tall Taper Candles
Recreate this easy wedding gift table idea with a few taper candles, empty wine bottles (be sure to remove the labels), a basic tablecloth and small flower arrangements throughout the tablescape. A decorative sign and card box are optional but nice to have.
8. Childhood Photos
This wedding welcome table idea is extra-cute if you and your spouse have known each other since you were young. Remind everyone how far you've come by displaying some of your favorite childhood photos in matching frames.
9. Antique Birdcage
Birdcages are popular card box alternatives for vintage-themed weddings. An ornate one like this would look just as beautiful in your home after the wedding day is over.
10. Wooden Barrel
Planning a rustic-themed wedding? Find a barrel or wooden crate that you can use to collect cards and gifts at your welcome table.
11. Tropical Greenery
Decorate your wedding gift table with a glass card box, rattan details, a leather-bound guest book and fresh or dried greenery for an eclectic, boho-style setup.
12. Instant Camera
Add an instant camera to your wedding gift table to capture candid moments and snapshots from the day. Guests can take selfies while they're dropping cards off or writing well wishes in the guest book.
13. Lace and Gold Accents
Simple, classic decor is the key to this elegant wedding welcome table. Pair a glass box and calligraphy signage with timeless details like a lace tablecloth and white roses.
14. Wooden Rowboat
Here's proof that you don't need to use an actual table to collect gifts and cards at your wedding. This clever rowboat display is an instant conversation starter for an outdoor summer reception.
15. Minimalist Welcome Table
Acrylic signage and a coordinating wedding card box brought a touch of minimalist style to this welcome table. A low centerpiece with white roses and greenery finished the chic setup.
16. Framed Engagement Photos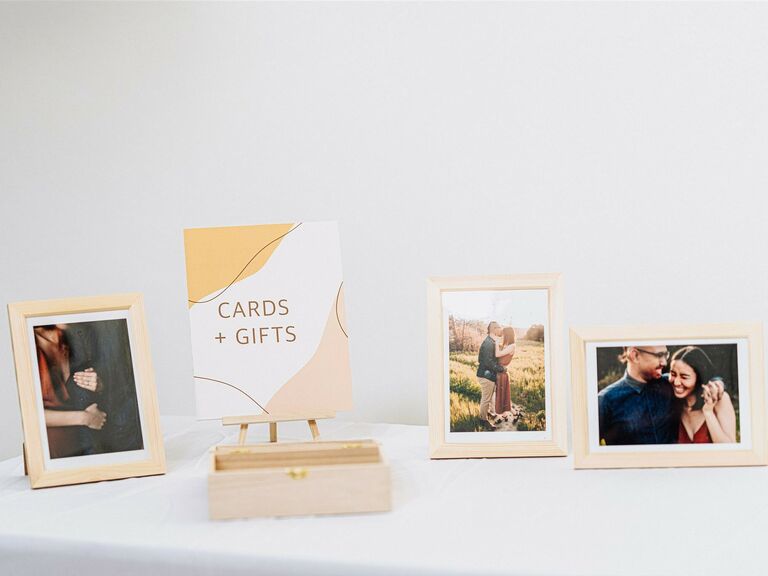 If you love your engagement photos, show 'em off. Your wedding gift table is one of the best places to display them at the reception—guests will love the sweet, personal touch the photos bring to your decor.
17. Rustic Wooden Table
Browse thrift stores and antique shops for a shelving unit or table to use for your wedding welcome display. After the wedding, it's a functional piece you can repurpose at home. Can't find the right piece? Check out local event rental companies for more options.
18. Seating Chart Display
Turn your wedding welcome table into a one-stop-shop for guests by displaying the seating chart, guest book and card box all together.
19. Woven Basket
Going for a romantic garden wedding theme? Basic woven baskets are an easy but stylish way to collect cards or present favors for guests.
20. Patterned Tablecloth
If your gift table is placed to the side of the room or at the perimeter of the venue, it might be easy for guests to accidentally overlook. Ensure that no one misses the table by dressing it up with a patterned tablecloth to match your color palette.
21. Rustic Crate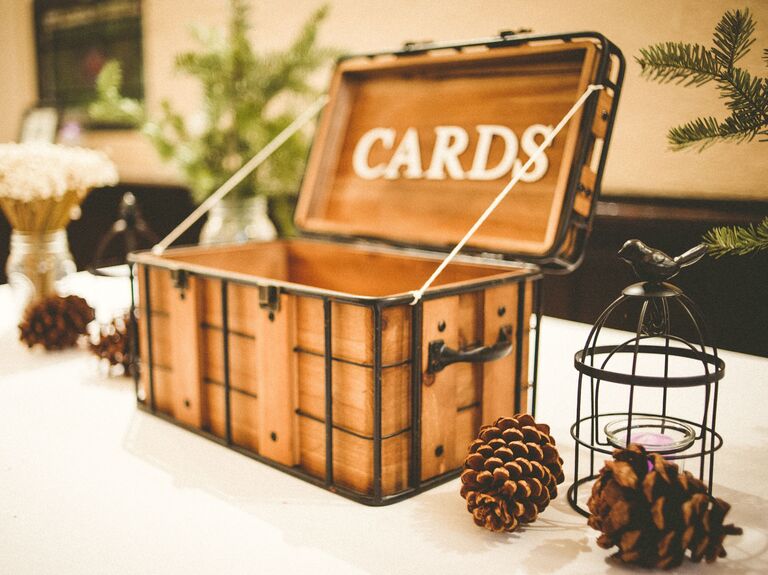 This no-fuss wooden crate is a simple wedding gift table idea for a rustic theme. Not getting married during the winter months? Swap out the pinecones for a different seasonal detail, like pumpkins, apples or wildflowers.