This is What You Should Register For, According to Your Zodiac Sign
Throw pillows or mixing bowls? Let the stars decide.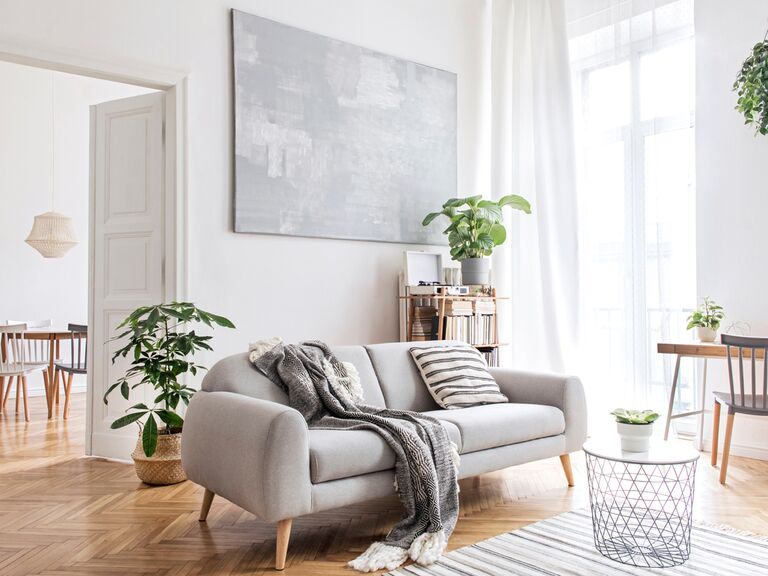 Follow The Flow/Shutterstock.com
Adding products to your wedding registry should be an exciting task for you and your S.O. After all, what could be more enjoyable than shopping for your newlywed nest? Plus, your registry is one of the most important tools for your guests. Not only will it help loved ones find a great wedding gift, it'll ensure you get presents you actually want—not a set of tea towels that'll sit in your closet, untouched, for years. 
Though it's an important wedding planning task, curating your registry might feel overwhelming at first. You might wonder how many gifts to register for, or perhaps you simply need inspiration to get started—and that's where we come in. To help determine your wishlist, we're breaking down exactly what you should register for according to your Zodiac sign, especially since it can indicate a lot about your personality. Whether you're an adventurous social butterfly or a laid-back homebody by nature, your strongest traits can influence what registry gifts will benefit you most. To get started, first create your wedding registry with The Knot. Then, for maximum registry inspo, keep reading to see exactly what you should register for based on your Zodiac sign. 
Aquarius (January 20-February 18): Barware 
Aquarians are all about being social with their closest friends. You love having intellectual conversations, but you're known for being a reliable listener too. Because of this, you need an at-home happy hour set to use any time you have friends or family over for drinks. Nothing excites you more than having your favorite people in one room together for a long chat, so you'll want to register for the barware basics (think: glasses, mixing tools and serving dishes) to have on hand for your next happy hour. 
You're always in touch with your emotions, Pisces, and you'll be especially head over heels in love during the months surrounding your wedding. To embrace life as newlyweds, register for love-themed décor. Matching couple mugs, romantic wall art, flower vases and heart-shaped kitchenware will help you embrace all of your sappy feelings and commemorate your special day.
You don't go unnoticed, Aries. You're a natural-born leader and you have competitive tendencies—that's why you need to register for the best of the best. You're determined to fill your newlywed nest with only the top items, so that's why you need to complete your registry with the most popular products on the market. Standing mixers, sleek vacuums, chic Dutch ovens and professional-grade cooking gadgets will fit nicely on your wishlist. 
If you're a Taurus, there's a good chance you're exceptionally skilled in the kitchen. You love hobbies that clearly show the fruits of your labor, and that's why you're not afraid to spend hours whipping up a beloved recipe or creating a new dish from scratch. Whether you're a self-proclaimed Michelin-rated chef-in-training or you stick to the tried-and-true basics, cooking simply brings you joy. Therefore, your registry needs the latest and greatest cooking tools. Register for no-fail classics, like knife sets or iron skillets, or go for new gadgets that'll take your skills to new heights, like an air fryer or a pasta roller. 
Gemini (May 21-June 20): Dinnerware 
Geminis are notorious for being social butterflies. You love taking any opportunity to talk to new people to share ideas and learn more. Not to mention, you're particularly expressive and quick-witted, meaning you get along with just about anyone. Given your social nature, your registry would best welcome dinnerware for your next intimate brunch party or themed supper club. You're always itching to have loved ones over to your place, so register for practical pieces like plate sets, new silverware, fancy platters or delicate glass sets for your VIPs. 
You're a self-proclaimed homebody, Cancer, and that's why your registry needs feel-good basics to complete a cozy night indoors with your S.O. Of all the registry products on the market, you'd benefit most from kitchen basics like mixing bowls, pot sets or bakeware. After all, what's more appealing than curling up with a movie and a freshly baked batch of cookies or homemade soup? Or, since you also love making your friends and fam feel loved and appreciated, new kitchen products will make it easy to whip up their favorite comfort meal to show you care. 
There's a reason your sign is known as the "King of the Jungle," Leo. You love the finer things in life, and you'll stop at nothing to get what you want. You exude confidence, and you're all about achieving success while having fun along the way. Given all of your strong traits, register for the upgraded classics (because, let's be honest, you want your wedding gifts to be the best of the best). Let us inspire you: Instead of opting for a single-cup coffee pot, go for a state-of-the-art espresso machine. Or, trade your standard vacuum for a cordless robot that sweeps the hardest-to-reach surfaces.
Virgos have a thing for cleanliness, and we're here for it. Here's the good news: Cleaning gadgets aren't boring registry gifts at all. With so many smart tech appliances and trendy organizational tools, having a clean home has never been more chic (or easy to achieve). Keep your newlywed nest in tip top shape with a funky blanket ladder or a statement hanging rack (to display your brand new pots, of course). Trust us—registering for practical home products will be the icing on your (wedding) cake. 
Libra (September 23-October 22): Guest Favorites
Libras are masters of balance. You're all about keeping the peace, and nothing makes you happier than life in perfect harmony. You also tend to avoid conflict whenever possible, and that's why your registry will be filled with guest favorites. We've done the research to find out what guests love giving as wedding gifts, and the answers likely won't surprise you (products from beloved brands like Le Creuset, Dyson, Keurig and Cuisinart all live on this list). The best part? Couples enjoy receiving these registry gifts as much as guests prefer to purchase them. 
You're passionate about everything you do, Scorpio. In order to fuel your fire, dedicate your registry to coffee must-haves that'll keep you going all day long. (If coffee isn't your thing, don't sweat. These picks will work for tea-drinkers as well.) Scorpios are known for being one of the most intense signs of the Zodiac, and we can't help but see the similarities between you and a strong, bold cup of coffee. From quirky mugs to mismatched dessert plates and high-tech coffee brewers, this collection will melt your tough exterior and bring you pure joy. 
Sagittarius (November 22-December 21): Brunch Essentials
A Sagittarius is known for having an open mind and an extroverted personality. You love adventure and you're always willing to have new experiences. Because of this, brunch essentials deserve a spot on your registry. While you probably love trying new restaurants with fancy egg dishes or inventive breakfast cocktails, you can bring the excitement of brunch to your own home with products like waffle makers, champagne glasses or a jumbo-size griddle. Sunday mornings at home never looked so good. 
You're responsible and realistic, Capricorn, so it's no surprise that your wedding registry will be full of smart, budget-friendly picks. Nothing will make you happier than a vacuum that'll last for years or a slow cooker that won't show signs of wear. But we'll let you in on a secret: Budget-friendly doesn't mean boring. Don't forget to register for fun products too, like a cozy throw blanket or a decorative platter in your favorite color. (We promise they'll get plenty of use.)