How to Plan an Unforgettable Three-Day Wedding Weekend
From the welcome party to the good-bye brunch, here's how to plan a long weekend of nonstop fun for you and your guests.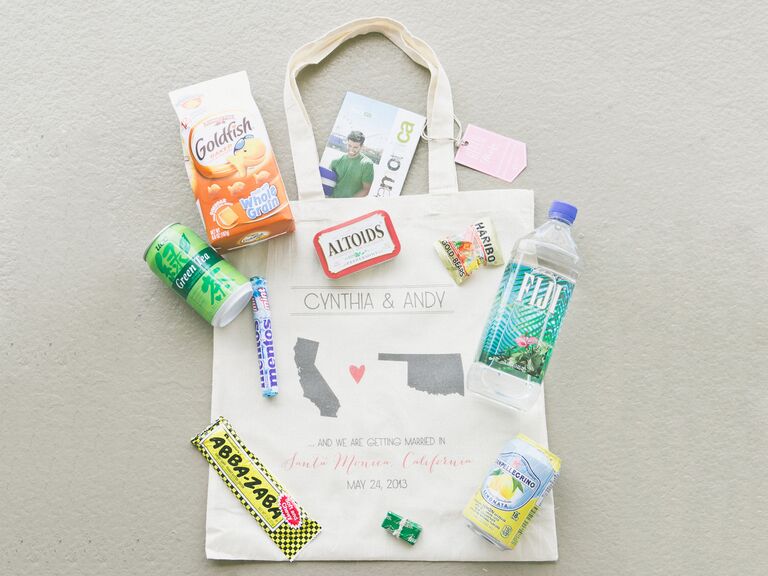 Onelove Photography
How many times have you heard someone tell you, "It's over before you know it," when describing their wedding day? Well, luckily we have a solution—prolong the party! Take a cue from a tried-and-true wedding trend and plan a fabulous three-day weekend celebration. Even if your location seems more familiar than foreign, creative hospitality will make the wedding an endlessly fun and fascinating trip. Keep the festivities rolling, and yourself relatively stress free, with these extended weekend party pointers.
1. Welcome Party
Why: If most of your wedding guests are out-of-towners, or if they're just people you haven't seen in a while, a welcome party is a great way to greet everyone in a relaxed, no-pressure atmosphere.
When: A day or two before the wedding, but you should really base it on the date when you know most of your guests will be arriving. Also, you don't want it to conflict with the rehearsal dinner—though a cocktails-only celebration could certainly follow the dinner.
Who Hosts: Anything goes with this one. You and your fiancé can certainly act as emcees and welcome the crew, or another family member or close friend can host. If you're also having a rehearsal dinner that the groom's parents are hosting, don't ask them to host the welcome party too. But if you can't come up with the funds on your own, consider asking both sets of parents to host jointly.
Whom to Invite: All of your out-of-town guests, naturally, though why not invite the guests who live down the block too? The more the merrier, we say. Most to-be-weds invite all of guests to the welcome party.
Where: A welcome party can be a cocktails-only, open-house-style celebration at a bar (for total convenience, look into the bar at the hotel where everyone's staying) or something festive like a riverboat trip complete with buffet dinner and cupcakes. Don't go too formal with this one—the welcome party should stay lighthearted and be all about hanging out and having fun.
Take It a Step Further: Are guests coming in from the place you grew up? Show your hometown pride with a pair of signature cocktails named for your former stomping grounds, or choose local beer and wine to serve with dinner.
2. Rehearsal Dinner
Why: As everyone is brimming with anticipation on the eve of the wedding, this celebratory, often intimate or more casual dinner is filled with toasts, roasts and general good cheer. This is a good time for the couple to present their gifts to the wedding party. Make sure to also give your parents and anyone else who was an integral part of the wedding planning process a token of your appreciation—flowers, a nice bottle of wine or even a sentimental toast will do.
When: A day or two before the wedding—typically following the ceremony rehearsal. If 90 percent of your wedding guest list is out-of-towners, consider hosting an intimate dinner with just the wedding party two nights before the wedding, then a more casual and relaxed welcome party (like we just described) the night before. You could also, on the eve of the wedding, have just family and the wedding party at your rehearsal dinner, then meet up with all your other guests for after-dinner drinks.
Who Hosts: Traditionally, the groom's parents. But depending on who's paying for the wedding, the couple or the bride's family may decide to host this event.
Whom to Invite: At the very least, it should include just the wedding party, very close family members and the officiant. But don't be afraid to include others you want to thank (for example, friends who aren't in the wedding party but have helped you out). It's really up to you, your budget and whatever other parties you have planned.
Where: Many rehearsal dinners are held in hotel banquet rooms, or at nice restaurants, with full-course dinners and desserts. Others are held at home and feature a backyard barbecue or clambake. It depends on the size of your guest list, of course—a totally casual affair might not be appropriate if it's an intimate dinner for 10.
Take It a Step Further: Add your wedding photographer to your rehearsal dinner guest list. Having a good idea of who the main players are for the wedding will help your shutterbug get the shots you want on your wedding day.
3. Farewell Brunch
Why: At the end of the weekend, a postwedding brunch is a great way to wind down and exchange final good-byes before leaving on your honeymoon. Newlyweds can take this chance to thank their guests and spend more time with loved ones who've flown in from all over.
When: The morning after the wedding. Keep hotel checkout times in mind when picking an appropriate start time (10:30 or 11 a.m., for instance). You don't want to start the brunch too late, especially if out-of-towners will be anxious to get on the road.
Who Hosts: There's no hard-and-fast rule here. It's a nice gesture for the couple to bear the brunt of the planning and cost, but either family could also assume the hosting role, especially if one side is entertaining more out-of-towners than the other.
Whom to Invite: The brunch is usually for the couple's families and any wedding guests who are still in town, but feel free to include attendants, friends or even children who weren't invited to the wedding. Basically, anything goes.
Where: Like most parties, the brunch can be held wherever suits the mood: your parents' home, a hotel salon or a friend's backyard.
Take It a Step Further: Get even more psyched for your postwedding getaway by giving your brunch a theme inspired by your honeymoon destination. For example, serve antipasti if you're headed to Italy or a tropical fruit salad (with plenty of pineapple, of course) if you're bound for Hawaii.
Lastly, if it seems that your wedding is turning into a real mini vacation (like a four-day affair), consider setting up optional activities for those who aren't familiar with the area and need something to do (a sign of a truly gracious host). Think tee times, horseback riding, hikes, fishing trips, wine tasting—it really depends on the locale. Let guests know their options (and reservation and cost info) well ahead of time with a separate mailing or on your wedding website, and be sure to include the details in your welcome bags.
Ready to find a wedding planner for your wedding weekend? Let's go!
Give your guests something to talk about with one of these amazing wedding extras.