5 Old-School Wedding Traditions We Still Love
Trends come and go, but these traditions are here to stay.
by Maggie Seaver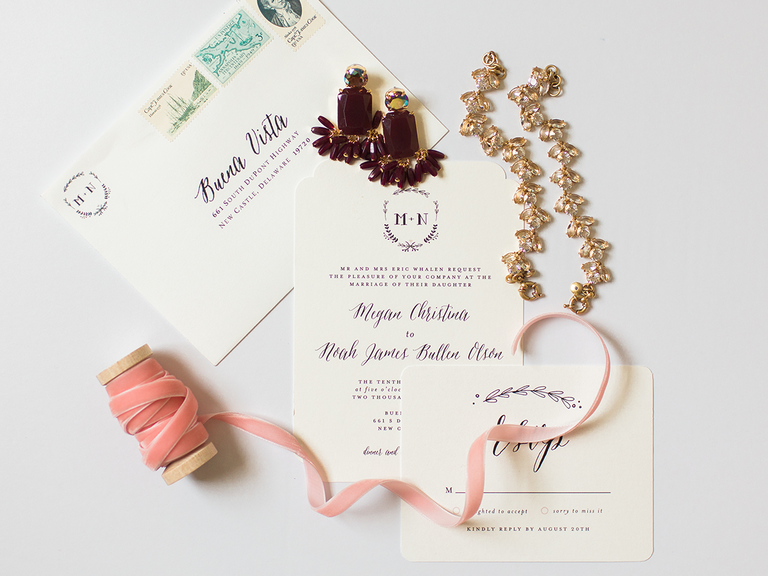 We always encourage couples to toss or reinvent any wedding traditions that don't work for them—or to make up their own. That said, there are a few old-school customs we're still big fans of, and think you should be too. While you definitely don't need to have an even number of wedding attendants, do a first dance or walk down the aisle to Pachelbel's Canon in D Major, we recommend keeping these five traditions in the mix.
1. Asking for Your Future In-Laws' Blessing
Take note: This is not the same thing as asking your significant other's parents for permission. Asking for their blessing is an important, courteous gesture for whoever plans to propose. Because even though marriage is technically a commitment between you two, your decision to get married inevitably affects both of your families—it's a big deal for them too. Start married life on the right foot with your in-laws by at least keeping them in the loop.
2. Sending Paper Invitations
When it comes to wedding invites, you'll to want to mail real, formal stationery. In this fast-paced, digital world, paper invites are simply more special. You want to elicit emotion about your wedding, so a sense of touch is important. No need to go crazy with tissues, laser-cut borders and multiple envelopes. Save money and paper with a simple white card stock with laser printing. And for all other prewedding events, like engagement parties, showers and the bachelor/bachelorette, evites are 100 percent okay.
3. Including Something Old, New, Borrowed and Blue
This tradition comes from an Old English rhyme about the good luck charms a bride shouldn't wed without. "Something old" represents continuity; "something new" offers optimism for the future; "something borrowed" symbolizes borrowed happiness; and "something blue" stands for purity, love and fidelity. But we don't just love it because it rhymes—these sweet additions are typically sentimental and symbolic tokens of love from a parent, sibling, grandparent, other relative or attendant (but you're welcome to give them to yourself). It's a meaningful tradition that requires minimal effort, money or pressure, and lets you keep your loved ones close to you on your day.    
4. Creating a Wedding Registry
The it's-your-wedding-so-treat-yourself philosophy may not speak to you, and we totally get it. Many find it odd, even uncomfortable or guilt-inducing, to specify which wedding gifts they want to receive on their registry. But please, please don't feel guilty! Your friends and family want to give you something special to commemorate such a big step and help you start newlywed life off right. It also helps take the guesswork out of gift-giving for guests, so they'll thank you. This is your chance to ask for anything—from dream kitchen appliances to donations to a cause close to your heart—so why not take it?
5. Writing Thank-You Notes
Handwriting thank-you notes is, by far, the best and most personal way to express your gratitude for presents, or simply your guests' attendance at the wedding. Let your aunt know how much you appreciated both her contribution toward your dream safari honeymoon and her amazing effort to fly across the country to witness your "I dos." People love—seriously, love—receiving thank-you cards (and there's an actual study to prove it). It shows you truly appreciate the time, money and energy put into getting a gift for you and being there on your day.