Why Thank-You Notes Still Aren't Optional (Sorry!)
A new survey proves it—thank-you notes are the "write" thing to do.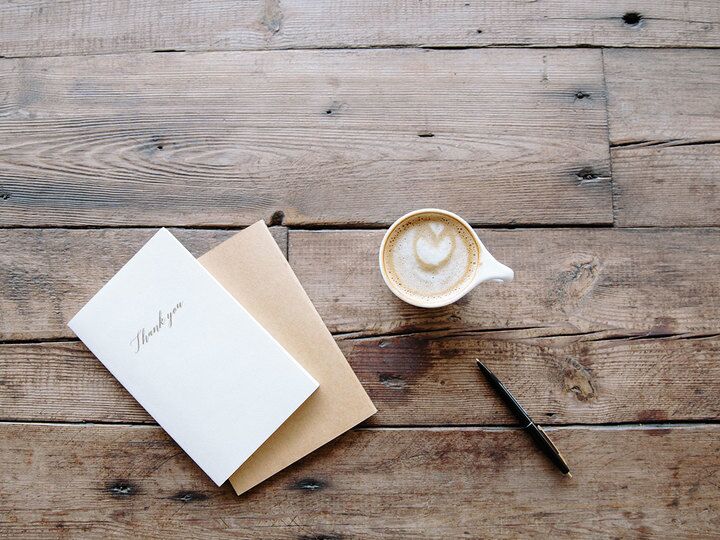 Freddy Castro/Unsplash
With an endless pile of wedding gifts to sift through, it can be tempting to send quick thank-yous to friends and family by email, text or even Facebook. After all, modern technology makes it super easy—and a thank-you is a thank-you, right? Not so fast. We always say handwritten thank-you notes are the best way to show your guests love and gratitude. And according to a survey conducted by The Stationery Studio, the majority of those surveyed agree, revealing they value a thoughtful handwritten note over an email, text or even a phone call. Here's the full breakdown of everyone's opinion on writing thank-you cards.
Ninety-three percent of individuals surveyed think writing thank-you notes is necessary, and an overwhelming 96.5 percent believe that a handwritten note is the most acceptable form of thanking someone for a milestone gift, including a wedding or anniversary present.
On the flip side, 22 percent consider a phone call appropriate while only 12.8 percent find email acceptable. And when it comes to texting, only 4.2 percent are in favor.
So next time you're tempted to click "send," put your favorite pretty stationery to use instead (ahem, maybe that newly monogrammed stationery you got as a wedding gift)—after all, that's what it's for! It's a timeless gesture, and your wedding guests will appreciate that you value their generosity enough to write a few words of thanks in your own hand.
Stuck on what to say? Check out our go-to guide, complete with some sample thank-you notes to get you started.