10 Wedding Transportation Basics You Need to Know
It takes a little know-how to get to your wedding on time and in style with your bridal party and guests in tow.
by Vi-An Nguyen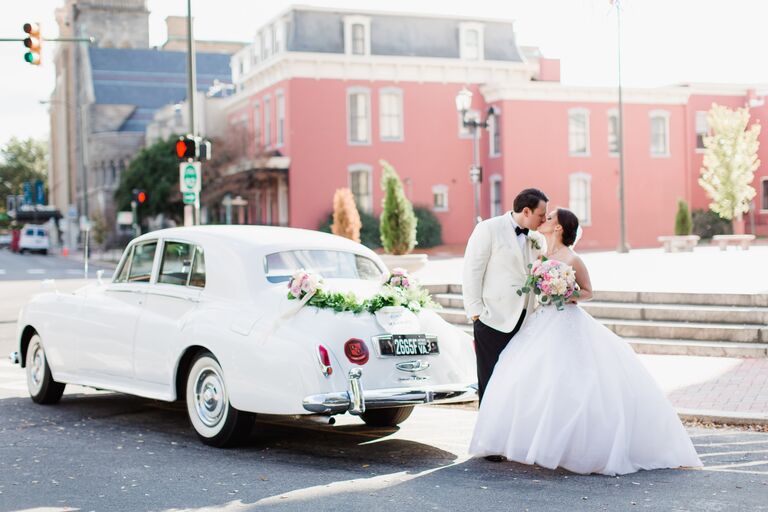 Annamarie Akins Photography
Delicious food, emotional toasts and a high-energy dance floor make for a fabulous party, but before any of that can happen you need to get there—preferably on time. Transportation glitches can get your day off to an awkward start, making you anxious, pushing back the festivities and leaving your guests feeling cranky. Here's how to make sure you have a smooth, and fun, ride.
1. Book a Car Company Way in Advance

Hire your car company about six months out (after you've settled on your date, wedding party size, and ceremony and reception sites). If you're getting married in April, May or June—otherwise known as prom and graduation season—formal vehicles will be in high demand, so book your transportation even earlier, if you can (around nine months is a good benchmark). The same goes for special rides like vintage cars, which are in shorter supply than your typical town car or limousine.
2. Think Beyond the Limo
A limousine always works for a traditional wedding, but if that's not your style, get creative and match your ride to your taste and wedding vibe. Whether you want a unique getaway to express your style or a fun way to give your bridal party and guests a lift, there are lots of options for wedding wheels, like a sleek Rolls-Royce, horse-drawn hayride, tricked-out party bus or set of retro bicycles.
3. Give Your Attendants a Ride
Although your wedding party is responsible for covering their own travel to the site, do them a favor and treat them to transporation on your actual wedding day. If you're not traveling to the ceremony with them, provide a separate vehicle for them to get to the venue. Then at the end of the night, after the two of you have snuck off, the group can pile into a guest shuttle home or back to the hotel.
4. Don't Leave Guests Stranded
If you're hosting a lot of out-of-towners, consider providing them a ride from their hotel to the wedding and back. That way, no one has to worry about navigating an unfamiliar city or choosing designated drivers. A charter bus or shuttle, which holds up to 60 passengers, will usually do the trick (it can take a couple of trips). Or go the extra mile and choose something with character that matches your wedding—like a double-decker bus for a city affair.
5. Book the Reservation in Person
Have you ever booked a rental car online and been disappointed by the ride you picked up? Don't let this happen on your wedding day. Research companies online and chat with a few over the phone, but make your final reservation in person. You'll be able to get a look at the car you'll be riding in (or at least a very similar one). This way you can avoid any unwelcome surprises by making sure the fleet looks in tip-top shape before putting down a deposit.
6. Pad Every Trip by 20 to 30 Minutes
Being late because of traffic can ruin a regular day, and it can really put a damper on your wedding. Pad some extra time onto each trip you'll be making in case of unexpected delays, and keep in mind that getting excited people in tulle skirts into multiple cars is no easy feat. If you want to be extra cautious, take a test spin of each route at the same time and day of the week of your wedding to use as your guide. Research any irregular happenings about town (think: sporting events, festivals or even just a summer weekend in a popular beach town) on your wedding day that might cause interruptions and add extra travel time.
7. Plan to Pay for Wait Time
Most rental companies charge by the hour and require a minimum booking, typically three hours. In most cases, this means you'll contract them for the full day. Either way, calculate the total hours needed, from the ceremony pickup to the end of the reception, to determine whether it's worth it to pay for the wait. (We tend to think it is, if only to save you from stressing out about another detail during your busy day.) Expect to pay between $50 and $150 per hour, plus a 15 to 20 percent tip, which is usually included in the contract (sales tax may also be charged). If it's not included, a $20 tip for each driver will cover your bases.
8. Be Specific
Wedding transportation is supposed to be luxurious. Special requests, like the type of champagne you want on hand, a certain type of music player you need (like an AUX cord) or a specific dress code for the driver, can usually be accommodated. Just ask your rental company about adding these specifics into your contract before you sign.
9. Ask About Decorations
Many car rental companies don't permit décor on their vehicles (especially the vintage variety). So before you get attached to the idea of a decked-out wedding getaway car for that classic photo, ask about it. The companies that do allow it may require you to take the trimmings off for safety reasons as soon as you drive out of sight. If you want the full effect—cans, streamers, signs and flowers—you might be better off using your own car for the exit.
10. Make Day-Of Playlists
You don't have to ride to the wedding in silence—now's the time to get in the mood. Make a few playlists of your favorite songs for your trips to the ceremony, reception and home at the end of the night. If you're hiring shuttles for your guests, create playlists for their rides too (or maybe they'll even offer to make one for you!).
Make sure your wedding transporation contract includes these important points.
Ready to find your ride? Look for car and limo companies in your area here.