32 Western Engagement Photos That Embody Country Living
Show off your lifestyle in stunning fashion.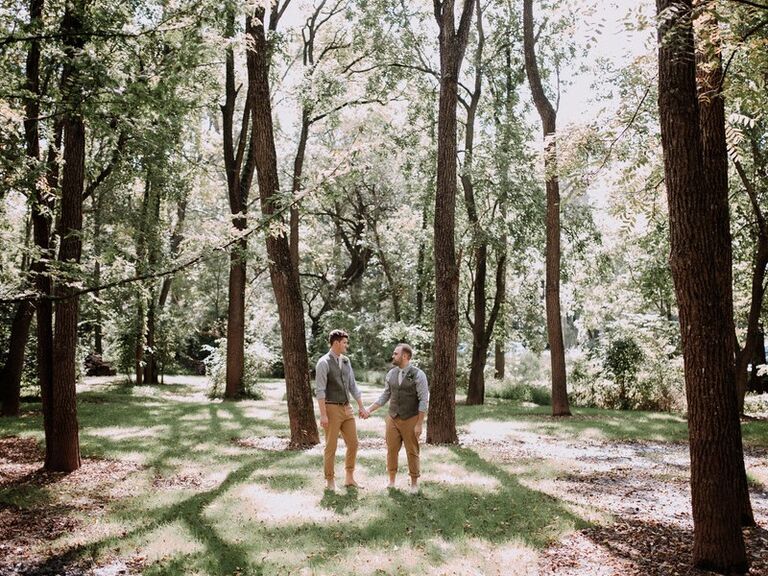 Photo: EarthMark Photography
Ready to celebrate the Wild, Wild West? There's something to be said about the proud mindset that comes with country living. When it comes to sharing the news of their upcoming nuptials, many couples love to showcase their lifestyle in their country-Western engagement photos. From coordinating attire—including cowboy hats and boots—to the setting and props, there are many ways you can show off your love in a charming series of photos. To help your engagement shoot go off without a hitch, we've asked an engagement-photo expert the need-to-know questions, and they've graciously offered up tips that will make your experience much smoother.
Then, when you're ready to start planning the next stages, you can check out our Western wedding ideas and popular Western wedding destinations. Consider this your ultimate guide to Western engagement photos.
In this story:
Where to Take Western Engagement Photos
When it comes to the setting, expert wedding photographer Kaylie Sirek, owner of Kaylie Sirek Photography in Sheridan, Wyoming, with more than 12 years of experience, says, "most couples will lean towards that outdoorsy/natural vibe," which she says could be "an open field, forest, mountain backdrop, [or] lake/water element." She scouts for her locations based on the client's input. She's also a huge fan of using spaces that have sentimental meaning behind them, whether it's a "family ranch, the spot they got engaged, where they went on their first date, or a place they like to hang out together."
Sirek also points to urban city or building backdrops, depending on the feel you're looking to achieve. She suggests that couples "think of how your perfect day with your partner would look" and then incorporate those ideas into choosing a location. If you're struggling to come up with an idea for your country-Western engagement photos, Sirek says it's a great idea to "ask your photographer for suggestions."
Attire Considerations for Western Engagement Photos
When it comes to your attire for your Western-themed engagement photos, Sirek says don't underestimate the value of wearing something comfortable: "If you're fidgeting and not feeling confident, that will show in photos."
As for the actual engagement photo attire, she says to avoid those "matchy-matchy" outfits because "that can get real 'Awkward Family Photo' real quick." Instead, she suggests opting for complimentary outfits. For women, she suggests flowy outfits, like dresses. Both parties should aim to stick to neutral tones and avoid clothing with large logos or words on them, and don't forget to bring those cowboy boots out to play!
Photographers' Western Engagement Photo Tips
If you're just starting the photographer search, you'll want to check out The Knot Marketplace. Then, it's time to put your vision together. Whether you have a general overview of what you're looking for or you're in desperate need of country-Western engagement photo ideas, here are some tips that will ensure your photos come out just the way you hoped.
Take Advantage of Golden Light
Sunset and sunrise are the best days to shoot, according to Sirek. Toward the end of a sunset session, "the lighting gets really good," and that's when those gorgeously intimate photos turn out.
Have Fun With Your Attire
Sirek suggests couples "have fun with layers" because it's so easy to create a new look "just by adding or removing a jacket, scarf, hat, vest [or] jewelry." Bring a few changes of outfits and save the best for the last, because she says by this point, you'll be at your most comfortable, and it will really show in your country-Western engagement photos.
Include Your Animals
One of the biggest staples in country living is the presence of animals, and Sirek says she loves having them in the scene. So bring along your dog, horse or any other animal that is a presence in your life or relationship.
Western Engagement Photo Ideas
One of the best things you can do to gain inspiration for your shoot is to look at other Western couple photos. We've got 32 ideas to spark your imagination.
1. Western Couple Picture at Iconic Location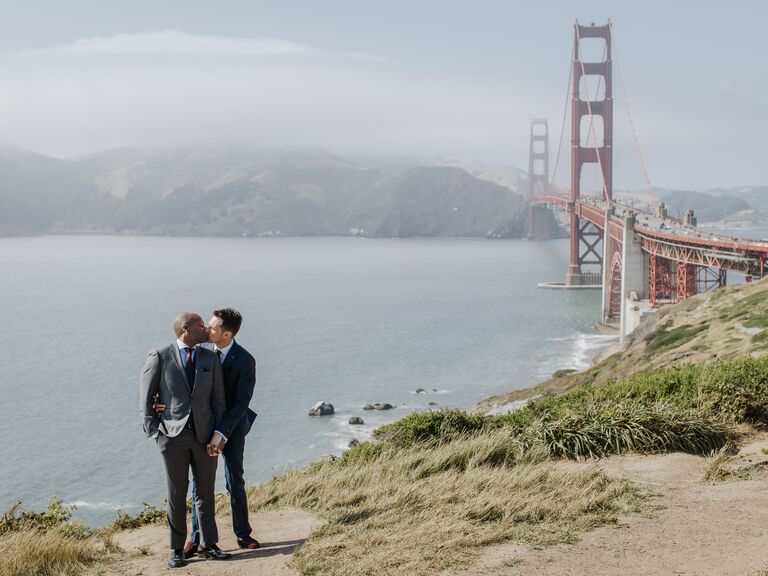 This couple took advantage of the gorgeous mountains, along with the Golden Gate Bridge in San Francisco. The intimate moment of this couple is only enhanced by the beautiful backdrop.
2. Outdoorsy Rustic Country Engagement Photo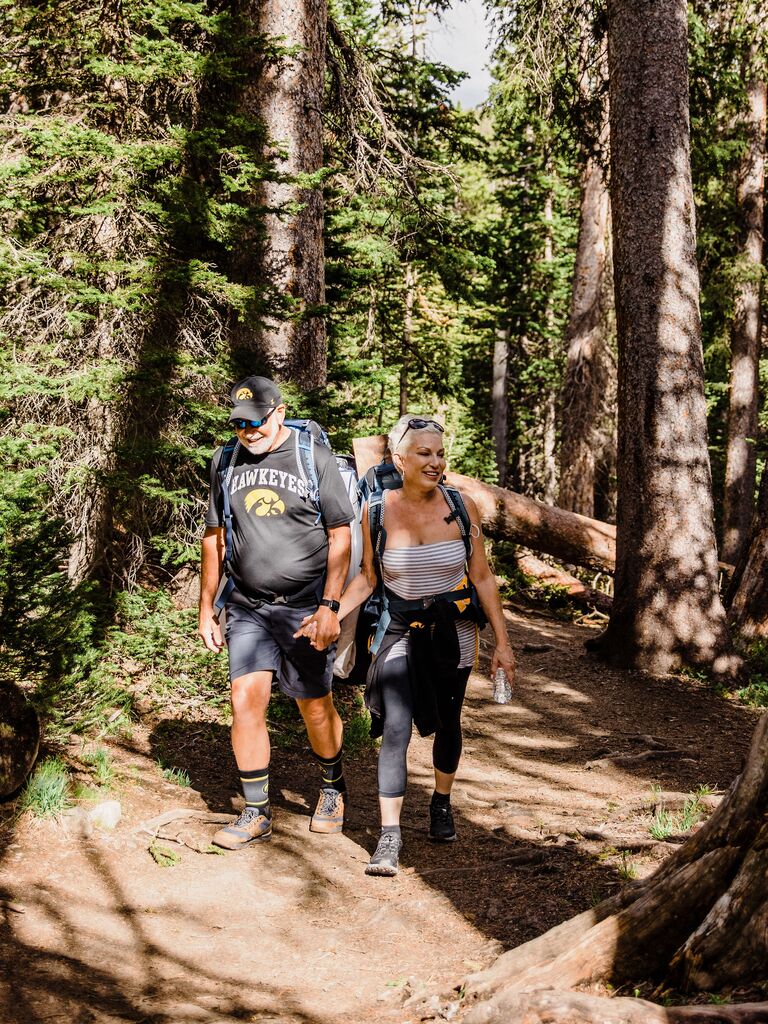 Perhaps one of your special places is the great outdoors. This couple is holding hands, looking perfectly in their element, while taking a hike with stunning trees in the background.
3. Country Engagement Photo With Pop of Color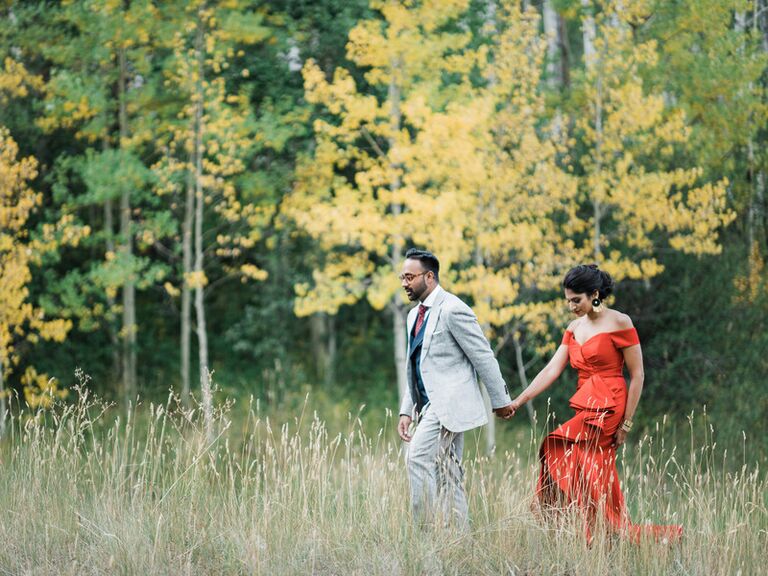 Little pops of color like the yellow in the trees and the woman's gorgeous red-orange dress will make the photo that much more noteworthy. Don't be afraid to choose a setting—or an outfit—that spices up the shoot.
4. Rustic Country Engagement Photo at Vineyard
Nothing says country more than your classic dirt road. This couple turned it up a few notches with their gorgeous outfits.
5. Waterfront Western Engagement Photos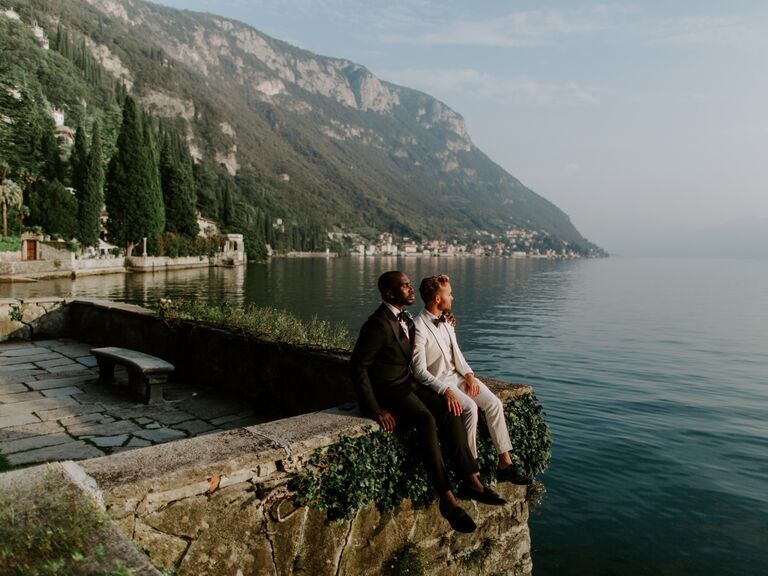 Water backdrops can make for stunning pictures. This couple looking off into the distance with calm waters paints a serene picture.
6. Gorgeous Sunrise Western Couple Pictures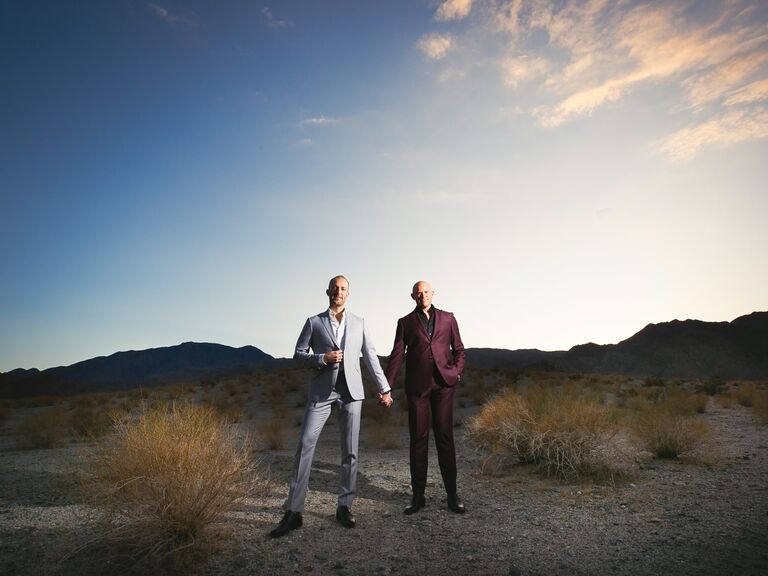 Wake up extra early to catch those stunning moments when the sun peaks over the mountains, casting a gorgeous light on the couple.
7. Country-Western Engagement Photos in a Meadow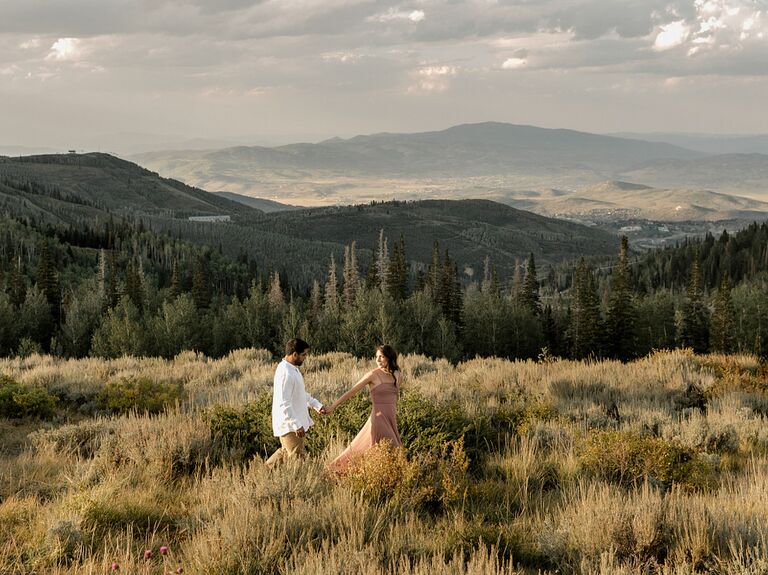 Have fun with your photo shoot and frolic in the fields. It truly livens up a stunning scene like this.
8. Romantic Embrace During Mountain Western Couple Photos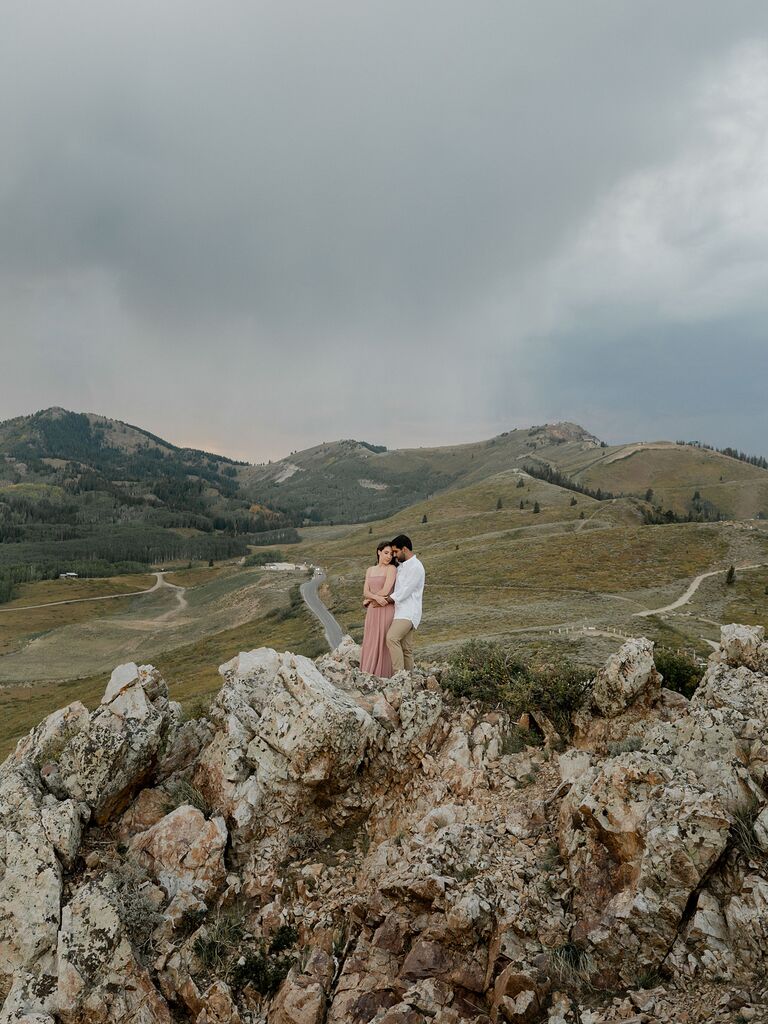 This couple really took advantage of the gorgeous scenery. Rolling hills, rock formations and lazy, winding roads will make your country-Western engagement photos really stand out.
9. Couple Taking a Stroll Through the Desert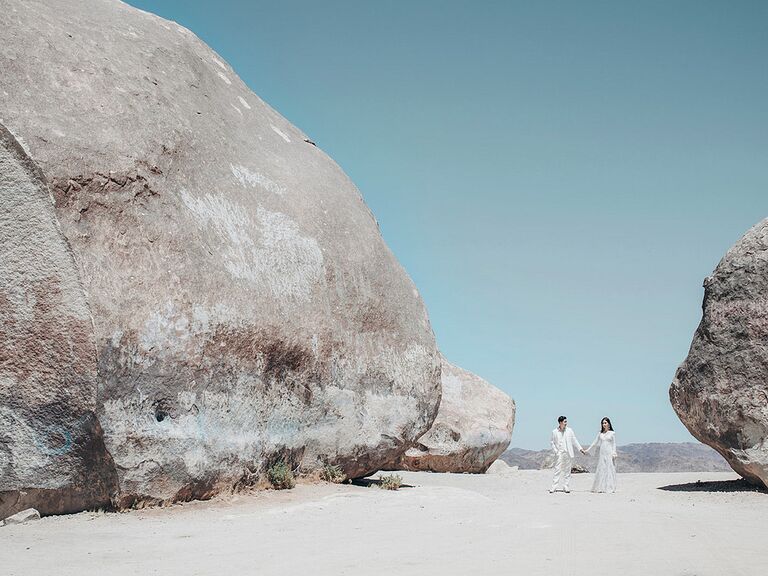 The West is laden with deserts, and that means you can perfectly nail the cowboy couple photoshoot or opt for free-flowing clothing for an elegant feel like this couple.
10. Rustic Engagement Photo Embracing Natural Scenery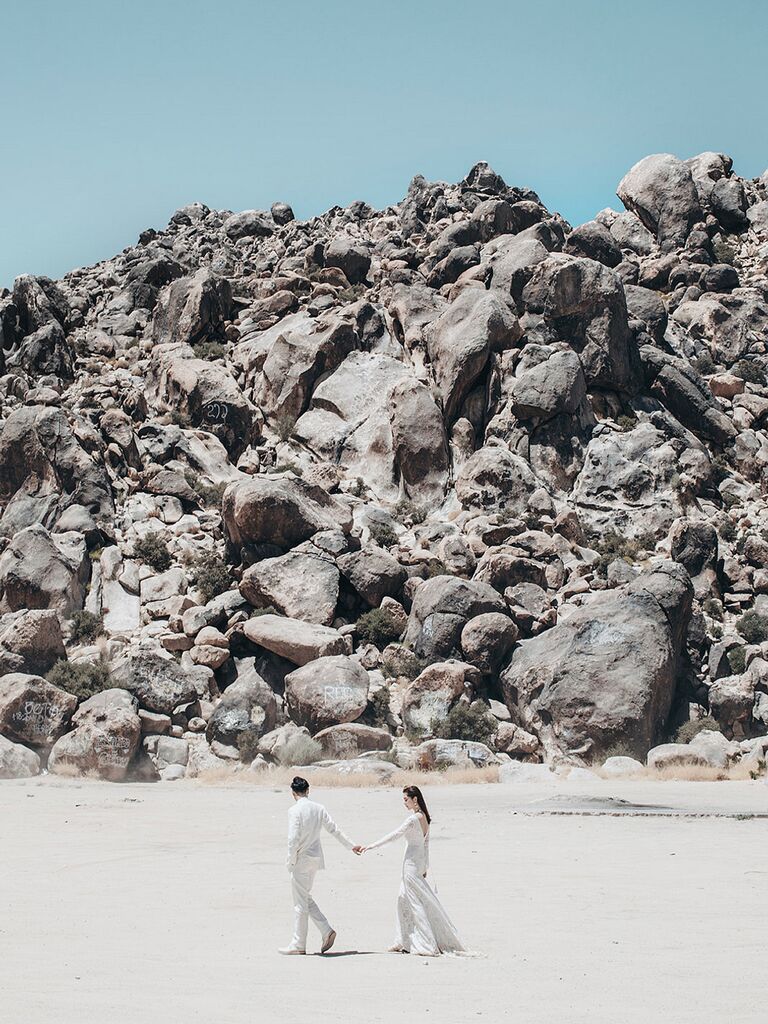 A stroll through the desert will yield many findings. This couple is holding hands while passing an enormous rock structure for a visual you can't look away from.
11. Evening Hike Western-Themed Engagement Photos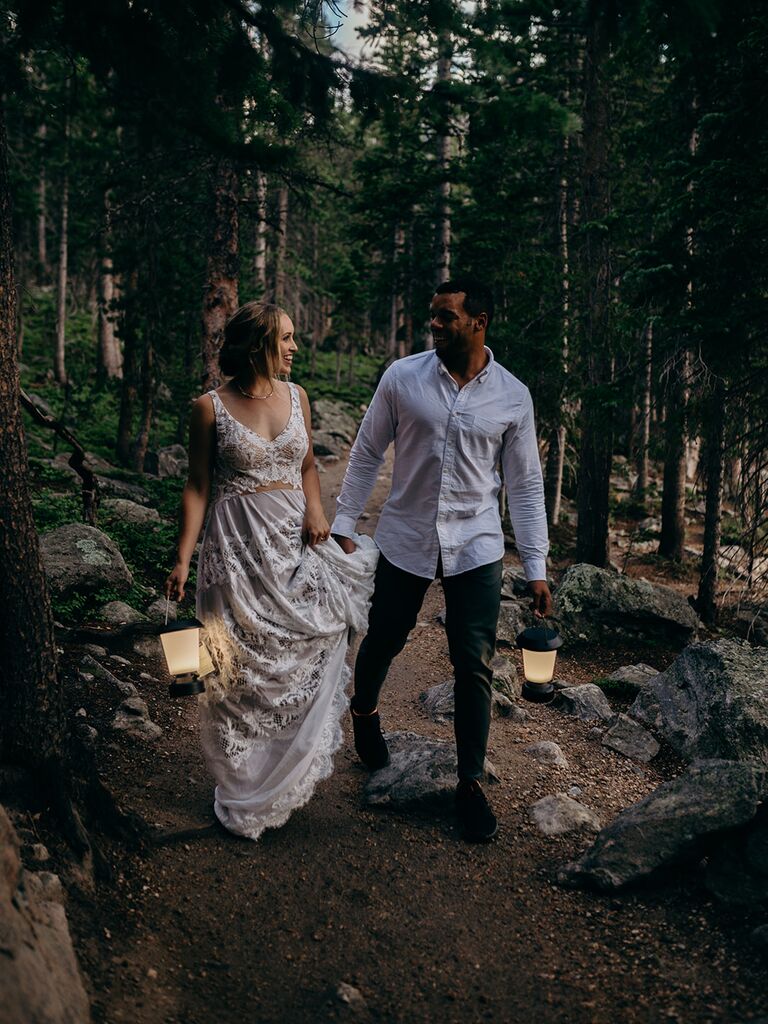 Nature plays a big part in the country lifestyle. Consider taking a hike just before or after sunset to capture the golden hour photos.
12. Couple Rowing a Canoe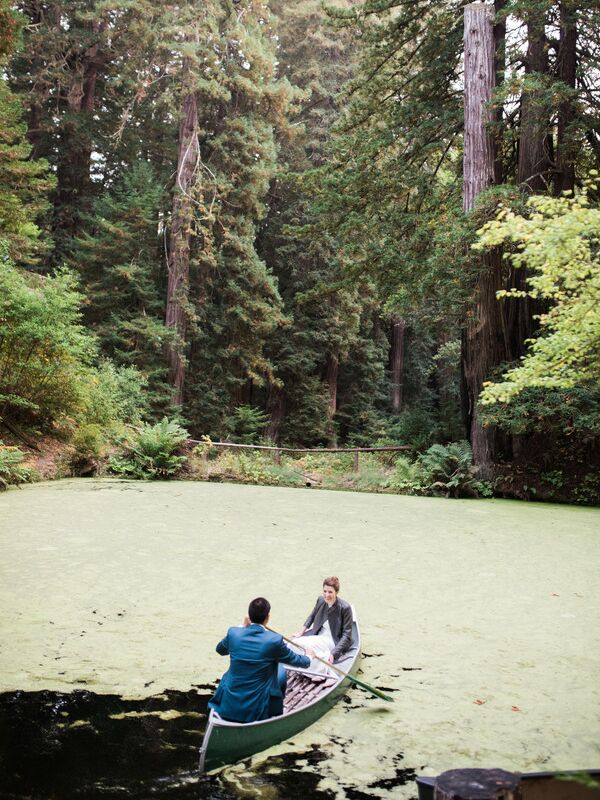 The outdoors is a significant part of country-Western living. This couple is enjoying a row on the water bordered by stunning pine trees.
13. Country Engagement Photos With Cocktails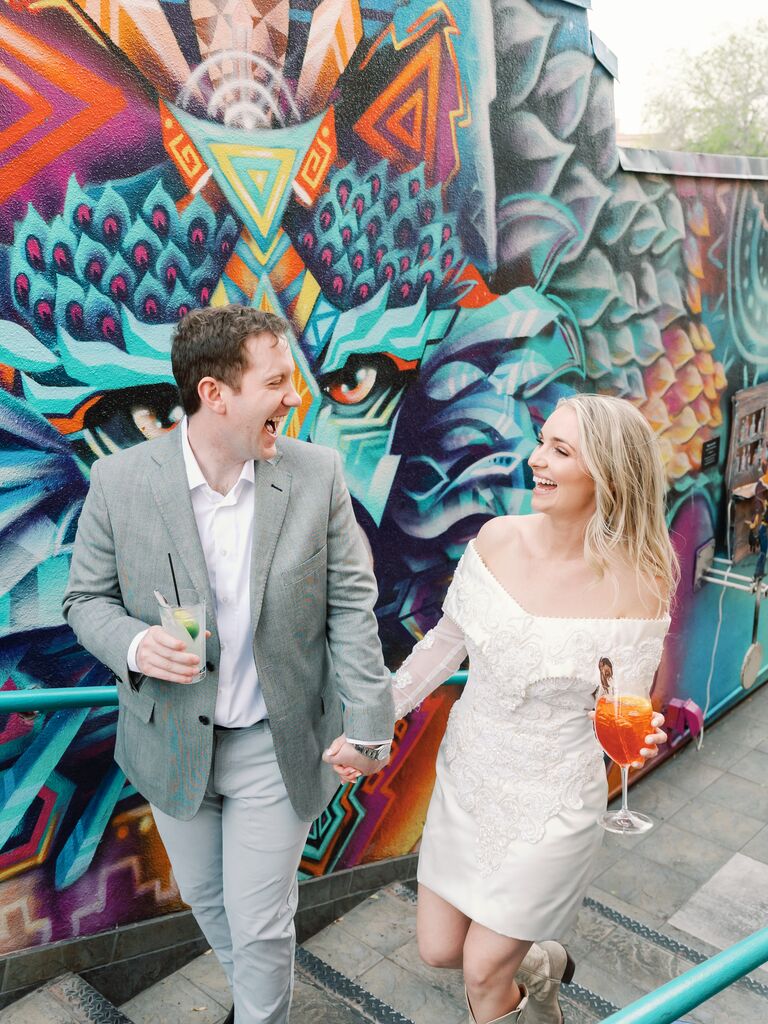 Use your photo shoot as an opportunity to capture the true essence of who you are—cocktails and all! Authenticity should play a large part in your resulting photos.
14. Country-Western Engagement Photos From a Distance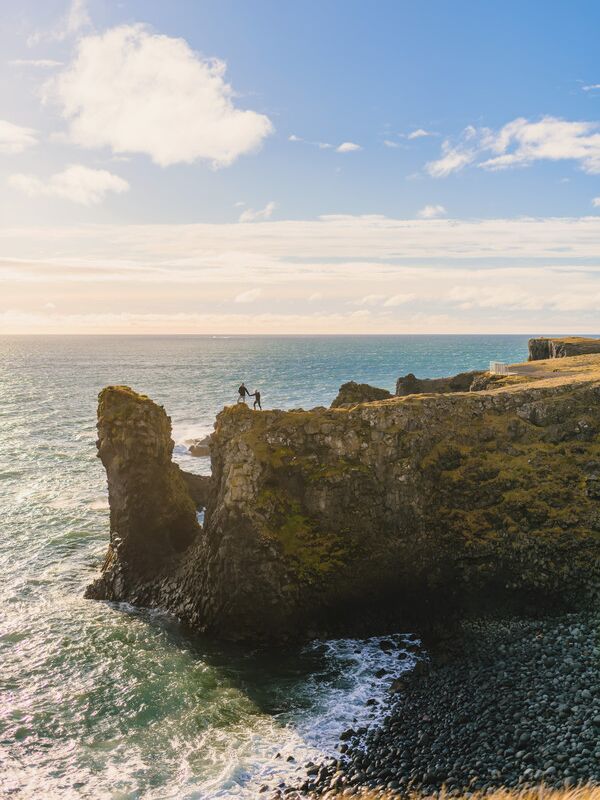 Get creative with your shoots and ask your photographer to capture you from a distance atop a stunning feature. Imagine how gorgeous these pieces will look framed on your wall.
15. Couple Hugging in Front of Rock Structure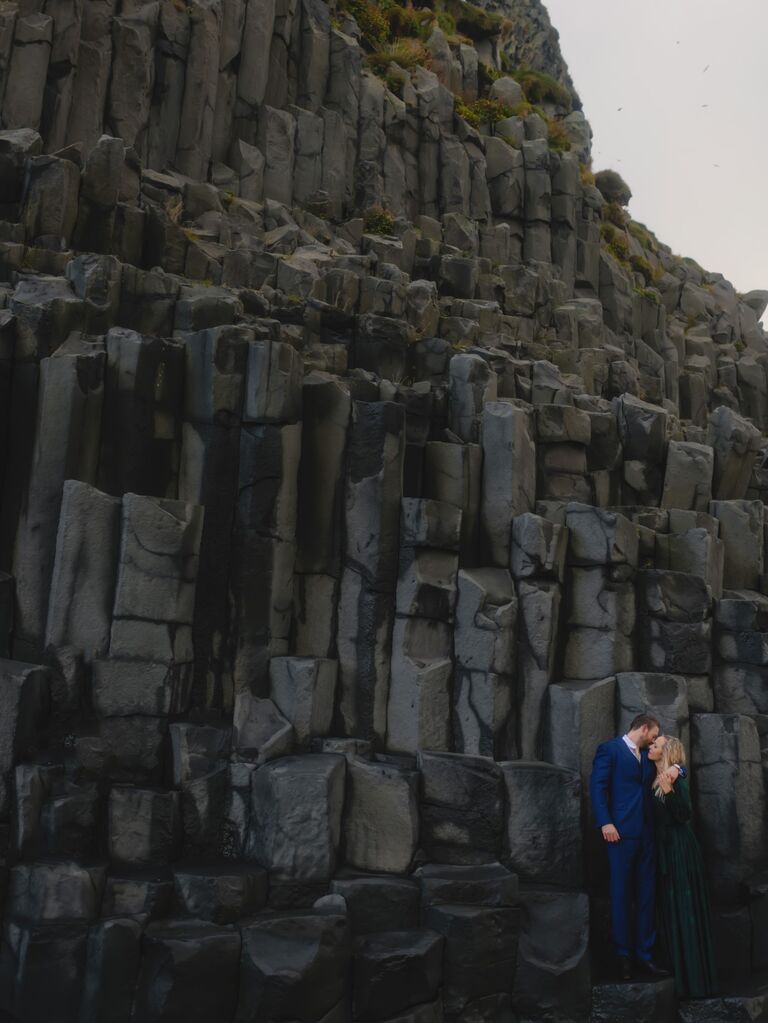 This couple is posed in front of a stunning formation, yet they still take center stage in the picture. A good photographer will make sure you are always the star.
16. Western Engagement Photos in Mossy Field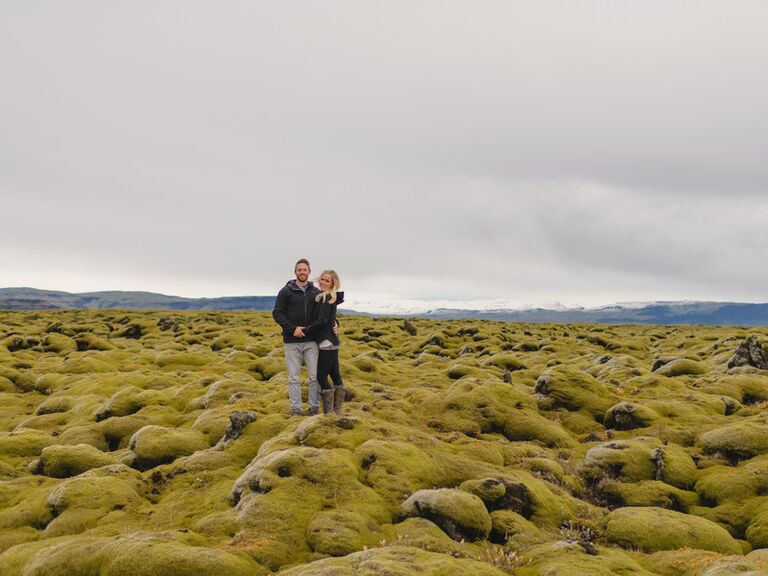 This is a perfect example of using location to stand out. The couple is happy in a field of moss-covered rocks in casual attire, clearly embodying the Western lifestyle.
17. Couple in Front of a Mesmerizing Waterfall
If you're fortunate to have a water feature as stunning as this near you, take advantage of it and showcase it in your photos. The rainbow surrounding the couple only adds to the photo's beauty.
18. Intimate Kiss Amid Nature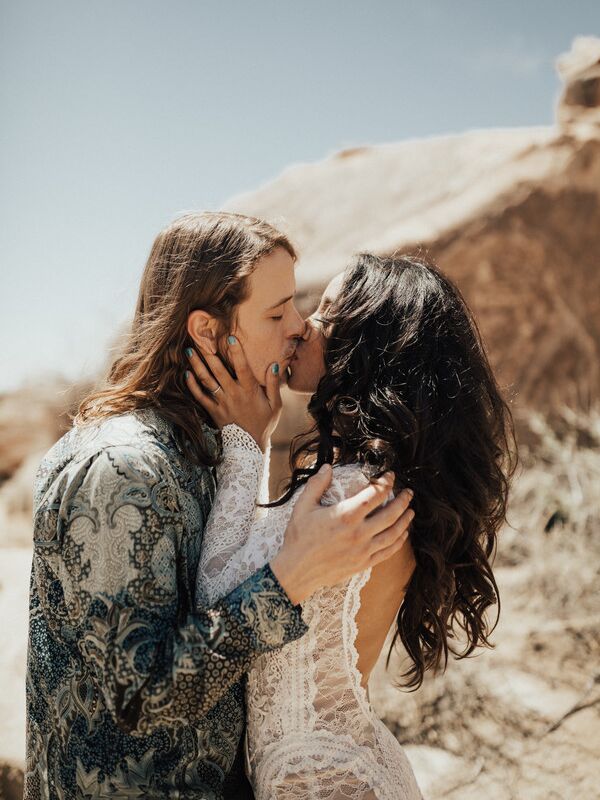 Don't be afraid to get intimate with your photos. Kiss your partner as you would normally, and watch the affection come across in your engagement photos. The camera never lies.
19. Goofy and Playful Western Couple Pictures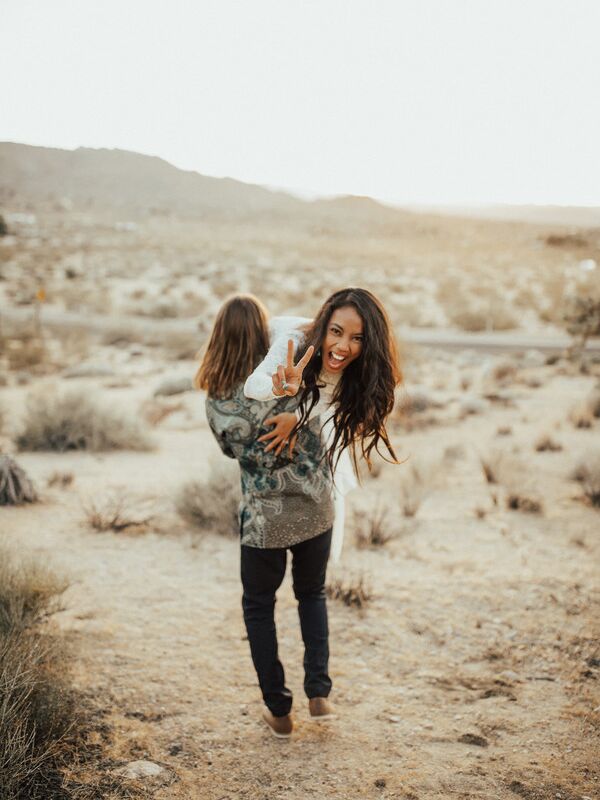 The best moments captured by the camera are the ones where you're acting playfully with each other. Don't force it; just do what comes naturally.
20. Couple Kissing With Mountainous Backdrop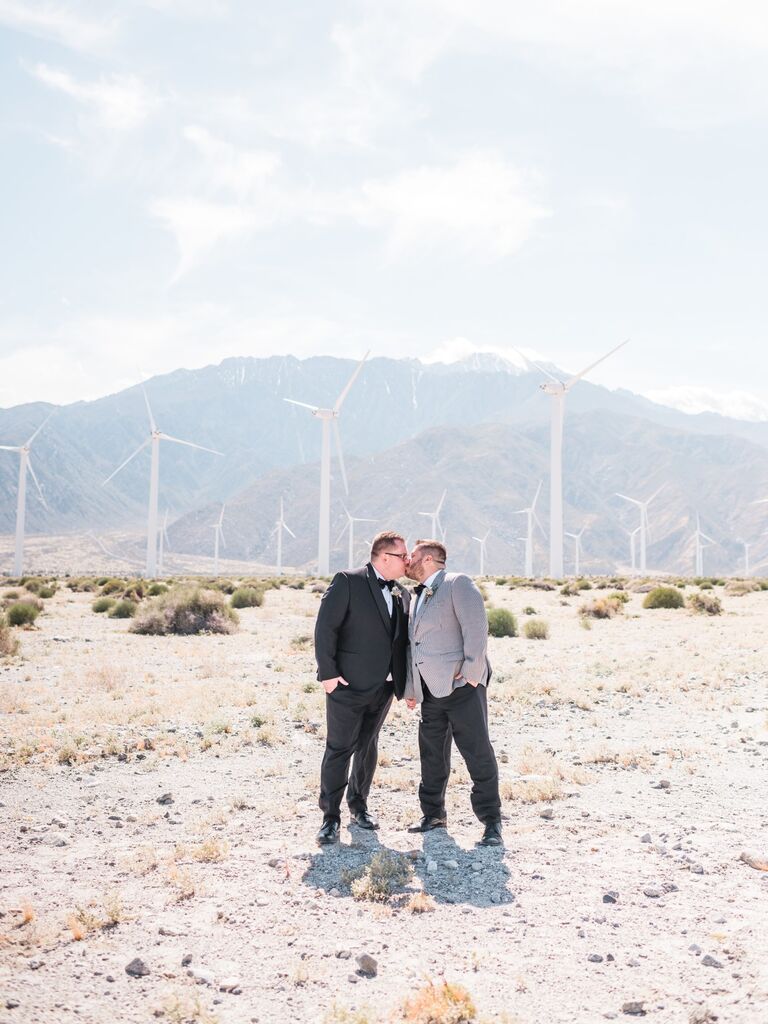 The mountains and desert set the scene here, but the couple steals the show with complementary outfits and a sweet kiss between two lovers.
21. Couple in a Tropical Mountainous Location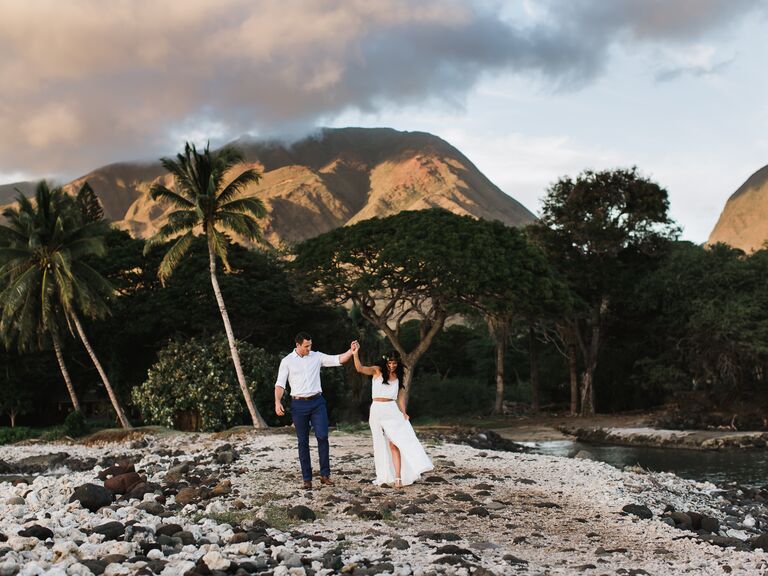 This couple chose a gorgeous location flanked by mountains and palm trees to set the tone. Their outfits complement one another without being too similar and they are living it up.
22. Candid Shots While Rowing Canoe on Lake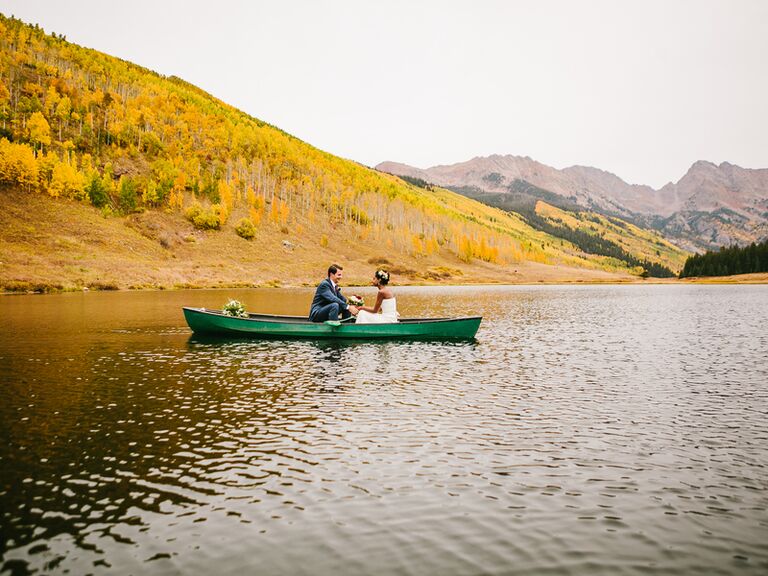 Deserts and mountains can be monotonous in color schemes, but once in a while, you find a gorgeous pop of color. This couple is flanked by the best of both.
23. Simple Country Western-Themed Engagement Photo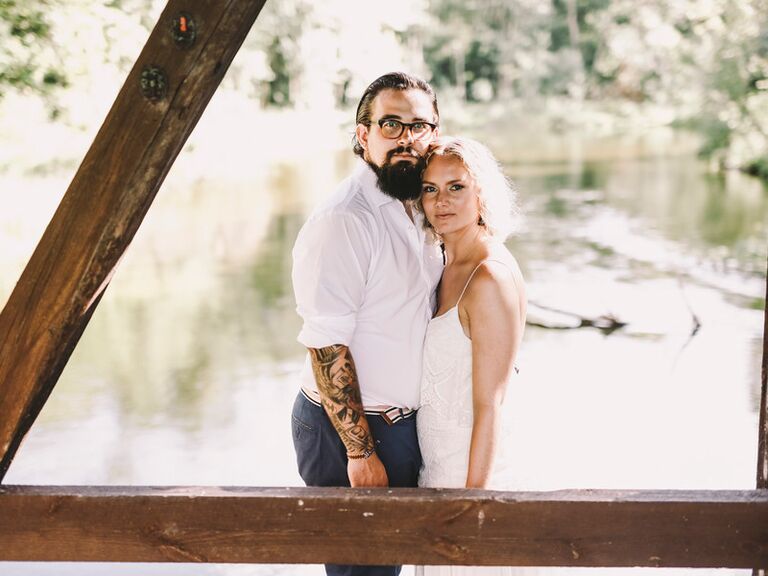 For couples who love the rustic feel of nature, finding wooden structures amid water works well. This photo perfectly captures the country feel.
24. Couple Sharing a Kiss in Their Country Engagement Photo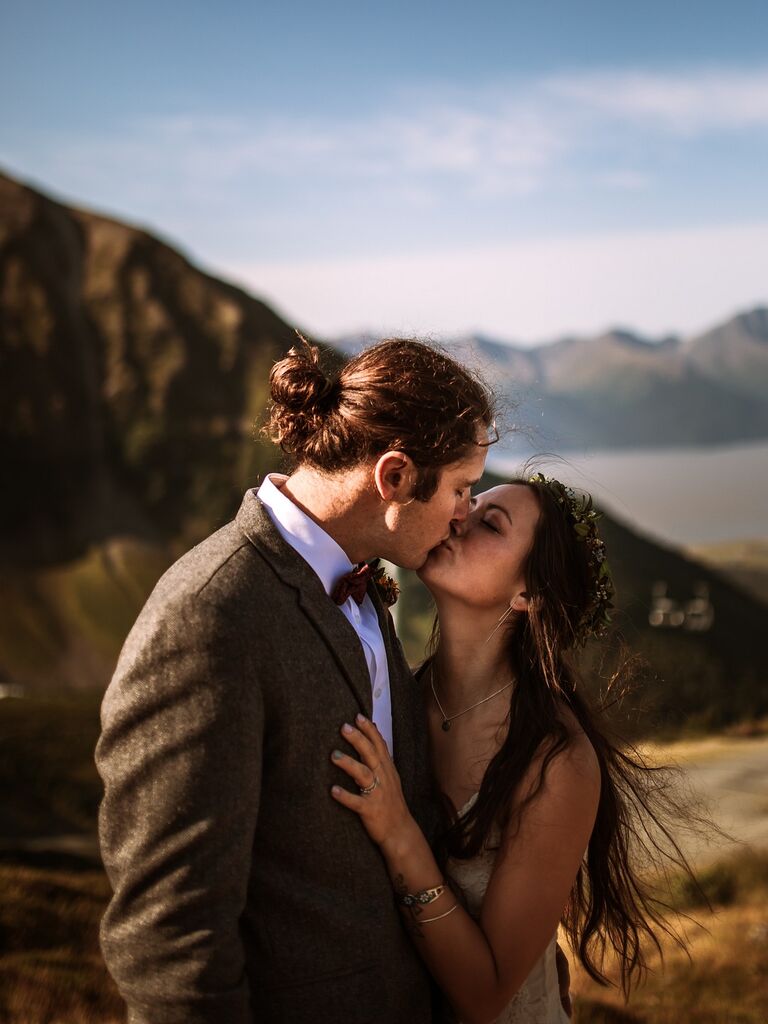 Photographers are adept at capturing those perfect intimate moments. If you're comfortable kissing, it can make for a heart-stopping photo to share or keep to yourself.
25. Country Engagement Photo by Rustic Vintage Pickup Truck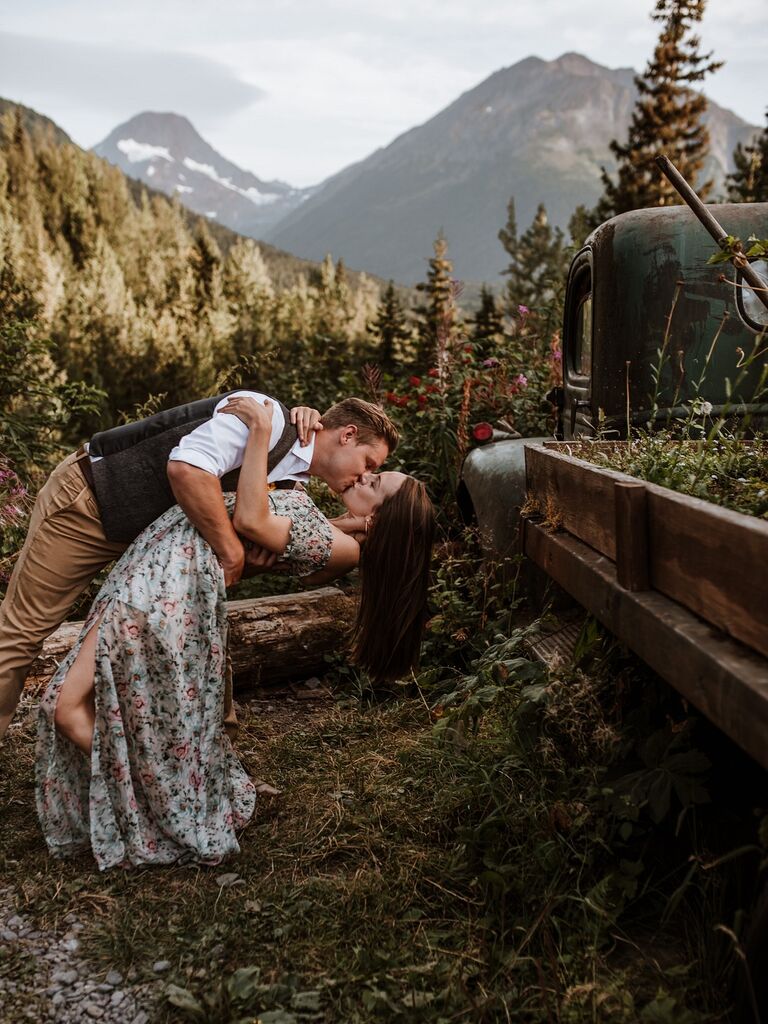 This is a gorgeous use of props with the rustic truck to the right and a breathtaking scene behind the kissing couple, who are making the memory of a lifetime by putting their love on display.
26. Couple Holding Hands in Forest of Trees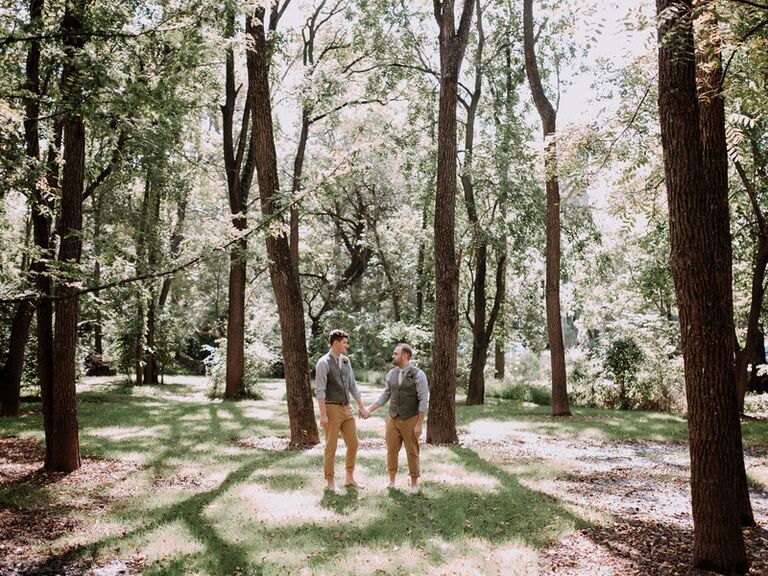 When taking photos in nature, lighting matters. The photographer made great use of the daylight to perfectly capture this couple amid the tall trees.
27. Cowboy Western Engagement Photos in a Hat Shop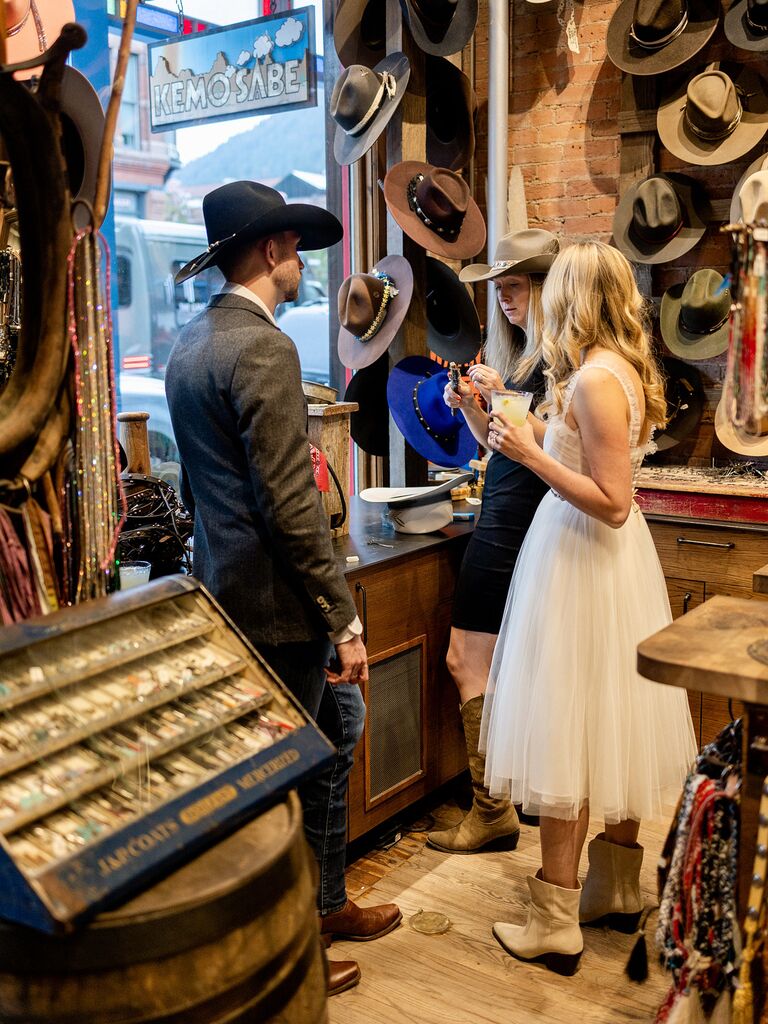 Cowboy hats and boots are a staple for Westerners. What better way to celebrate an engagement than by taking photos in a high-end shop?
28. Rustic Outdoor Cowboy Engagement Photo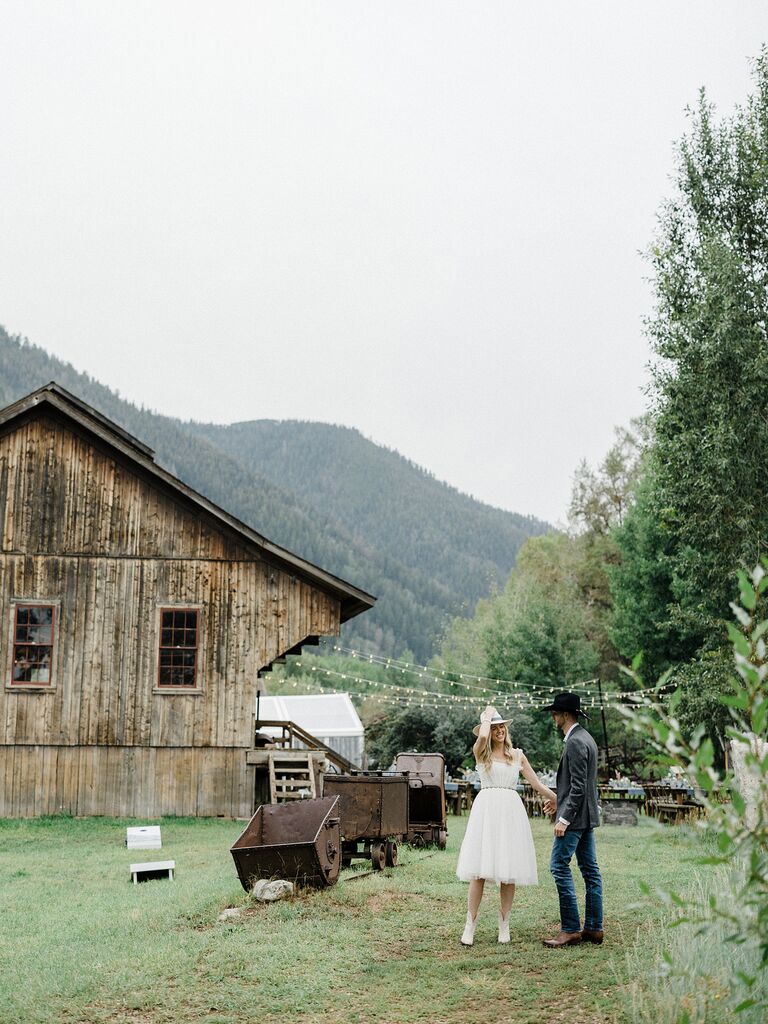 The couple complements this rustic setting with clothing that seamlessly fits in with the building and rusted equipment. Both are adorned in their cowboy hat and boots for an added touch of the lifestyle.
29. Couple Kissing During Rustic Engagement Photos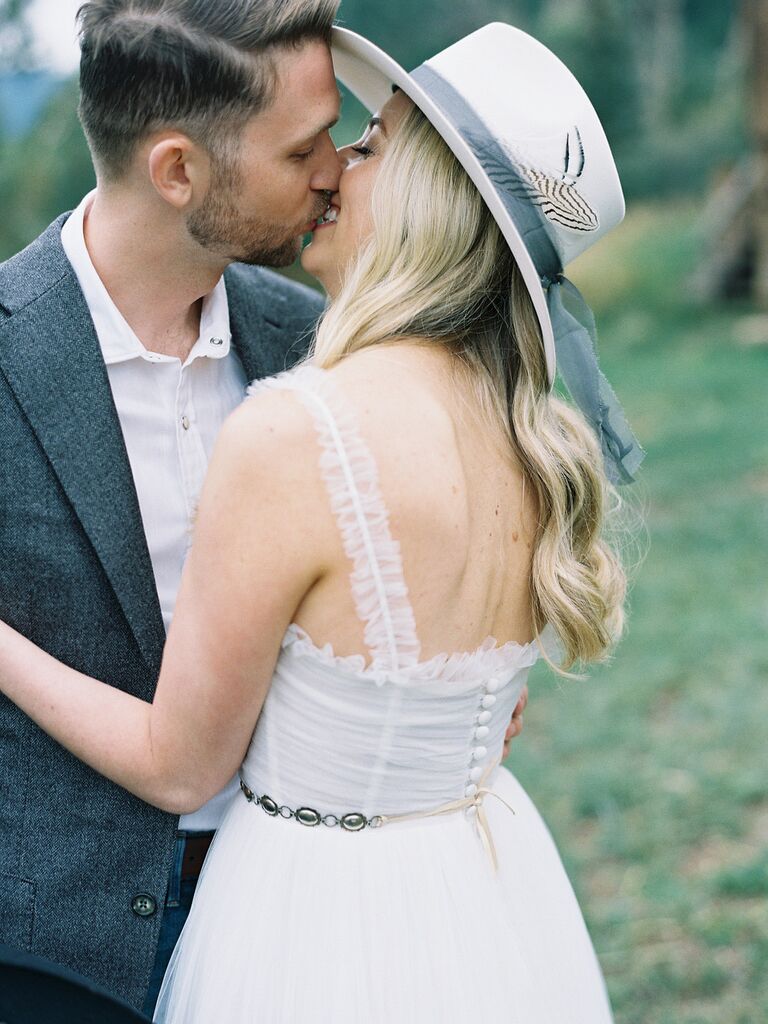 The important thing to remember when taking engagement photos is to have fun and be yourself. Sometimes, that means laughing while you kiss, but what a memory to have.
30. Couple Wearing Cowboy Boots for Western-Themed Engagement Photos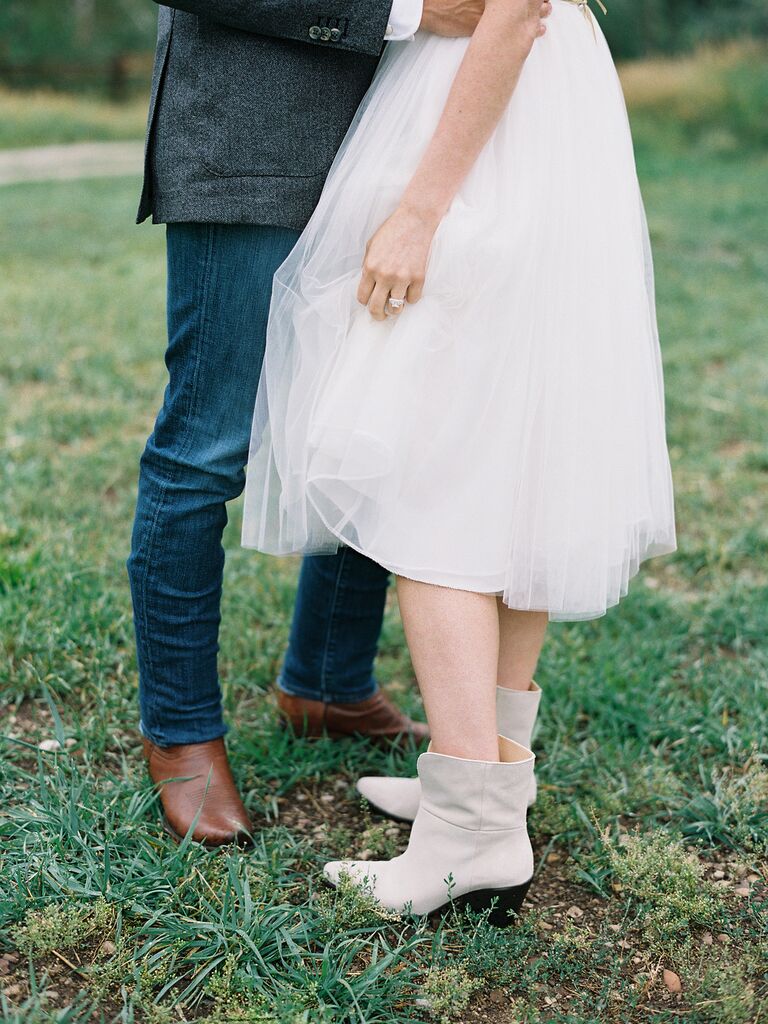 Cowboy boots are such a versatile accessory to have in your Western engagement shoot. You can find them in various colors and styles to match your outfits.
31. Cliffside Sunset Rustic Engagement Photo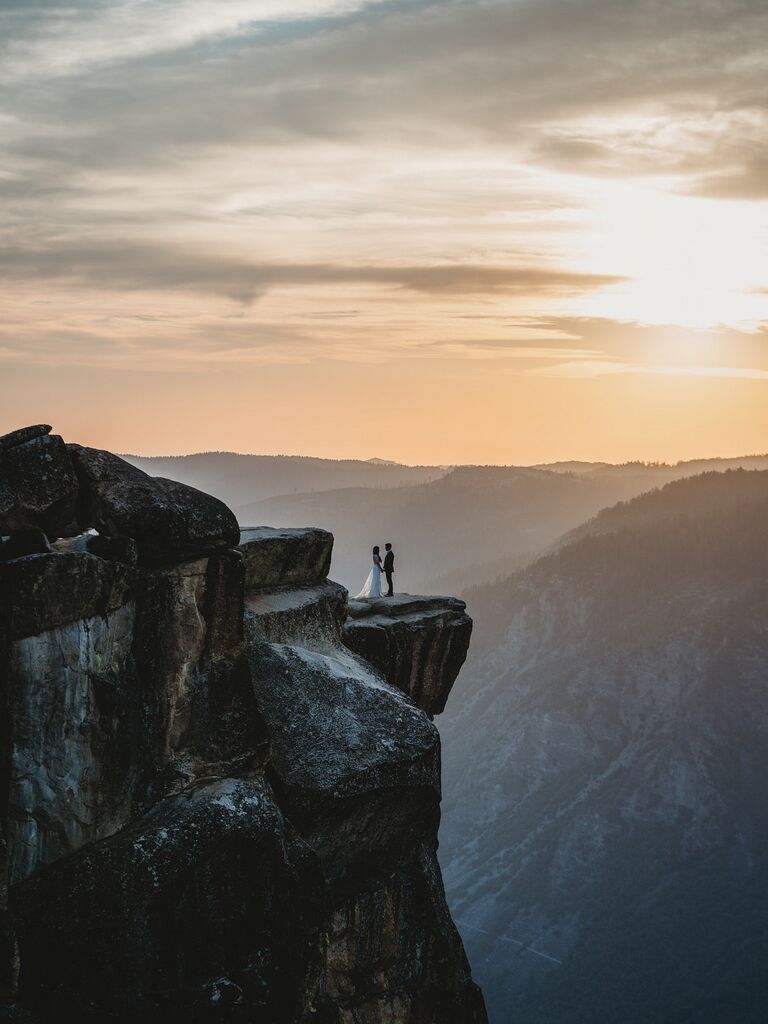 There's nothing more stunning than a silhouette on a cliff in a mountainous area. Ask your photographer if they know of any (safe) locations to shoot these types of photos if this is the dynamic you're after.
32. Joyful Western Engagement Photos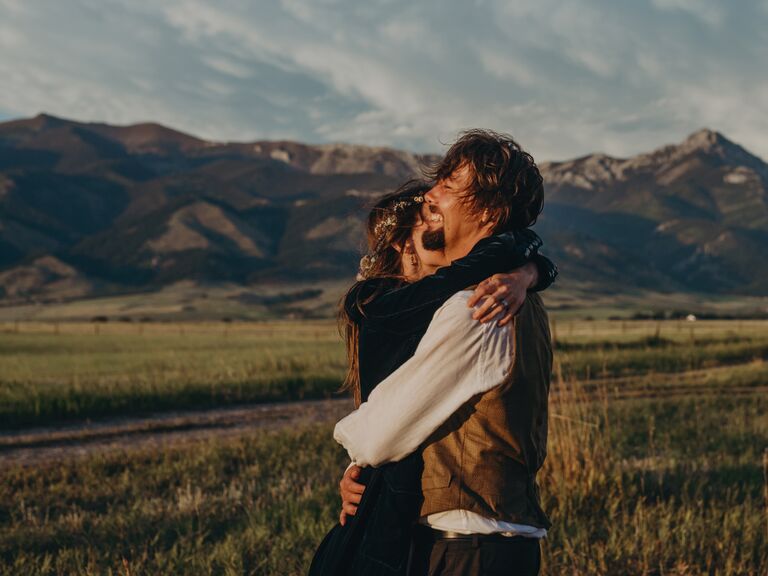 This couple is embracing and laughing, clearly enjoying their engagement photo shoot. The close-up shot with the mountains in the background and the warm color palette ensure this is one picture they will always have on display.