Here's the Right Way to React If One of Your Bridesmaids Is Pregnant
No, you're not allowed to be mad at them.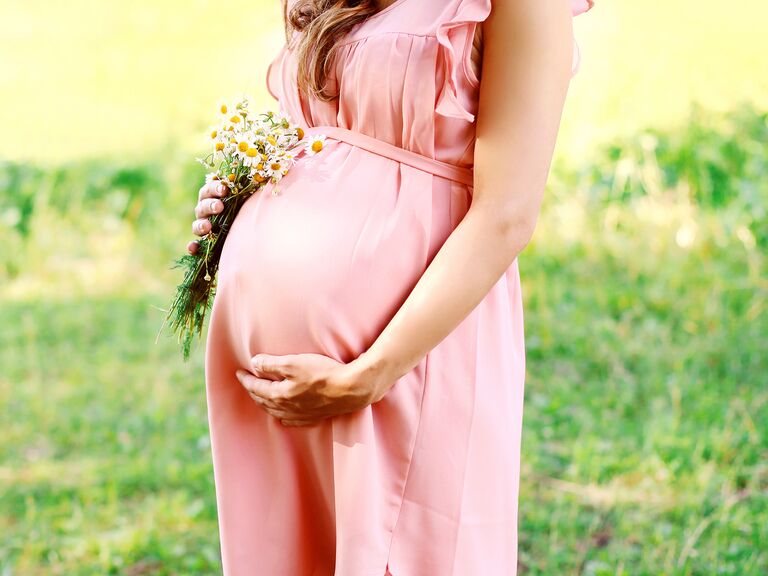 iStock
Your friend just told you she's pregnant—amazing!—and she also happens to be your maid of honor or bridesmaid. So, once you've celebrated her happy news, you might have a moment wondering what it'll mean for you and your wedding plans.
First of all, you're not a selfish bridezilla for having that thought—while this is wonderful news, it's probably unexpected for you. You're allowed to wonder how your original wedding party vision will change to accommodate an expecting bestie. What you're not allowed to do is be angry or annoyed at your bridesmaid. Your wedding is important and exciting, but it should never trump your loved ones' own life milestones—especially one as exciting as having a baby. Once she tells you the news, it's important to be supportive and not immediately think about how it'll alter your day. When she's ready to discuss how her pregnancy impacts her presence at your wedding, you should be open, honest and all ears.
Before either of you gets too stressed out, know she has options about still participating in your wedding—three, to be exact. We say that she has options for a reason, because having a baby is one of those major life situations where, as much as you'd like to have a hand in the decision, it's kind of out of your control and up to how your bridesmaid feels—mentally and physically. One of these three situations below will likely be brought up—here's how to handle each.
She's due way after your date and still wants to be in the wedding.
We've seen plenty of pregnant bridesmaids at bachelorette parties, bridal showers and the altar. If your friend's up for it, they'll likely want to join in on the fun—but might need to do some things at their own pace (for instance, leaving the bachelorette party at 10 p.m. instead of 3 a.m., or coming in later to get their hair and makeup done the morning of).
If she does want to be in the wedding and any chances of going into labor will be months off, she probably already has her bridesmaid dress. If so, see if her tailor can let any seams out closer to the wedding day and if there are any fixes she can do to the dress overall. If not, she can try reselling or returning her existing dress and buying a new one to suit her bump. (Empire-waist gowns are always a great option since the waist hits right below the bustline and the dress falls from there.) Tons of bridesmaid dress lines carry maternity gowns, so even if yours doesn't, there's a good chance she can find a similar fabric and color to the other dresses.
It's also a great idea to lighten her load of any wedding tasks you've given her—pregnancy brain is a real thing and there's a chance she'll need to devote a lot of her time preparing for baby. And on the wedding day itself, make sure there's somewhere she can sit during the ceremony so she won't have to be on her feet the entire time (and if she wants to stand, tell your other bridesmaids to check on her and make sure she's wearing comfortable shoes).
She's due extremely close to your wedding day and would rather come as a guest.
It's definitely a bummer when one of your best friends can't be in your wedding, but she has a good reason—and is probably sad herself to not be more involved. It's important to let her know that not being in your wedding doesn't make you upset or hurt your feelings. She still wants to support you, and if you asked her to be in your wedding party, you should want to support her too. Remember: If she doesn't think she'll be able to be a bridesmaid at all, let her make that decision. If that's the case, it's nice to recognize her in the program as an "honorary bridesmaid," or something along those lines. If she does still want to attend your wedding as a guest, see if she can find a maternity dress in a similar style or color to your other bridesmaids. Give her and her plus-one a seat of honor up toward the front near your family, and presenting her with a small bouquet or corsage is also a sweet touch.
She's due extremely close to your wedding day and still wants to stand at the altar—but doesn't know how she'll feel yet (or if she'll be able to make it).
Our best advice here is to simply be patient and flexible. Talk to your coordinator or pros beforehand and let them know there may be one or two fewer seats at the reception and meals served. Keep VIP seating open for her too, in case she needs to sit while you say your vows. As for your wedding photos, know your photographer is a total pro at posing people so nothing looks uneven or off (and, honestly, an odd-numbered wedding party isn't a big deal at all).
The important thing is to keep your friendship and how much you love and support one another in mind, and treat her like you'd want to be treated if the shoe was on the other foot. She doesn't have any control over when baby decides to make his or her debut, so keep the big picture in perspective, be happy for your friend and enjoy the day!