What Should My Pregnant Bridesmaid Wear?
by Heather Hall
"Wedding Stress! One of my bridesmaids just found out she was pregnant and due the month before my wedding. Unfortunately she lost the baby, but will be continuing to try again. Knowing that she could be pregnant between now and my wedding day how should I approach bridesmaid dress shopping? I don't want her to spend too much money on a dress that she may not be able to wear." –Kdwhitley81
I'm glad to hear your friend is still trying and there are lots of great dress options that can work for both your pregnant and non-pregnant bridesmaids. One of my favorite designers Jenny Yoo has gorgeous designs that work for both. Look for flowy fabrics, convertible designs and flattering (aka maternity-friendly) silhouettes. If you think one of your bridesmaids will be expecting on your wedding day, choose a dress that has some room to breathe from the beginning. Whether you want to mix things up a bit or want them all in the same style, here are a few of my favorite looks.
Varying Necklines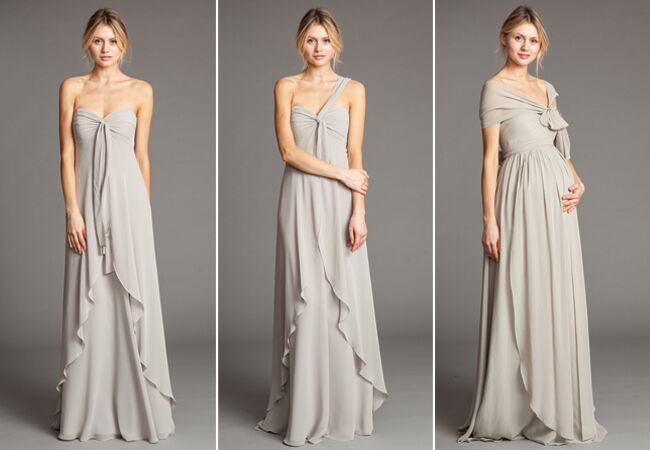 A convertible dress with a loose-silhouette is the perfect option if one of your bridesmaids is expecting. They can each wear it in a way that flatters their figures most.
Similar Shades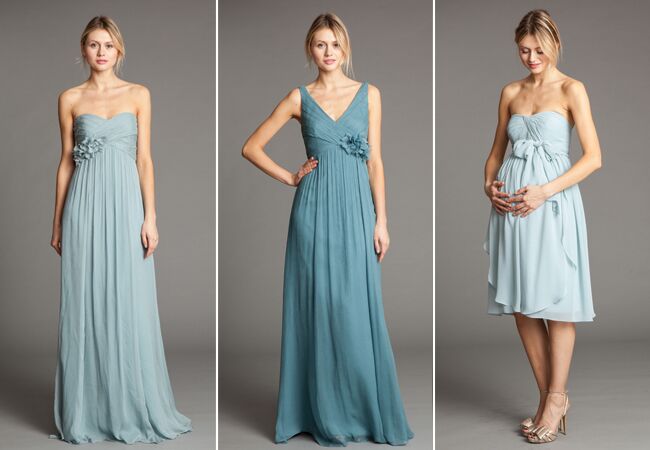 Letting your bridesmaids choose the shade and/or style they like best creates a subtle, yet cohesive, look that your mom-to-be bridesmaid will totally appreciate.
Belted Beauties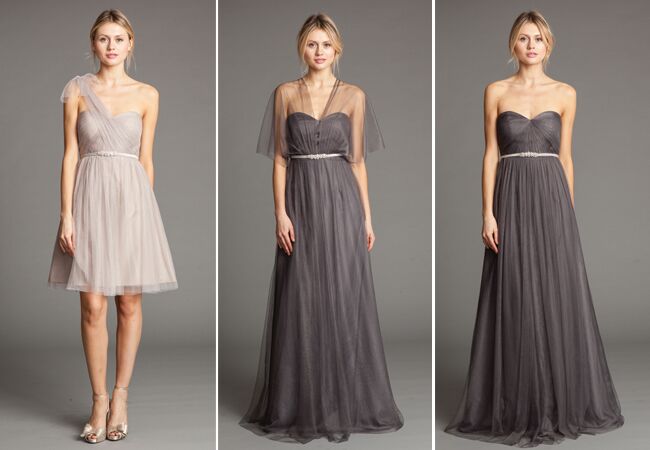 Adding a belt will cinch in the waist to show off your bridesmaid's curves, but allow your pregnant friend to show off her adorable bump.
Want more bridesmaid ideas?
> The Ultimate Bridesmaid Dress Buying Guide
> How do I get a mismatched look for my bridesmaids?