10 Questions to Consider Before Having Kids at Your Wedding
Here's everything you should know before sending your invites.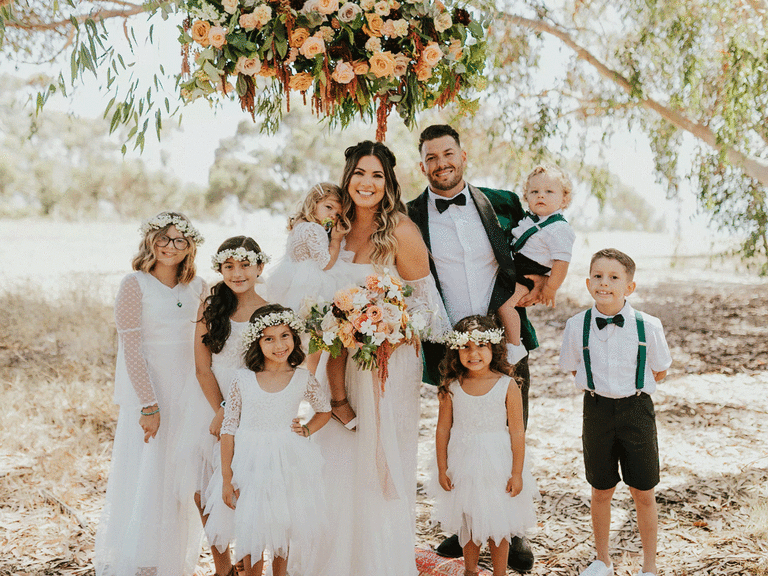 Amanda Noel Photos
The discussion of whether or not to have kids at weddings always becomes a passionate one. In one corner, you have people (oftentimes with children of their own) who think kids add a certain magic to the atmosphere. In the other corner, you have those who feel the kids can be distracting and rowdy since they can't fully appreciate the special meaning behind the big day. But having children at your wedding doesn't have to be a struggle. Keep these questions, with expert-backed tips, in mind while wedding planning to ensure that your wedding is fun for all ages.
1. Is it okay to have an adults-only wedding?
It's absolutely acceptable to have an adults-only wedding. Always remember that it's your wedding and your rules, so don't be afraid of telling your loved ones there will be no kids at your wedding. Carrie Darling, the lead designer and owner of Carrie Darling Events, thinks that making your wedding adults-only might be the best option if you're not having a child-friendly wedding. "We had a wedding where the couple hired a comedian to perform while the band was on break. While it was a great filler, the content of the comedy skit was not child-appropriate," Darling says.
If it's not an issue of whether or not your wedding is child-friendly, maybe it's because children could increase your reception costs, since it's expected that you host dinner for each guest and (sometimes) provide children entertainment. Kate Turner, founder and creative director of Kate & Company, suggests you have thick skin while making this decision. "If someone elects not to come because their children aren't included, just remember they made a choice that was best for their family just as you did when you decided adults-only was the way to go," Turner says.
2. How should I communicate that I'm not having any kids at my wedding?
The best way to communicate to your guests that you're not having children at your wedding is by being direct and honest. There's no such thing as overcommunicating your wishes, so address your wedding invitations properly and include an adults-only wedding announcement on your wedding website. Shannon Gail, the owner of Shannon Gail Events, thinks it's best to include two layers of communication on the wedding invitation to ensure clarity. "Start by only putting the couple's name on the outer envelope. Then, if you have any inclusions in your invitation, such as a reception card, you can specifically note 'Adults-Only Reception' or 'Our wedding is adult only, thank you,'" says Gail. Being clear and to the point from the start decreases the chance of families accidentally bringing their kids and gives guests more time to find a babysitter for your wedding.
3. Is it okay to invite some children but not others?
Yes, it's okay to invite a select amount of children to your wedding––especially since you're footing the bill. Before sending out your invites, make a rule and stick to it. For example, if you're only allowing immediate family to bring children, don't make exceptions for godchildren. Darling suggests that if you're inviting the kids of immediate family members you extend the rule to all families in that category. This means the kids of the immediate families of both to-be-weds should be invited.
4. How should I address wedding invitations if I'm inviting an entire family?
Parents tend to make assumptions about their kids making the guest list; parents assume their kids are or aren't invited and often don't ask for clarification. So, you must make it abundantly clear who's included. If you're having kids at your wedding, we recommend addressing the inner and outer envelope of the wedding invitation with the specifics of who's invited. "If you are inviting a family who all resides in the same household, the outer envelope should have 'The Turner Family' and the inner envelope should list each family member's name. If you are having a black-tie event, we'd recommend including honorifics, as well," Turner says. Also, remember that wedding invitation etiquette rules state that any family member over 18, even if they live in the same household, receives their own invitation. The same goes for family members that don't live in the family home.
5. What other children's wedding duties are there besides being a flower girl or ring bearer?
Everyone knows the traditional children's wedding duties, like the flower girl and the ring bearer, but there are plenty of other roles children can partake in. You can have children pass out ceremony programs, help hold the veil or gown during the ceremony processional, recite a poem during the ceremony or carry wedding signs. Before you assign these duties to any children who will be attending the wedding, make sure to give them to children that are of the appropriate age and maturity level.
6. Do you have to invite the flower girl and ring bearer to the reception?
Yes, it's customary to invite the flower girl and ring bearer to the reception. Darling believes that, just like the adult attendants, the children (and their parents) are putting in time, commitment and money into being in the wedding, so extending a reception invite shows your appreciation for their service. Even though inviting your little attendants is the polite thing to do, some parents want to treat the reception as an evening out without the kids and don't want to worry about keeping an eye out for them the whole night. Consider the parents' wishes by asking them if they would like their little ones included in the reception festivities.
7. Do kids need a special food menu?
If you're planning on having children at your wedding, you'll have to consider adding more options to your wedding menu. Most likely, children aren't going to like the same food as your adult guests so having a kid-centered food menu is highly recommended. Turner suggests fruit as a starter, finger foods for dinner and lollipops for dessert.
The Knot Expert Tip: Having a make-your-own-sundae bar for kids at a wedding is always a hit.
The children's food choices don't need to be put on the RSVP card, but you should ideally have more than one child-friendly menu option like chicken fingers, mac 'n' cheese or sliders. If you're not sure what you should or shouldn't have on the children's menu, talk with your wedding caterer to help you create a delicious menu that kids will love.
And since children have small appetites, you should ask your catering manager for a lower per-person price. Also, be sure to ask if the kids can get their food early and quickly, especially at an evening reception, since kids eat on an earlier schedule than most adults.
8. Where should the kids sit during the reception?
Where kids sit during the reception depends on their age. Typically, if the child is younger than eight years old, they probably want to sit next to their parents. If the child is eight years old and older, they might want to sit with other kids at an adult-supervised kids' table at the wedding reception. Another great seating option is a kids' room. "We love setting up a separate kids room at the venue if you have the option. You can have a few babysitters, dinner service, movies, games, etc. to keep everyone happy," Gail says. If you're going to have a kids' room, ask parents if they want their children to have the freedom to go back and forth from the room to the reception or to stay in the room, which makes it easier for them to know where their children are.
9. Should I have an on-site wedding babysitter?
Having a wedding babysitter isn't required but is very hospitable if your wedding budget allows it. While you're collecting RSVPs, write down how many children are attending the reception so you can hire a sitter, preferably from a licensed and insured babysitting company, that best fits the job. For safety reasons, parents of children under three years old should arrange their own childcare.
Whether or not you're providing on-site wedding babysitting, it's also a thoughtful gesture to provide guests with information about services they can hire themselves. For destination weddings, Darling thinks it's a nice gesture to offer a list of a couple of local babysitting companies if the parents are making a vacation out of the wedding weekend and need a babysitter for the reception. By doing this, you're giving your guests trusted options in an area they aren't familiar with. For local weddings, parents can choose any caretaker they feel comfortable with.
10. How do I entertain the kids during the ceremony and reception?
We recommend you offer kids quiet distractions like coloring books and crayons for the ceremony to keep them entertained and settled. "Consider asking your invitation designer or stationery company to make small activity books, coloring pages, or word finds that complement your programs and other paper items," Gail proposes. For the reception, you can have a kids' area at the wedding reception full of toys, puzzles and printable wedding games to keep kids from bouncing off the walls during their post-wedding-cake sugar rush. Want to give the little ones their own party favors? Make goodie bags with bead sets, drawing kits, sticker books and much more.
The Knot Expert Tip: Make every goodie bag for kids at the wedding identical. You don't want anyone fighting over that lone box of scented markers.