What to Wear With Brown Shoes: Suit Color Combinations
Tom Hardy's stylist, Nicole Schneider, shares insider tips on blue, black and grey suit, brown shoes combinations.
We have included third party products to help you navigate and enjoy life's biggest moments. Purchases made through links on this page may earn us a commission.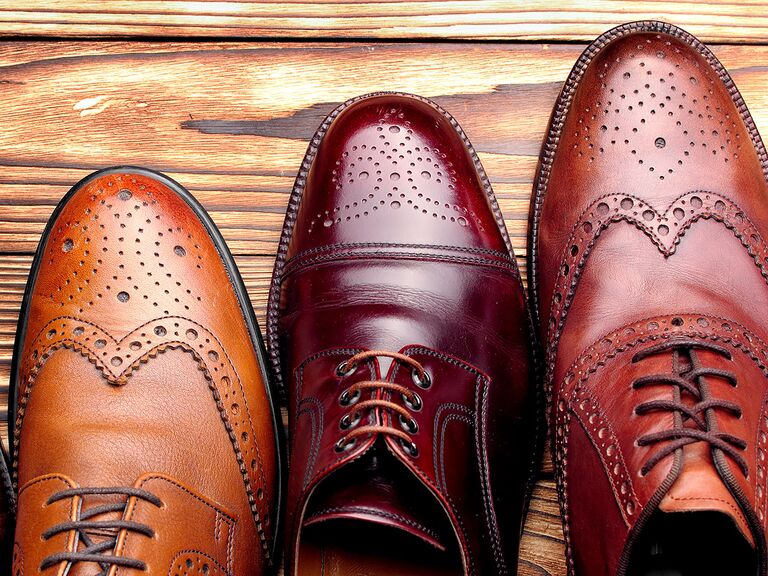 When it comes to suits, it's easy to play it safe with a standard pair of black dress shoes. Brown shoes, however, are an easy way to elevate your ensemble—they're a stylish alternative to black on less formal occasions.
"A classic brown shoe, be it wingtip or oxford, is as much a staple as the obvious black that every man should have," says Nicole Schneider, a celebrity stylist whose clients include Tom Hardy and Justin Hartley. "It's definitely worth it to invest in a good pair, as they will get years of wear and the quality of your shoes will make or break a suit."
In this article:
Tips for Wearing Suits with Brown Shoes
Brown shoes come in a variety of shades, from light tan to deep oxblood, and it takes some know-how to pick the right pair for your suit. Here's the 4-1-1 on wearing a suit with brown shoes:
Casual events. In general, brown shoes are less formal than black shoes. Stick with black shoes for formal occasions, and opt for brown shoes for more casual events, like an outdoor wedding or a typical day at the office.
Shoe style. The style of your shoe will dress up or dress down your look. To create a formal appearance, keep it classy with a simple shoe without too many details. "Take care that your shoes are clean and polished, that they don't have a thick sole, and never, ever wear a square or overly pointy toe," adds Schneider. Shoes with intricate details, such as brogues or tassel loafers, should be reserved for less formal occasions. This style gives your look a more relaxed vibe.
Match with belt. The color of your belt should match the color of your shoes. There are exceptions (such as when you're wearing emerald green or navy shoes), but in general, it's wise to stick to this rule.
For a wedding, stick to the classics. "Keep in mind your wedding photos will be around forever," Schneider says. "Avoid trends and statements that may seem like a great idea today and will be terribly regretted in ten years."
Grey Suit, Brown Shoes
While black shoes may be the most typical option to pair with a grey suit, brown shoes can balance out your look and give it personality. Light grey suits are the most versatile, and can be styled with light brown or dark brown shoes. For a mid-grey or charcoal suit, brown shoes in darker shades are best.
Light Grey Suit, Brown Shoes
Tan or camel-colored shoes will give your grey suit a relaxed vibe, while shoes in dark brown or even burgundy hues will give your suit a more formal appearance. In the summer, style your grey suit with light brown shoes.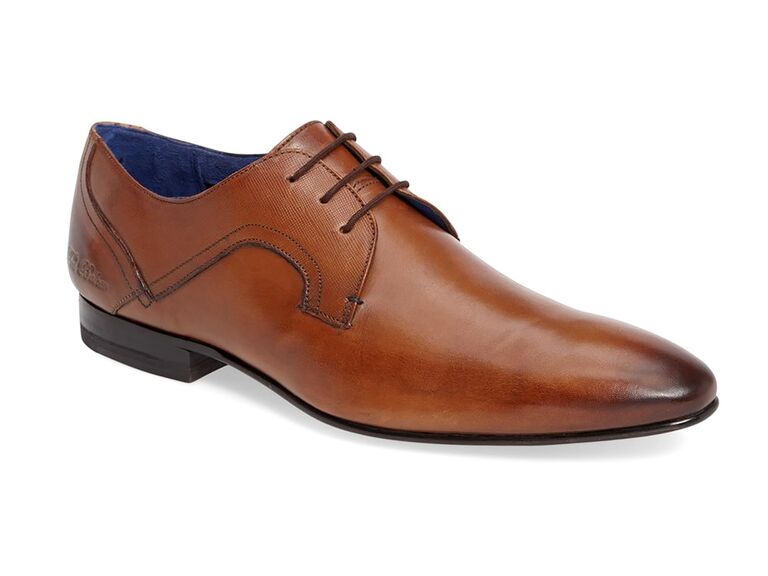 Ted Baker London Pelton Plain Toe Derby in Tan Leather, $175, Nordstrom.com
This versatile, plain-toe derby pairs perfectly with a light grey suit for an outdoor wedding, a day at the office or a night on the town. Its sleek design, high-shine leather and subtle embossed paneling will elevate your grey suit, brown shoes ensemble.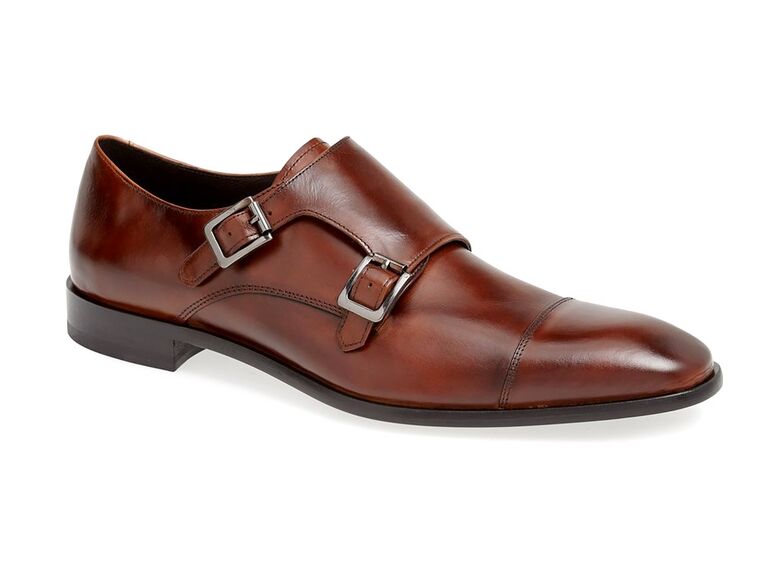 Calibrate 'Cusano' Double Monk Shoe in Luggage, $99, Nordstrom.com
Set yourself apart with this sophisticated double monk shoe. Artfully constructed from burnished leather, this pair looks just as great with a light grey suit as it does with a pair of dark-wash jeans, so you can rock these in the office, at social events or at a daytime wedding.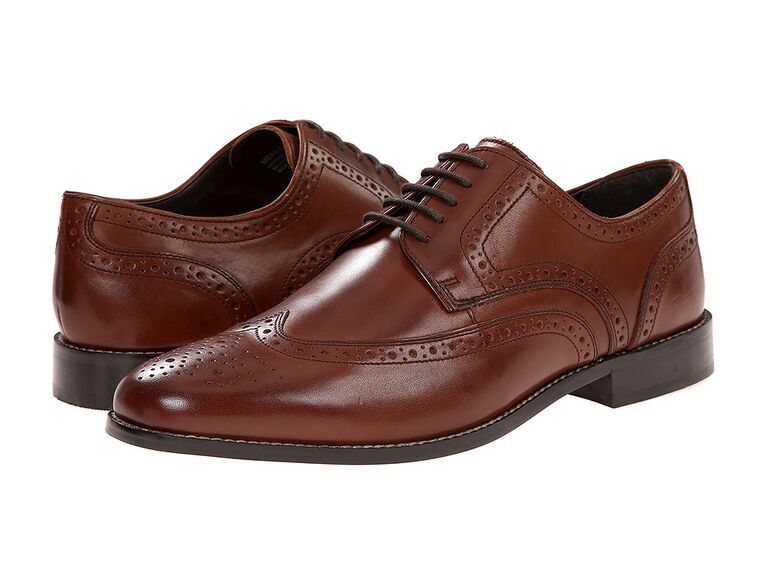 Nunn Bush Nelson Wingtip Oxford in Brown, $68, Zappos.com
These wingtip oxfords are chic mates for your light grey suit. The eye-pleasing brogue design and traditional lace-up closure make these perfect for everyday wear, parties or casual weddings.
Charcoal Suit, Brown Shoes
Charcoal suits are less versatile than grey suits. Light brown or tan shoes are too informal for charcoal suits, and darker brown shades may look like you're trying to match the color of your suit but falling short. While your safest bet is to wear black shoes with a charcoal suit, brown shoes in a dark shade, like oxblood, can look elegant.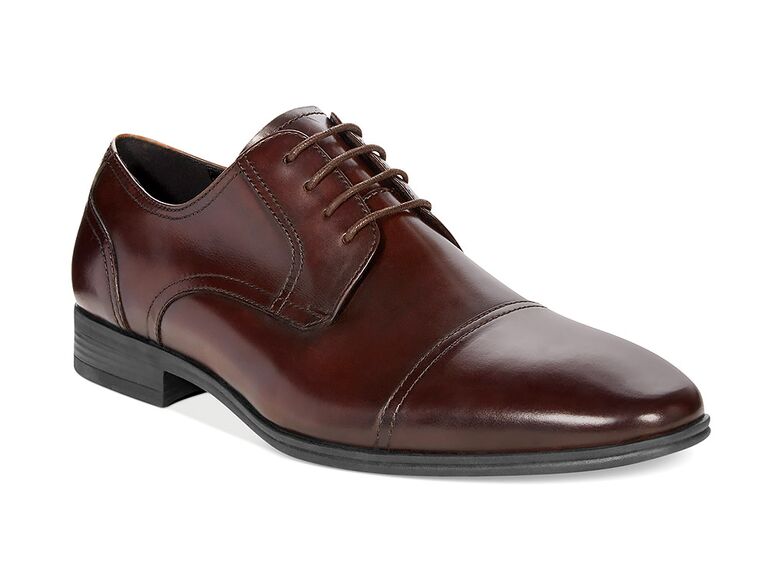 Kenneth Cole Reaction In a Minute Oxford Shoes in Brown, $128, Macys.com
Give your charcoal suit an upgrade with these classic oxfords in a rich, dark brown hue. Smooth and refined, these will work just as well at a wedding as they do in the office.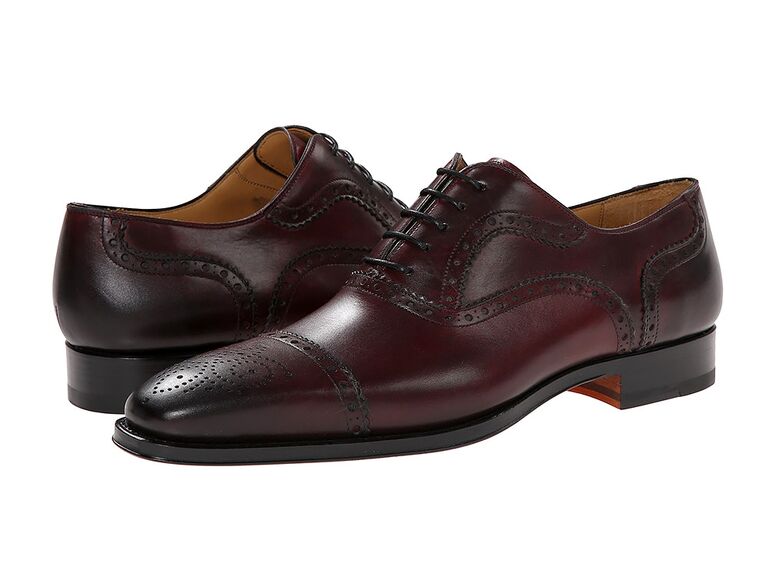 Magnanni Santiago in Burgundy, $325, Zappos.com
These Magnanni Santiago oxfords will pair perfectly with a charcoal suit. With hand-burnished leather, careful brogue details and a deep burgundy color, these shoes are sure to turn heads. Wear this grey suit, brown shoes combo to weddings, the office or social events—day or night.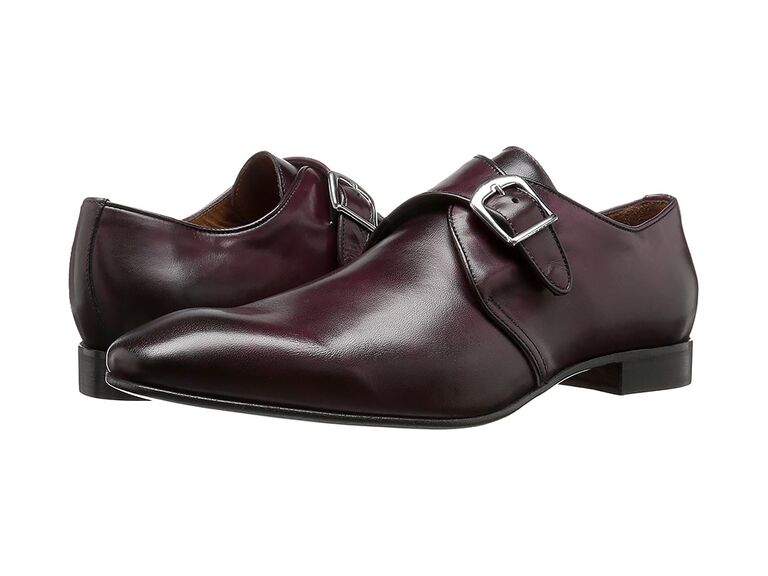 Massimo Matteo Single Monk in Burgundy, $150, Zappos.com
Decidedly casual with a single monk strap, these shoes are sure to leave an impression with their smooth leather construction and vivid burgundy color. Opt for this less formal charcoal suit, brown shoes combination when you're headed out for a fun night on the town.
Blue Suit, Brown Shoes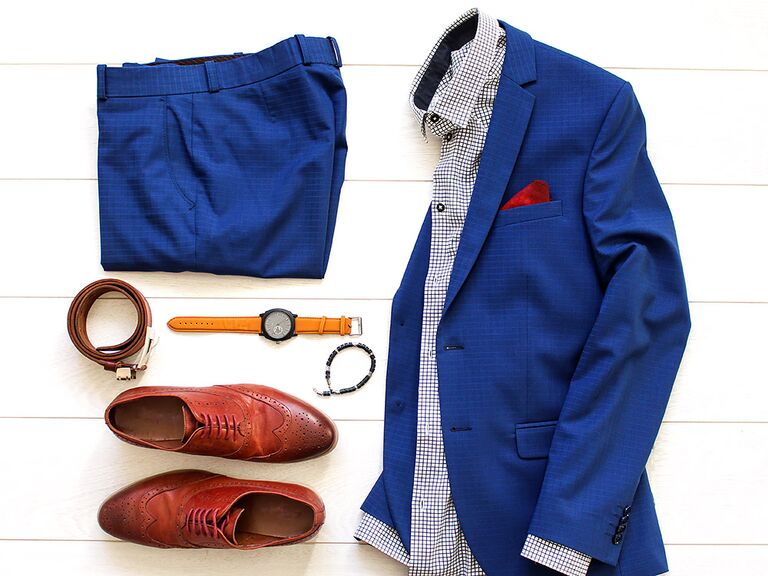 The blue suit, brown shoes combination is a popular option, and for a good reason. This dapper combination can be dressed up or dressed down, offering a more memorable look than the black suit, black shoe combination.
Keep in mind that if you choose to wear tan or light brown shoes with a dark blue suit, your shoes will stand out. This is great if you want to make a statement, but if you prefer to blend in, go with a darker shade of brown for your blue suit, brown shoes look.
Navy Suit, Brown Shoes
When it comes to a navy suit, brown shoes of any shade—from tan to dark brown—will work. Style your navy suit with a light brown shoe for an outdoor wedding or a date night, or pair it with a darker brown shoe for a business meeting.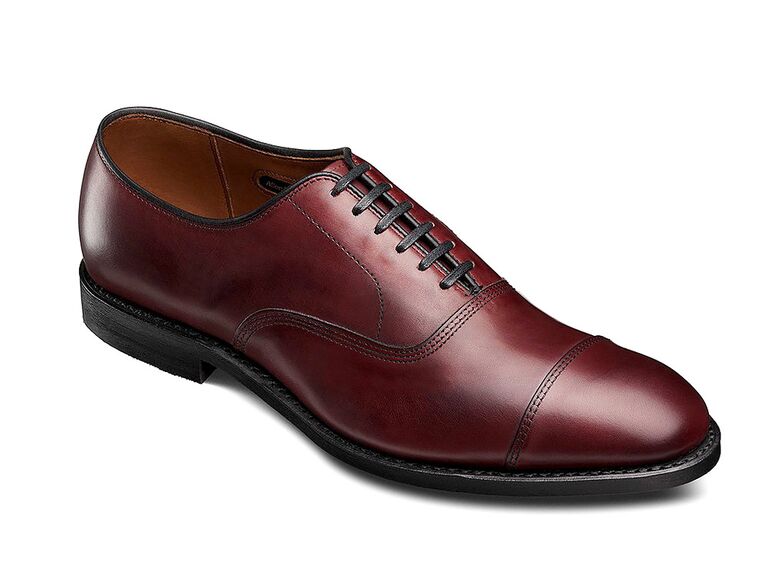 Allen-Edmonds Park Avenue Cap-Toe Leather Dress Oxfords in Oxblood, $395, Dillards.com
These oxfords lend a polished, clean look with cap-toe styling, a cushioned insole for comfort and a leather sole for durability. The rich oxblood color will look dapper with any navy suit.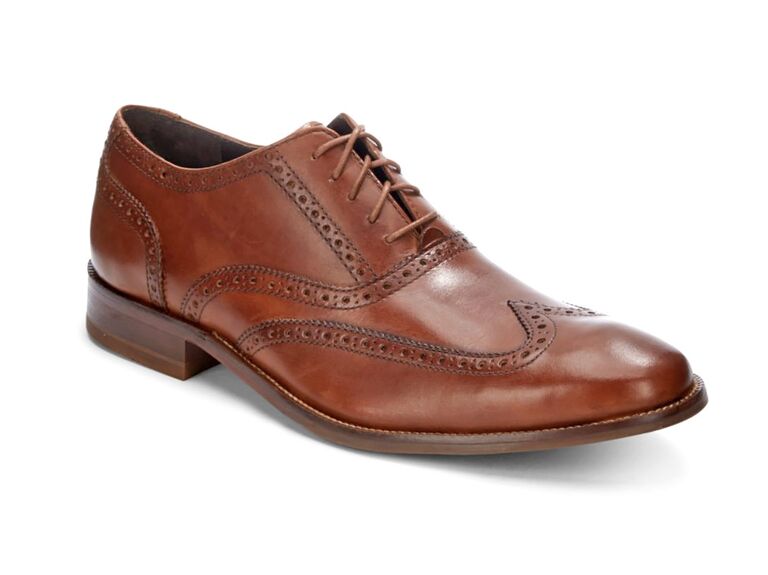 Cole Haan Williams Leather Wingtip Brogues in British Tan, $120, Saksoff5th.com
Give your blue suit, brown shoes look a serious upgrade with stylish broguing and a fresh tan color that makes these shoes perfect for everyday style. Or, dress them up for an outdoor wedding or summer nights on the town.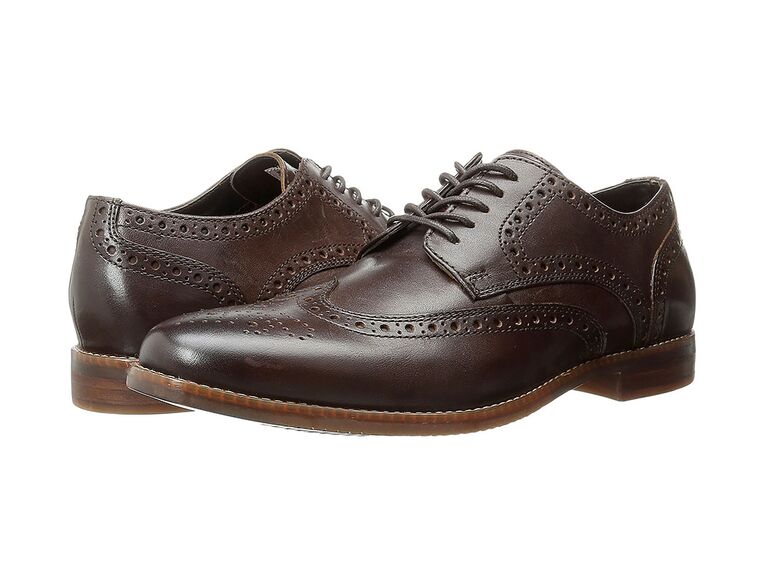 Rockport Style Purpose Wingtip in Dark Brown, $100, Zappos.com
Keep it classy (and comfy!) in these wingtips with brogue details and extra cushioning. The deep, espresso color will look great with almost anything, including your best navy suit.
Black Suit, Brown Shoes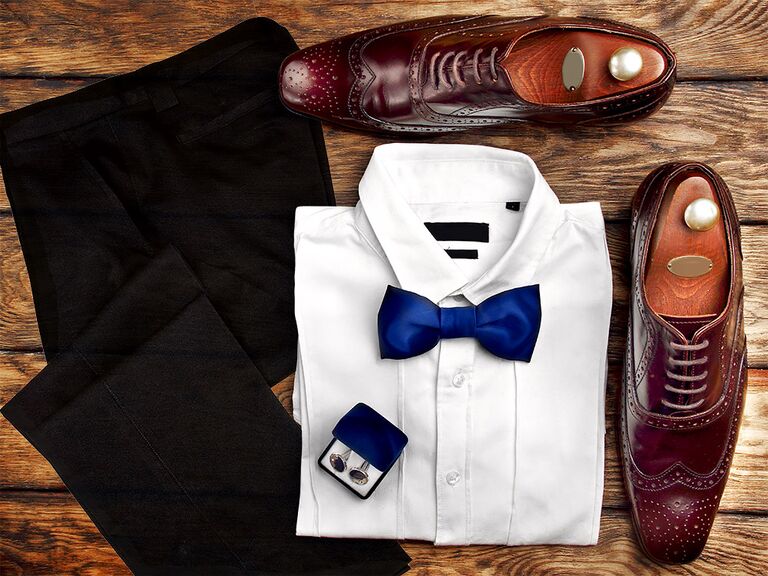 You won't find a more controversial question in menswear than, "Can you wear brown shoes with a black suit?" so we took this one straight to a pro. Schneider tells The Knot, "I recommend avoiding it altogether, it's not something I would do. It takes away from the richness of a black suit."
While most stylists understandably warn against wearing the black suit, brown shoes combo, it can be done. If you're heading to a black-tie wedding, a funeral or a business meeting, stick with black shoes with your black suit. But if you're feeling bold on your way to a party or the office, try a dark brown or a deep oxblood to spice up your black suit, brown shoe look. Whatever you do, steer clear of light brown and tan shoes with a black suit.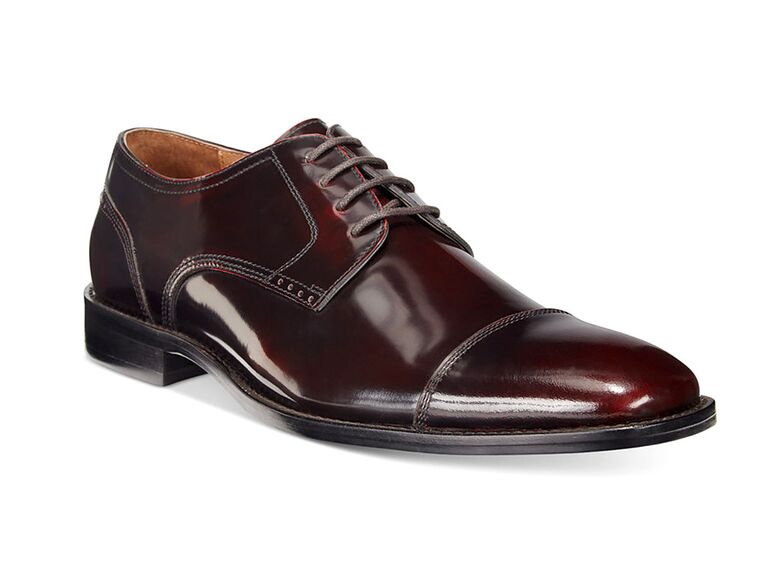 Johnston & Murphy Knowland Cap-Toe Oxfords in Burgundy, $130, Macys.com
These smooth, high-shine cap toe oxfords will add intrigue to your black suit and are suitable for office or wedding wear. Their dark burgundy color and simple styling make for a versatile shoe for many occasions.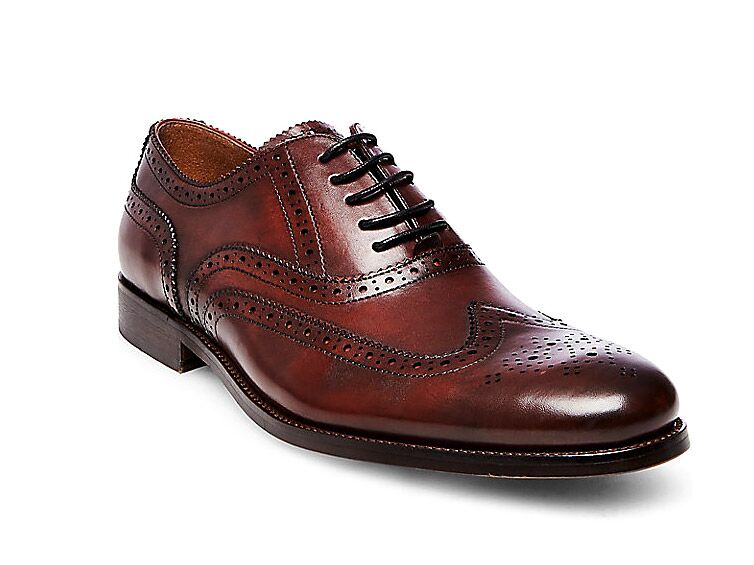 Steve Madden Declan in Burgundy, $65, Stevemadden.com
These wingtip brogues will ensure that your look is always on point, whether you are headed to the office or the club. These burgundy shoes will look great dressing up a black suit or a pair of jeans.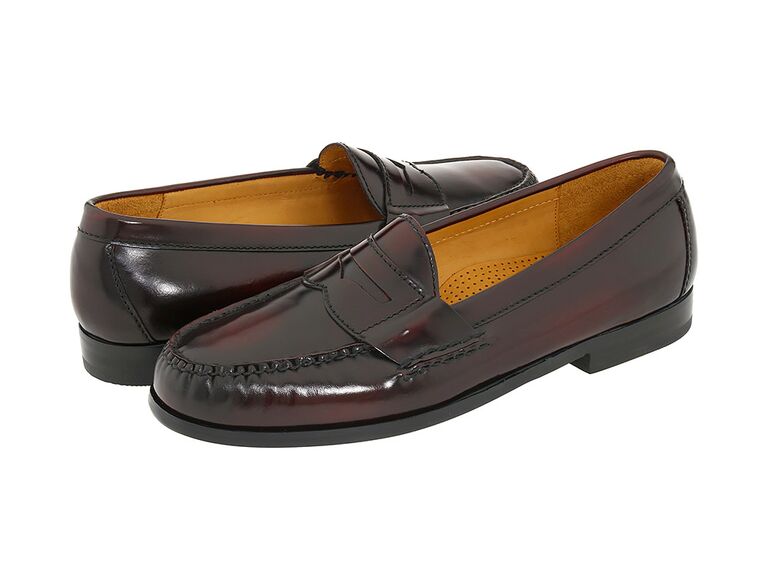 Cole Haan Pinch Penny Loafer in Burgundy, $110, Zappos.com
Give your traditional black suit an unexpected twist by pairing it with brown shoes like this burgundy loafer from Cole Haan. With hand-antiqued brush-off leather and genuine hand-sewn moccasin construction, these high-quality shoes are a great accompaniment for the office, the club or a summer wedding.