Stay Classic With These 20 Yellow Gold Engagement Rings
Your diamond will really pop.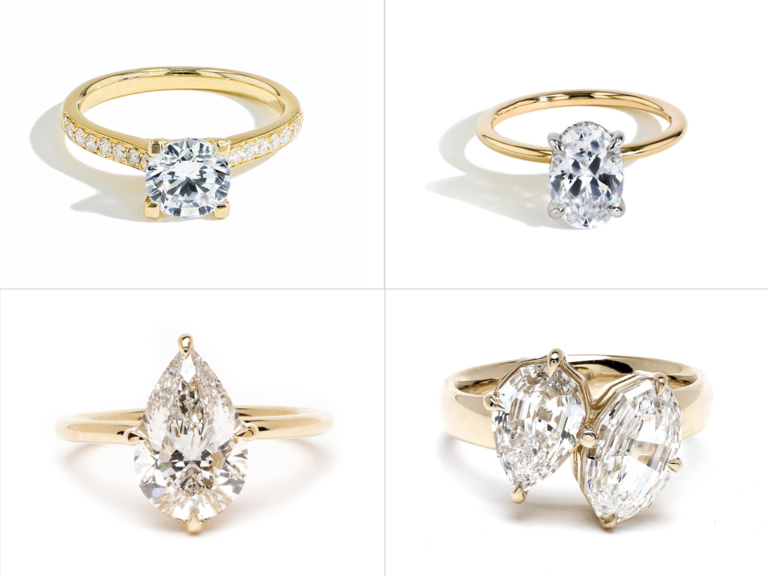 Photos, From Clockwise: J.R. Dunn, Bario Neal, Sofia Kaman
We have included third party products to help you navigate and enjoy life's biggest moments. Purchases made through links on this page may earn us a commission.
Step aside, white gold and platinum: yellow gold engagement rings are the latest trend in the wedding world. While the metal has always been a common option when it comes to bridal jewelry, it's really having a moment in the spotlight right now. With a classic look and a tone that flatters all skin types and colors, yellow gold is a versatile choice. The contrast can also really make a diamond pop and appear even more sparkly. There are so many unique yellow gold engagement ring options available, as well as more traditional pieces and ones that have a bit of vintage flair. There's something for everyone, and you can shop some of our current favorite options below, as well as find out everything there is to know about yellow gold engagement rings.
In this article:
Our Favorite Yellow Gold Engagement Rings To Shop Right Now
It's hard to go wrong with a yellow gold engagement ring. From classic rings to more modern and unique options, we've selected some favorites that we think you'll love.
Tiffany & Co. The Tiffany Setting Engagement Ring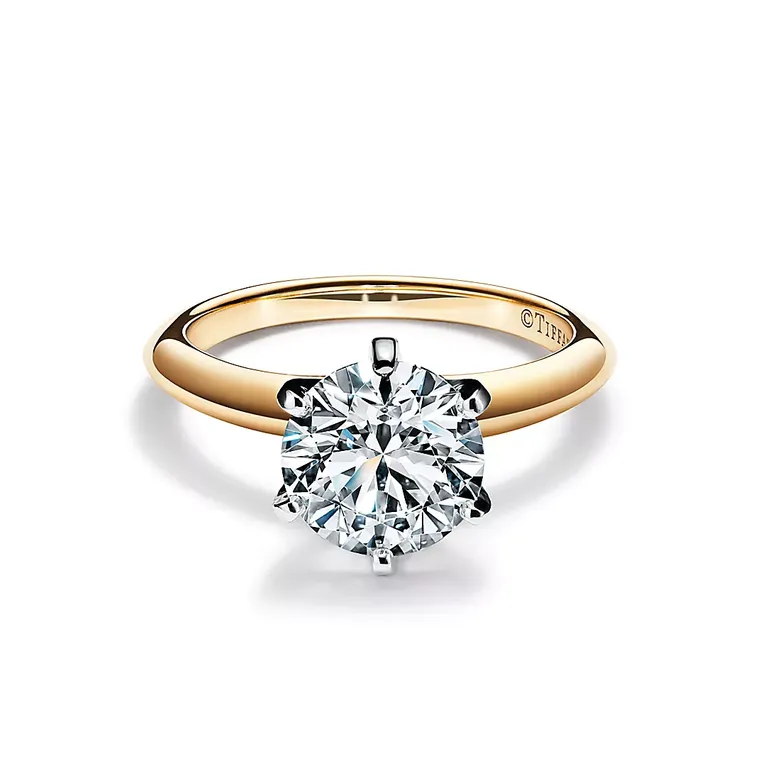 A true classic, this elegant ring features a six-prong setting and a round-cut diamond. It's simple but beautiful, and the 18k yellow gold band has a knife edge that makes it more interesting.
Single Stone Diamond Caroline Prong-Set Engagement Ring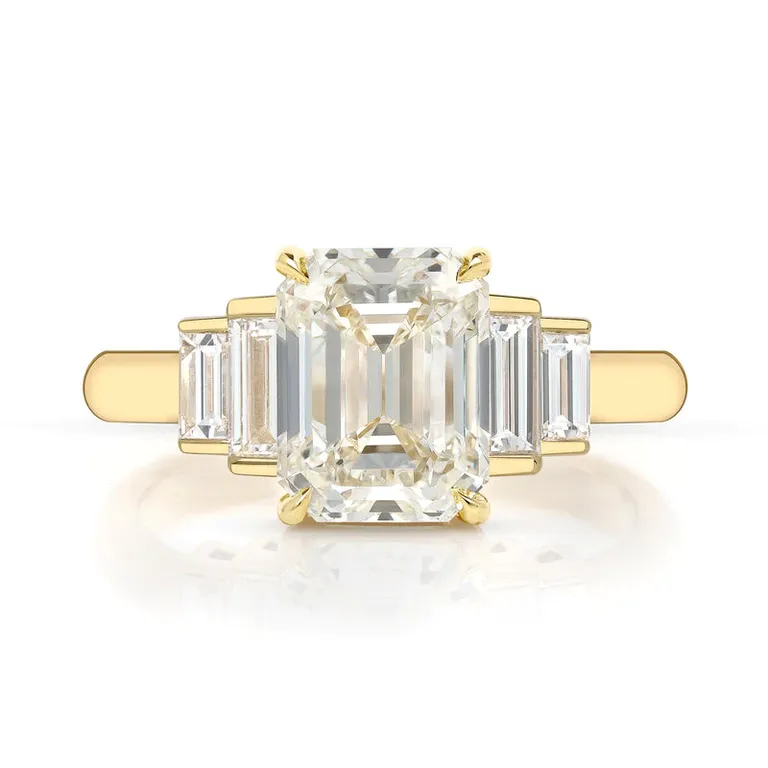 This yellow gold emerald cut engagement ring features an emerald cut center stone that is flanked by two small baguette diamonds on either side. This adds tons of sparkle, and the 18k yellow gold band makes for a perfect contrast.
Shala Karimi 4-Stone Pear Ring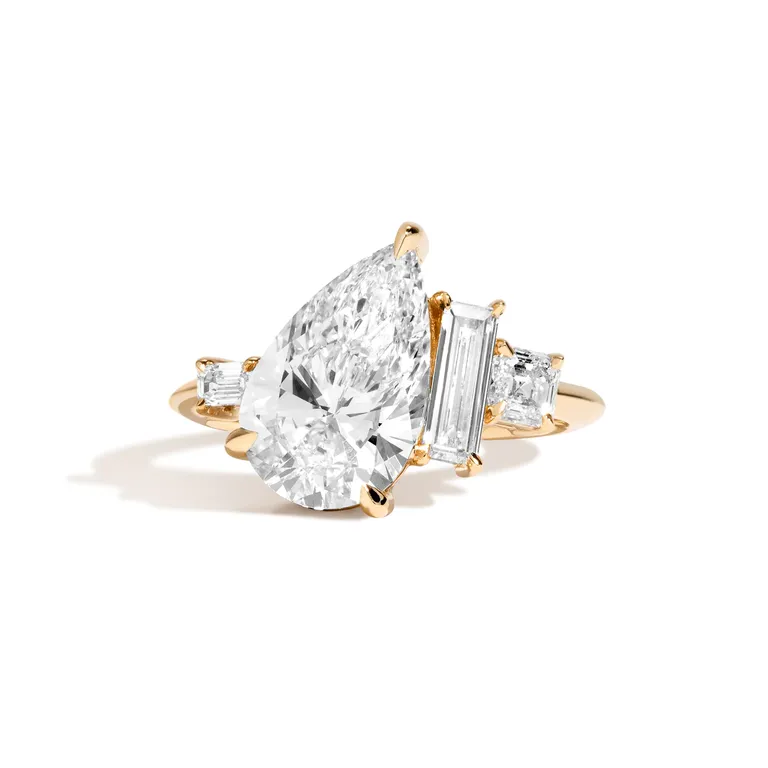 Cluster rings are another popular trend for engagement rings, and this one does it right. A center pear cut diamond is surrounded by three unique diamonds in different sizes and cuts to create a pleasing aesthetic that is unique and modern.
Brilliant Earth Daphne Art Deco Engagement Ring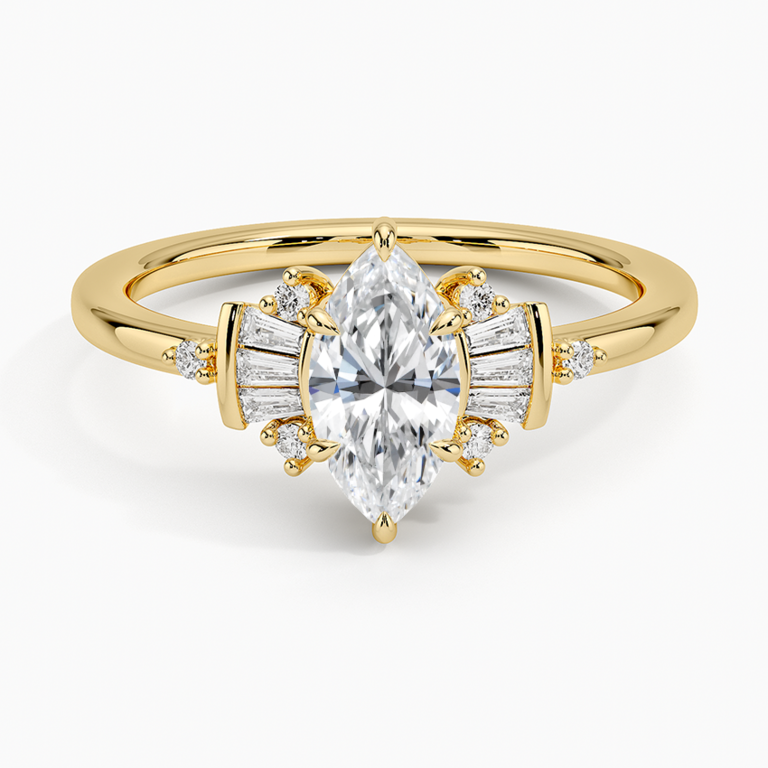 This Art Deco inspired yellow gold engagement ring has a bit of a vintage look to it that really makes it stand out. We love the cluster of round and baguette diamonds that highlight the center stone. It's definitely a unique showstopper.
The Clear Cut Eastbound Emerald Cut Ring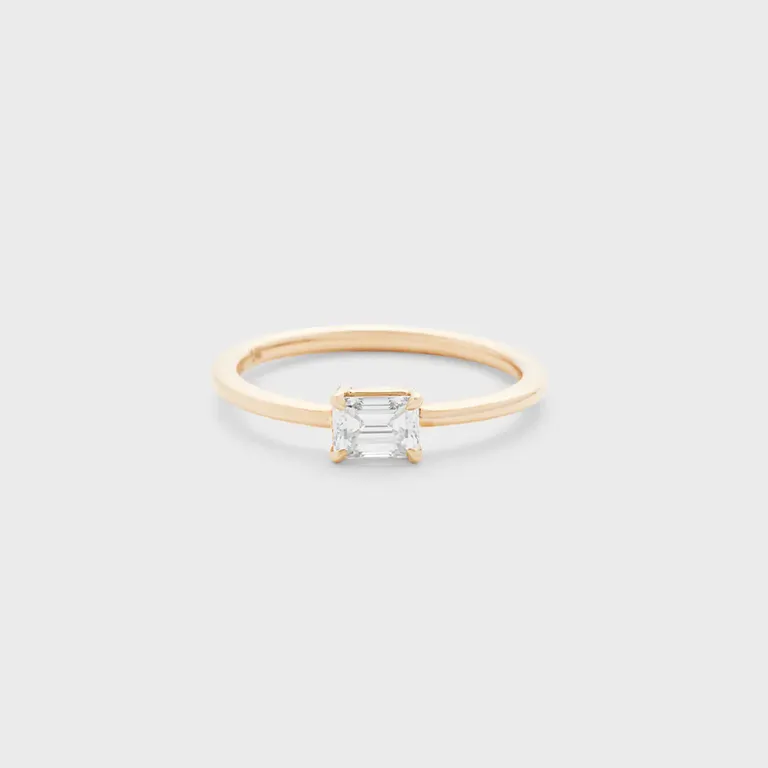 If your vibe leans toward minimalist simplicity, this yellow gold engagement ring featuring an emerald-cut diamond in a trendy east-west setting may be just the style you're looking for.
Vrai The Baguette Bar Cushion Cut Engagement Ring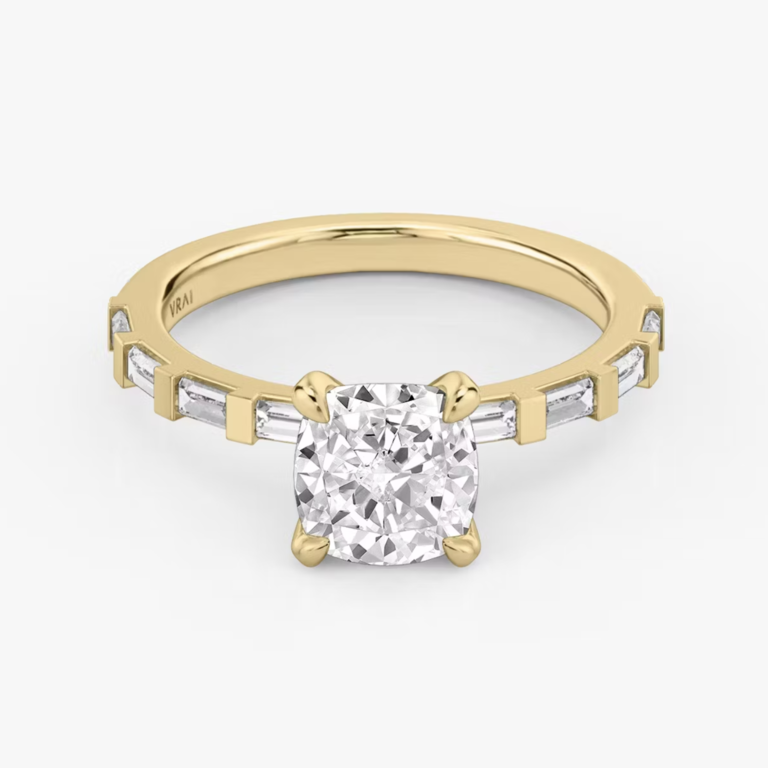 This yellow gold cushion cut engagement ring is a stunner that will wow everyone. The center stone is flanked by a row of baguette diamonds for a modern yet glamorous look.
Eliza Page Eleanor Emerald Cut Engagement Ring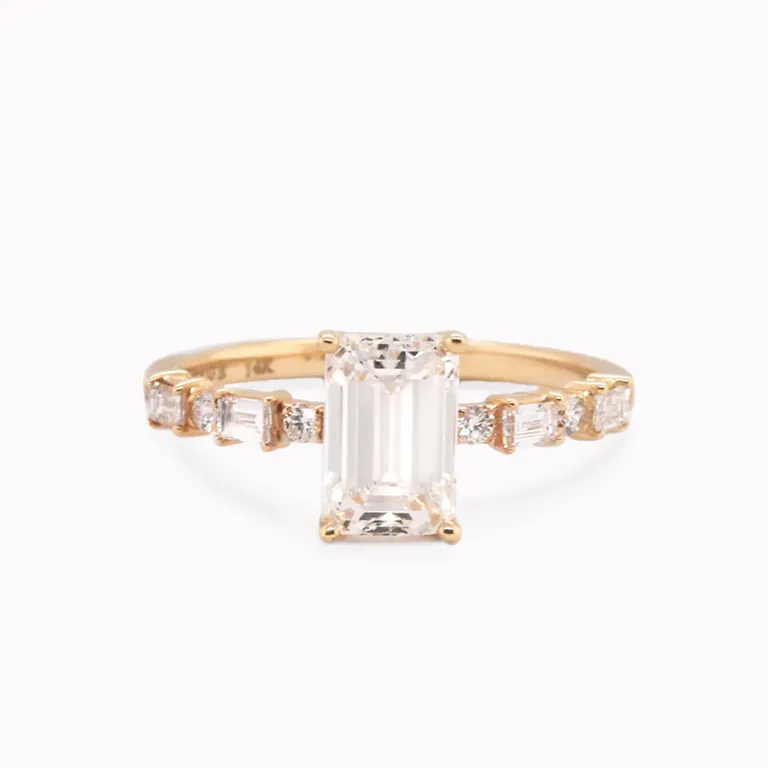 Looking for something a little different? This yellow gold engagement ring has an impressive emerald cut diamond at the center, and the band features lots of smaller and different shaped diamonds that really make it pop.
Miadonna Coco Split Shank Ring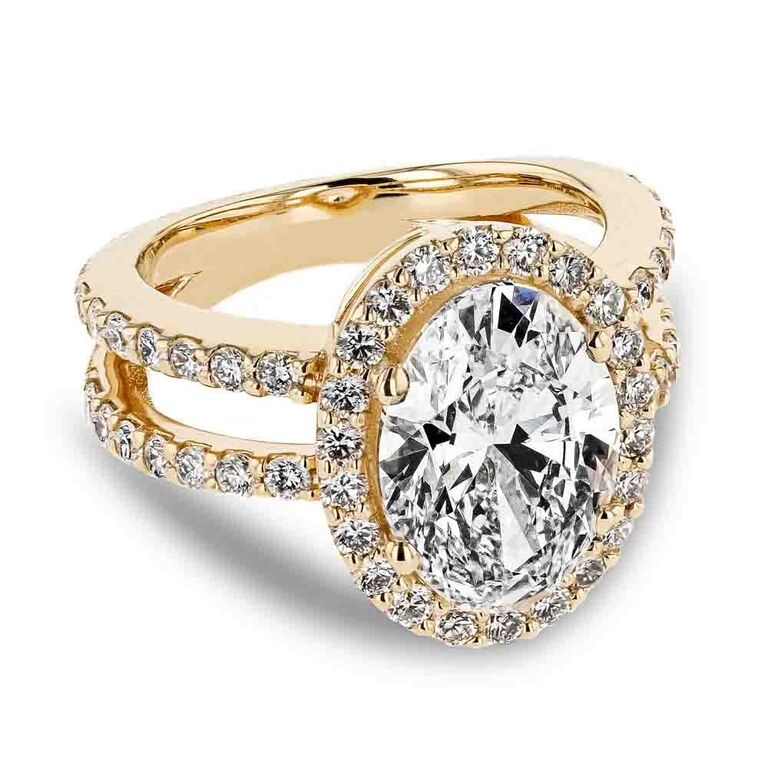 Made with lab-grown diamonds, this ring is a little more budget-friendly and still features plenty of sparkle. The yellow gold band is a split shank covered in tiny pave diamonds, and the center stone has even more glitz thanks to the halo of diamonds around it.
Shala Karimi East-West Pear Eye Ring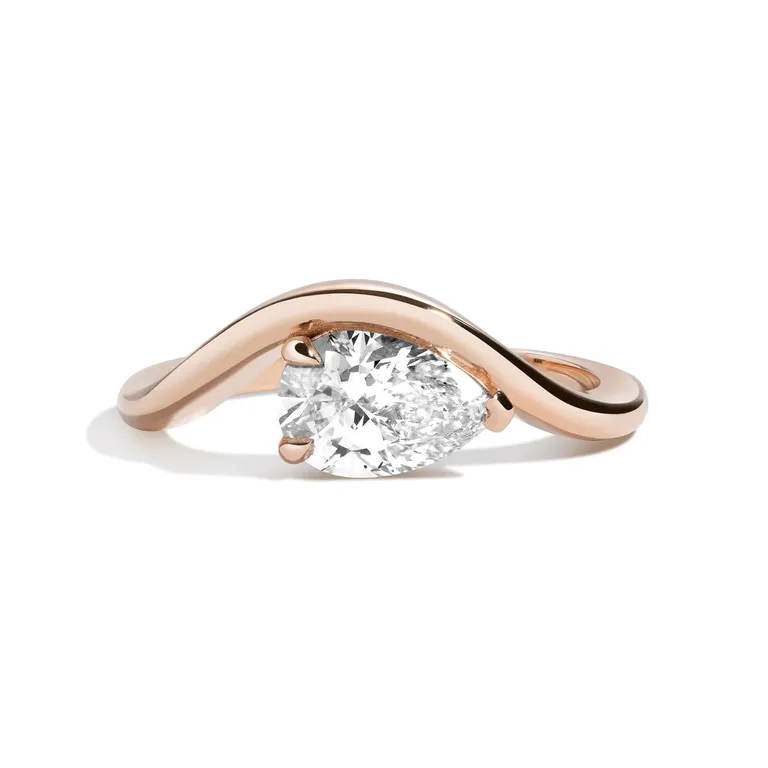 If the traditional style of an engagement ring isn't your thing, you'll probably like this more vintage-inspired piece. With an east-west diamond in a pear shape, this one was inspired by the '20s and has a very different look to it.
Bario Neal Burst Cluster Diamond Ring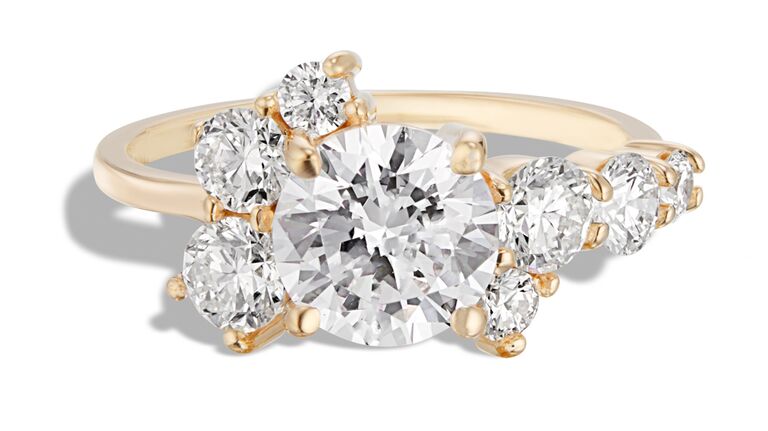 This burst cluster ring shows off a total of three carats worth of diamonds, all in different shapes and sizes and arranged in a really flattering way. This one is so unique and is so pretty it almost doesn't even need a band.
Private Label Oval Engagement Ring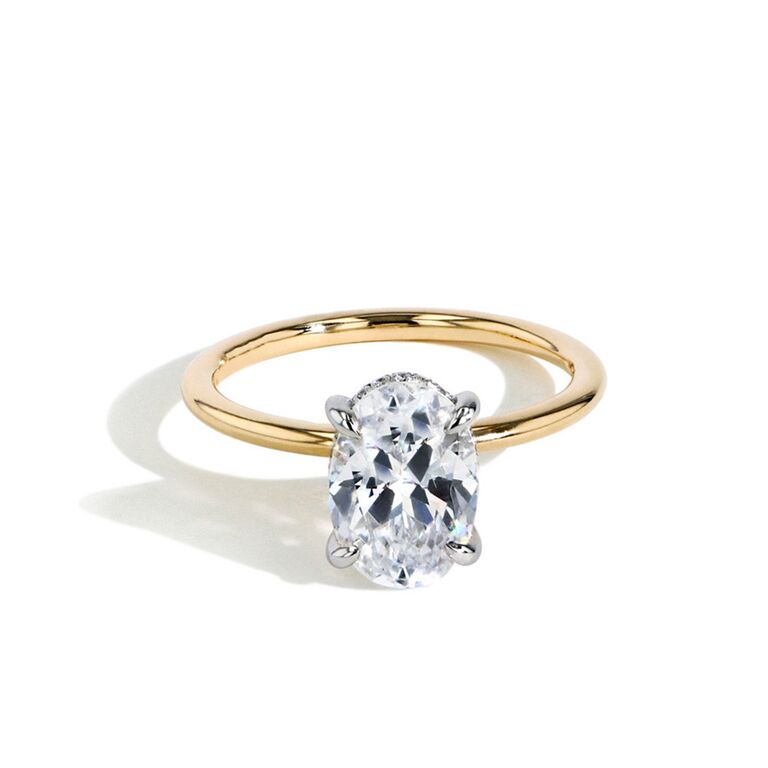 This yellow gold oval engagement ring has a super thin band that makes it look so delicate and feminine. The center stone sits on a glittering hidden halo that elevates it and makes it look even larger.
Ashley Zhang Jewelry Aria Vintage Ring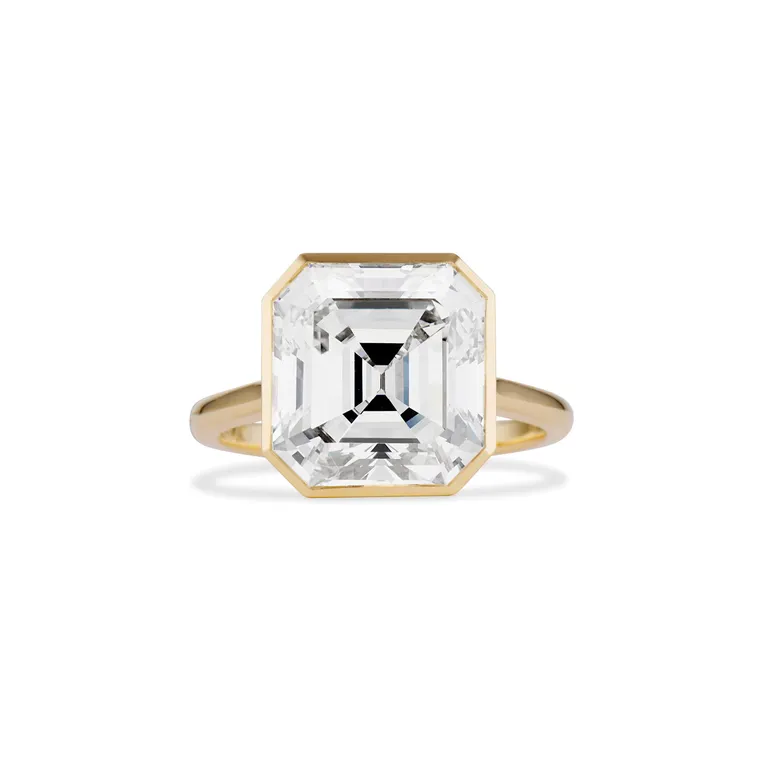 If you're looking for a yellow gold vintage engagement ring, this option is a great choice. It's vintage-inspired, featuring a unique Asscher cut stone with a bezel and a super thin band.
Sofia Kaman Annika Ring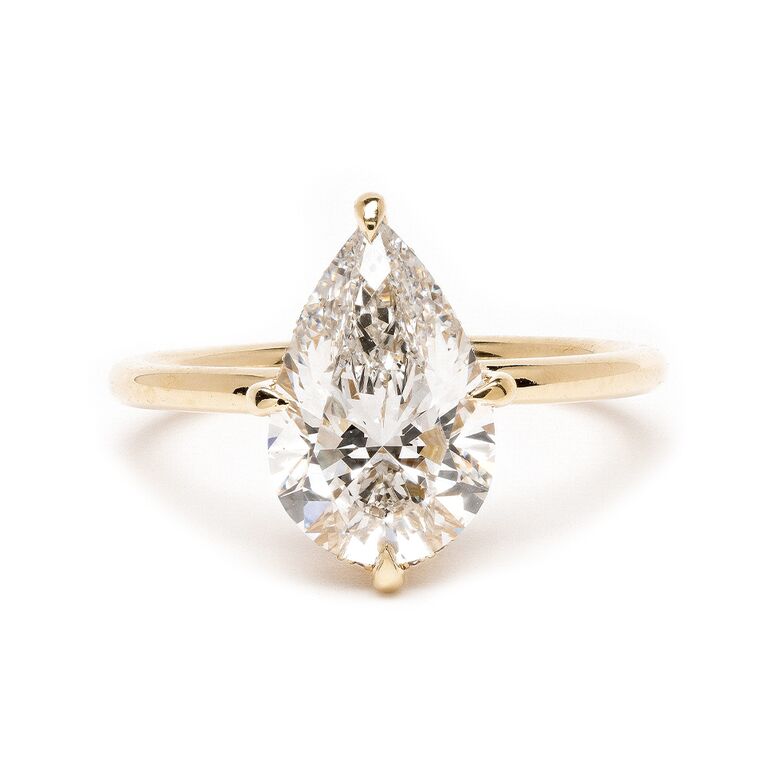 With a pear shaped center stone, this ring is a more modern take on the classic solitaire. This is a lab grown diamond, so you're getting it at a lower price point, and it has a thin yellow band that works well with the shape.
Eliza Page Finley Salt & Pepper Ring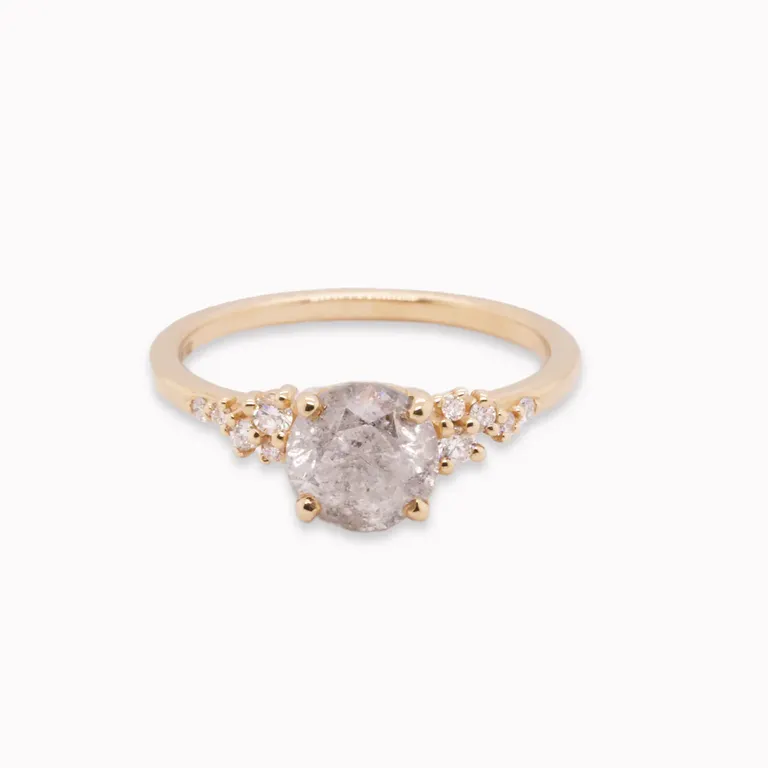 For those who are curious about alternate gemstones, but don't want to stray too far, a salt and pepper diamond like this might be a good choice. It appears almost like a gray or silver color and looks really nice with a yellow gold band.
Bario Neal Kalmia Diamond Oval Ring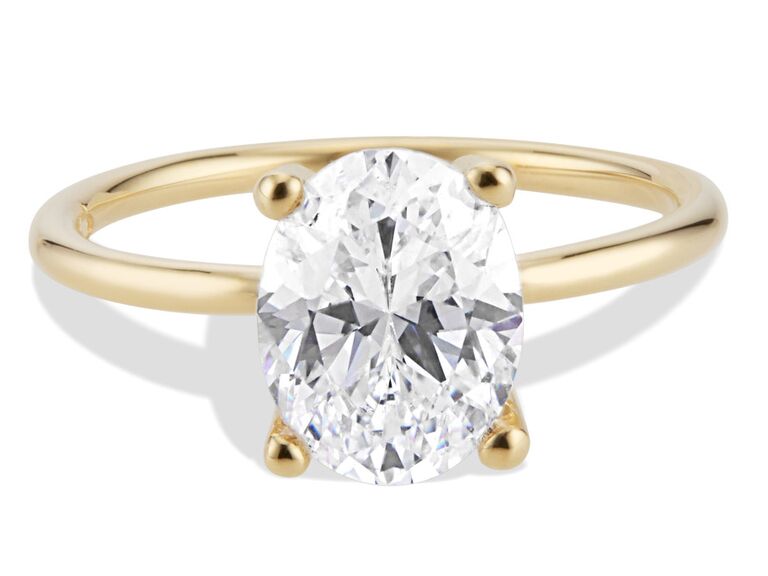 This yellow gold oval engagement ring is a perfect minimalist option. With a thin band, the diamond stands out even more, even without the help of a halo or any other stones flanking it.
Vrai The Classic Emerald Engagement Ring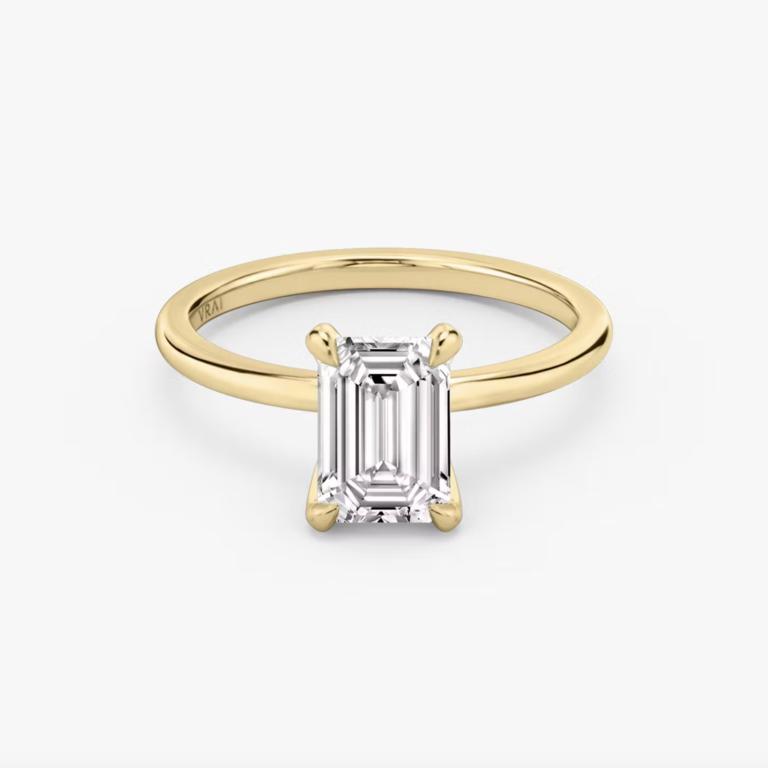 You can't go wrong with the elegance of a yellow gold emerald engagement ring. This emerald cut center stone sits in a four-prong setting with space to see the diamond from every angle, and is available with a plain or pave band for extra sparkle..
Sofia Kaman Toi et Moi Diamond Engagement Ring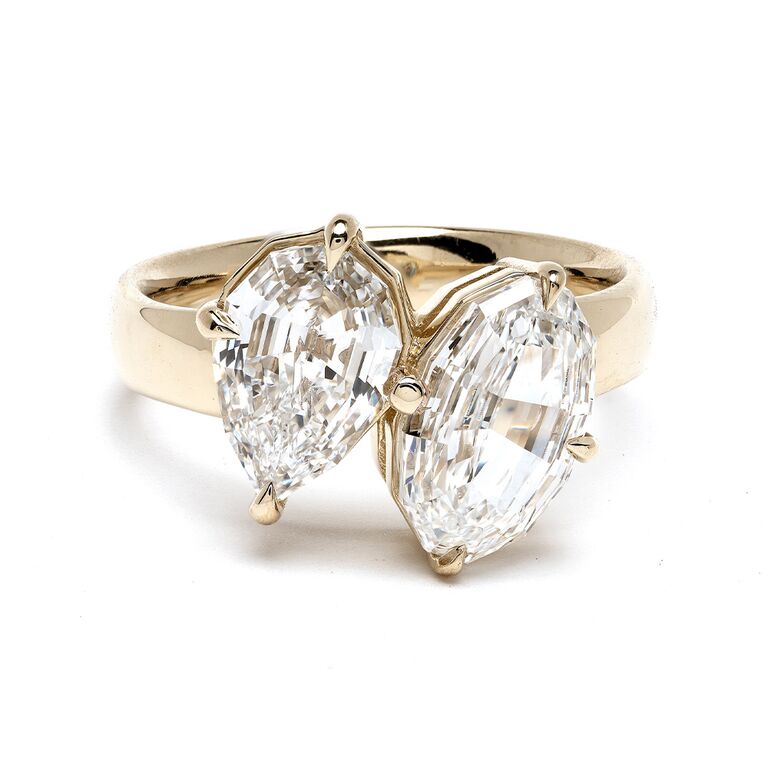 What's a better way to symbolize your union with your partner than a toi et moi ring? This one is made up of two lab grown diamonds in oval and pear shapes for a unique combination. The yellow gold band is on the thicker side.
Blue Nile Petite Twist Diamond Engagement Ring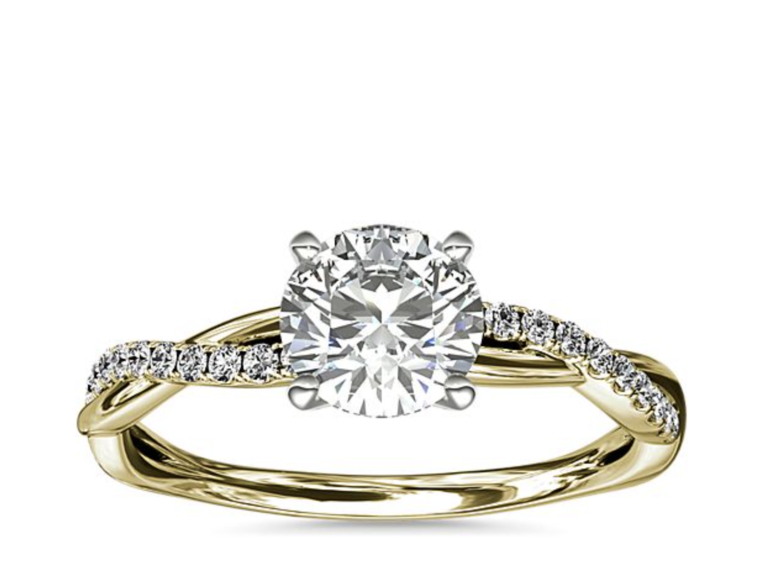 This ring is proof that the yellow gold really does make a diamond pop. The twist in the band is a unique option, and the round cut center ring keeps it classic.
Private Label The Round Solitaire Pave Engagement Ring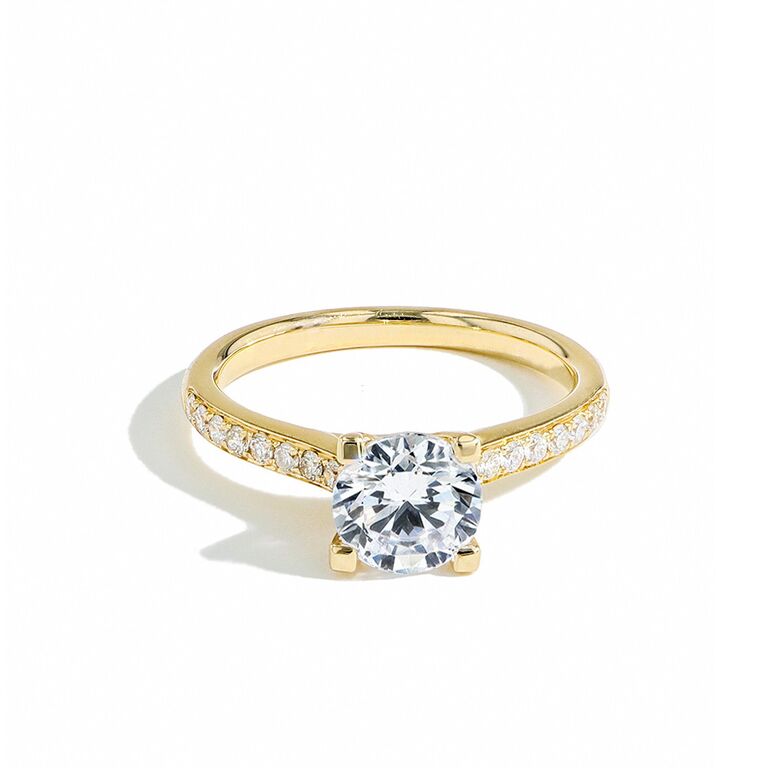 Pave diamonds can add a lot of extra sparkle and shine to your ring. This yellow gold engagement ring features pave diamonds encrusted in yellow gold around the band, which just adds to the round cut center stone.
FAQs About Yellow Gold Engagement Rings
When you're trying to make a decision about something as big as an engagement ring, you'll probably find yourself with more than a few questions. We spoke to two experts in the jewelry space to learn everything there is to know about yellow gold engagement rings.
What Is Yellow Gold?
Yellow gold is an alloy of gold and other metals that are combined with the gold to make it a strong enough metal to wear as jewelry, explains Ashley Taylor, owner and head designer at Taylor Custom Rings. "The karats describe the amount of gold content in the alloy," she continues. "14k and 18k are popular for engagement rings." The difference between the two? 18k will appear a bit richer in color and more yellow than 14k. Both are great for an everyday ring like an engagement ring.
What's the Difference Between White Gold and Yellow Gold?
Obviously, white gold and yellow gold are both gold, but they're different colors. The difference comes down to the mix: white gold contains more white or silver-colored metals than yellow gold does, Taylor says. "On its own, it still has a little bit of a warm appearance because of its gold content," she adds. Because of that, white gold is typically plated with rhodium, a bright silvery-white metal that really helps give white gold its signature shade. "That plating will wear off over time, and the ring will have a warm, yellowish cast until it is replated," Taylor says.
Are Yellow Gold Engagement Rings in Style?
Yellow gold engagement rings are always a classic option. "Over the past few years, yellow gold has actually become our most requested metal choice for our engagement rings," says Olivia Landau, founder and CEO of The Clear Cut. "Yellow gold is both timeless and very much on-trend."
Is Yellow Gold Good for an Engagement Ring?
You don't need to feel worried about picking yellow gold for a ring you'll wear everyday – both Taylor and Landau say it's a great choice for an engagement ring. "From an aesthetic standpoint, it plays beautifully with diamonds, and creates a look that many people find irresistible," says Taylor. It's strong enough to withstand daily wear and tear, and it's easy to care for.
How to Care for a Yellow Gold Engagement Ring
Taking proper care of your yellow gold engagement ring is key to making it look good as new even after years of wearing it nearly every single day. Landau recommends giving your ring a deep cleaning every two to four weeks. You can do that by soaking it in a bowl of soapy warm water for about 10 minutes, then brushing it gently with a soft bristled toothbrush.
Other care tips include:
Don't work out in your engagement ring: "The metal on your band (especially if you have a thin band) is malleable and can get damaged if you work out," Landau says.

Don't wear it in the shower: As Landau notes, your ring is at risk of slipping off and falling down the drain during a shower. "It is also more likely to get dirtier faster because of all the soaps and hair products we use in the shower," she says.

Don't sleep with your ring: Your fingers can swell during sleep, leaving your ring at risk of cutting off your circulation, Landau warns. She recommends keeping it in a small dish by your bed.

Don't go swimming in the ocean or pool with your ring: "The salty water will make your ring look really dirty and it is more prone to falling off," Landau says. And if your ring falls off in the ocean, you're pretty much out of luck.

Get it professionally polished and inspected: Landau recommends doing this every 18-24 months to keep it in tip-top shape.