Home

Mystic Blue Cruises by Entertainment Cruises
Book Your Wedding with Mystic Blue Cruises by Entertainment Cruises
---
A BEACH IN CHICAGO, IL
About Us
Mystic Blue Cruises offer couples a unique wedding venue aboard a ship that will take you on a cruise of Lake Michigan. You and your guests are guaranteed to have a great time as you celebrate your day with the clear blue sky and the picturesque Michigan skyline in the backdrop. Mystic Blue Cruises offers venues ideal for wedding ceremonies, receptions and engagement parties and can accommodate both small and big-sized events.
Horizon Deck. The Horizon Deck has a total dining area of 3,000 square feet. It features lake-level seating for a maximum of 210 guests. It also features a main bar and a dance floor area of 314 square feet.
Escapade Deck. The Escapade Deck has a total dining area of 3,175 square feet and can accommodate up to 224 guests. It features a 220-square-foot dance floor and a main bar. The deck is where passengers board and disembark the ship and is handicap accessible.
Vista Deck. The Vista Deck is located on the upper deck and is ideal for more intimate celebrations. It has a total dining area of 950 square feet and can accommodate up to 60 guests indoors and up to 30 guests outdoors on the deck. It features a main bar and an 80-square-foot dance floor.
Skyline Deck. The Skyline Deck or the observation deck has a total area of 1,000 square feet. It can accommodate up to 145 guests.
What You Should Know
Mystic Blue Cruises offers flexible wedding packages that allow you to add enhancements. Food and beverages are already included with options to upgrade to premium and platinum bar package. You will also be able to add hors d'oeuvres package, chocolate fondue, signature drink and gourmet coffee station. You can choose between a lunch wedding reception or dinner wedding reception and with an option to upgrade to a premium package, which includes photo favor, platinum open bar, custom-made wedding cake and champagne toast.
You need to make a 25 percent deposit in order to book the ship on your chosen date. The wedding manager will work with you to plan the details of your wedding as well as coordinate with the catering team and other wedding vendors that you might need. Although your chosen venue will be made private to you and your guests, the whole ship will not be reserved exclusively for your event. It is possible to have other events and wedding receptions happening simultaneously with yours. However, ceremonies require private dockside and boarding as part of the package so there will only be one ceremony in a single cruise. Ceremonies are held at the observation deck during the warmer months and at the indoor reception venue during winter or when there's inclement weather.
Reception package inclusions are as follows:
Venue rental
Lunch or dinner buffet
Professional DJ with option for live music
Table linens, napkins and votive candles
Extra Perks
Complimentary anniversary cruise
Brides can board the ship earlier to get dressed
Discount on hotel accommodations with partner hotels
Complimentary cake cutting service
Complimentary tasting for two
From the Vendor
Tie the Knot Out on the Water
You deserve a venue that's as unique and fun as you. Plan a wedding aboard Mystic Blue! With Chicago as your backdrop, you'll enjoy delicious food and drinks and great entertainment with easy-to-plan packages. You can just focus on enjoying your big day while Mystic Blue's handles the rest!
Amenities + Details
Amenities
Handicap Accessible

Indoor

Reception Area
For more details about amenities, please message the Venue.
Waterfront, Cruise, Restaurant
Bar + Drinks, Cakes + Desserts, Food + Catering, Planning, Rentals + Equipment, Service Staff
Reviewed on

10/27/2017
Andrea V
We had our wedding on June 2017, and it was a perfect experience for us. We had both the ceremony and the reception at the mystic blue. The ceremony was at the deck, and we were lucky to have a sunny-perfect day. It was amazing to have the skyline as background and the crowd of... Read More the navy pier at the bottom. The reception was in a private space of the boat. There were other guest too in the cruise, but we really felt like we were the only one on the party. The help we got from the entertainment cruise company was great since the beginning. They were very transparent with the costs, and very helpful in guiding us through the various options. We really felt in expert hands the whole time. Also, since we live out of the chicago area, we were able to take most of our choices saving trips to chicago. During the wedding day, the staff was extremely helpul, they set up both the deck and the reception area in a perfect way, and they handled efficiently and always in a positive manner all the small unexpected things that happens to the guests or to the bride/groom. Also the DJ that was provided to us was great: he played the music we provided him and required him to play, but he was able to put an extra touch on the night: very professional. We also had the fireworks (it was a Saturday cruise) at the end of the night, which really completed a perfect night. The food was excellent, above our expectations. We also opted for the open bar for our guests and it worked great. All our guests were entusiastic, they enjoied the ceremony, banquet, and the magnificent chicago skyline that was always visible from the cruise. Even after few months, we are still receiving compliments and positive feedback from the night. I know that this review looks exaggerated, but it is actually my honest feedback from the experience we had!
---
Reviewed on

10/09/2016
Zee S
The venue is great and staff also amazing but there were few hickups during our wedding that make me have mixed feelings. As said, the staff is amazing. From organization, responsiveness, friendliness and trying to accommodate all your needs they are great indeed. We worked... Read More with Ali (coordinator) and she's been always helpful. Andres on the boat was truly supportive and I think the best one overall looking back. The location is amazing and our guests loved the skyline view - we had our ceremony on the boat and the weather worked out perfectly! Such great memories and pics. However, when it came to the actual wedding day, the one that matters the most - the boat staff didn't check our flower delivery (they were supposed to) and we found out 5 min before the ceremony we don't have rose petals! It may sound as a small detail but they were supposed to be used in the isle, we had 2 flower girls(!) and also as a decor on the wedding cake and gift table. They didn't do the due diligence. Also, we asked and agreed on having a specific table upstairs for the ceremony with special decor and were assured it's not gonna be problem. 10 min before the ceremony I asked about it and nothing was ready nor they were planning to do it!! If we haven't asked, they wouldn't do it. There were few other small details I was not happy about but decided it wouldn't ruin the best day ever :)
---
Reviewed on

10/28/2015
April A
Our guests loved the fact that we got married on board Mystic Blue with Chicago skyline as our backdrop. It was awesome! We got married on June 27, 2015. The weather was perfect. Overall our experience with the crew was awesome from Megan who gave us details on budgeting and... Read More accommodating our guests, to Ali our wedding coordinator who was very patient answering our questions, for the DJ for making our guests both young once and young ones get off their seats and dance. Thank you also for the crew who were very professional and provided excellent service! I would love to recommend their vendors they worked with. Thanks to Rev. Dan Harris for officiating our wedding and accommodated our traditions.
---
Reviewed on

10/26/2015
We had teh most amazing wedding on the Mystic Blue. the entire process from start to finish was amazing to dealing with pricing, tasting cruise and then the magical night. Our guests were amazed by the views of the city, the food and the staffs attentiveness. We would do it... Read More again in a heartbeat. We felt like we were the only people on teh boat. I highly recommend this as an option for your wedding whether big or small. We loved every minute of it and never had to worry about any details! Thank You! James Halik and Jim Armstrong
---
Reviewed on

10/23/2015
Cindy V
We had our wedding reception on the Mystic Blue and the venue was great. The food tasted amazing, bartenders were friendly, the firework show was beautiful, and the staff was extremely accommodating to my guests. Overall, we were very happy with the Mystic Blue Cruise. The... Read More only negative thing I have to say is if you want to bring an outside DJ on board, the boat staff is very reluctant to help them. With the wedding package we received, the DJ was already included but we had our minds set on bringing on our good friend, who is also a reputable DJ in the Chicago area. So a word of advice is to just be very cautious if your hiring a DJ outside of the Entertainment Cruises contract.
---
Reviewed on

10/13/2015
Our wedding was so beautiful we are so glad we chose the mystic blue ship for our wedding because everything went just perfect ****** we would not have our wedding in any other place, all the personnel is so nice, professional and courteous and did a magnificent job, all the... Read More food is prime quality and much better than any other restaurant we loved everything, all of our guest were very pleased and impressed, everyone enjoyed our wedding and had a great time. Hugh and Horacio.
---
Reviewed on

10/08/2015
Sandy F
Our experience with the Mystic Blue Cruises for our wedding was wonderful! From the day we started planning our wedding until our Big Day things went very smooth. Unfortunately our wedding day was rainy but the staff on board made the transition to the indoor plan seamless!... Read More We were a bit disappointed that we couldn't use the outdoor area for our ceremony, but everything else was perfect. Our DJ was very fun, food was great, and our wait staff was exceptional. This venue captured our desire to have something different for our wedding. Our quests were happy and so were we!
---
Reviewed on

10/08/2015
My husband and I are wanted to do something different to celebrate our recent out of town wedding with our local family and friends, and I'm so happy we went with Entertainment Cruises! The entire planning process was stress-free, making payments was easy, and the office team... Read More that handled everything was friendly and professional. The day of our event, the staff was amazing! Our cruise was spectacular and our guests loved the food, drinks, music, and views. It was definitely a night to remember and I can't say enough good things about our cruise on the Mystic Blue.
---
Reviewed on

9/21/2015
Our experience with the Mystic Blue is a mixed bag. Megan from finance was great, unfortunately, our wedding coordinator seemed aloof, distracted and had very little interest in our wedding. Megan truly saved it for us on many occasions. The venue was great, the staff on the... Read More boat was superb, the DJ was fantastic, the food was great, the view was stunning and we had a perfect wedding. I again, must say that this was all in spite of the wedding coordinator. The promise was that the coordinator would "take care of everything" and that "it would be easy". If it weren't for Megan and our minister Rev Dan Harris (definitely someone you should pick), we would have been completely lost. So, with all of that, the boat is great and this is a great choice for your wedding. Just do your homework, research and be prepared to have to make many extra phone calls & emails to get even a vague answer from your coordinator. Kudos to Megan Curran, Rev Dan Harris, the staff on the boat and the amazing city of Chicago for being absolutely wonderful! Thanks to them and a very caring family, our wedding was perfect.
---
Reviewed on

9/17/2015
April M
I thought the first things my guests would rave about were the beautiful Chicago sites but instead they made it a point to rave about the staff. Even months after the event, my guests go on and on about how accommodating and friendly the staff was. The second thing my guests... Read More raved about was the food. They thought it was phenomenal which surprised me because at least one person usually complains about the food served at a wedding. The entire event was flawless, everything was fantastic! I can't wait to go back for our anniversary cruise. The staff has the same level of professionalism and courtesy that you would expect of a large major cruise ship. Just because Mystic Blue is small does not mean that they are any less superior. I am proud to say that we got married on Mystic Blue. Job Well Done!
---
Mystic Blue Wedding
Reviewed on

9/30/2014
This was a wonderful venue. The very professional staff took care of all the details and made this an unforgettable event. i highly recommend the Mystic Blue (or Odyssey) for your wedding planning.
---
A Magical Evening!
Reviewed on

9/20/2014
Christine C
From day one of our wedding planning, I realized how much there was involved with planning a ceremony/reception. When we met with Entertainment Cruises/Mystic Blue, I knew we made the right choice. Everything is included for your big day in one of their wedding cruise... Read More packages....food, DJ, cake, ceremony, done. All of it, taken care of! They treat you like royalty, and they make sure your day is nothing short of spectacular! There is honestly not one thing we had a complaint about. Susan Malen and Joseph Altobelli handled all my questions and concerns professionally and courteously. Andres Sandoval, our wedding coordinator was with us on the day, and let me tell you, he and the crew aboard the Mystic Blue went above and beyond to make our night the night of our dreams. Andres went above and beyond expectations, and my groom and I wanted for nothing during our event! From the delicious food to the skyline views of the city, this was a romantic, magical evening....I was only sorry when it ended...Thank you so much to all on the Mystic Blue! Christine & Ross. 9/13/2014
---
Mystic Blue
Reviewed on

6/26/2014
Nita X
All we can say is WOW. The Mystic Blue definitely made our day spectacular. From day 1 and inquiring about the Mystic, they have been nothing but super helpful. Our wedding day aboard the ship was absolutely breathtaking and such a perfect time. BIG thank you to the amazing... Read More Andres and Joseph who helped me along the way. If you want to be a worry free bride, I would take these guys into consideration, they are the most helpful and patient men ever. Andres was my main contact on the Mystic and let me tell you, he is GREAT at what he does. He calmed me down and did everything and more that I asked. Everywhere I turned, he was right behind me to help. He truly made my day perfect which is all a bride ever wants. The entire staff of the Mystic was not only friendly but very alert to all of our guests needs. The food was GREAT. Everything was set up perfectly, food was tasty and hot, drinks were always flowing and the scenery and weather was wonderful. The only regret we had was that the cruise wasn't long enough - OUR guests had so much fun that they did not want to leave and neither did we. Needless to say, we would totally recommend the Mystic Blue. This is the perfect wedding venue…..romantic, fun and you won't have a care in the world!!!!
---
Dream Wedding
Reviewed on

6/17/2014
joy j
I just got married this past Saturday. I was so worried that things wouldn't turn out like I had imagined, being the control freak that I am, but Ashley, our wedding coordinator, was super fantastic! The decor was beyond anything I could've ever imagined. It was absolutely... Read More beautiful. Thank you to all the staff, they were on top of EVERYTHING! I would so recommend the Mystic Blue to any bride looking for a spectacular venue. Thanks for making my dream wedding a reality!
---
Outstanding
Reviewed on

10/03/2013
Michelle B
We could not have asked for a more perfect day. The weather was sunny not a cloud in the sky. Our wedding and reception was on the Mystic Blue. The entire process from September 2013 until the wedding day September 14 was flawless. The staff are amazing, they were considerate,... Read More attentive and we felt that they cared. I would recommend this vendor to anyone who wants a spectacular venue that they guest will talk about long after the wedding. The food was amazing! Also, pictures of the skyline...you couldn't ask for anything better!!!!
---
EXCELLENT
Reviewed on

8/14/2013
Joanna T
Staff was extremely professional and kind. Easy to work with and really do all they can to make your day special. Highly recommend!
---
Excellent food
Reviewed on

10/02/2012
Nicole A
By far, this was the best wedding food I have ever eaten.
---
Love the sky line
Reviewed on

7/10/2012
Sylviette Y
We were on the Mystic Blue and the deck wedding was wonderful. It was no stress, because they offered complete packages including dj,cake,carpet runner,chair covers,and food for the wedding and reception.
---
greatest times, everything was well organized!!!
Reviewed on

3/27/2012
Vero V
The only problem was the weather, so make sure you do it in stable summer :)
---
October 2011 Wedding about the Mystic Blue @ Navy
Reviewed on

2/03/2012
Mary K
UNBELIEVABLE. Staff and coordinators could NOT have been nicer. We had a beautiful fall day for our wedding. The city as a backdrop, especially in the later afternoon early evening hours was incredible. The out of town guests were beyond impressed. EVERYONE raved about the... Read More venue, the food, the view, the staff. This was the second wedding for both of us and we could not have been happier. We had the ceremony on the yacht and it was so romantic and fun. If you want something different, this is the place!
---
Meet The Director of Sales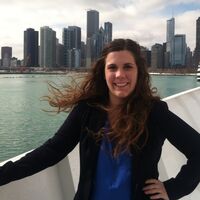 Stephanie Spingola
Stephanie Spingola is the Associate Director of Sales at Entertainment Cruises in Chicago, which includes yachts Odyssey, Spirit of Chicago, Mystic Blue and Chicago Elite. Stephanie manages two wedding account managers, Joseph & Rachael, who are excited to make your wedding wishes come to life!