19 Gorgeous Amethyst Engagement Rings
Whether you were born in February or purple is your thing, this could be the gemstone for you.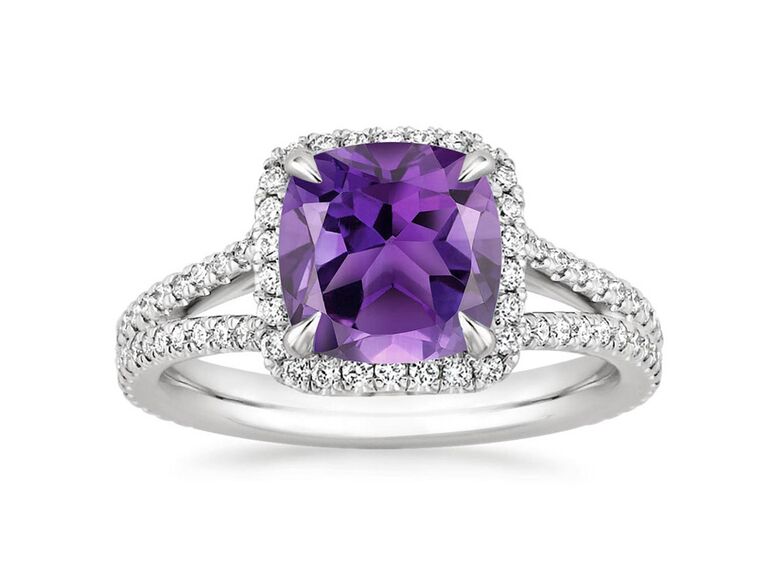 We have included third party products to help you navigate and enjoy life's biggest moments. Purchases made through links on this page may earn us a commission.
Real talk: You don't have to consider yourself an "unconventional person" to rock a colorful engagement ring. An amethyst engagement ring, for instance, can work for a variety of personal aesthetics, depending on the saturation of the gemstone's purple color and the overall vibe of the ring's setting.
Another bonus? The history of amethyst is full of myth and legend (one includes Saint Valentin himself), adding to the mystical feel of this gemstone that was once considered a symbol of royalty. And for those born in February, an amethyst engagement ring can also double as a birthstone ring. Below, find everything you need to know about this fascinating purple gemstone—plus shop editor-approved bling you can add to your cart right now.
What Is an Amethyst?
Amethyst is the purple variety of quartz. It has been a staple in jewelry for several millennia. The name originates from the Greek "amethystos," which translates to "not intoxicated." The Ancient Greeks believed that the stone could ward off inebriation, leading affluent citizens to sip wine from amethyst glasses or sprinkle powdered amethyst in their wine. While amethyst can't actually keep you sober (we're dismayed to report), the stone was believed to have mystical powers for centuries.
According to historical accounts, Saint Valentin, the patron saint of love and marriage, wore an amethyst ring with Cupid engraved on it. Legend has it that Cleopatra was also a fan of the gemstone.
During the Middle Ages, the stone adorned the outfits of the British royalty and clergy, who considered it one of the most precious gemstones along with diamonds, emeralds, sapphires and rubies.
What to Look For in an Amethyst Engagement Ring
If you have decided to invest in an amethyst engagement ring, there are several things to keep in mind before you take the plunge.
Amethysts actually come in a variety of shades—from light violet to deep reddish and plum purple. Typically, amethysts with high color saturation are considered more valuable and are used in high end and designer jewelry. Regardless of the shade of purple you choose, pay attention to the evenness of the stone's color. If an amethyst is not properly cut and polished, it can have an uneven color or have "stripes" of other hues. Also, keep in mind that engagement rings with very dark amethysts can look black under certain light. Just like with diamonds, it's a good idea to work with a professional gemologist when selecting a stone, as they can spot inclusions (read: internal flaws) that may not be visible to the naked eye.
Amethyst ranks seven on the Mohs scale, which means it's durable enough for daily wear. That said, amethysts are not as scratch resistant as diamonds and sapphires. Also, the color of certain amethysts may fade if they are exposed to direct sunlight for an extended period of time. To prevent damaging your stone, store your amethyst engagement ring separately from your other jewelry in a dark place. When cleaning your ring, soapy water and ultrasonic treatments work best. Pro tip: Never steam clean your amethyst engagement ring, since high heat can damage the stone.
Amethyst Engagement Rings You Can Buy Now
Feeling an amethyst ring now? Shop some of our fave styles below.
Brilliant Earth Amethyst Willow Diamond Ring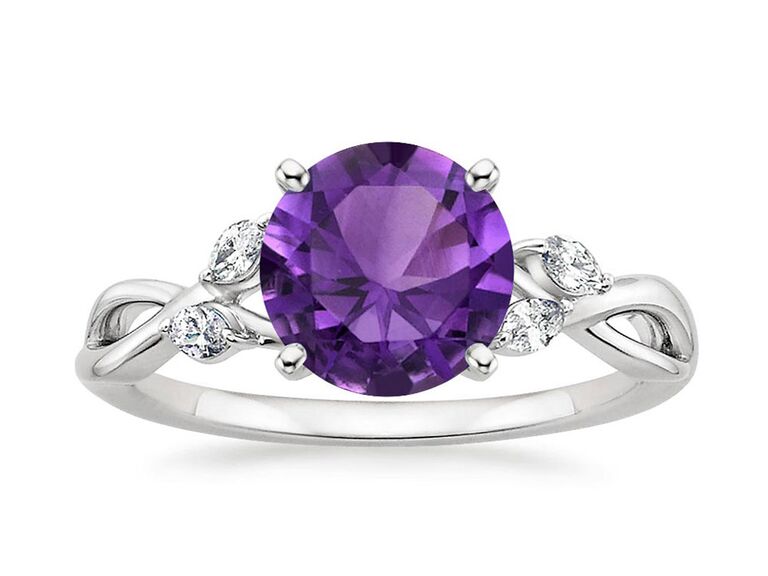 Delicate marquise diamonds flank a round-cut amethyst center stone in this nature-inspired 18K white gold engagement ring. Wispy vines give the overall design a whimsical feel.
Diamondère Eleazar Ring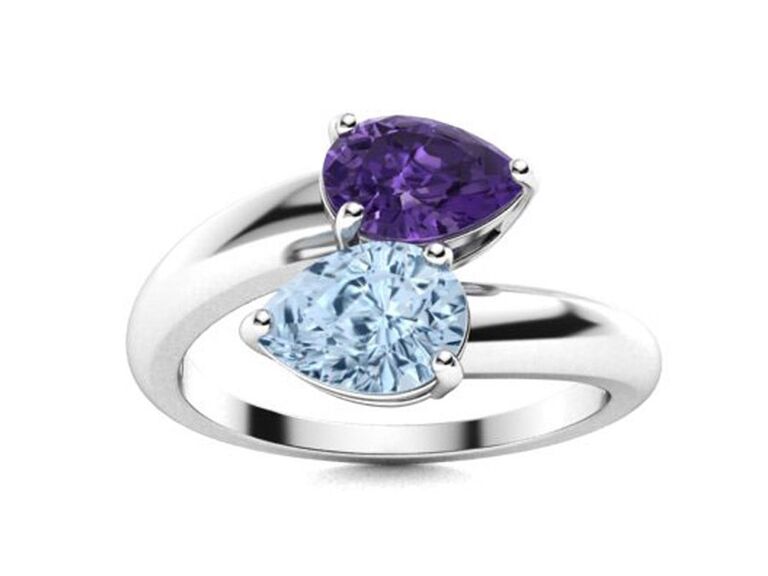 Toi-et-Moi rings are the epitome of romanticism which makes them the perfect engagement ring option. Two pear-cut amethyst and aquamarine stones are joined together in this beautiful 14K white gold engagement ring.
Marrow Fine Amethyst Pear Spray Ring
Nontraditional to-be-weds will love this asymmetrical amethyst and sapphire ring. The beautiful pear-shaped center stone is surrounded by kaleidoscopic accent stones, creating a stunning display of color.
Zales Oval Amethyst and 3/8 CT. T.W. Diamond Collar Split Shank Ring in 10K Rose Gold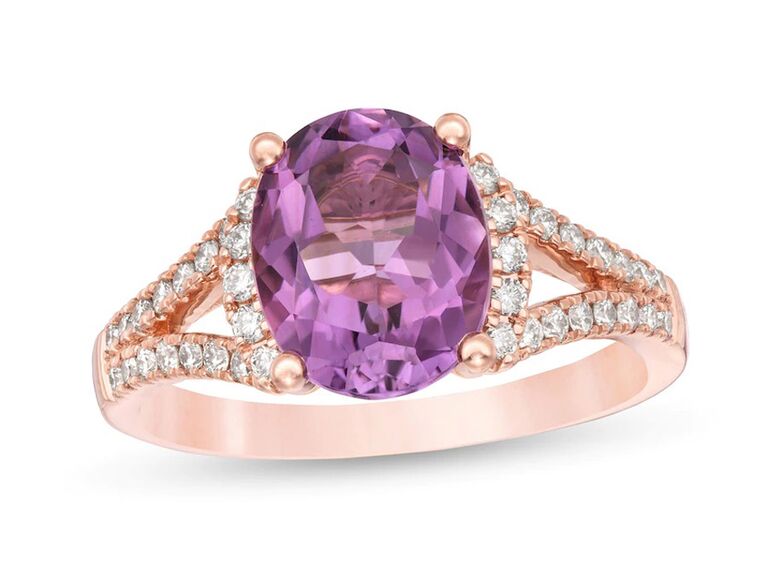 A diamond-encrusted split shank setting puts all the focus on a stunning oval-cut amethyst. A 10K rose gold band plays up the warm hue of the vibrant center stone.
Tiffany & Co. Hexagon Ring in 18K Gold With an Amethyst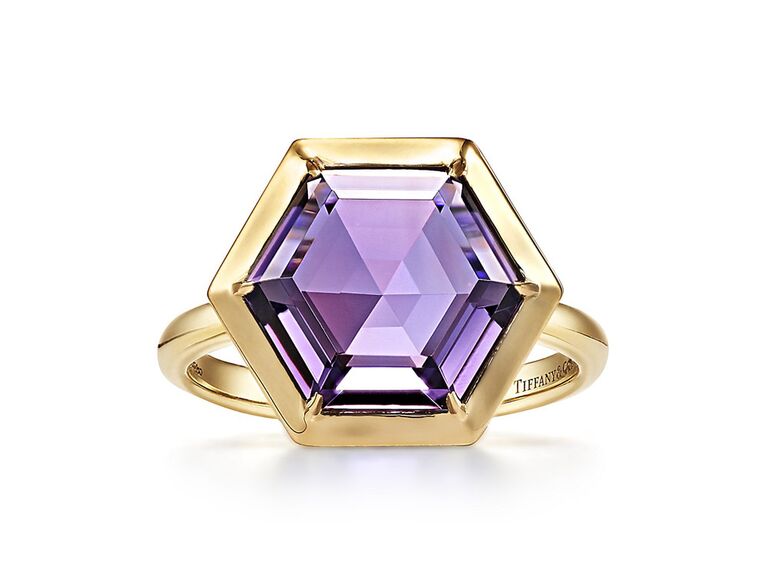 This ring is all about working the angles. A hexagonal center stone and complementary yellow gold halo make for an unapologetically modern sparkler.
David Yurman Châtelaine Ring With Amethyst and Diamonds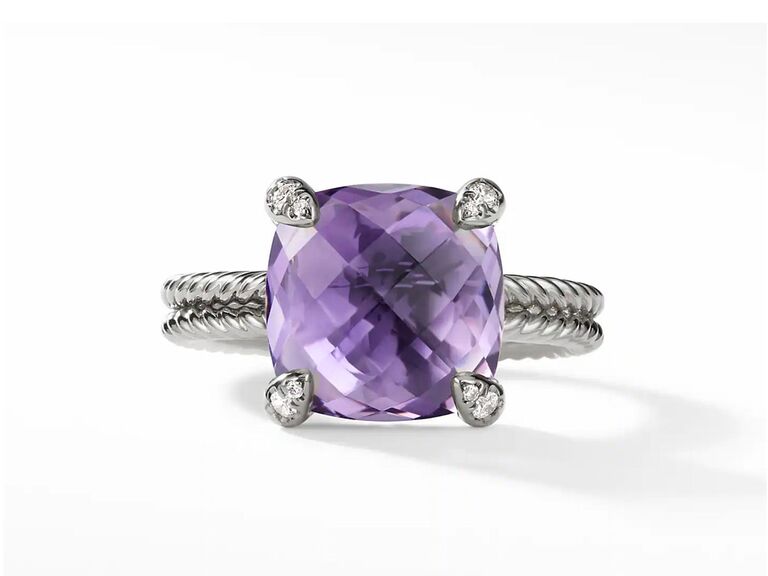 This solitaire ring features an amethyst center stone in a diamond-encrusted prong setting. David Yurman's signature braided sterling silver band gives this colorful ring a more classic vibe.
Brilliant Earth Amethyst Fortuna Ring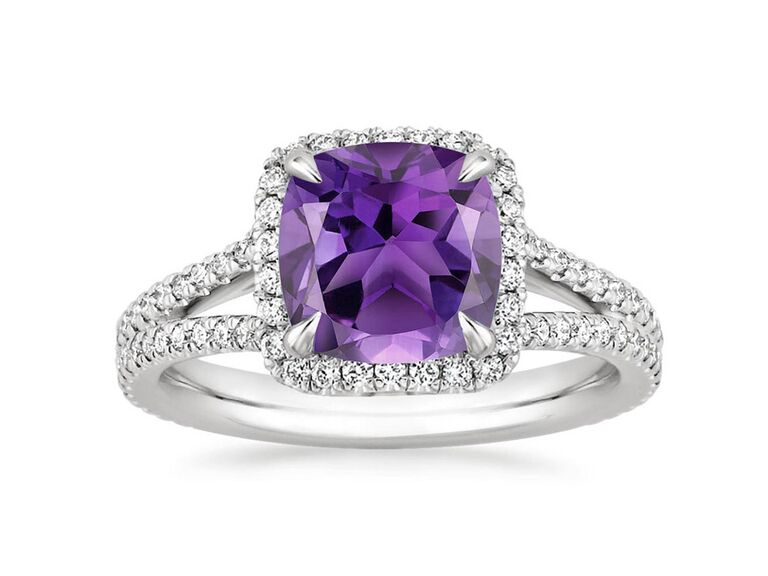 Bring on the bling. More than one hundred sparkly pavé diamonds surround a cushion-cut amethyst in this dazzling halo engagement ring.
EFFY Collection Lavender Rosé Amethyst (5-3/4 CT. T.W.) and Diamond (1/5 CT. T.W.) Clover Ring in 14K Rose Gold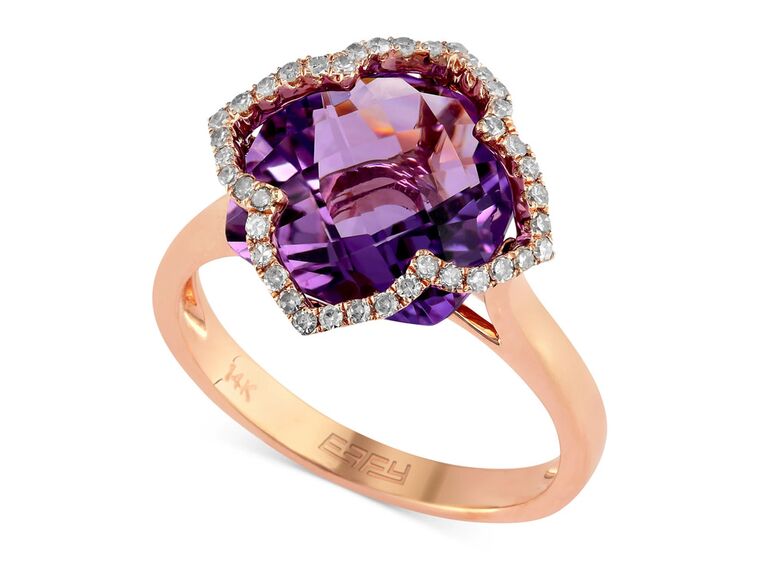 In the market for something unexpected? This unique ring features a gorgeous cushion-cut amethyst topped with a diamond-encrusted, clover-shaped motif in rose gold.
Natural Amethyst Ring Emerald-Cut 14K Rose Gold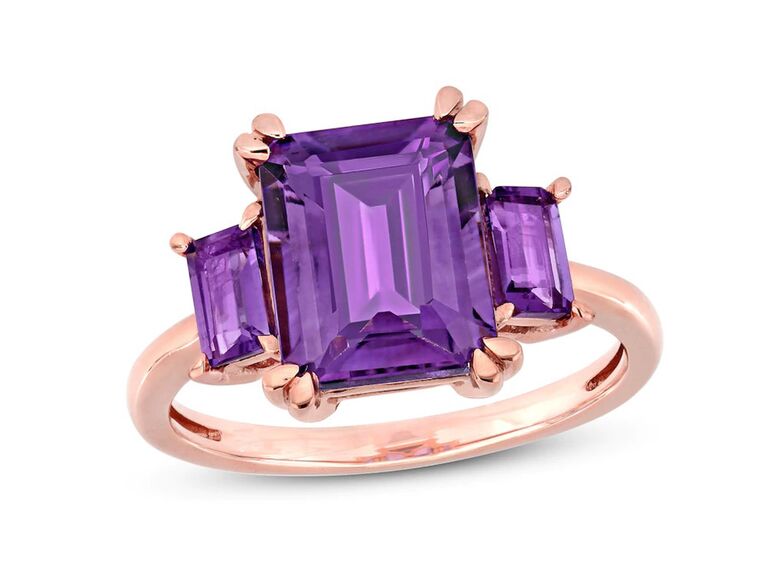 This romantic three-stone ring offers triple the color. Three emerald-cut amethyst stones give a time-honored setting a more modern feel.
Sarah Hendler Shirley 18K Yellow Gold Amethyst Ring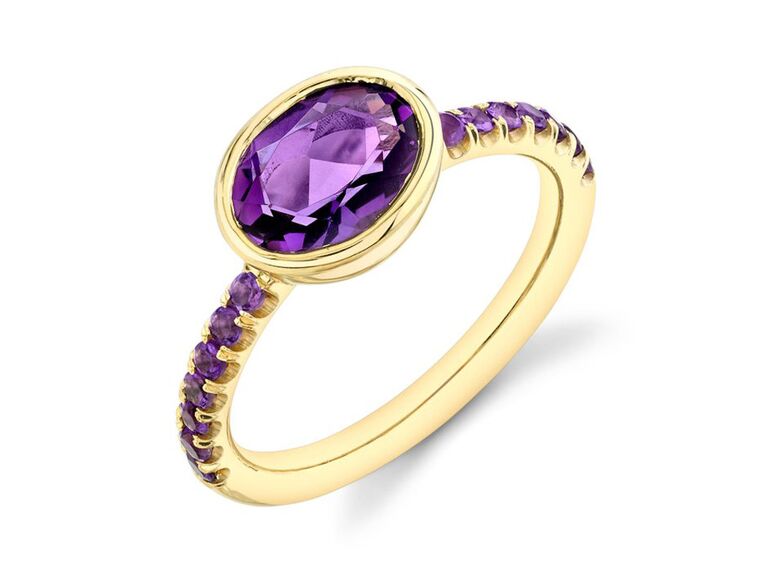 Here, a mesmerizing oval-shaped bezel-set purple amethyst is complemented by smaller gemstones set along the 18K yellow gold band. It's a sophisticated and ultra-modern look.
Blue Nile Emerald Cut Amethyst Ring With Diamond Halo in 14K Rose Gold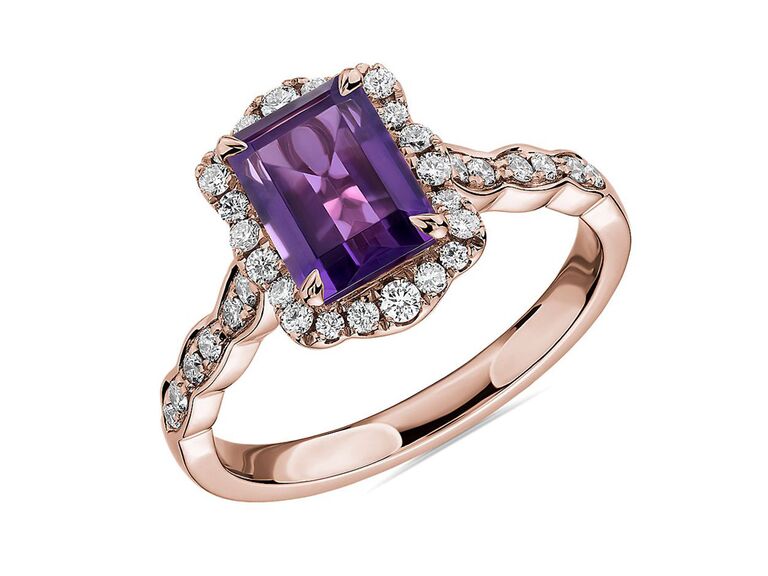 Calling all boho brides. This vintage-inspired sparkler with an emerald-cut amethyst center stone and rose gold halo has serious heirloom appeal.
Gemvara Julia Ring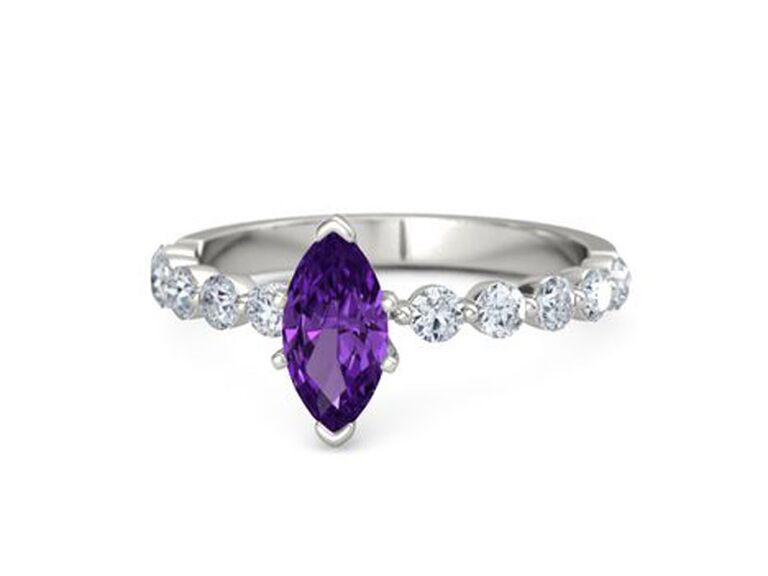 A solitaire setting doesn't have to feel traditional. A marquise-cut amethyst center stone plus moissanite accent stones make for one standout sparkler.
Zales Rose de France Amethyst Ring in 10K Rose Gold With Diamond Accents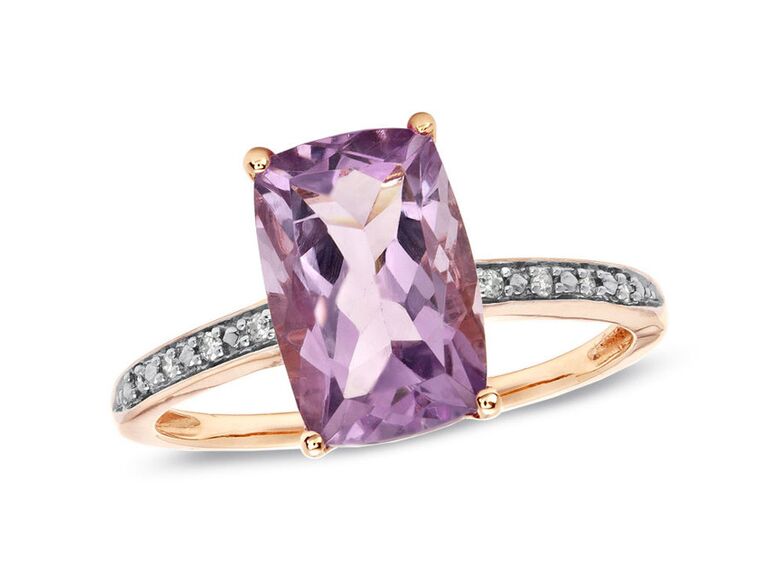 A gorgeous cushion-cut amethyst takes center stage in this 10K rose gold solitaire engagement ring. A thinner band with diamond accents puts all the focus on the stunning center stone.
Diamondère Joslyn Band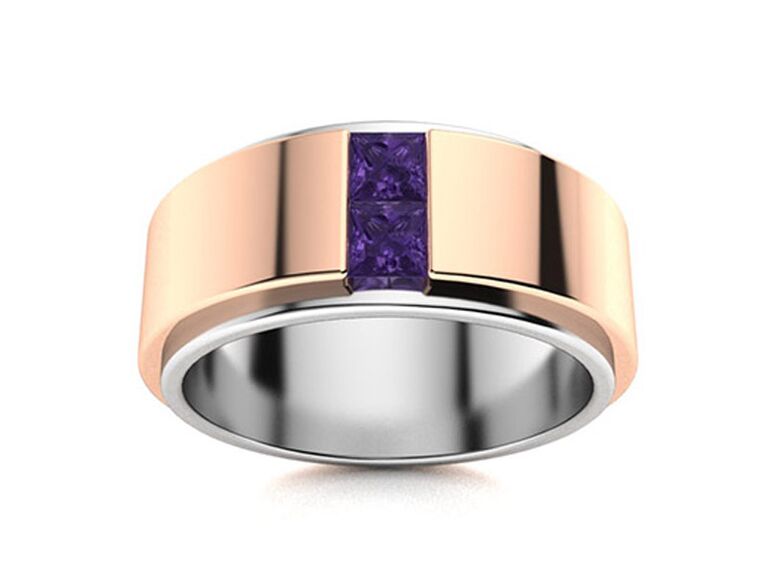 This bold two-tone wedding ring features a duo of princess-cut dark purple amethysts set in rhodium-plated white gold.
Allurez Amethyst and Diamond Twisted Bridal Set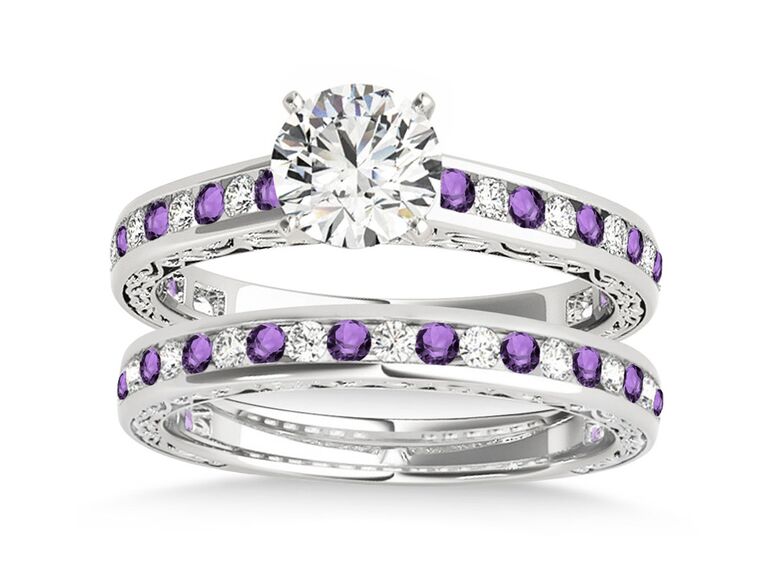 If you have your heart set on a diamond engagement ring but are also a fan of color, this could be the bling for you. A smattering of amethyst accent stones give this diamond engagement ring set some added flair.
Zales Emerald-Cut Rose de France Amethyst and Lab-Created White Sapphire Frame Ring 10K Rose Gold
If pastels are your thing, we've got you covered. The center stone of this halo ring is a Rose de France amethyst (read: a variety of amethyst that's a light lilac color) in a 10K rose gold setting.
Blue Nile Cushion Cut Amethyst Ring With Twisting Halo in 14K Rose Gold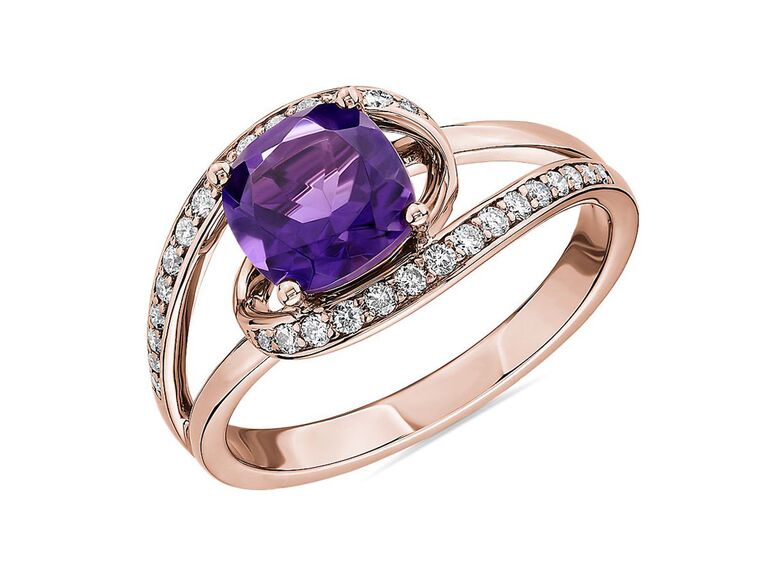 This stylish solitaire engagement ring is anything but expected. The stunning cushion-cut amethyst is set between the entwined ends of the split shank, for an abstract effect.
Effy Collection Pink Amethyst (13 CT. T.W.) & Diamond (3/8 CT. T.W.) in 14K Yellow Gold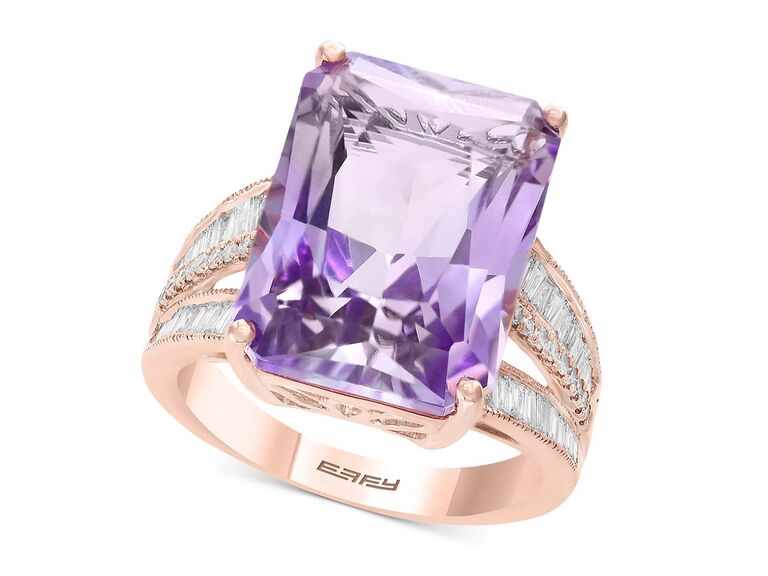 Sometimes more is more. Set in 14K rose gold, this 13-carat emerald-cut amethyst stunner is complemented by round and baguette-cut diamonds along the split shank.
Gemvara Slash Ring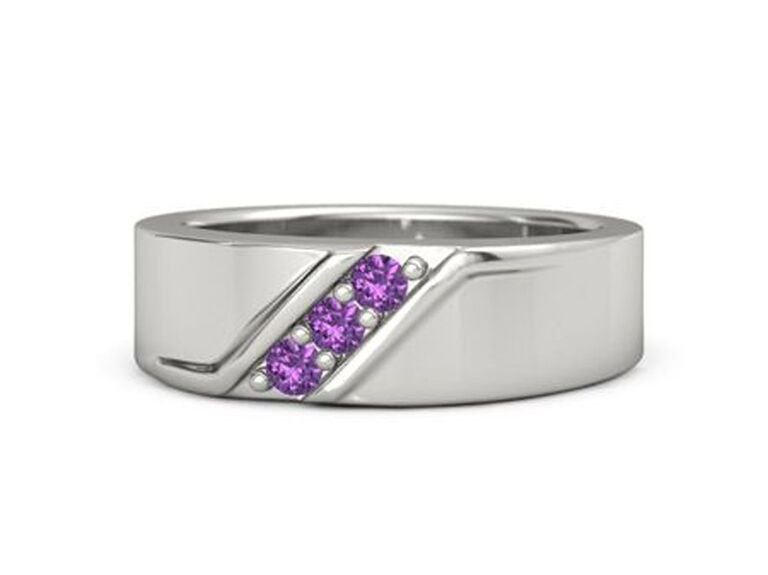 A classic platinum wedding ring houses a trio of diagonally-set round amethysts for a whimsical touch. Bonus: Gemvara's ring sizes run from 8 to 13 and come in quarter intervals for a precise fit.