24 Aquamarine Engagement Rings That Make a Splash
Commit to a lifetime of happiness with an engagement ring that features this gorgeous aqua-hued birthstone.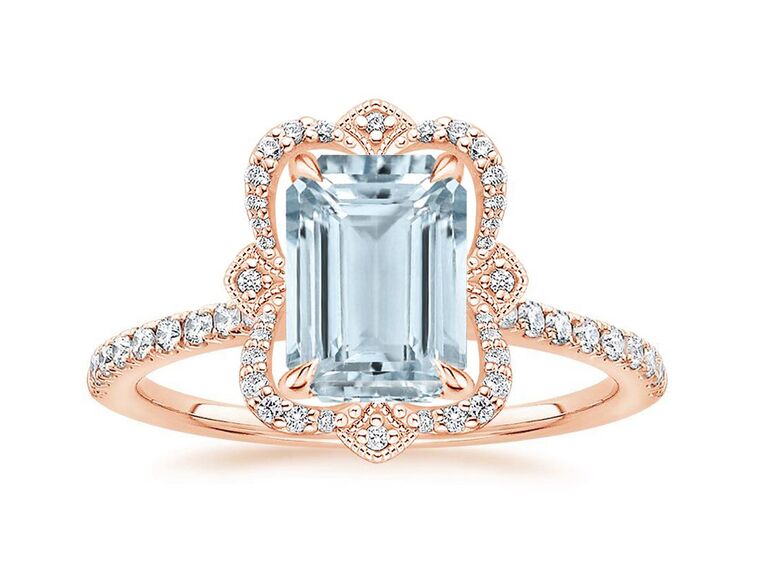 We have included third party products to help you navigate and enjoy life's biggest moments. Purchases made through links on this page may earn us a commission.
An engagement ring is forever, so it should have timeless style and plenty of character that makes it uniquely yours. That's what makes aquamarine engagement rings so popular among couples looking for beautiful, stand-out bling that won't go out of style. The gemstone's distinct blue color—a light greenish-blue—is stunning enough on its own as well as in combination with white diamonds or other gemstones. Even celebs are falling for aquamarine engagement rings. Jessica Biel's six-carat stunner, for example, features a diamond center stone flanked by aquamarines. What's more, the gemstone carries with it plenty of symbolism and historical significance.
Here's everything you need to know to choose the best aquamarine diamond engagement ring for you.
What Is Aquamarine?
Known as the "gem of the sea," aquamarine's name comes from the Latin phrase aqua marinus, meaning seawater. The light blue stone is part of the beryl family of gemstones that also includes emeralds.
Because of its distinct color—due to the presence of iron in its chemical composition—and transparency reminiscent of the sea, the ancient Greeks and Romans considered aquamarine a sailor's gem that could protect seafarers against shipwrecks and other perils. In modern day, those who have a special relationship with the ocean will surely appreciate the gemstone's connection to the seas. Fun Fact: According to one legend, the blue gemstone was also believed to be mermaid treasure.
Aquamarine has been a favorite of jewelers for thousands of years. It's especially popular as an engagement ring because it's associated with long relationships, harmony and clarity. It's also the birthstone of March.
What to Look For in an Aquamarine Engagement Ring
Not all aquamarines were created equal. In fact, there are even variations in its blue color. Aquamarines in deeper and darker shades of blue are considered more valuable than lighter blue ones because they're more rare.
It's also common practice for manufacturers to enhance the color of the gemstones by heating them. This treatment permanently changes the color of the stone without damaging it. Most mined aquamarines actually have a greenish-blue color, so some manufacturers heat the stones to remove the green tint. Pro tip: It's essential to purchase your engagement ring from a trusted seller who will disclose any additional treatments the stone may have been subject to.
Like diamonds, aquamarines can be cut into any shape, which is another reason the gemstone is so popular. Take a good look at the stone before buying the ring to make sure it is also correctly faceted.
And finally, look for any internal flaws or irregularities in the stone. Because of aquamarine's natural clarity, those shouldn't be difficult to spot even if you're not a pro.
Why Choose an Aquamarine Engagement Ring?
Aquamarines add a delicate splash of color to engagement rings making for a unique appearance. But looks aside, choosing this particular gemstone has a few practical benefits, too.
First, though it's a semi-precious gem, aquamarine is durable enough to withstand constant wear. It scores 7.5 to 8 on the Mohs hardness scale (a diamond is a 10), making it pretty resistant to scratches and breakage. Of course, you should still be careful not to hit it against hard surfaces, as you may chip it.
In terms of cleaning and maintenance, aquamarine doesn't require anything out of the ordinary. Just clean the ring with a soft cloth and soapy water, and take it to your jeweler once a year for a professional inspection and cleaning.
Aquamarine Engagement Rings You Can Buy Now
Ready to take the plunge? Shop some of our fave rings styles below.
Brilliant Earth Aquamarine Waverly Diamond Ring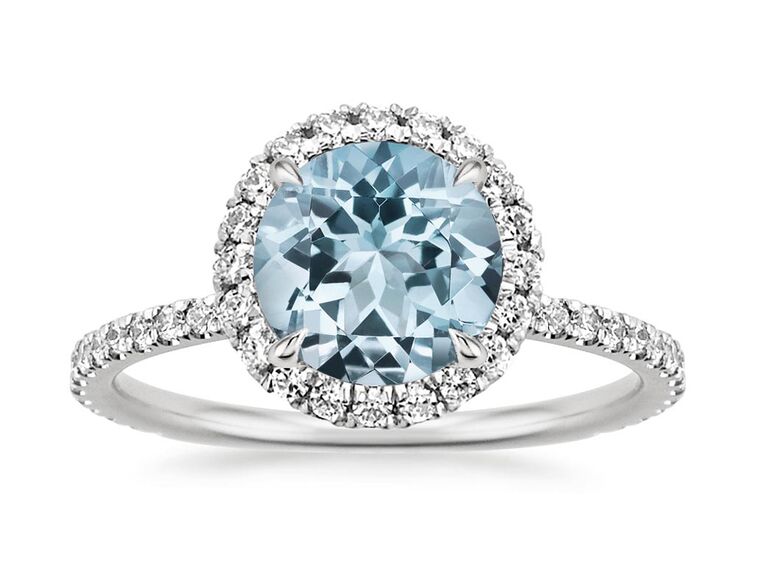 A timeless design with a twist, this gorgeous halo aquamarine engagement ring features a round aquamarine encircled by pavé diamonds, plus a diamond-encrusted band.
Tiffany & Co. Victoria Vine Ring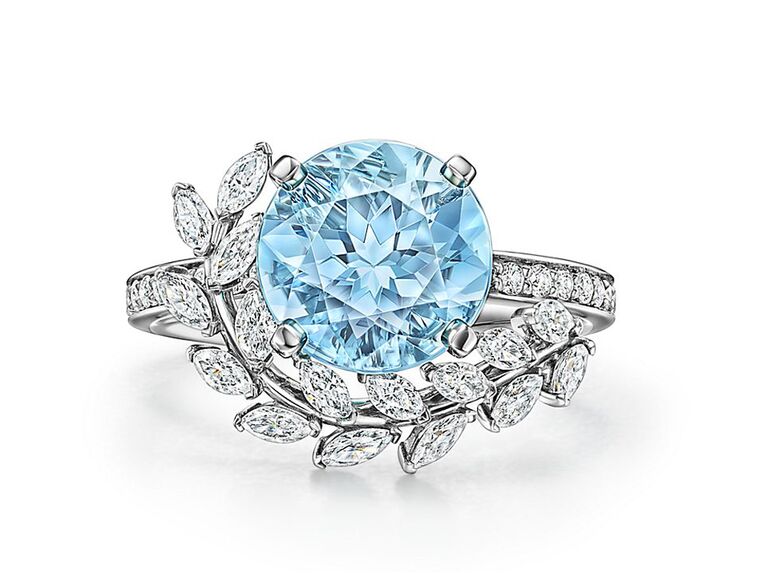 One word: stunner. A diamond-encrusted platinum band and organic vine motif of marquise diamonds make this aquamarine engagement ring an instant heirloom.
Jared Aquamarine Ring White Topaz 10K White Gold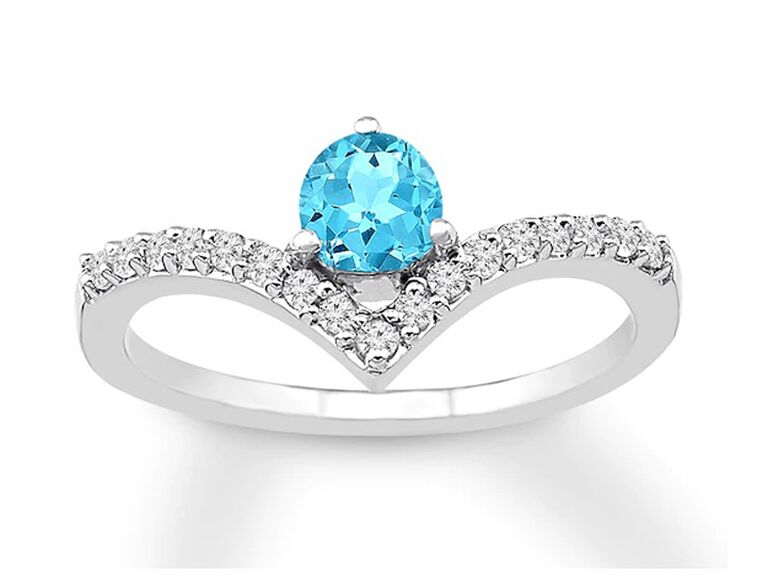 This nontraditional engagement ring is all about the avant-garde vibes thanks to a chevron-shaped white gold band encrusted with white topaz gemstones. The round-cut aquamarine is set in white gold prongs appears to float above the band.
Blue Nile Cushion-Cut Aquamarine Diamond Halo Cocktail Ring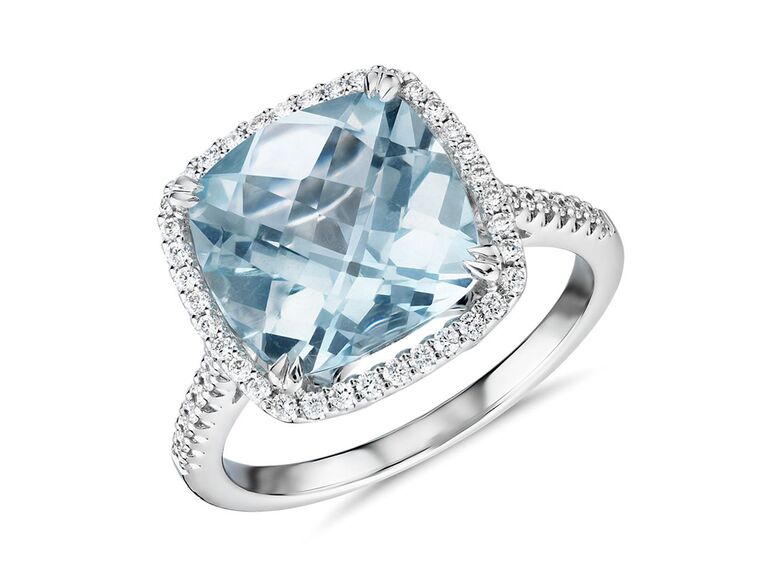 This blinged-out 14-karat white gold engagement ring won't go unnoticed. The cushion cut of the blue aquamarine stone is surrounded by shimmering pavé diamonds set on a diamond-encrusted band.
Zales Emerald-Cut Aquamarine and 1/10 CT. T.W. Diamond Ring in 14K Rose Gold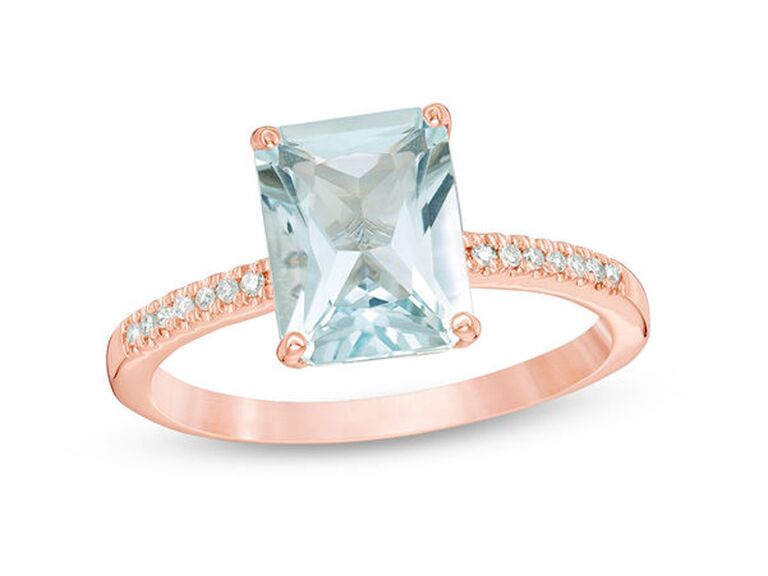 This beautiful aquamarine engagement ring brings the romance. The sparkly emerald-cut aquamarine stone sits atop a whimsical rose gold setting encrusted with white diamonds.
Joy Roze Fine Jewelry Baguette Aquamarine With Diamond Ring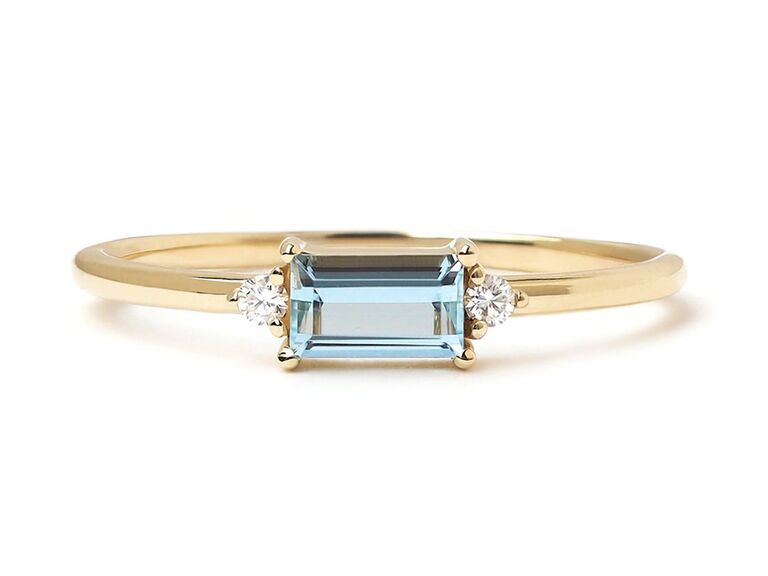 Bigger isn't necessarily better. This dainty aquamarine engagement ring has style in spades. The sky-blue aquamarine stone is set east to west and flanked by two radiant round white diamonds.
Gemvara Aquamarine Double Happiness Band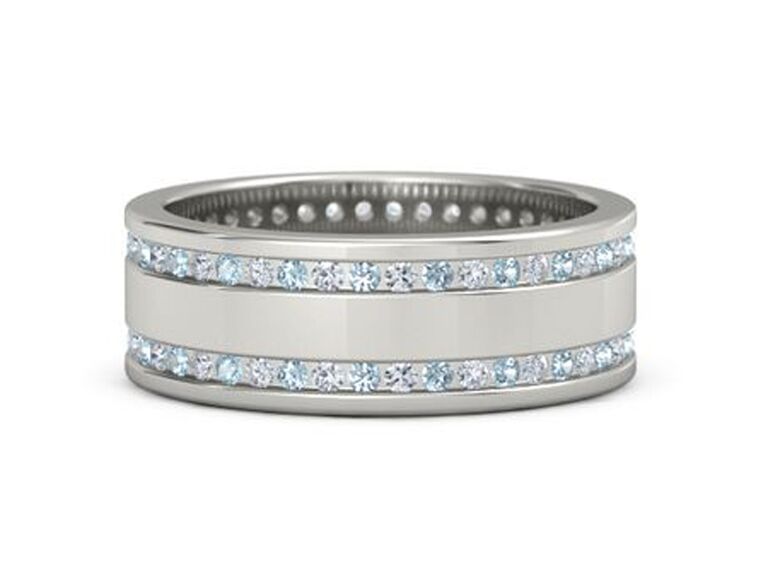 How gorgeous is this nontraditional engagement ring?! It features two rows of aquamarines and diamonds (88 in total, to be exact) as a symbol of two lives connected for eternity. The band is made from 14K white gold, but you can customize it in six more precious metals.
Brilliant Earth Aquamarine Petite Twisted Vine Halo Diamond Ring
This dazzling 18-karat white gold halo ring features an oval aquamarine surrounded by diamond pavé. The delicate vine-inspired design of the band makes this a standout choice for nature lovers.
Brilliant Earth Aquamarine Reina Diamond Ring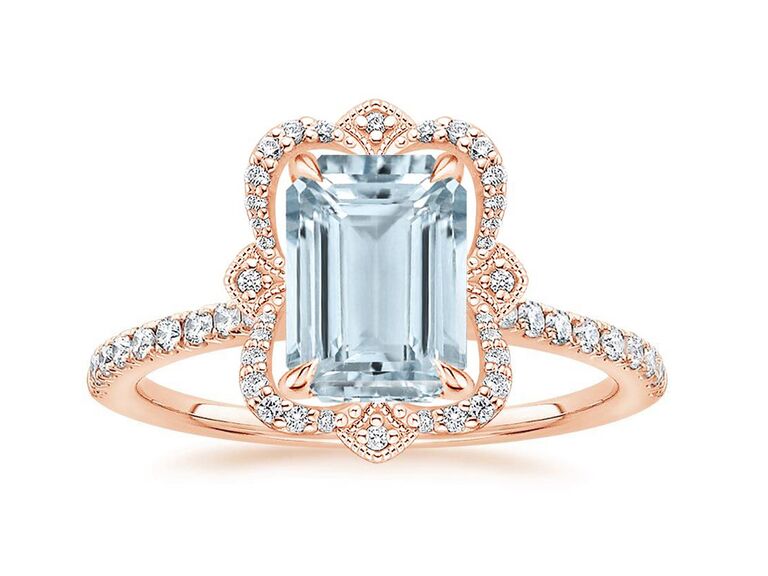 This opulent halo ring is fit for royalty. The central emerald-cut aquamarine gemstone is accented by an elaborate and elegant halo of round diamonds set in 14-karat rose gold.
Jared Aquamarine Ring 1/10 Carat TW Diamonds 10K Rose Gold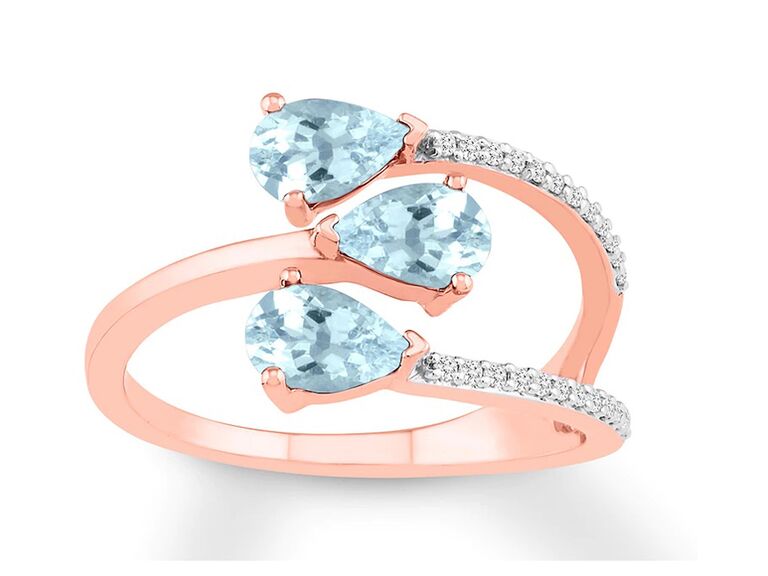 Why go for one rock when you can have three? This unique engagement ring features three pear-shaped aquamarines set in a deconstructed, open setting.
Diamondère Adorna Marquise-Cut Aquamarine Solitaire Ring in 18K White Gold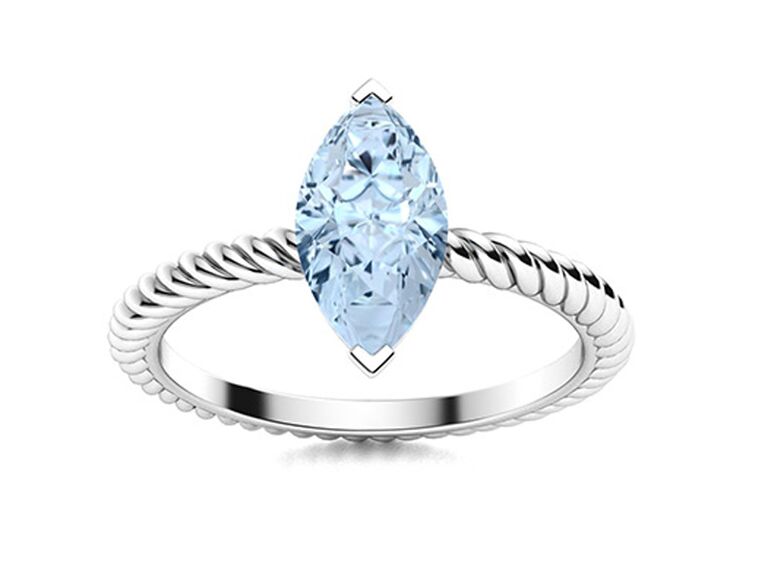 A single marquise-cut stone takes center stage in this white gold aquamarine engagement ring. It's set atop a twisted band for an ultra-modern look.
Angara Three Stone Emerald-Cut Aquamarine and Diamond Ring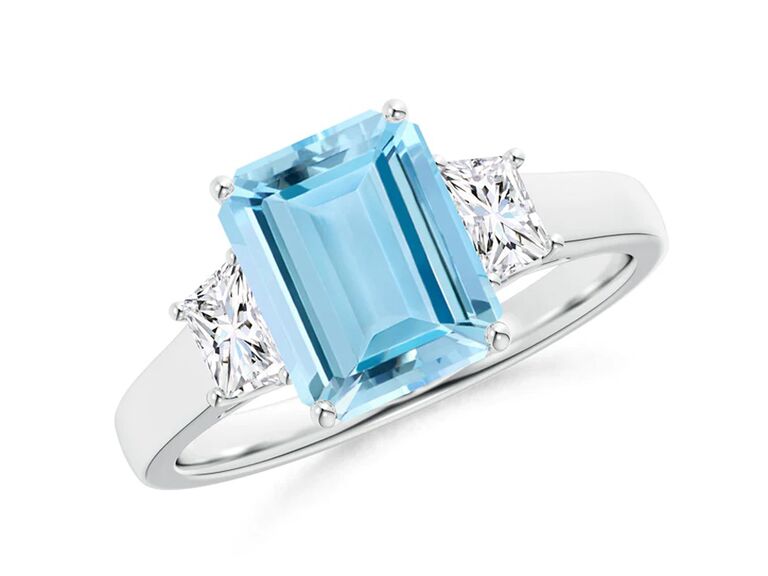 A traditional three stone setting with a colorful tilt, the emerald-cut aquamarine center stone of this stunning platinum engagement ring has a gorgeous, saturated blue color. It's complemented by a duo of trapezoid white diamonds for added sparkle.
Jared Natural Aquamarine Ring Diamond Accents Sterling Silver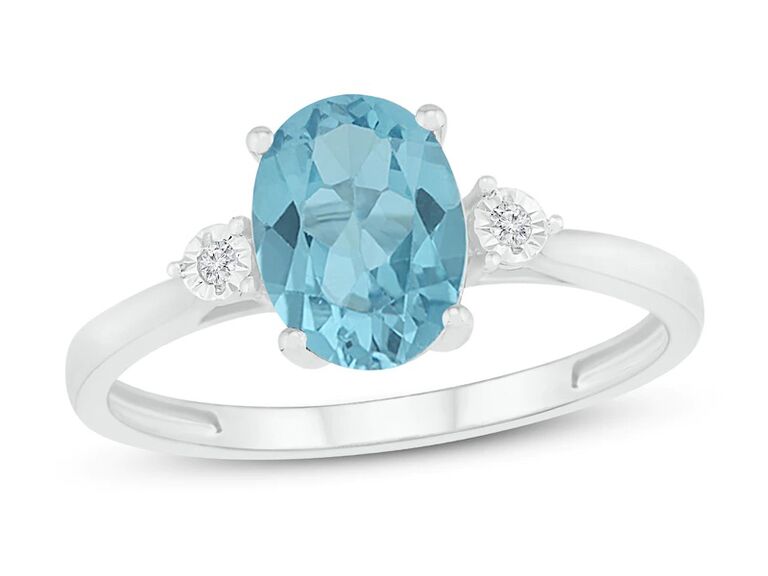 Equal parts trendy and timeless, this sterling silver engagement ring features an oval-cut aquamarine stone accented by two petite white diamonds.
Gemvara Mysteria Ring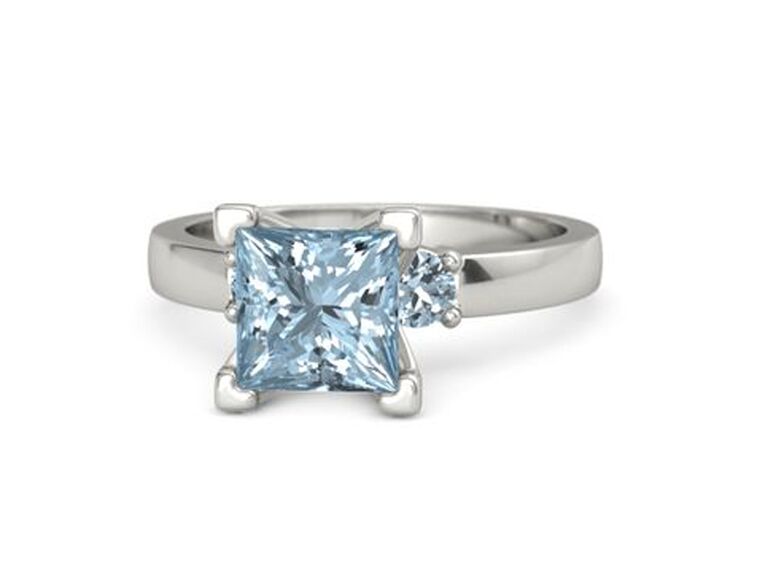 This aquamarine engagement ring is for the minimalist bride-to-be. This three-stone stunner features a princess-cut gemstone flanked by two more aquamarines set on a sleek platinum band.
Azeera Polished Kujji Men's Aquamarine Band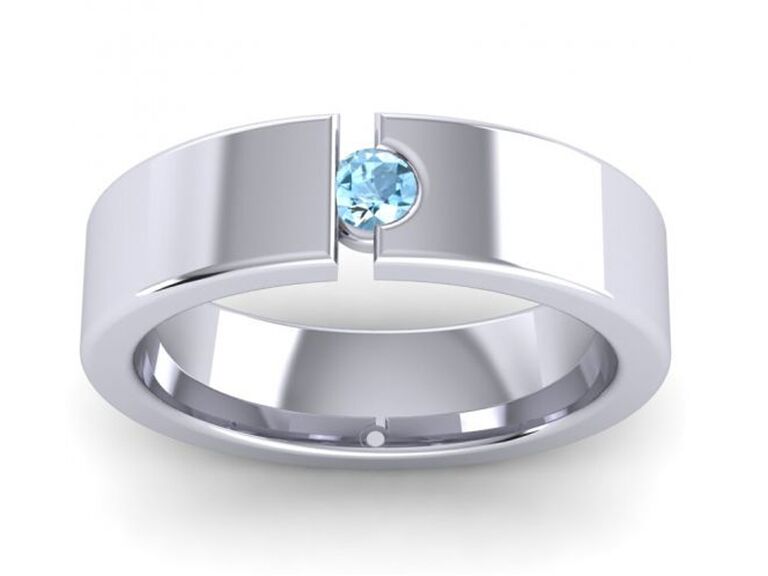 The focal point of this unisex engagement ring and wedding band is a beautiful round-cut aquamarine stone that can be customized in various shapes. The streamlined band comes in platinum and is available in seven other precious metals—plus a range of ring sizes.
Kay Jewelers Aquamarine Heart Ring 1/10 CT TW Diamonds Sterling Silver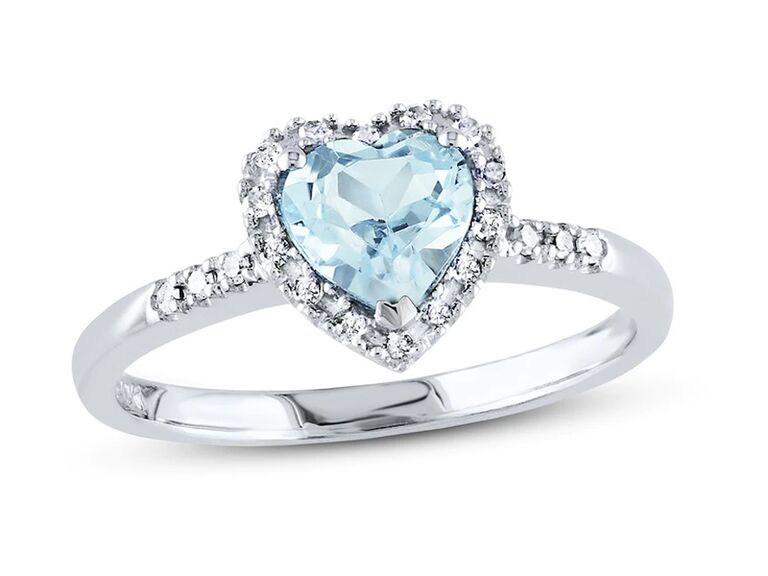 How romantic is this heart-shaped halo ring? Pavé diamonds give this sweet style some added sparkle.
Stone and Strand Teardrop Aquamarine Ring Set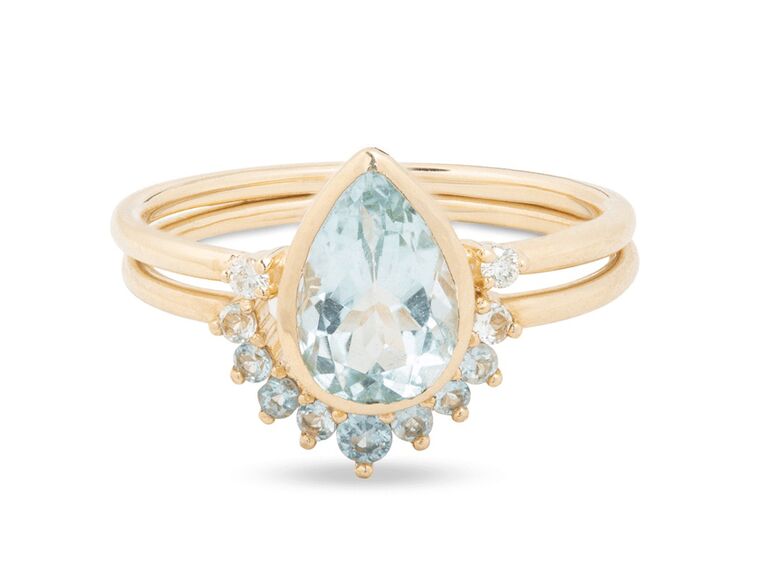 This stunning engagement ring set features a pear-cut aquamarine complemented by a tiara band with white and blue gemstones. The end result? A dazzling gradient effect made for the boho-glam bride.
Jared Natural Aquamarine Ring 3/4 CT TW Diamonds 14K White Gold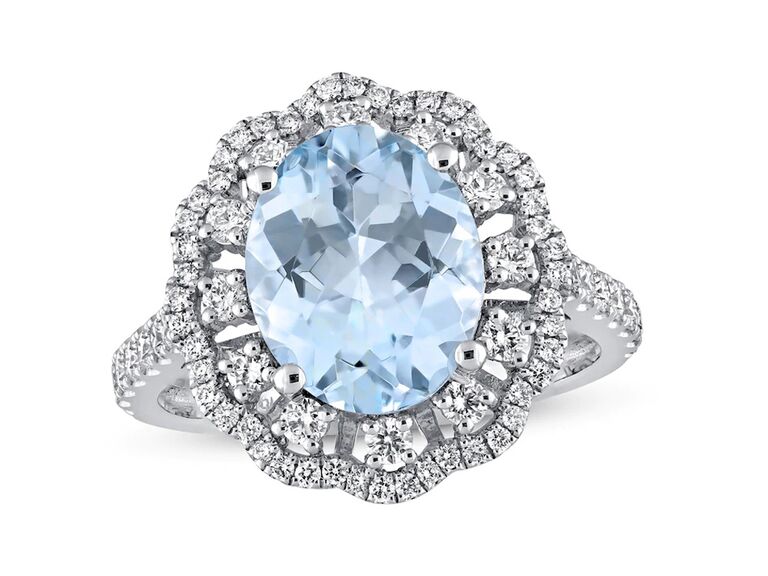 You can never have too much sparkle, and this cocktail-inspired aquamarine engagement ring is proof of that. A gorgeous aqua-hued oval-cut center stone is surrounded by two tiers of brilliant round diamonds. The floral-inspired design is complemented by a 14-karat white gold band encrusted with even more diamonds.
Ashley Zhang Aquamarine and Sapphire Ring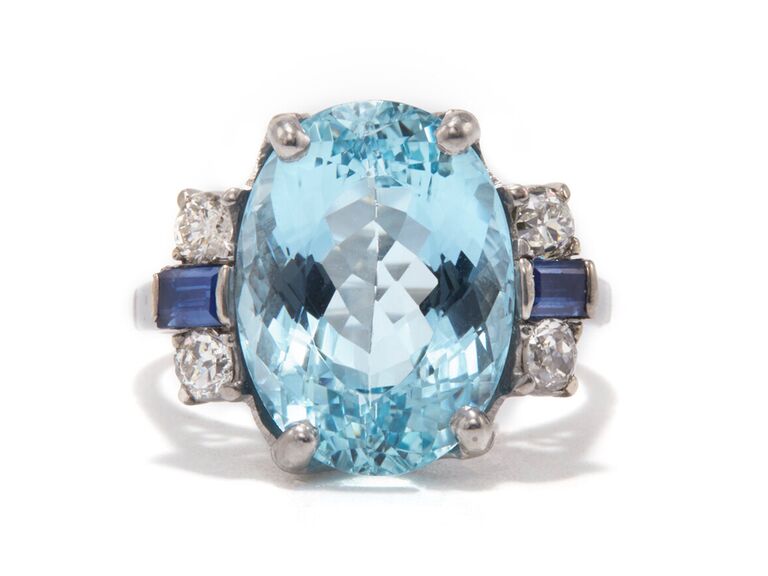 An antique from 1940, this engagement ring is truly one of a kind. Sapphire accent stones play up the gorgeous blue hue of a 7.6 carat aquamarine center stone.
Marrow Fine Aquamarine & Topaz Pear Toi et Moi Ring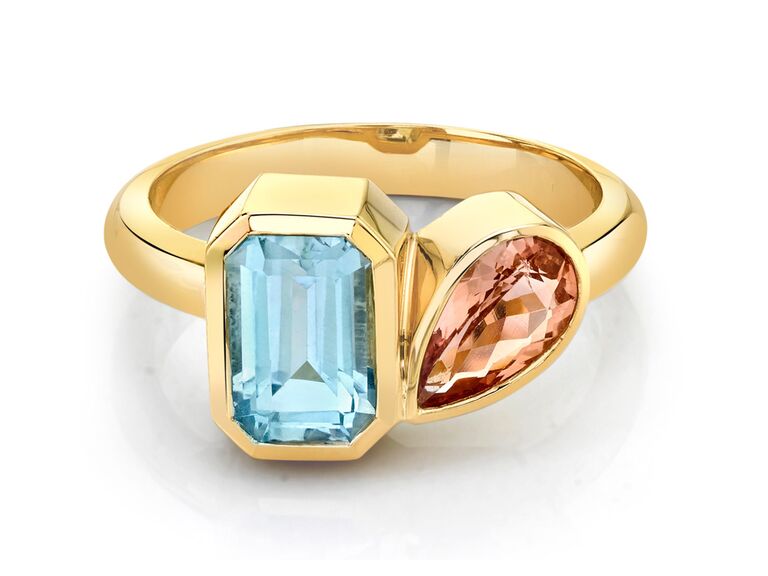 Toi et moi rings symbolize the love of two people joining their lives together. This one is designed with a gorgeous emerald-cut aquamarine and a pear-shaped topaz set on a gold band. Wear it with a simple yellow gold wedding band.
Irene Neuwirth Gemmy Gem 18-Karat Gold Aquamarine Ring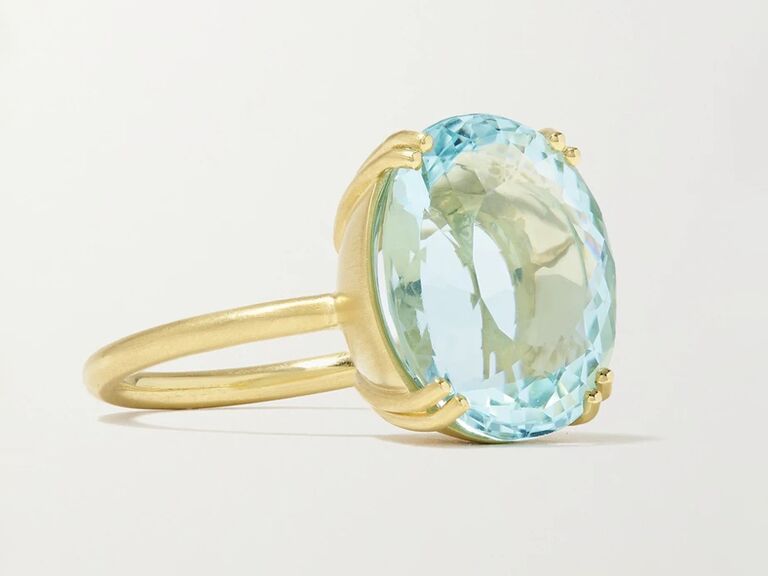 Another plus of aquamarine engagement rings? They tend to be less expensive than diamond ones, meaning you can get more carat weight for your buck. This 9.47 carat center stone is sure to turn a few heads.
Brilliant Earth Aquamarine Nadia Diamond Ring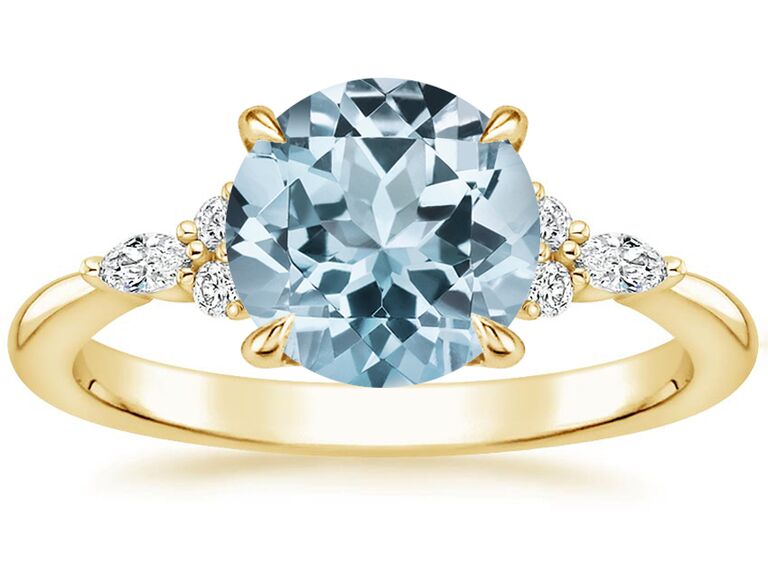 Calling all boho brides. This round cut aquamarine center stone is accented by a cluster of marquise-shaped diamonds and set in yellow gold for a stunning contrast. Bonus: It's also available in white, rose gold and platinum.
Jared Natural Aquamarine Engagement Ring 1/15 CT TW Diamonds 14K White Gold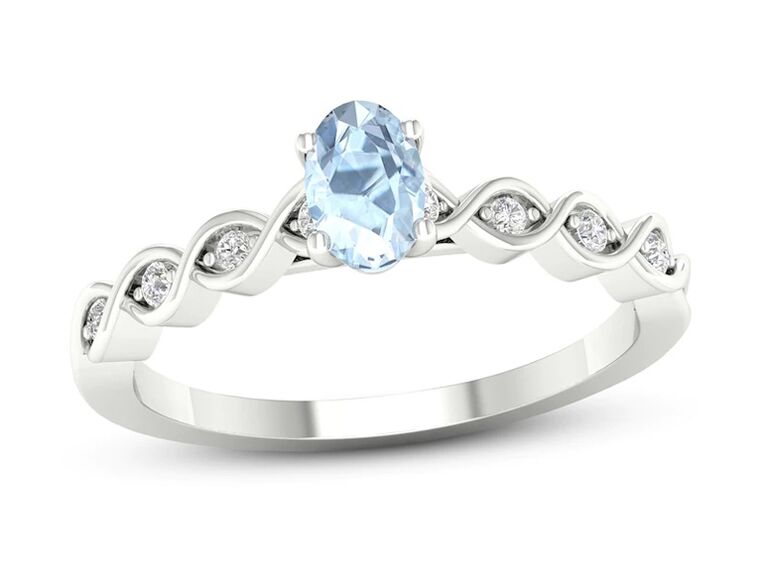 This ring may be on the delicate side, but it packs quite the visual punch. It features an oval-cut aquamarine center stone and a white gold ribbon band, encrusted with diamonds. Layer it on with several mismatched bands for an eclectic bridal stack.
Ruth Tomlinson Aquamarine and Tourmaline Asymmetric Ring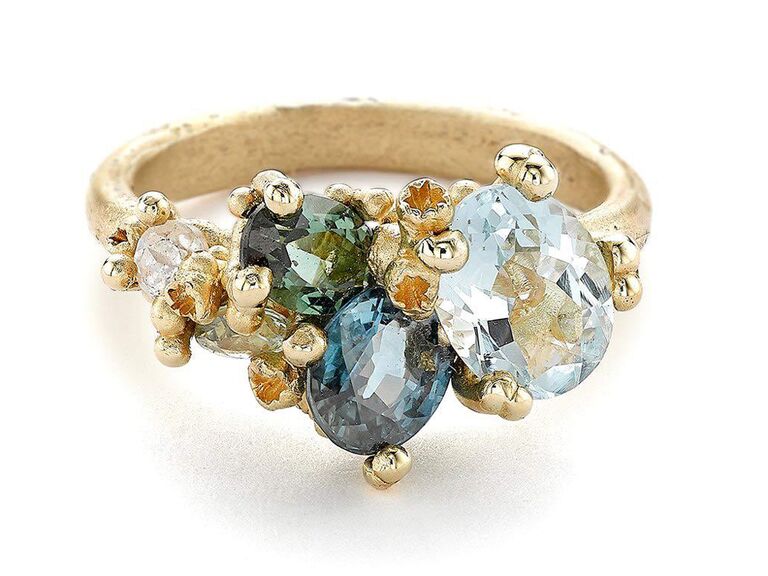 Cluster settings are a chic way to upcycle stones and a budget-savvy alternative to one large center stone. The combination of aquamarine, tourmaline and sapphires makes for an ethereal splash of color.