24 Stunning Tanzanite Engagement Rings
Available in a stunning range of blue hues, tanzanite sparklers are a beautiful break from tradition.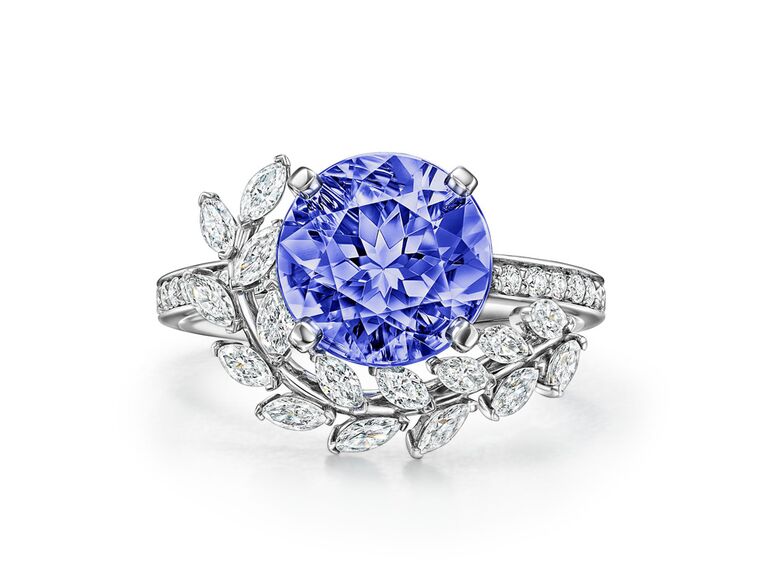 We have included third party products to help you navigate and enjoy life's biggest moments. Purchases made through links on this page may earn us a commission.
Tanzanite engagement rings have grown in popularity over the years. Not only does the stone come in a gorgeous variety of blue hues, but it also symbolizes new beginnings, prosperity and the hope for a bright future. It's no wonder that more and more couples are parting with tradition and opting for a splash of color and a dash of optimism as they embark on a new chapter of their lives.
And if you're thinking about choosing a tanzanite wedding ring, you're in good company. Rumor has it that Jay-Z bought a brilliant blue tanzanite ring for Beyoncé to commemorate the birth of their daughter Blue Ivy. Tanzanite jewelry is also frequently spotted on the red carpet—celebs like Kate Middleton, Anne Hathaway and Cate Blanchett are all fans of this gorgeous blue stone.
If you're looking to break with tradition without missing a beat, we've rounded up dazzling tanzanite engagement rings you can buy right now.
What Is Tanzanite?
Tanzanite is a blue and violet variety of the mineral commonly known as zoisite. While its less well known than that of other gemstones, the history of tanzanite is pretty interesting. Initially discovered in the 1960s by Maasai herders in the foothills of Mt. Kilimanjaro in Tanzania, the gorgeous blue stone was instantly lauded for its exceptional beauty and brilliance. Recognizing its potential early, Tiffany & Co. coined the name tanzanite and introduced it to the fine jewelry market in 1968. In 2002, tanzanite was added to the list of December birthstones, and today they are considered to be rarer than diamonds.
What to Look for in a Tanzanite Ring
While there is no universally accepted method of grading colored gemstones, there are some factors to consider when choosing a stone. When shopping for a tanzanite ring, you'll want to take a closer look at color and clarity.
Color
Tanzanite is a pleochroic gem, which means that you can see different colors when viewing the stone from different angles. Tanzanite stones are available in a wide variety of colors ranging from royal blue to soft lavender. Typically, stones that have a purple hue or deep blue tones are classified as higher quality and tend to be more expensive. When shopping for tanzanite, look for a stone with an even color throughout.
Clarity
When choosing a tanzanite center stone, it's important to check for inclusions (read: internal flaws) and blemishes (external flaws), which can make the stone appear cloudy. Additionally, be sure to check that your stone does not have fractured or chipped corners.
24 Tanzanite Engagement Rings You Can Buy Now
Feeling a tanzanite engagement ring now? Shop some of our fave ring styles below.
Kay Jewelers Tanzanite Engagement Ring With Diamonds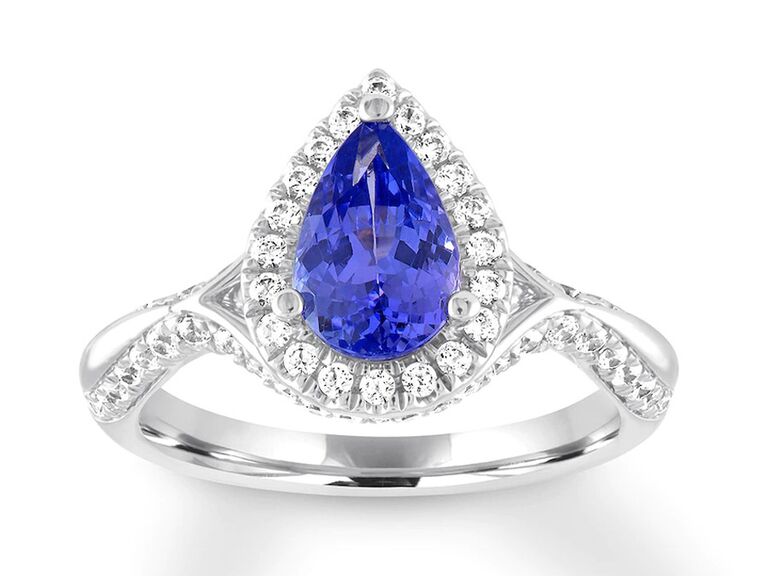 This ring features a pear-shaped tanzanite stone, framed with round diamonds for a jaw-dropping effect. Bonus: There are even more diamonds to be found along the edges of the tapered band, which boosts the total carat weight.
David Yurman Châtelaine Ring With Tanzanite and Diamonds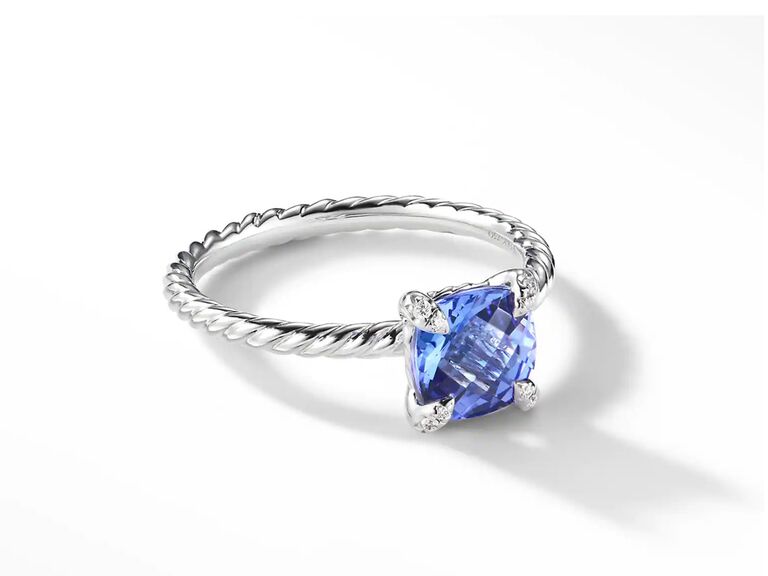 This ring is meant for the modern to-be-wed. Claw prongs secure a faceted tanzanite stone atop a braided band for a sleek, sculptural take on a gemstone engagement ring.
Gemvara Marquise Cut Candace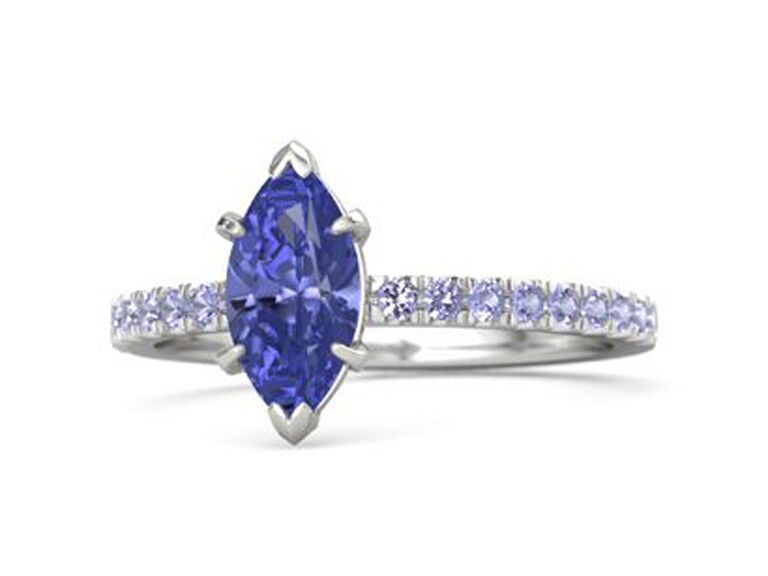 Bigger isn't always better. This dainty ring with a marquise tanzanite stone complemented by delicate accent stones has personality to spare.
Annoushka Marguerite Tanzanite and Diamond Engagement Ring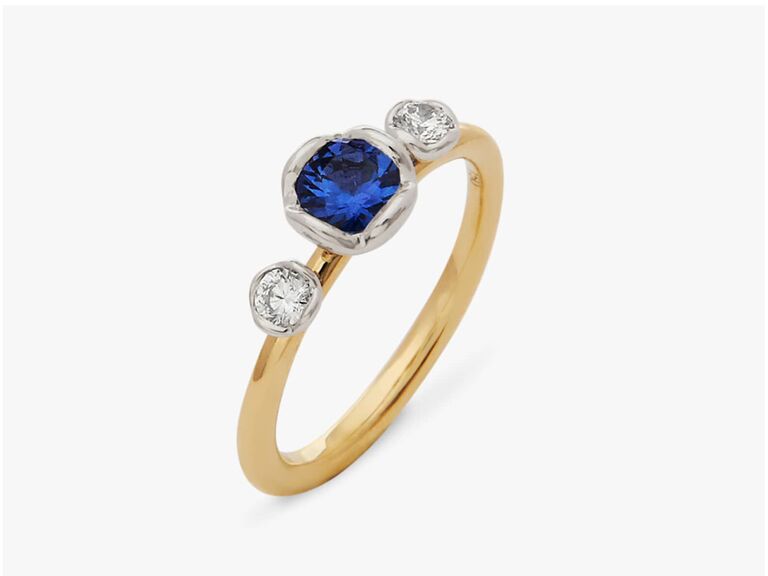 Flanked by diamond accents on both sides, this lovely ring features a 0.50-carat tanzanite center stone in a handset bezel setting. Crafted from yellow and white gold, this ring is perfect for daily wear, thanks to its protective setting and low profile.
Jared Natural Tanzanite Engagement Ring With Diamonds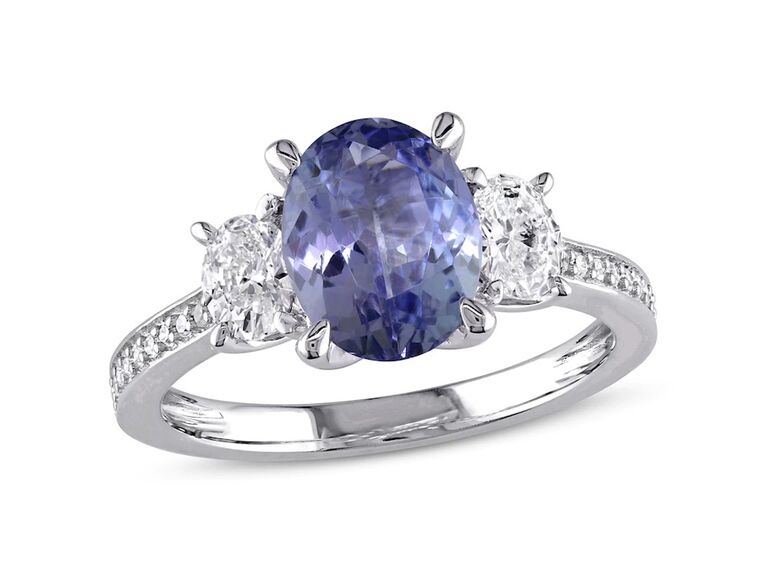 An unexpected take on a three-stone setting, this oval tanzanite stone flanked by two oval-cut diamonds is all about maximum sparkle. Even more shimmering round diamonds line the band for a totally luxe look.
EFFY® Tanzanite and Diamond Ring in 14K White Gold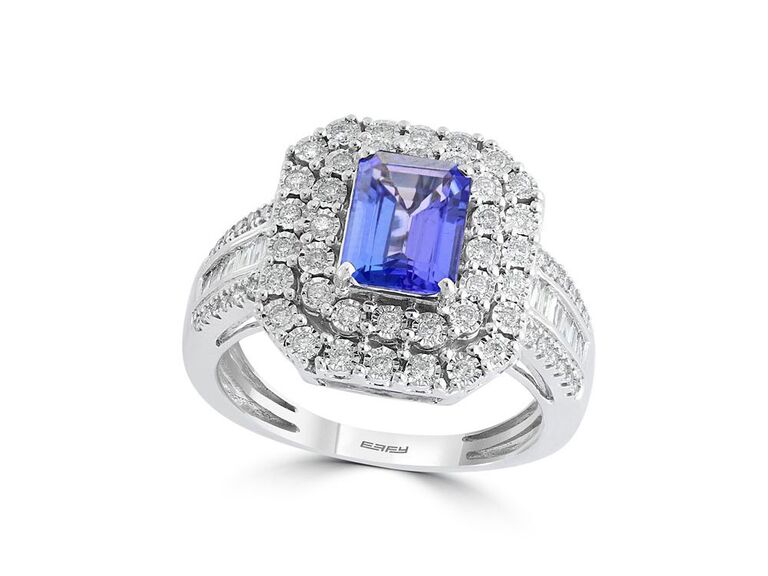 Featuring a deep blue emerald-cut tanzanite stone framed by sparkling diamonds, this design is positively dazzling. And just in case the double halo wasn't enough bling, this ring also features round diamonds and diamond baguettes along the shank.
Bellini Tanzanite and Diamond Ring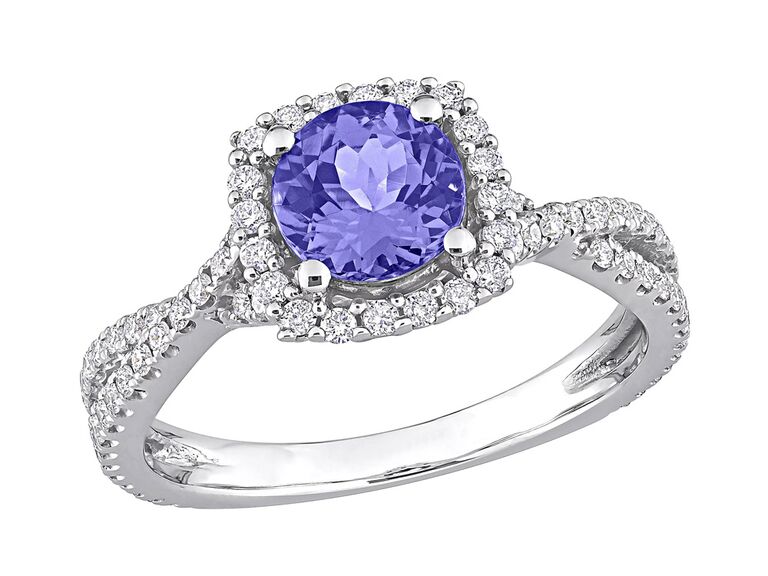 It's all in the details. A sparkling diamond halo and twisted shank set off the light purple hue of the tanzanite center stone.
Kay Jewelers Tanzanite Three-Stone Ring With Diamonds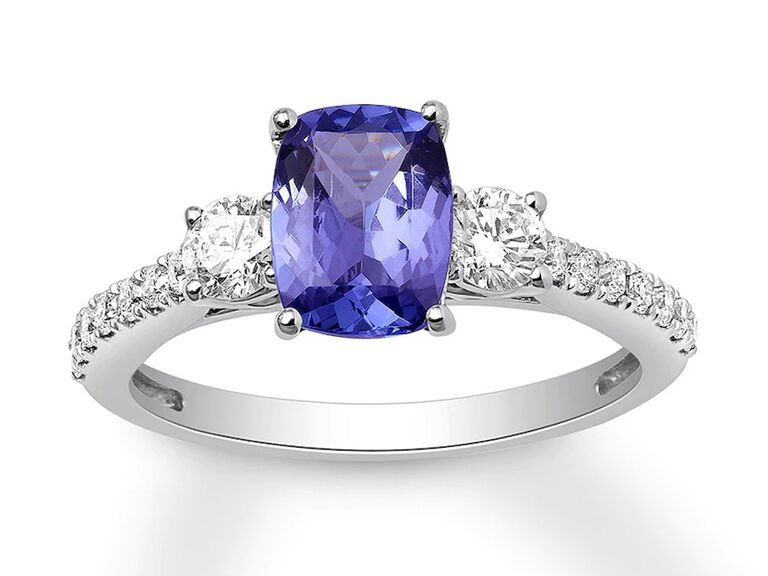 This three-stone ring is the definition of glitz and glamour. Round-cut diamonds surround a gorgeous cushion-cut tanzanite stone, and even more line the band for a dazzling effect.
Tiffany & Co. Paloma's Studio Hexagon Ring With Tanzanite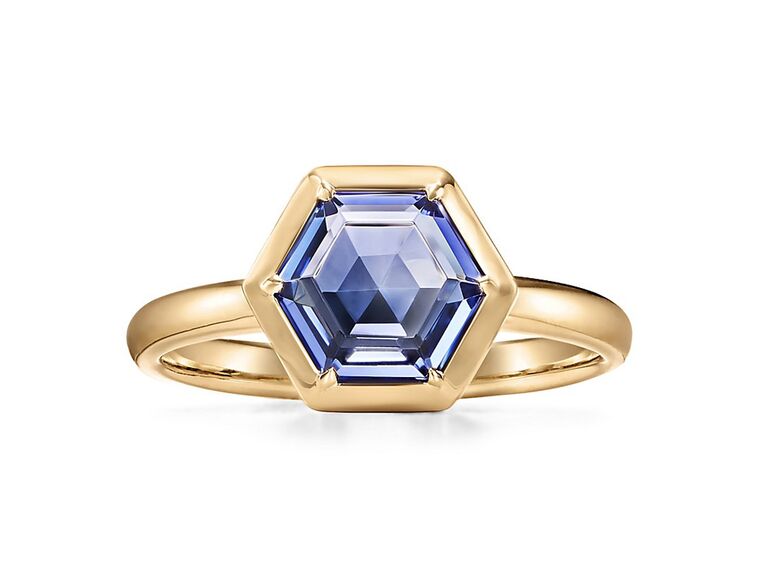 Feeling bold? The edgy combo of a hexagonal tanzanite center stone, bezel setting and velvety yellow gold are the makings of one standout ring.
Blue Nile Pear-Cut Tanzanite Ring in Rose Gold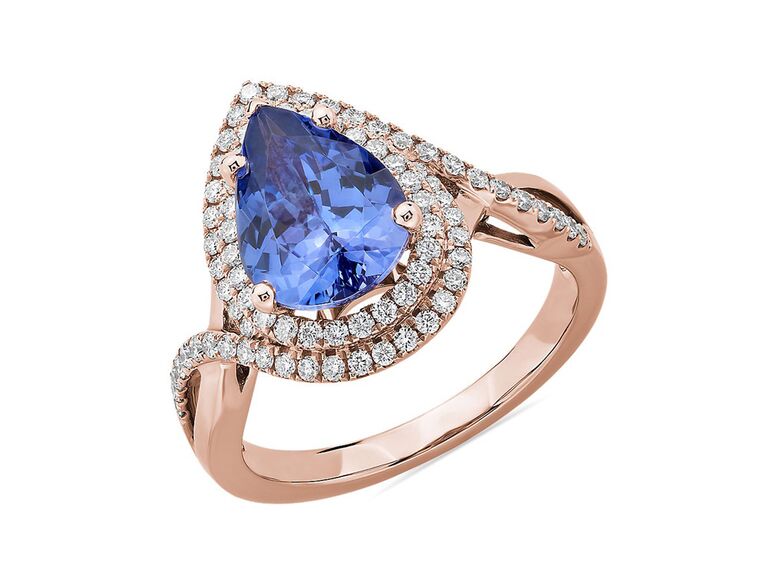 What's better than one diamond halo? Two. This rose gold ring features a pear-cut tanzanite stone surrounded by two rings of sparkling pavé diamonds.
Gemvara Princess Cut Lara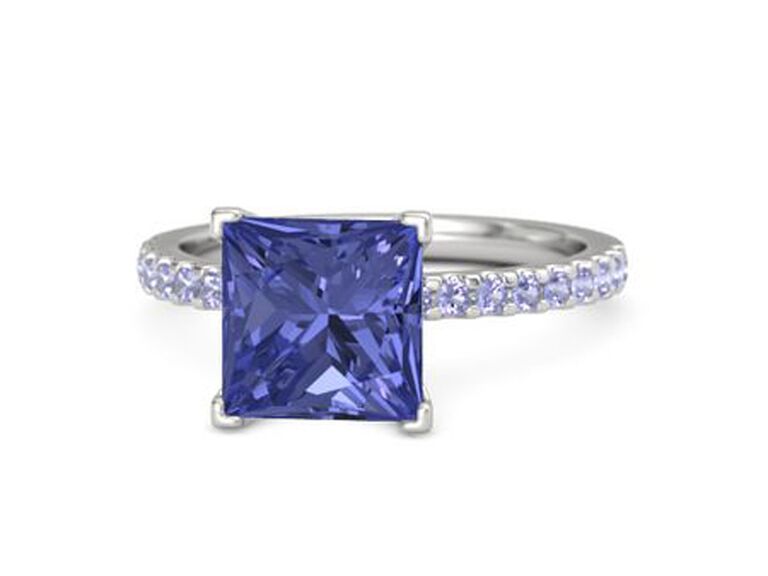 If you're feeling a ring with lots of personality, consider a colored center stone with matching accent stones. Even better, this design is fully customizable, so you can change everything from the center stone to the metal to the accent stones.
James Allen White Gold Oval Halo Tanzanite And Diamond Ring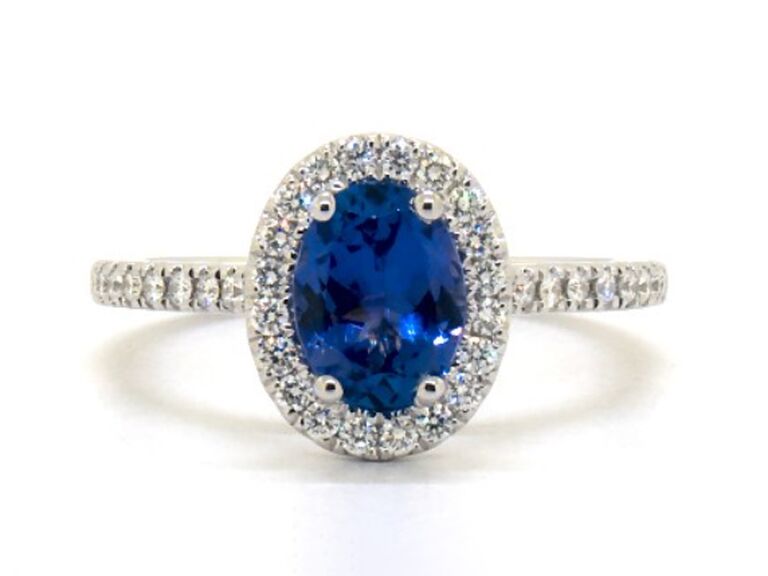 If you're in the market for a more affordable alternative to a sapphire engagement ring, consider going with a budget-friendly tanzanite option. This captivating style features an oval tanzanite center stone with a diamond halo and band that's worthy of the royals.
David Yurman Châtelaine Pave Bezel Ring With Tanzanite and Diamonds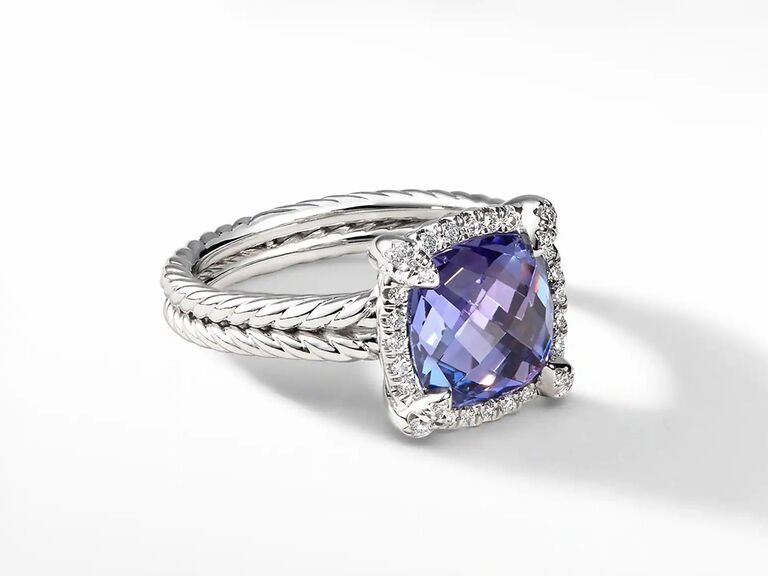 Jewelry wizard David Yurman always delivers, and this solitaire ring from the Châtelaine collection is no exception. This one-of-a-kind sparkler marries a faceted tanzanite stone with a diamond halo and signature braided setting.
Enchanted Disney Ariel Oval Tanzanite and Diamond Double Frame Engagement Ring
Any bride will feel like royalty with this dreamy ring. Inspired by The Little Mermaid, this ring is a bold yet beautiful combination of tanzanite and diamonds. An oval, violet-blue tanzanite set in rose gold and framed in dazzling diamonds, this ring is simply mermazing.
Barkev's 3.5 Carat Oval Tanzanite Ring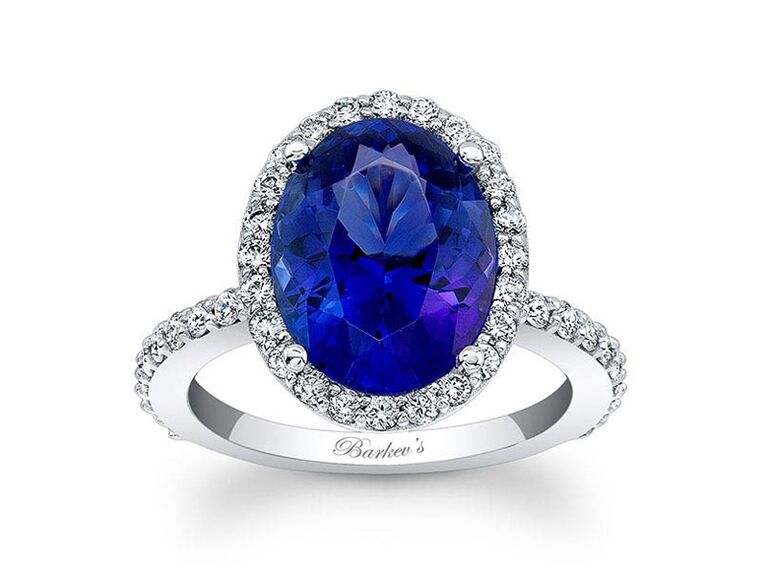 It's a stunner. This ring is beautifully crafted with an oval tanzanite surrounded by a halo of diamonds that also cascade down the shank. Even better, this ring is customizable, so you can opt for a 14-karat white gold, 18-karat white gold or platinum band.
Oval Tanzanite, White Sapphire and Diamond Vintage-Style Ring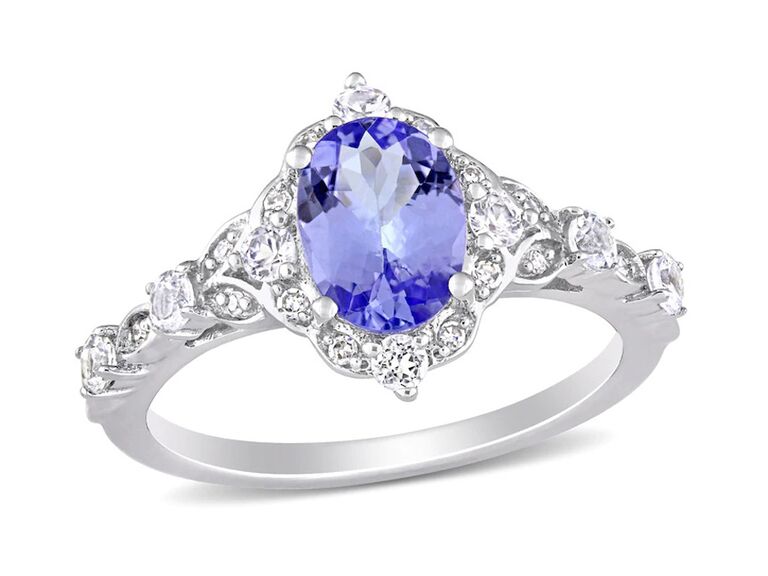 If you're an old soul, this could be the ring for you. An elegant combination of tanzanite, white sapphire and diamonds, this vintage-inspired sparkler is all about opulent details. Sapphires and diamonds alternate down the shank, and a stunning oval tanzanite stone sits elegantly at the top like a jewel in a crown.
Blue Nile Emerald-Cut Tanzanite Ring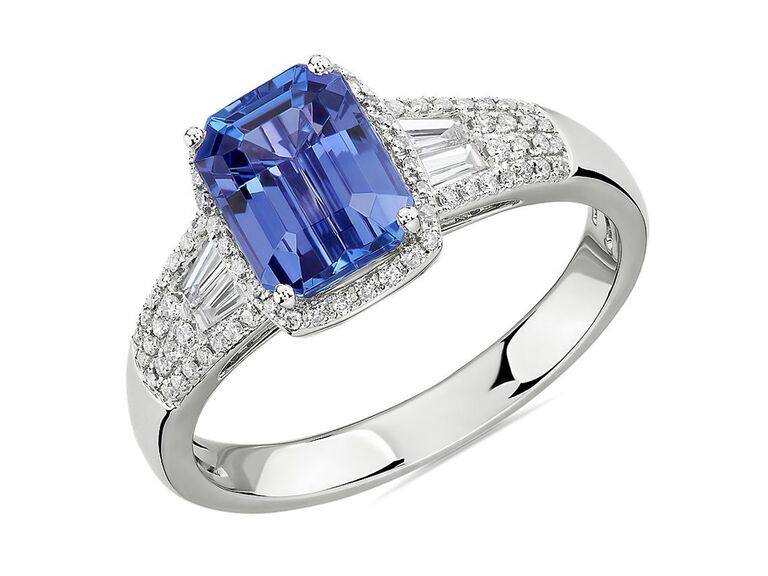 Accented by baguette side stones and framed in round-cut diamonds, this emerald-cut tanzanite is the star of the show. Another plus? If tanzanite isn't your bag, this setting is available with an emerald center stone as well.
Affinity Gems Marquise Cut Tanzanite and Diamond Ring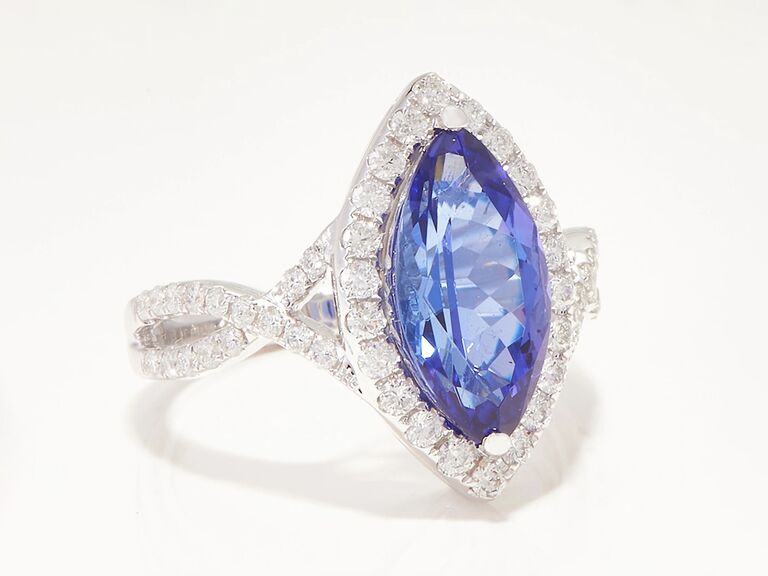 Marquise cut stones always make a statement, and this ring is no exception. Crafted from white gold, this ring features a gorgeous tanzanite center stone with a stunning halo of bead-set, round diamonds.
Enchanted Disney Ultimate Princess Tanzanite and Diamond Scalloped Frame Engagement Ring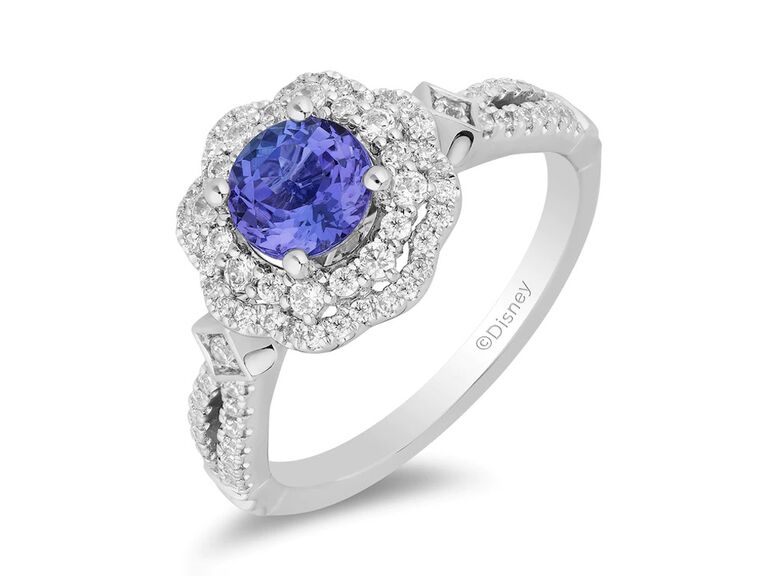 If you can't get enough of the Disney magic, this one's for you. Another gorgeous piece from the Enchanted Disney collection at Zales, this ring features a violet-blue, round tanzanite stone surrounded by a floral-inspired diamond halo setting.
Kay Jewelers Emerald-Cut Tanzanite Diamond Engagement Ring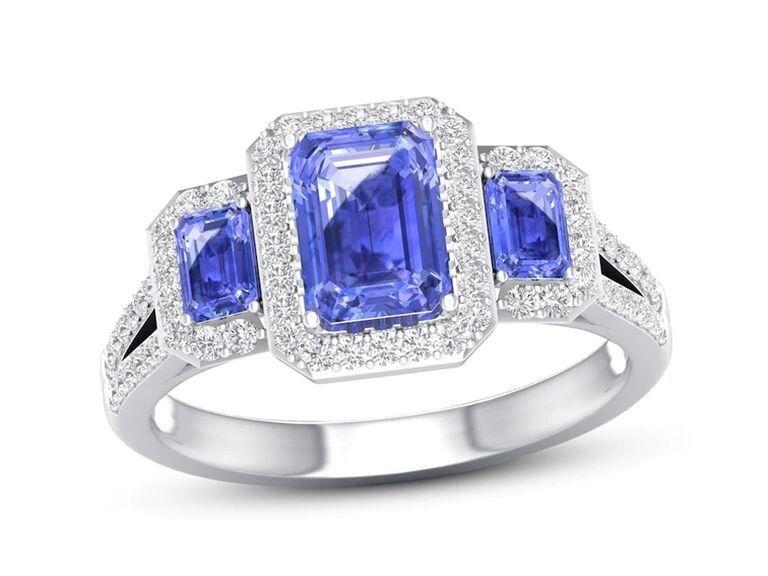 Sometimes more is more. Featuring three emerald cut tanzanite stones surrounded by diamond halos, this ring brings the maximalist vibes.
Enchanted Disney Ultimate Princess Tanzanite and Diamond Tilted Frame Engagement Ring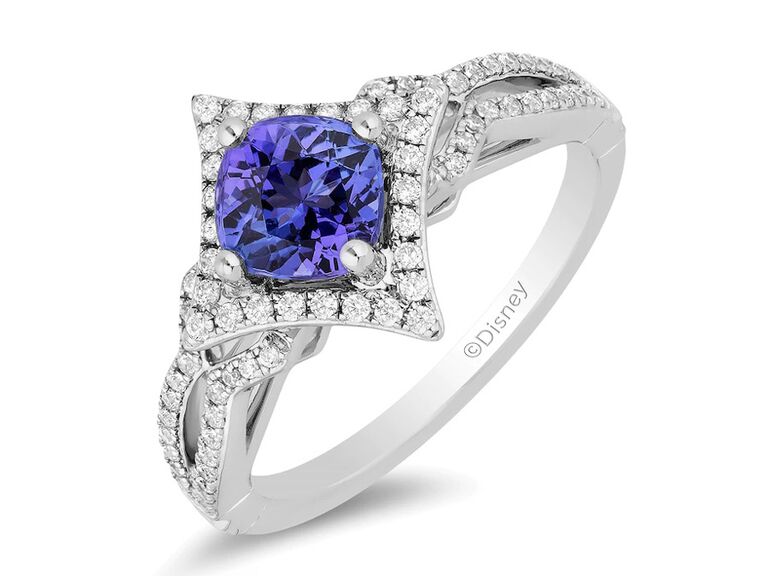 From the intricate design to the deep blue tanzanite stone, this ring from the Enchanted Disney collection is seriously regal. The cushion-cut tanzanite stone wrapped in a kite-shaped diamond-lined frame with even more diamonds on the collar and the shank, is fit for a queen.
QVC 14K White Gold Tanzanite and Diamond Ring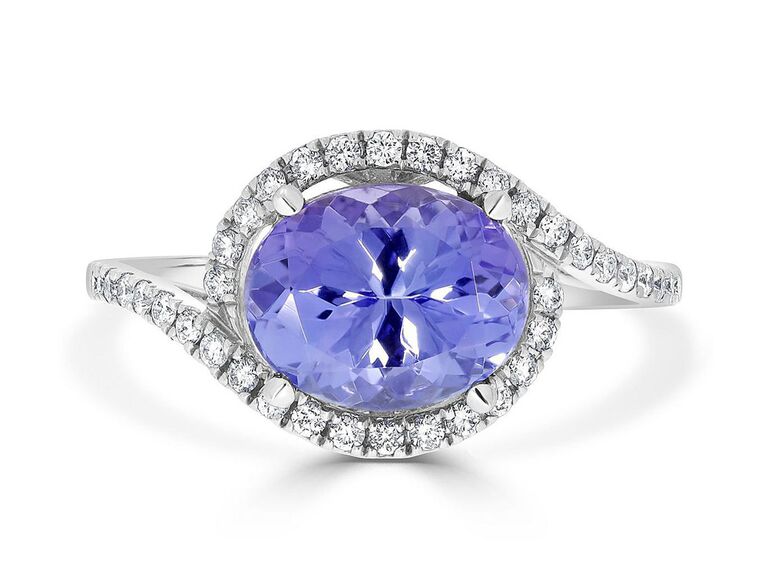 If you're in the market for a classic engagement ring with a twist, consider a setting with a swirl design. The oval-cut, tanzanite gemstone pops against the asymmetrical diamond halo and band.
Tiffany & Co. Victoria Vine Ring With Tanzanite and Diamonds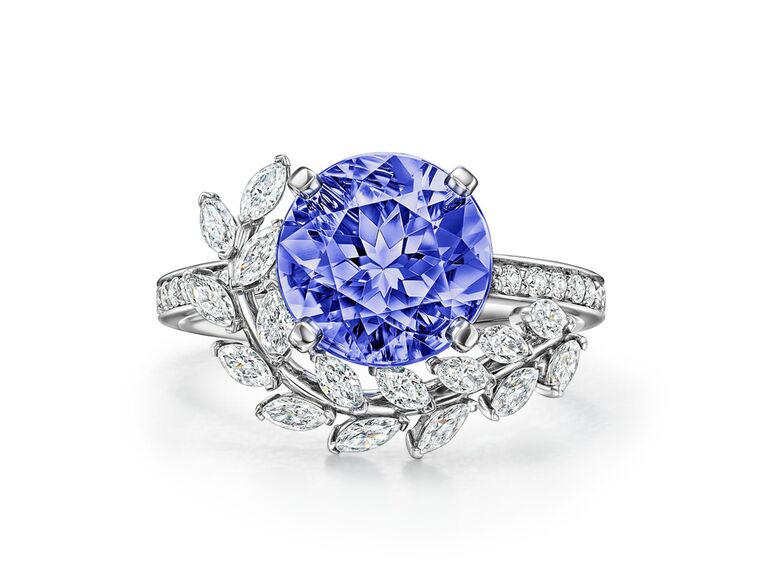 Inspired by the beauty of nature, this diamond-encrusted setting is a work of art. An asymmetrical vine of marquise diamonds is just as striking as the vibrant blue center stone.
Le Vian Tanzanite Ring With Diamonds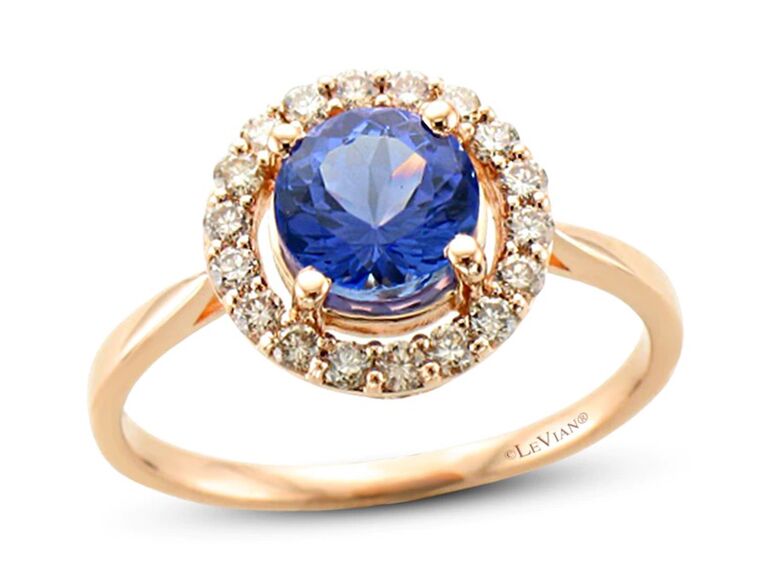 This breathtaking tanzanite ring from the master jewelers of Le Vian is meant to be an instant classic. The rose gold band pairs beautifully with a champagne diamond halo for a vintage-inspired look that will stand the test of time.