36 Gorgeous Engagement Rings by Birthstone
Make the sparkler even more special with a meaningful gem.
We have included third party products to help you navigate and enjoy life's biggest moments. Purchases made through links on this page may earn us a commission.
If you're not sold on a diamond engagement ring, consider looking to birthstones for inspiration. Colorful gemstones have been coveted for centuries, especially among royalty and celebrities—and they seem to be having a moment right now too. But putting trends aside, there's something incredibly special about an engagement ring with layers of meaning and personal significance. Not into the stone for the birth month you're shopping for? Maybe the rich symbolism or stunning color of another resonates with you (some people even wear their partner's birthstone). Below, find jaw-dropping birthstone engagement rings, as well as their unique meanings.
January: Garnet Engagement Rings
Garnets have been popular gemstones throughout history, reaching as far back as Ancient Egypt. This lustrous jewel boasts a vibrant red color. (The name is said to stem from an old Latin word for pomegranate, granatum.) It's also reasonably durable, making it suitable for everyday wear. Symbolizing friendship, loyalty and devotion, a garnet engagement ring will make your proposal all the more meaningful.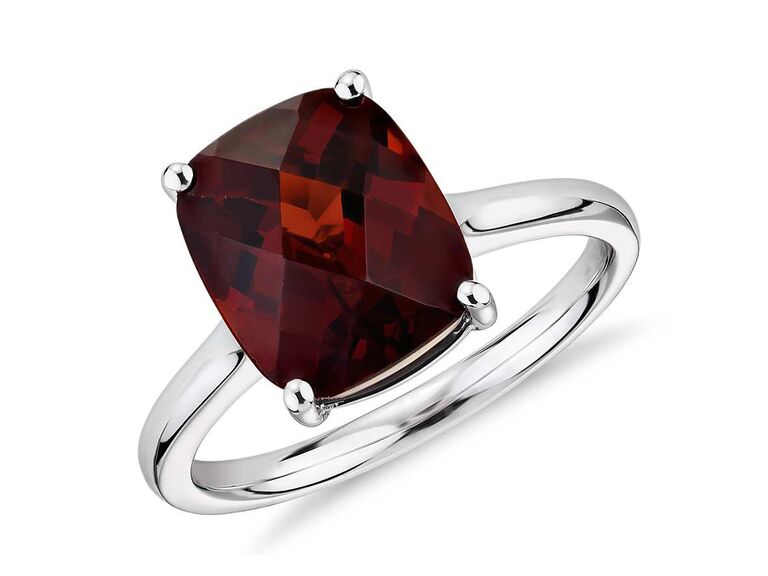 This gorgeous garnet engagement ring is classic and elegant, letting all the spotlight fall on the stunning gem itself.
Blue Nile garnet cushion cocktail ring, $550, BlueNile.com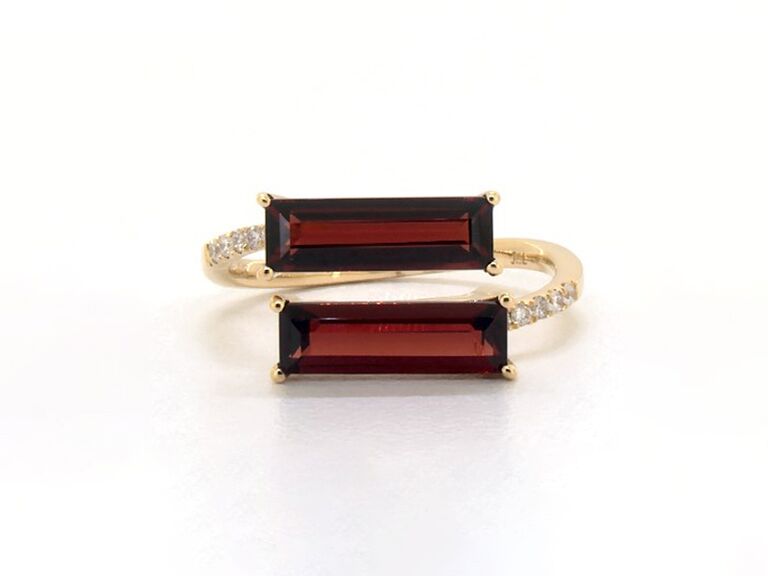 Featuring a contemporary bypass design, this gorgeous baguette-style ring is a unique find for those with a treasure trove of jewelry already. Popping the question will be easy with this diamond and garnet engagement ring by your side.
Brevani 14k yellow gold bypass duo garnet and diamond ring, $870, JamesAllen.com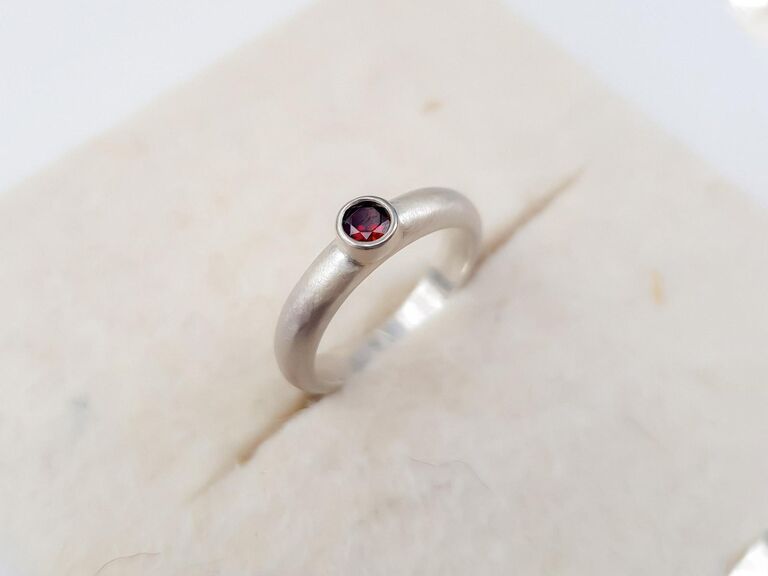 Searching for something simpler? The glowing garnet on this stylish, modern ring is the perfect tribute to your perennial love.
Nuomi Design unisex garnet solitaire engagement ring, from $79, Etsy.com
February: Amethyst Engagement Rings
Legend says St. Valentine himself wore an amethyst ring carved in the likeness of Cupid. Thought to bring peace of mind to the wearer, this regal gem has earned its place on crown jewels and ring fingers alike. Amethyst's rich purple hues range from lilac to deep eggplant in color. This hardy gemstone is made to last, just like your love for each other.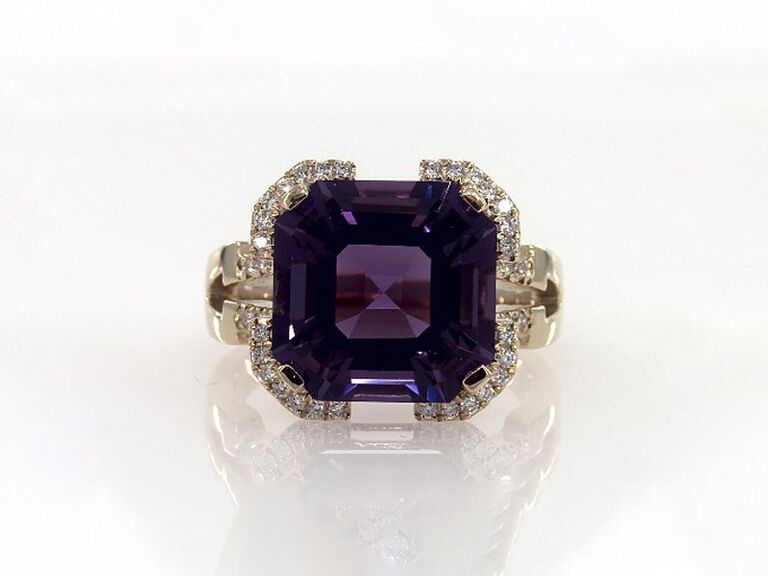 This vivid amethyst stone sits in a luxe gold frame that's set with dazzling diamonds. Featuring a dramatic shape, this ring speaks for itself.
James Allen 18k yellow gold octagon amethyst and diamond ring, $2,890, JamesAllen.com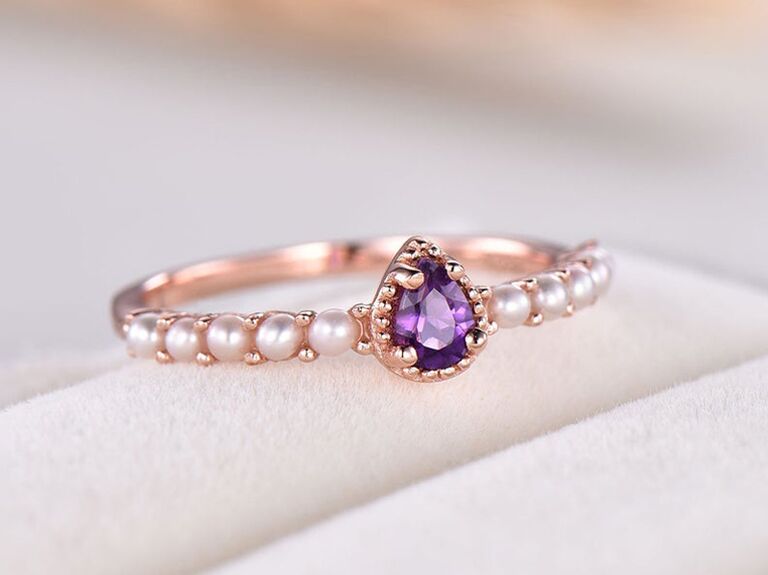 If you're looking for something princess-worthy, we've got your back. This elegant pearl and amethyst engagement ring sparkles on its own or stacked with other meaningful gems.
YRI Design natural amethyst engagement ring, from $149, Etsy.com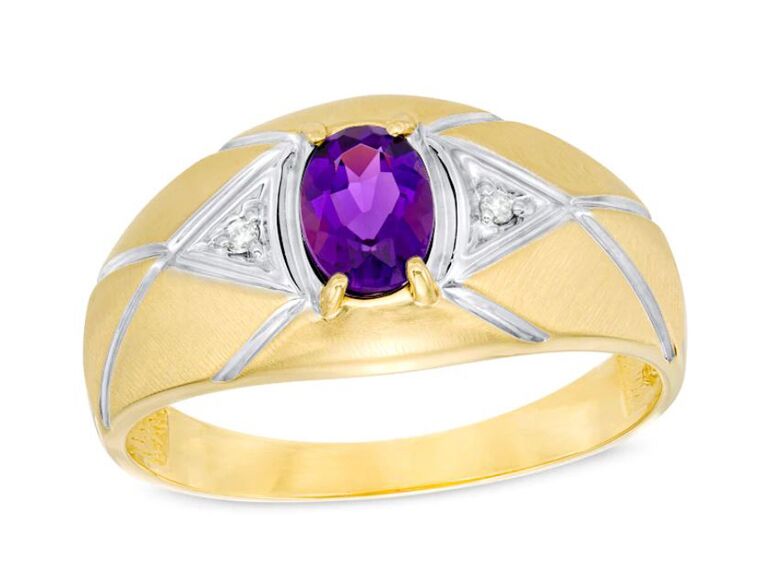 Everyone deserves to feel like royalty every now and then. Flanked by diamonds on either side, this shining amethyst engagement ring is fit for a king.
Zales men's oval amethyst and diamond accent ring, $349, Zales.com
March: Aquamarine Engagement Rings
According to mythology, this majestic blue stone was gifted to the mermaids by Neptune, god of the sea. The gem's association with water has spanned various civilizations, making it perfect for those with an affinity for the ocean. A favorite of Queen Elizabeth II, this hard-wearing, light blue jewel is a symbol of trust, hope and protection. Here, shop our favorite March birthstone engagement rings.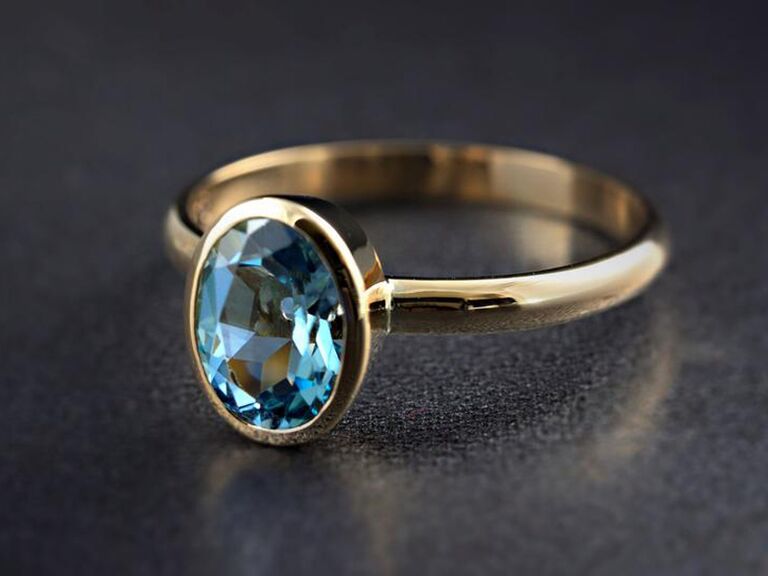 Set in a timeless yellow gold band, this aquamarine engagement ring has a deeper hue than the stone's usual light blue color. Handcrafted in solitaire style, this vivid jewel comes off as classic and stylish.
Diorah Jewellery aquamarine solitaire ring, from $624, Etsy.com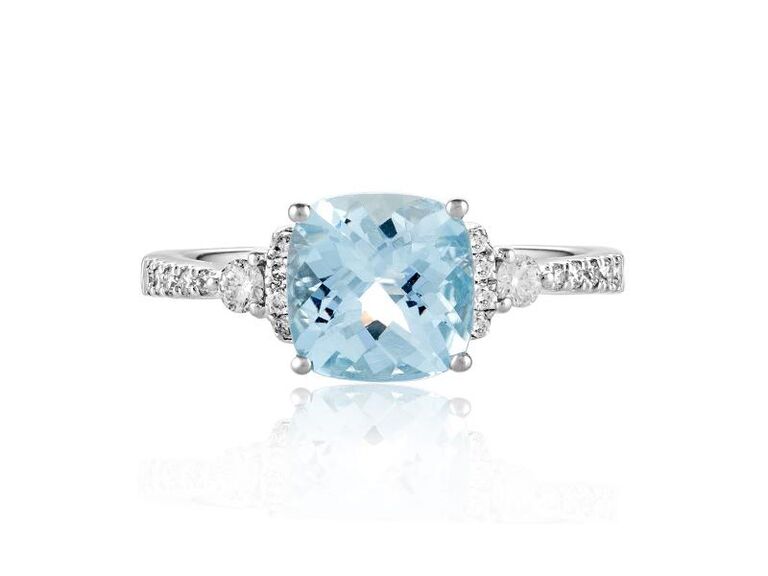 This dazzling engagement ring is made up of white gold, aquamarine and diamond. Bright and elegant, the light blue stone reflects the calmness of the ocean.
Effy Aquarius 14k white gold aquamarine and diamond ring, $1,995, EffyJewelry.com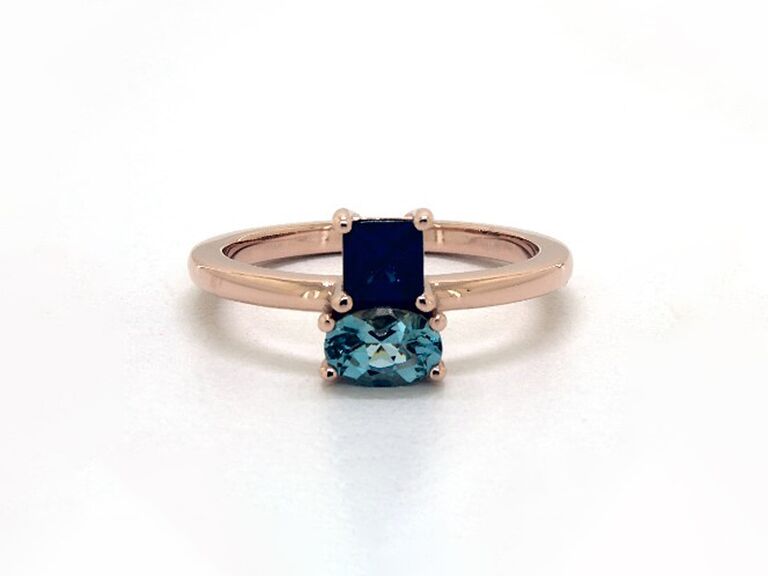 You and your partner know better than anyone that two is better than one. This rose gold engagement ring dons two of the most beautiful blue gemstones, aquamarine and sapphire.
James Allen 14k rose gold blue sapphire and aquamarine asymmetrical ring, $1,040, JamesAllen.com
April: Diamond Engagement Rings
There's a reason diamonds remain an engagement ring staple—they're one of nature's hardest, most durable substances. Deriving from the Greek word adamas, meaning "the unconquerable," a diamond epitomizes invincible strength and eternal protection, just like the bond you have with your partner.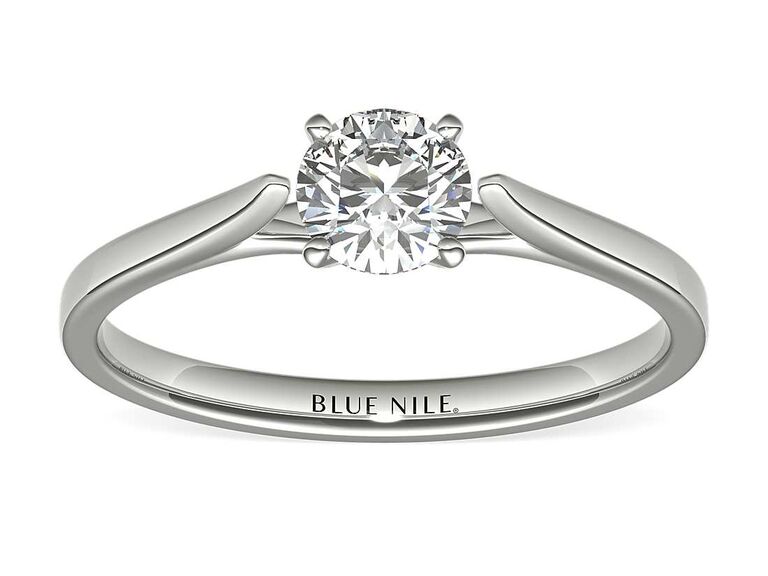 This exquisite solitaire engagement ring offers a stunning take on the traditional. Intricate tapered shoulders give this sparkling stone a sophisticated frame.
Blue Nile ½ carat astor petite cathedral solitaire in platinum, $2,710, BlueNile.com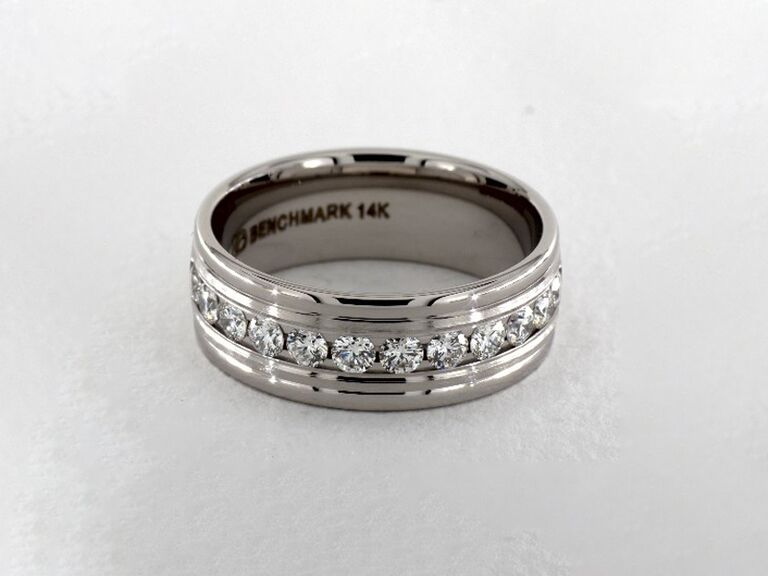 Simple and elegant, diamonds can be a man's best friend too. This eye-catching men's engagement ring will let everyone know he's off the market.
James Allen 14k white gold 8mm comfort-fit channel set diamond band, $3,290, JamesAllen.com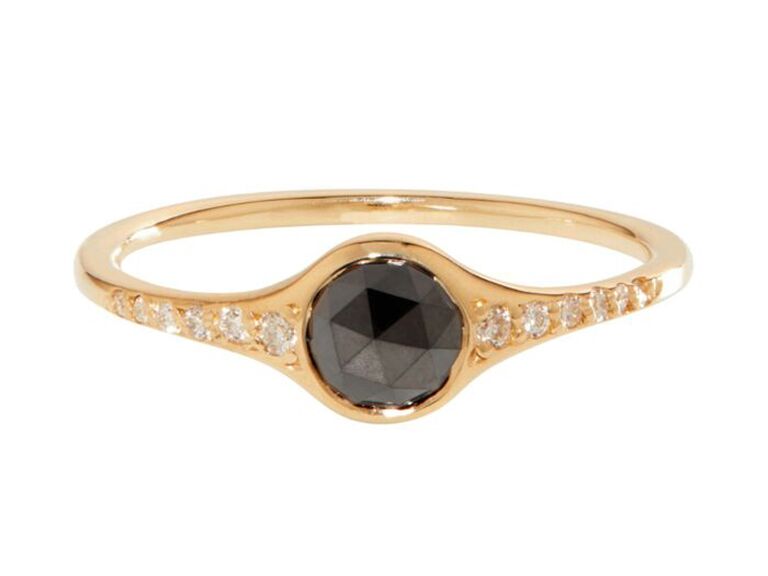 While diamonds are the obvious choice for a proposal piece, there are still plenty of ways to spice the April birthstone engagement ring up. This alternative ring evokes elements of mystery and uniqueness, courtesy of the dramatic black diamond at the center.
Blanca Monrós Gómez Florence solitaire ring in black diamond, $1,215, CatbirdNYC.com
May: Emerald Engagement Rings
Emerald gemstones have sparkled on the jewelry of the rich and famous for thousands of years, from Cleopatra to Jackie Kennedy. It's no surprise this resistant rock is just as popular today. Embrace your inner icon with a timeless emerald engagement ring. This deep green jewel symbolizes a successful marriage, faithfulness and unchanging love, making it a special rock to include in a wedding or engagement ring.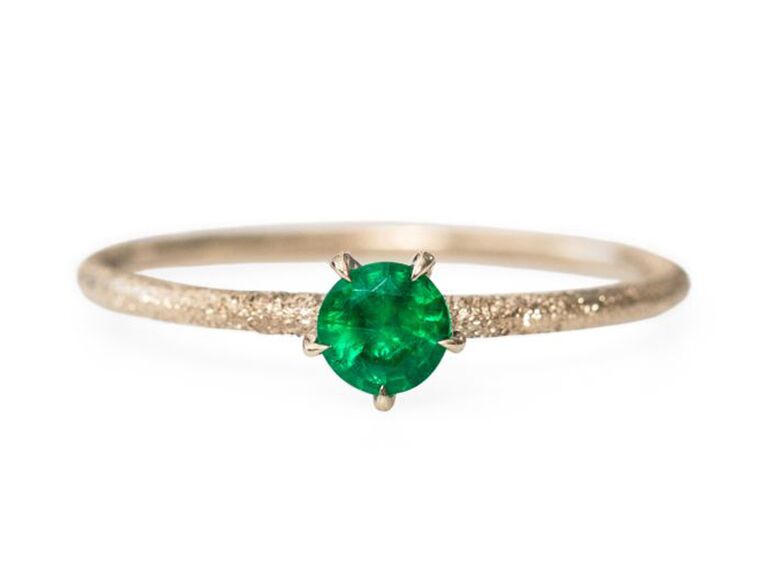 Designed in the Tokyo workshop of master jeweler Yoshinobu Kataoka and inspired by the beauty of nature, this delicate emerald engagement ring exudes bohemian class.
Kataoka Inishmore emerald ring, $2,280, CatbirdNYC.com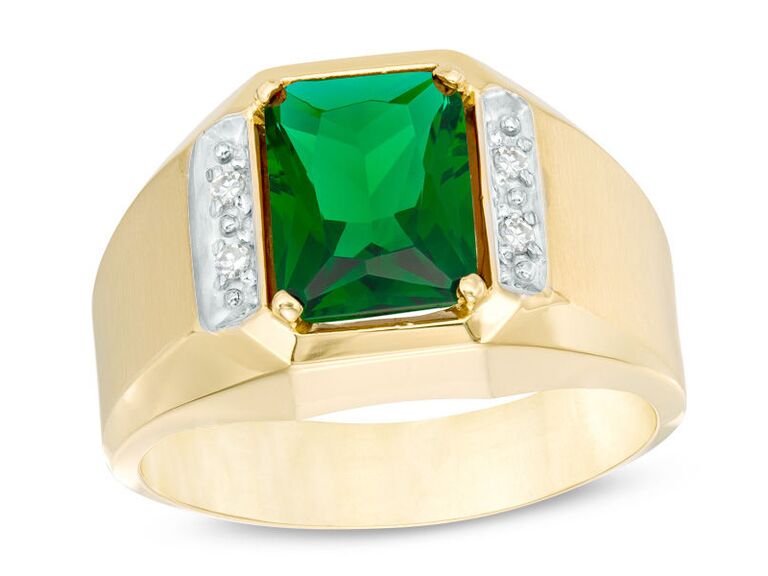 Neat yet bold, this emerald engagement ring will go with almost everything. Sleek diamond accents and a satin-finished band give the ring a little extra shine.
Zales men's octagonal lab-created emerald and diamond accent ring in 10k gold, $609, Zales.com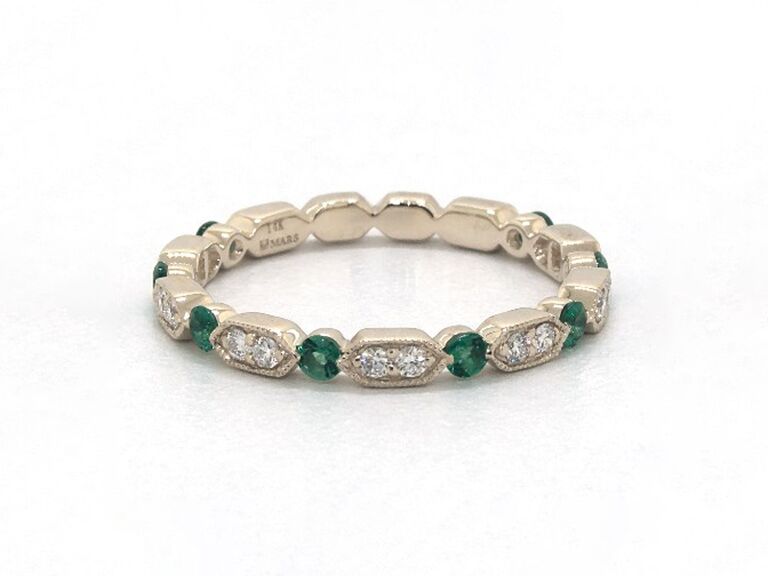 This diamond and emerald engagement ring boasts a stylish design that will stand the test of time. Show your beloved you mean forever with this exquisite alternating gemstone ring.
James Allen 14k yellow gold alternating arrow shape milgrain bezel emerald and diamond ring, $650, JamesAllen.com
June: Pearl Engagement Rings
Unlike other birthstones, pearls come from the water—not the earth. Many ancient cultures considered pearls a symbol of the moon, in addition to qualities like serenity, purity, generosity, beauty and new beginnings. Just be careful with your June birthstone engagement ring—pearls are on the softer side.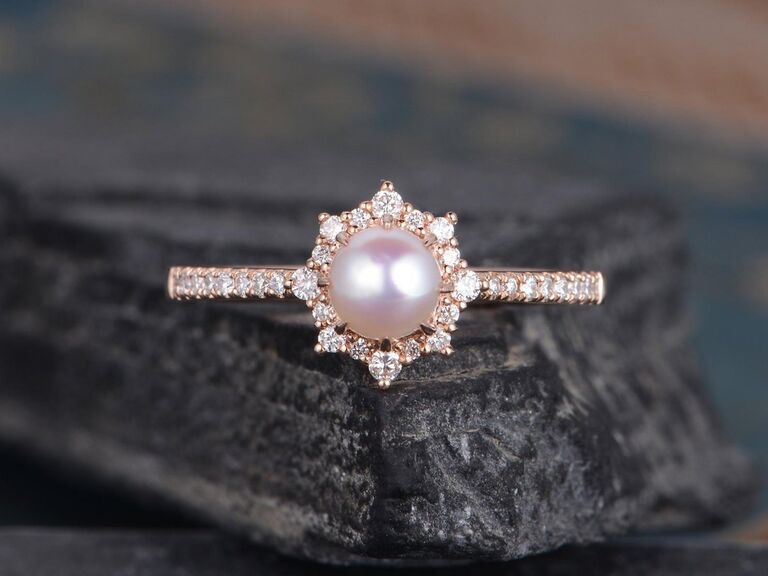 This dazzling pearl engagement ring features trendy rose gold hues for the modern spouse-to-be. A diamond halo frames the centerpiece, giving it that extra bit of sparkle.
Szeki Studio rose gold pearl engagement ring, from $550, Etsy.com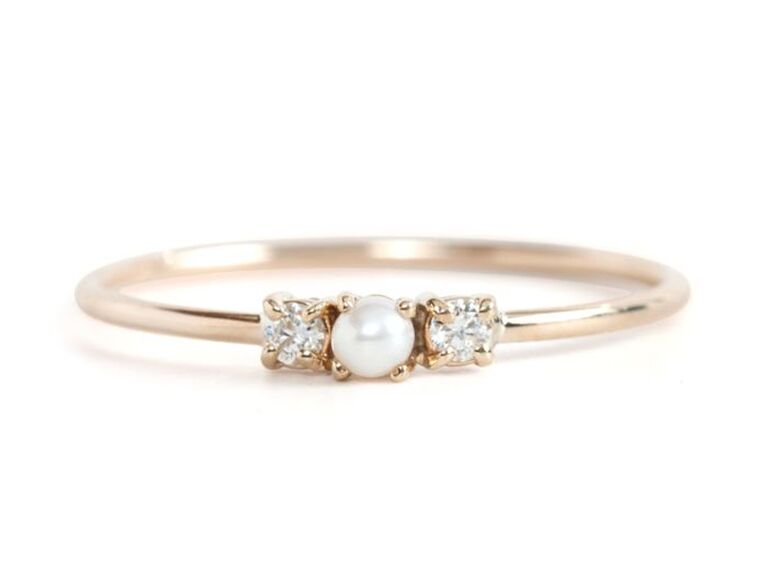 This beautifully delicate pearl engagement ring is a true standout. Closely flanked by two brilliant diamonds, it's sure to cause a stir when your beloved shows off their newly embellished left hand.
Jennie Kwon pearl sandwich ring, $475, CatbirdNYC.com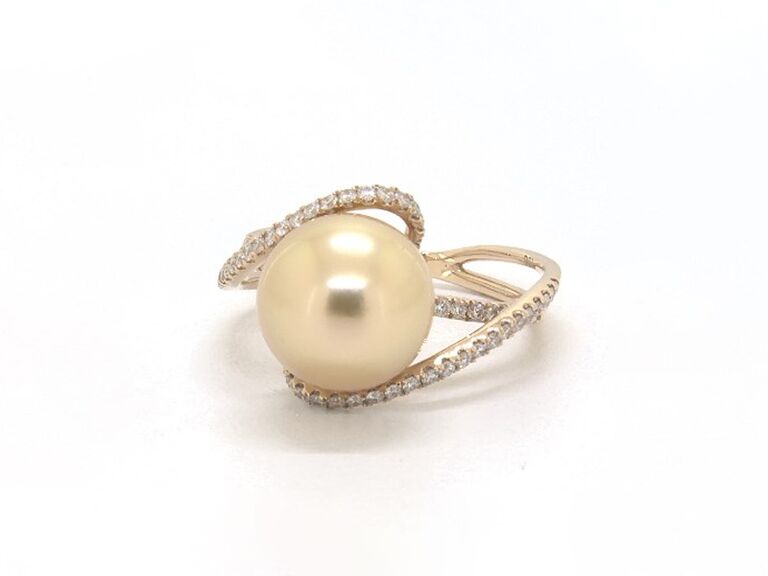 Looking for something that'll really stand out from the crowd? Celebrate their June birthday with this stunning pearl engagement ring. The perfect mix of classic and contemporary, every detail feels truly decadent.
James Allen 18k yellow gold deep golden South Sea cultured pearl aerial ring, $1,560, JamesAllen.com
July: Ruby Engagement Rings
Valued and celebrated for their captivating red hue (which is usually slightly pinker than garnet), rubies are associated with fire, love and passion. Ancient Sanskrit texts refer to them as the "gem of all gems"—a pretty rave review, if you ask us. Bonus: They're very hardy.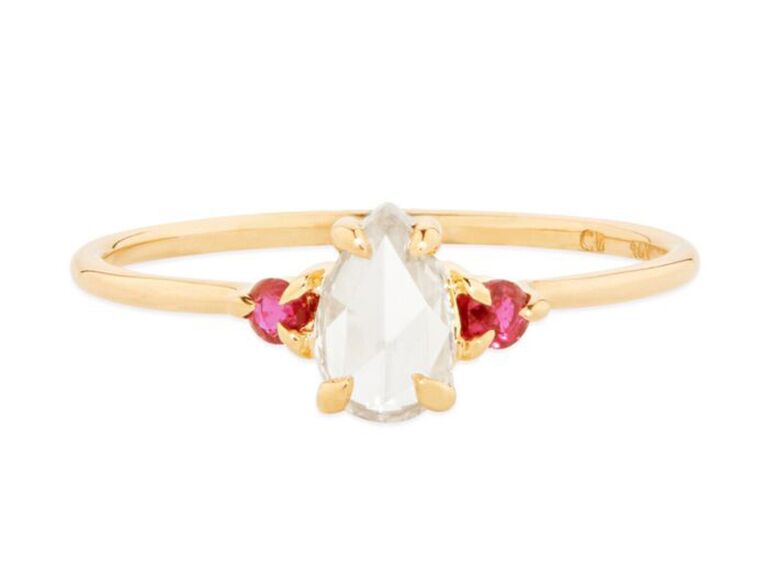 Straight from Catbird NYC's line of elegant wedding jewelry, this gorgeous ruby engagement ring offers the best of both worlds. This modern ring retains a sense of tradition with a dazzling white diamond centerpiece. But adorned with July's regal birthstone on either side, it carries that extra-special touch.
Catbird Leda the Swan with rubies, $3,200, CatbirdNYC.com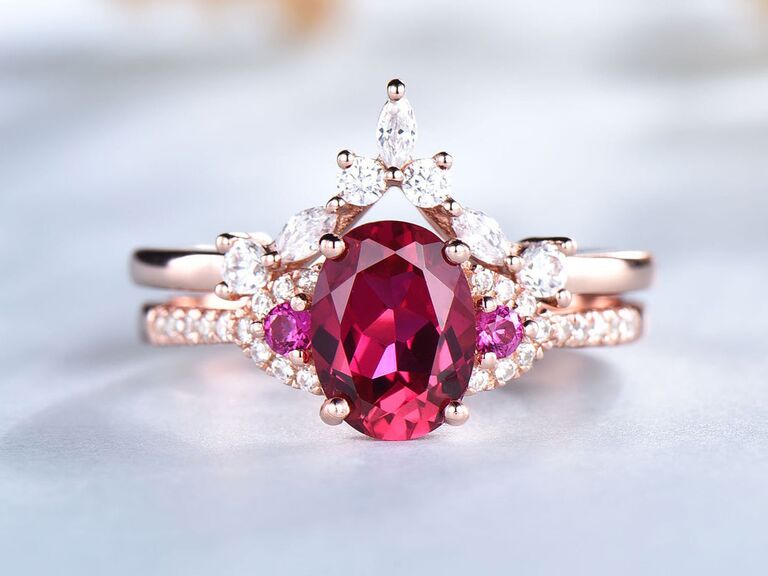 This decadent crown-style design is fitted with lab-made rubies and sparkling cubic zirconia. It's sure to make the wearer feel like royalty from the moment it meets their finger. Better yet, this extravagant ruby engagement ring doesn't come with an extravagant price tag.
MDNICE oval ruby engagement ring, from $188, Etsy.com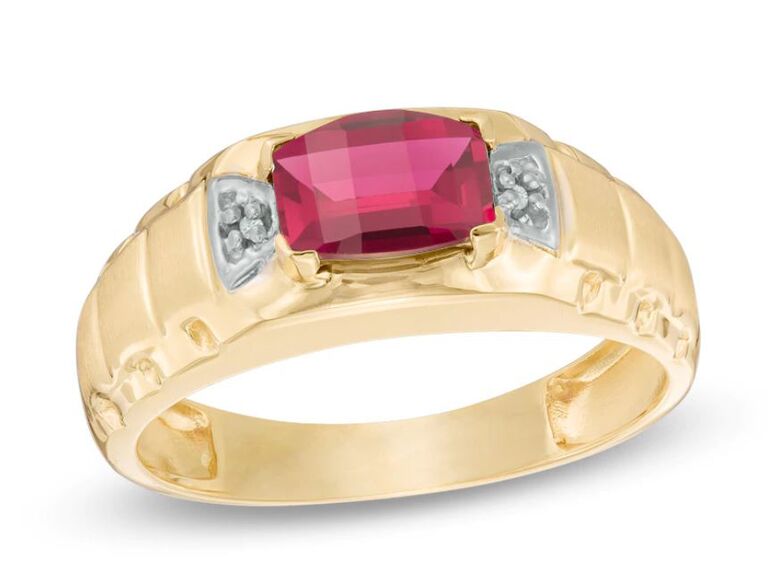 This ruby birthstone engagement ring is just as unique as your love story. Featuring a barrel-cut gem and diamond accents, this gorgeous stepped-shank ring is perfect for the partner of your dreams.
Zales men's 10k gold barrel-cut lab-created ruby and diamond accent ring, $389, Zales.com
August: Peridot Engagement Rings
The August birthstone has an interesting and diverse history. The Ancient Egyptians revered peridot as the "gem of the sun," while Hawaiians believed this chartreuse stone came from the divine tears of Pele, goddess of the volcano. Peridot is thought to hold valuable powers like helping the wearer banish envy, foster friendships and ward off bad dreams. With a little TLC from time to time, this dazzling jewel will last a lifetime.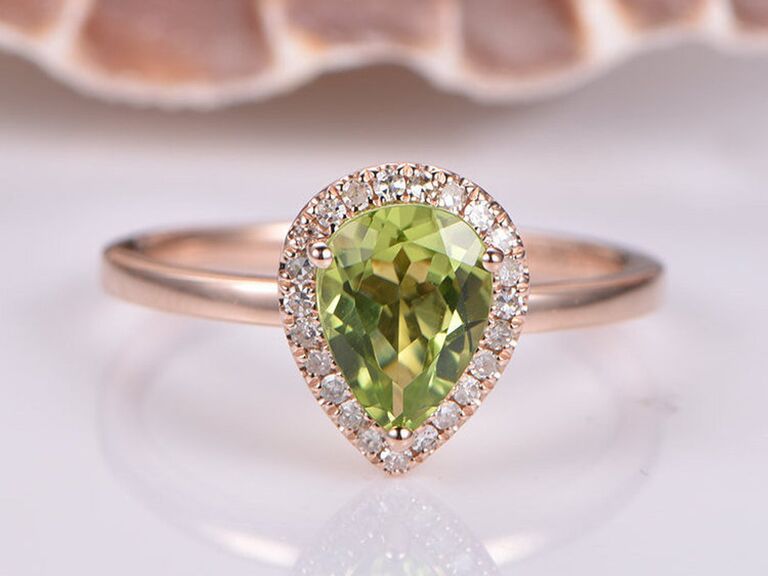 This beautiful pear-shaped peridot engagement ring features a sparkling diamond halo. It's available with a rose, white or yellow gold band to match your sweetheart's taste.
Penni Jewel pear shape peridot engagement ring, from $454, Etsy.com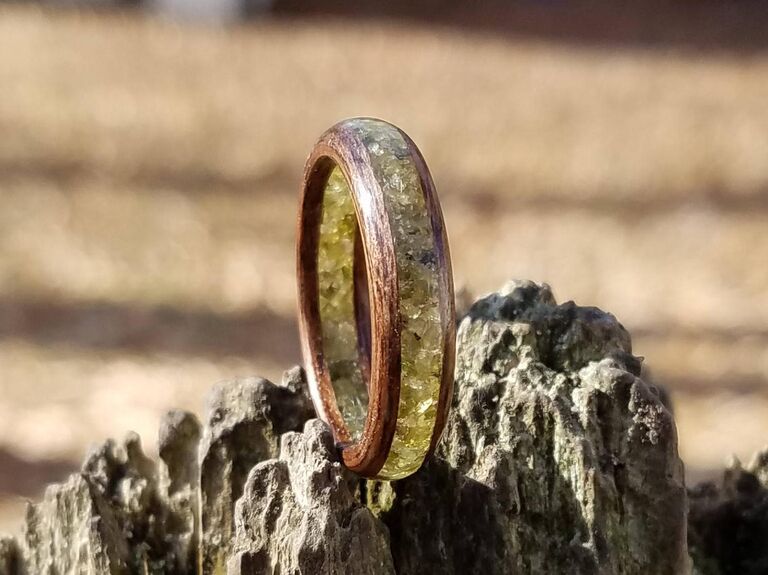 This sturdy hand-carved peridot engagement ring is a testament to a long and healthy relationship. Your partner can don an engagement ring crafted from classic black walnut, as natural and true as the love you share.
Platypus Woodshop unique wooden Arizona peridot ring, $134, Etsy.com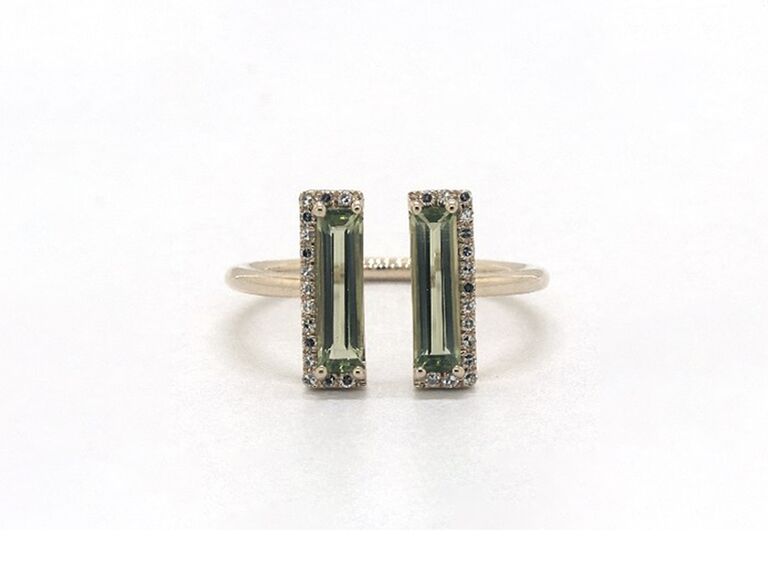 This statement piece is an excellent addition to contemporary collections, featuring an open design and two baguette-style peridots. Adorned with diamonds on either side, they simply can't say no to these precious gems.
James Allen 14k yellow gold peridot and open diamond halo ring, $710, JamesAllen.com
September: Sapphire Engagement Rings
A stunning symbol of wisdom and clarity, this blue gemstone—most famously admired on Kate Middleton's left hand (and Princess Diana's before her)—holds a lot of meaning. Long ago, sapphires symbolized the heavens and were believed to protect the wearer from poisons and evil spirits, empowering them with innocence, truth and good health. Bonus: This stunning gem is up there with ruby and diamond when it comes to hardiness.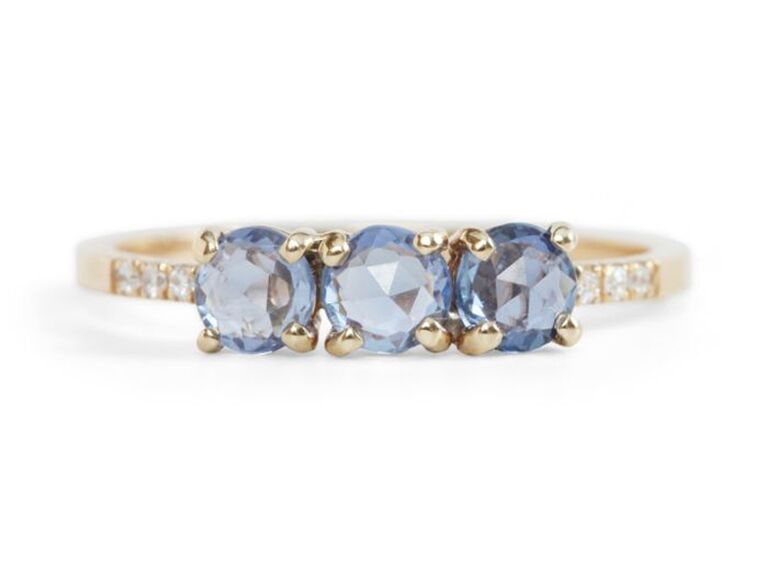 This gorgeous three-stone sapphire engagement ring is defined by its paler-than-usual blue gems. Handcrafted in Los Angeles, the stunning piece reflects the delicate shades of a perfectly painted sky.
Jennie Kwon Painter's Blue sapphire ring, $675, CatbirdNYC.com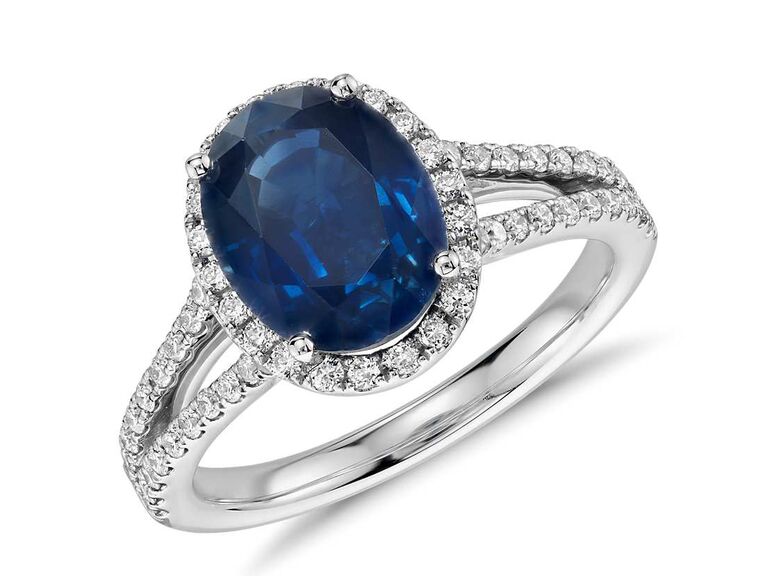 This show-stopping sapphire engagement ring is a classic. An elegant split band and pavé diamond halo bring this dazzling, deep blue gemstone to life.
Blue Nile oval sapphire and diamond halo split shank ring, $5,700, BlueNile.com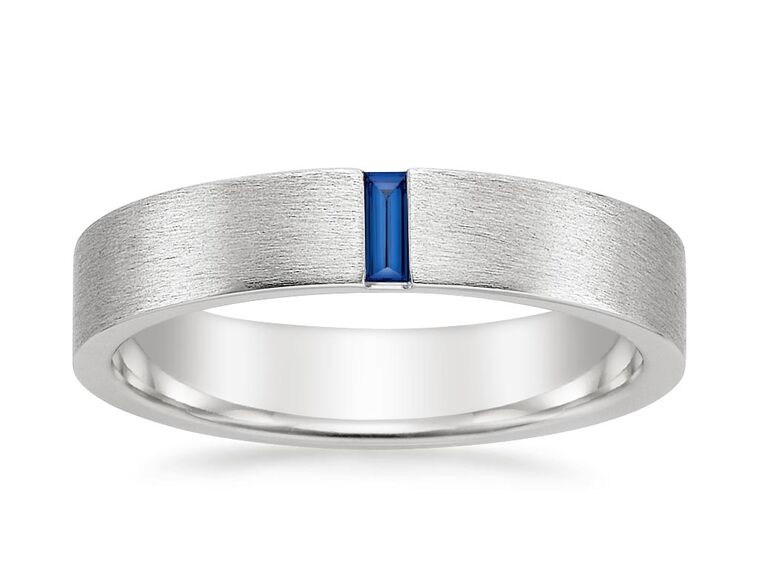 This sapphire engagement ring brings a touch of subtle class to any outfit. Your partner will be over the moon to add this stunning piece to their collection—and to hear your proposal, of course.
Brilliant Earth Apollo sapphire wedding ring, $1,550, BrilliantEarth.com
October: Opal Engagement Rings
Opal possesses the unique quality of presenting a hypnotic palette of colors at once, including red, green, blue and purple. As a result, it was thought by ancient and medieval cultures to be the most powerful gem of all. Believed to have healing and therapeutic powers, this kaleidoscopic stone is also associated with love, seduction, emotional balance and loyalty. With all that going on in the background, it's no surprise this delicate gem needs a little extra love every now and then. But the October birthstone still makes a stunning engagement ring.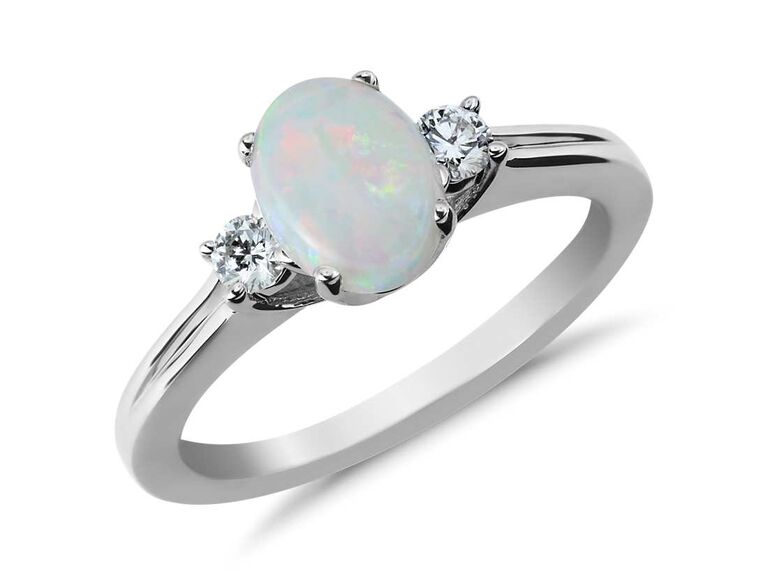 The subtle colors of this opal engagement ring are complemented by two shiny diamonds. Set on a simple white gold band, all eyes are drawn to the mesmerizing gemstone.
Blue Nile in 18k white gold opal and diamond ring, $1,280, BlueNile.com
Looking for something simple, yet contemporary? Thanks to opal's pale color, this asymmetrical engagement ring makes a statement without being too bold.
James Allen 14k rose gold open opal diamond ring, $890, JamesAllen.com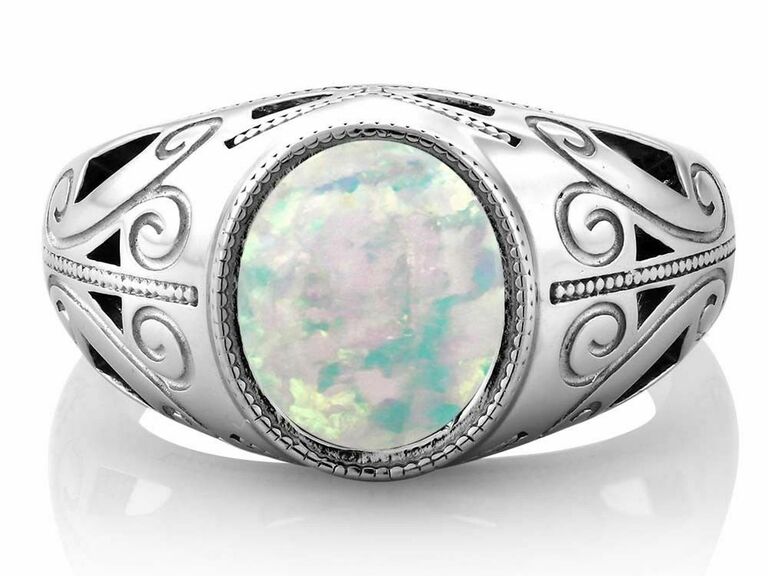 This intricate opal engagement ring is sure to make a statement on anyone's left hand. The colorful gem at the center is mesmerizing in the light, but make sure to keep it away from water.
Alna Jewels natural opal men's ring, from $172, Etsy.com
November: Citrine Engagement Rings
Citrine has long been coveted for its warm coloring and apparent healing powers. It's often associated with intelligence, prosperity, creativity, energy and clarity of the mind. This durable gem is designed to last, making it an excellent choice for engagement rings. Once a symbol of wealth and opulence, citrine is making a comeback as a bright, bold and more budget-friendly gemstone.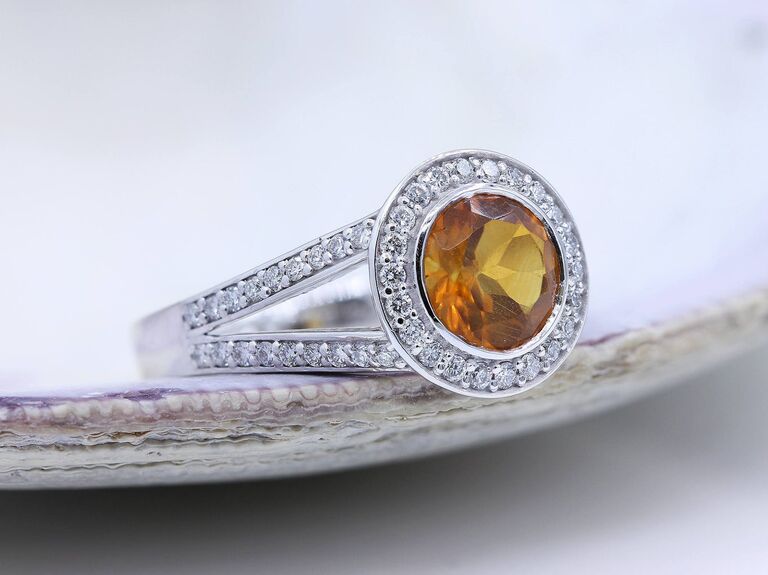 Pay tribute to your partner's November birthday with this stunning citrine engagement ring. The brilliant round-cut stone is emphasized by a diamond halo and split shank design.
Alexander Sparks citrine engagement ring, from $1,095, Etsy.com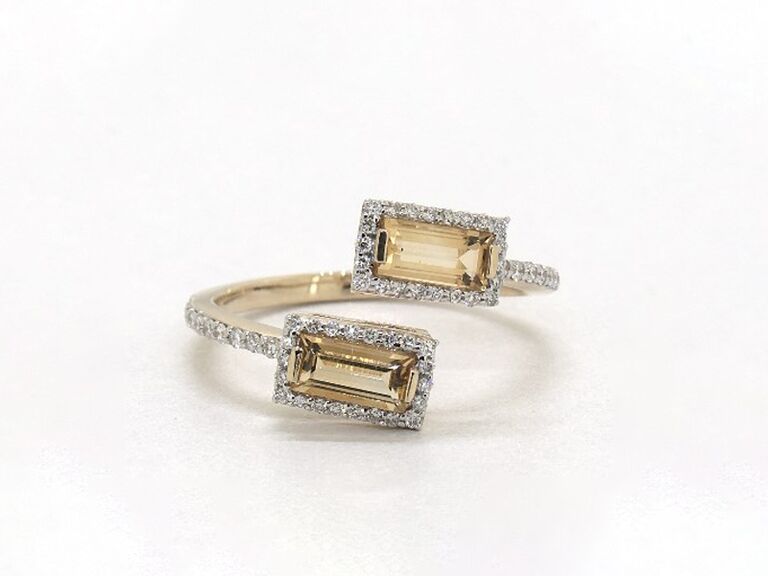 This fine November birthstone engagement ring offers a more yellow take on the vibrant gemstone. A bypass band and stylish emerald cut add a refreshing touch to this piece of jewelry.
James Allen 14k yellow gold emerald cut citrine and diamond halo bypass ring, $820, JamesAllen.com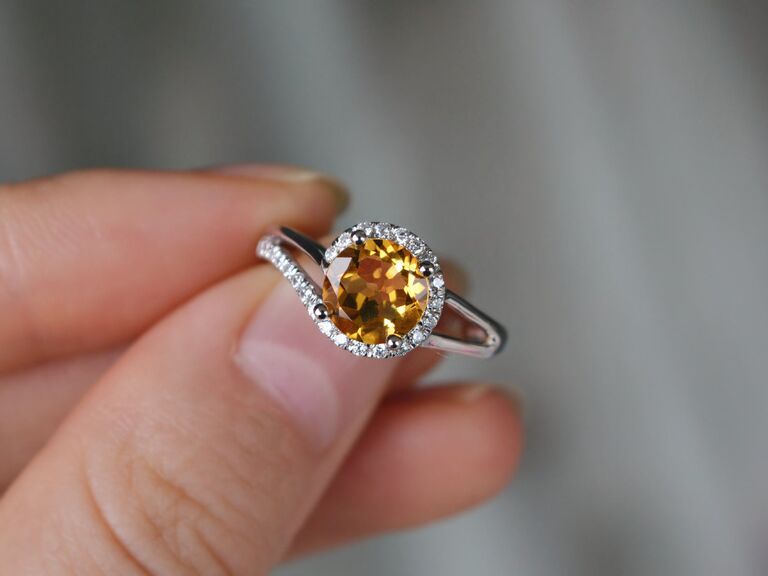 This elegant citrine engagement ring is sure to stand out on your sweetheart's left hand. Cubic zirconia gives it that extra-special touch without breaking the bank.
Carrie Studio natural citrine engagement ring, $82, Etsy.com
December: Turquoise Engagement Rings
Turquoise has been used as a talisman of good luck for centuries. Beyond its bright, opaque surface and stunning shade of blue-green, turquoise symbolizes friendship and good fortune. It's also thought to bring peace to the wearer's home and guard against negative energy. Interested in a December birthstone engagement ring? A more delicate stone, this delightful gem is to be carefully cherished.
This handcrafted turquoise engagement ring is available with a rose, yellow or white gold band. Framed by diamonds, the pear-shaped gemstone comes across as neat and timeless.
Staghead Designs pear shaped Terra turquoise engagement ring with diamond halo, $1,045, Etsy.com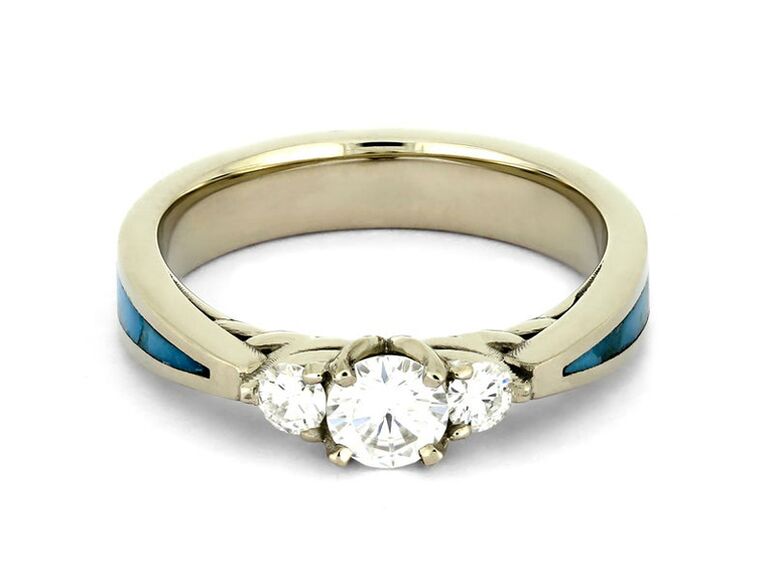 Your chosen gemstone doesn't have to be the defining feature. This three-stone moissanite ring celebrates December birthdays with a subtle dash of turquoise in the band. Bonus: With brilliant moissanite, your sparkler may shine even brighter than a diamond.
Jewelry By Johan three stone engagement ring with genuine turquoise, from $2,459, Etsy.com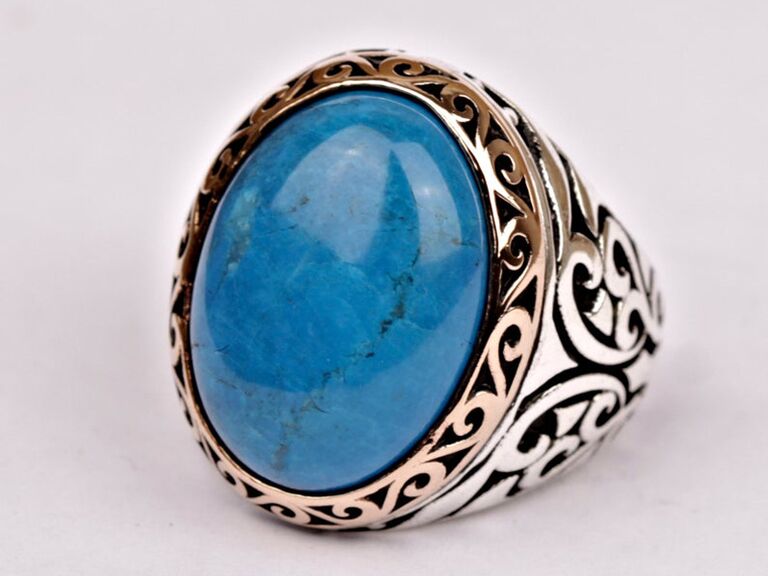 This sterling silver ring boasts a soothing shade of turquoise at its center. Wish your partner good luck wherever they go with this fashionable piece of jewelry.
Elizi Kuyumculuk men's turquoise engagement ring, from $87, Etsy.com